Keto Broccoli Cauliflower Salad (Amish)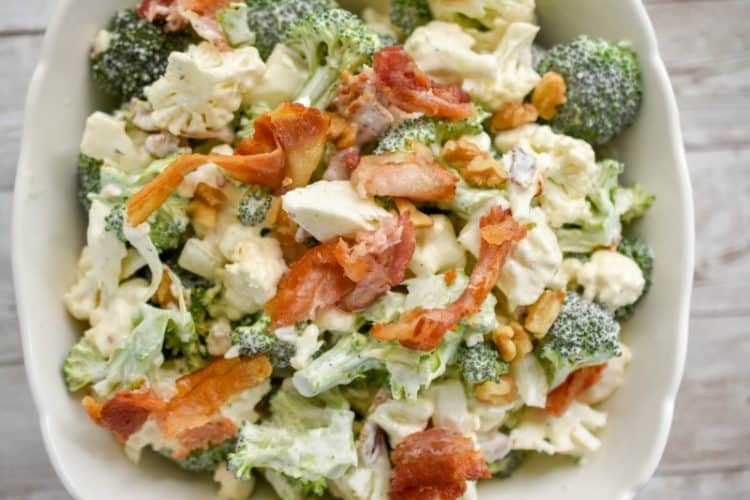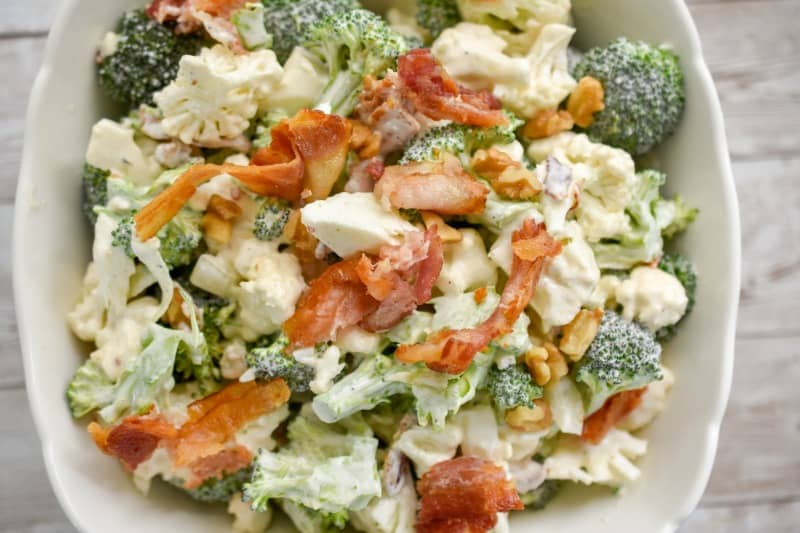 Looking for a delicious and easy way to add more raw vegetables to your diet? Today, I am going to teach you how to make a delicious keto broccoli cauliflower salad. The good news it's one even picky eaters will love. That's right even children are fans of this healthy salad.
My Keto Amish Broccoli Salad allows you to serve a dish that requires no cooking. This, of course, is a great benefit not only because you're getting more nutrition but there is no need to turn on the stove when the weather warms up.
This broccoli cauliflower keto salad is loaded with flavor. Besides the crunch of both the raw broccoli and cauliflower, it has a sweet and creamy tangy dressing, just like traditional Amish broccoli salad.
And because my salad has a generous amount of bacon, it's no wonder it's become a family favorite.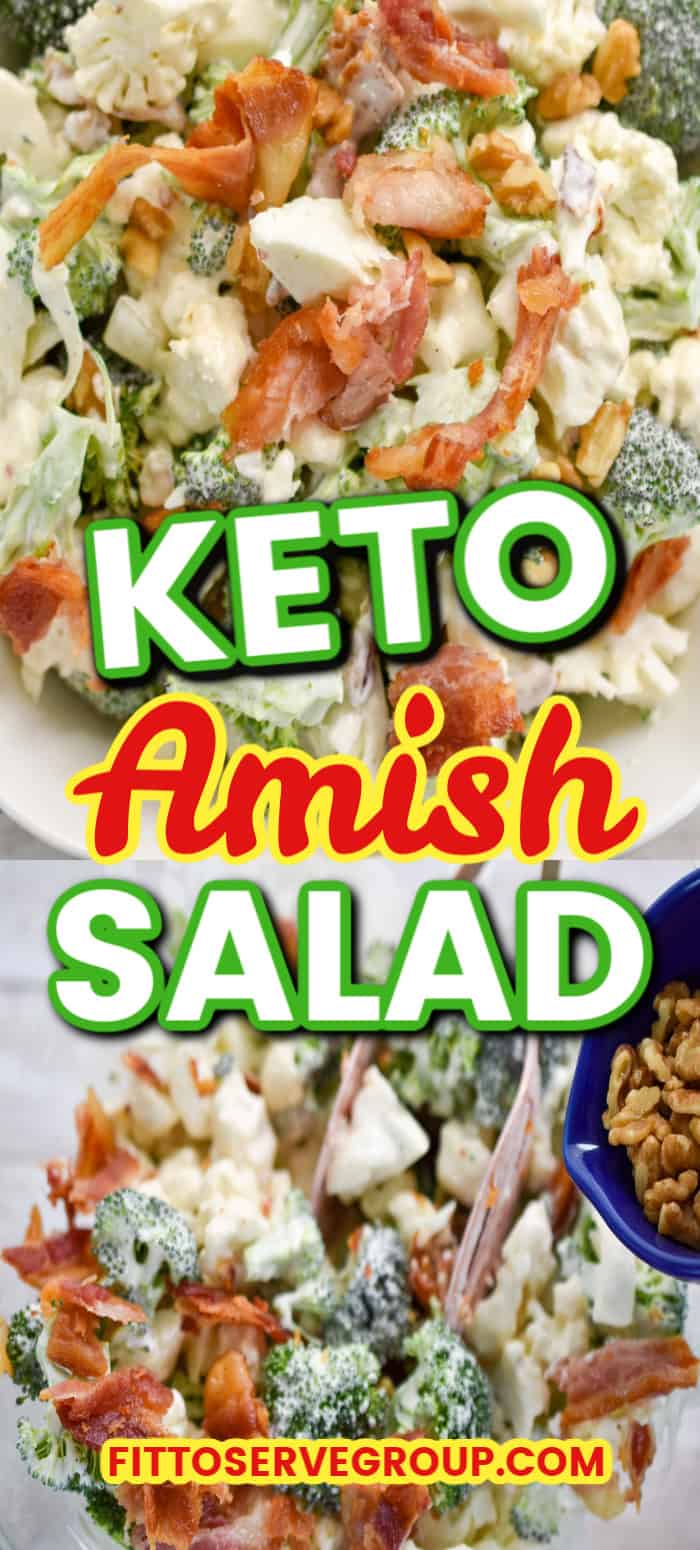 Keto Broccoli Cauliflower Salad
My recipe uses equal parts of mayonnaise and sour cream. The tanginess of the sour cream adds another level of flavor to my keto broccoli cauliflower salad.
This keto-friendly salad has lots of flavor dimension. The combination of smokey bacon with tangy vinegar and sweet creamy sour cream and mayo, well is perfection.
I love how even people who don't normally eat vegetables, including the kiddos, gobble up this salad. That's because it's that good.
I wonder if they realize they are eating their veggies raw?
Keto Amish Salad
I first introduced my cauliflower and broccoli keto salad during a church picnic it seemed like the perfect dish to share with a crowd.
Thankfully, I was correct because my church family went wild for it. So much so that it's now a salad that is requested often for potlucks.
What's not to love about a salad that is rich in flavors and gives us the benefits of raw vegetables?
The combination of broccoli and cauliflower go very well together, and if we can throw bacon into the mix? Well, that makes it this keto broccoli and cauliflower salad that much more special.
How To Make A Keto Amish Salad?
To make this keto Amish salad you need only a few basic ingredients. Frankly, this salad is quite easy to make, with the hardest part being the chopping of the vegetables.
Disclosure: Some of the links below are affiliate links, meaning at no additional cost to you, I will earn a commission if you click through and make a purchase.
Note: The full recipe card is at the bottom of this post.
You'll need the following to make this keto Amish salad:
Raw broccoli
Raw Cauliflower
Cooked Bacon
Red or White Onion
Apple Cider Vinegar
Sugar Substitute
Mayonnaise
Sour Cream
Chopped Nuts ( walnuts, pecans, sunflower seeds all work well)
Keep in mind that this broccoli cauliflower salad can be easily customizable. If you rather keep it nut-free, then omit the nuts in the recipe.
For a dairy-free option, substitute the sour cream for more mayo. If you can enjoy dairy, consider adding 1/2 cup of shredded cheddar cheese to the salad. Doing so will add a little more protein and flavor.
How To Store Your Keto Amish Salad?
One of the reasons I love making this salad for potlucks or family gatherings is because it keeps well in the refrigerator.
Making this salad ahead of time is not only a time-saver but the flavor actually improves after being refrigerated for 24 hours.
It's also a great salad to make when meal planning, in fact, it keeps well in the refrigerator for up to three days. Why not store some in mason jars for a quick lunch option during the week?
Benefits of Cruciferous Vegetables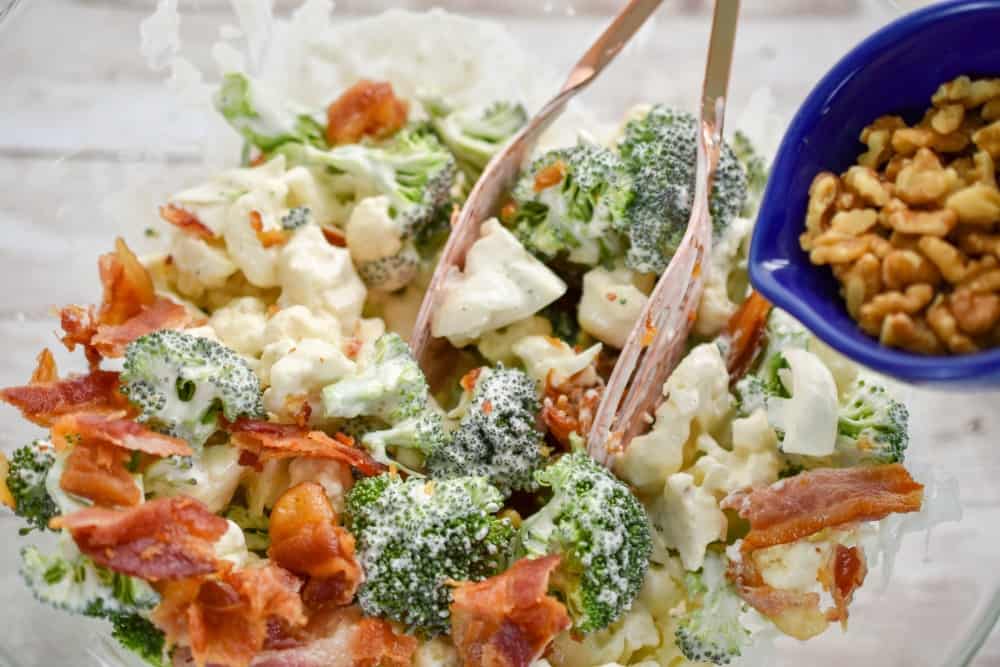 Cruciferous vegetables like broccoli and cauliflower are a powerhouse for vitamin C and a great source of manganese. Over the years, researchers have also identified a number of substances in cruciferous vegetables that have shown anti-cancer properties like isothiocyanates, and phytochemicals.
These facts just further encourage enjoying this low carb keto broccoli cauliflower salad.
I've seen versions of this salad floating on the internet. Unfortunately, many are loaded with sugar. Adding sugar just makes no sense to me and just blocks a lot of the great properties in these vegetables.
This is why a recipe like this low carb keto broccoli cauliflower salad was in order.
This recipe uses full-fat mayonnaise and sour cream. Since going low carb and becoming a fat ketone burner, versus a sugar burner, I've learned how to embrace fats. I find that my brain functions so much better-using ketones as fuel.
Gone are the days of fibro fog, and walking around feeling like my skin was too tight for my body. At my worst, I had difficulty recalling my own phone number. Indeed, the struggle was real. This is why I am grateful God pointed me to this lifestyle.
Still wondering if going low carb keto makes sense for you? Check out our about page to see our before and after pictures. It's our prayer that our journey will inspire. Learn more about our Jesus and Keto approach to this Ketogenic lifestyle.
Do check out our recipe for Keto Layered Salad, it's a fantastic crowd-pleaser that can also be made in mason jars for a week's worth of lunch.
Tag Us
I sure hope you will give this recipe a try. Once you do, make sure you remember to tag us on Instagram and Facebook. It's what keeps this girl encouraged to keep sharing and perfecting her recipes.
Be sure to also check out our Amazon Store for recommendations. You might be surprised by how many great keto options are at your disposal.
Favorite Keto Hack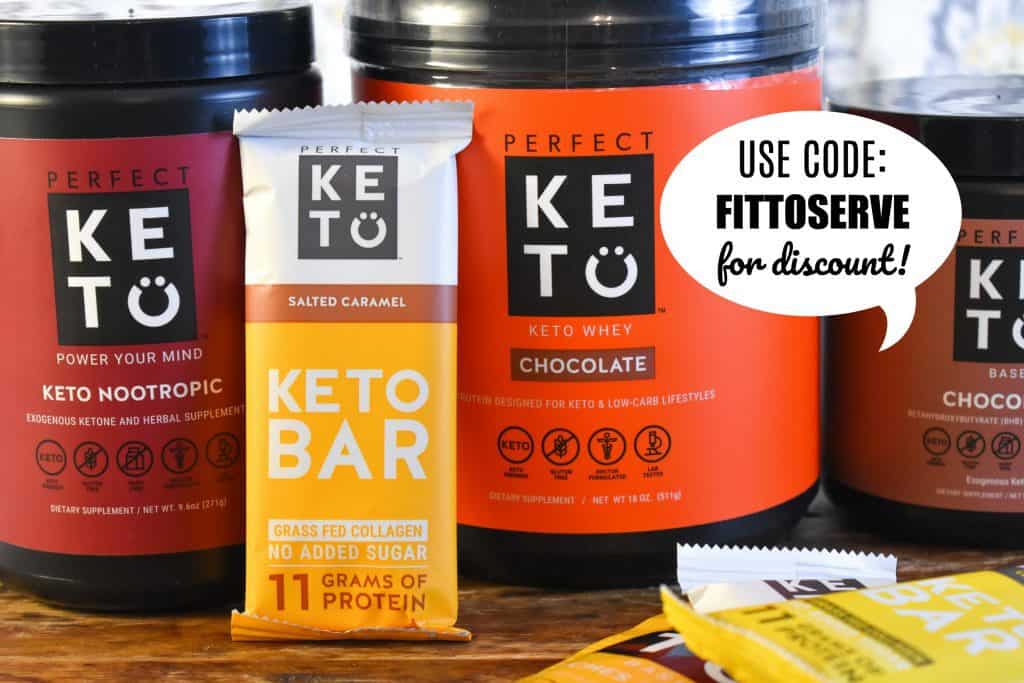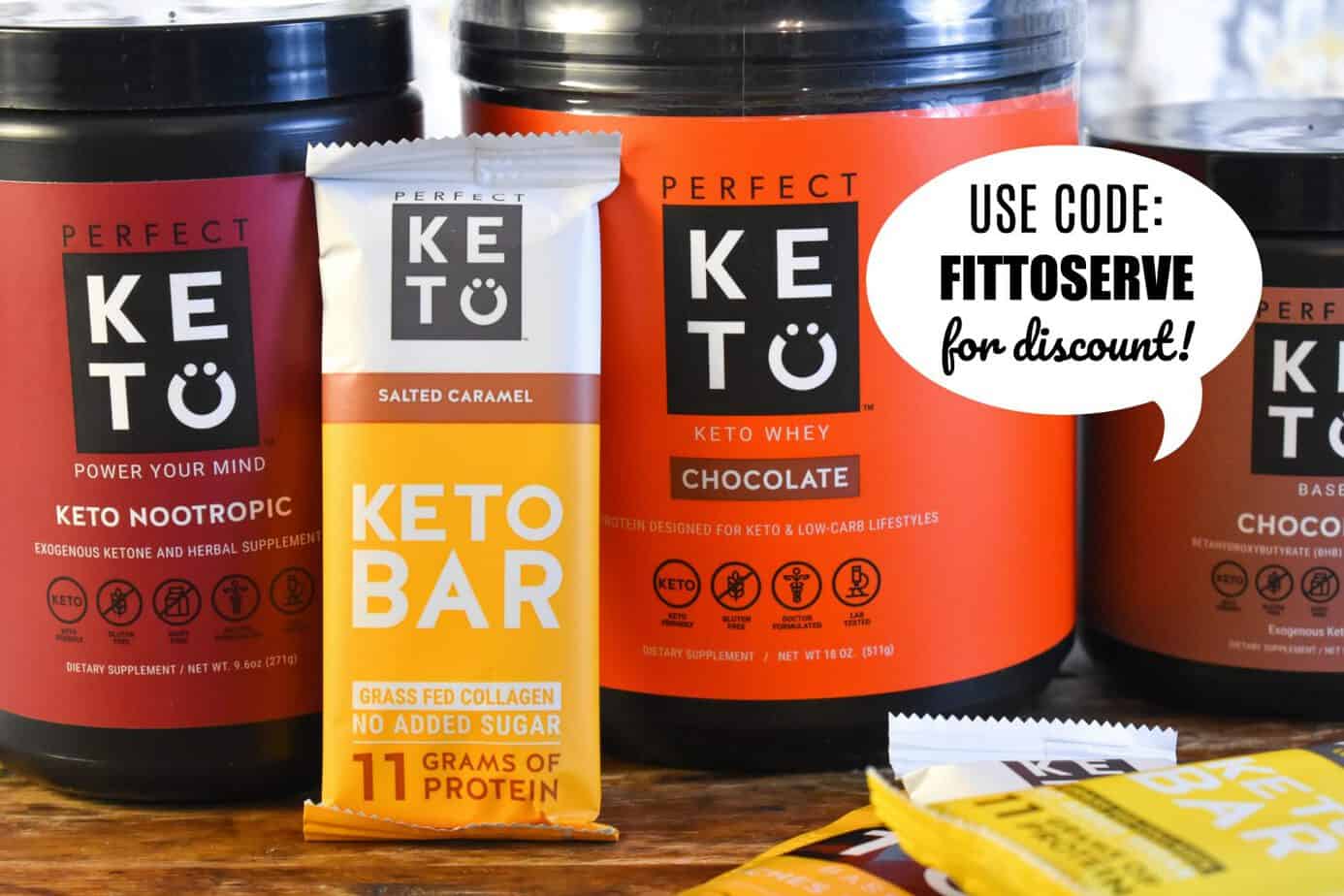 Perhaps, you've struggled to get into ketosis consistently on your low carb keto diet, or you've hit a plateau that doesn't seem to budge, consider using Perfect KETO's exogenous ketones.
By using exogenous ketones you will naturally elevate your ketones allowing you to enter into ketosis more quickly.
Being at a deeper level of ketosis will help reduce your appetite, carb cravings, and give you lasting energy. It's been our experience that the use of exogenous ketones helps make the low carb keto lifestyle a viable sustainable option.
Honestly, it's like having willpower in a cup.
Use this link and get a 15% discount when you place your order for any of Perfect Keto products. Just add the code FITTOSERVE at checkout.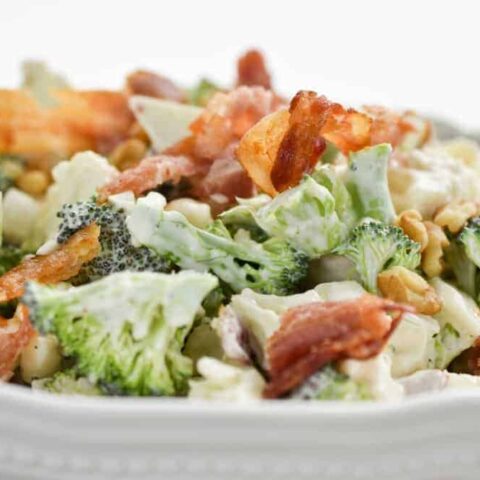 Keto Broccoli Cauliflower Salad
A recipe for keto broccoli cauliflower salad. It's a low carb version of an Amish broccoli salad.
Ingredients
Keto Broccoli Cauliflower Amish Salad
4 cups of chopped raw broccoli florets and stems
4 cups of chopped cauliflower florets and stems
9 slices of cooked bacon roughly chopped.
½ cup of finely chopped red or white onion
¼ cup of walnuts or other favorite low carb nut
Keto Amish Dressing
1 cup of full-fat sour cream
1 teaspoon of sea salt
½ teaspoon of cracked black pepper
½ cup of finely chopped red or white onion
Instructions
Dressing:
In a medium bowl mix together the mayonnaise, sour cream, vinegar, chopped onion, sugar substitute, salt, pepper making sure it is well combined. Set aside.
Salad:
Chop the broccoli and cauliflower using mainly the florets and only the tender part of the stems.
In a large mixing bowl combine the chopped cauliflower and broccoli.
Pour the dressing over the vegetables and stir to fully coat. Next fold in the bacon and nuts.
Store in the refrigerator.
This salad keeps well for up to three days when properly stored.
Nutrition Information:
Yield:

12
Serving Size:

1
Amount Per Serving:
Calories:

118
Total Fat:

9.1g
Saturated Fat:

2.8g
Cholesterol:

20mg
Sodium:

250mg
Carbohydrates:

4.9g
Fiber:

1.2g
Sugar:

1.4g
Protein:

4.2g
SaveSave
SaveSave
SaveSave
SaveSave
SaveSave