This recipe for keto Cuban cornbread is sweet, moist, and oh so good. One bite and you think you're in the Caribbean island of Cuba.
The fact that this recipe has all the flavor of pan de maíz but uses almond flour instead of cornmeal means that it's a keto-friendly Cuban cornbread.
Raised in Miami where Cuba's influence permeates the city, sweet cornbread can be found locally in Hispanic supermarkets and bakeries.
When I went keto in 2014 I had to say goodbye to traditional Cuban cornbread. However, this girl found a way to enjoy this classic bread recipe by using some clever techniques when making the batter and baking.
In fact, I have an entire collection of keto cornbread recipes dedicated to all things cornbread.
Keto Cuban Cornbread
If you're looking for a gluten-free, grain-free low carb Cuban-inspired cornbread recipe then you've come to the right place.
What's more this low-carb cornbread is also super easy to make. Pull out your cast-iron skillet, or go get you one, cuz we are making a recipe that is sure to fool your tastebuds. Winning!
I like my cornbread on the sweeter side and no doubt it's because of what I grew up enjoying.
Is Cornbread Keto?
If you are wondering if traditional cornbread is keto, the answer is an absolute no.
This is mainly because corn is just too high in carbs and will therefore kick you out of ketosis. But no need to fret, I have a delicious solution for you.
Do you know that corn is actually considered a vegetable, a grain, and a fruit? This is because it all depends on when it's harvested.
Corn seed is considered a grain if it is harvested for cornmeal (dry corn seed)
However, corn seed is considered a vegetable when it's harvested for eating fresh (sweet corn when at the milk stage)
Corn seed is also considered a fruit because of its botanical definition.
With all that being said, I refuse to eat corn in any form because it also happens to be very high in mycotoxin (fungus) and it's also loaded with GMO.
Thankfully, all my cornbread recipes including this Caribbean-inspired one can make it possible to enjoy this bread while doing keto.
How To Make Low Carb Cuban Cornbread
Once again I reiterate that absolutely no corn, cornmeal was used in this recipe. That's right not even little baby corn.
The good news is that making this recipe is pretty straightforward. Plus, you won't even miss the corn in this mock recipe.
Although you can use both almond meal and almond flour for this bread, I do find that the finer texture of almond flour get's the texture closer to a classic Cuban pan de maíz.
The following ingredients and tools are what you will need to make a guiltless option. Do note that the full printable recipe card is at the bottom of the page.
Ingredients And Tools Needed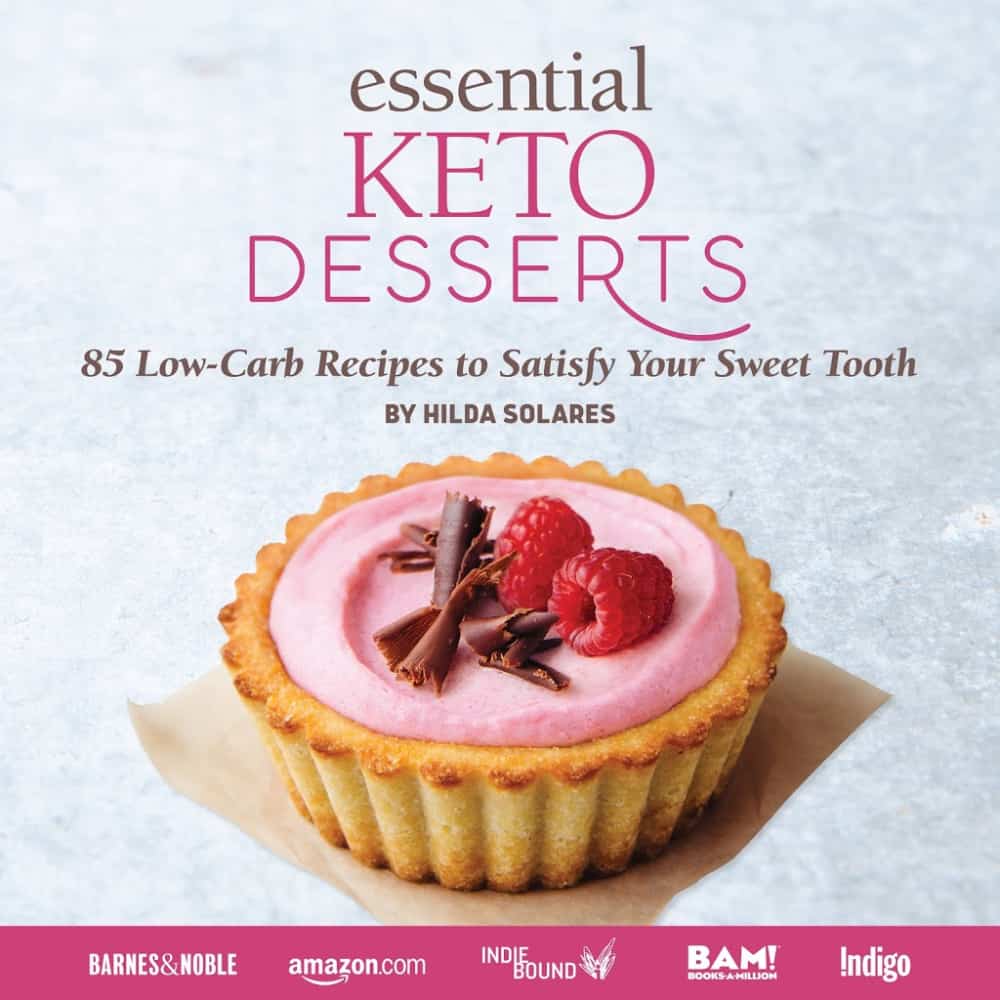 Disclosure: Some of the links below are affiliate links, meaning at no additional cost to you, I will earn a commission if you click through and make a purchase.
Baking powder
Eggs, room temperature
Heavy Cream
Sour Cream
Melted butter
Salt
8 1/2 or 9-inch cast-iron skillet pan or cake pan.
Best Keto Cornbread Extract
Using a keto-friendly cornbread extract amplifies the flavor of "corn" in this mock cornbread recipe. It's a way to further fool your tastebuds.
And it's why I highly encourage you to give it a try.
The use of a corn extract is really effective in getting the flavor of cornbread without the use of any corn and that's crucial anytime you want all the flavor but none of the carbs.
OOOflavors cornbread flavored concentrate has managed to create a cornbread extract that has zero calories, zero sugar, and zero carbs.
Since it's a highly concentrated extract a tiny amount is all you need to get the flavor of corn.
I recommend using 4-5 drops in this recipe and see if it elevates the flavor further.
For taste reference, I would classify this cornbread recipe as Southern-style since it's sweeter and has a cake-like texture. A Northern cornbread isn't sweet at all. For more information about these two classic styles, you can check out this article.
Tag Us
I really hope you will give this keto Cuba-inspired cornbread a try. If you do it a make sure you remember to tag us on Instagram, Facebook, and Pinterest.
It's what keeps us encouraged to keep sharing and perfecting our recipes. Also, check out our Amazon Store for our recommendations.
You might be surprised by how many great keto options are at your disposal. Don't forget to subscribe to our email list so that we can stay connected.

Wondering what to serve this cornbread with? How about our keto Cuban picadillo or keto Cuban pork?
Grab Our Books!
In case you don't know we have authored two books for you, Essential Keto Bread and Essential Keto Desserts both inspired by your requests over the years. It's my prayer these keto cookbooks will help make keto a delicious breeze for you.
Join Our Jesus And Keto Movement
Until my husband, Randy, and I began to combine the promises of God's word about healing and changed our diet to a keto one, that we finally began to see our health improve.
By cutting out the junk food and focussing on real foods we gave our bodies the nutrition needed. Then our bodies did what God designed them to do, to heal themselves. This is what we believe it means to live in divine health.
Knowing firsthand the benefits of this decision we have created a closed private Christian group that is using the keto diet to transform their lives. We invite you to join our free Private Facebook Group and see if it's not the key you have been missing.
Keto Cuban Cornbread
This recipe for keto Cuban cornbread is sweet, moist, and oh so good. One bite and you think you're in the Caribbean island of Cuba. The fact that this recipe has all the flavor of pan de maíz but uses almond flour instead of cornmeal means that it's a keto-friendly Cuban cornbread. Plus it's an easy recipe that's baked in a cast-iron skillet for the perfect texture.
Ingredients
2 teaspoons of baking powder
4 room temperature eggs beaten
5 tablespoons heavy whipping cream
3/4 cup of sour cream
1/2 cup melted unsalted butter, plus one tablespoon of butter to grease the cast iron skillet
1 teaspoon of sea salt
Instructions
Pre-heat oven to 375 degrees.
Place the 9-inch cast-iron skillet in the center of the oven to heat. Proceed to make the cornbread.
In a large-size bowl combine the almond flour, sugar substitute, salt, and baking powder and set aside.
In a medium-size bowl combine the heavy cream, sour cream, eggs, and cornbread extract. Mix until fully combined.
Add the wet ingredients to the dry ones and gently stir till fully incorporated.
Next, add the melted butter, and stir till mixed.
Using oven mitts carefully remove the hot cast-iron skillet out of the oven and add one tablespoon of butter to the skillet swirl the butter to coat both the bottom and sides of the pan.
Next, then add the batter to the skillet
Bake the bread for 30 to 35 minutes, or until lightly golden.
Serve hot, warm, or at room temperature.
Store leftovers in the refrigerator for up to 5 days or freeze for up to 3 weeks.
Notes
Note that if you do not have access to a cast-iron skillet you can bake this cornbread in a 9-inch cake pan. If you do skip the step where you heat the pan in the oven and just liberally grease the pan with butter before adding the batter.
Recommended Products
As an Amazon Associate and member of other affiliate programs, I earn from qualifying purchases.
Nutrition Information:
Yield:

10
Serving Size:

1
Amount Per Serving:
Calories:

365
Total Fat:

36,6g
Saturated Fat:

17.3g
Cholesterol:

132mg
Sodium:

169mg
Carbohydrates:

5.4g
Net Carbohydrates:

3g
Fiber:

2.4g
Sugar:

1g
Protein:

7.3g