This flavor-packed recipe for a Keto Cuban Pork (Lechón) is an authentic Cuban dish made easily in a slow cooker.
Enjoy all the classic flavors of Cuban "pernil" pork with minimal prep and effort by making it in a crockpot. If you are familiar with Cuban cuisine you know that it's common practice to roast the entire pig.
No doubt, pork cooked in a Caja China is a very delicious way to eat pork, but it's also tons of work.
Cuban pork, lechón asado is commonly made for special celebrations and holidays because it's usually a labor-intensive meal. Thankfully, it doesn't have to be since you can get equally great results in a crock-pot.
The secret to this delicious pork dish lies in the tasty mojo marinade. Mojo simply means sauce.
Cuban criollo mojos recipes can vary but they generally agree upon a few basic ingredients such as sour oranges, or Seville oranges, fresh garlic, salt, and pepper.
My recipe for keto mojo pork includes some extra herbs and spices since this is how I was taught to make pernil.
Cuban food to this day is my go-to food for comfort. This is why a keto Cuban pork recipe that could be easily made in a slow cooker became a must in my world.
Be sure to check out our entire collection of Keto Cuban Food for more delicious options!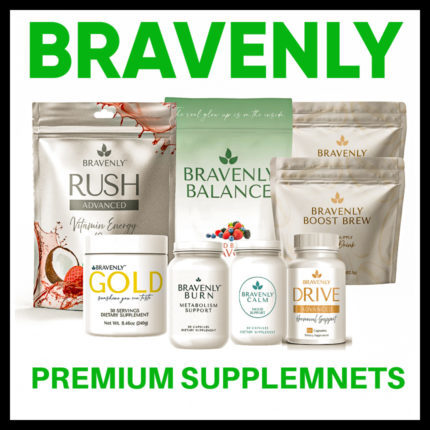 Keto Cuban Pork (Lechón)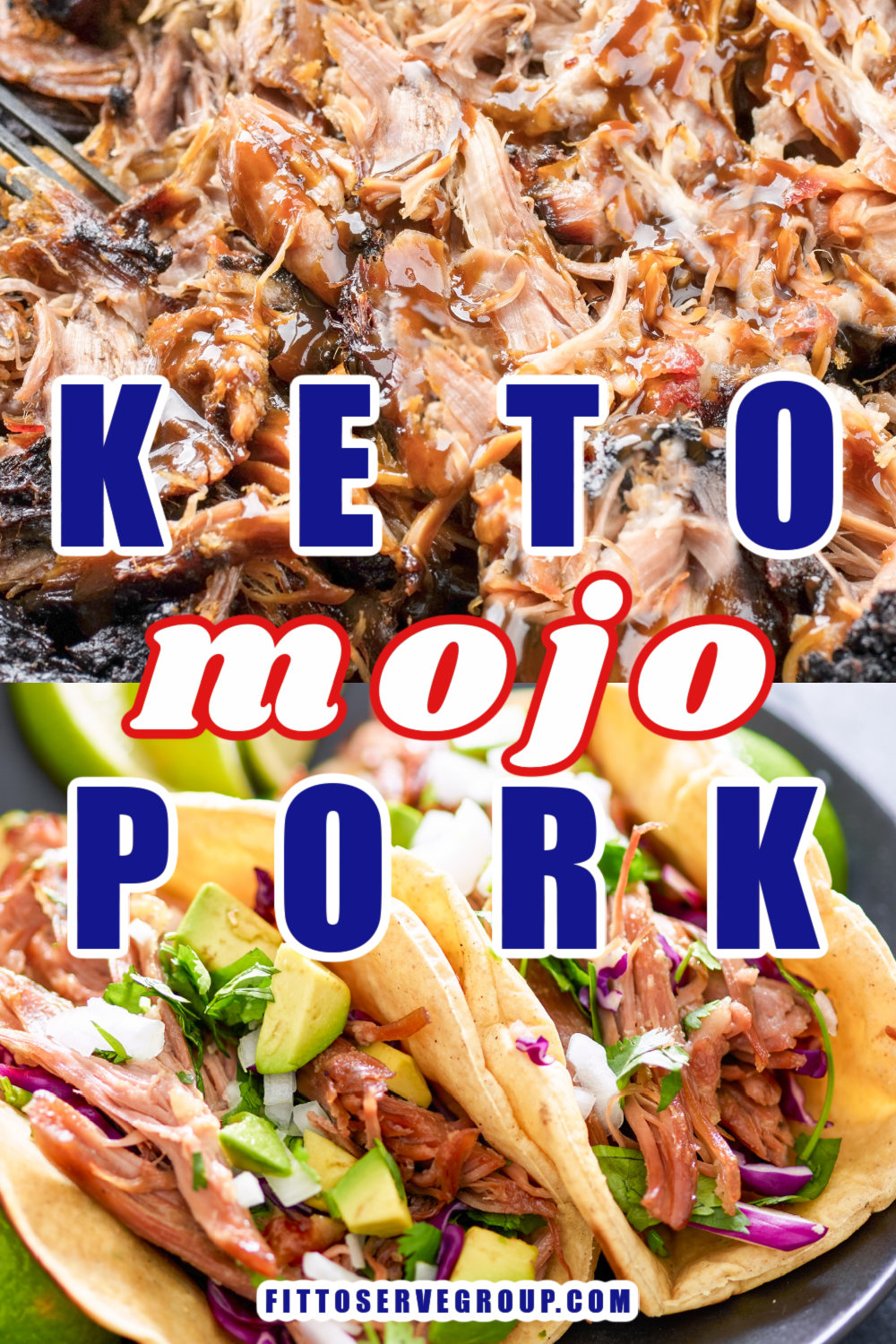 Roasted pork, lechón, is served on the regular here in south Florida, but making sure I had a way to enjoy it on a low carb/ keto diet was a way to honor my heritage and still stay compliant with the keto lifestyle.
Pork is actually a great option for anyone doing keto that consumes meat. Seasoning it with a Caribbean twist just makes it extra flavorful.
By now, you may have guessed that I am of Spanish descent. My dad is Cuban and my mom is from the Dominican Republic.
This simply means that although I was born in the United States, I have proudly retained my Spanish roots.
This isn't difficult to accomplish if you grew up in Miami as I did. There is a large Hispanic presence here and frankly, I never grew up feeling like a minority.
And I'm grateful for my Hispanic heritage. Without a doubt, growing up, my parents did a great job to make sure I never forgot my roots.
How To Make Keto Mojo Pork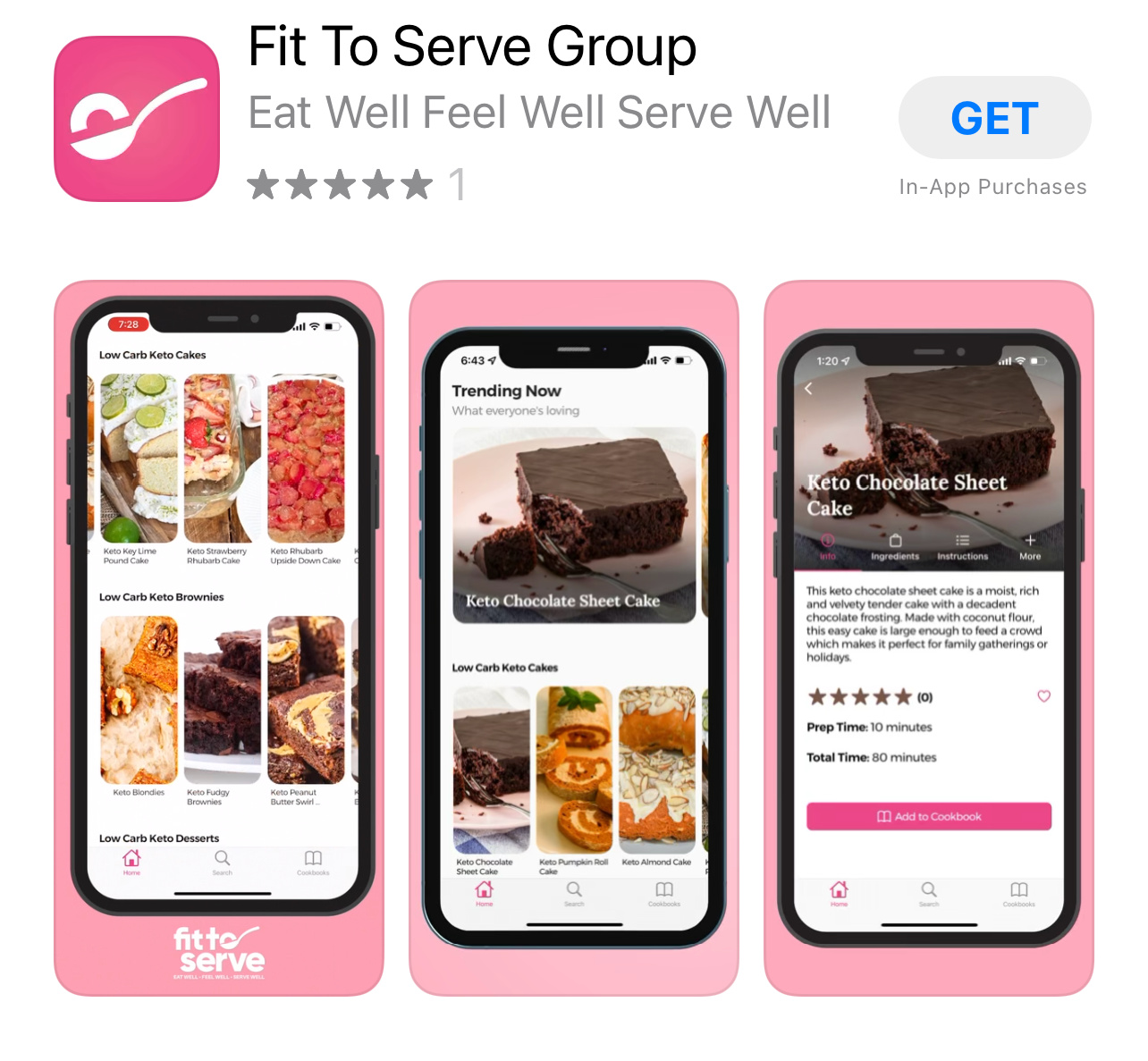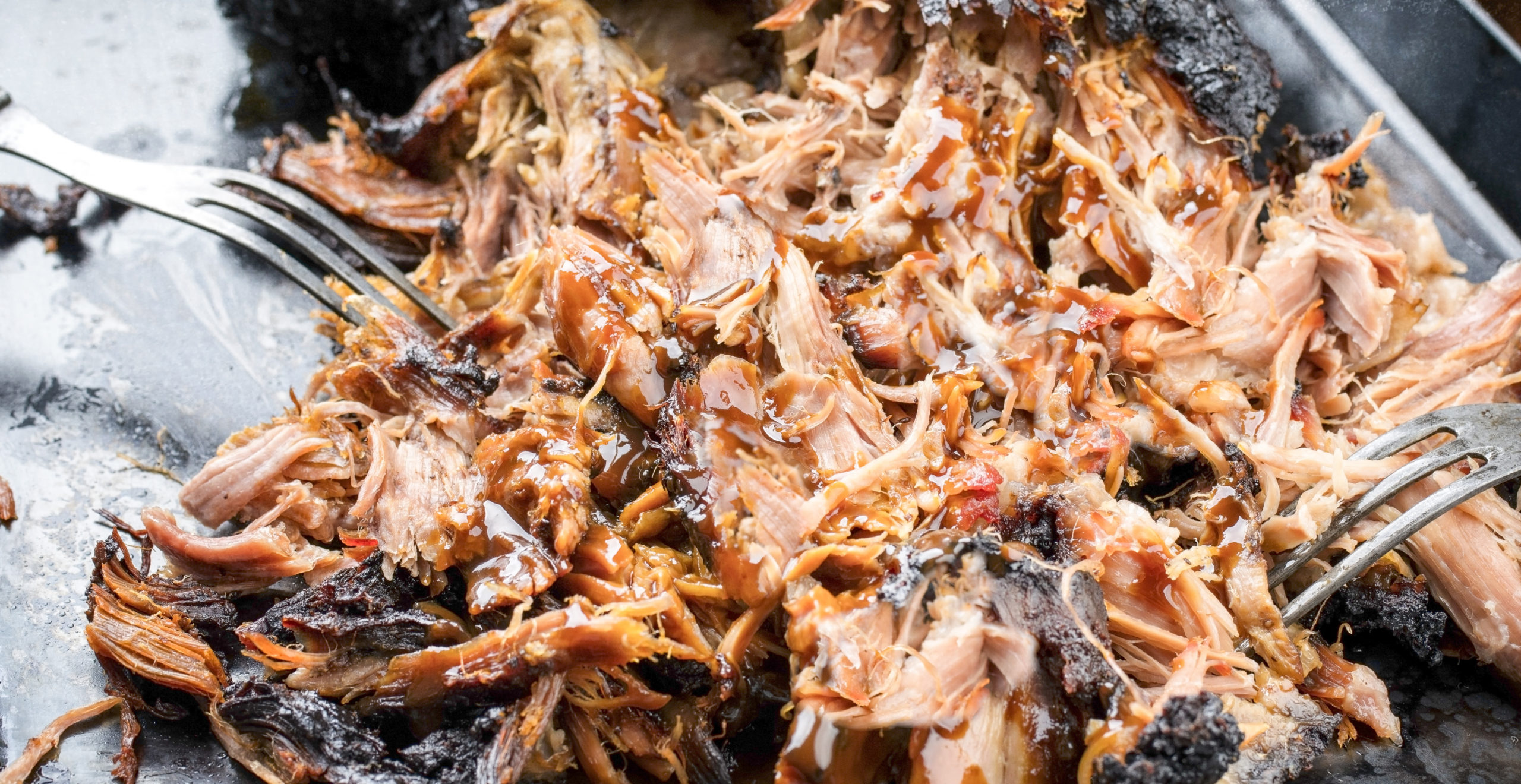 Nothing beats a whole hog that has been lovingly cooked for hours in a Caja China. It's basically a wood box lined in metal that is then topped with a charcoal tray.
Cooking in a Caja China is an all-day event, that builds the anticipation of the lechón finally being ready to eat. If ever invited don't turn down the opportunity to experience the excitement behind this meal.
But let's face it who has time to cook this way on a regular basis? This is why I use a slow cooker when I am craving mojo pork.
After the lechón is cooked in the slow cooker, I place the shredded meat under the broiler for a few minutes to allow the meat to crisp up perfectly.
You can make keto mojo pork with basically any cut of pork. With a fattier cut of meat such as shoulder or pork butt, you will end up with a shredded style similar to carnitas.
If you choose to use fresh uncured ham or shoulder joint, you will be able to slice the lechón.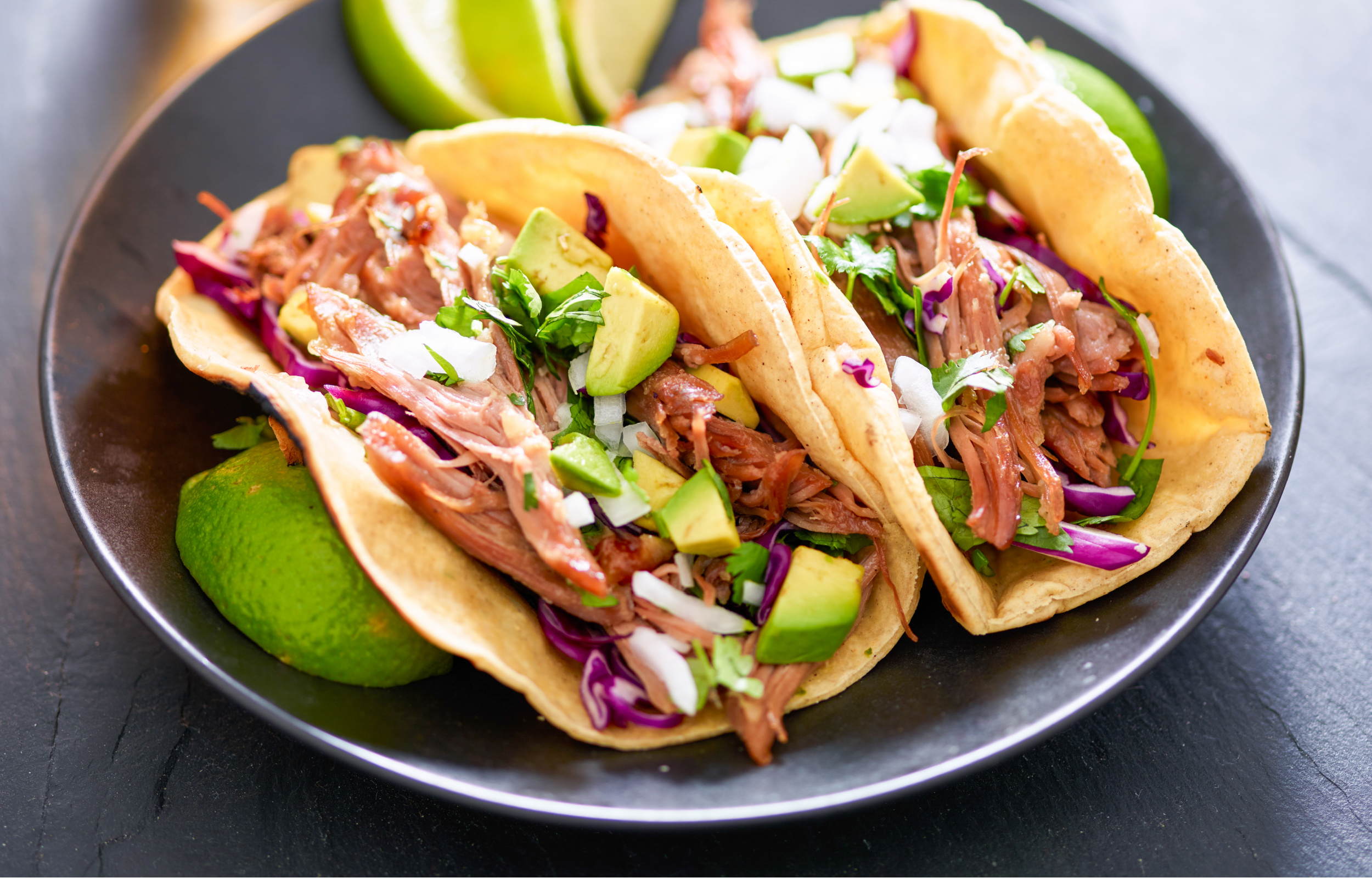 What Are Sour Seville Oranges?
Disclosure: Some of the links below are affiliate links, meaning at no additional cost to you, I will earn a commission if you click through and make a purchase.
As far as the mojo marinade goes, I use sour oranges, lots of fresh garlic, cumin, paprika, and oregano.
If you are not familiar with sour oranges they are also known as bigarade oranges, bitter oranges, and marmalade oranges. These oranges are quite sour and would not be eaten raw in the same way you would eat navel oranges.
You can purchase sour oranges at local Hispanic or Caribbean supermarkets labeled as "naranja agria".
However, if you cannot find them, they can be substituted with a mixture of limes and unsweetened orange juice. This substitution will not exactly have the same taste profile, but it will still be quite delicious.
Another option is to use bottled sour oranges such as Goya's Marinade, Naranja Agria.
Keto Lechón Made In A Slow Cooker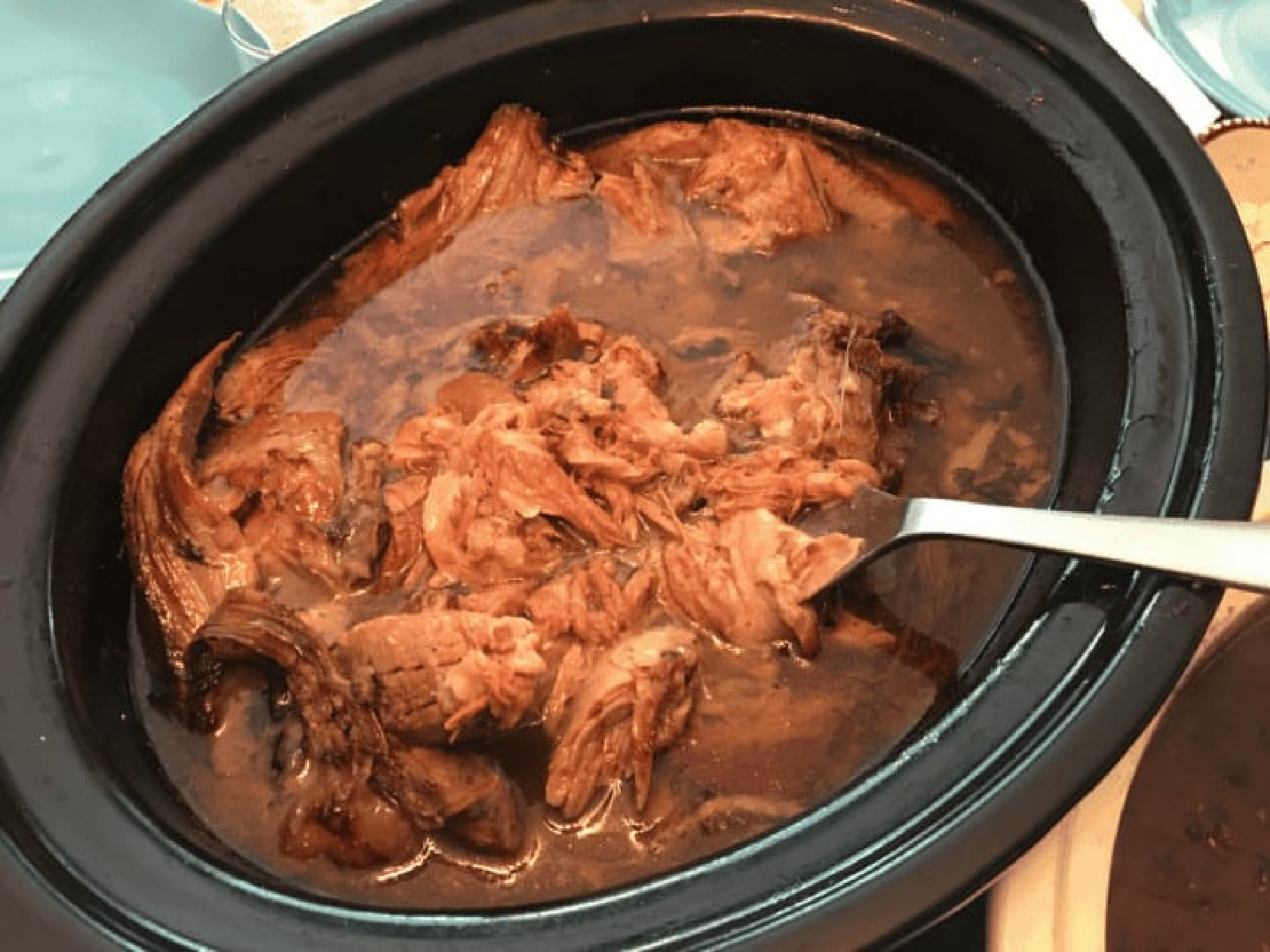 Because we all don't have the luxury to eat pork that has been cooked slowly in a Caja China, a slow cooker will have to do.
The good news, though, is that cooking a low-carb keto lechón in a slow cooker makes for one DELICIOUS option.
This recipe is a nod to my Dad's homeland and reminds me of the importance of a good meal shared among family and friends.
So how does a low-carber accompany her? Easy, with a side of cilantro-lime cauliflower rice and a green salad.
Around these parts, saying NO to high carbs foods like rice, beans, and platanitos (sweet plantains) get lots of stares and questions.
You can also serve this keto mojo pork as carnitas using our keto tortilla recipe.
Tag Us
I sure hope you will try out some of this easy keto Cuban pork recipe a try. Once you do make sure you remember to tag us on Instagram, Facebook, and Pinterest.
It's what keeps us encouraged to keep sharing and perfecting our recipes.
Also, check out our Amazon Store for our recommendations. You might be surprised by how many great keto options are at your disposal.
Be sure you also visit our Keto Hispanic Food for more Latin recipes!
Join Our Jesus And Keto Movement
Randy and I came to the keto diet looking at it from a Christian perspective, it's the filter we choose to see from.
When we decided to combine our Christian faith and the keto diet, we did so in hopes of finding lasting transformation.
To say we needed God's intervention is putting it mildly. When we followed the Holy Spirit's lead to embrace the ketogenic diet and combine it with our faith, we got on the path to real transformation.
If you are looking for a Christian group that is using the keto diet to transform their lives we invite you to join our Private Facebook Group and see if it's not the key you have been missing.
Grab Our Books!
In case you don't know we have authored two books for you, Essential Keto Bread and Essential Keto Desserts both inspired by your requests over the years.
I pray these keto cookbooks will help make keto a delicious breeze for you.
Be sure to request our FREE Jesus and Keto E-Book (First 7 Days) We hope it blesses you.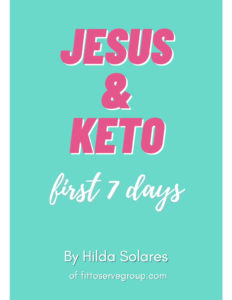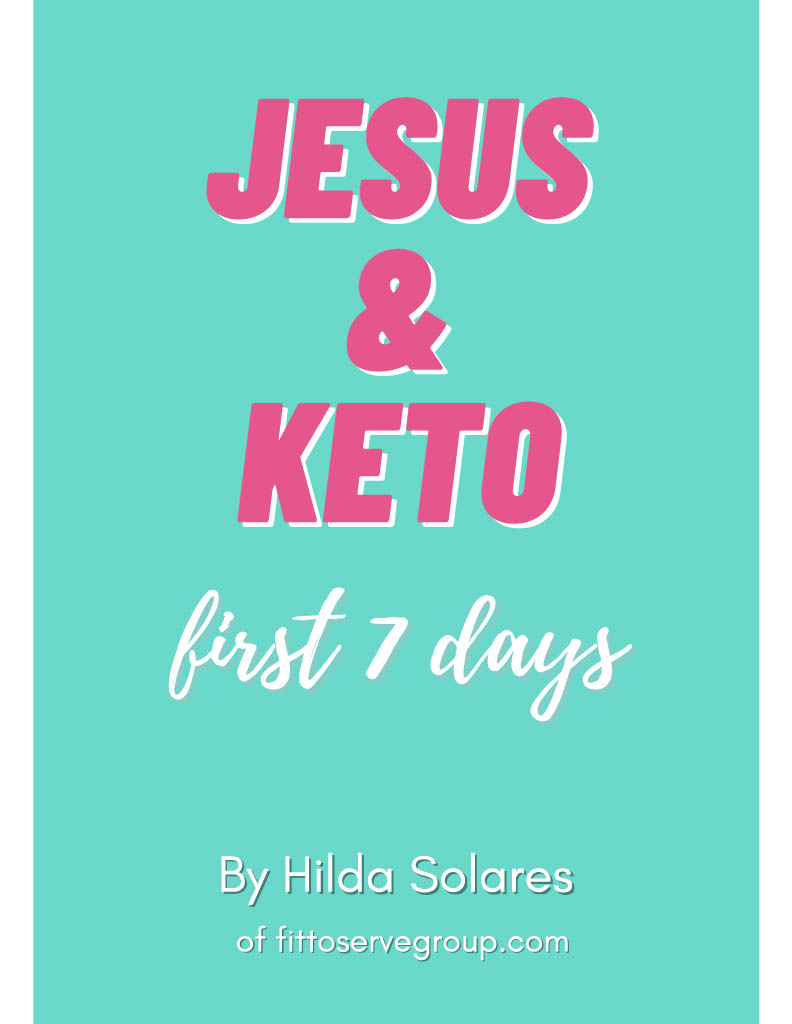 Fittoservegroup Keto App
Looking for a fast way to access our keto recipes? We got you covered. There's an app for that. Yup, there's a Fit To Serve Group App and it's going to make your keto diet a delicious breeze!
Access hundreds of recipes that are all sugar-free, gluten-free, and keto-friendly.
Enjoy early access to recipes before they go live on the website. Plus, bonus recipes that are exclusive to the app. Make your own personal cookbooks that you can use to organize your favorite recipes.
Search recipes by title, ingredients, keywords, and categories, and of course every recipe shows complete nutritional facts.
Get the Fit to Serve Group App for easy-to-follow keto recipes made with easy-to-source ingredients.
The app is loaded with hundreds of yummy recipes for breakfast, lunch, dinner, snacks, and even desserts!
Learn more by visiting our Fit To Serve Group App Page.
Keto Cuban Pork (Lechón)
Total Time:
8 hours
10 minutes
Enjoy traditional Cuban cuisine with this recipe for Keto Cuban Pork. It is classic Cuban pork (Lechón) made easily in a slow cooker.
Ingredients
4 pounds of pork shoulder
1 tablespoon of dried oregano
1 tablespoon of ground cumin
1 tablespoon of paprika
1 teaspoon of black pepper
3 teaspoons of sea salt
½ teaspoon of cayenne pepper flakes
2 onions coarsely chopped
8 cloves of garlic, finely minced
½ cup of sour orange juice (or substitute ¼ cup of lemon juice, ¼ cup of unsweetened orange juice not from concentrate if not available).
½ cup of white wine or ¼ cup of white vinegar
2 bay leaves
Instructions
In a medium bowl, mix together the sour orange juice, white wine vinegar, salt, oregano, cumin powder, garlic, and pepper flakes. Pour the marinade over the pork. Place the pork inside the slow cooker along with the onions and bay leaf. Cover and allow to cook on low for at least 6-8 hours.
Once the pork is fork-tender, drain the meat and place it on a cookie sheet under a broiler until the meat crisps up.
Refrigerate leftovers for up to 3 days or freeze for up to 3 weeks.
Nutrition Information:
Yield:

20
Serving Size:

1
Amount Per Serving:
Calories:

273
Total Fat:

19.4g
Saturated Fat:

7.2g
Cholesterol:

82mg
Sodium:

63mg
Carbohydrates:

0.8g
Net Carbohydrates:

0.7g
Fiber:

0.1g
Sugar:

0.2g
Protein:

21.2g
SaveSave
SaveSave
SaveSave