This easy recipe for keto asparagus salad is light, refreshing, and flavorful, with the perfect amount of zest! It's a delicious keto salad that consists of blanched asparagus and homemade keto vinaigrette.
This asparagus salad is the perfect, chilled salad for the spring and summer months. With just a few easy steps and simple ingredients, it's sure to grace your table anytime you want a delicious and beautiful salad!
Consider sharing this the next time you have guests over for a keto brunch it's one that is sure to impress!
Although the star of this salad is the fresh asparagus, you can't forget about the super-easy sugar-free vinaigrette that adds the perfect amount of tanginess to every bite.
It's a vinaigrette that was inspired by my abuela's recipe that we tweaked to make keto.
If you're a fan of salads made mostly from vegetables you'll love our keto broccoli and cauliflower salad. And be sure to check out our keto salad recipes for even more tasty options!
Do you know that asparagus is high in fiber? It sure is and if you are a fan of adding more fiber to your keto diet you should check our collection of keto high-fiber recipes.
Keto Asparagus Salad
Now, if you've never had an asparagus salad, you're in for a real treat with this one. This asparagus salad has loads of flavor and it's super easy to make since it takes very little prep work.
You might be asking, what exactly is an asparagus salad? Well, that was my question when my mom announced she was making it for a brunch. One bite in and I was hooked!
Turns out that an asparagus salad is made with blanched asparagus that's then allowed to cool and drizzled generously with a vinaigrette. You can also add some tomatoes or anything you'd like really!
Making this delicious salad is pretty simple to make and uses ingredients you most likely have on hand already!
Blanching Asparagus Step By Step Instructions
Buying: Start by looking for sturdy, straight asparagus spears that are vibrant green with a slight purple hue at the very tips. Don't choose spears that are dark, limp, and have woody dried-out stems.
Trimming: You will need to trim the tough portion of each asparagus spear, it's the fibrous part that is too tough to eat. I like bending the lower half of each spear until it snaps. Using this technique ensures that the asparagus breaks off exactly where the tender part of the asparagus begins and the woodier parts begin, but you can also just trim with a knife.
Storing: If you do not plan to make your asparagus the same day you purchased it, you should trim them first and then store them upright in a container with about an inch of cold water in your refrigerator. Aim to use withing a few days for best results.
Boil The Water: Bring a pot of salted water to boil in a large pot. Add the asparagus and cook until they are bright green and crisp-tender, about 4 to 5 minutes depending on the thickness of the spears.
Ice Water Bath: Once allowed to cook place them into the ice bath water to stop the cooking process and retain both the flavor and color. Pat the spears dry and place them into the refrigerator to chill.
How To Make A Keto Asparagus Salad
Disclosure: Some of the links below are affiliate links, meaning at no additional cost to you, I will earn a commission if you click through and make a purchase.
After you have blanched the asparagus it's time to make the keto-friendly vinaigrette.
You'll need to slice your red onions and mince the garlic cloves, then in a small bowl, 8-ounce mason jar, or gravy boat, you'll add in all of your ingredients and mix well to combine.
Then it's just a matter of drizzling the asparagus with the vinaigrette and garnishing with lemons and cherry tomatoes before enjoying your salad!
The following are the basic ingredients you'll need for the salad. Note the full printable recipe card is at the bottom of the page.
Keto Asparagus Salad Ingredients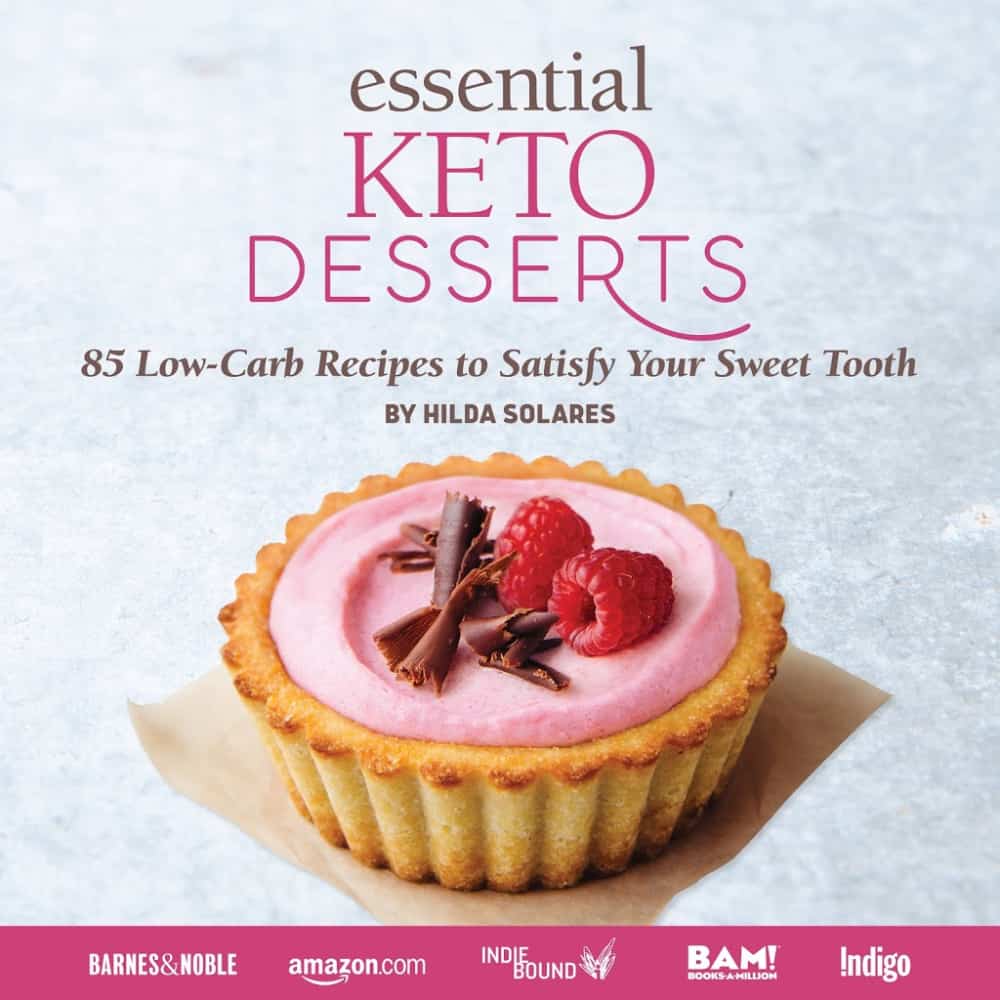 Fresh asparagus spears

Olive oil

Apple cider vinegar

or red wine vinegar

Brown mustard

Red onion, finely chopped

3 to 5 cloves of garlic

Oregano

Red pepper flake

Sea salt

Black pepper
Tag Us
I sure hope you will give this keto-friendly asparagus salad a try. It's the perfect salad that can go with just about any meal. Once you do, make sure you remember to tag us on Instagram and Facebook.
Also, check out our Amazon Store for our recommendations. You might be surprised by how many great keto options are at your disposal.
Grab Our Books!
In case you don't know we have two books for you, Essential Keto Bread and Essential Keto Desserts both inspired by your requests over the years. It's our prayer these keto cookbooks will help make keto a delicious breeze for you.
Join Our Jesus And Keto Movement!
Randy and I came to the keto diet looking at it from a Christian perspective, it's the filter we choose to see from. When we decided to combine our Christian faith and the keto diet, we did so in hopes of finding lasting transformation.
To say we needed God's intervention is putting it mildly. When we followed the Holy Spirit's lead to embrace the ketogenic diet and to combine it with our faith, we got on the path to real transformation.

If you are looking for a Christian group that is using the keto diet to transform their lives we invite you to join our Private Facebook Group and see if it's not the key you have been missing.
Favorite Keto Meal Planner
If you've been looking for an easy way to meal plan, consider checking out my review on Real Plans.
By using a keto meal planner you will free up your time by streamlining the process. I hope you agree with me that the last thing anyone needs, is to spend hours attempting to put a meal plan together.
Real Plans will finally put an end to frustrating hours of trying to create healthy meals. After all, we all know how challenging it can be to meet the demands of our full lives.
I love how Real Plans understands that the average busy person has no clue how to meal plan successfully, let alone consistently. Plus you can even use our Keto Recipes to form to create your weekly meal plans.
Keto Asparagus Salad
Additional Time:
10 minutes
This keto asparagus salad is light, refreshing and simple to make. It's the perfect warm weather keto salad and takes very little prep work!
Ingredients
Blanched Asparagus
2 lbs fresh asparagus
2 teaspoons of sea salt
Keto Vinaigrette
5 cloves of garlic
1/2 medium red onion
3/4 cup apple cider vinegar
1/4 cup olive oil
1/2 teaspoon sugar substiute
1/2 teaspoon brown mustard
1 teaspoon salt
1/4 teaspoon black pepper
1/2 teaspoon oregano
1 pinch red pepper flakes
Instructions
Prep your asparagus by washing well and snapping off the bottom third where the stems becomes tough and fibrous. You can also use a sharp knife and just cut the ends.
Fill a large bowl with water and ice and set aside.
In a large stockpot, or saucepan, bring about 3 to 4 inches of water and salt to boil.
Once boiling, add your asparagus and cooked for 4 to 6 minutes until tender.
Immediatly transfer to the bowl of ice water and allow to cool for 2 to 3 minutes or until completely cool. Then, draing and pat dry the asparagus before adding to a plate and allow to chill in the refrigerator while you ake the vinaigrette.
To make the keto vinaigrette simply combine in a small bowl the diced onions, minced garlic, vinegar, olive oil, and brown mustard. Then add in the salt, pepper, sugar substitute, oregano, and red pepper flakes.
Serve the asparagus drizzled with the vineaigrette. Garnish with lemon slices and cherry tomatoes.
Store leftovers for up to 2 days. The vineaigrette can be stored for up to onw week.
Nutrition Information:
Yield:

8
Serving Size:

8
Amount Per Serving:
Calories:

88
Total Fat:

6.5g
Saturated Fat:

1g
Sodium:

151mg
Carbohydrates:

6g
Net Carbohydrates:

3.4g
Fiber:

2.6g
Sugar:

2.5g
Protein:

2.7g