Let's get one thing straight before I share my Easy Keto Zucchini Lasagna recipe. Pasta used to be my main food love. In fact, it was a staple in my diet.
Like I would pick pasta over absolutely any other meal option each and every time.
Oh, can I add that I wasn't choosy either? I didn't care if it was whole wheat, cheap white, or the shape it came in. Yes, pasta had my heart.
When I realized that pasta, specifically the gluten in pasta was making my inflammation worse, I was pretty heartbroken. How on earth was I ever going to get over this hurdle?
Ugh, I had to say goodbye forever to pasta, and to say I struggled with this would be a major understatement.
Easy Keto Zucchini Lasagna
But this girl was determined to find suitable substitutes for pasta in order to stay compliant. There was no way I was willing to risk having a setback after my keto transformation.
Getting rid of wheat in the form of bread, and pasta means I no longer have to worry about an overactive inflammatory response in my body.
The key would be to find a way to enjoy a "pasta" alternative that could fool my taste buds.
That's when I decided to tweak my family lasagna recipe to make a low carb keto-friendly option. It's a keto lasagne with courgette! In case you didn't know courgette is what we call in the states zucchini.
Enter zucchini as my pasta alternative. Before you share resistance with me let me tell you that I understand the hesitation you may have to swap out your pasta for a vegetable.
I was there and was very skeptical too. However, I knew that if I was going to transition my high carb ways into a low carb keto one, I needed some real solutions.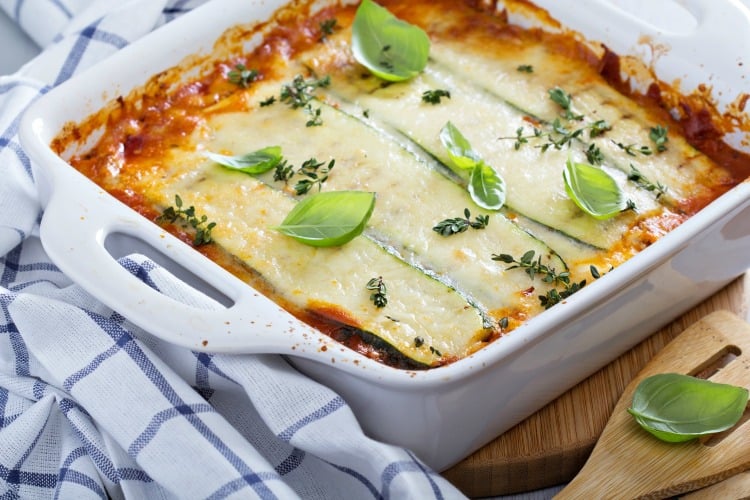 Keto Zucchini Lasagna – Simple Recipe!
Thankfully, zucchini makes a great substitute for pasta as long as you take the following tip into consideration.
Zucchini, for the most part, can take the place of your lasagna pasta but it has one issue that must be addressed.
You see the problem with zucchini is that once it's baked it releases a lot of moisture. This then makes your keto zucchini lasagna a little watery.
A problem especially if you plan on reheating any leftovers.
I discovered that if you spread your sliced zucchini on some paper towels and then sprinkle the slices with salt it will cause the zucchini to release some moisture.
You'll have to allow your zucchini to remain on the paper towels for at least 10 minutes. Then blot out the extra moisture that it releases.
This little extra step will make all the difference in your keto zucchini lasagna. After all watery lasagna isn't very appetizing.
Low Carb Keto Friendly Lasagna Alternatives or Substitutes
Can I tell you that It's been years since real pasta has crossed my lips? Years.
This is a huge victory for me when you consider how much I loved pasta in all its forms. Yes, I will admit that at first, it was not easy substituting my beloved pasta for a low carb alternative.
But my desire to get healthy prevailed and I've figured out how to swap out pasta for options that are just as tasty.
Changing a lifetime of bad food choices does not come without its bumps in the road. So, I must say, I'm pretty proud of myself for not ever caving in.
Besides coming up with creative recipe solutions this girl combines her Christian faith with the keto diet. If it were not for this I don't know if I would have been able to stand strong for as long as I have.
If your missing pasta will doing keto, you might also want to try my recipe for Keto Bacon Carbonara Casserole where I use spaghetti squash in place of spaghetti.
And if your a fan of mac and cheese do yourself a favor and give my recipe for Keto Mac and Cheese a try. Even my non-keto family loves this dish.
Keto Low-Carb Pasta Sauce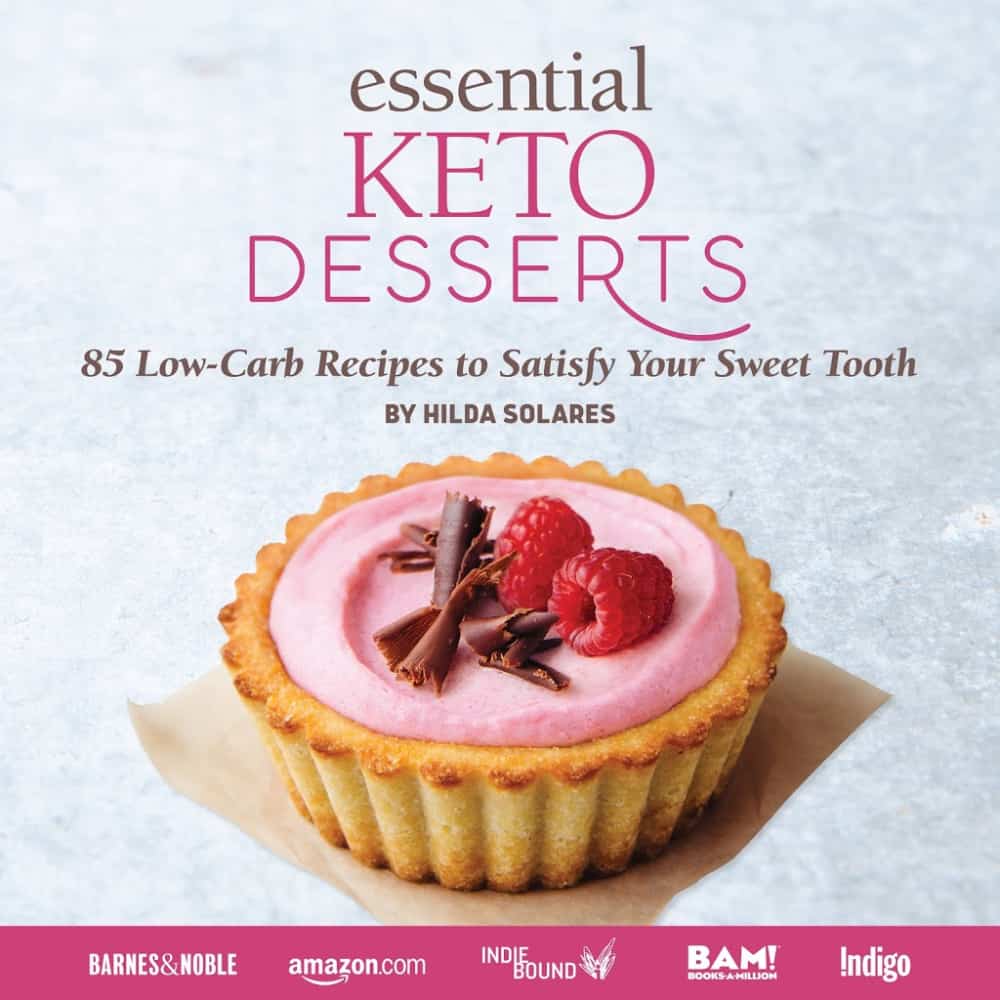 I've made my own home-made pasta sauce for like forever. Which is a good thing since most store-bought ones are loaded with sugar?
Growing up I had a neighbor who taught me how to make authentic Italian seasoning and red sauce and if I close my eyes I can still remember the thrill of the experience.
Avelina would invite me and my siblings for spaghetti dinner a couple of times a year and when she did we would huddle in her tiny kitchen for a memorable meal.
My recipe for keto pasta sauce will serve you well in a number of recipes and it's perfect for this keto-friendly lasagna with zucchini.
Tag Us
I sure hope you will give this recipe keto lasagna recipe a try. Once you do, make sure you remember to tag us on Instagram and Facebook. It's what keeps this girl encouraged to keep sharing and perfecting her recipes.
Also, check out our Amazon Store for our recommendations. You might be surprised by how many great keto options are at your disposal.
Grab Our Books!
In case you don't know I have authored two books for you, Essential Keto Bread and Essential Keto Desserts both inspired by your requests over the years. It's my prayer these keto cookbooks will help make keto a delicious breeze for you.
Favorite Keto Tip
Perhaps, you've struggled to get into ketosis consistently on your low carb keto diet, or you've hit a plateau that doesn't seem to budge, consider using Perfect KETO exogenous ketones.
Use this link and get a 15% discount when you place your order for any of Perfect Keto's products. Then add the code FITTOSERVE at checkout.
By using exogenous ketones you will naturally elevate your ketones allowing you to enter into ketosis more quickly.
Being at a deeper level of ketosis will help reduce your appetite, carb cravings, and give you lasting energy.
It's been our experience that the use of exogenous ketones helps make the low carb keto lifestyle a viable sustainable option.
Honestly, it's like having willpower in a cup.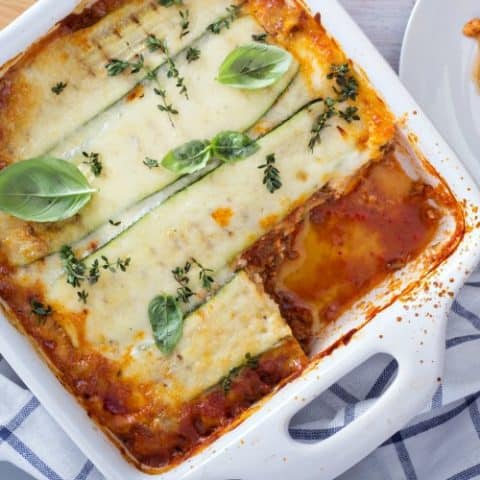 Easy Keto Lasagna
Total Time:
1 hour
20 minutes
It's an​ easy recipe for keto lasagna. It uses zucchini as an alternative to pasta.
Ingredients
Meat Sauce
3 tablespoons extra-virgin olive oil
1 small onion, finely chopped ( 4ounces)
1 pound of ground beef
1 (28-ounce) can crushed tomatoes
1 small can of tomato paste
1 ½ cups of water
2 tablespoons dried oregano
2 tablespoons of dried basil
1/2 teaspoon red pepper flakes
¼ teaspoon of black pepper
1 teaspoon of dried onion powder
1 teaspoon of dried garlic powder
3 cloves of fresh garlic crushed
2 teaspoons sea salt
3 medium zucchini sliced lengthwise
Ricotta Cheese Filling
15 ounces of whole ricotta cheese
½ cups mozzarella cheese
1/2 cup of grated parmesan cheese
1/4 teaspoon freshly ground black pepper
1 egg
dash of nutmeg
Mozzarella Cheese Topping
1 cup of shredded mozzarella cheese
2 tablespoons of grated parmesan cheese
Instructions
Preheat the oven to 375°F.
In a large skillet set over medium-heat, heat 3 tablespoons of olive oil.
Add the onion, garlic and red pepper flakes and cook, until the onion and garlic are translucent.
Add the ground beef and cook, until brown.
Add the crushed tomatoes, tomato paste, and water.
Next add the oregano, basil, and salt. Allow the meat sauce to cook and reduce until sauce has thickened. Set the sauce aside.
To make your filling mix the ricotta cheese, ½ cup mozzarella cheese, ½ cup of parmesan cheese. Next add the egg and dash of nutmeg and combine well.
Slice the zucchini lengthwise into thin strips, about 1/8 inch thick.
Place the zucchini on two layers of paper towels and sprinkle lightly with sea salt.
Allow the zucchini to sit on the paper towels for at least for 10 minutes. This step will remove some of the extra moisture out of your zucchini so that it does make your Keto Lasagna watery once baked.
Put 5 or 6 zucchini slices, overlapping slightly, in the bottom of an 8 x 8-inch baking dish. Add 1 cup of the sauce, next with 1/4 cup of the ricotta mixture. Repeat the layers twice.
Top with the remaining cup of mozzarella cheese. Lastly, sprinkle the Parmesan cheese.
Bake for 50 to 60 minutes, or until the keto lasagna is bubbling and the top is lightly brown. Let stand for 20 minutes before slicing and serving.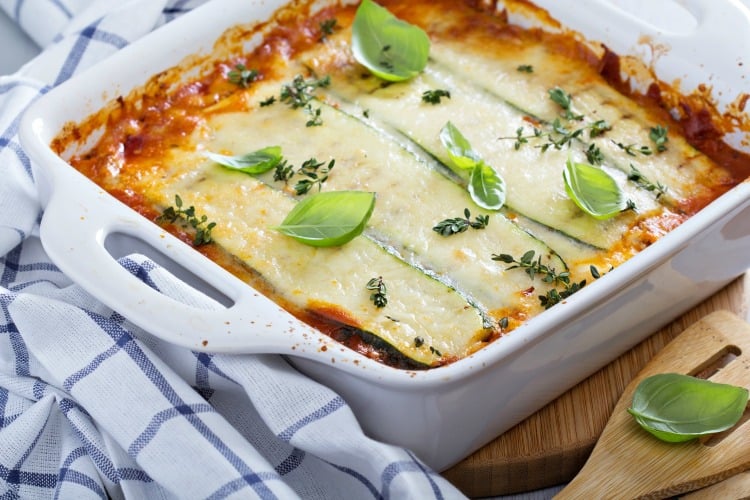 Nutrition Information:
Yield:

8
Serving Size:

1
Amount Per Serving:
Calories:

310
Total Fat:

12.9g
Saturated Fat:

5.9g
Cholesterol:

80mg
Sodium:

345mg
Carbohydrates:

10.1g
Fiber:

3.5g
Sugar:

6.3g
Protein:

27.8g
Save
Save
SaveSave
SaveSave
SaveSave

SaveSave
SaveSave
SaveSave
SaveSave
SaveSave