This 5-minute keto berry ice cream is the easiest, fastest, and delicious recipe you'll try! It really doesn't get much simpler than this recipe. With only 3 ingredients and 5 minutes of waiting this recipe for sugar-free, gluten-free, dairy-free, vegan, and keto ice cream will be your new favorite summer treat!
Made with frozen berries, coconut milk, and a little sugar substitute this sugar-free berry ice cream is perfect for those extra hot summer days where it's too hot to turn on the oven!
5-minute low-carb berry ice cream is also great when you need a made dessert last minute and quickly! You'll likely have all the ingredients on hand.
If you're looking for more sugar-free frozen treats then you'll love our keto berries and cream popsicle. You might also enjoy our recipe for keto red velvet ice cream cake, it's perfect for summer birthday parties!
Keto Berry Ice Cream
My keto berry ice cream was probably the fastest recipe I've ever come up with. Frankly, it made me feel like a kid working on a science project.
I knew I wanted something quick and easy that wouldn't make a big mess. I'd heard of freezer bag ice cream but the idea of shaking a bag full of coconut milk and berries made me fear it might end up on the walls instead of in our bellies.
In order to make my keto berry ice cream, I grabbed my full-fat coconut milk, some frozen berries, and a couple of teaspoons of sugar substitute.
I tossed all the ingredients into my cup and began to stir. What happened next took me by surprise, in a happy dance around the kitchen kind of way.
You see my little concoction immediately began to freeze. What I had not accounted for was how the frozen berries would help my ice cream freeze faster. "Oh wow, how cool is this?"
I placed it in the freezer and a few minutes later I had a delicious keto ice cream in under 5 minutes! At that point, all I had to do was stir and enjoy.
How To Make 5 Minute Keto Berry Ice Cream
Now as I mentioned, this is a quick, easy, mess-free, and churn-free keto ice cream! It really doesn't get much easier than this recipe.
You're really just throwing all the ingredients into a large one-gallon ziplock bag, mixing it up (not shaking wildly but go ahead if you dare), and place in the freezer for 5 minutes. That's it!
I was serious when I said this recipe is extremely easy! No mess, barely any waiting, and low in carbs, what more can you ask for in a dessert?!
After 5 minutes, your keto berry ice cream will be ready to eat. If you prefer a firmer ice cream you can leave it in the freezer for an additional 5 minutes or so until your desired level of frozen goodness is achieved.

The most important thing to remember when making this recipe is that your frozen berries need to be straight from the freezer and completely frozen. This is crucial in the ice cream coming together and freezing quickly.
Below are the ingredients you'll need. Note that the full printable recipe card is at the bottom of the page.
Disclosure: Some of the links below are affiliate links, meaning at no additional cost to you, I will earn a commission if you click through and make a purchase.
Ingredients You'll Need
Frozen sliced strawberries

Frozen blueberries

1 can (13 oz) full fat coconut milk
Best Sugar-Substitutes For Low-Carb Berry Ice Cream
My top choice is a monk fruit/erythritol blend. My personal favorite is Lakanto's brand. But you can also use Swerve an erythritol sugar substitute.
However, when it comes to this keto ice cream you will have to use a confectioner's sugar substitute. Both Lakanto and Swerve have great ones.
If you can't easily find a more natural sugar substitute you can also use Splenda for baking or a generic brand of the same. It will work with great success. I know not everyone would agree with me here and I respect that but in my book, it's still better than regular sugar.
Tag Us
I sure hope you will give this fun keto berries and cream popsicle recipe a try. Once you do, make sure you remember to tag us on Instagram and Facebook. Seeing your pictures is what keeps this girl encouraged to keep sharing and perfecting her recipes.
Don't forget to subscribe to our email list so that we can stay connected.
Grab Our Books!
In case you don't know we have authored two books for you, Essential Keto Bread and Essential Keto Desserts both inspired by your requests over the years. It's my prayer these keto cookbooks will help make keto a delicious breeze for you.
Join Our Jesus And Keto Movement
In case you don't know, our family came to the keto diet looking at it from a Christian perspective. As believers, we live our entire lives supported by God's grace.
So when the Holy Spirit led us to combine our Christian faith and the keto diet, we did so in hopes of finding lasting transformation.
To say we needed God's intervention is putting it mildly. When we followed the Holy Spirit's prompting to we got on the path to real transformation.
Knowing firsthand the benefits of this decision we have created a closed Christian group that is using the keto diet to transform their lives. I love how supportive and encouraging this group of believers is. It's exciting to see how people are transforming their lives by combining this lifestyle with the Christian faith.
We invite you to join our Private Facebook Group and see if it's not the key you have been missing.
Get Our Perfect Keto Hack Tip!
Arming yourself with easy keto recipes like this one is certainly key in doing this diet long enough to see the many benefits. But even with the best low-carb ketogenic recipes sometimes additional help is needed.
This is when we also encourage you to have the right supplements to help you get and stay in ketosis. Because when you have the right tools the keto diet becomes easier.
Perhaps you've struggled to get into ketosis consistently on your low-carb keto diet, or you've hit a plateau that doesn't seem to budge, consider using Perfect KETO's bundle to assist you. It's a great way to see the benefits sooner rather than later.
You'll learn how to elevate your ketones naturally enter into ketosis more quickly. Being at a deeper level of ketosis will help reduce your appetite, carb cravings, and give you lasting energy. These are the things you want to see happen as they make this diet sustainable and it's why we recommend them.
Perfect Keto has offered our readers a 15% discount on their products. Simply use this link for all qualifying products and the code FITTOSERVE at checkout.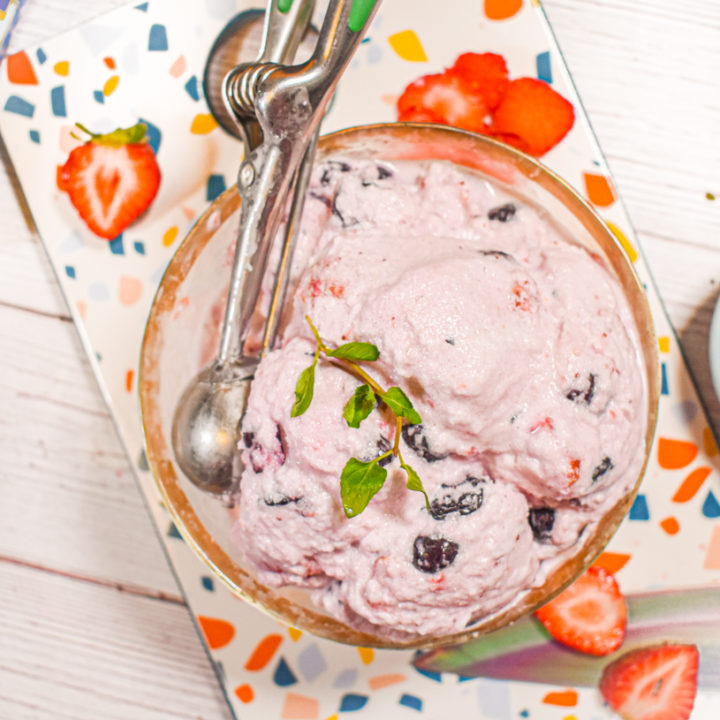 Keto Berry Ice Cream in Under 5 Minutes
It's a quick keto berry ice cream that is low in carbs, dairy-free, churn-free, and keto-friendly. Make delicious low-carb berry ice cream in 5 minutes! Mix everything into a one-gallon ziplock bag and watch the ice cream magically appear.
Ingredients
1 1/2 cup of frozen unsweetened berries ( I used 1 cup of sliced frozen strawberries and 1/2 cup of frozen blueberries
Instructions
In a gallon plastic freezer bag, combine the coconut milk, frozen sliced berries, and confectioner's sugar substitute and stir.
The coconut milk will begin to freeze instantly because of the ice-cold berries.
Place in the freezer for 5 minutes up to 30 minutes.
Remove from the freezer once you have your desired frozen texture. For a "softer" ice cream 5 minutes is perfect. If you prefer a firmer ice cream you can leave it in the freezer for longer. Stir before serving and enjoy!
Notes
I recommend using a confectioner's sugar substitute but you can use granulated if it's all you have on hand. If using granulated, double the amount you use.
For a more complex flavor, you can add 1/2 teaspoon of vanilla extract.
This keto ice cream does not store well and is meant to be eaten in the moment. It will freeze solid if left too long in the freezer.
Nutrition Information:
Yield:

5
Serving Size:

1 cup
Amount Per Serving:
Calories:

155
Total Fat:

12.1g
Saturated Fat:

11g
Cholesterol:

0mg
Sodium:

12mg
Carbohydrates:

4.9g
Net Carbohydrates:

4.4g
Fiber:

0.5g
Sugar:

2.8g
Protein:

1.5g
SaveSave
SaveSave
SaveSave
SaveSave