Looking for a healthy, keto popsicle recipe this summer? Well, this recipe for keto berries and cream popsicles makes the perfect frozen treat. It's low in carbs, easy to make, and keto-friendly.
Here in South Florida, we are already in full summer mode. This simply means finding creative ways to stay cool, is always welcomed. This is why a recipe like my keto berry popsicles is a must.
Don't ask me why this was my first attempt at making popsicles. Frankly, I'm a bit embarrassed that I waited so long because it took no effort to make these keto-friendly popsicles.
I finally buckled down and created a recipe after the sweltering weather we were experiencing made it clear that summer had arrived in full force.
At that point, I knew I had to put an end to my procrastination and create a popsicle recipe I would be proud to share. You might want to also try our keto 5-minute dairy-free berry ice cream for when you want a quick treat.
Keto Berries And Cream Popsicles
This recipe for keto berries creamsicles fits nicely into my goal of keeping things simple during the summer.
I mean, who wants to be stuck in a kitchen, during the hot days of summer? Not me, and probably not you.
If you're anything like me, during the summer months you are on the hunt for super-easy, healthy treats. With the added requirement they must also get you out of the kitchen quickly.
Low Carb Berry Popsicles
It's a simple mouth-watering recipe that appeals to both kids and adults. And that my friends, is a major win in this girl's book.
PLUS, if you have kiddos who are enjoying their summer break from school, why not include them in the process of making healthy popsicles?
I can't think of a better way to teach children how to eat healthy than by allowing them to participate in the cooking process.
And since this recipe requires no heat, it's a perfect way to have them do so safely.
Fast And Easy Keto Frozen Treats
What I loved most about these low-carb berries and cream popsicles is how fast you can make them.
If you're a follower of our blog, you know I am a fan of creating easy low carb, keto recipes.
I refuse to make anything that is super complicated or that requires hard to come by ingredients.
When I share my recipes it's with the hope that they will help make the keto lifestyle sustainable. The last thing someone new to the low-carb keto diet needs is a challenging recipe.
In fact, I bet you probably have everything you need already in your fridge to whip up a batch of these keto berries and cream popsicles.
Disclosure: Some of the links below are affiliate links, meaning at no additional cost to you, I will earn a commission if you click through and make a purchase.
Fun Popsicle Molds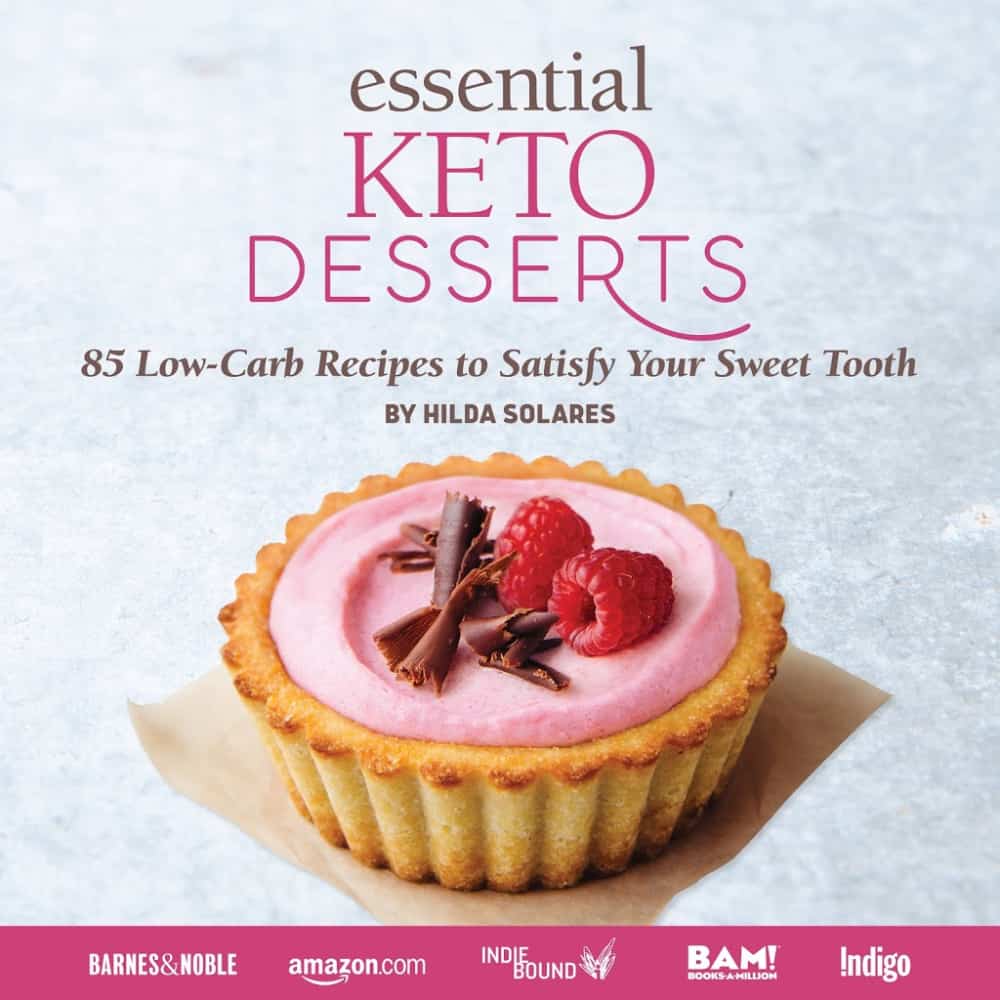 Perhaps, the only thing you may be missing is a set of popsicle molds. And you can find popsicle molds rather easily in lots of places, including Dollar General.
If you want to invest in metal molds that you can use year after year, I recommend these 12-cavity mold stainless steel popsicle mold
Making your own popsicles is a much healthier option than any store-bought variety. Plus, these are super fun to make and serve.
Who says keto cooking can't be fun?
This delicious frozen keto treat is low in carbs and can be customized rather easily. Frankly, the options are pretty endless.
Something tells me I will be making a few more popsicle recipes for you before the season is over. Especially since learning firsthand what a breeze they are to make.
Popsicles For Breakfast?
I opted to add cream cheese to my keto popsicle recipe, because for one, you know I'm a huge fan of keto cream cheese recipes, and two because it gives the popsicles and an extra layer of richness.
PLUS, adding that little extra protein to your keto popsicles, means they can even act as a light meal.
Did someone say keto popsicles for breakfast?
A meal Hilda? Are you kidding me?! Nope.
Easy Keto Berry Creamsicles
During the summer months, I find that my appetite is further reduced. I don't know if there is a scientific reason for this, or if I am just trying to find a way to avoid turning on my stove in the summer. Ha!
But all kidding aside, appetite suppression is something I've noticed ever since Randy and I went low carb keto.
Let me go back to the reason I believe these popsicles can sub in as a meal.
I mainly feel this way because the recipe uses heavy whipping cream, cream cheese, and berries, and I don't know but that kinda sounds like a shake to me. So what if it's a "frozen shake"?
I mean, who's making the rules as to what time we should eat something anyway?
You know who I am certain will agree with my keto popsicles for breakfast idea? Yup, you guessed it, the children in your life.
I tell you what if I would have given my kids the option to have a keto popsicle recipe like this for breakfast, waking up and getting ready for school would have required no convincing.
Making Healthy Keto Popsicles
I've given you plenty of reasons why you should consider making sugar-free popsicles.
So, what are you waiting for? Get yourself some popsicle molds and start packing your freezer with keto frozen treats.
I make my keto popsicle recipe in a high-speed blender and process the ingredients until smooth. Once perfectly blended you can spoon the mixture into your popsicle molds.
These keto berries and cream popsicles will be ready to enjoy once they are completely frozen and firm. This can take anywhere from 3-4 hours.
Can I tell you that waiting till they are completely frozen, is probably the only challenge you'll find in making these keto popsicles?
It's soooo hard to wait for them to be ready.
Unmolding And Serving Your Keto-Friendly Popsicle Treats
When the allotted time has finally passed, and you are ready to unmold your popsicles, simply run some warm water over the bottom of the popsicle molds and wiggle them out gently. It's really that easy!
These frozen treats will keep in the freezer for weeks in their molds. Making it easy to meal plan.
My recipe makes 12 regular-sized popsicles, but you can always cut the recipe in half if you don't have enough molds.
But trust me, you're going to want to get enough molds.
Tag Us
I sure hope you will give this fun keto berries and cream popsicle recipe a try. Once you do, make sure you remember to tag us on Instagram and Facebook. Seeing your pictures is what keeps this girl encouraged to keep sharing and perfecting her recipes.
Don't forget to subscribe to our email list so that we can stay connected.
Join Our Jesus And Keto Movement
In case you don't know, our family came to the keto diet looking at it from a Christian perspective. As believers, we live our entire lives supported by God's grace.
So when the Holy Spirit led us to combine our Christian faith and the keto diet, we did so in hopes of finding lasting transformation.
To say we needed God's intervention is putting it mildly. When we followed the Holy Spirit's prompting to we got on the path to real transformation.
Knowing firsthand the benefits of this decision we have created a closed Christian group that is using the keto diet to transform their lives. I love how supportive and encouraging this group of believers is. It's exciting to see how people are transforming their lives by combining this lifestyle with the Christian faith.
We invite you to join our Private Facebook Group and see if it's not the key you have been missing.

Get Our Perfect Keto Hack Tip!
Arming yourself with easy keto recipes like this one is certainly key in doing this diet long enough to see the many benefits. But even with the best low-carb ketogenic recipes sometimes additional help is needed.
This is when we also encourage you to have the right supplements to help you get and stay in ketosis. Because when you have the right tools the keto diet becomes easier.
Perhaps you've struggled to get into ketosis consistently on your low-carb keto diet, or you've hit a plateau that doesn't seem to budge, consider using Perfect KETO's bundle to assist you. It's a great way to see the benefits sooner rather than later.
You'll learn how to elevate your ketones naturally enter into ketosis more quickly. Being at a deeper level of ketosis will help reduce your appetite, carb cravings, and give you lasting energy. These are the things you want to see happen as they make this diet sustainable and it's why we recommend them.
Perfect Keto has offered our readers a 15% discount on their products. Simply use this link for all qualifying products and the code FITTOSERVE at checkout.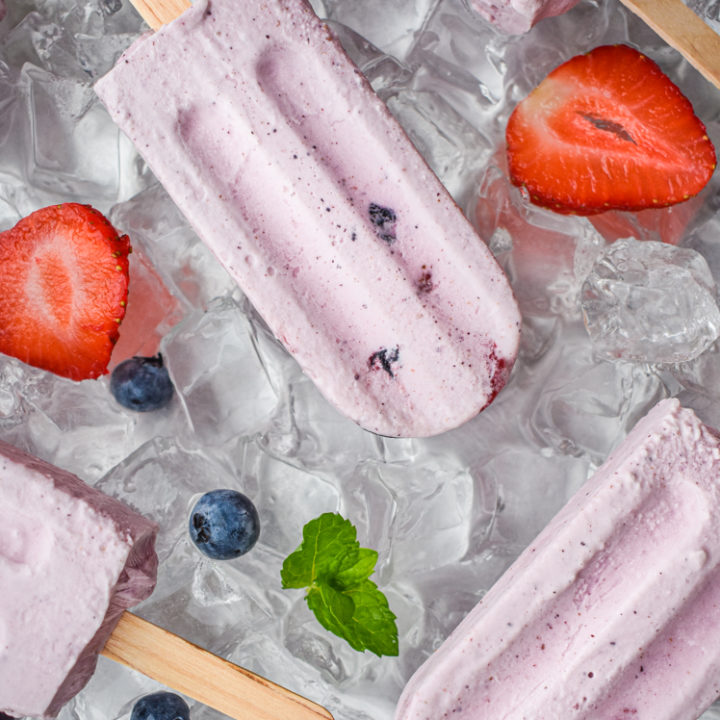 Keto Berries and Cream Popsicles
Total Time:
4 hours
10 minutes
These keto berries and cream popsicles are refreshing, tasty, and loaded with nutrition. It's a keto berry creamsicle popsicle that will make it a delicious breeze to stay keto during the warmer months. Substantial enough to be considered a meal since it's also higher in protein.
Ingredients
8 ounces of cream cheese softened
2 cups of heavy whipping cream
1 tablespoon of lemon juice
1/4 cup of sour cream
1 1/2 cups of fresh sliced strawberries (reserve 1/2 cup to fold in after the mixture has been blended)
1 cup of fresh blueberries (1/2 cup to fold in after the mixture has been blended)
Instructions
Add the cream cheese, heavy cream, lemon juice, and sour cream into a high-powered blender or food processor. Process until smooth.
Add the 1 cup of the strawberries, and 1/2 cup of blueberries, sugar substitute.
Blend until fully combined and smooth.
Fold in the reserved berries.
Pour the mixture into the popsicle molds and slide the popsicle sticks.
Freeze at least 3 to 4 hours until frozen solid.
Unmold when ready to serve by running the bottom of the popsicle molds under warm tap water. Jiggle the popsicle stick gently to help release from mold.
Popscicles can be frozen up to 2 months.
Nutrition Information:
Yield:

12
Serving Size:

1
Amount Per Serving:
Calories:

158
Total Fat:

15.1g
Saturated Fat:

9.4g
Cholesterol:

50mg
Sodium:

66mg
Carbohydrates:

4.4g
Net Carbohydrates:

2.6g
Fiber:

0.7g
Sugar:

2.2g
Protein:

2.2g