My recipe for keto cheesecake swirled brownies has the best qualities of both cheesecake and a brownie. They are rich, fudgy brownies that feature a generous swirl of cheesecake. And frankly, they make one delicious keto treat.
I don't know if this is ever your experience, but sometimes I am torn between wanting two different desserts. Well, this recipe for low carb cream cheese brownies is the result of finding myself in that dilemma.
Sure I could have made my keto cheesecake a recipe that produces a velvety smooth cheesecake that tastes just as good as it's traditional counterparts.
Or my Michelle's Keto Brownies a recipe that was birthed out of my daughter's need for a keto brownie that would rival her favorite high carb recipe.
Either one of these recipes could have satisfied my need for something sweet that was still keto. But I wanted something different. I wanted keto cheesecake brownies.
You see I was in the mood for both these flavor profiles and I was not about to be denied nor ruin my keto streak. Look most of my recipes start with a craving.
The way I see it, if I'm having a food temptation someone else out there will also appreciate a low carb alternative.
Thankfully, 9 times out of 10 I come out of my kitchen creating a recipe that can satisfy that need and still keep me in ketosis.
It's something I thank my sweet Jesus for because I don't think I would have been able to stay the course all these years otherwise.
Who says you can't enjoy delicious desserts while on a keto diet? If you're feeling deprived you and I really need to chat. Because there is no reason to feel like you are missing out.
Make sure you check out our Keto Cheesecakes for more delicious flavor and style options.
Keto Cheesecake Swirl Brownies
If you are looking to replace a traditional cream cheese brownie recipe for one that is low in carbs, then you've come to the right place.
What's great about these keto cream cheese brownies besides their ability to curb a chocolate craving is that they are also very easy to make.
Part of the reason I think this recipe works so well is that the base of this keto-friendly brownie uses baking chocolate.
I have a few other great brownie recipes on the site that uses a combination of cocoa powder and baking chocolate. However, I feel this recipe produces the richest, fudgiest brownies because it exclusively uses baking chocolate.
How To Make Keto Cheesecake Brownies
Disclosure: Some of the links below are affiliate links, meaning at no additional cost to you, I will earn a commission if you click through and make a purchase.
Like I stated earlier these low carb cream cheese brownies come together easily. With just a few basic ingredients that are common in the keto baking kitchen, you can whip up a batch of these brownies in no time.
It's a recipe that is sure to curb a chocolate craving without the worry of a sugar-spike. No need to succumb to temptations when you have a simple solution. Can this girl hear an amen to that?
The following is the list of items you'll need to make these keto-friendly brownies. Note that the full printable recipe card is at the bottom of the page:
Butter
Eggs
Cream Cheese
Vanilla Extract
Baking Powder
Salt
A few key tips to ensure you get the results would be to make sure you start off by using room temperature butter, eggs, and cream cheese. This is because when these items are too cold they will cause your brownie batter to be too thick and this will affect the final outcome.
The other advice I can give you is to make sure you do not over-bake your brownies. It will be the difference between a rich fudgy brownie and that of a dry unappetizing baked good.
Best Sugar-Substitutes For Keto Brownie Cheesecake
You have several choices when it comes to creating these keto cheesecake brownies. I will say that my go-to choice is Lakanto Monk Fruit. Frankly, it's what comes closest to' regular sugar's texture and flavor in my book.
Lakanto Monk Fruit gets its sweetness from antioxidants called mogrosides, instead of fructose or sucrose. It's why it's a great all-natural sugar substitute and has zero calories and zero glycemic index.
I'm also partial to the Swerve brand, an erythritol blend. Unlike other natural sweeteners such as stevia, it has no bitter aftertaste and measures just like sugar.
It's also a sugar substitute that browns and caramelizes like sugar. Swerve is made from ingredients found in select fruits and starchy root vegetables and contains no artificial ingredients, preservatives or flavors.
It's unlike other sugar alcohols since it has a 0 % impact on blood sugar.
You could also use the stevia and erythritol-based brand Pyure for most of my baked goods. However, if using Pyure you will want to use half the amount called for in this recipe since it's a much sweeter choice.
Lastly, if you can easily find a more natural sugar substitute you can also use Splenda with great success. I will have to be the Splenda that has a bulking agent.
I don't recommend Splenda Bake because it's actually half sugar half sucralose product and will be too high in carbs to be considered keto-friendly.
Keto Baking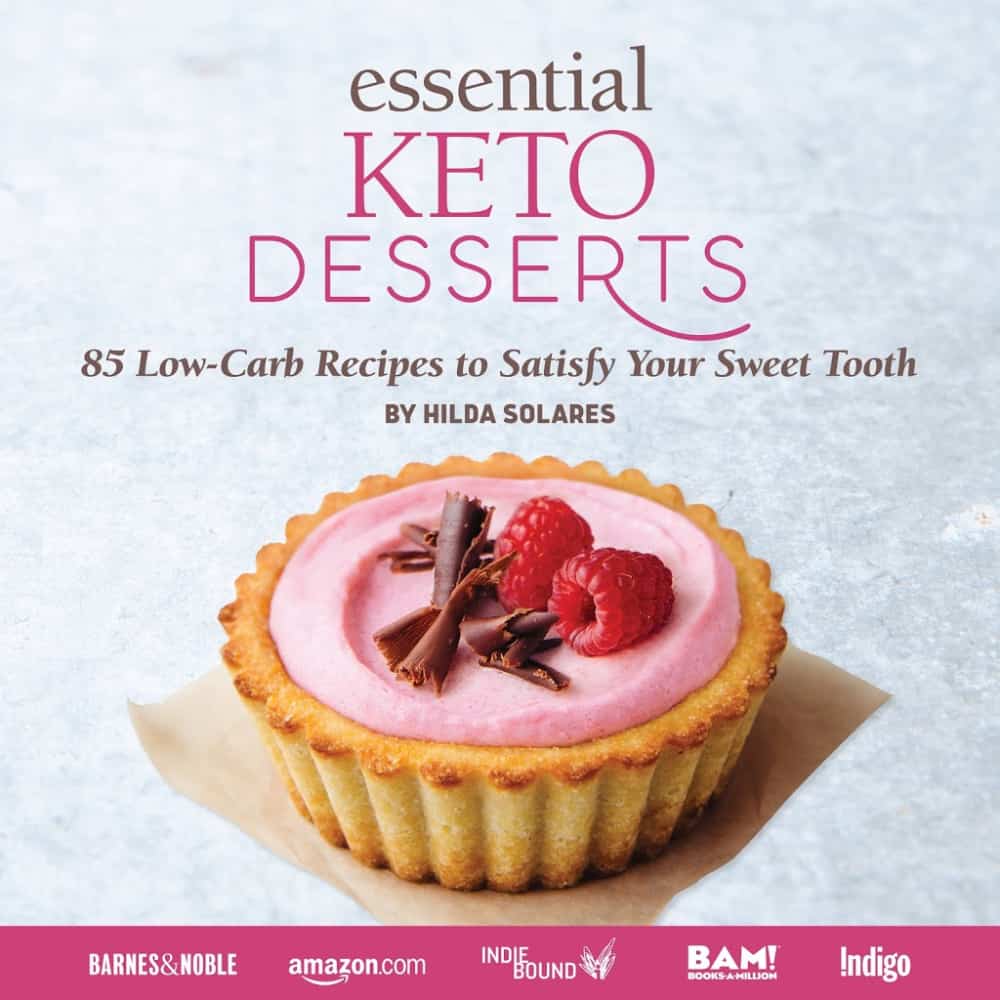 Once I changed my diet to a ketogenic one, regular baking had to take a major backseat. In fact, traditional baking was probably at the root of a lot of the health issues I was confronting.
A drastic change to my baking style vital if I wanted to see the benefits of the keto lifestyle. Keto baking started as a necessity and now has grown into a passion of mine.
You may have figured out by now that I enjoy cooking, but what I REALLY love is baking. Maybe you came to this conclusion already if you've noticed my preference to show you baked goods on this site.
Truth be told, I've had a love affair with baking as far back as I can remember. I recall sitting at the kitchen table eagerly awaiting a fresh-baked treat from my Mami.
I was mesmerized by the whole process. From the careful measuring to the undeniable smells of something being made in the oven.
My Mami didn't always bake desserts but when she did, it was a welcomed treat. Even as a child it was something I wanted to replicate the moment I was allowed in the kitchen. T
The idea that putting a few baking ingredients together could bring a smile really drew me into the world of baking. Thanks, Mami for inspiring me so well!
Joining Our Jesus And Keto Movement!
In case you don't know, Randy and I came to the keto diet looking at it from a Christian perspective. As believers, we live our lives supported by God's grace.
So when the Holy Spirit led us to combine our Christian faith and the keto diet, we did so in hopes of finding lasting transformation.
To say we needed God's intervention is putting it mildly. When we followed the Holy Spirit's prompting to we got on the path to real transformation.
Knowing firsthand the benefits of this decision we have created a closed Christian group that is using the keto diet to transform their lives. We invite you to join our Private Facebook Group and see if it's not the key you have been missing.
Note that once you click the link you will be prompted to answer a few questions that ensure that you understand what this group stands for.
Grab Our Books!
In case you don't know we have authored two books for you, Essential Keto Bread and Essential Keto Desserts both inspired by your requests over the years. It's my prayer these keto cookbooks will help make keto a delicious breeze for you.
Our Favorite Keto Hack To Stay On Track!
Arming yourself with keto recipes like this brownie recipe is certainly key in doing this diet long enough to see the many benefits. But even with the best low carb ketogenic recipes sometimes additional help is needed.
This is when we also encourage you to have the right supplements to help you get and stay in ketosis. Because when you have the right tools the keto diet becomes easier.
Perhaps you've struggled to get into ketosis consistently on your low carb keto diet, or you've hit a plateau that doesn't seem to budge, consider using Perfect KETO's bundle to assist you. It's a great way to see the benefits sooner rather than later.
You'll learn how to elevate your ketones naturally enter into ketosis more quickly. Being at a deeper level of ketosis will help reduce your appetite, carb cravings, and give you lasting energy.
These are the things you want to see happen as they make this diet sustainable and it's why we recommend them.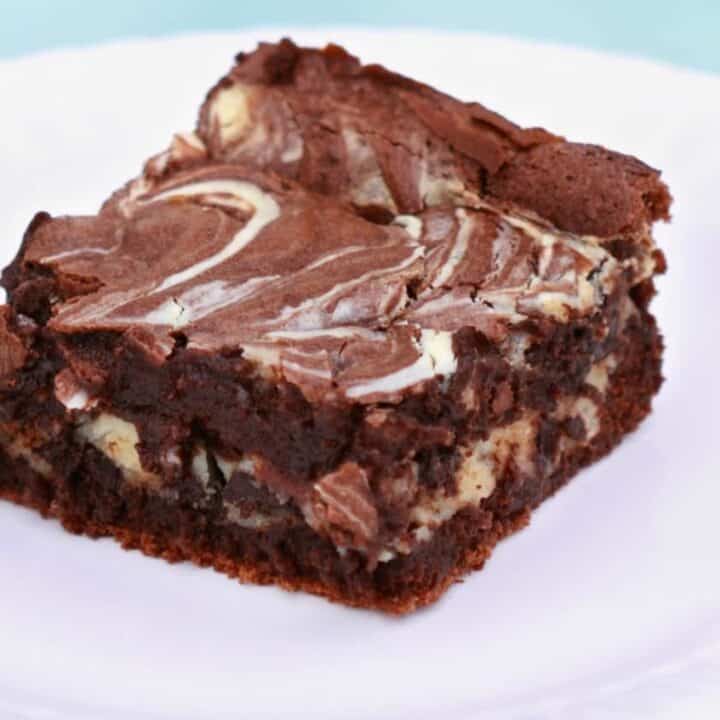 Keto Cheesecake Swirled Brownies
These Keto cheesecake swirled brownies are a perfect choice for when you can't decide between a cheesecake or brownie but it needs to be low in carbs and keto-friendly.
Ingredients
Keto Brownie Batter
4 ounces of baking chocolate, unsweetened
3/4 cup of unsalted butter (12 tablespoons)
3 eggs , room temperature
1 teaspoon of baking powder
¼ teaspoon of sea salt
1 teaspoon of vanilla extract
Keto Cheesecake Swirl
8 ounces of cream cheese (room temperature)
1 egg
1 teaspoon of vanilla extract
Instructions
Keto Brownie Layer
Pre-heat oven to 350 degrees line both the bottom and sides of an 8x8 square pan with parchement paper. This will make it easier to lift out of the pan once baked.
Melt the baking chocolate and butter either in a double boiler. Or in a microwave in increments of 30 seconds until fully melted. Stir well and allow to cool for 5 minutes.
In a medium-sized bowl add the granulated sugar substitute, and pour the butter chocolate/mixture and whisk until fully combined.
Stir in the vanilla extract.
Mix in the eggs one at a time and combine well.
Next add the vanilla extract and combine the batter.
You want make sure that the batter is smooth and that the sweetener has fully disolved into the mixture.
Add the sifted almond flour, baking powder and salt and whisk until fully blended but being careful not to overmix to ensure they are fudgy and not cakey.
Spread 2/3 of the batter into the 8x8 baking pan and proceed to make the cheesecake layer.
Keto Cheesecake Layer
To make the cheesecake layer, simply mix the cream cheese, sugar substitute, egg and vanilla extract until fully combined using an electric mixer.
Pour the cheesecake swirl to the top of the brownie batter followed by spoonfuls of the remaining brownie mix.
Next with a knife swirl the two batters together.
Bake in a pre-heated oven for about for 15-25 minutes, or until the center is just set but still is able to jiggle. Check for this constency at the 15 minute mark and add more time if needed.
Allow to fully cool on baking rack. Using the sides of the parchment paper lift your brownies and cut into even squares.
For even clean edges when slicing, place your brownies in a refrigerator until cool prior to cutting.
Store leftovers in the refrigerator for up to 5 days or freeze for up to 3 weeks.
Recommended Products
As an Amazon Associate and member of other affiliate programs, I earn from qualifying purchases.
Nutrition Information:
Yield:

12
Serving Size:

1
Amount Per Serving:
Calories:

312
Total Fat:

32.7g
Saturated Fat:

19.5g
Cholesterol:

126mg
Sodium:

255mg
Carbohydrates:

4.8g
Net Carbohydrates:

3.2g
Fiber:

1.6g
Sugar:

0.3g
Protein:

5.1g
SaveSave
SaveSave
SaveSave
SaveSave
SaveSave
SaveSave

SaveSave
SaveSave
SaveSave
SaveSave
SaveSave