The Best Keto Cream Cheese Swirled Brownies Ever!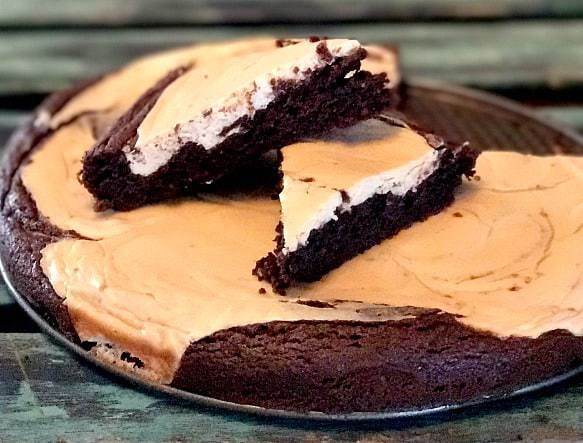 My recipe for keto cream cheese swirled brownies has the best qualities of a cheesecake and brownie recipe, wrapped up in one delicious keto treat.
It's an easy recipe for keto cream cheese swirled brownies, because sometimes you're torn between wanting cheesecake or a brownie. Finding myself in that dilemma is what prompted me to create these low carb swirled brownies.

They say necessity is the mother of invention and frankly I've seen this manifest so many times in my life that I am true believer of this.
Truth is, I could have easily just made a low carb keto cheesecake or a brownie recipe
BUT… in the end I decided on a whole new type of keto treat, that would give you the best of both worlds.
This recipe for keto cream cheese swirled brownies is a lovely combination of low carb dark fudge brownie marbled with a cream cheese topping.
Who says you can't enjoy delicious desserts while on a low carb keto diet? If you're feeling deprived you and I should talk. BTW make sure you remember to also checkout our Keto Cream Cheese Recipes  for other delicious recipes that feature cream cheese.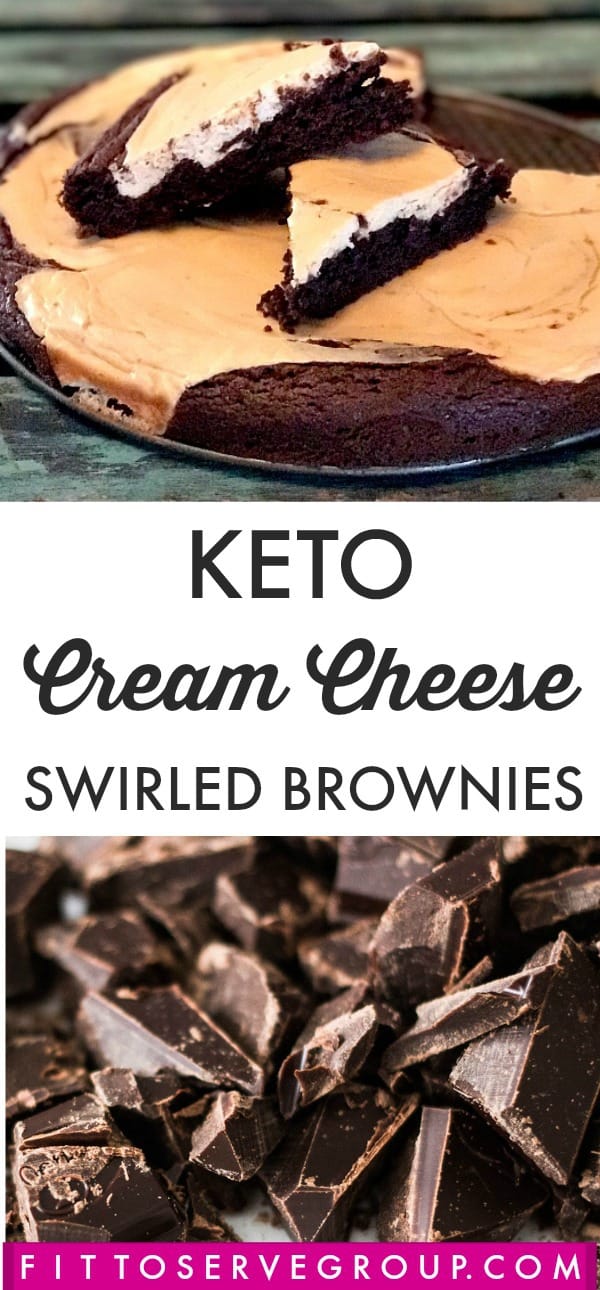 I believe there are so many fabulous keto alternatives that feeling like you are missing out because of this lifestyle, should never be an issue.
I am so confident about this, that I encourage you to write to me and tell me what you are craving.
BECAUSE….It would be my honor to point you to a keto friendly option. There's even a good chance I may have already created a recipe on the blog.
Or if not, it's a great excuse for me to create one.
How cool would it be for you to allow me to create a keto recipe to meet your specific needs?
My Love Of Baking Keto
You may have figured out by now that I enjoy cooking. BUT can I tell you a secret? What I R-E-A-L-L-Y love is baking. Maybe you came to this conclusion already because you've noticed my preference to show you baked goods on the blog.
Truth be told, I've had a love affair with baking as far back as I can remember. I recall sitting at the kitchen table eagerly awaiting a fresh-baked treat from my Mami.
I was mesmerized I was by the whole process. From the careful measuring to the undeniable smells of something being made in the oven.
Mami didn't always bake desserts but when she did, it made the whole family happy. Even as I child it was something I wanted to replicate.
The idea that putting a few baking ingredients together could bring a smile, really drew me into the world of baking.
Thanks Mami for creating such lovely childhood memories around food for me!
Creating Keto Treats
Once I changed my diet to a ketogenic one, regular baking had to take a major backseat.
In fact, traditional baking was probably at the root of a lot of the health issues I was confronting. So, a drastic change had to come.
Keto baking started as a necessity and now has grown into a passion of mine.
So when I either have a craving or I'm a bit indecisive, it's all I need to go into my kitchen and begin experimenting.
I hope you appreciate that this girl is willing to step out of the box to keep creating low carb keto recipes for you to enjoy and make the keto lifestyle easier?
I've never been one to be confined to a box, so a recipe like this keto swirled brownie suits me just fine.
You do know I have a category of just chocolate desserts right?
AND…you know what's in that chocolate category? Several great keto tested and proved brownie recipes.
Keto Brownie Recipes Like…
Keto Peanut Butter Swirled Brownies
Low Carb Mocha Blackout Brownies
Who says you can't have two desserts wrapped up in one? Even if you're not one to experiment often, I encourage you to give these low carb keto cream cheese swirled brownies a try. One bite and you will understand why I'm so proud to share them with you.
Once you make them do remember to tag us on Instagram and Facebook.
AND for added lifestyle support join our Private Facebook Group.
If you are interested in learning more about the science behind experiencing  ketosis I encourage you to visit Ketogeniccom  or read  The Ketogenic Bible. These two resources have been invaluable for us in understanding ketosis.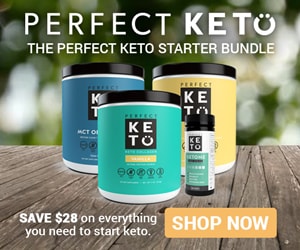 Perhaps, you've struggled to get into ketosis consistently on your low carb keto diet, or you've hit a plateau that doesn't seem to budge, consider using Perfect KETO's exogenous ketones.
Use this link and get a 15% off discount when you place your order for any of Perfect Keto's products.The discount will be added automatically at checkout.
By using exogenous ketones you will naturally elevate your ketones allowing you to enter into ketosis more quickly.
Being in deeper level of ketosis will help reduce your appetite, carb cravings, and give you lasting energy.  It's been our experience that the use of exogenous ketones helps make the low carb keto lifestyle a viable sustainable option.
Honestly, it's like having willpower in a cup.  Learn more about the science behind both exogenous and endogenous ketones and have your questions answered from a doctor's perspective.
Make sure you also pick up your free and complete guide to understanding ketosis. Then begin the ketosis diet easily with this Start Up Guide to the Ketosis Diet.
Wondering which foods you should avoid when doing Keto? This Keto Food Guidewill assist you in doing the Keto Diet correctly.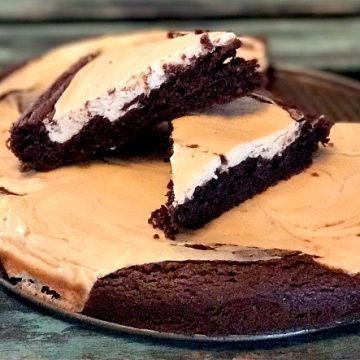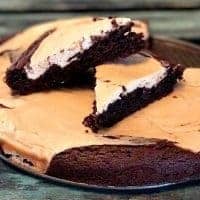 Keto Cream Cheese Swirled Brownies
Keto cream cheese swirled brownies a perfect healthy recipe for when you can't decide between a cheesecake or brownie.
Ingredients
Keto Brownie Portion
3 ½ ounces of unsweetened baking chocolate
3/4 cup of butter (12 tablespoons)
3 eggs
1 teaspoon of baking powder
¼ teaspoon of sea salt
Keto Cream Cheese Swirl
8 ounces of cream cheese (room temperature)
1 tablespoon of almond flour
¼ cup of sugar substitute
1 egg
½ teaspoon of vanilla extract
Instructions
Keto Brownies
Pre-heat oven to 350 degrees and lightly grease a 8 inch spring form pan.
Melt the baking chocolate and butter either in a double boiler. Or in a microwave in increments of 30 seconds until fully melted. Stir well and allow to cool for 5 minutes.
Add the chocolate butter mixer to the sugar substitute and mix well, until well blended.
Stir in the vanilla
Mix in the eggs one at a time and combine well.
Add the sifted almond flour, baking powder and salt and stir.
Next add the brownie batter to an 8x8 baking or 9 inch springform pan and spread evenly.
Cream Cheese Swirl
Mix the cream cheese, sugar substitute, almond flour, egg and vanilla extract until fully combined.
Pour the low carb cream cheese swirl to the top of the keto brownie base.
Bake in a pre-heated oven for about 25-30 minutes, or until a toothpick inserted comes out clean.
Allow to fully cool before slicing and eating. Must be stored in the refrigerator.
Enjoy in good health!
Nutrition Information:
Yield:

12
Serving Size:

1
Amount Per Serving:
Calories:

312
Total Fat:

32.7g
Saturated Fat:

19.5g
Cholesterol:

126mg
Sodium:

255mg
Carbohydrates:

3.8g
Fiber:

1.6g
Sugar:

0.3g
Protein:

5.1g
SaveSave
SaveSave
SaveSave
SaveSave
SaveSave
SaveSave
SaveSave
SaveSave
SaveSave
SaveSave
SaveSave