If you are a fan of brownies, then you're going to love Michelle's rich keto brownies. These keto brownies are made with almond flour and are simply delectable. This recipe was inspired by our daughter's favorite high-carb brownie recipe and it's a winner!
Made with almond flour instead of traditional flour, these brownies are not only low and carb and keto-friendly, they are gluten-free brownies too.
When your child tells you that her favorite brownie is a sugar-laden one, you do the right thing and transform it to be keto-friendly. After all, this is what her momma does best.
Transforming traditional high-carb recipes into low carb keto yumminess has become a passion for me. It was Michelle's craving that birthed these keto brownies recipe.
I already have several brownie recipes on the blog that are quite loved around here, like my Low Carb Mocha Blackout Brownie, Coconut Flour Low Carb Brownies, Red Velvet Swirled Brownies, Keto Cream Cheese Swirled Brownies, Keto Peanut Butter Swirl Brownies.
AND….my Keto Brownie Cupcakes.
And if that's not enough I have a complete list of Keto Cookies that as a fan of cookies I encourage you to also visit.
However, these keto brownies will fool your tastebuds since they are as close to the real thing without the worry of having too many carbs kick you out of ketosis.
Keto Brownies
Since Michelle kept raving about this recipe I was intrigued, and maybe even a little jealous.
Well, I am happy to report that once I converted the recipe, Michelle's Rich Keto Brownies turned out to be the darkest richest keto brownies I've ever had.
This simply means you're going to LOVE this rich keto brownie recipe.
Michelle's richest darkest chocolate keto brownies were born out of a need to keep my daughter from talking more about someone else's brownies. LOL, not really but a little competition never hurt anyone.
The recipe Michelle couldn't stop mentioning was this simple yet rich brownie recipe. I think the magic behind these traditional brownies, is that you combine the sugar, butter, and cocoa powder over a double boiler.
Once the mixture is allowed to cool, the eggs and flour are added. Since I love providing my readers with simple low-carb keto recipes, I knew it was a challenge I could not back down from.
Michelle's rich keto brownies actually passed as a regular brownie and fooled even our picky son.
Matthew couldn't believe these were not regular brownies. That my friend is a major win in this girl's book. Hopefully, you too will agree.
Gluten-Free Brownies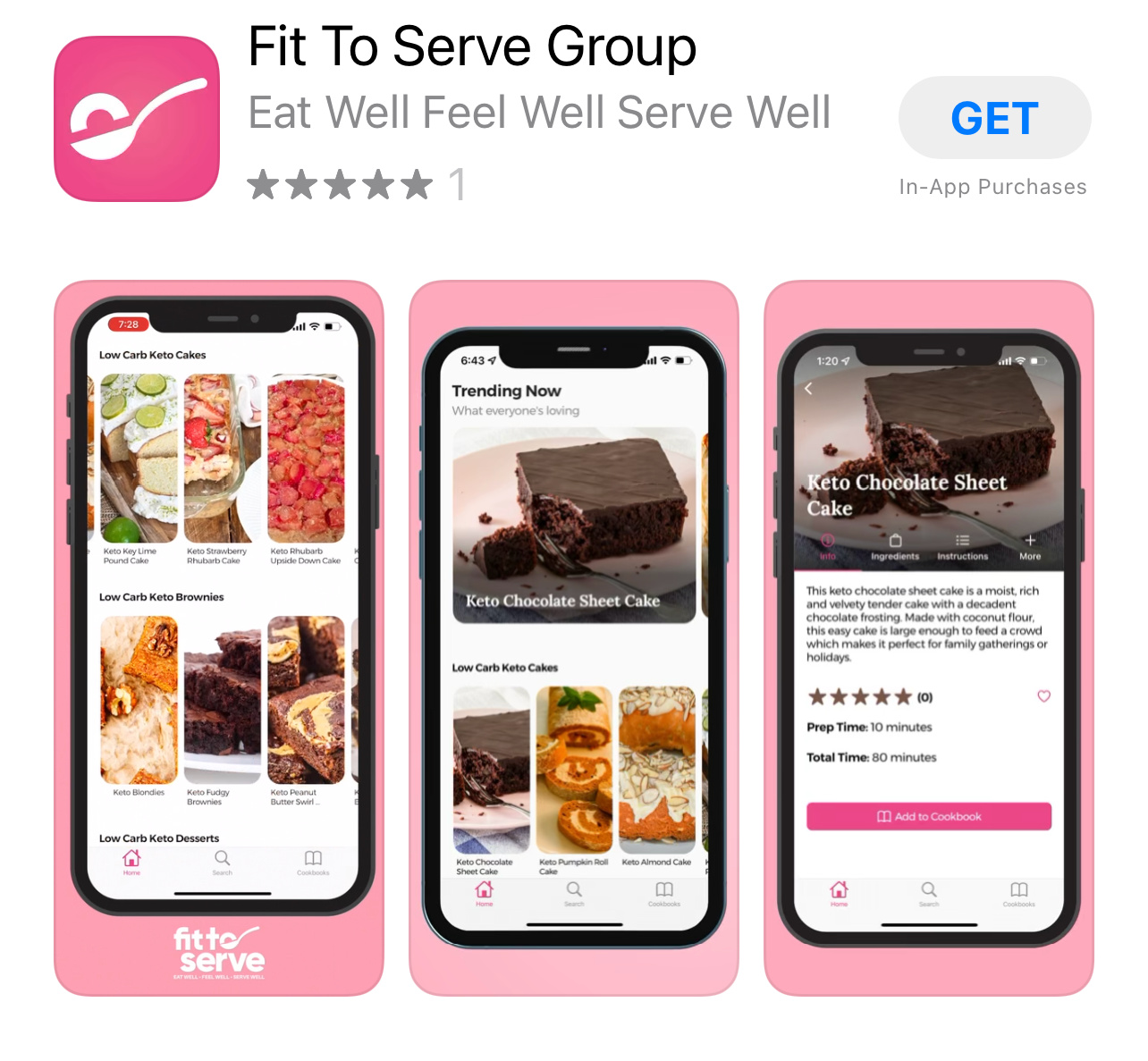 Converting her favorite recipe to a healthy low-carb keto version was not too challenging, but true to my style I had to add my own tiny twist to it.
So I pulled out my double boiler and made the necessary modifications so that it would be as close to her favorite high carb brownie.
Aiming for the perfect texture, I decided to sift the fine almond flour after I measured it. I think this little extra step really makes for the richest darkest chocolate keto brownies.
Using almond flour instead of regular white flour required an additional egg so that it would produce a keto fudgy brownie. I also decided to go with extra dark cocoa powder because duh, why wouldn't I?
Wha,t's more I chose to add a teaspoon of instant coffee to further enhance the chocolate flavor. Can you tell I love all things chocolate?
Well, I must say it's become my favorite low-carb keto brownie recipe. Honestly, as much as I loved my others this one is not only delicious but super easy to make. Even my non-baking friends should give this one a try.
Keto Brownies Everyone Will Enjoy!
When Randy and I made low-carb keto a lifestyle, one of the first people we wanted to influence were our children. Growing up we didn't exactly give them the best eating example.
I'm ashamed to say that for years we based our eating habits on how quickly a meal could make it to the table.
Sure I always made it a point to include some form of protein, but nutrition was not the main focus.
Before you throw stones at me for my poor parenting skills, let me remind you that for over a decade I was extremely ill, bedridden, and unable to function to full capacity.
Today, Randy and I aim to make up for the lost time. We can't erase the past but we can certainly be an example of what eating should look like for optimal health.
Michelle and her husband Peter are on board with the lifestyle and are seeing the benefits. We continue to encourage Matthew to make the shift, but in the meantime, we keep living by example.
Tag Us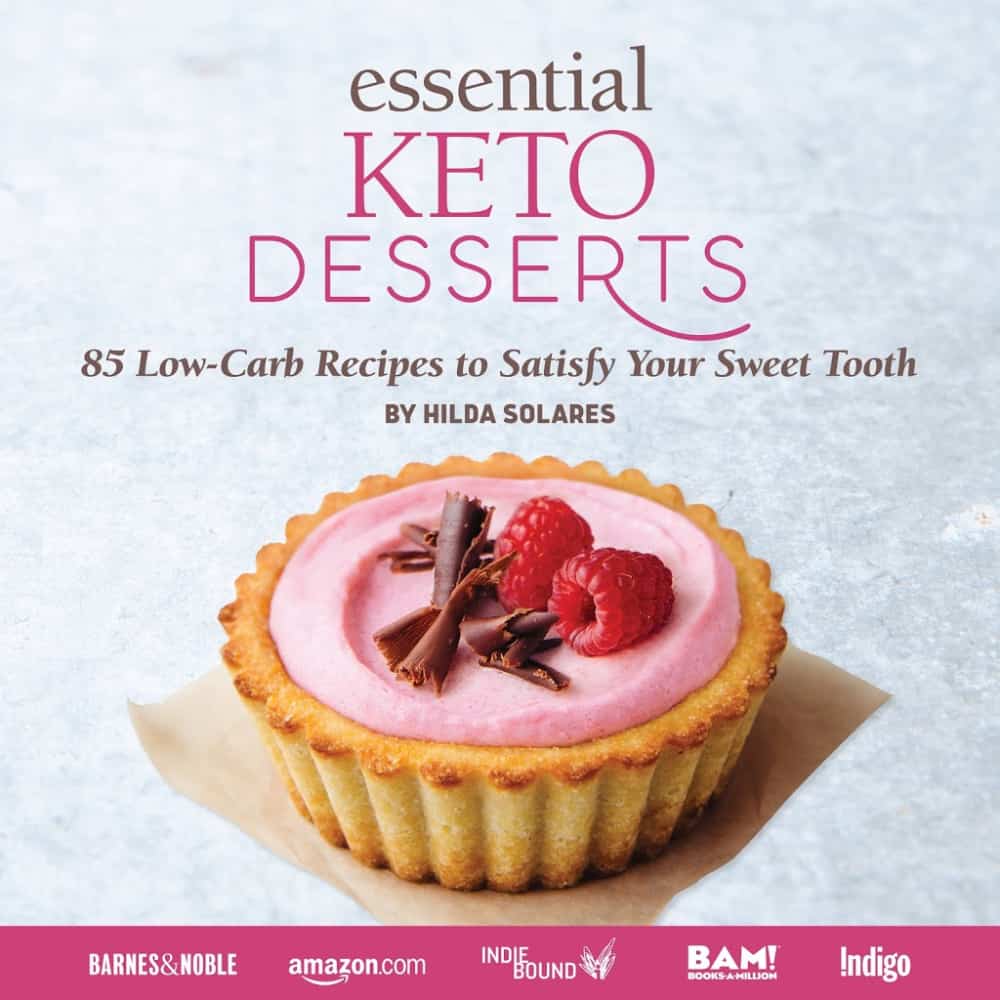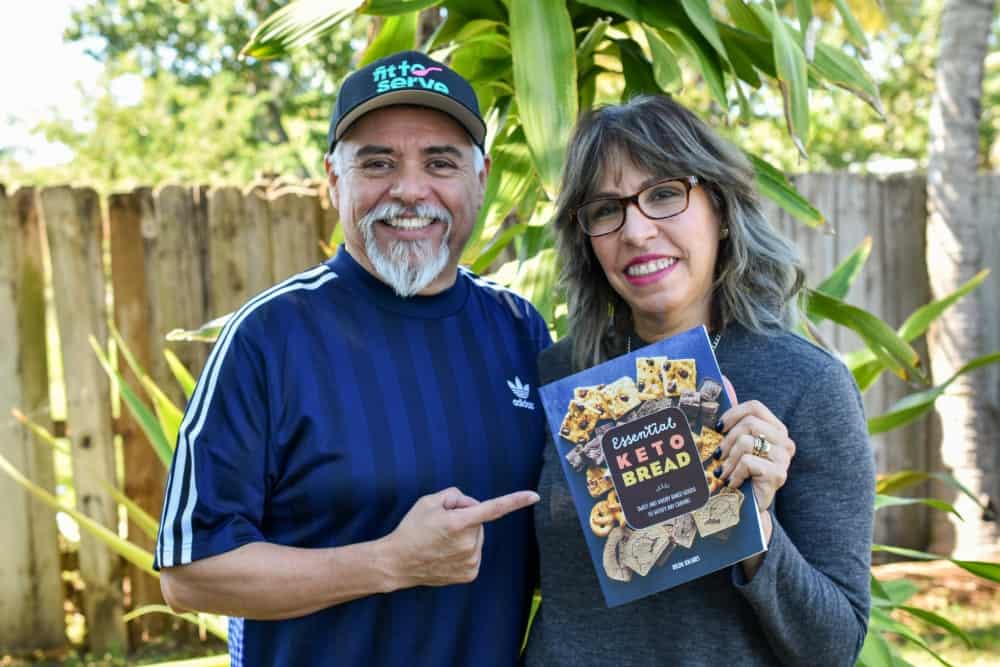 I sure hope you give this recipe a try and that once you do you will take a moment to tag us on Instagram and Facebook. It's what keeps us encouraged to keep sharing and perfecting our recipes.
In case you don't know we have authored two books for you, Essential Keto Bread and Essential Keto Desserts both inspired by your requests over the years. It's my prayer these keto cookbooks will help make keto a delicious breeze for you.
Also, check out our Amazon Store for our recommendations. You might be surprised by how many great keto options are at your disposal.
Join Our Jesus And Keto Movement
Looking for an online support system to help you stay the course on keto? As a family, we came to the keto diet looking at it from a Christian perspective. As believers, we live our lives supported by God's grace.
So when the Holy Spirit led us to combine our Christian faith and the keto diet, we did so in hopes of finding lasting transformation. When we followed the Holy Spirit's prompting we got on the path to real transformation.
Knowing firsthand the benefits of this decision we have created a closed Christian group that is using the keto diet to transform their lives. We invite you to join our Private Facebook Group and see if it's not the key you have been missing.
Be sure to request our FREE Jesus and Keto E-Book (First 7 Days) We hope it blesses you.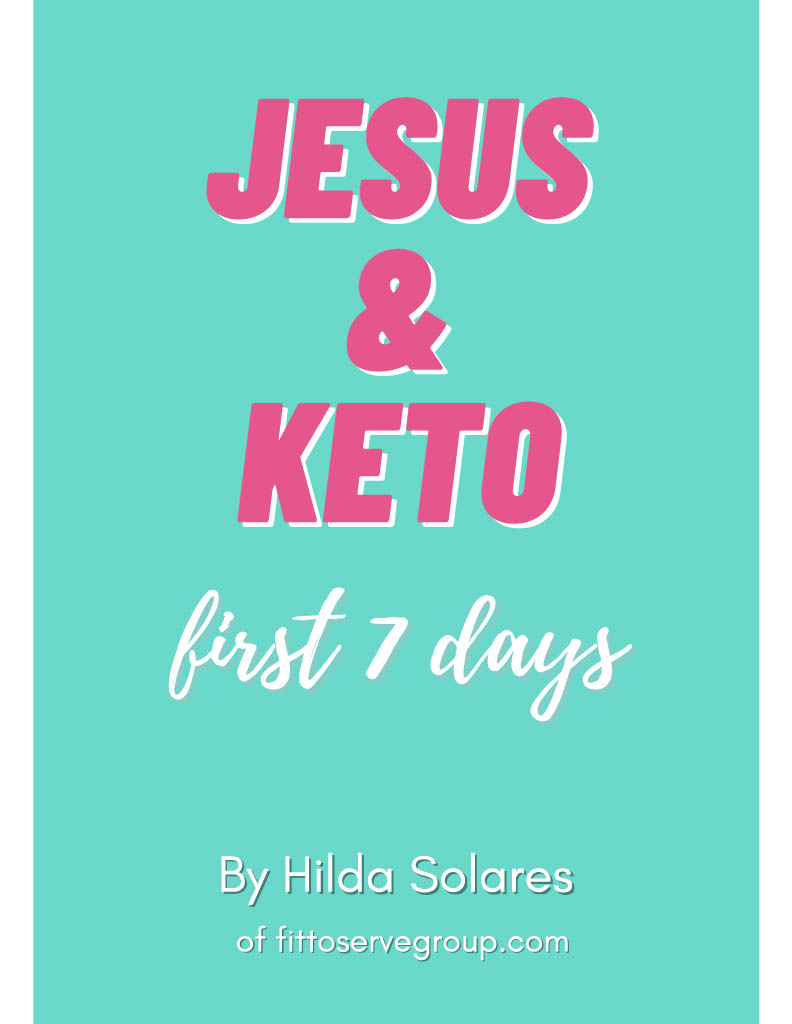 Fittoservegroup Keto App
Looking for a fast way to access our keto recipes? We got you covered. There's an app for that. Yup, there's a Fit To Serve Group App and it's going to make your keto diet a delicious breeze!
Access hundreds of recipes that are all sugar-free, gluten-free, and keto-friendly.
Enjoy early access to recipes before they go live on the website. Plus, bonus recipes that are exclusive to the app. Make your own personal cookbooks that you can use to organize your favorite recipes.
Search recipes by title, ingredients, keywords, and categories, and of course every recipe shows complete nutritional facts. Get the Fit to Serve Group App for easy-to-follow keto recipes made with easy-to-source ingredients.
The app is loaded with hundreds of yummy recipes for breakfast, lunch, dinner, snacks, and even desserts!
Learn more by visiting our Fit To Serve Group App Page.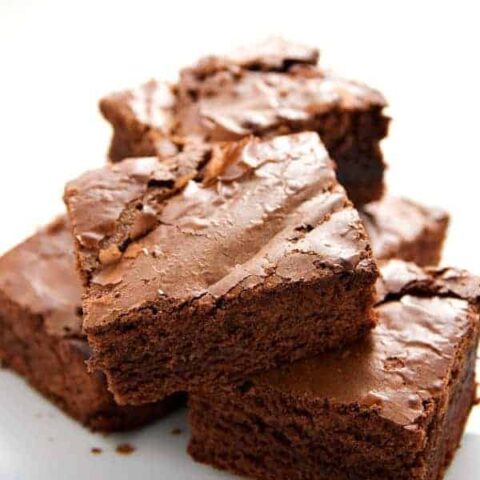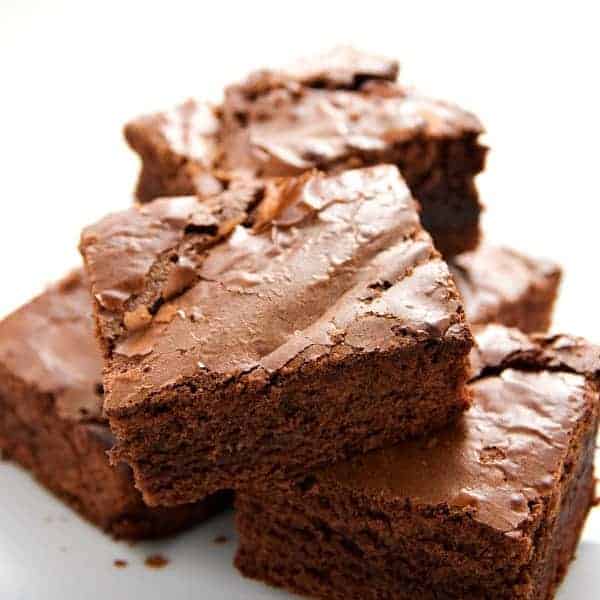 Michelle's Rich Keto Brownies
Additional Time:
5 minutes
These delicious Keto Brownies are made with almond flour for a rich, fudgy recipe. It's a delicious low-carb brownie that is grain-free, sugar-free, and Keto-friendly.
Ingredients
1/2 cup and two tablespoons of unsalted butter
¾ cup of chopped walnuts (optional)
3 large eggs
2 tsp vanilla
¼ tsp sea salt
1 tsp baking powder
1 tsp instant coffee (optional)
Instructions
Pre-heat oven to 325 degrees and lightly grease an 8X8 baking pan.
Using a double boiler, melt the butter, sugar substitute, cocoa powder, unsweetened baking chocolate, instant coffee, and salt.
Stir occasionally until fully combined. Allow mixture to cool slightly.
Add the eggs one at a time and the vanilla extract.
Once the mixture is fully combined add the sifted almond flour, baking powder and gently stir.
Lastly, fold in the walnuts.
The addition of the walnuts is totally optional but delicious decision.
Pour the low-carb keto brownie mixture into the prepared pan.
Bake the brownies for 20-25 minutes.
Allow to fully cool before slicing and serving.
Store leftovers in the refrigerator for up to 5 days or freeze for up to 3 weeks.
Recommended Products
As an Amazon Associate and member of other affiliate programs, I earn from qualifying purchases.
Nutrition Information:
Yield:

16
Serving Size:

1
Amount Per Serving:
Calories:

129
Total Fat:

11.8g
Saturated Fat:

5.3g
Cholesterol:

54mg
Sodium:

65mg
Carbohydrates:

3.5g
Net Carbohydrates:

2g
Fiber:

1.5g
Sugar:

0.3g
Protein:

3.3g