Keto pickled carrots are low in carbs and easy to prepare. It's a quick pickled option and requires only a few basic pantry staples. No canning is required when making this simple low carb condiment you can enjoy often.
Although carrots are the main ingredient in this carrot pickle recipe, it can easily be customized to include other vegetables that are low in carbs. And since there is no need to cook the vegetables, the only time spent will be in slicing your vegetables and heating your pickling liquid.
I enjoy quick pickling my carrots since it doesn't require any canning skills. So if canning intimidates you, a quick pickling option may be what you need instead.
This recipe allows you to pickle your carrots in just 24 hours. It's a great way to extend the life of your carrots. And since I use organic raw apple cider vinegar in my recipe it provides you with gut-boosting health.
Make sure you check out our keto carrot recipes if you are looking for more delicious ways to add carrots to your keto diet.
Quick pickles are also referred to as refrigerator pickles. And all that means is that vegetables are pickled in a mixture of vinegar, water, salt and your seasoning of choice. Because this form of pickling is much faster than that of those that are fermented the flavor is a little milder.
Enjoy these crunchy, flavorful pickled carrots any time you want to enhance a dish or include them in a charcuterie starter. Feel free to add them to salad, party platters or to take them to your next BBQ invite. Personally, we add them to just about any meal we want to spruce up.
Keto Pickled Carrots
If you are wondering if you can consume carrots while doing keto, let me reassure you that you can. Although carrots are a root vegetable and are therefore higher in carbs, they can be included in a keto diet as long as you plan your macros correctly.
The amount of carbs in this keto pickled carrot recipe is minimal. Since the carrots will be cut into carrot sticks a serving would be anywhere from 3-4 carrot cut sticks with only 3-5 net carbs per serving.
Which is very doable on a keto diet. Plus it allows you to boost your beta-carotene, potassium and calcium intake naturally. You may disagree with me on this but I would much rather consume my vitamins and minerals via my food whenever possible.
Herbs And Seasonings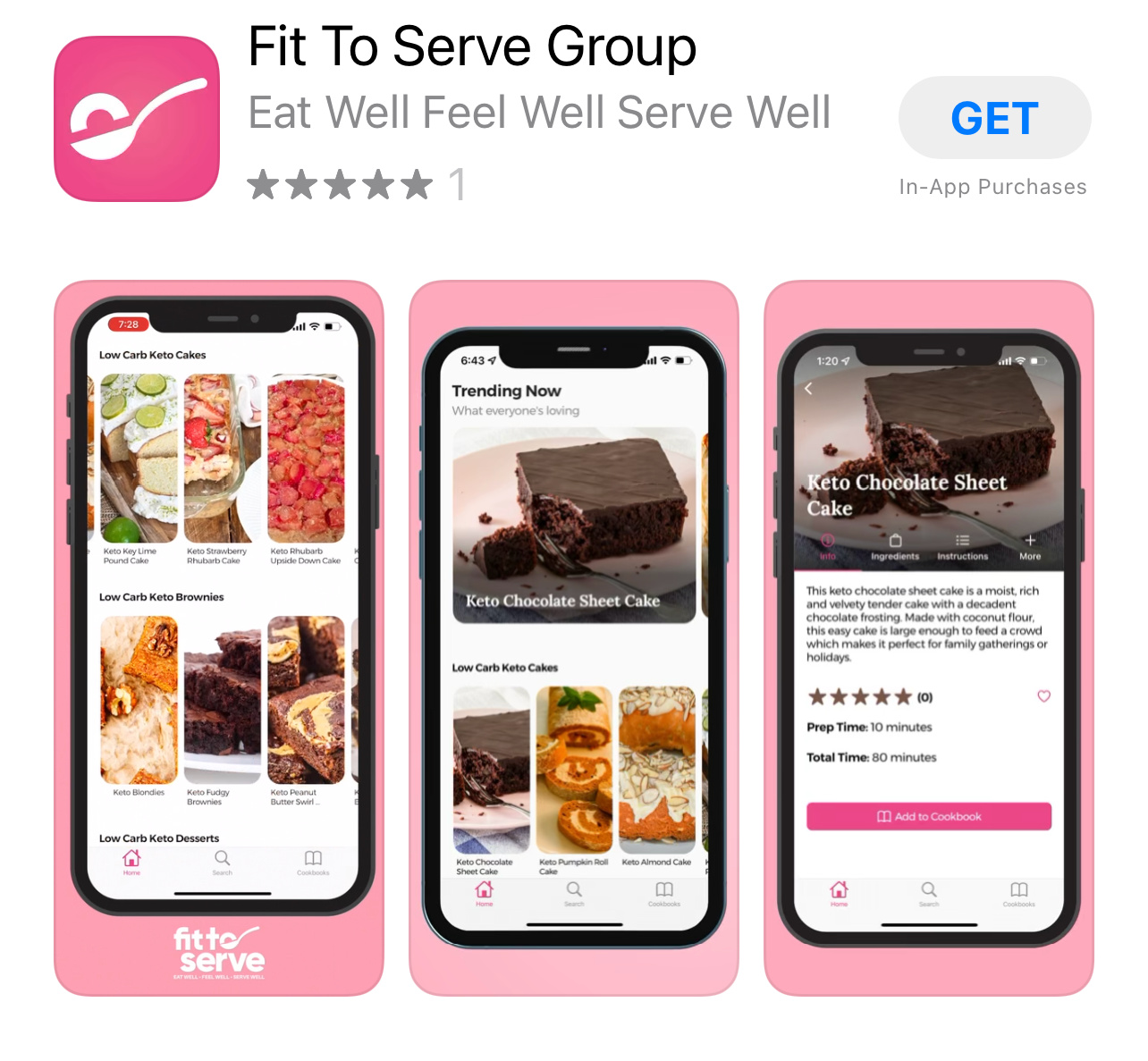 When it comes to choosing what seasonings to add to your keto carrot pickle, go ahead and have some fun customizing. I chose to use a combination of sea salt, peppercorns, coriander seeds, dried dill and whole garlic cloves in mine.
But you can swap the dried dill for dry or fresh thyme and also add mustard seed. Really the sky's the limit when it comes to choosing what to flavor your pickle.
Because we like our pickled carrots on the spicy side, I add a couple of sliced jalapeños and whole red chili peppers to our quick pickle. You can, of course, leave out the peppers completely or deseed the jalapeño to reduce the spice factor. I've been known to add habanero peppers to my picked keto carrots and the heat and flavor they provide is a must for those who like adding spice to their foods.
I also always add whole garlic cloves and sliced onions to my pickled carrots. As far as which onions to use, feel free to use yellow, white or red onions. They all work well in this quick keto pickle.
Quick Pickle Flavorings
What's fun about making your own quick pickle is how unique you can make your pickle by simply changing your spices. From the basic dill flavor to the more exotic flavor profile. The following are some common combinations you can use when making a keto carrot pickle.
Ginger, turmeric, thyme, and coriander
Garlic, dill seed, red pepper flakes
Black peppercorns, fresh dill, garlic cloves
Use fresh herbs like dill, marjoram, thyme, oregano, and rosemary that hold up well in the pickling process.
Add fresh crushed garlic for a more potent flavor or whole cloves for a milder flavor.
Use dry herbs like dill, thyme, oregano, marjoram, and rosemary.
Whole spices like mustard seeds, peppercorns, coriander, and red pepper flakes.
Use ground spices like turmeric, paprika to add color and flavor.
Easy Brine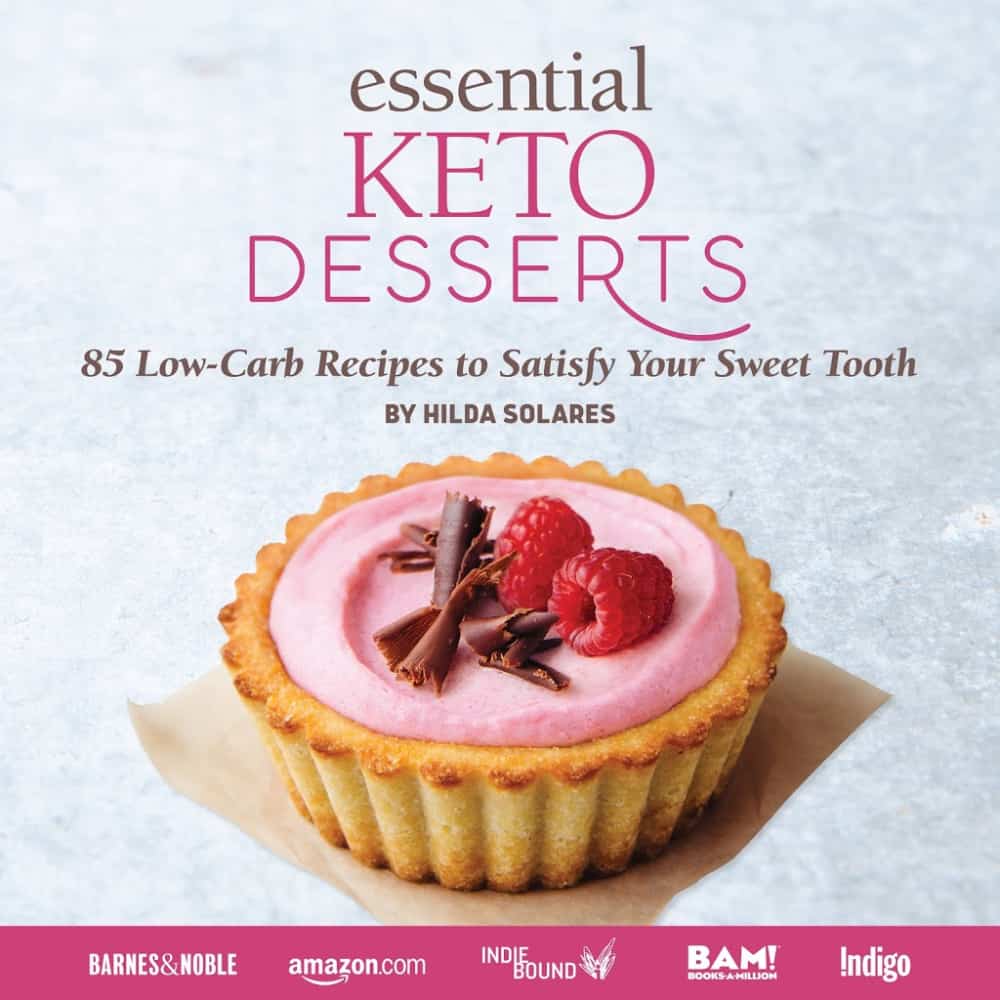 I make my brine by using a combination of apple cider vinegar and filtered water. Generally, equal parts of vinegar and water are used.
When it comes to pickling really any vinegar that isn't aged or concentrated like balsamic or malt vinegar could work. This would include the ability to use white vinegar, rice vinegar, white wine vinegar, and apple cider vinegar. In fact, you could even use a combination of kinds of vinegar.
Personally, I prefer to use organic raw apple cider vinegar because of its gut boosting properties. And it's what I list in the ingredients.
Did you know that when you use an apple cider that has "The Mother" it has strong antiviral benefits? In fact, it's packed with enzymes, probiotics and even proteins, all which help in balancing the gut flora.
My recipe calls for 1 1/2 cups of apple cider vinegar, 1 1/2 cups of filtered water, and 10 fresh whole garlic cloves that are gently heated to come to a low simmer for about 5 minutes. I then add to my brine, salt, peppercorns, coriander seeds, and dried dill.
By simmering for at least 5 minutes on low it ensures that the salt has completely dissolved and for the garlic to tenderize and infuse the brine.
Disclosure: Some of the links below are affiliate links, meaning at no additional cost to you, I will earn a commission if you click through and make a purchase.
How To Do A Quick Keto Carrot Pickle
You will need the following materials and ingredients to make this easy keto carrot pickle:
Two 16 oz Mason jars or four 8 oz jars
Filtered water
Himalayan pink salt
Peppercorns
Coriander seeds
Whole garlic cloves
Onion
Jalapeños
Whole red chilies
Dried Dill
Keep in mind that when pickling you want to ensure that you are using the freshest vegetables. Vegetables that are bruised should be used in your cooking instead.
It's important that you start the pickling process by first washing with hot soapy water your mason jars and lids. After you rinse your jars make sure they are completely dry before you add your vegetables. My recipe makes enough for two 16 oz Mason jar or four 8 oz jars.
Then proceed to wash all the vegetables you will be adding to your pickle. Next, peel your carrots and then cut them into lengthwise into sticks that accommodate your size of mason jars. Slice your choice of red, white or yellow onion thinly. If adding jalapeños, wash, deseed and slice lengthwise.
Once your vegetables are prepped pack them into your jars. Note that If using 8 oz mason jars you may need to cut your carrots further to be able to comfortably fit them into the jars.
Next, pour your brine into the jars to completely cover your vegetables. Allow your jars to cool for at least one hour before adding the lids and storing them in the refrigerator.
Although you could enjoy your pickled keto carrots immediately I encourage you to wait at least 24 hours to allow the flavors to develop. It's important to note that the longer you allow your vegetables to pickle the more the flavor will develop. You can store your pickle in your refrigerator for up to 2 months.
Tag Us
I sure hope you will give this recipe a try. Once you do, make sure you remember to tag us on Instagram and Facebook. It's what keeps this girl encouraged to keep sharing and perfecting her recipes.
Also, check out our Amazon Store for recommendations. You might be surprised by how many great keto options are at your disposal.
Grab Our Books!
In case you don't know we have authored two books for you, Essential Keto Bread and Essential Keto Desserts both inspired by your requests over the years. It's my prayer these keto cookbooks will help make keto a delicious breeze for you.
Join Our Jesus And Keto Movement
Randy and I came to the keto diet looking at it from a Christian perspective, it's the filter we choose to see from. When we decided to combine our Christian faith and the keto diet, we did so in hopes of finding lasting transformation.
To say we needed God's intervention is putting it mildly. When we followed the Holy Spirit's lead to embrace the ketogenic diet and to combine it with our faith, we got on the path to real transformation.
If you are looking for a Christian group that is using the keto diet to transform their lives we invite you to join our Private Facebook Group and see if it's not the key you have been missing.
Favorite Keto Hack To Stay On Track!
Perhaps, you've struggled to get into ketosis consistently on your low carb keto diet, or you've hit a plateau that doesn't seem to budge, consider using Perfect KETO exogenous ketones.
By using exogenous ketones you will naturally elevate your ketones allowing you to enter into ketosis more quickly.
Being at a deeper level of ketosis will help reduce your appetite, carb cravings, and give you lasting energy. It's been our experience that the use of exogenous ketones helps make the low carb keto lifestyle a viable sustainable option.
Perfect Keto has offered our readers a 15% discount on their products. Simply use this link and the code FITTOSERVE at checkout.
Feel free to reach out to us with any of your questions we would be happy to assist you.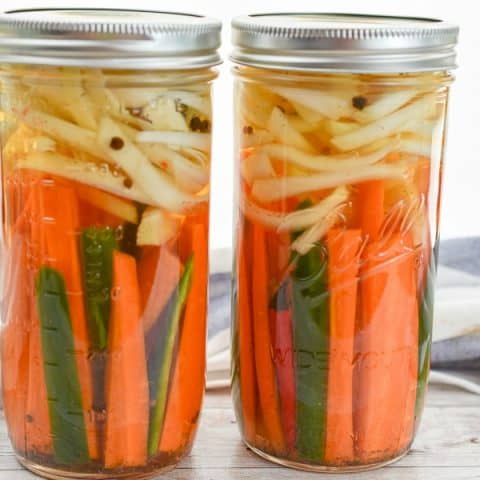 Keto Pickled Carrots
Total Time:
1 day
5 minutes
Keto Pickled Carrots is a recipe for quick pickled carrots. It includes onions, garlic, jalapenos and dried spices for a flavor packed pickle option. Since it uses apple cider vinegar it also has gut-boosting properties.
Ingredients
3 medium-sized carrots, sliced lengthwise into 1/4 inch sticks
1 medium onion sliced thinly.
2 jalapeno peppers, deseeded, deveined and sliced lengthwise into 1/4 inch sticks
10 whole garlic cloves
1 1/2 cups of filtered water
1 1/2 cups of apple cider vinegar
1 tablespoon of Himalayan pink salt
1 teaspoon of peppercorns
1 teaspoon of coriander seeds
1/2 teaspoon of dry dill
Instructions
Prepare the mason jars by washing them in hot soapy water. Then rinsing and drying completely. Recipe makes two 16 ounce mason jars or 4 ounce jars. Slice your vegetables to accommodate the size of jar you choose.
Wash, peel and slice your carrots lengthwise.
Wash, deseed and devein your jalapenos as well as slice lengthwise.
Cut your onion into thin slices.
Heat the filtered water, apple cider vinegar, garlic cloves, salt, peppercorns, dry dill, coriander seeds over a low heat until it simmers gently, about 5 minutes.
Add your sliced vegetables into the mason jars.
Add the hot liquid brine to the mason jar making sure to submerge all the vegetables in the brine.
Allow the jars to cool at room temperature completely before adding the lids and refrigerating.
Refrigerate you keto pickled carrots for at least 24 hours before enjoying.
Store in the refrigerator for up to two months.
Nutrition Information:
Yield:

6
Serving Size:

1
Amount Per Serving:
Calories:

29
Total Fat:

0.1g
Saturated Fat:

0g
Trans Fat:

0g
Unsaturated Fat:

0g
Cholesterol:

0mg
Sodium:

23mg
Carbohydrates:

6.5g
Fiber:

1.5g
Sugar:

2.5g
Protein:

0.8g