This keto mushroom galette is perfect for those that are trying to find a way to make an easy keto dish with lots of flavor and impact.
Made with common ingredients, this savory keto tart will be ready in under an hour and is also gluten-free! You can serve it as a meal with a side green salad or even as an appetizer when you're entertaining guests.
The key component of this recipe is our keto-friendly pastry dough which, to be frank, we're obsessed with! It's the best keto crust we've ever made!
As for the filling for this savory keto pie, we decided to add sauteed mushrooms and onions over a creamy layer of goat cheese! The combination is perfection!
If you're looking for a keto recipe that's a little bit out of the ordinary, this is definitely it! Not only will your friends be impressed but they'll probably want the recipe once they taste how delicious it is!
Oh and trust me, even those who are not keto will embrace this tasty recipe.
If you love galettes (or just anything with a crust) but don't want the carbs you should also check out our recipe for keto baked brie and also our keto blueberry galette! Both are absolutely delicious!
Keto Mushroom Galette
A galette is a crusty, free-form tart with a sweet or savory filling and it can be made with pretty much anything you want. We've shared a sweet keto blueberry galette which is so good!
This time, I decided to make a savory galette by using a filling of goat cheese and mushrooms with our version of the famous keto fathead dough for the crust. The result was delicious!
This low carb mushroom galette is savory and hearty. It looks like it's difficult to make, but the truth is that it's extremely easy! You can even make the dough a day ahead of time and store it in the fridge until you're ready.
If you do make it ahead of time, the dough will be very hard when you take it out of the fridge, so allow it to sit at room temperature for about 10 minutes before rolling.
How To Make Keto Mushroom Galette
Now, if you've been eating keto for a while I'm sure you're familiar with the famous "fat-head dough" recipe that uses melted mozzarella cheese to mimic the gluten that is missing in keto-friendly flours.
Using what we learned from that popular dough, we played around in the kitchen and came up with our own version that we really love.
This gluten-free dough comes together so easily by combining the almond and coconut flours, baking powder, melted butter, eggs, and melted mozzarella cheese.
Then you'll knead the dough well to incorporate all the ingredients. I like to sandwich the dough between 2 sheets of parchment paper to avoid any sticking.
Once the dough is well combined, I like to fold it several times as you would a traditional pastry dough. This results in a flakier crust so that you'll end up with delicious results.
When your dough is kneaded and folded, you'll wrap it in parchment or cling wrap and chill in the refrigerator for 30 minutes. This step is key to the success of this keto crust and again closer to how traditional pie crust is made.
Keto Mushroom, Onion, And Goat Cheese Filling
While your dough is chilling you saute your mushrooms, onions, and garlic for the filling. Cook until the mushrooms soften and the onions begin to become clear. You don't want to fully cook your filling because it will continue to cook when it's baked in the oven with the crust.
After the dough has chilled, roll it out between two sheets of parchment into a 14" circle. Your dough should be about ¼" thick. The dough can be very forgiving which makes it's easy to fix any cracks or holes in your galette, so don't stress any imperfections.
Spread your goat cheese on the dough leaving about 2" around the edge to fold over. Then all that's left is to pile on the mushrooms and onions, fold the crust over, bake!
Bake on a parchment-lined baking sheet for 30 to 40 minutes. When the crust is golden the galette is ready to enjoy!
What You'll Need To Make A Low Carb Mushroom Galette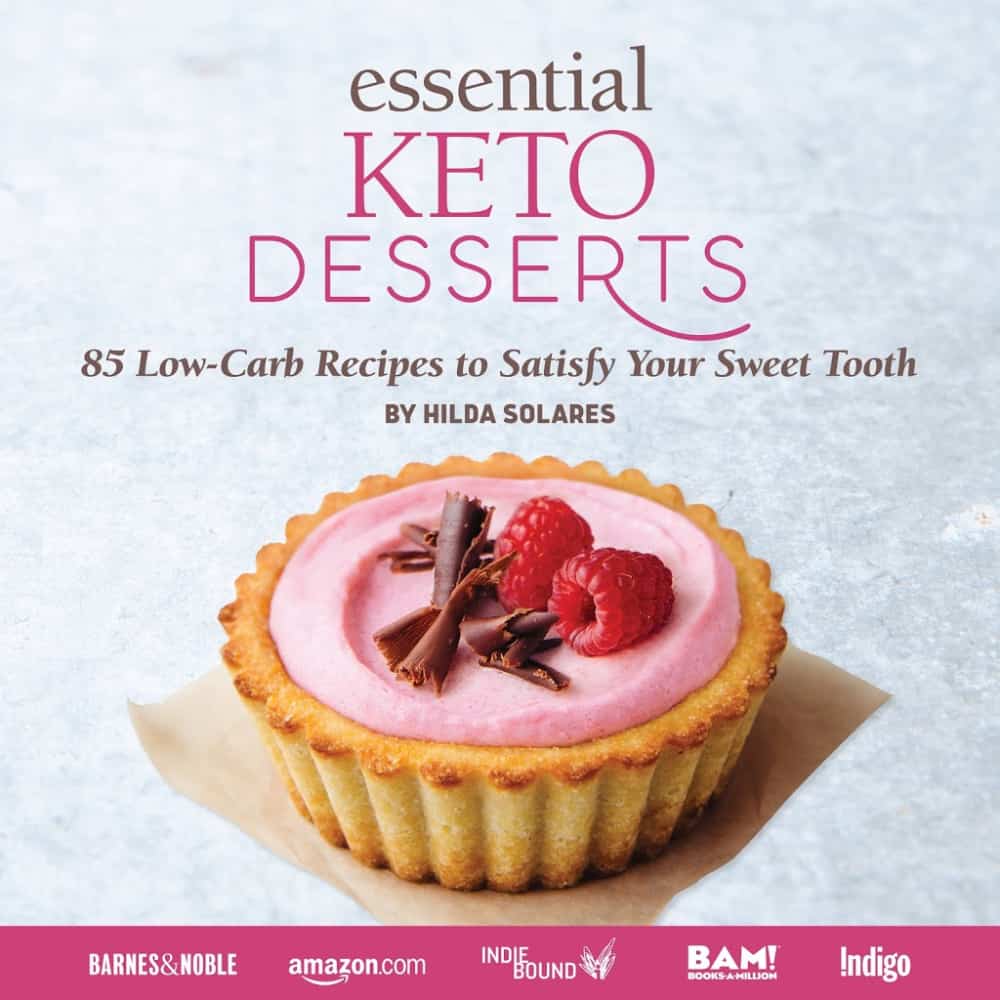 Disclosure: Some of the links below are affiliate links, meaning at no additional cost to you, I will earn a commission if you click through and make a purchase.
The following is a list of ingredients and tools you'll need to make this keto mushroom galette recipe. Note that the full recipe card is below.
Mushrooms, I used a combination of baby Bella and shitake mushrooms

Onions

Goat cheese

Butter

Shredded mozzarella cheese, melted

Eggs

Baking Powder
Tag Us
I sure hope you will give this recipe for keto-friendly mushroom, onions, and goat cheese galette a try and will help us share it. If you give it a try, make sure you remember to tag us on Instagram, Facebook, and Pinterest. It's what keeps this girl encouraged to keep sharing and perfecting her recipes.
Also, check out our Amazon Store for our recommendations. You might be surprised by how many great keto options are at your disposal.
Don't forget to subscribe to our email list so that we can stay connected.
Grab Our Books!
In case you don't know we have authored two books for you, Essential Keto Bread and Essential Keto Desserts both inspired by your requests over the years. It's my prayer these keto cookbooks will help make keto a delicious breeze for you.
Join Our Jesus And Keto Movement
In case you don't know, our family came to the keto diet looking at it from a Christian perspective. As believers, we live our entire lives supported by God's grace.
So when the Holy Spirit led us to combine our Christian faith and the keto diet, we did so in hopes of finding lasting transformation.
When we followed the Holy Spirit's prompting to we got on the path to real transformation. Knowing firsthand the benefits of this decision we have created a closed Christian group that is using the keto diet to transform their lives.
We invite you to join our Private Facebook Group and see if it's not the key you have been missing. Note that once you click the link you will be prompted to answer a few questions that ensure that you understand what this group stands for.
Superior Fuel In A Form Of Exogenous Ketone Supplement
Here at Fittoservegroup, we believe in using keto recipes to help you do the keto diet effectively. But what if I told you, there was a way you could enter ketosis almost immediately and have sustained energy in a form of a clean supplement?
I know this may sound too good to be true, but we have seen for ourselves the benefits of exogenous ketones and it's why we believe they can be an effective tool.
However, NOT all exogenous ketones are the same and some just don't deliver enough BHB per serving to see results.
Well, KETOSTART ® is a fast-acting, readily available, carbohydrate-free, and highly efficient fuel source, designed to help you reach and maintain a state of ketosis, offering the benefits of elevated ketone levels easily.

Each serving has 10g BHB! It is a powerful and effective blend of exogenous ketones in the form of beta-hydroxybutyrate salts with electrolytes, to give your body the extra energy it needs.
We are loving how we are achieving and maintaining ketosis effortlessly and wanted to share them with you in case you wanted to try them too.
WHY WE ENDORSE KETOSTART
The following are just a few of the reasons we recommend KETOSTART
Backed by science that is built on decades of experience

Enjoy Ketosis Within Minutes

No Unpleasant Aftertaste Or GI Side Effects

10G BHB Per Serving

Includes Electrolytes

Long-Lasting Ketosis

Transparent Labeling

Reasonably Priced
KETOSTART® contains 10g* BHB per serving. *(6g Ca-BHB – 0.96g Ca) + (6g Na-BHB – 1.065g Na) = 9.975g BHB
If you are looking for a ketone supplement that will help you get into ketosis consistently and help you see the results you are hoping for, we invite you to try KETOSTART ® just use our link to get access to a discount and test for yourselves!
Keto Mushroom Galette
Additional Baking Time:
10 minutes
Total Time:
1 hour
20 minutes
This keto mushroom galette is made with the flakiest keto dough and filled with a combination of goat cheese, mushrooms and, onions.
Ingredients
Keto Pastry Dough
1/2 cup coconut flour
3/4 cup almond flour
1 teaspoon baking powder
1 1/2 teaspoons salt
3/4 cup butter
2 eggs
1 1/2 cups shredded mozzarella cheese
Keto Mushroom and Onions Filling
1 lb sliced mushrooms ( I used a combination of baby Bella and shiitake)
1 large onion, sliced thinly
1/4 cup unsalted butter
2 tablespoons olive oil
3/4 teaspoon salt
1/2 teaspoon black pepper
4 oz goat cheese
Instructions
In a medium-sized bowl combine the coconut flour and the almond flour, baking powder, and salt.
Melt the unsalted butter and set it aside.
To the dry ingredients add the melted butter and combine quickly.
Next, add the eggs and combine.
Melt the mozzarella cheese in the microwave for a total of 90 seconds stirring halfway through. Once it comes out of the microwave mix well using a rubber spatula until fully incorporated. You can also melt the mozzarella cheese in a double boiler.
Add the melted mozzarella cheese to the mixture and knead the dough with your hands until all the cheese is blended well into the dough. I recommend you do so between two sheets of parchment paper so that the dough doesn't stick to your hands.
Wrap the dough in parchment paper and place it in the refrigerator for 20 minutes or in the freezer for 15 minutes to chill.
While the dough chills, prepare your filling. In a large skillet heat the butter and olive oil and saute your mushrooms, onions, and garlic, salt, and pepper over medium heat.
Cook until the mushrooms soften and the onions begin to become translucent. You don't want to fully cook or brown them because they will going in the oven and will caramelize in the crust as it bakes.
Preheat oven to 375 degrees.
Once the dough has chilled, fold and roll the pastry dough unto itself several times. This helps the dough achieve flaky layers.
Next, roll out the dough into a large circle about 14" in diameter onto a large piece of parchment paper. This will make it easier to transfer the galette to the baking sheet. In the center of the dough, leaving a 2" border spread the goat cheese evenly. Then top the goat cheese with the sauteed mushroom and onion filling.
Fold the edges of the dough up and over the filling, pleating as needed. The dough is very forgiving and can be pressed together if any "cracks" occur.
Once folded, gently cup the sides with both your hands to reinforce the shape of your keto galette. Transfer the galette with parchment onto the baking sheet and bake for 25 to 30 minutes until the crust is golden. Serve immediately and enjoy!
Store leftovers in the refrigerator for up to 3 days.
Notes
You can prepare the dough the night before if you'd like to save some time. You'll simply wrap it in parchment and place it in the fridge. The next day, you'll need to let the dough sit on the counter for 10-15 minutes until it's workable.
I used a combination of baby Bella and shitake mushrooms but you can use your favorite mushrooms as long as it equals one pound.
Nutrition Information:
Yield:

8
Serving Size:

1 slice
Amount Per Serving:
Calories:

444
Total Fat:

39.5g
Saturated Fat:

20.4g
Cholesterol:

120mg
Sodium:

260mg
Carbohydrates:

12g
Net Carbohydrates:

5.6g
Fiber:

6.4g
Sugar:

2.2g
Protein:

12.3g