This keto cinnamon toast crunch cereal is a crispy, crunchy, and tasty option for anyone doing keto that is missing cereal. It's sugar-free, grain-free, gluten-free, and just plain delicious.
Giving up cereal can be a challenge for many people doing the keto diet. I totally get it since it's a very convenient breakfast that many of us grew up on.
However, the ridiculous amount of sugar and carbs in the majority of cereals makes it a no-no while doing keto. Even the cereals that claim to be healthy are packed with too much so-called "natural" sugar to be prohibitive.
One of the primary reasons I share my keto recipes is to address cravings that can derail the best of intentions. I aim to create a keto-friendly option for whatever food you may be missing, with the hope that it will make the lifestyle doable.
Fortunately, you do not have to say no to cereals forever with a keto breakfast cereal recipe like this.
The good news is that with this low carb cinnamon toast cereal you can enjoy a bowl of cereal and not have to worry about the carbs.
It's even a keto cereal that the children will enjoy. Yes, even the pickiest child will embrace this tasty low carb cereal.
Check out our keto chicken and waffles and keto carrot pancakes for some other keto breakfast options.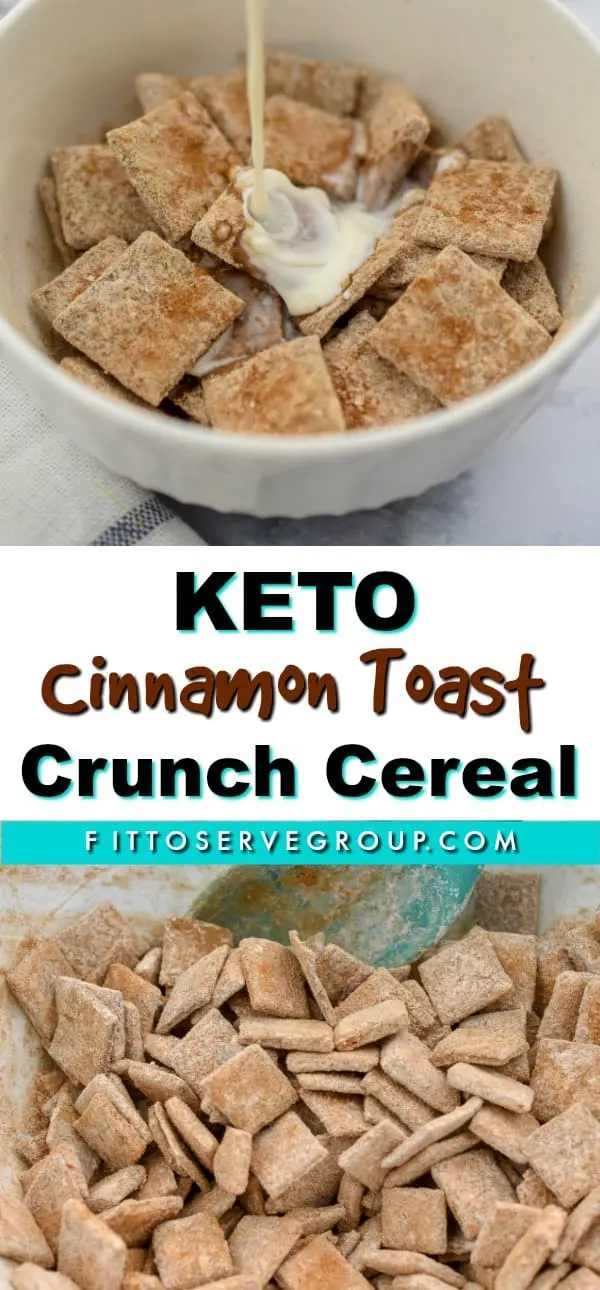 Keto Cinnamon Toast Crunch Cereal
Let's face it although when starting a keto diet your best bet is to stick with basics like eggs, bacon. But even the best of us can get bored with bacon and eggs no matter how good they are. This is why it's nice to have a keto-friendly cereal choice.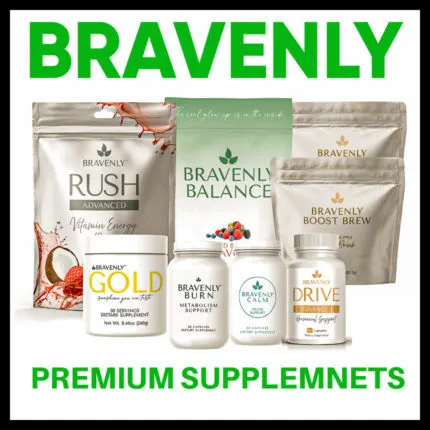 Having several breakfast options will make sure that you are able to do the keto diet consistently.
Do you that there are now quite a few low carb cereal options you can buy? But I warn you that you will need to carefully examine the labels since many use fillers that can spell trouble while doing keto.
The other fact is that the few keto cereal brands that are on the market are quite expensive. I totally get that this is the case because the ingredients are generally higher in quality than say a regular box of cereal and because the demand is still low.
But it's kinda hard to pay over ten dollars for a box that you might not even like, or could still cause your glucose levels to rise. Who's with me on this?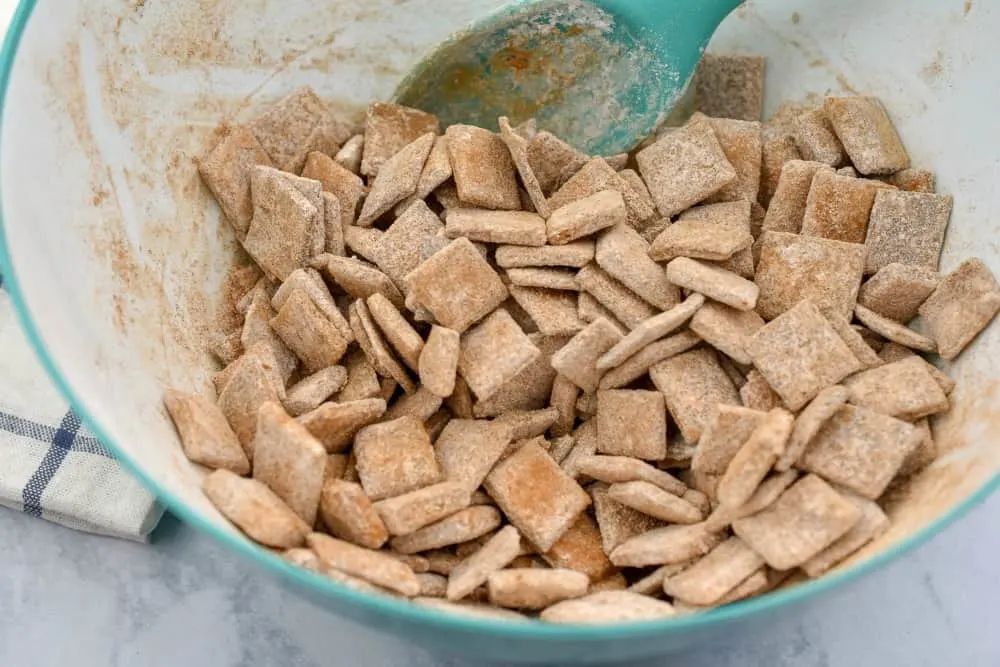 That's why creating your own homemade keto cereal is a practical solution for those that are craving cereal while doing keto. Granted it will not be as easy as pouring out of a box to make your own cereal.
The truth is making your own cereal is quite fun. Why not include the kids in the process and teach them the value of knowing what's in their cereal?
What I recommend is that you make a batch or two during the weekend and this way you can enjoy a bowl of cereal during the busy week when you need a quick breakfast option.
How To Make Keto Cereal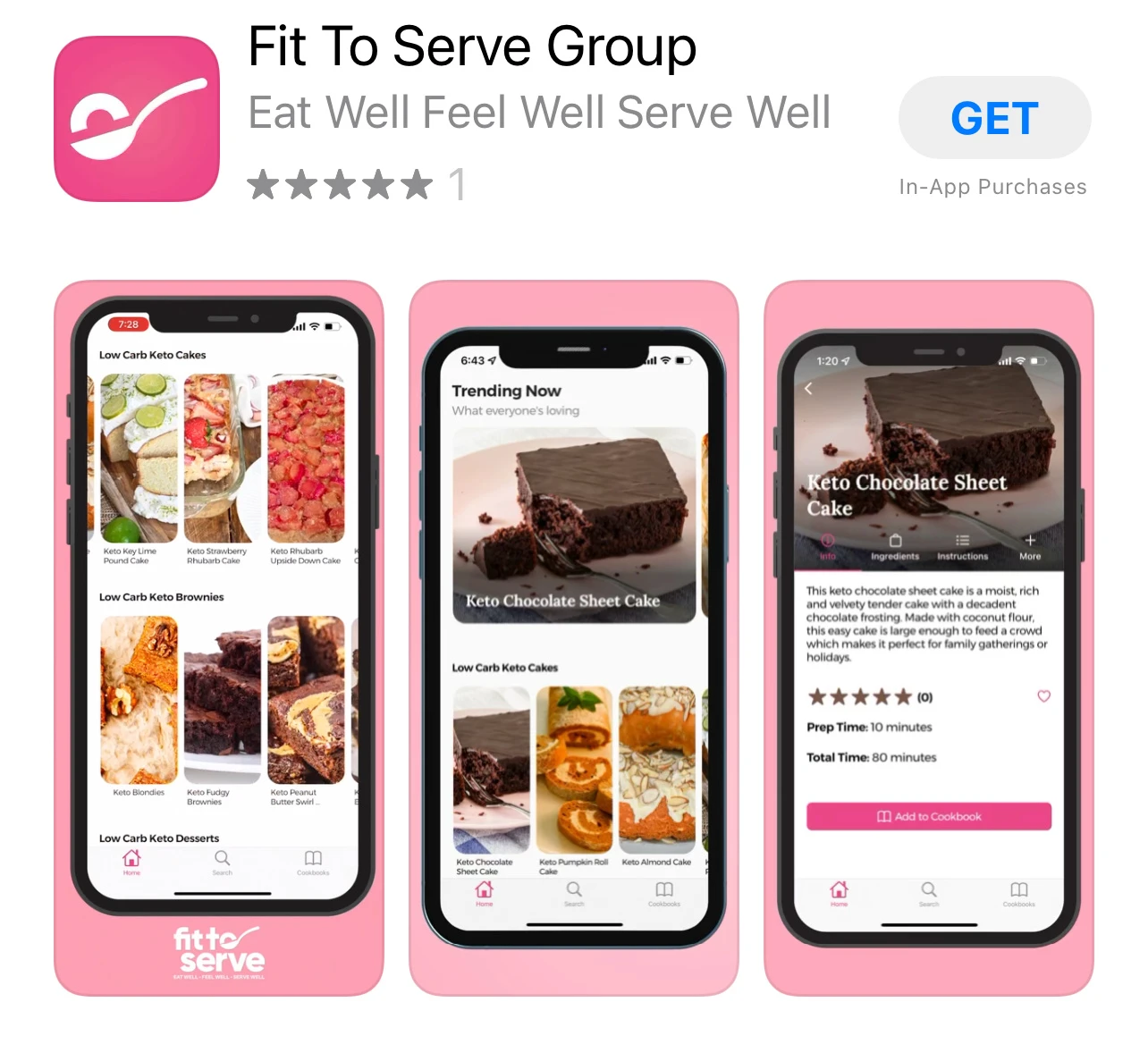 Disclosure: Some of the links below are affiliate links, meaning at no additional cost to you, I will earn a commission if you click through and make a purchase.
Please note that the full printable recipe card is at the bottom of this post. But I hope you read all my suggestions before creating the recipe.
When I set out to make a keto-friendly cereal I wanted to ensure it had a great crunch. After all the texture is just as important as nailing the flavor.
I went for a cinnamon toast flavor because it's a flavor many enjoy and what my daughter Michelle requested. You should know by now that this momma aims to always give her children recipes that will make this lifestyle easier.
I was able to achieve the right texture by using a combination of almond flour, golden flaxseed meal, psyllium husk powder, and a little xanthan gum as the base.
This combo gave the cereal the crunch and mouth-feel I was after. The other benefit of using these ingredients, it that it makes this a cereal also high in fiber. Ain't that cool?
I am a huge fan of finding ways to add more fiber to the keto diet. In fact, I have several high-fiber recipes to prove it. Here's my recipe for Keto High Fiber Bread that's another great breakfast option.
I have linked the specific products and brands I use to make this cereal to ensure you get the same results. This is important because not all brands behave the same. So I encourage you to take a look to make sure you have everything you need to make this yummy cereal.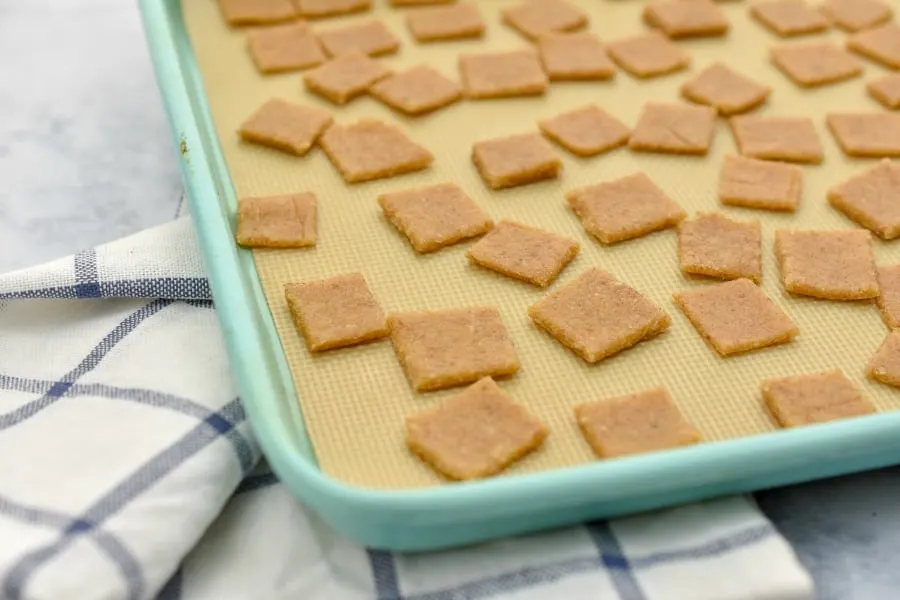 To make this cereal is actually pretty easy. In a large bowl, combine all the dry ingredients and then add the warm water, eggs, cinnamon powder, and granulated sugar-substitute to create a dough that is easy to roll.
Then roll the dough between two pieces of parchment paper to ensure an even thin texture and then cut the dough into small squares using a pizza cutter before baking. Note that this recipe makes enough for eight cups of cereal, that's a little over a week of keto cereal for one person.
Once the cereal is baked and allowed to cool, toss it in a coating of cinnamon powder, granulated sugar-substitute, and confectioner's sugar substitute. This gives the cereal the perfect combination of cinnamon and sweetener.
Then once done, you can store your cereal in a sealed container in a cool dry place for up to five days.
Keto Cinnamon Toast Cereal With Almond Milk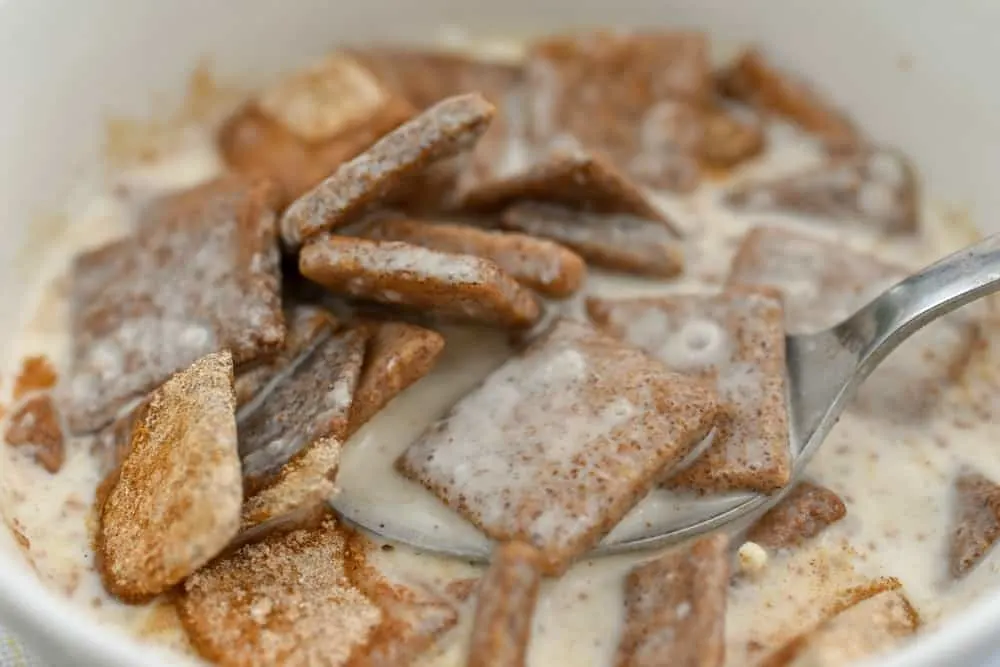 In case you are not aware you will have to swap out cow's milk with a milk substitute like almond or coconut milk. This is because cow's milk is high in carbs and will most definitely affect your blood sugar levels and kick you out of ketosis.
Almond milk is a little thicker than regular milk and has a nutty flavor. While coconut milk has that bright white color that fools your eyes into thinking it's regular milk it is however not as thick as almond milk.
So you have a few choices. The other thing to keep in mind is that this keto cinnamon toast cereal tastes flat-out delicious without any milk alternative too. It's a great choice for when you are wanting something on the crunchy side.
Tag Us
I sure hope you will this keto cereal a try and that you will help us share it. If you give it a try, make sure you remember to tag us on Instagram, Facebook, and Pinterest. It's what keeps this girl encouraged to keep sharing and perfecting her recipes.
Since this recipe is made with almond flour and it's what you prefer to use, I recommend you visit our keto almond flour recipes for more delicious options.
Looking for an easy way to enjoy cereal without having to make it? Check out the review of the Best Low Carb Cereals, I shared my opinion after testing a popular low-carb cereal.
Also, check out our Amazon Store for our recommendations. You might be surprised by how many great keto options are at your disposal.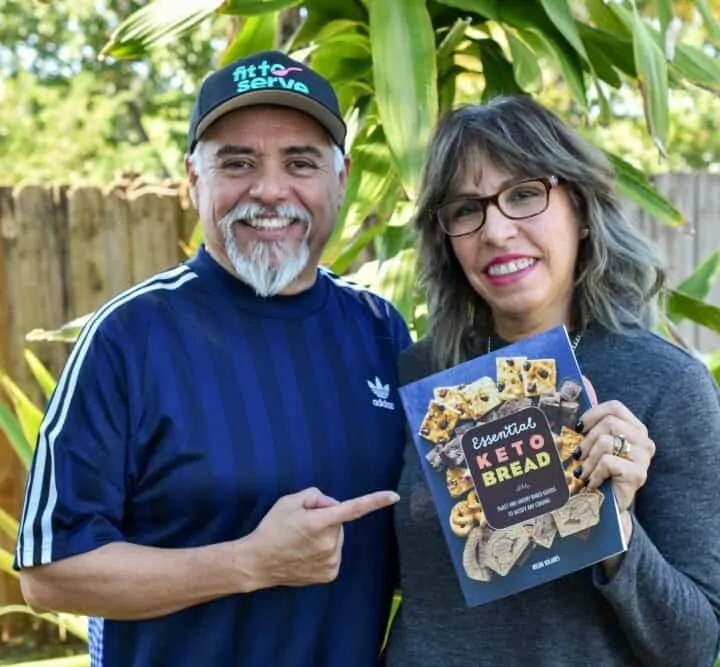 Grab Our Books!
In case you don't know I have authored two books for you, Essential Keto Bread and Essential Keto Desserts both inspired by your requests over the years. It's my prayer these keto cookbooks will help make keto a delicious breeze for you.
Join Our Jesus And Keto Movement
Looking for an online support system to help you stay the course on keto? As a family, we came to the keto diet looking at it from a Christian perspective. As believers, we live our lives supported by God's grace.
So when the Holy Spirit led us to combine our Christian faith and the keto diet, we did so in hopes of finding lasting transformation. When we followed the Holy Spirit's prompting to we got on the path to real transformation.
Knowing firsthand the benefits of this decision we have created a closed Christian group that is using the keto diet to transform their lives. We invite you to join our Private Facebook Group and see if it's not the key you have been missing.
Be sure to request our FREE Jesus and Keto E-Book (First 7 Days) We hope it blesses you.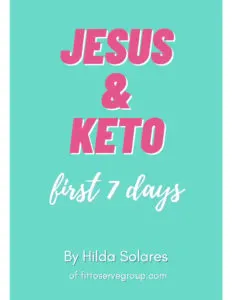 Fittoservegroup Keto App
Looking for a fast way to access our keto recipes? We got you covered. There's an app for that. Yup, there's a Fit To Serve Group App and it's going to make your keto diet a delicious breeze!
Access hundreds of recipes that are all sugar-free, gluten-free, and keto-friendly.
Enjoy early access to recipes before they go live on the website. Plus, bonus recipes that are exclusive to the app. Make your own personal cookbooks that you can use to organize your favorite recipes.
Search recipes by title, ingredients, keywords, and categories, and of course every recipe shows complete nutritional facts. Get the Fit to Serve Group App for easy-to-follow keto recipes made with easy-to-source ingredients.
The app is loaded with hundreds of yummy recipes for breakfast, lunch, dinner, snacks, and even desserts!
Learn more by visiting our Fit To Serve Group App Page.
Keto Cinnamon Toast Crunch Cereal
This keto cinnamon toast crunch cereal is a crispy, crunchy and tasty option for anyone doing keto that is missing cereal. It's sugar-free, grain-free, gluten-free and delicious.
Ingredients
Cereal Ingredients
1 teaspoon of cinnamon powder
2 teaspoon baking powder
1/4 teaspoon salt
2 large eggs, room temperature
1/2 cup of warm water
Cinnamon/Sweetener Coating
1 1/2 tablespoons of cinnamon powder
Instructions
Cereal

Preheat oven 350 degrees.
Regrind the golden flaxseed meal.
In a medium-sized bowl combine the almond flour, golden flaxseed meal, psyllium husk powder, xanthan gum, baking powder, sugar substitute, cinnamon powder, and salt.
To the dry ingredients add the 1/2 cup of warm water and 2 eggs. Knead the dough making sure to combine well. Divide the dough into four equal parts.
Roll out the dough with a rolling pin between two parchment sheets of paper until they about 1/8th of an inch thick.
Using a pizza cutter slice the dough both lengthwise and horizontally to make 1-inch square pieces.
Place the squares on silicone or parchment-lined large cookie sheet pan and bake for 20-25 minutes until golden brown. You may need to bake your cereal in batches depending on how much your own can accommodate.
While cereal is baking proceed to make the cinnamon/sweetener coating.
Cereal Cinnamon Sweetener Coating
In a large bowl combine the cinnamon powder, granulated sugar-substitute and the confectioner's sugar-substitute.
Once squares are fully baked make sure to allow the squares to fully cool before tossing them in a large bowl with the cinnamon/sweetener topping.
Notes
Store cereal in a sealed container on the counter for up to 5 days
Recommended Products
As an Amazon Associate and member of other affiliate programs, I earn from qualifying purchases.
Nutrition Information:
Yield:

8
Serving Size:

1
Amount Per Serving:
Calories:

236
Total Fat:

16.6g
Saturated Fat:

1.6g
Cholesterol:

41mg
Sodium:

27mg
Carbohydrates:

11g
Net Carbohydrates:

2.6g
Fiber:

8.4g
Sugar:

.3g