These keto chocolate-covered strawberries are a favorite with our family and friends for good reason. They are not just fancy, bite-sized desserts, these are beautiful, delicious, and simple to make!
One batch requires only 3 easy to source ingredients and can be made in under 20 minutes including chilling time. Plus a serving has only 1.5 net carbs!
If you're a fan of chocolate and strawberry, be sure to also check out our keto no-bake chocolate strawberry cheesecake a favorite on our site.
Keto Chocolate Covered Strawberries
I have been making homemade chocolate-covered strawberries for ages and once I went keto I knew that I had to find a way to make my recipe keto-friendly.
I knew that with a few important swaps I could achieve all the flavor minus the carbs that my traditional recipe would kick me out of ketosis.
Thankfully, that was not too difficult to achieve since there are a number of quality sugar-free chocolate chips on the market as well as a keto-friendly shortening that is made with all-natural ingredients.
Best Sugar-Free Chocolate Chips For Chocolate Coating.
When it comes to choosing which chocolate chips to use in a sugar-free chocolate-covered strawberry recipe, I personally love Lily's semi-sweet chocolate chips for their lovely chocolate flavor and melting point.
If you prefer a dark chocolate flavor you could also use Lily's dark chocolate chips or ChocZero's Dark Chocolate Sugar-free Chips.
And if you prefer the flavor of milk chocolate, check out Choczero's Milk chocolate chips.
What about white chocolate you ask? Not a problem. Lily's has a white chocolate option that is simply divine. ChocZero also carries white chocolate that is sweetened with monk fruit.
Hershey's sugar-free chocolate chips are another option. However, in this case, the chocolate uses a maltitol-based sweetener which may upset most stomachs.
As you can see you have several options that will keep the carbs low enough for you to enjoy.
Best Keto-Friendly Shortening For Chocolate Coating
In order to get the perfect coating for your strawberries, you'll need to melt the chocolate chips with a tablespoon of shortening. Without the shortening, the chocolate will not coat the strawberries well.
In the past, I would use Crisco vegetable shortening but since then I found an organic shortening that is non-hydrogenated, has no hexane, soy, or canola. Winning!
Nutiva organic shortening is a combination of organic palm fruit oil, organic coconut oil, and red palm oil. It has a very mild neutral taste making it great for recipes like our sugar-free chocolate-covered strawberries.
This shortening is vegan, organic, non-GMO and Fair Trade certified. The golden color reveals the presence of antioxidant vitamins A & E naturally found in red palm oil.
Spectrum Naturals Organic Shortening also has a great all-natural option that can be used just as you would use any other type of shortening product.
How To Make Sugar-Free Chocolate Covered Strawberries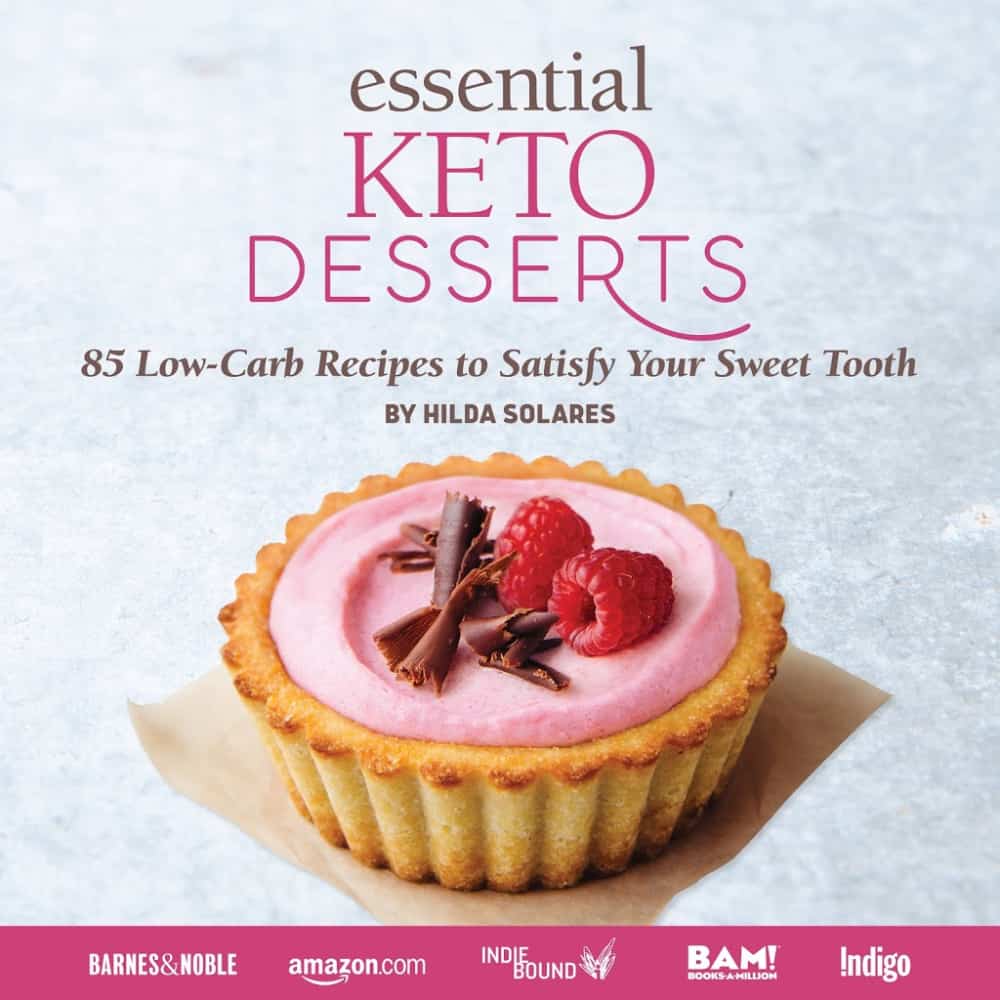 The following are the ingredients needed, note that the full printable recipe card is at the bottom of the page.
Whole medium-sized strawberries washed and fully dry.
You'll start off by washing and drying the strawberries. Then line a baking sheet with parchment paper, it's where you will place your dipped strawberries. Be sure it's a tray that will fit into your refrigerator.
Melt your chocolate chips and shortening either in the microwave in 20-second intervals stirring in between until smooth and well combined or over a double boiler.
Now it's time to dip your strawberries into the melted mixture. You'll want to dip and turn your strawberries being sure to coat all sides. Next, you'll lay the low-carb chocolate-covered strawberries on the prepared baking sheet and place them into the refrigerator for about 15 minutes or until fully set.
You see I told you it was easy to make healthy chocolate-covered strawberries!
Keto Topping Ideas For Chocolate Covered Strawberries
Chopped keto-friendly nuts ( pecans, pistachios, peanuts, or walnuts)
Toasted sugar-free coconut flakes
Melted sugar-free white chocolate to drizzle over the top of the coated strawberries.
Tag Us
I sure hope you will give these low-carb chocolate-covered strawberries a try and see if it won't make it easier to stay committed to your keto macros and see the results you're hoping for.
Be sure you remember to tag us on Instagram, Facebook, and Pinterest once you do. It's what keeps this girl encouraged to keep sharing and perfecting her recipes.
Also, check out our Amazon Store for our recommendations. You might be surprised by how many great keto options are at your disposal.
Don't forget to subscribe to our email list so that we can stay connected.
Grab Our Books!
In case you don't know we have authored two books for you, Essential Keto Bread and Essential Keto Desserts both inspired by your requests over the years. It's my prayer these keto cookbooks will help make keto a delicious breeze for you.
Join Our Jesus And Keto Movement
In case you don't know, our family came to the keto diet looking at it from a Christian perspective. As believers, we live our entire lives supported by God's grace.
So when the Holy Spirit led us to combine our Christian faith and the keto diet, we did so in hopes of finding lasting transformation.
To say we needed God's intervention is putting it mildly. When we followed the Holy Spirit's prompting to we got on the path to real transformation.
Knowing firsthand the benefits of this decision we have created a closed Christian group that is using the keto diet to transform their lives. I love how supportive and encouraging this group of believers is. It's exciting to see how people are transforming their lives by combining this lifestyle with the Christian faith.
We invite you to join our Private Facebook Group and see if it's not the key you have been missing.

Get Our Perfect Keto Hack Tip!
Arming yourself with keto recipes is certainly key in doing this diet long enough to see the many benefits. But even with the best low-carb ketogenic recipes sometimes additional help is needed.
This is when we also encourage you to have the right supplements to help you get and stay in ketosis. Because when you have the right tools the keto diet becomes easier.
Perhaps you've struggled to get into ketosis consistently on your low-carb keto diet, or you've hit a plateau that doesn't seem to budge, consider using Perfect KETO's bundle to assist you. It's a great way to see the benefits sooner rather than later.
You'll learn how to elevate your ketones naturally enter into ketosis more quickly. Being at a deeper level of ketosis will help reduce your appetite, carb cravings, and give you lasting energy. These are the things you want to see happen as they make this diet sustainable and it's why we recommend them.
Perfect Keto has offered our readers a 15% discount on their products. Simply use this link for all qualifying products and the code FITTOSERVE at checkout.
Keto Chocolate Covered Strawberries
Additional Chill Time:
10 minutes
These keto chocolate covered strawberries make the perfect ending to a meal. They are rich in flavor, beautiful and super easy to make. Plus they are made with only 3 easy to source ingredients and have only 1.5 net carbs per serving!
Ingredients
15 medium-sized strawberries (whole)
Instructions
Line a baking sheet with parchment paper and set aside.
In a microwave-safe bowl combine the sugar-free chocolate chips and shortening. Melt in the microwave for 20-second intervalsk stiring in between until the mixture is melted and fully combined. You can also melt the chocolate chips and shortening over a double boiler.
Dip the washed and dried strawberries into the melted chocolate mixture. Place the dipped strawberries on to the baking sheet.
Place the strawberries in the refrigerator for 15-20 minutes to allow them to set before serving.
Store leftovers in an airtight container for up to 2 days.
Notes
Use only firm ripe strawberries that are free from bruising.
Make sure your strawberries have been dried completely before dipping so that the coating adheres properly.
Do not freeze your chocolate covered strawberries since they do not defrost well as moisture is releaseed from the strawberries as they melt. This will cause your coating to fall off the strawberries.
Each chocolate covered strawberry has 1.5 net carbs
Nutrition Information:
Yield:

15
Serving Size:

1
Amount Per Serving:
Calories:

75
Total Fat:

6g
Carbohydrates:

3.1g
Net Carbohydrates:

1.5g
Fiber:

1.6g
Sugar:

1g
Protein:

1.3g