Did someone say Keto Chicken and Waffles? I'm happy to report that this low-carb chaffle recipe rivals any high-carb version. Well, this was what my family declared after they licked their fingers.
If you love Southern-style fried chicken and waffles, then this low-carb chicken and waffles recipe is for you. It's made by using chicken tenders that are battered with a ketogenic coating that fries beautifully. The fried chicken is then paired with my failproof keto waffle recipe, for one delicious, wholesome dish.
This meal turned out to be a major hit with my loved ones and is now categorized as a top keto comfort food favorite. This may be a much healthier option than the traditional favorite but trust me, it's equally packed with flavor.
The chicken is super tender, juicy with a crispy batter that will have you thinking you just cheated on keto. The waffles are light, airy, crispy on the outside, and flat-out delicious.
As far as I am concerned even the genius who came up with the idea of combining these two would welcome a keto-friendly chicken and waffle recipe, that's how confident I am in this dish. For another brunch-worthy recipe, be sure to check out the recipes at the end of this page. Here's my Keto Carrot Pancakes to give you a peek of what's to come.
Keto Chicken And Waffles
I served my chicken and chaffles to my family for the first time as a Friday night dinner, but it's one dish that can be served any time of day. I promise it will be a welcomed soul food dish whether served for breakfast, brunch, lunch, or dinner.
No matter the time you choose to serve these chaffles they are sure to illicit excitment. It seems some version of chicken and waffles has been served for ions. There is some debate as to when exactly this appeared in food establishments.
But many believe this dish became popular during the 1930s in America. Apparently, it was first served in jazz clubs that served leftover breakfast waffles with fried chicken as a dinner option.
Can I confess that this girl had not tried this combo until I made a keto version of it? It's true. My daughter Michelle feels that we may have missed the memo on this dish because when it became a trendy dish a few years back we had already gone keto.
All I can say about that, is thank God I wasn't introduced to it prior or I may have been in some serious trouble. I will also add that at first the idea of chicken and waffles seemed a little strange and even offputting to me.
But the constant raving from our children about how good this dish was is what made me determined to come up with a keto version. This mama is always trying to keep her children compliant with the keto diet. And I didn't want to hear another story about how they just had to cheat because they were craving this dish.
How To Make Keto Chicken And Waffles
Disclosure: Some of the links below are affiliate links, meaning at no additional cost to you, I will earn a commission if you click through and make a purchase.
I decided to use tenderloins for the chicken to make the frying process easier. Frying chicken can be a bit time-consuming, which is why I opted for tenders that I lightly pounded and marinated before giving them a generous coating.
The chicken must be allowed to marinate for at least 90 minutes to ensure it's both flavorful and tender. If making this dish for breakfast, I recommend that you marinate the chicken overnight to save on time. I created what I consider to be keto-friendly buttermilk, by adding some apple cider vinegar to heavy whipping cream.
All I can say is that it worked like a charm. Unfortunately, the use of regular buttermilk won't work because it's just too high in carbs. These chicken tenders turned out juicy on the inside and crispy on the outside for one very yummy option.
The best part is that it's a guilt-free dish since it has a fraction of the carbs compared to its counterpart.
Keto Fried Chicken Homemade Coating
As far as the coating goes I used a combination of parmesan cheese, almond and coconut flour, and spices. Trust me when I tell you that parmesan cheese is an essential part of this coating. Not only does the cheese make the coating extra crispy, but it adds a ton of flavor.
I know some people make their coating using pork rinds but I find that it does not hold up as well in the frying process and it certainly does not crisp up the same. I came up with this trusty coating very early in our keto journey, when I wanted to make healthier chicken nuggets for my son.
It's what I use any time I need a dependable option. You can choose to bake the chicken but you will need to drizzle the tops of the tenders with some butter to help them crisp up properly in the oven. I tested this for you and it works like a charm and of course, baking will save you some time.
Keto-Friendly Waffles
I've had numerous requests to share a recipe that would come close to regular waffles for a while now. But I hesitated until I knew I had a winning recipe. You see this girl can't stand limp waffles. I wanted a keto waffle that was crispy on the outside and soft on the inside.
Was that really too much to ask? Well, I am thrilled to report that I accomplished what I think to be an ideal keto-friendly waffle recipe. How? By making a batter using cream cheese, and eggs but also almond, coconut flour, and a little psyllium husk powder for stability. Yup that combination of ingredients produced the perfect texture I was after. I can't wait for you to try them!
Cayenne Maple Syrup
Of course, after working so hard on this waffle recipe they deserved a great syrup to finish them up. As I was frying the chicken I kept thinking about how delicious it would be to make a syrup that would be spiked with a little cayenne, you know just for fun.
I went with my intuition and heated some Lakanto Maple Syrup, my favorite sugar-free syrup option, and added 1 teaspoon of Tabasco original flavor pepper sauce. All I can say is that it was the perfect accompaniment to this Southern keto dish.
The level of spiciness is totally up to you so feel free to start with 1/4 teaspoon and keep tasting until you achieve the level of spice you prefer. After I lightly heated the syrup I then added 1/4 cup of unsalted cold butter and gave it a quick stir.
The syrup will emulsify instantly due to the addition of cold butter. It gives you a nice syrup with the consistency of caramel sauce. Even if you opt to leave the hot sauce out of the syrup, do still heat up your syrup and add the butter.
I promise once you do you'll never go back to straight syrup. My family was a little hesitant at first to try my cayenne maple syrup sauce but once they did they were sold. All I kept hearing throughout the meal was "can you pass me the sauce please"? LOL, I just knew it would be a hit with them!
What Is The Best Way To Eat Chicken And Waffles?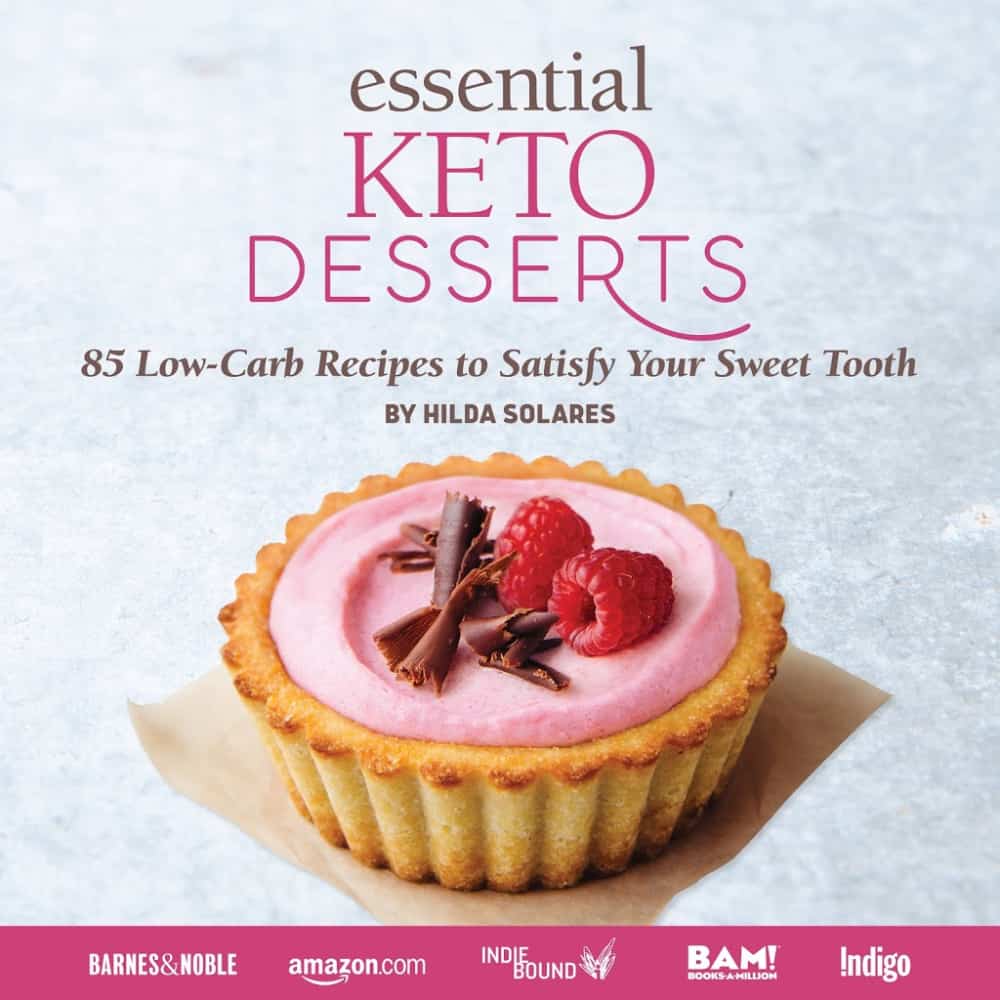 As far as which is the best way to enjoy your keto chicken and waffles, it's really up to you. You can certainly add a couple of fried or poached eggs to the mix. Or even a couple of pieces of bacon as chicken and waffle toppings would be nice. But frankly, the only thing it really needs is some sugar-free syrup. It's the best way to enjoy the salty, sweet combination of this classic dish.
Other Keto Brunch Recipe To Try
I have quite a number of recipes that are brunch-worthy. The following are just a few I've highlighted for you:
Tag Us
I sure hope you will give this keto chicken and waffles "chaffles" recipe a try. Once you do, make sure you remember to tag us on Instagram and Facebook. It's what keeps this girl encouraged to keep sharing and perfecting her recipes.
Also, check out our Amazon Store for our recommendations. You might be surprised by how many great keto options are at your disposal.
Since this recipe is made with almond flour and it's what you prefer to use, I recommend you visit our keto almond flour recipes for more delicious options.

Grab Our Books!
In case you don't know I have authored two books for you, Essential Keto Bread and Essential Keto Desserts both inspired by your requests over the years. It's my prayer these keto cookbooks will help make keto a delicious breeze for you.
Join Our Jesus And Keto Movement
Looking for an online support system to help you stay the course on keto?
As a family, we came to the keto diet looking at it from a Christian perspective. As believers, we live our lives supported by God's grace.
So when the Holy Spirit led us to combine our
Christian faith and the keto diet
, we did so in hopes of finding lasting transformation.
When we followed the Holy Spirit's prompting to we got on the path to real transformation.
Knowing firsthand the benefits of this decision we have created a closed Christian group that is
using the keto diet to transform their lives.
We invite you to join our
Private Facebook Group
and see if it's not the key you have been missing.
Favorite Keto Hack To Stay On Track!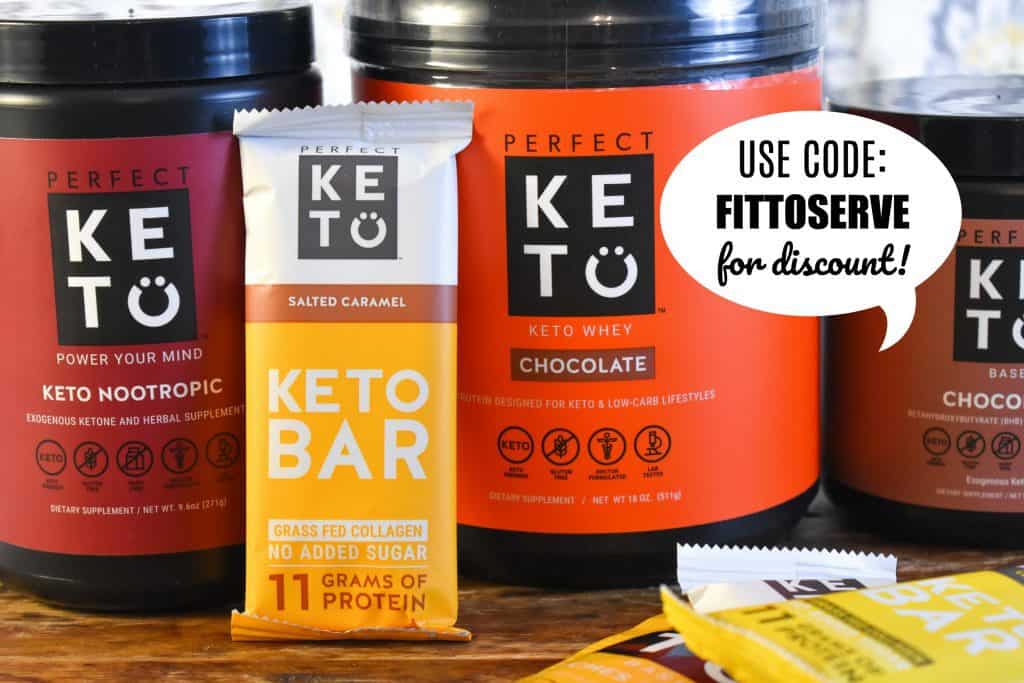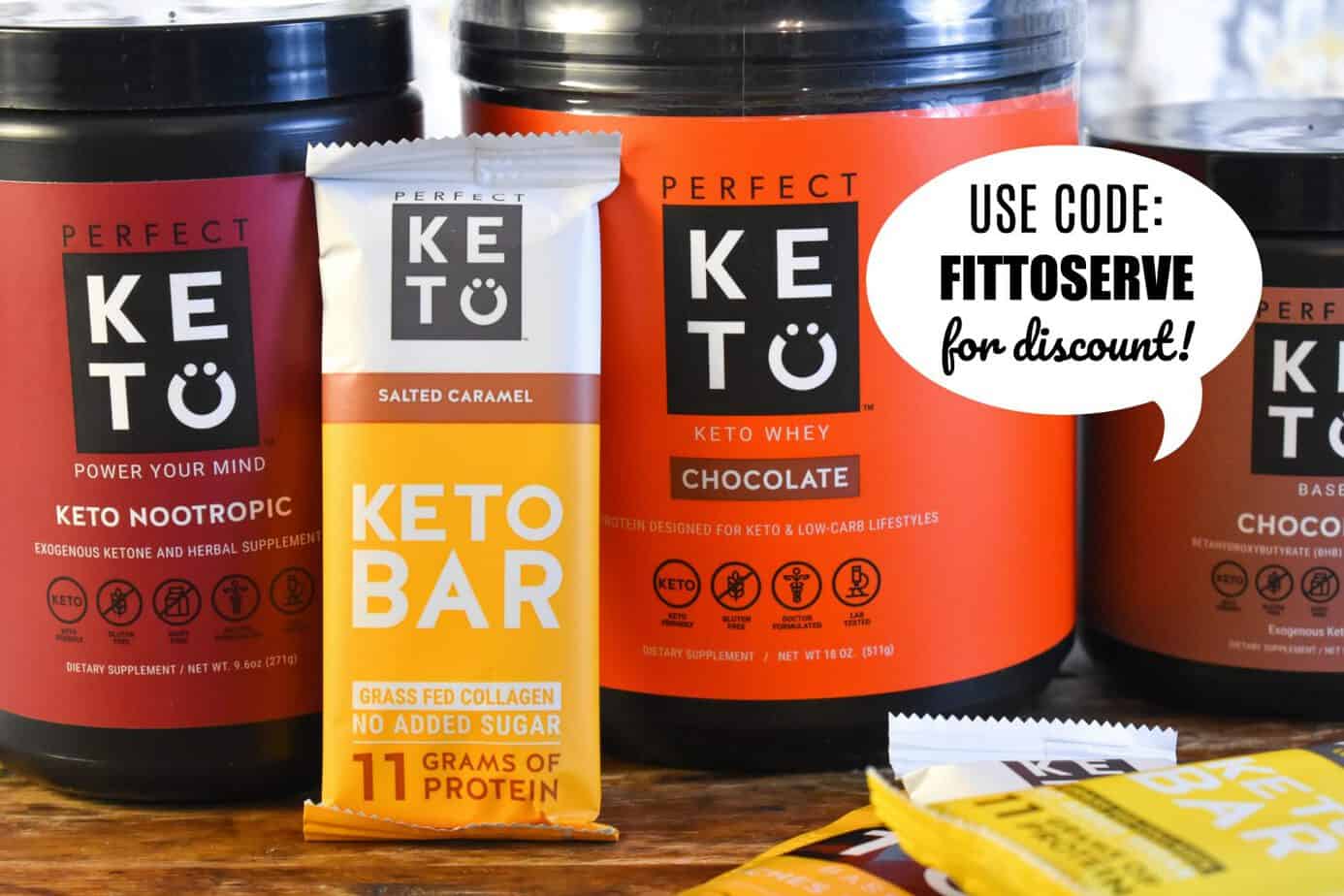 Arming yourself with keto recipes is certainly key in doing this diet long enough to see the many benefits. But even with the best low carb ketogenic recipes sometimes additional help is needed. This is when we also encourage you to have the right supplements to help you get and stay in ketosis.
Because when you have the right tools the keto diet becomes easier. Perhaps you've struggled to get into ketosis consistently on your low-carb keto diet, or you've hit a plateau that doesn't seem to budge, consider using Perfect KETO's bundle to assist you.
It's a great way to see the benefits sooner rather than later. You'll learn how to elevate your ketones naturally enter into ketosis more quickly. Being at a deeper level of ketosis will help reduce your appetite, carb cravings, and give you lasting energy.
These are the things you want to see happen as they make this diet sustainable and it's why we recommend them. Perfect Keto has offered our readers a 15% discount on their products. Simply use this link for all qualifying products and the code FITTOSERVE at checkout.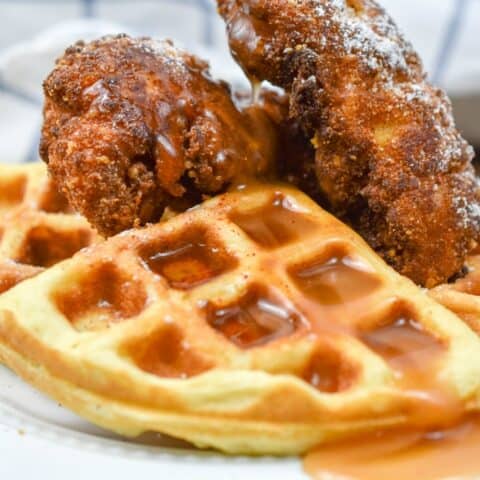 Keto Chicken And Waffles, Chaffles
Total Time:
1 hour
25 minutes
Keto Chicken and Waffles, a low-carb version of a Southern soul food favorite that combines fried chicken with waffles. The chicken is coated in keto-friendly topping and the waffles are sugar-free, grain-free, and gluten-free. It's a delicious alternative to its high-carb counterpart.
Ingredients
Fried Chicken Ingredients
1 pound of chicken tenderloins, lightly flattened
Avocado or refined coconut oil for frying.
Chicken Marinade:
1 cup of heavy whipping cream
2 teaspoons of tabasco hot sauce
1 tablespoon of apple cider vinegar
1/4 teaspoon of ground black pepper
1 teaspoon of sea salt
Chicken Coating
1 teaspoon of paprika
1/2 teaspoon of garlic powder
1/2 teaspoon of onion powder
1/4 teaspoon of ground black pepper
1 teaspoon of salt
1/4 or to taste of cayenne pepper
2 large eggs lightly beaten, for egg wash
Waffle Ingredients, Makes 4 Belgium Waffles
8 ounces full-fat cream cheese, room temperature
5 whole eggs, room temperature
1/2-3/4 cup of water
2 tsp baking powder
1/2 tsp salt
1/4 tsp black pepper
Cayenne Maple Syrup
1/2 - 1 teaspoon of Tabasco
1/4 cup of unsalted butter, cold
Instructions
Fried Chicken Tenderloins Instructions
Rinse and pad dry your chicken tenders. Using a meat mallet place your chicken between two pieces of cling wrap and gently flatten. Set aside.
In a large bowl mix the heavy cream, hot sauce, apple cider vinegar, salt, and pepper. This will be the marinade for the chicken tenderloins

Add the chicken to the bowl and allow to marinate in the fridge for at least 30 minutes to overnight.
While your chicken marinates prepare your waffles.
After the chicken has marinated make your chicken coating.
Set two bowls for the coating. In one bowl mix, add all the dry ingredients and combine well.
In the second bowl whisk the two eggs for the egg wash.
Dip your chicken tenderloins one at a time in the egg wash, followed by the dry coating.
I double coated my chicken tenderloins by dipping them a second time in the egg wash and coating. Shake off any excess before frying.
Preheat some oil in a skillet to medium-high heat and cook both sides of the chicken until lightly brown. You will want to fry your chicken in two or three batches. The oil may need to be changed if it begins the oil gets too murky from the coating.
Place the chicken tenderloins on a baking sheet and lightly cover with foil and bake at 350 degrees for about 15-20 minutes until fully
cooked.
Waffle Instructions
Pre-heat the waffle iron according to its manufacturing recommendations.
In a large bowl combine the finely milled almond
flour, coconut flour, psyllium husk powder, sweetener, baking powder, salt, and pepper.
In a medium-sized bowl using an electric mixer combine
the cream cheese and eggs. Adding one egg at a time scraping the bowl to ensure the mixture fully combines.
Next, add the cream cheese and egg mixture to the dry ingredients using a spatula.
Add the 1/2 cup of water and stir to combine. Add up to an additional 1/4 cup of water as needed since the batter thickens as it sits.
Grease the waffle iron well and add 1/3 cup of batter and spread. Note that the batter will be thick. Close the waffle iron and allow to cook until golden brown according to your waffle's manufacturing instructions.
Serve your chicken and waffles by placing a piece of chicken on top of the waffle and drizzle with sugar-free maple syrup or my recipe for cayenne maple syrup.
Optionally also dust your chicken and waffles with some confectioner's sugar substitute and a dash of cayenne pepper.
Store any leftovers separately. The chicken can be stored in the refrigerator for up to 3 days. Store the waffles in the refrigerator for up to 5 days or freeze them for up to 3 weeks.

Cayenne Maple Syrup Instructions
Heat the sugar-free maple syrup in a small saucepan until it just begins to simmer and add the tabasco sauce to taste. I added 1 teaspoon. Turn off the stove.
Next stir in the cold unsalted butter and stir. The syrup will quickly thicken due to the butter emulsifying the sauce.
Place in a serving container to use as a topping for the chicken and waffles.


Notes
The serving size for this recipe is 1/2 a Beligium waffle. The waffle recipe makes 4 waffles. The chicken serving is approximately two pieces of chicken tenderloins.
Nutrition Information:
Yield:

8
Serving Size:

1
Amount Per Serving:
Calories:

508
Total Fat:

40.7g
Saturated Fat:

18.6g
Cholesterol:

278mg
Sodium:

585mg
Carbohydrates:

7g
Net Carbohydrates:

5.6g
Fiber:

2.6g
Sugar:

1.2g
Protein:

29.3g