This keto lemon pound cake is a lemon lover's dream. The star of the recipe is tangy lemon.
It's a keto lemon cream cheese pound cake that uses lemon juice, lemon extract, and lemon zest for maximum lemon flavor.
I love how It's grain-free, sugar-free, gluten-free, and keto-friendly yet has a bright lemony flavor that makes you think you're cheating on keto.
This is an almond flour lemon pound cake recipe since it's made with almond flour but I also have a keto coconut cream cheese pound cake where you can add the lemon glaze featured in this recipe.
It's a great option for those who cannot consume nuts.
Inspired by our popular keto cream cheese pound cake recipe. This lemon version is sure to be well-loved too.
Make sure you remember to also check out our complete list of Keto Pound Cakes and Keto Cakes that any cake lover doing keto would enjoy exploring.
Keto Lemon Pound Cake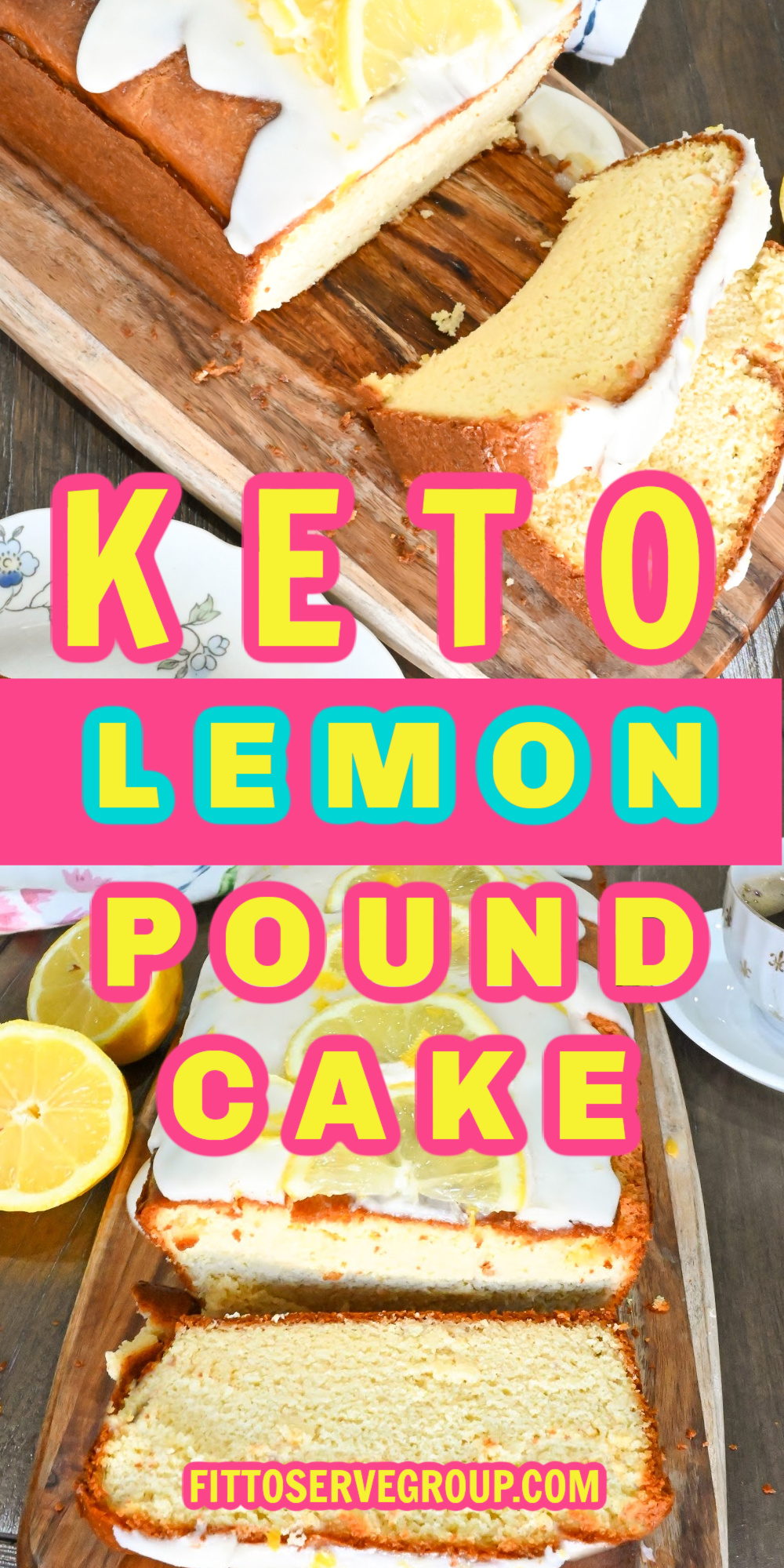 Whether you are looking for a great lemon dessert that is keto-friendly or a snack to enjoy with your favorite cup of hot beverage, this is the keto lemon glazed pound cake you want to make and will be proud to share.
Trust me when I tell you that it's a cake everyone will embrace, making it perfect for family gatherings or to take to your next church potluck.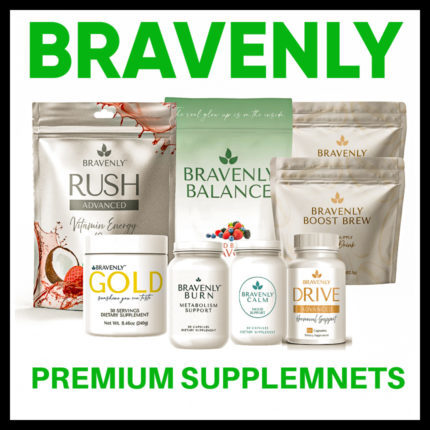 A low carb lemon pound cake was destined to make it to the blog. Especially since a lemon cake seemed to always make an appearance at our family gatherings.
Even when the meals were impromptu I always managed to whip up a quick pound cake and then topped it with a tangy lemon icing.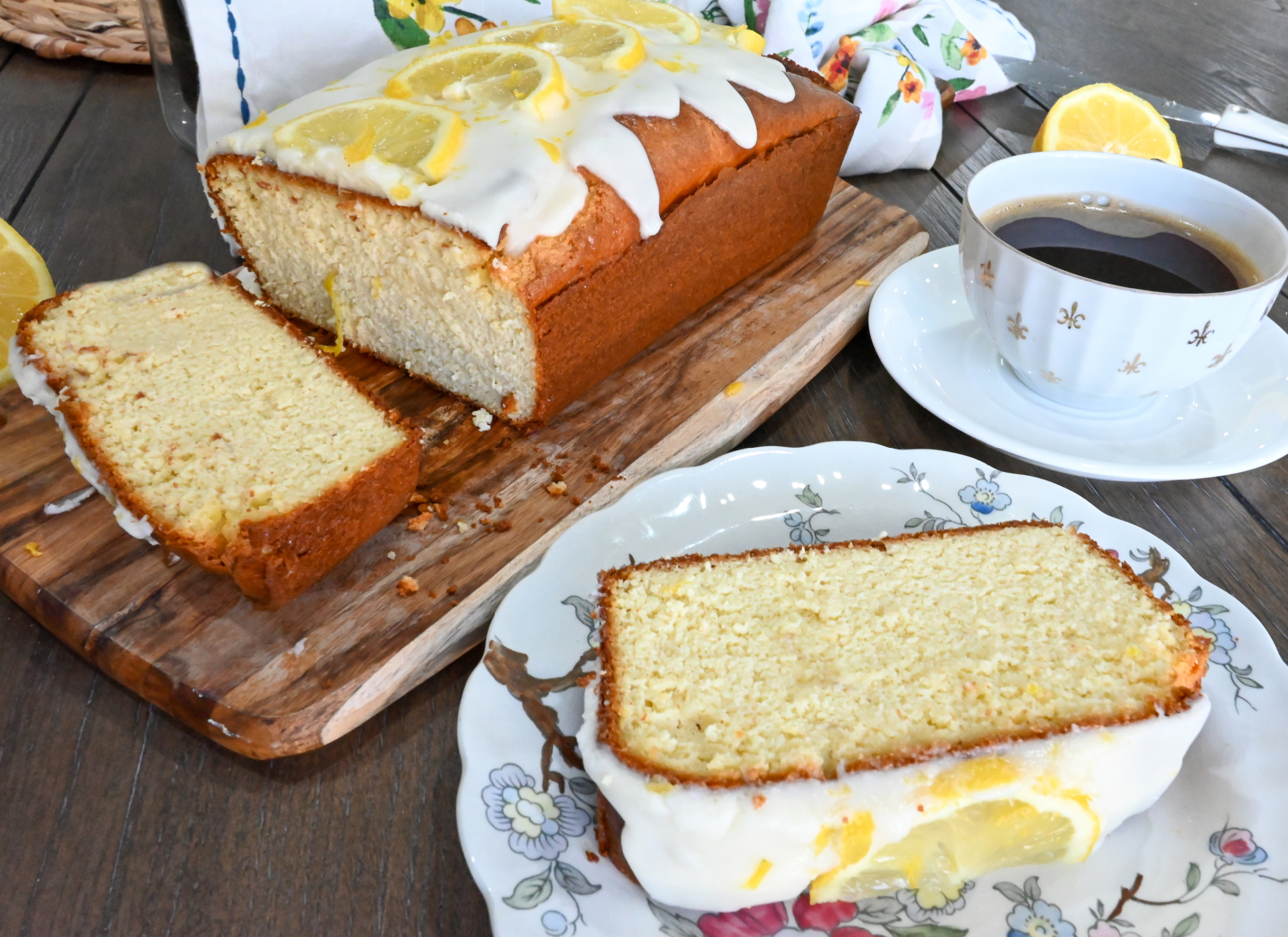 The memories we made were, of course, sweeter than any dessert ever created.
Isn't it amazing how we tend to associate certain foods with loved ones who have touched our lives? A lemon pound cake always reminds me of my sister-in-law's mom, Regla.
Unfortunately, she was taken from us way too soon. Her love of the family and kitchen is certainly missed, yet always guarded close to our hearts.
My original lemon pound cake had loads of sugar. Although it was well-loved, once we went keto that cake had to be retired.
I just could not in good conscience serve a cake that was so full of sugar after knowing firsthand the ramifications of having too many carbs in our diet.
Keto Lemon Cream Cheese Pound Cake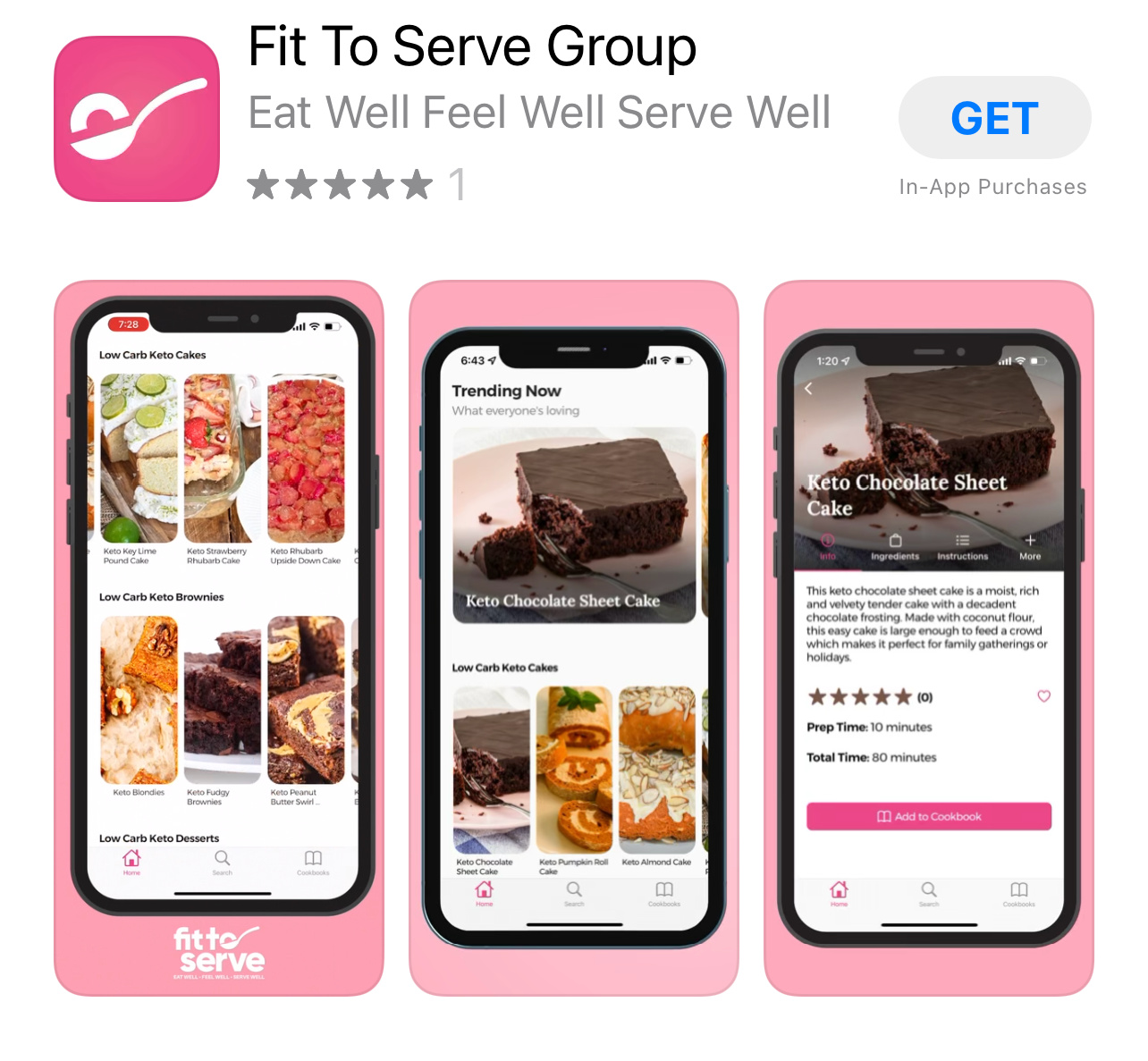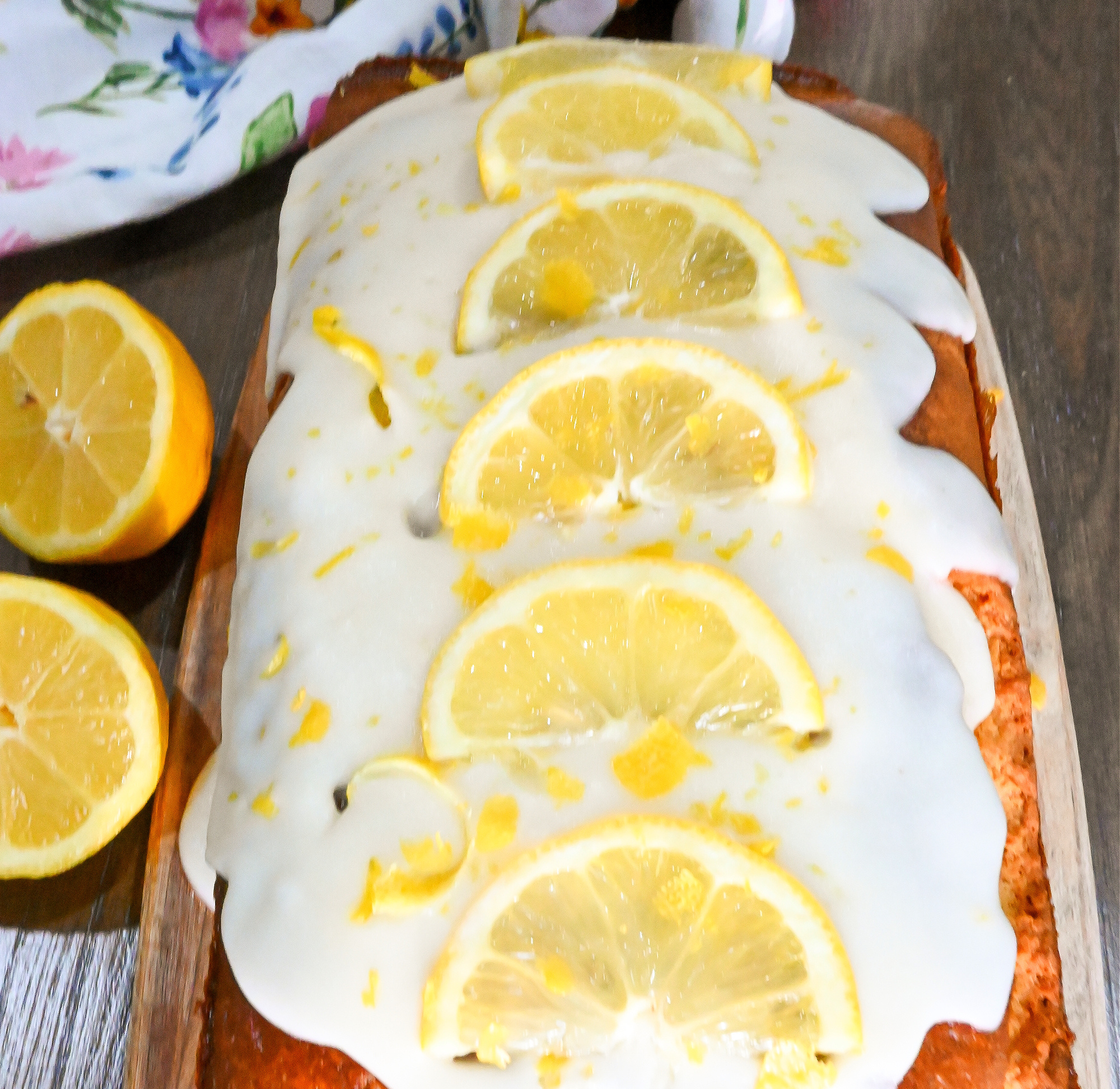 So, this meant that I needed to create a delicious alternative for my loved ones and that it had to meet the family's standards.
Enter my recipe for keto lemon cream cheese pound cake.
Let's just say I had spoiled them with my high-carb treats and now I had to convince them that our decision to go keto was not going to intrude with a family favorite.
I had been toying with the idea of giving this beloved recipe a makeover. I really wanted to bring this back to our family because it was tied to so many beautiful memories.
Thankfully, this recipe makeover turned out to be an instant hit with the family too. I just love that this sugar-free lemon cake can now be enjoyed by our family and still honor her memory.
How To Make A Keto Lemon Pound Cake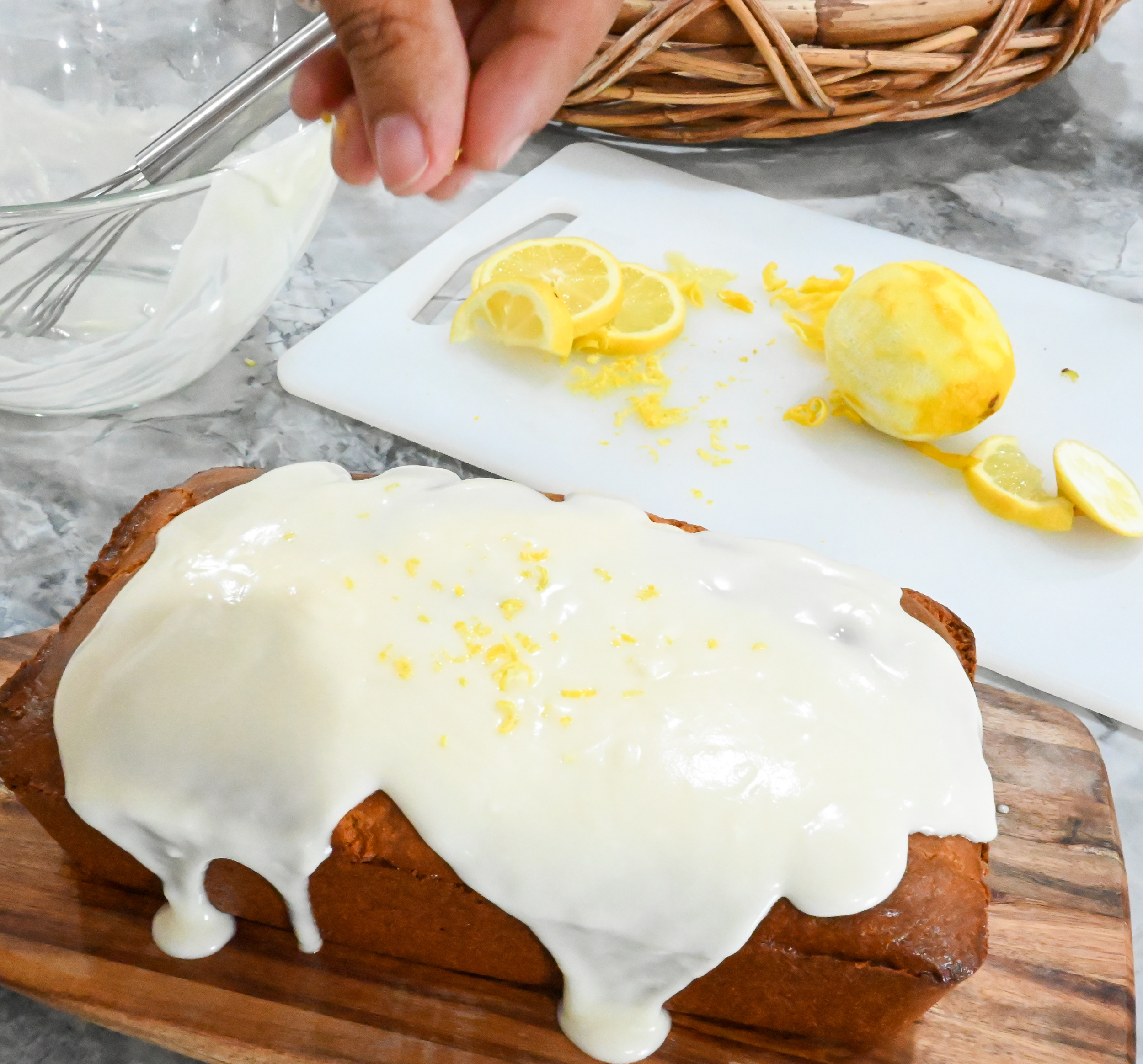 Disclosure: Some of the links below are affiliate links, meaning at no additional cost to you, I will earn a commission if you click through and make a purchase.
I'm going to share some of my keto baking tips with you to ensure your pound cake turns out perfectly. Note that the full printable recipe is at the bottom of the page.
The following are all the ingredients you'll need to make an almond flour lemon cake:
The following are the materials you'll need:
Best Sugar Substitute Options For Sugar-Free Lemon Pound Cake.
When it comes to choosing your sweetener for this lemon-infused keto pound cake, I have several low-carb options that work well.
I really like Lakanto Monk Fruit Sweetener because the texture is spot on and because there is barely any aftertaste.
This is a great one especially if you are new to sugar substitutes because it mimics sugar the most in my book.
I'm also partial to Swerve an erythritol blend, although you should keep in mind that it does have a bit more of a cooling aftertaste that some people dislike.
Alternatively, you could also use a stevia and erythritol-based brand like Pyure. This is if you prefer to use stevia in your baked goods.
But note that if you go this route, you will need to reduce the amount of sweetener by half since it is twice as sweet as the others.
Lastly, if you can't easily find a more natural sugar substitute, you can also use Splenda with great success.
I know not everyone would agree with me here, and I respect that, but in my book, it's still better than regular sugar.
As far as the keto lemon icing goes, you will have to use a confectioner's sugar substitute. Both Lakanto and Swerve have great ones.
Tangy Keto-Friendly Lemon Cake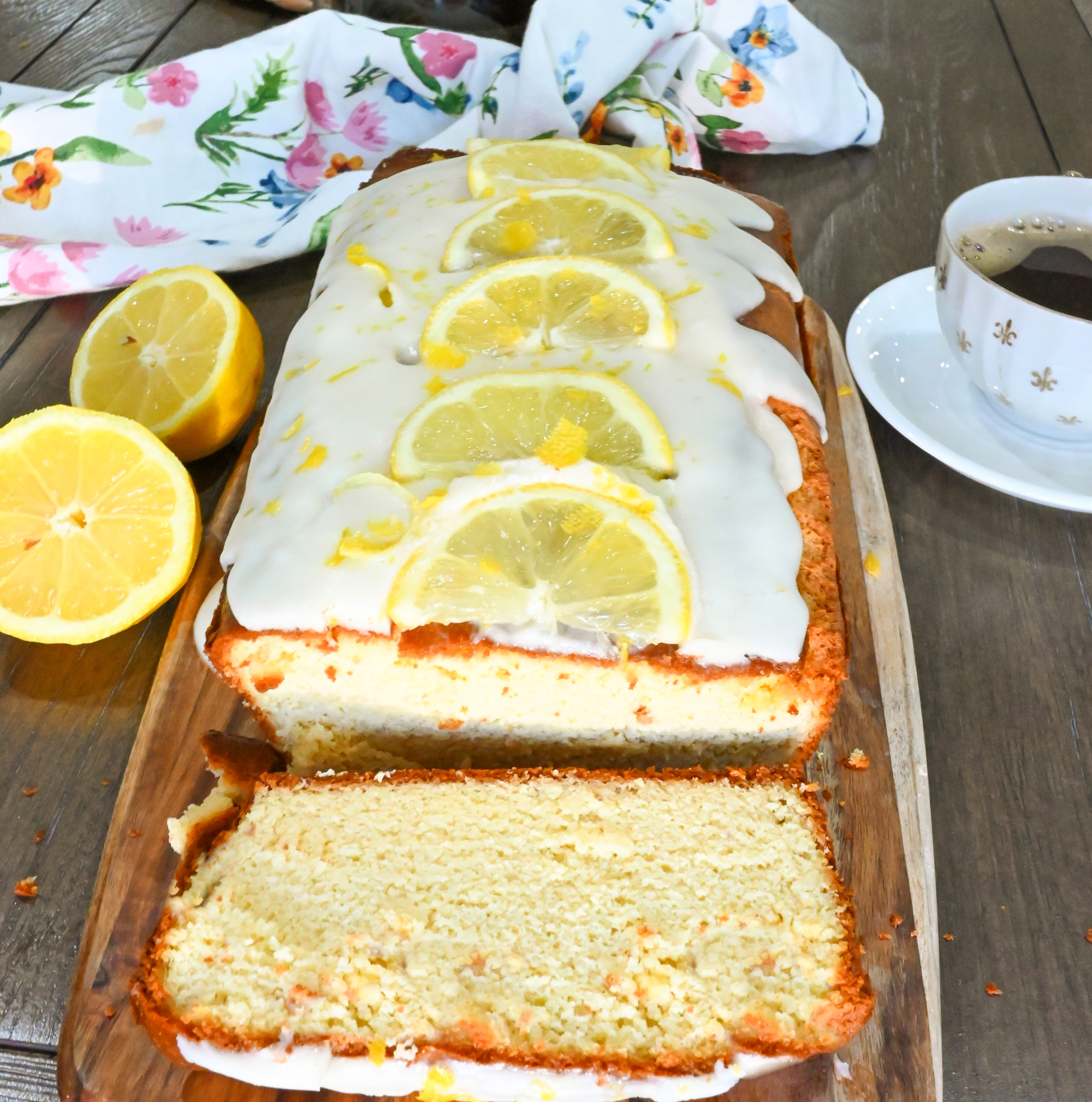 The former recipe was made moist by pouring a lemon simple syrup into the cake after it was baked and fully cooled.
My keto lemon pound cake also has a delicious lemon glaze but it also has lemon extract and a little lemon juice inside the batter before it's baked for extra lemon flavor.
I can't wait for you to try this easy keto lemon pound cake recipe and share it with your loved ones. Creating foods that remind us of our loved ones is a way to continue to honor their memory.
Tag Us
If you're a fan of all things lemon, then I encourage you to visit our keto lemon recipes, where it is featured as the star.
I sure hope you will give this sugar-free lemon pound cake recipe a try. Once you do, make sure you remember to tag us on Instagram and Facebook.
It's what keeps this girl encouraged to keep sharing and perfecting her recipes.
Also, check out our Amazon Store for our recommendations. You might be surprised by how many great keto options are at your disposal.
Grab Our Books!
In case you don't know, we have authored two books for you, Essential Keto Bread and Essential Keto Desserts both inspired by your requests over the years.
I pray these keto cookbooks will help make keto a delicious breeze for you.
Join Our Jesus And Keto Movement
Do you know that it wasn't until Randy and I began to combine the promises of God's word about healing and changed our diet to a ketogenic one, that we finally began to see our health improve?
By cutting out the junk and focusing on real food, we gave our bodies the nutrition they needed.
Then our bodies did what God designed them to do, to heal themselves. This is what we believe it means to live in divine health.
This act of obedience is what birthed Fittoserve Group. Today, we are seeing thousands of lives impacted and the ripple effect of our decision to combine our Christian faith with the keto diet is making a difference in ways we may never know this side of eternity.
Consider joining our Private Facebook Group where others are combining their Christian Faith with that of a ketogenic lifestyle.
I love how supportive and encouraging this group of believers is. It's exciting to see how people are transforming their lives by combining this lifestyle with the Christian faith.
Be sure to request our FREE Jesus and Keto E-Book (First 7 Days) We hope it blesses you.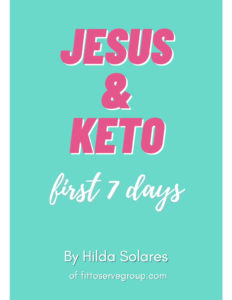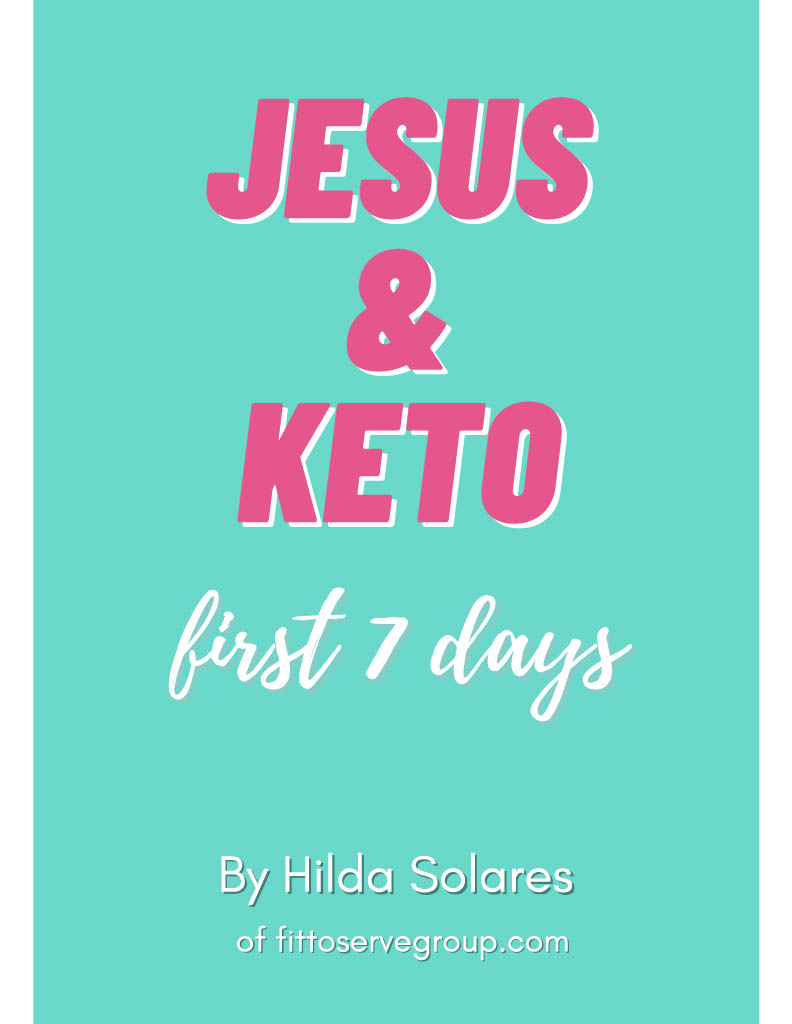 Fittoservegroup Keto App
Looking for a fast way to access our keto recipes? We got you covered. There's an app for that. Yup, there's a Fit To Serve Group App and it's going to make your keto diet a delicious breeze!
Access hundreds of recipes that are all sugar-free, gluten-free, and keto-friendly.
Enjoy early access to recipes before they go live on the website. Plus, bonus recipes that are exclusive to the app. Make your own personal cookbooks that you can use to organize your favorite recipes.
Search recipes by title, ingredients, keywords, and categories, and of course every recipe shows complete nutritional facts.
Get the Fit to Serve Group App for easy-to-follow keto recipes made with easy-to-source ingredients.
The app is loaded with hundreds of yummy recipes for breakfast, lunch, dinner, snacks, and even desserts!
Learn more by visiting our Fit To Serve Group App Page.
Keto Lemon Pound Cake
This deliciously rich keto lemon pound cake recipe is a lemon lover's dream. It's a keto lemon-infused pound cake that's topped with lemon glaze. Made with almond flour it makes it gluten-free and low in carbs!
Ingredients
8 ounce of cream cheese softened
1/2 cup of butter softened
8 whole eggs , room temperature
1/3 cup of lemon juice
1 teaspoon of lemon extract
¼ teaspoon of freshly grated lemon rind
¼ teaspoon of salt
2 teaspoons of baking powder
Keto Lemon Glaze Topping:
1/4 cup of fresh lemon juice
1 lemon sliced in wedges and halved (optional garnish)
Fresh lemon zest to sprinkle over the top of the iced lemon pound cake
Instructions
Preheat the oven to 350 degrees.
Grease and line with parchment paper a 10X5 inch loaf pan.
In a small bowl measure and sift the almond flour and set it aside.
In a large bowl using an electric mixer add the softened cream cheese, and butter and beat on high until light and fluffy.
To this mixture add the sugar substitute and combine well.
Then add the 8 eggs one at a time, making sure that it is fully incorporated.
Next stir in the sifted almond flour, salt, baking powder, and lemon zest and mix well.
Lastly, stir in the lemon juice, and lemon extract and beat until the batter is fully incorporated.
Pour cake batter into the prepared pan.
Bake for 40-45 minutes or until an inserted toothpick comes out clean.
Allow the cake to cool on a baking rack for at least 15 minutes before unmolding. Then spread the lemon glaze on the pound cake while it is still slightly warm.
Store leftovers for up to 5 days in the refrigerator or up to 3 weeks in the freezer.
Keto Lemon Glaze
Combine 1/2 cup of confectioners sugar substitute with 1/4 cup of fresh lemon juice and a pinch of salt.
Using an offset spatula spread the icing over the slightly warm cake. Allow the cake glaze to fully set and then garnish with lemon wedges and fresh lemon zest.
Nutrition Information:
Yield:

12
Serving Size:

1
Amount Per Serving:
Calories:

328
Total Fat:

29.8g
Saturated Fat:

10.8g
Cholesterol:

150mg
Sodium:

158mg
Carbohydrates:

4.2g
Fiber:

2.5g
Sugar:

1.5g
Protein:

5.3g