Soft-baked, tender keto snickerdoodle cookies are a delight to the tastebuds. Snickerdoodles are a timeless classic but they needed a keto makeover if I was going to allow them back into my life.
Thankfully, this easy keto "sugar" cinnamon cookie recipe allows you to enjoy all the flavor, texture of this well-loved recipe without the worry of being kicked out of ketosis.
My recipe produces an irresistible tender, flavorful low-carb snickerdoodle cookie. It has that signature tangy taste that sets it apart from other sugar cookies.
There is a good reason these low-carb snickerdoodle cookies were an instant hit with the family. They are that good. Cinnamon-sugar, soft, and chewy this popular sugar cookie got the makeover it deserved.
The family gave it a standing ovation, even from the picky non-keto kid (Matthew). It's the golden seal of approval I crave to ensure I have transformed a recipe properly.
I am such a fan of old fashion cookie recipes, it just brings all the good nostalgia memories to the surface for me. Proof of this is my keto sour cream sugar cookies.
But hey I love ALL the cookies and it's why I have a growing collection of keto cookies that you should also totally check out.
Keto Snickerdoodle Cookies
Super soft, full of cinnamon this keto sugar cookie is sure to be requested often and get all the compliments even from the non-keto folks in your life!
What makes this such a great keto snickerdoodle cookie recipe? Well, first and foremost it's soft and slightly chewy and it has a cinnamon-sugar coating that is sure to fool your tastebuds and make you feel like you've cheated on keto.
Of course, it also has that distinctive tangy taste that assures you, you've undeniably bitten into an old fashion cookie. What also sets this keto-friendly snickerdoodle cookie recipe is that it's not only soft but remains soft days later, even after placed in the refrigerator, that my friend makes this a winner!
How To Make Keto Snickerdoodle Cookies
In order to give you the most authentic tasting sugar-free snickerdoodle, I had to do some major tweaking since Keto Baking is NOTHING like traditional baking but this girl is quite proud of this low carb version and I'm hoping you will also fall in love with it too.
I took the liberty to use a combination of almond and coconut flour. It's something I have found that works really well when trying to duplicate the texture that only gluten provides.
The secret to making a genuine snickerdoodle is that it needs to use a combination of cream of tartar and baking soda as the leavener instead of baking powder. This not only gives it, its unique tangy flavor but also ensures a tender crumb.
In addition to this, I added a tiny amount of unflavored gelatin powder to the dry ingredients. Why? Well, it's something I tested when I made my keto chocolate chip cookies and wanted a chewier cookie. It works like a charm.
When making these gluten-free snickerdoodles it's important that you do not overbake them. Keeping these cookies just slightly underbaked is what ensures they are a soft chewy cookie, even after they have cooled.
Ingredients Needed
Note that the full printable recipe card is at the bottom of the post. The following are just the ingredients and materials you'll need so that you are armed and ready to bake.
Unsalted butter, room temperature
Eggs
Cream of tartar
Baking soda
Cinnamon powder
Vanilla extract
Sea Salt
Materials Needed To Make Snickerdoodle Keto Cookies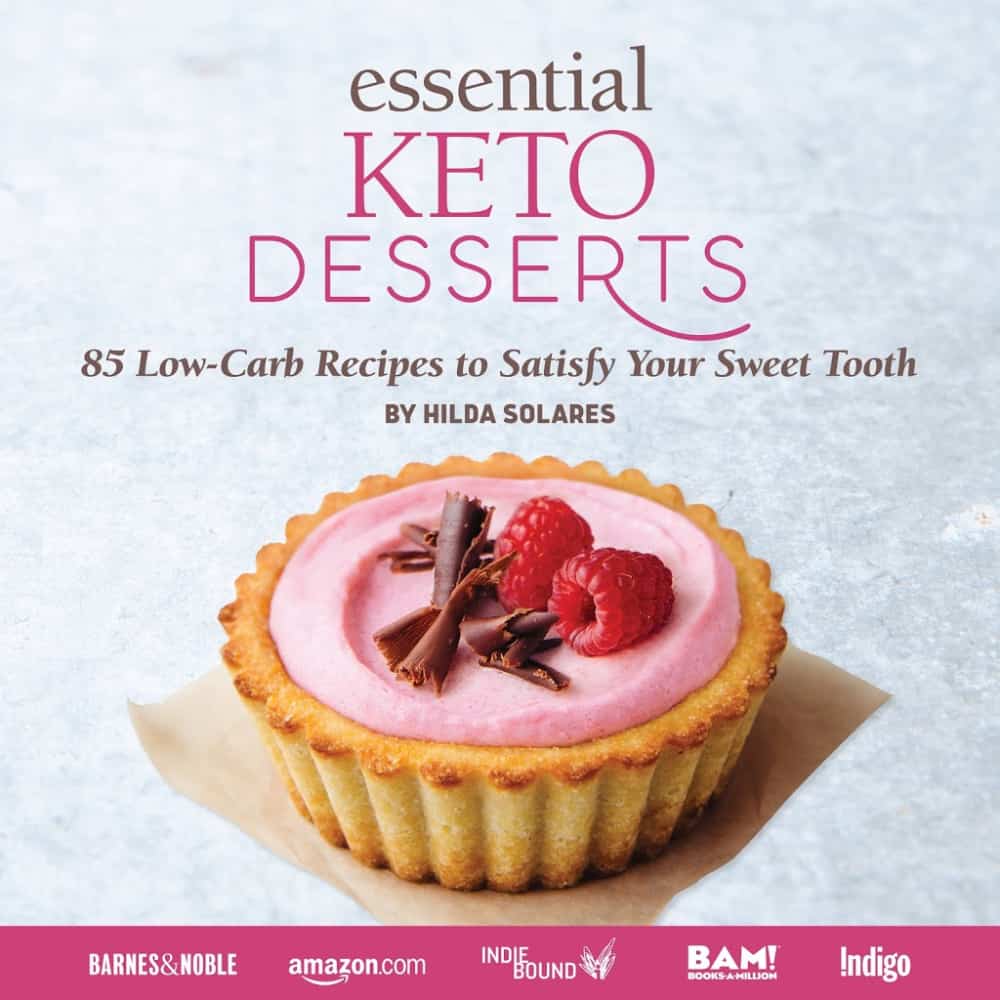 In order to make these keto-friendly snickerdoodle cookies, you will need a few items. Thankfully, these materials are also pretty standard kitchen tools.
Sugar Substitute Options
When it comes to choosing which sugar substitute to use for these snickerdoodle keto cookies, I have several options for you to pick from.
My number one choice is Lakanto Monk Fruit because the texture and flavor are what I have found to be the closest to real sugar and because the flavor fools your taste buds like nothing else I've found in the market.
Having said that, I'm also partial to the brand Swerve which is an erythritol blend. Similar to Lakanto it uses sugar alcohols and has a 0 % impact on blood sugar.
Personally, I don't like using stevia because I am sensitive to the aftertaste. But if that's not the case for you, you could certainly use the stevia and erythritol-based brand Pyure for this cookie recipe.
However, if you go this route, you will want to use 1/2 the amount called for in this recipe since it's much sweeter.
My goal is to create keto cookies that help make this ketogenic diet a delicious breeze and frankly, I think this recipe accomplishes beautifully.
Otherwise staying committed becomes a major chore and quitting becomes inevitable. And that is not an option for many of us.
Tag Us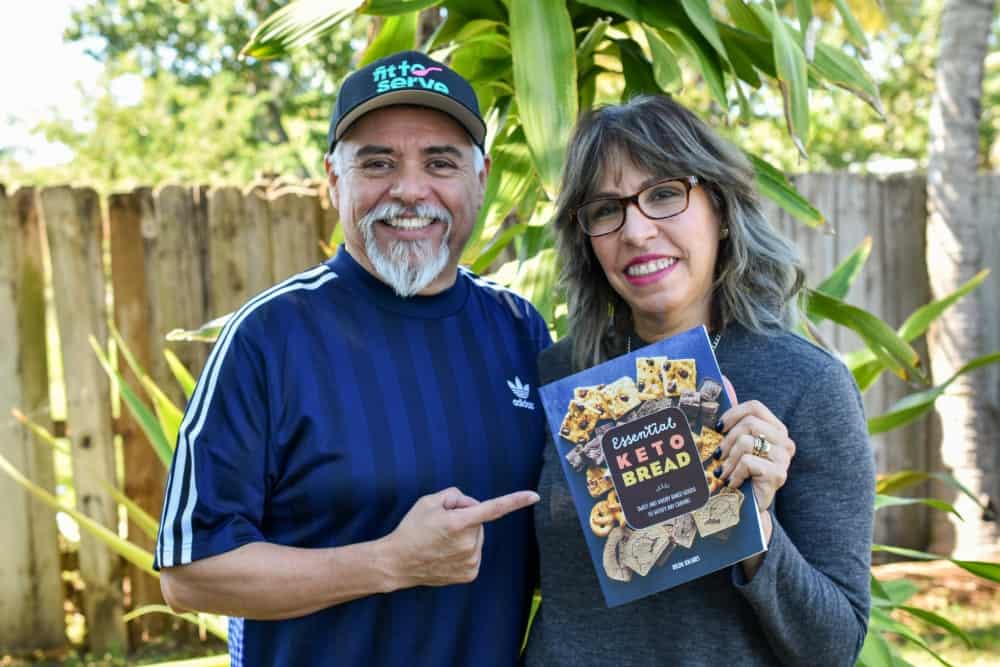 I sure hope you will give this recipe a try. Once you do, make sure you remember to tag us on Instagram and Facebook. It's what keeps this girl encouraged to keep sharing and perfecting her recipes.
Also, check out our Amazon Store for our recommendations. You might be surprised by how many great keto options are at your disposal.
Grab Our Books!
In case you don't know we have authored two books for you, Essential Keto Bread and Essential Keto Desserts both inspired by your requests over the years. It's my prayer these keto cookbooks will help make keto a delicious breeze for you.
Join Our Jesus And Keto Movement
Randy and I came to the keto diet looking at it from a Christian perspective. As believers, we live our lives supported by God's grace.
So when the Holy Spirit led us to combine our Christian faith and the keto diet, we did so in hopes of finding lasting transformation.
To say we needed God's intervention is putting it mildly. When we followed the Holy Spirit's prompting to we got on the path to real transformation.
Knowing firsthand the benefits of this decision we have created a closed Christian group that is using the keto diet to transform their lives. We invite you to join our Private Facebook Group and see if it's not the key you have been missing.
Favorite Keto Hack To Stay On Track!
Arming yourself with seasonal keto recipes like these is certainly key in doing this diet long enough to see the many benefits. But even with the best low-carb ketogenic recipes sometimes additional help is needed.

This is when we also encourage you to have the
right supplements to help you get and stay in ketosis. Because when you have the right tools the keto diet becomes easier.
Perhaps you've struggled to get into ketosis consistently on your low-carb keto diet, or you've hit a plateau that doesn't seem to budge, consider using Perfect KETO's bundle to assist you. It's a great way to see the benefits sooner rather than later.
You'll learn how to elevate your ketones naturally enter into ketosis more quickly. Being at a deeper level of ketosis will help reduce your appetite, carb cravings, and give you lasting energy. These are the things you want to see happen as they make this diet sustainable and it's why we recommend them.
Perfect Keto has offered our readers a 15% discount on their products. Simply use this link for all qualifying products and the code FITTOSERVE at checkout.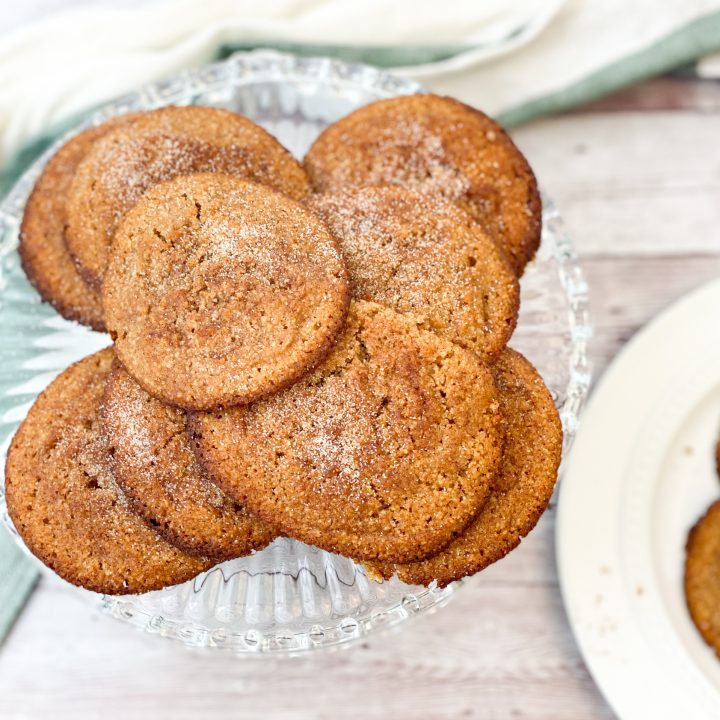 Keto Snickerdoodle Cookies
These keto snickerdoodle cookies are a delight to the tastebuds. They are soft-baked, tender, and easy to make. It's a keto "sugar" cinnamon cookie recipe that allows you to enjoy all the flavor, texture of this well-loved recipe without the worry of being kicked out of ketosis.
Ingredients
Keto Snickerdoodles
3/4 cup of butter (1 1/2 sticks) softened
2 eggs, room temperature
1/2 teaspoon of baking soda
2 teaspoons of vanilla extract
1/4 teaspoon of salt
1 teaspoon of cinnamon powder
Topping
1 teaspoon of cinnamon powder
Instructions
Pre-heat oven 350 degrees
Line two cookie sheets with parchment paper
Make the topping: Combine the sugar-substitute and cinnamon powder together in a small bowl.
Make the cookie dough: In a large bowl combine the sifted almond flour, coconut flour, gelatin powder, cream of tartar, baking soda, cinnamon powder, and salt.
In another large bowl using an electric hand or stand mixer beat the room temperature butter, sugar substitute. Mix until smooth and creamy about 2 minutes. Be sure to scrape the sides and bottom of the bowl with a rubber spatula as needed.
To this mixture add the eggs one at a time, vanilla extract, and beat well.
Next, add the dry ingredients slowly making sure the batter is well incorporated.
Place the cookie dough in the refrigerator and allow to chill for about 30 minutes before baking.
Using a small cookie scoop form into balls roll the cookie dough balls in the cinnamon-sugar topping. Be sure the cookie dough balls are covered well on all sides.
Arrange the cookie dough balls 2 inches apart on the baking sheet.
Bake the cookies for 10-12 minutes until slightly golden. You do not want to overbake these cookies
Allow the cookies to cool on the cookie sheet for about 10 minutes before transferring them to the wire rack to cool completely.
Store leftovers in the refrigerator for up to 5 days or freeze for up to 3 weeks.
Recommended Products
As an Amazon Associate and member of other affiliate programs, I earn from qualifying purchases.
Nutrition Information:
Yield:

16
Serving Size:

1
Amount Per Serving:
Calories:

256
Total Fat:

10.2g
Saturated Fat:

7.4g
Cholesterol:

48mg
Sodium:

78mg
Carbohydrates:

4.6g
Net Carbohydrates:

2.5g
Fiber:

2.1g
Sugar:

0.9g
Protein:

4.1g
Did you make this recipe?
Please leave a comment on the blog or share a photo on Instagram