This recipe for keto raspberry lemonade mousse is a light, airy dessert that is not only delicious but super easy to make.
It's a 5-ingredient keto-friendly dessert that is perfect for any occasion.
Unlike other mousses, this recipe is an eggless mousse and it doesn't even use gelatin. This means you probably already have all the ingredients you need to whip up this refreshing summery treat.
I just love the simplicity of this keto raspberry cheesecake fluff. That's right this raspberry mousse has a cheesecake fluff quality.
So if you're a fan of cheesecakes you are in for a treat. It allows you to enjoy all the flavors without having to turn on the stove or oven.
Be sure to also check out keto cheesecakes for other delicious options. And if you're looking for another quick and easy mousse, you'll love our keto blueberry cheesecake mousse!
In fact, why not check our entire collection of keto raspberry recipes, where you are sure to find new favorites.
Sometimes you want easy not that this girl doesn't like to create more complex desserts but let me be clear that when time is limited a fast and simple dessert just makes sense.
Thankfully, that's exactly what this recipe delivers.
Keto Raspberry Mousse
I have basically spoiled my family friends by always sharing a dessert at the end of a meal. If you're a guest at my home you can pretty much count on having some sort of treat.
I am assuming it's something I picked up from my mom who modeled this beautifully for me. Without a doubt, it's also something my daughter also does. But when the dessert needs to be healthy, keto-friendly, and quick, well that's where this recipe fits the bill.
Since this is not a complex dessert, it's one you can whip up quickly. Making it perfect for days busy weekdays or any time guests drop by.
Why not use it to layer between our popular keto pound cake? I promise that it will totally impress even those not doing a ketogenic diet.
How To Make A Keto Raspberry Mousse
Disclosure: Some of the links below are affiliate links, meaning at no additional cost to you, I will earn a commission if you click through and make a purchase.
In order to make you'll need either fresh or frozen raspberries. Personally, I try to use fresh whenever possible but I know that using fresh raspberries when out of season can get pricy. So I want to reassure you that you can also use frozen raspberries here.
If you opt to go that route, simply allow the raspberries to completely defrost before you use them in the recipe. It just makes it easier when mixing.
This low-carb raspberry mousse calls for cream cheese. The cream cheese is what helps with stability and makes the mousse extra smooth and creamy.
Some people may call this a keto cheesecake fluff, and I guess they would be correct since it is ultra-light and fluffy but to my family, it has a mousse-like quality so I went with that.
To make this recipe you'll need the following ingredients. Note that the full printable recipe card is at the end of the post.
Heavy whipping cream cold
Lemon juice
Raspberries fresh or frozen
Fresh lemon zest
Tips And Tools
You'll need just a few tools to make this recipe most of which you hopefully already have on hand.
The recipe calls for the use of an electric mixer and a 4-quart glass bowl I personally love using my stand-up mixer because it makes things even faster and of course it already has its built-in bowl.
You'll need to beat the softened cream cheese, sugar substitute, lemon juice, lemon zest, and raspberries. Remember is using frozen allows them to thaw.
Then add the cold heavy whipping cream and beat until light and fluffy and well combined.
Keep in mind tips
Note that the cream cheese needs to be softened. Otherwise, it will cause the dessert to be lumpy.
You'll want to use very cold whipping cream so that when beaten it has the perfect airy consistency and that the raspberries are thawed if frozen.
Best Sugar-Substitutes For Raspberry Mousse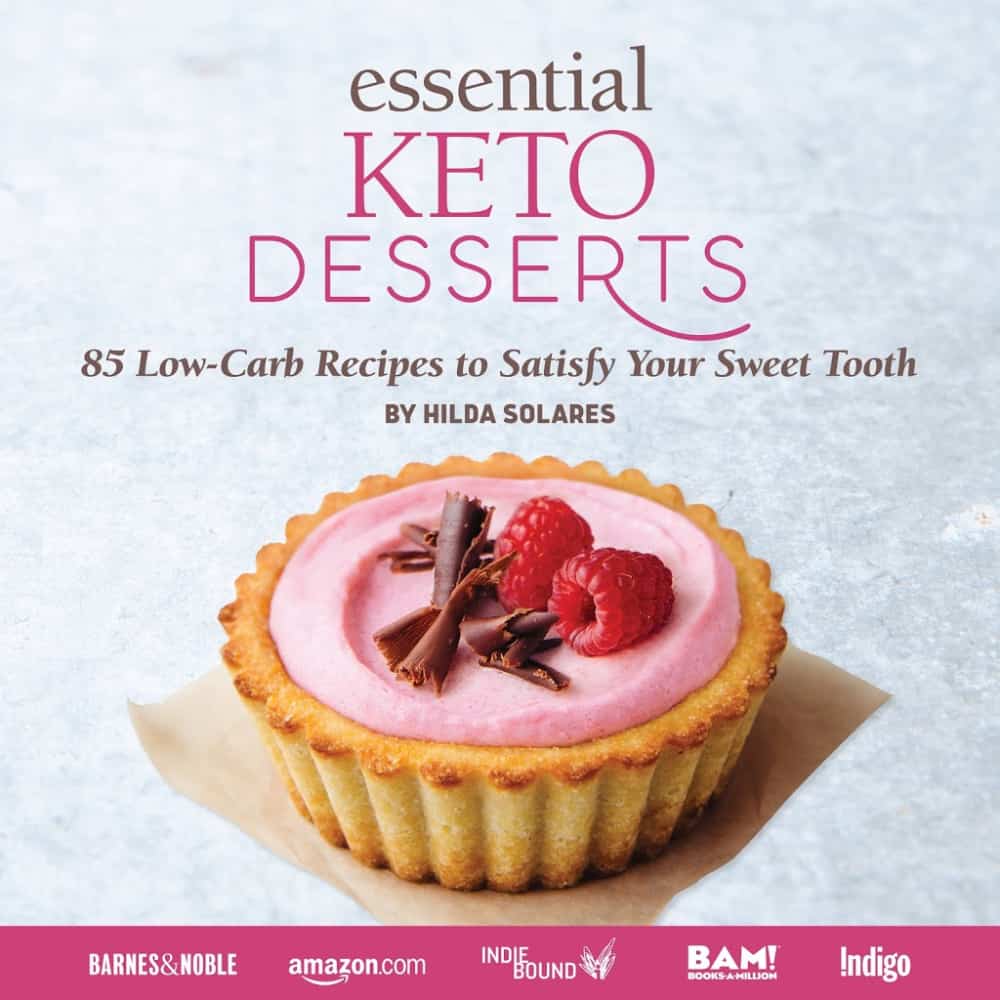 I have several options when it comes to which sweetener you can use in this sugar-free cheesecake mousse/fluff. I am partial to Lakanto Monk Fruit.
Lakanto Monk Fruit is my favorite since the texture and flavor are what I have found to be the closest to real sugar and because the flavor fools your taste buds like nothing else I've found in the market.
Having said that, I'm also partial to the brand Swerve which is an erythritol blend. Similar to Lakanto it uses sugar alcohols and has a 0 % impact on blood sugar.
You could also use the stevia and erythritol-based brand Pyure if you prefer to use a stevia-based sweetener.
Due note, that if this is your pick make sure you reduce the amount called for in the recipe by half since its a much sweeter option.
Lastly, if you can't easily find a more natural sugar substitute you can also use Splenda with good success. I know not everyone would agree with me here and I respect that but in my book, it's still better than regular sugar.
Tag Us
The combination of the bright lemon and raspberry flavors, along with the silkiness of the cream cheese and cream, makes this keto raspberry lemonade mousse extra special.
Raspberry and lemon go so well together and a keto mousse makes for a perfect treat at the end of any meal. This is why I sure hope you give this recipe a try and that once you do you will take a moment to tag us on Instagram and Facebook. It's what keeps us encouraged to keep sharing and perfecting our recipes.
In case you don't know we have authored two books for you, Essential Keto Bread and Essential Keto Desserts both inspired by your requests over the years. It's my prayer these keto cookbooks will help make keto a delicious breeze for you.
Also, check out our Amazon Store for our recommendations. You might be surprised by how many great keto options are at your disposal.
Join Our Jesus And Keto Movement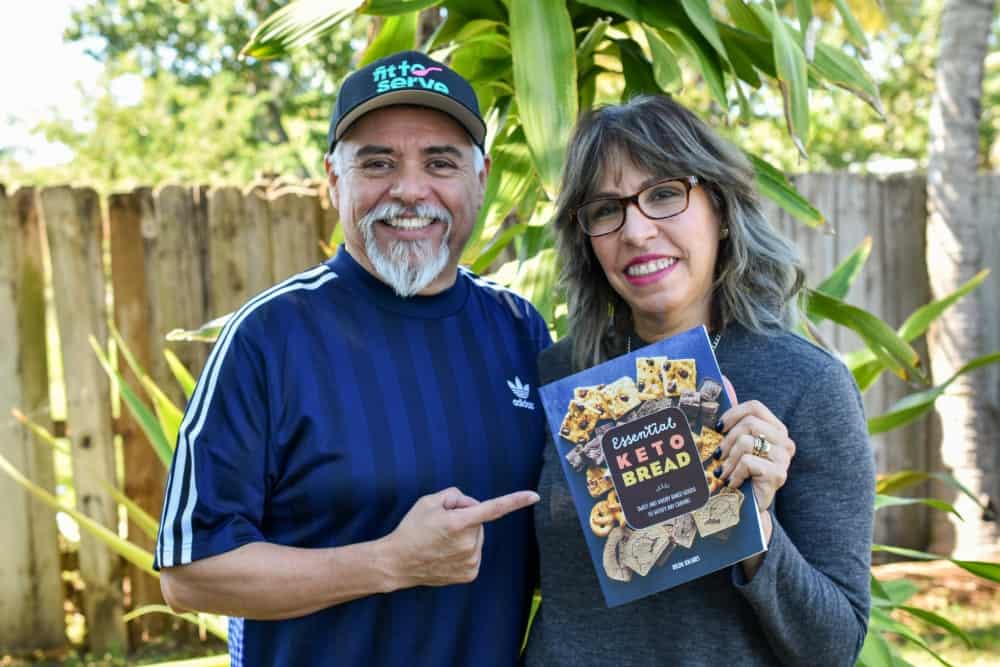 Randy and I came to the keto diet looking at it from a Christian perspective. As believers, we live our lives supported by God's grace.
So when the Holy Spirit led us to combine our Christian faith and the keto diet, we did so in hopes of finding lasting transformation.
To say we needed God's intervention is putting it mildly. When we followed the Holy Spirit's prompting to we got on the path to real transformation.
Knowing firsthand the benefits of this decision we have created a closed Christian group that is using the keto diet to transform their lives. We invite you to join our Private Facebook Group and see if it's not the key you have been missing.
Note that once you click the link you will be prompted to answer a few questions that ensure that you understand what this group stands for.
Favorite Keto Hack To Stay On Track!
Arming yourself with keto recipes is certainly key in doing this diet long enough to see the many benefits. But even with the best low-carb ketogenic recipes sometimes additional help is needed.
This is when we also encourage you to have the right supplements to help you get and stay in ketosis. Because when you have the right tools the keto diet becomes easier.
Perhaps you've struggled to get into ketosis consistently on your low-carb keto diet, or you've hit a plateau that doesn't seem to budge, consider using Perfect KETO's bundle to assist you. It's a great way to see the benefits sooner rather than later.
You'll learn how to elevate your ketones naturally enter into ketosis more quickly. Being at a deeper level of ketosis will help reduce your appetite, carb cravings, and give you lasting energy. These are the things you want to see happen as they make this diet sustainable and it's why we recommend them.
Perfect Keto has offered our readers a 15% discount on their products. Simply use this link for all qualifying products and the code FITTOSERVE at checkout
Keto Raspberry Lemonade Mousse
This recipe for keto raspberry lemonade mousse is a light, airy dessert that is not only delicious but super easy to make. It's a 5-ingredient keto-friendly dessert that is perfect for any occasion.
Unlike other mousses, this recipe is an eggless mousse and it doesn't even use gelatin.
Ingredients
8 oz. cream cheese
¼ cup lemon juice
1 cup of fresh raspberries
1 cup heavy whipping cream
¼ teaspoon salt
½ teaspoon of lemon zest
Instructions
Using an electric mixer beat on high speed the cream cheese, lemon extract, and lemon juice until well blended.
Next add the fresh raspberries, sugar substitute, and salt.
Continue to blend until smoothly whipped.
Lastly, add the cold heavy whipping cream and beat some more until light and fluffy.
Optional sprinkle with lemon zest and top with a few fresh raspberries before serving.
Allow the mousse to chill in the refrigerator for 20 minutes before serving.
Store in the refrigerator for up to 5 days.
Nutrition Information:
Yield:

6
Serving Size:

6
Amount Per Serving:
Calories:

187
Total Fat:

20.8g
Saturated Fat:

13g
Cholesterol:

69mg
Sodium:

122mg
Carbohydrates:

4.2g
Net Carbohydrates:

3g
Fiber:

1.2g
Sugar:

1.2g
Protein:

3.6g
SaveSave
SaveSave
SaveSave
SaveSave
SaveSave
SaveSave
SaveSave

SaveSave
SaveSave
SaveSave
SaveSave
SaveSave