Keto Pumpkin Cream Cheese Donuts, A Fall Favorite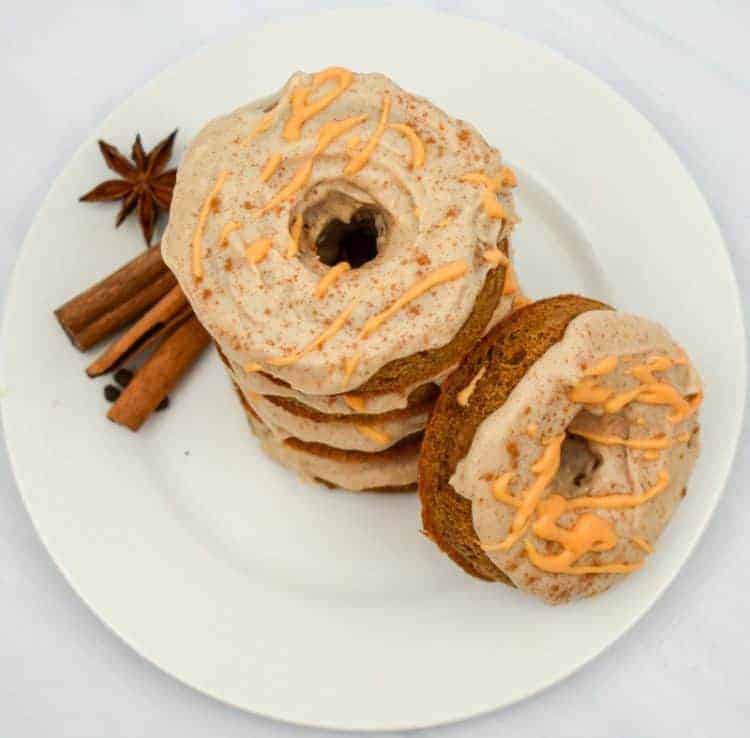 These Keto Pumpkin Cream Cheese Donuts are a pumpkin season delight. Packed with the flavors of Fall this recipe for keto pumpkin donuts is a guaranteed hit. Not only are they delicious but because they are a low carb pumpkin option, they are also guilt-free. And for sure they are certainly a much healthier choice than carb pumpkin donuts.
Sure I love pumpkin donuts like so many of you but in my world, if I am going to enjoy pumpkin spice anything, it needs to grain-free, gluten-free, sugar-free and keto-friendly.
Can I tell you that I've been wanting to make keto donuts ever since I started seeing donut molds popping up everywhere? It's true. I feel that like everyone was now making homemade donuts and this girl wanted in on this food trend.
After getting my hands on a donut mold I then struggled with what keto donut flavor to make first. But since Fall had officially arrived, I thought why not make a recipe for keto pumpkin donuts? And use my keto pumpkin cream cheese pound cake recipe as the base.
Well, I am happy to report that the use of my pumpkin pound cake recipe worked perfectly in these donuts.
This recipe for keto pumpkin spiced donuts allows you to enjoy low carb donuts without the fear of getting kicked out of ketosis. These low carb donuts are pumpkin-spiced filled treats that will keep you from feeling deprived all pumpkin season long.
Do also check out our recipe for keto sour cream donuts for the flavor profile of old fashioned donuts which we all remember and love.
As a pumpkin lover remember to visit our Keto Pumpkin Recipes.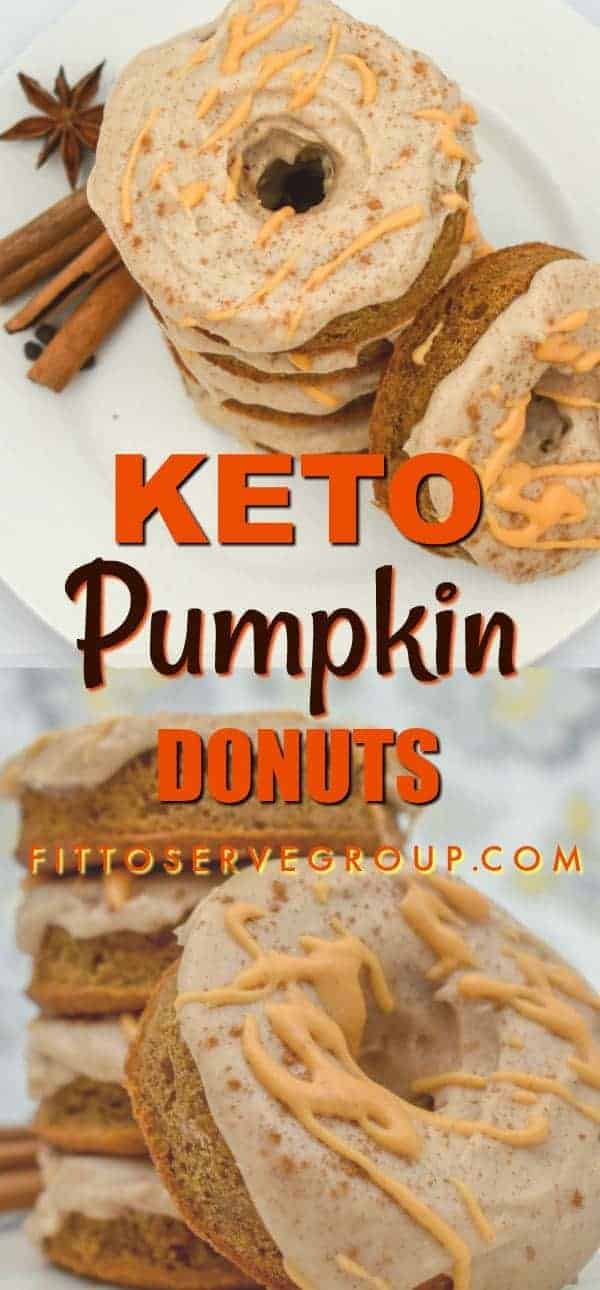 Keto Pumpkin Donuts
This recipe makes 2 dozen large, low carb, pumpkin-spiced cake donuts. And if that's not all donuts also feature a delicious cinnamon maple icing. I mean what's not to love?
Although cake donuts are traditionally deep-fried, I didn't think that step was necessary in order to enjoy a keto donut that mimicked a high carb option like those found in places like Dunkin donuts.
Choosing to bake these keto pumpkin cream cheese donuts rather than fry them also meant that I wouldn't have to worry about the dough not holding up to the frying process, plus it makes it lower in calories making it easier to fit your keto macros.
Because keto baking has a bit of a learning curve, I chose a cake base that always produces consistent results. By the way, you might want to snag my fool-proof keto baking tips to ensure great success every single time.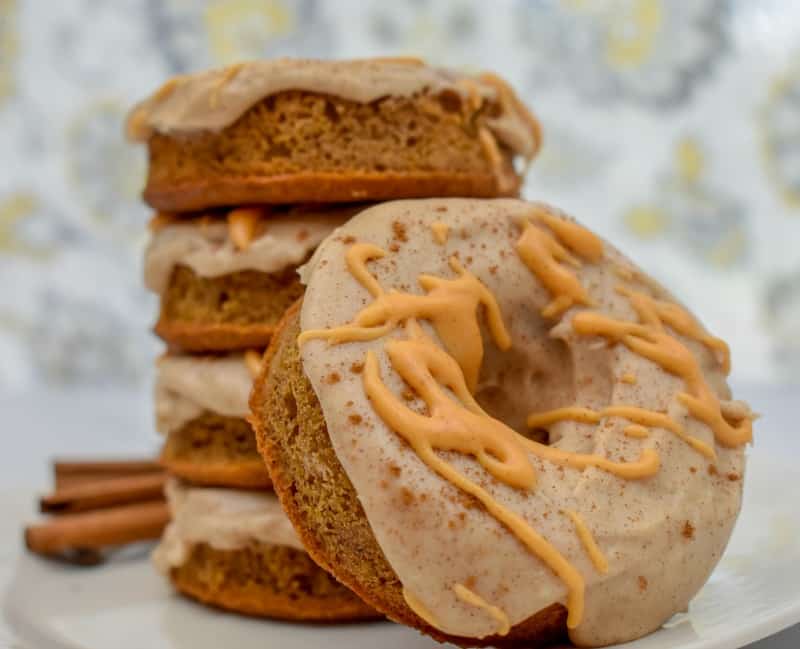 Low Carb Pumpkin Donuts
I knew even before attempting to make low carb donuts that I would use one of my cream cheese pound cake recipes as the base for them.
Simply because I knew from experience how well these cakes held up and I anticipated they would bake in a donut mold without an issue. My instincts were right because these keto donuts baked perfectly.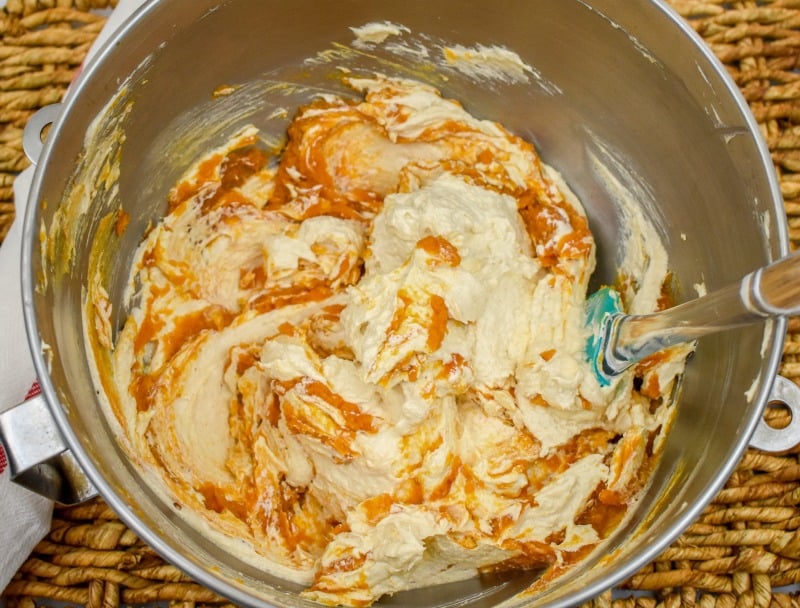 The following are some of my keto pound cake recipes that will also bake well in donut molds. So besides this recipe for keto pumpkin cream cheese donuts, I've given you six more options to choose from.
I guess it's time for you to pick up a couple of donut molds and get in on the fun.
Keto Cream Cheese Pound Cake Recipes You Can Bake In Donut Molds
Using my recipe for keto cream cheese coconut flour pound cake will allow you to have a keto donut that is also nut-free.
Can I tell you I was a bit shocked by how quickly my pumpkin version of my keto cream cheese pound cake was received? Anytime I create a recipe that goes viral on Pinterest I am humbled by the response. After all, this girl knows full well that it's the Lord who is behind any and all the success the site has.
Disclosure: Some of the links below are affiliate links, meaning at no additional cost to you, I will earn a commission if you click through and make a purchase.
Tips On Making Great Keto Pumpkin Donuts
The following are some tips to keep in mind when making your keto pumpkin donuts. Note that the full recipe is at the bottom of the page.
Make sure you use non-stick donut pans or silicone molds when making keto donuts. I used this 6-cavity donut silicone mold but you can also use a 12-cavity donut mold if you prefer.
If you opt for a silicone donut mold make sure you place the mold on top of a baking sheet prior to baking. This helps to ensure even baking and makes it easier to move the silicone molds in and out of the oven.
I recommend you use a pastry bag to fill in the donut molds. If you do not have a pastry bag you could also carefully spread the batter into the donut cavities with a small spoon. Alternatively, you could use a ziplock bag that has a corner snipped off and pipe the batter this way.
Fill the donut mold just barely to the rim. This recipe doesn't rise too much so make sure they are filled sufficiently.
Note this recipe makes 24 large donuts or 48 mini donuts. I was able to bake two 6-cavity donut molds at a time.
Having a total of four donut pans will make the baking process faster as you would not have to wait for pans to cool between baking. Instead, as soon as your first batch is baked you can add the next.
The keto maple icing is not included in the nutrition label in case you don't see the need to use icing. The icing will add approximately 1 net carb to a large donut or to two mini donuts. This will depend on how generous you ice your keto donuts. Note that it's a rich frosting so a little goes a long way.
I put aside 4 tablespoons of frosting and added 2 drops of orange food coloring (optional) to make for a more festive donut. I then drizzled the orange icing on to each donut.
Tag Us
I sure hope you give these pumpkin spice keto donuts a try. If you do, make sure you remember to tag us on Instagram and Facebook. It's what keeps this girl encouraged to keep sharing and perfecting her recipes for you.
Join Our Jesus And Keto Movement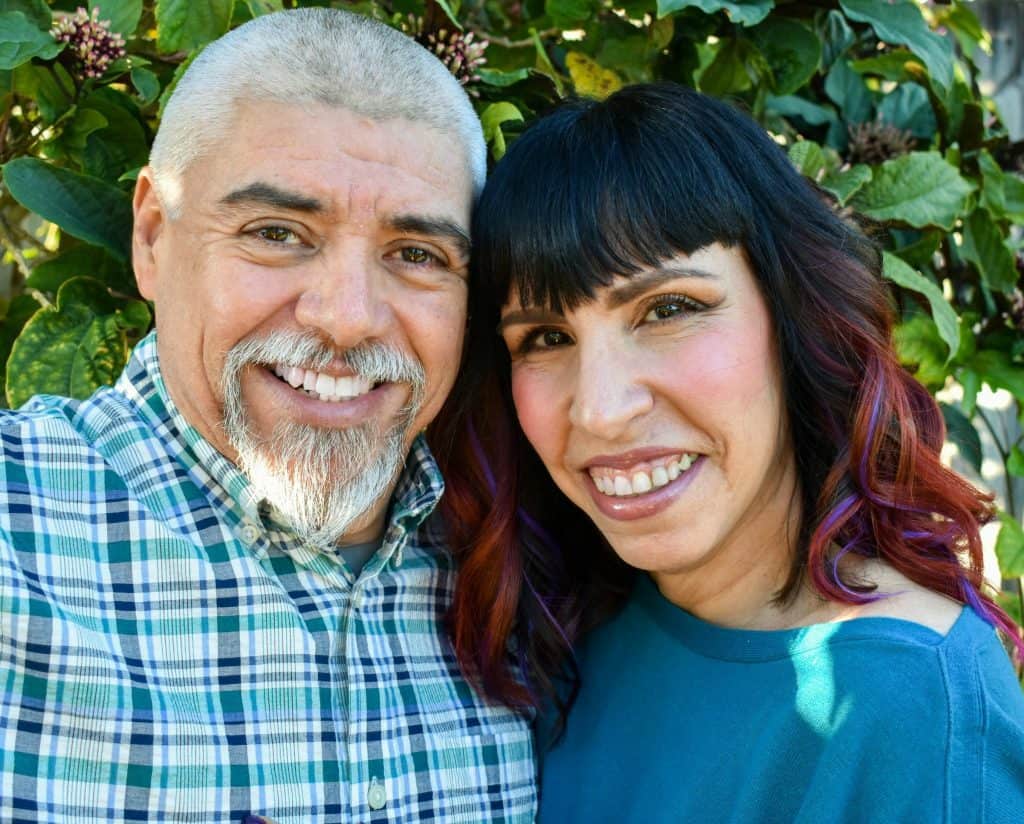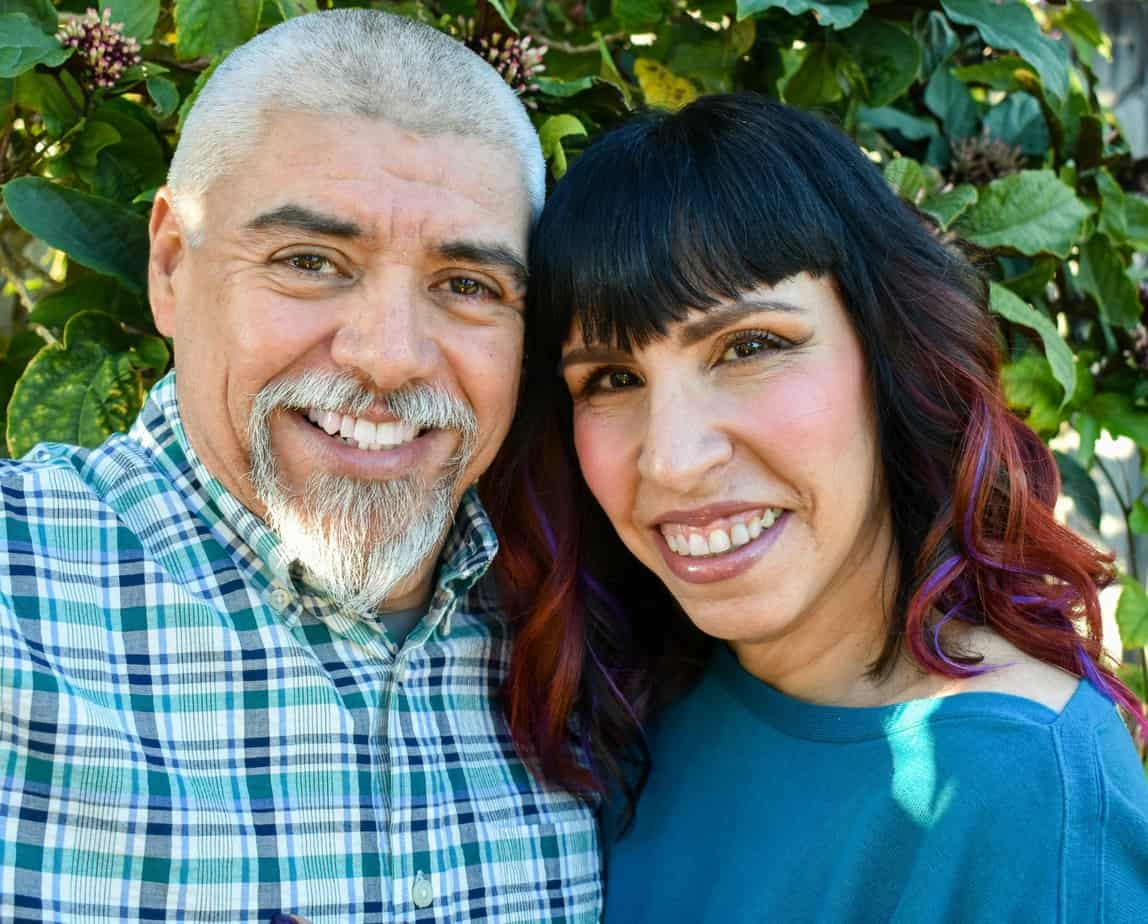 Just in case you don't know, my husband Randy and I came to the keto diet looking at it from a Christian perspective. As believers, we live our lives supported by God's grace.
So when the Holy Spirit led us to combine our Christian faith and the keto diet, we did so in hopes of finding lasting transformation.
Randy had been a diabetic for over 15 years and he was dealing with the consequences of this disease. I was a survivor of the Guillan Barre Syndrome and was fighting fibromyalgia and chronic sciatica.
To say we needed God's intervention is putting it mildly. When we followed the Holy Spirit's prompting to we got on the path to real transformation.
Knowing firsthand the benefits of this decision we have created a closed Christian group that is using the keto diet to transform their lives. We invite you to join our Private Facebook Group and see if it's not the key you have been missing.
Note that once you click the link you will be prompted to answer a few questions that ensure that you understand what this group stands for.
Ketosis Hack To Stay On Track!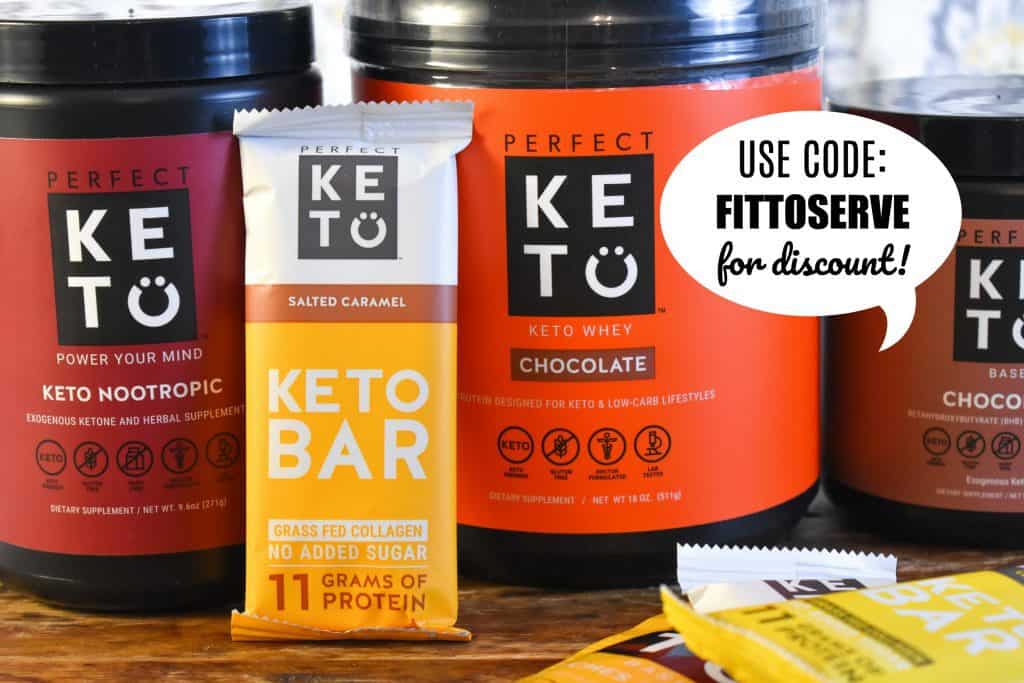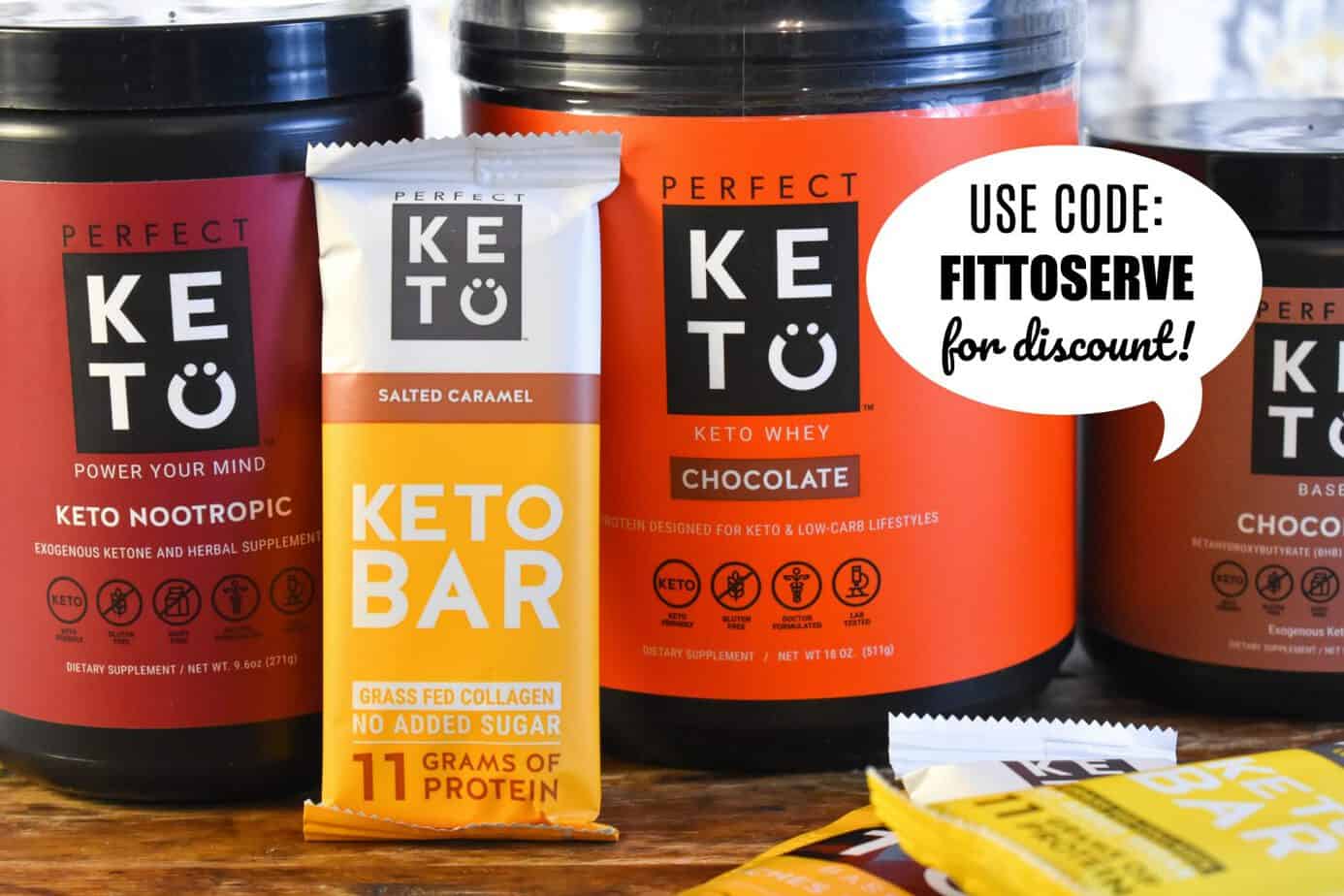 Did you know that by using ketone supplements you will naturally elevate your ketones allowing you to enter into ketosis more quickly?
Well, it's true. There a keto supplements that will make the ketogenic lifestyle more doable.
Being at a deeper level of ketosis will help reduce your appetite, carb cravings, and give you lasting energy. It's been our experience that the use of exogenous ketones helps make the low carb keto lifestyle a viable sustainable option.
Honestly, it's like having willpower in a cup. Learn more about the science behind both exogenous and endogenous ketones and have your questions answered from a doctor's perspective.
Make sure you also pick up your free and complete guide to understanding ketosis. Then begin the ketosis diet easily with this Start-Up Guide to the Ketosis Diet.
Wondering which foods you should avoid when doing Keto? This Keto Food Guide will assist you in doing the Keto Diet correctly.
Don't start the Keto Diet until you calculate your Keto Macros easily Using this calculator will customize the diet according to your goals and help you do the Keto Diet properly.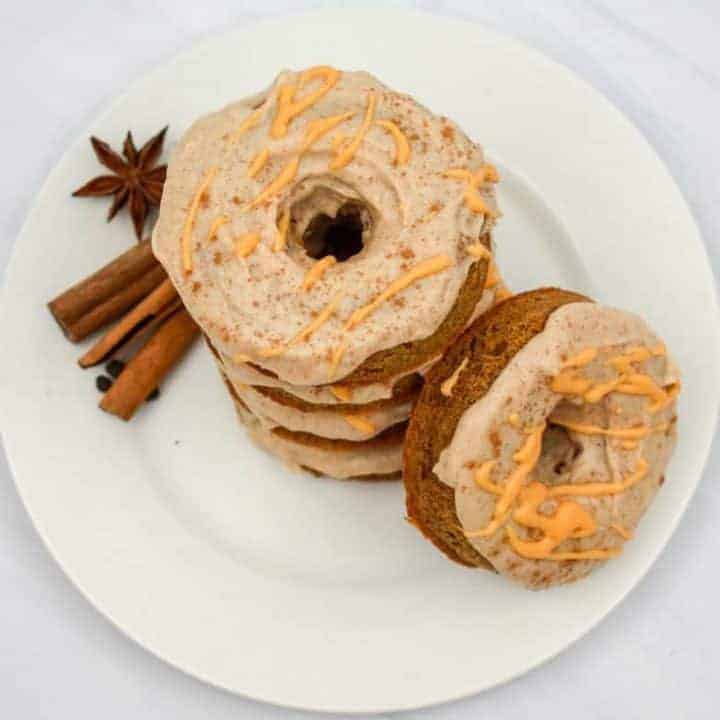 Keto Pumpkin Cream Cheese Donuts
This recipe for keto pumpkin cream cheese donuts allows you to enjoy a cake donut that is low in carbs and keto-friendly. These donuts are packed with the flavors of Fall and are frosted with a cinnamon maple icing.
Ingredients
Keto Pumpkin Cream Cheese Donuts
3 tablespoons of cinnamon
3 teaspoons of ground ginger
½ teaspoon of ground nutmeg
¼ teaspoon of ground clove
3 teaspoons baking powder
1/2 teaspoon of sea salt
1 cup unsalted butter, softened
8 ounces of full-fat cream cheese, softened
6 large eggs
Keto Maple Icing
1 teaspoon cinnamon powder
8 tablespoons heavy whipping cream
Instructions
Keto Pumpkin Cream Cheese Donuts
Preheat the oven to 350°F. Generously greese the donut molds. I used two 6-cavity donut molds at a time and once the first batch was baked I refilled the molds.
Sift together the almond flour, cinnamon powder, ground ginger, ground nutmeg, ground clove, baking powder, and salt. Set aside.
Beat on highspeed using a stand-up mixer or a handheld mixer, the softened butter, cream cheese, both sugar substitutes, vanilla extract. Beat for 2-3 minutes or until light and creamy.
Add the pumpkin puree and mix just until well incorporated.
Add the eggs one at a time alternating with the dry ingredients mixing thoroughly after each addition.
Scrape the sides of the bowl periodically.
Using a pastry bag pipe the cake batter evenly into the prepared donut pan(s).
Bake about 15- 20 minutes or until an inserted toothpick comes out clean.
Allow donuts to cool in molds for 10 minutes and then unmold them and allow to cool in baking rack for another 5 minutes before icing.
Keto Cinnamon Maple Icing
In a small bowl add the powdered sugar substitute
To the 1 cup powder sugar-substitute add the teaspoon of cinnamon powder and combine well.
Whisk in the 8 tablespoons of heavy whipping cream making sure to fully incorporate the mixture.
Lastly, add the 2 tablespoons of lakanto sugar-free maple syrup and mix well. Add more heavy whipping cream, a tablespoon at a time if the icing is too thick.
Icing Your Keto Pumpkin Cream Cheese Donuts
You can either dip your donuts facedown into the icing and the place icing side up on baking rack to allow the icing to set or you can opt to just drizzle the icing unto the the donuts.
Notes
This recipe makes a total of 24 large donuts or 48 mini donuts. If you are wanting a smaller portion you have half the recipe easily.
Feel free to substitute any of the spices for food Young Living Dietary Essential Oils.


Recommended Products
As an Amazon Associate and member of other affiliate programs, I earn from qualifying purchases.
Nutrition Information:
Yield:

24
Serving Size:

1
Amount Per Serving:
Calories:

205
Total Fat:

22.2g
Saturated Fat:

9.9g
Trans Fat:

0g
Cholesterol:

101mg
Sodium:

139mg
Carbohydrates:

4.2g
Net Carbohydrates:

2.3g
Fiber:

1.9g
Sugar:

1g
Protein:

7.1g