These keto butterscotch chocolate chip cookies are soft, chewy, and filled with both sugar-free butterscotch chips and sugar-free chocolate chips.
They're also made using brown butter which gives the cookies a warm, nutty taste that compliments the sweetness of chocolate and butterscotch perfectly.
You won't believe it after trying them, but these cookies are not only keto-friendly, but also sugar-free, grain-free, and gluten-free!
This recipe for low-carb chocolate chip butterscotch cookies is easy to whip up whenever you feel like a sweet treat. Perfect for an afternoon snack, or a dessert that everyone will love.
If you're looking for a classic chocolate chip cookie then you'll love our Ultimate Keto Chocolate Chip Cookies. And if you're looking for something a little different, I highly recommend trying out our Keto Trash Cookies!
You should also check out our entire collection of keto cookies for more delicious options.
Keto Chocolate Chip Butterscotch Cookies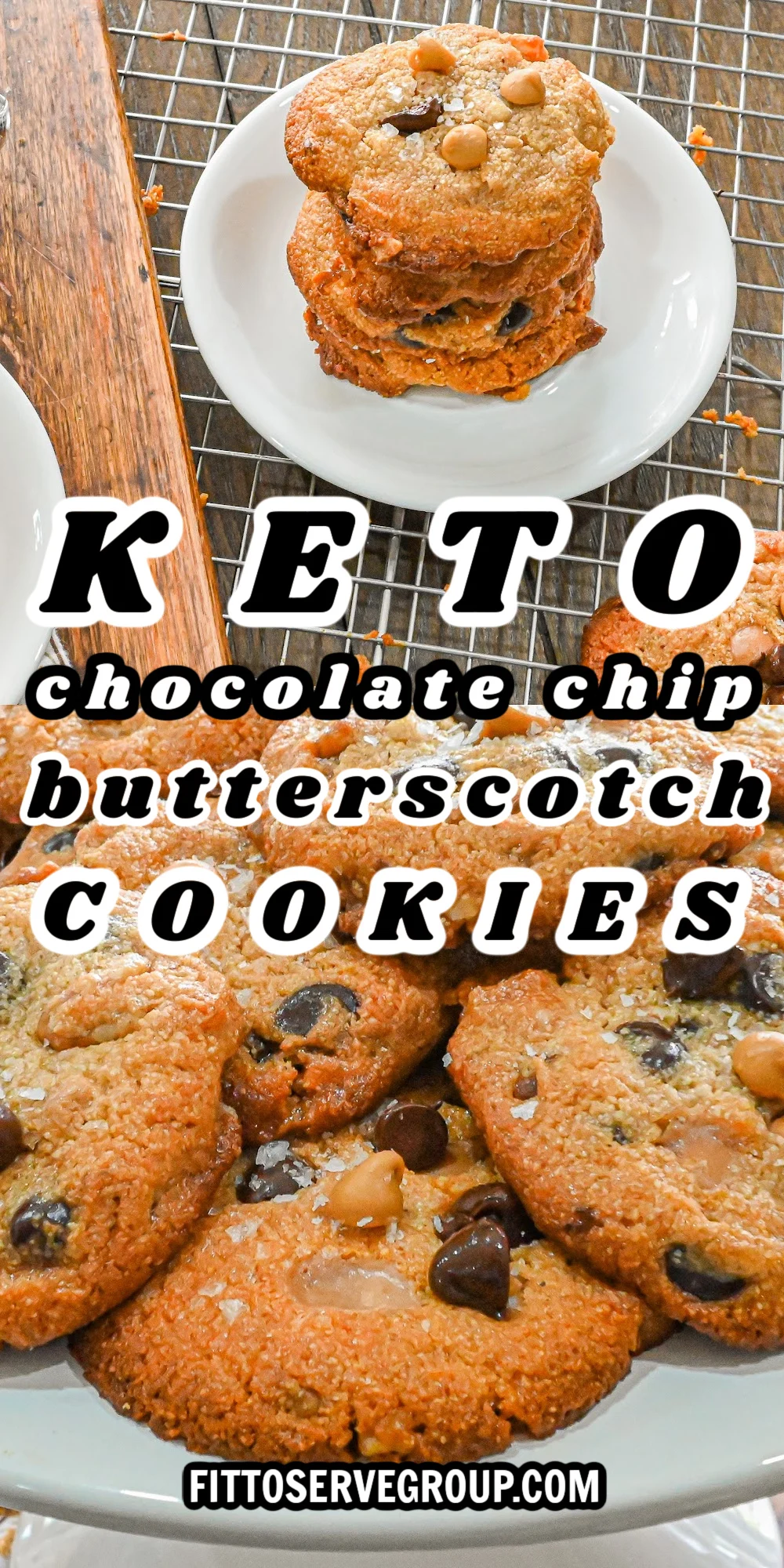 What makes these keto butterscotch cookies so great is that they not only taste great but have a great chewy texture too!
To make these sugar-free butterscotch cookies extra special they're also made with browned butter. The browned butter adds an extra layer of richness to these keto cookies that will have you coming back for more!
The cookies are also sprinkled with sea salt before baking because salty and sweet is an unbeatable combo, especially when butterscotch is involved. I also added chopped walnuts to these cookies for texture which is optional but so so good!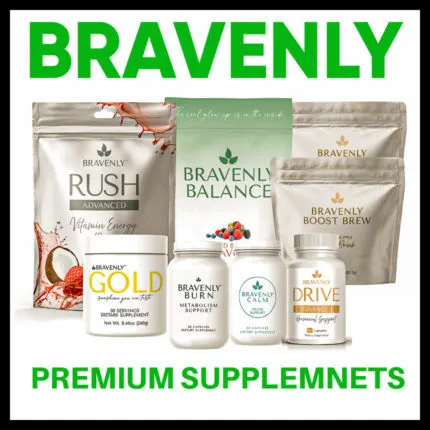 How To Make Keto Chocolate Chip Butterscotch Cookies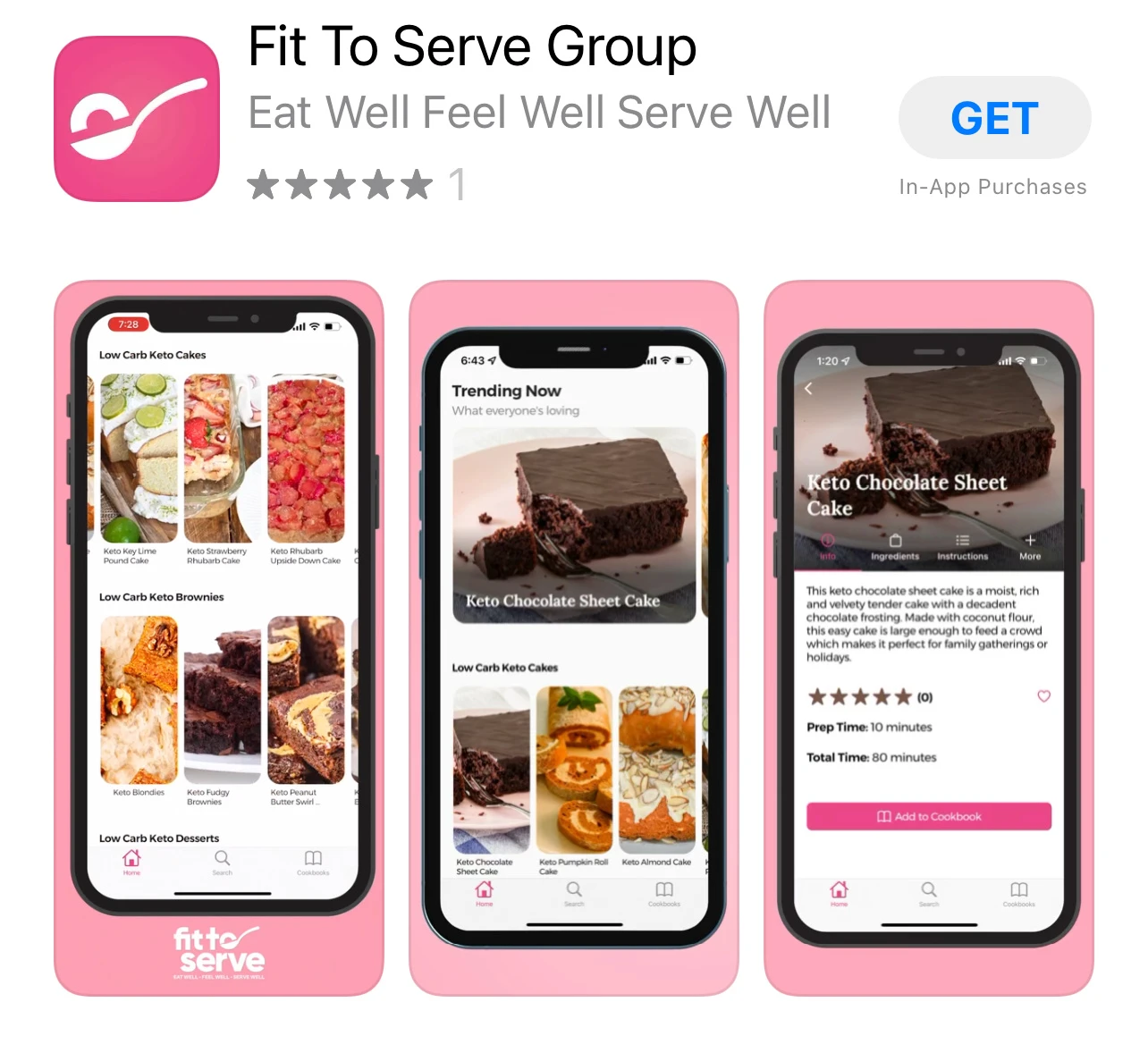 Disclosure: Some of the links below are affiliate links, meaning at no additional cost to you, I will earn a commission if you click through and make a purchase.
Another great thing about these keto cookies is that they're pretty easy to make! The brown butter is an extra step that takes a little more time to make but it's not complicated and so worth it in the end!
The recipe also requires a brown sugar substitute and Allulose sugar-free sweetener instead of our usual granulated sugar substitute, which is crucial to the flavor and texture of this cookie! Both are easy to find and work with!
As for the sugar-free butterscotch chips, you'll have to use Lily's brand as I have not found any other options, but you can find them at most grocery stores now and occasionally at Amazon.
Another option is to use Lily's salted caramel in place of the butterscotch chips.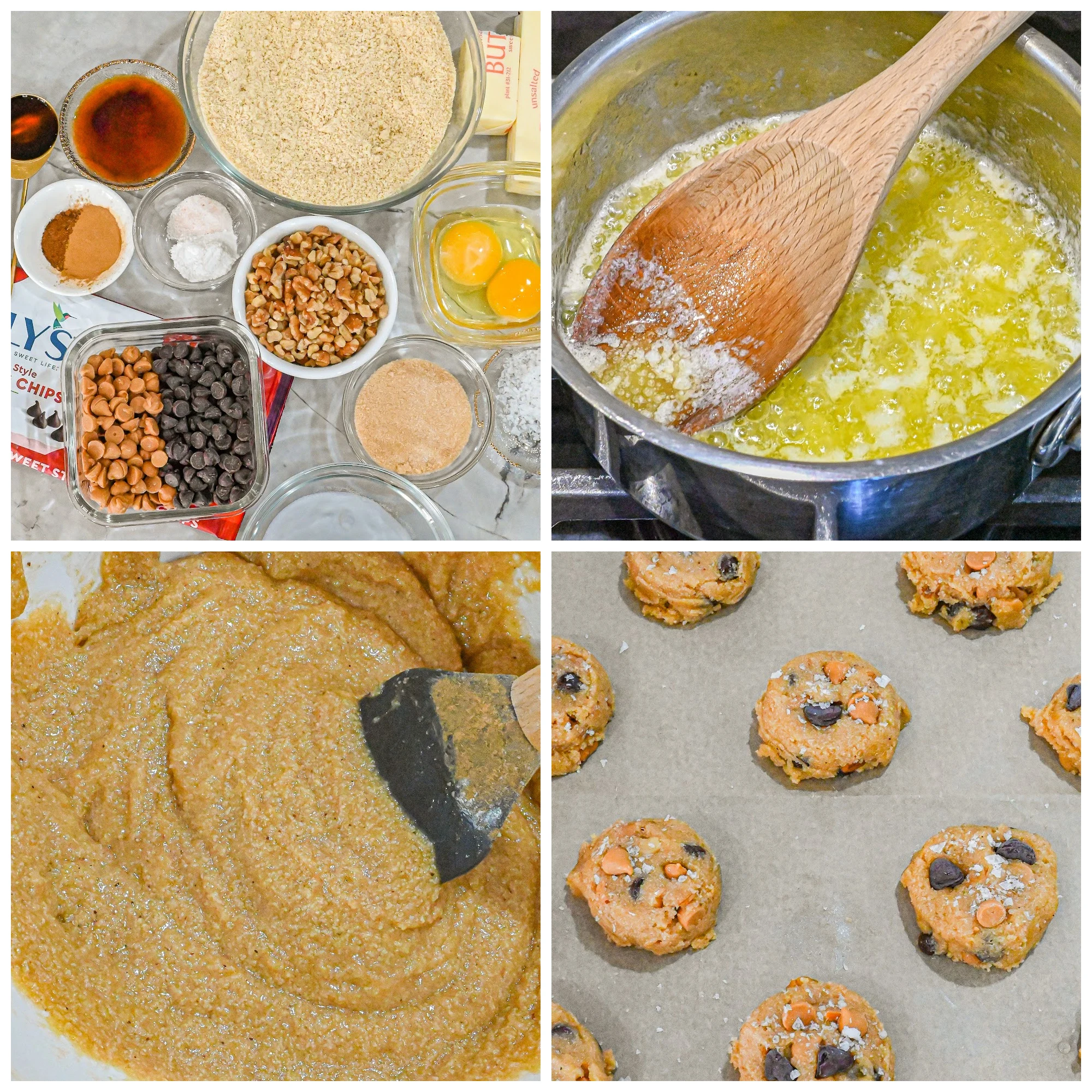 I know it might appear daunting, but I assure you that the time and ingredients you may not have on hand are well worth the little effort.
These keto butterscotch cookies are seriously delicious and it's really thanks to the brown butter and sugar-free butterscotch chips!
The keto cookies come together quickly once you've browned your butter, by first combining the brown butter, sugar substitutes, and sugar-free maple syrup.
Then you'll add in your whole egg plus one more yolk. I know this may seem strange but trust the process, this will make for a richer cookie!
Next, you'll add the rest of your dry ingredients and combine well. Once your dough forms, you can fold in your sugar-free butterscotch chips, sugar-free chocolate chips, and walnuts.
Then you'll chill the dough for 30 minutes in the fridge.
You'll notice that I also added some sea salt flakes prior to baking the cookies.
I find that it really amplifies the flavor of the cookie and keeps it from being too sweet. But feel free to leave it out if that's not your preference.
Once chilled you'll drop the dough by spoonfuls on a parchment-lined baking sheet and bake for 12 to 15 minutes. Allow them to cool slightly and enjoy!
How To Brown Butter
Now, we've used brown butter a lot around here, and if you still haven't tried one of our many recipes using browned butter you're missing out!
Making browned butter is really so much easier than you might think. It's as simple as placing the butter in a stainless-steel pan and watching the particles of browning develop at the bottom!
After that, you'll simply simmer the butter on medium-high heat until it begins to bubble. After 2 minutes or so, you'll notice brown particles forming on the bottom of the pan.
Remove from the heat and continue to stir until the butter begins to lightly brown to a golden amber color. Set aside to cool and you're done!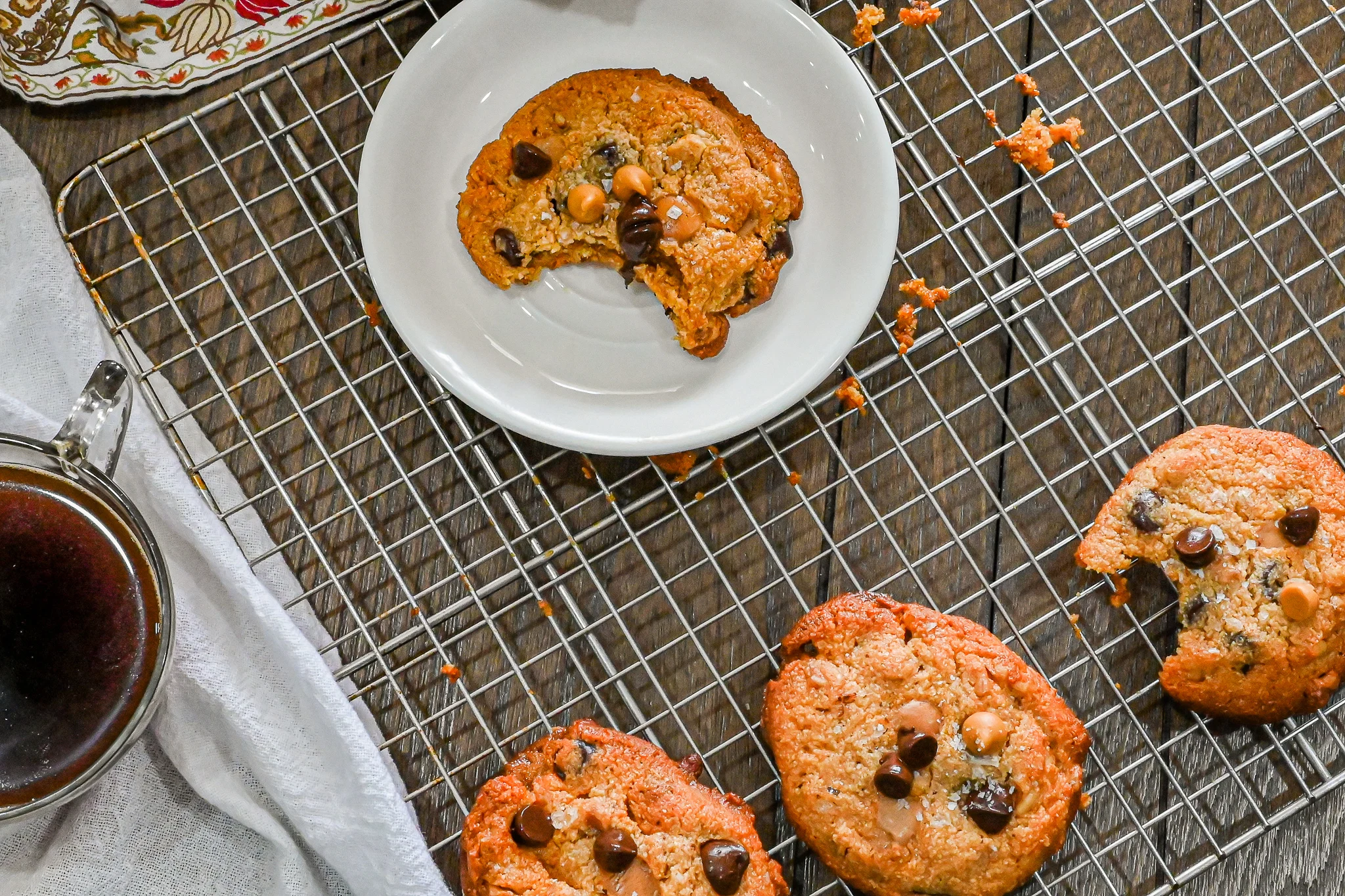 The Best Sweetener For Sugar-Free Butterscotch Cookies
As far as which sugar substitute to use for these sugar-free chocolate chip butterscotch cookies, I have a few recommendations since this recipe calls for both brown and regular sugar substitutes.
Lakanto Monk Fruit is my favorite since the texture and flavor are what I have found to be the closest to real sugar, and because the flavor fools your taste buds like nothing else I've found in the market.
I am recommending you use their brown sugar substitute in this recipe. Although you can use their white granulated sweetener exclusively, it will not have the same depth of flavor.
Having said that, I'm also partial to Swerve Brown Sugar, which is an erythritol blend. Similar to Lakanto, it uses sugar alcohols and has 0%% impact on blood sugar.
You could also use the stevia and erythritol-based brand Pyure if you prefer to use a stevia-based sweetener. But Pyure does not make a brown sugar substitute.
Due note, that if this is your pick make sure you reduce the amount called for in the recipe by half since it's a much sweeter option.
You will also need an Allulose sugar-free sweetener. As I mentioned before, the allulose gives the cookie a chewier texture.
If however, you prefer you can just use more brown sugar substitutes instead.
What You'll Need
The following is a list of materials and ingredients you will need to bake your keto chocolate chip butterscotch cookies note that the full printable recipe card is at the bottom of the page:
Baking powder
Butter, room temperature
Eggs
Chopped walnuts
Sugar-free chocolate chips
Vanilla extract
Maple extract (optional)
Cinnamon powder
Nutmeg
Salt
Sea salt flakes optional topping.
You can read more about my keto baking tips to assist you with all of your baking needs with keto-friendly ingredients.
Tag Us
I sure hope you give these keto chocolate chip butterscotch cookies a try.
Once you do please remember to tag us with your pictures on Instagram and Facebook. It's what keeps this girl encouraged.
Grab Our Books!
In case you don't know, we have authored two books for you, Essential Keto Bread and Essential Keto Desserts both inspired by your requests over the years.
It's my prayer these keto cookbooks will help make keto a delicious breeze for you.
Join Our Jesus And Keto Movement
Looking for an online support system to help you stay the course on keto?
As a family, we came to the keto diet looking at it from a Christian perspective. As believers, we live our lives supported by God's grace.
So when the Holy Spirit led us to combine our Christian faith and the keto diet, we did so in hopes of finding lasting transformation.
When we followed the Holy Spirit's prompting, we got on the path to real transformation.
Knowing firsthand the benefits of this decision we have created a closed Christian group that is using the keto diet to transform their lives.
We invite you to join our Private Facebook Group and see if it's not the key you have been missing.
Be sure to request our FREE Jesus and Keto E-Book (First 7 Days) We hope it blesses you.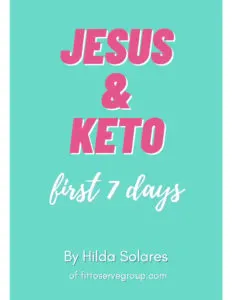 Fit To Serve Group Keto App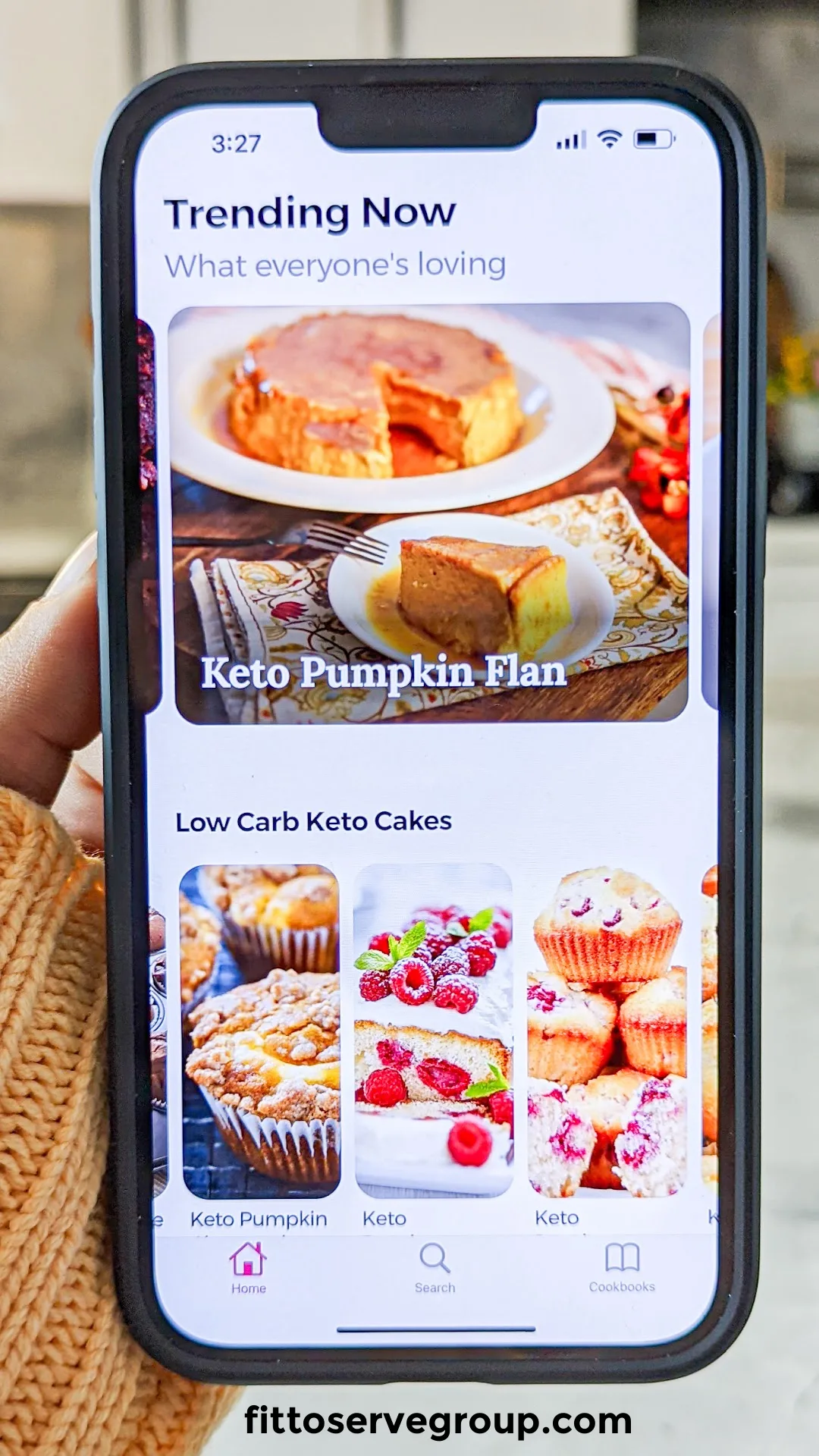 Looking for a fast way to access our keto recipes? We got you covered. There's an app for that. Yup, there's a Fit To Serve Group App and it's going to make your keto diet a delicious breeze!
Access hundreds of recipes that are all sugar-free, gluten-free, and keto-friendly. Enjoy early access to recipes before they go live on the website. Plus, bonus recipes that are exclusive to the app.
Make your own personal cookbooks that you can use to organize your favorite recipes. Search recipes by title, ingredients, keywords, and categories, and of course every recipe shows complete nutritional facts.
Get the Fit to Serve Group App for easy-to-follow keto recipes made with easy-to-source ingredients.
The app is loaded with hundreds of yummy recipes for breakfast, lunch, dinner, snacks, and even desserts!
Learn more by visiting our Fit To Serve Group App Page.
Keto Chocolate Chip Butterscotch Cookies
These Keto Chocolate Chip Butterscotch cookies are the perfect treat for any low-carb, keto diet. They're soft and chewy with the perfect amount of butterscotch flavor!
Ingredients
Keto Butterscotch Cookies
1 1/2 teaspoons of baking powder
3/4 cup of unsalted butter, room temperature
1 egg
1 egg yolk
1 cup of chopped walnuts
4 ounces (1/2 cup) sugar-free butterscotch chips
2 teaspoons of vanilla extract
1/2 teaspoon of cinnamon powder
1/8 of a teaspoon of nutmeg powder
1/4 teaspoon of salt
Instructions
Line a cookie sheet with parchment paper
In a small saucepan over medium-low heat, melt the butter. After the butter melts, raise the temperature to medium and allow the butter to foam. Using a spatula stir the melted butter until it begins to brown and has a nutty aroma. This takes around 3 minutes. Pour into a large bowl and allow to cool completely before proceeding.
Once the brown butter has cooled, add the sugar substitutes, vanilla extract, maple extract, and the tablespoon of sugar-free maple syrup. Mix well until fully combined.
To this wet mixture add the whole egg and egg yolk. Combine well until the mixture is smooth and slightly glossy.
To the wet ingredients add the sifted almond flour, baking powder, cinnamon powder, nutmeg powder, and salt.
Lastly, fold in sugar-free chocolate and butterscotch chips, and chopped walnuts.
Allow the dough to chill for at least 30 minutes before baking.
Preheat the oven to 350 degrees
Drop the dough by heaping tablespoons and space about 2 inches apart onto the parchment-lined cookie sheet. Slightly flatten the cookies and sprinkle a pinch of the salt flakes on the top of each cookie.
Bake the cookies for 12-15 minutes.
Store leftovers in the refrigerator for up to 5 days or freeze for up to 3 weeks.
Nutrition Information:
Yield:

16
Serving Size:

1
Amount Per Serving:
Calories:

265
Total Fat:

10.2g
Saturated Fat:

7.4g
Cholesterol:

48mg
Sodium:

85mg
Carbohydrates:

4.9g
Net Carbohydrates:

3g
Fiber:

1.9g
Sugar:

0.9g
Protein:

4.1g