This recipe for Keto Trash Cookies has the potential to rock your world, I promise it's that good! With a name like trash cookies, you may be wondering why on earth it's a low-carb cookie recipe you need in your stash.
Here's the thing, when you understand what's in these low-carb trash cookies, you'll be curious enough to give the recipe a try. And when you do, you'll find yourself making them often.
But what exactly is a trash cookie? Well, it's simply a cookie recipe that uses leftover items from your pantry to make a fantastic cookie that manages to balance the salty-sweet combo perfectly.
Most trash cookies get their classic salty-to-sweet combo by adding potato chips or pretzels to the cookie batter. But these are keto cookies, so I went with small pieces of plain pork rinds instead.
All I can say is that idea was a game-changer.
In case you are not very familiar with this type of cookie, I'm going to give you the basics. For one, a trash cookie recipe goes by several names like garbage cookies, trash can cookies, compost cookies, garbage dump cookies, or even Santa's trash cookies.
Just think of these as the ultimate cookie that houses some of your favorite ingredients. And since these are keto-friendly trash cookies, it packs a lot of low-carb mix-ins.
This recipe starts with my classic Keto Chocolate Chip Cookie Dough and then gets amped by the addition of a variety of flavors and textures. It's a cookie lover's dream recipe.
While you're here, you might also want to check out our entire collection of keto cookies for all sorts of great options.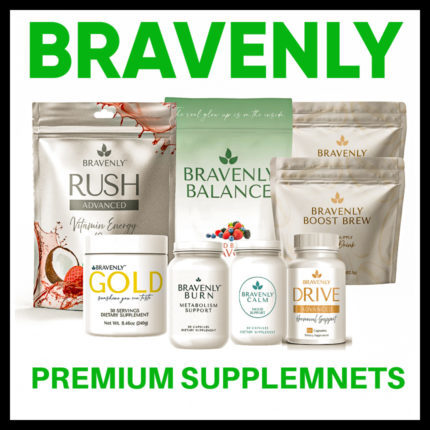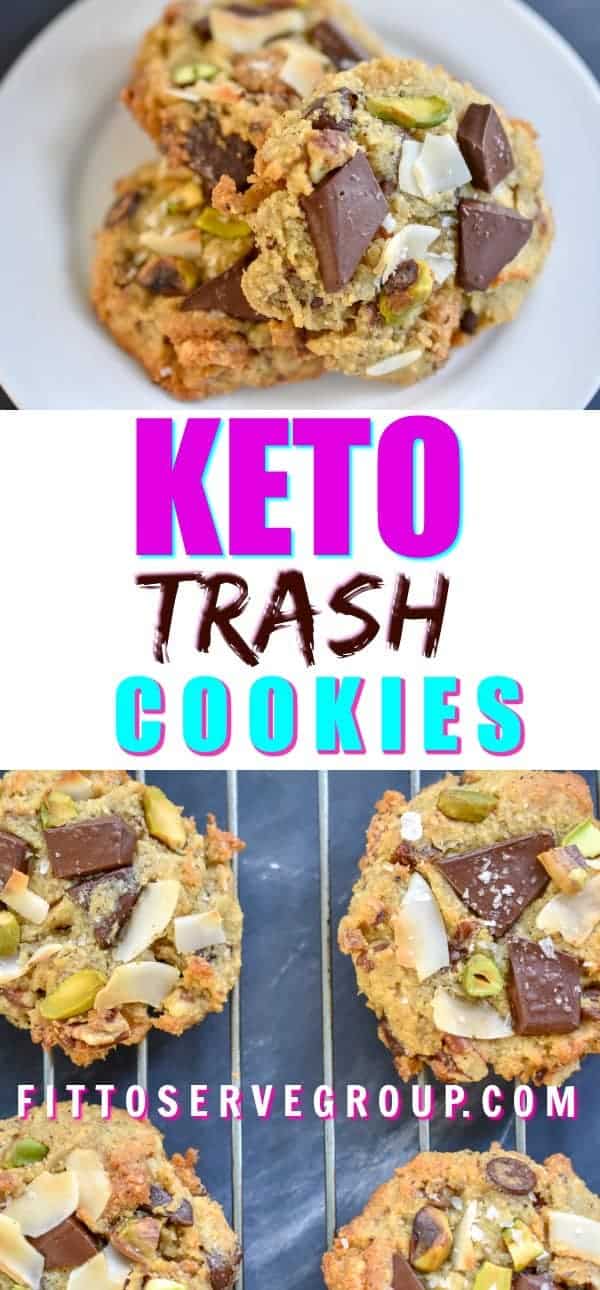 Keto Trash Cookies
The main takeaway is that these keto cookies are sweet, salty, delicious, and easily customizable. Our family is a big fan of salty and sweet combination recipes. And this recipe hit all the qualifiers to make it an instant hit in our home.
The consistency of these cookies is spot on with the pork rinds giving a little crunch and the gelatin powder making them a little chewy.
I also added a couple of tablespoons of sugar-free maple syrup for flavor and for the added chewiness it provides. It's something I experimented with when I made my keto chocolate chip cookies and found that it worked quite well.
My recipe for keto trash can cookies uses several mix-ins but if you don't have the same leftover keto-friendly options, then use what you have. Just keep the measurements the same and keep in mind that the macros will change accordingly.
When it came to the nuts I chose, I went for a combination of pecan and pistachio. It's what I had on hand plus I thought it would compliment the flavors well.
I added both sugar-free chocolate chips and pieces of my favorite sugar-free chocolate bar for visual contrast and flavor but you can choose either or.
If you decide to add the pieces of the chocolate bar you'll want to press them to the top of the cookies before baking. Doing so won't affect the flavor but it does make for a more visually appealing cookie.
Disclosure: Some of the links below are affiliate links, meaning at no additional cost to you, I will earn a commission if you click through and make a purchase.
How To Make Keto Trash Cookies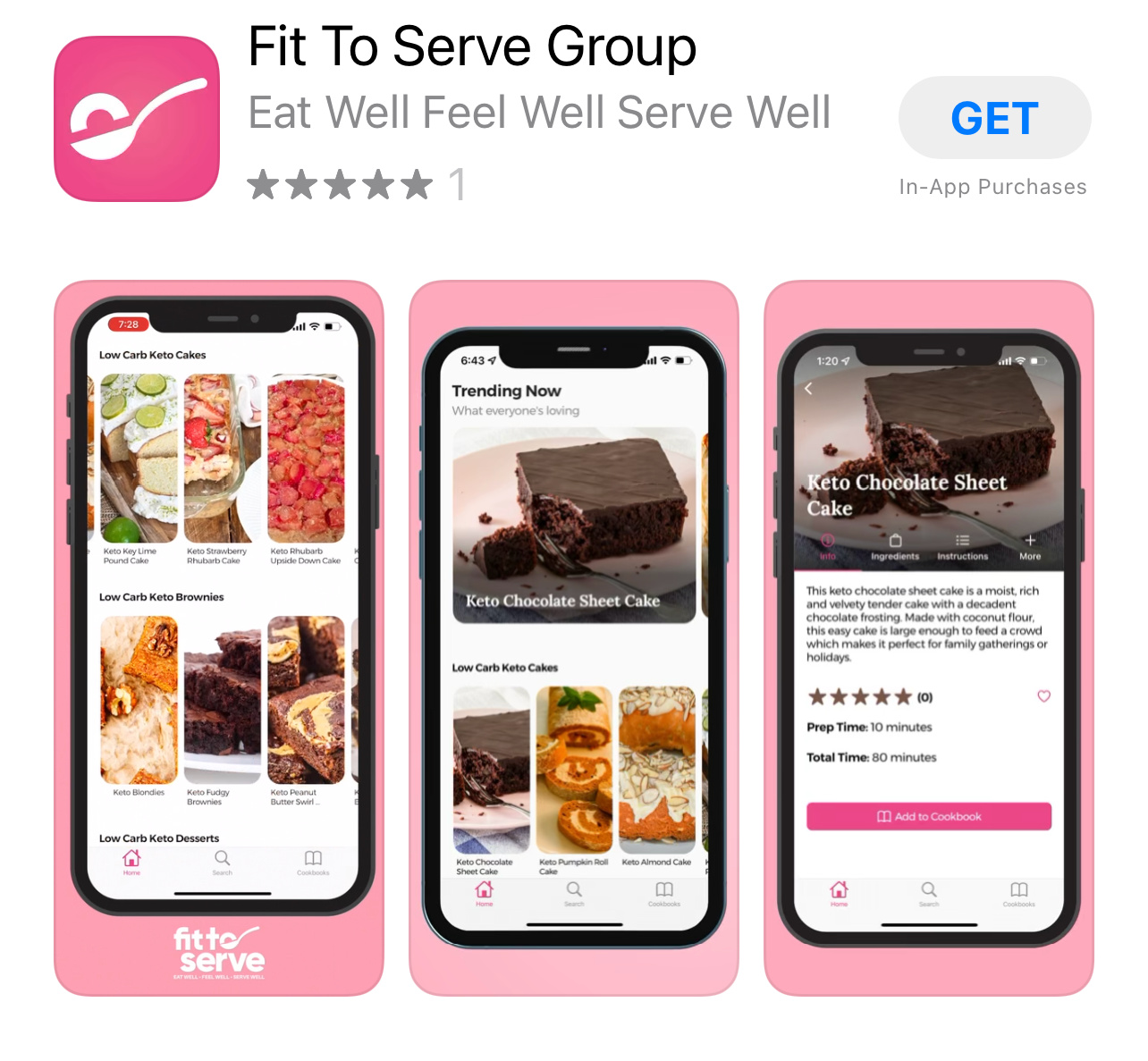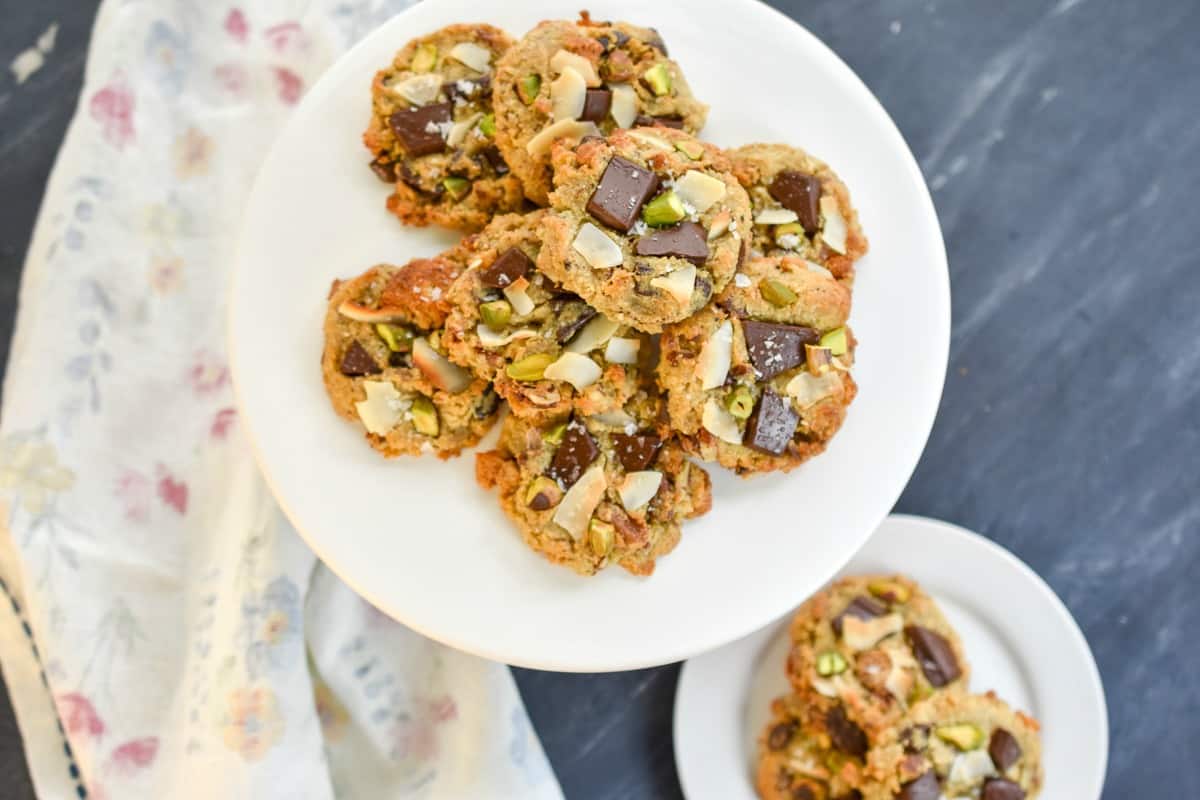 Please note that the full printable recipe card is at the bottom of this page. But I recommend you read the entire post to get all the details that will help you execute the recipe perfectly.
Because I was looking for options that would give these trash can cookies an interesting texture, I used both coconut flakes and coconut chips.
I added the unsweetened coconut flakes to the batter and then placed a few chopped pieces or of coconut chips to the top of each cookie prior to baking. But here again, if you're not a fan of coconut just leave it out.
The chopped pistachios were added to the top of the cookies, purely for aesthetic reasons. What I love about pressing a few of the ingredients into the cookies, is that it allows people to see at first glance what's in them.
In addition, it makes it a little easier to make sure the mix-ins stay in place while baking.
I even added a teaspoon of coffee grounds, fresh not used, of course, to add to the "compost" factor of these keto trash cookies.
Note that the addition of coffee grounds is totally optional and it's not something you would want to add if you are sensitive to caffeine or if these will be served to children. It really is more for fun than anything else since the amount is negligible.
As long as we are talking about fun while keto baking, keep in mind that the whole idea of these keto compost cookies is to use whatever keto-friendly options you have at your disposal and to have some fun experimenting.
It's part of the reason I decided to sprinkle sea salt flakes to the top of the cookies before baking. This added another flavor dimension that elevated the cookies even further.
Honestly, if you haven't tried adding sea salt flakes to your baking process you have no idea what you are missing. It's something that really adds to the complexity of flavors in this cookie.
How To Customize Your Keto Trash Can Cookies
Since this is a recipe that is easy to customize it will be a great one to add to your keto holiday cookie rotation. You can have quite a bit of fun making it holiday-specific.
I think the one rule to keep in mind, is to choose ingredients that can add a variety of both texture and flavor. When it comes to adding a bit of sweetness you can't go wrong with either Lily's sugar-free premium baking chips, Lily's sweets extra dark chocolate bar, or a combination. These are sweetened with stevia and are keto-friendly.
As far as giving these chocolate chip cookies a little bit of salty contrast the pieces of pork rinds work really well. Although the idea of adding pork rinds to a keto chocolate chip cookie recipe may sound bizarre, I assure you that if you are a fan of salty and sweet combos this will make perfect sense.
Another key to remember is to make sure that the pork rinds are not crushed. What you want are pieces that are small enough to resemble chopped nuts.
I recommend you just get a sharp knife and cut the pork rinds into 1/4-1/8 inch pieces. If the pieces are too large it may affect the structure of the cookie and it may not hold together well.
With that being said, what I noticed is that the pieces of pork rinds that were in the batter were a little on the chewier side while the ones that were on the surface of the cookie were crunchy.
Having a combination of textures really enhances these cookies. It's why I recommend you add some to the batter yet also reserve 1/2 cup of the pork rind pieces to press to the top of the cookies before baking.
Choosing The Right Pork Rinds For Keto Trash Cookies
When it comes to adding pork rinds to your cookie dough using the correct pork rind is key in getting the right consistency. Although I love some homemade chicharron (pork rinds), this is NOT what you want in this recipe.
It would simply be too meaty and will not give you the correct texture we are after. Plus the pork flavor will be too intense and overpower your cookies. What you want are the large airy pork rinds that are only seasoned with salt.
I chose to add 1 1/2 cups of chopped pork rinds to my recipe but you can certainly use a lot less. Even 1/2 cup would provide enough crunch and flavor to keep these trash cookies interesting.
Keto Trash Cookie Combinations
Like I said you can really go to town making these low-carb trash cookies your own. The following are just some examples of how you can use to customize your cookies.
Swap the pecans for chopped almonds, peanuts, macadamia nuts, walnuts.
Swap the pistachios for slivered almonds, pine-nuts.
Not a fan of chocolate? Leave it out.
Looking for a toffee chip option? Roughly chop three pieces of Russell Stover stevia-sweetened toffee.
For a colorful option add a few Atkins chocolate-covered candies to the top of each cookie.
Something else to keep in mind when making this recipe is the importance of chilling the dough for at least 45 minutes before baking. This will ensure that the cookies do not spread in the oven and maintain their structure.
If you are doing a keto vegetarian diet it goes without saying that pork rinds will not be added to your cookie dough. But that does not mean you can't enjoy these trash cookies. Just replace the pork rinds for 1/2 cup more of your favorite nuts, not the equal amount of pork rinds the recipe calls for. This is because it's not a 1:1 exchange.
Tag Us
I sure hope you will give this keto cookie recipe a try. Once you do, make sure you remember to tag us on Instagram and Facebook. It's what keeps this girl encouraged to keep sharing and perfecting her recipes.
Also, check out our Amazon Store for our recommendations. You might be surprised by how many great keto options are at your disposal.
Since this recipe is made with almond flour and it's what you prefer to use, I recommend you visit our keto almond flour recipes or more delicious options.
Grab Our Books!
In case you don't know I have authored two books for you, Essential Keto Bread and Essential Keto Desserts both inspired by your requests over the years. It's my prayer these keto cookbooks will help make keto a delicious breeze for you.

Join Our Jesus And Keto Movement
Looking for an online support system to help you stay the course on keto? As a family, we came to the keto diet looking at it from a Christian perspective. As believers, we live our lives supported by God's grace.
So when the Holy Spirit led us to combine our Christian faith and the keto diet, we did so in hopes of finding lasting transformation. When we followed the Holy Spirit's prompting to we got on the path to real transformation.
Knowing firsthand the benefits of this decision we have created a closed Christian group that is using the keto diet to transform their lives. We invite you to join our Private Facebook Group and see if it's not the key you have been missing.
Be sure to request our FREE Jesus and Keto E-Book (First 7 Days) We hope it blesses you.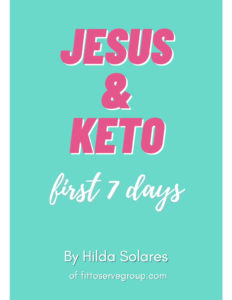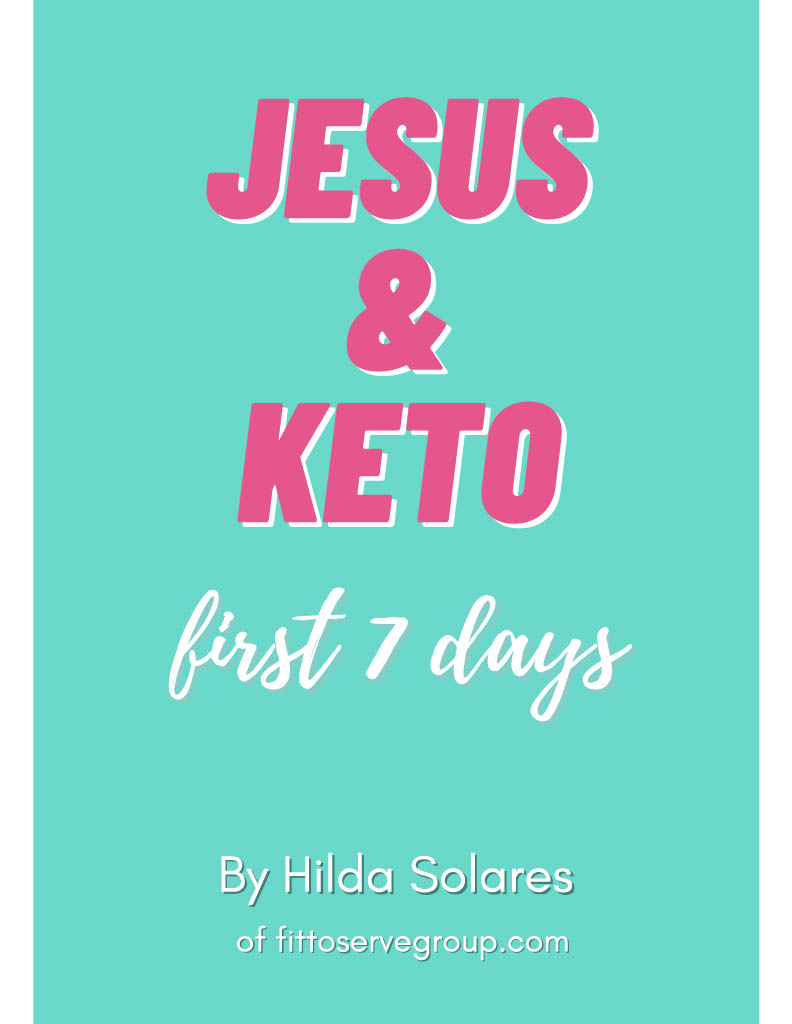 Fittoservegroup Keto App
Looking for a fast way to access our keto recipes? We got you covered. There's an app for that. Yup, there's a Fit To Serve Group App and it's going to make your keto diet a delicious breeze!
Access hundreds of recipes that are all sugar-free, gluten-free, and keto-friendly.
Enjoy early access to recipes before they go live on the website. Plus, bonus recipes that are exclusive to the app. Make your own personal cookbooks that you can use to organize your favorite recipes.
Search recipes by title, ingredients, keywords, and categories, and of course, every recipe shows complete nutritional facts. Get the Fit to Serve Group App for easy-to-follow keto recipes made with easy-to-source ingredients.
The app is loaded with hundreds of yummy recipes for breakfast, lunch, dinner, snacks, and even desserts!
Learn more by visiting our Fit To Serve Group App Page.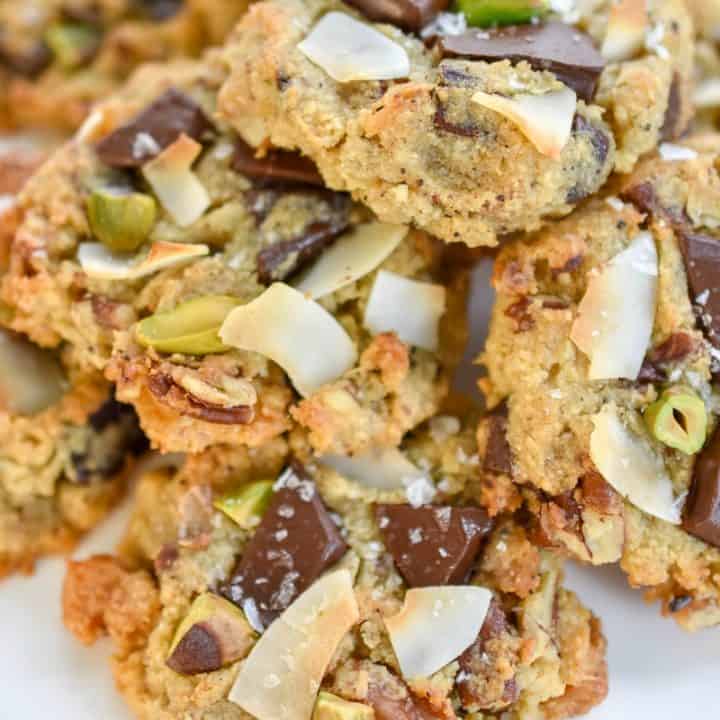 Keto Trash Cookies
These Keto Trash Cookies are the perfect combination of sweet and salty. Using leftover keto-friendly items allows you to use what's in your pantry for a delicious compost, garbage can cookie minus all the carbs.
Ingredients
Keto Trash Cookies
2 teaspoons of baking powder
1 tablespoon​ of unflavored gelatin
3/4 cup of butter (1 1/2 sticks) room temperature
2 large eggs
1/4 teaspoon of sea salt
1 cup of chopped pecan
1/4 cup pistachios (reserve to add to the top of the cookies prior to baking)
1/2 cup shredded unsweetened coconut
2 tablespoons of unsweetened coconut chips (reserve to add to the top of the cookies prior to baking)
1 1/2 cups of plain airy pork rind pieces (reserve 1/2 cup to add to the top of the cookies prior to baking)
1 teaspoon of coffee grounds, fresh not previously brewed
1/2 cup of sugar-free chocolate chips
3 ounces sugar-free​ cocoa chocolate bar roughly chopped (reserve to add to the top of the cookies prior to baking)
Sea salt flakesfor sprinkling
Instructions
Keto Trash Cookies
Pre-heat oven 350 degrees.

Line a cookie sheet with parchment paper or a baking mat.

In a large bowl using an electric mixer beat the room temperature butter, sugar substitutes, and two tablespoons of sugar-free maple syrup.

Mix until well combined.

To this mixture add the eggs one at a time and beat well.

Then sprinkle the gelatin powder and combine well.

Next mix in the almond flour, coconut flour, baking powder, and salt.

To the cookie batter fold in the sugar-free chocolate chips, pecans, shredded coconut flakes, chopped pork rinds.
You'll be reserving the sugar-free chocolate bar pieces, pistachios, coconut chips, and 1/2 cup of the chopped pork rinds to press into the cookie dough.
If adding the coffee grinds sprinkle it to the batter and combine well.
Refrigerate the dough for at least 45 minutes before baking. This will ensure that the cookies do not spread while baking.
Drop the dough by heaping tablespoons and space about 2 inches apart on a parchment-lined cookie sheet or a baking mat. Flatten the cookie slightly by adding the reserved toppings.
If adding the coconut chips you will want to roughly chop about two tablespoons of chips and add a couple of pieces to the top of each cookie pressing them in gently before baking.
Lastly, sprinkle the cookies lightly with the sea salt flakes prior to baking.

Bake the cookies for 18-22 minutes.
Allow the cookies to fully cool on a baking rack before enjoying. Store any leftovers in the refrigerator for up to 5 days.
Notes
Store leftovers in the refrigerator for up to 5 days.
Nutrition Information:
Yield:

30
Serving Size:

1
Amount Per Serving:
Calories:

225
Total Fat:

18.1g
Saturated Fat:

6.4g
Trans Fat:

0g
Unsaturated Fat:

0g
Cholesterol:

29mg
Sodium:

129mg
Carbohydrates:

5.5g
Fiber:

2.9g
Sugar:

1.5g
Protein:

6.9g