Keto baked feta zucchini is the perfect zucchini side dish inspired by the viral Tik Tok sensation of the "baked feta pasta". It's creamy, tangy, packed with Italian herbs and spices, and oh so filling!
This keto-baked feta dish is also extremely easy to make, just throw all your ingredients on a baking sheet and wait for the amazing smell of herbs and cheese to fill your kitchen.
Great for busy nights with picky kiddos who won't even notice the zucchini under all the creamy, cheesy goodness! This keto-friendly baked feta zucchini is sure to be a hit every time you make it!
If you're looking for more veggie-packed side dishes you'll love our keto broccoli and cauliflower salad. And be sure to check out our keto salad recipes for even more tasty options!
Keto Baked Feta Zucchini
When the trend for this baked feta started popping up I immediately wanted to try my own spin with zucchini! But I didn't want it to be the same as everyone else's recipes that were popping up all over the internet.
So, instead of trying to replicate the original recipe of the trendy carb-heavy pasta with zoodles, spaghetti squash, or even shirataki noodles, I decided to make a dish that captures everything that makes the original so delicious and satisfying while creating something that even non-keto friends and family will love.
Plus, going this route means it's also a much healthier option and a faster way to create a keto side dish.
In fact, the first time I made the dish I tested it on my brother (long time readers might remember him as Picky Matt) I knew I had a winner when he said "I'd pay a lot of money for this at a restaurant" this is probably the highest praise I've heard him give anyone about food!
Now if that glowing review doesn't convince you to give this recipe a try then maybe how easy it is to make it will! So simple that even those who claim they "can't cook" will love making it!
You can make this low-carb baked feta zucchini with more than just zucchini too! it's a great way to use in-season veggies, I've made it with some of my homegrown eggplants as well! It's a great way to make good use of a bumper crop of squash!
How To Make A Keto Baked Feta Zucchini
Disclosure: Some of the links below are affiliate links, meaning at no additional cost to you, I will earn a commission if you click through and make a purchase.
Making this keto-friendly baked feta zucchini requires very little prep time and couldn't be any easier. You'll simply place the entire feta cheese block on a baking sheet or a casserole dish and surround it with the zucchinis, tomatoes, garlic, and onions.
Then you'll drizzle the extra virgin olive oil, fresh herbs, salt, and spices evenly over everything and bake for 20 to 30 minutes. I've added a sprinkle of red pepper flakes to the recipes which you can leave out if you don't like spicy foods.
We love to have some spice in our food around here so we add quite a bit of red pepper flakes to ours. Of course, you can totally leave this out.
You'll know your zucchini bake is ready when the cheese starts to brown slightly and the tomatoes start to burst.
Then comes the *magic*, using a wooden spoon mix everything together into the creamiest, yummiest, zucchini dish you've ever tried! Serve immediately and enjoy!
I like to serve my keto-baked feta zucchini with just about any protein with my personal favorites being oven-roasted chicken or a good steak!
Of course, you could also make this a keto vegetarian meal and have it on its own.
keto baked feta zucchini served with roasted chicken on a white plate
The following are the basic ingredients you'll need for the baked feta zucchini. Note the full printable recipe card is at the bottom of the page.
Keto-Friendly Baked Feta Ingredients
8 oz block of feta cheese

Olive oil

Zucchini or Summer Squash

Cherry tomatoes

Garlic

Onion

Basil

Rosemary

Oregano

Red pepper flake

Sea salt

Black pepper
Tag Us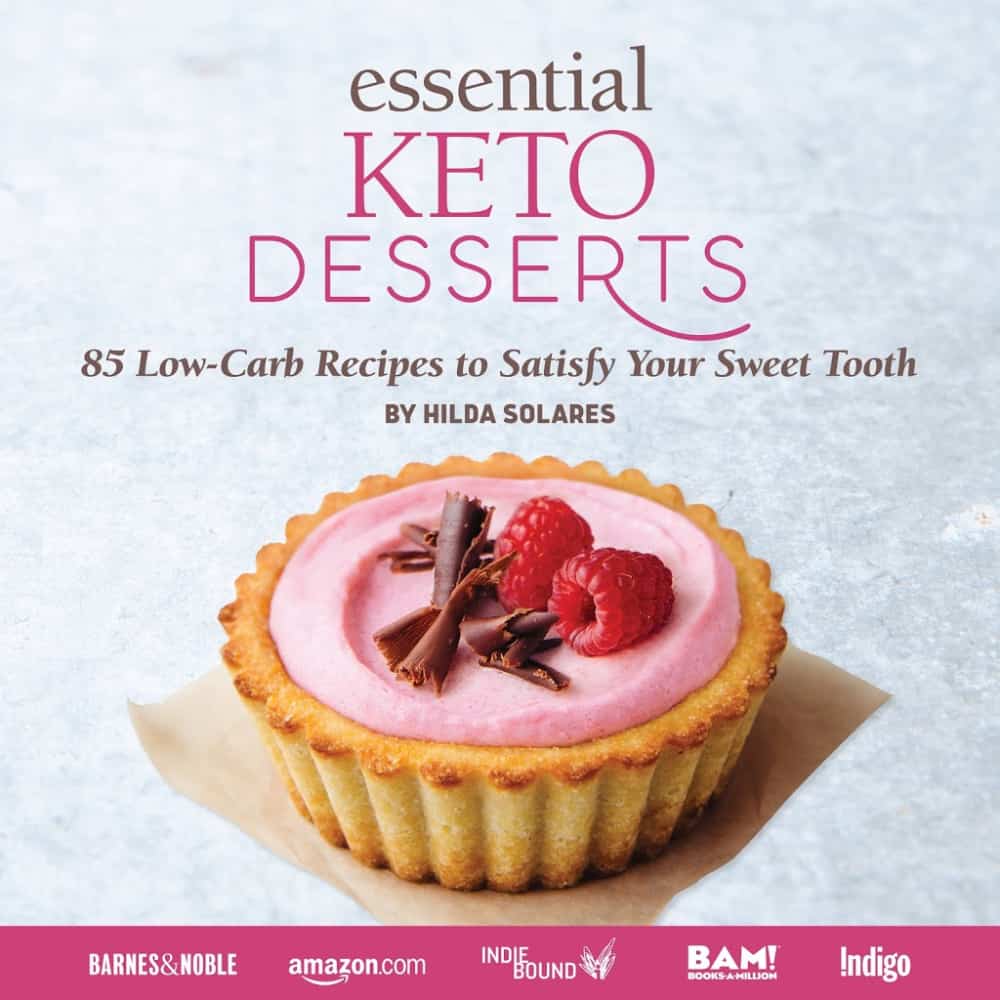 I sure hope you will give this keto-friendly baked feta zucchini a try. It's the perfect side dish that can go with just about any meal. Once you do, make sure you remember to tag us on Instagram and Facebook.
Also, check out our Amazon Store for our recommendations. You might be surprised by how many great keto options are at your disposal.
Grab Our Books!
In case you don't know we have two books for you, Essential Keto Bread and Essential Keto Desserts both inspired by your requests over the years. It's our prayer these keto cookbooks will help make keto a delicious breeze for you.
Join Our Jesus And Keto Movement!
Randy and I came to the keto diet looking at it from a Christian perspective, it's the filter we choose to see from. When we decided to combine our Christian faith and the keto diet, we did so in hopes of finding lasting transformation.
To say we needed God's intervention is putting it mildly. When we followed the Holy Spirit's lead to embrace the ketogenic diet and to combine it with our faith, we got on the path to real transformation.

If you are looking for a Christian group that is using the keto diet to transform their lives we invite you to join our Private Facebook Group and see if it's not the key you have been missing.
Favorite Keto Meal Planner
If you've been looking for an easy way to meal plan, consider checking out my review on Real Plans.
By using a keto meal planner you will free up your time by streamlining the process. I hope you agree with me that the last thing anyone needs, is to spend hours attempting to put a meal plan together.
Real Plans will finally put an end to frustrating hours of trying to create healthy meals. After all, we all know how challenging it can be to meet the demands of our full lives.
I love how Real Plans understands that the average busy person has no clue how to meal plan successfully, let alone consistently. Plus you can even use our Keto Recipes to form to create your weekly meal plans.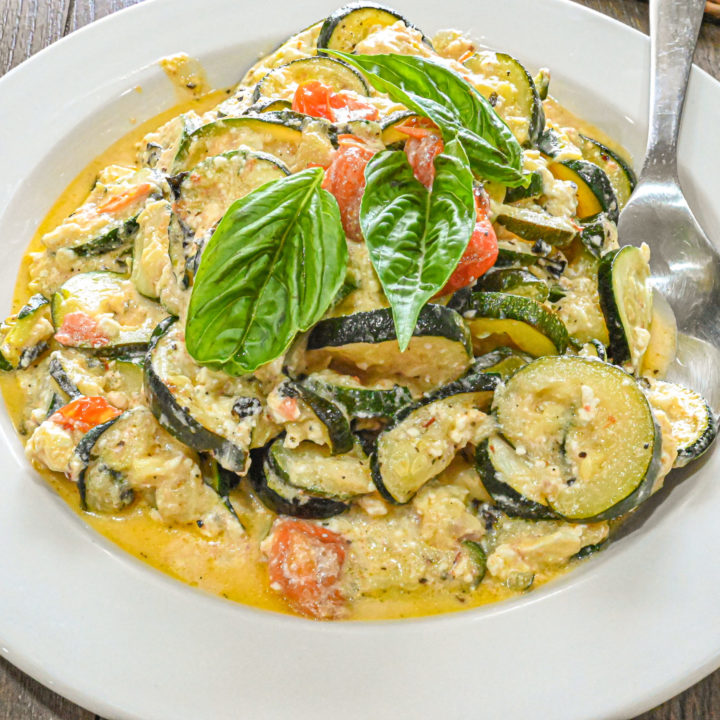 Keto Baked Feta Zucchini
Keto baked feta zucchini is the perfect zucchini side dish inspired by the viral Tik Tok sensation of the "baked feta pasta". It features fresh zucchini, cherry tomatoes and block of feta cheese.
Ingredients
4 medium zucchini (about 8 cups), sliced
1 cup cherry tomatoes
8 oz block feta cheese
1 onion, quarted and sliced
3 to 5 garlic cloves, finely chopped
2 tablespoons olive oil
2 teaspoon dried basil or 1 cup of fresh basil chopped
2 teaspoons of rosemary
2 teaspoon of oregano
1 teaspoon sea salt
1/2 teaspoon black pepper
1/4 teaspoon of red pepper flakes (optional)
Instructions
Preheat the oven to 375 degrees. On a lined baking sheet, place the block of feta in the center.
Surround the feta with the sliced zucchini, tomatoes, onions, and garlic.
Drizzle the olive oil, herbs, salt, pepper, and red pepper flakes over everything evenly. Bake for 20 to 30 minutes until the feta starts to brown and the tomatoes burst.
Remove from the oven and use a wooden spoon or spatula to mix the feta and veggies together. Serve warm as a great side for any protein.
Store leftovers in the refrigerator for up to 3 days.
Nutrition Information:
Yield:

10
Serving Size:

1
Amount Per Serving:
Calories:

107
Total Fat:

7.8g
Saturated Fat:

3.8g
Cholesterol:

20mg
Sodium:

262mg
Carbohydrates:

5.7g
Net Carbohydrates:

5g
Fiber:

1.7g
Sugar:

3.2g
Protein:

4.5g