Easiest Keto Lemon Curd Pie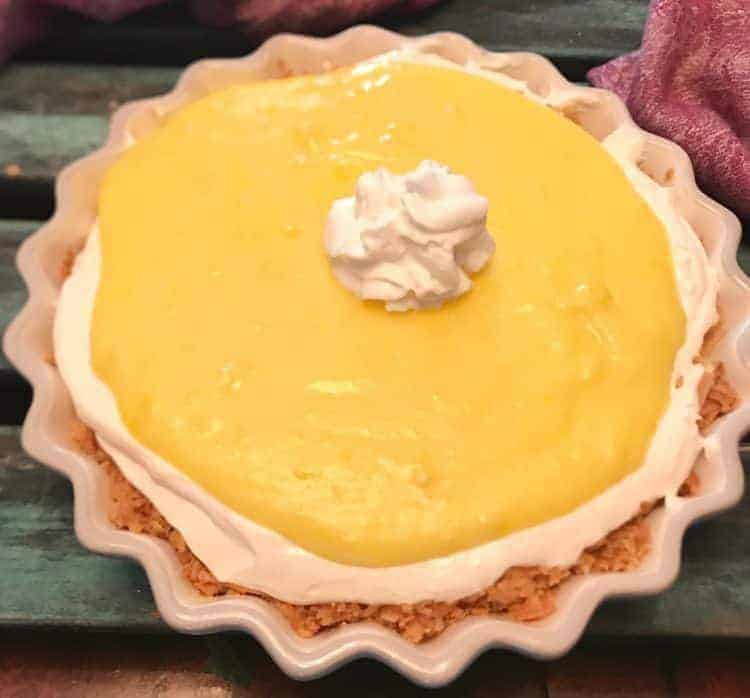 A deliciously rich keto lemon curd pie recipe that features a cheesecake layer and a crunchy coconut crust. Can you agree with me that the saying "easy as pie" doesn't always pan out?
Well, this easy recipe for keto lemon curd pie may just make that classic saying finally a reality for all. It's not only easy it's yummy!
Give Me Pies, Pies, Pies
What happens when your thoughts are consumed by pie? I guess you roll up your sleeves and make more low carb keto pies. Pies have been on my mind a lot lately, not sure why exactly.
But this sudden craving for pies would explain why I'm posting this keto lemon curd pie after recently sharing my keto fudge pie .
Easy As Pie
Well, I hope you have room for more of the same because I may still have a few more keto pies up my sleeve. Did you see my Low Carb Keto Berry Cheese Pie? Or how about my Low Carb Pecan Glazed Pumpkin Pie?  No? then go grab an apron and see what all the fuss is about. I will have you saying easy as keto pie in no time!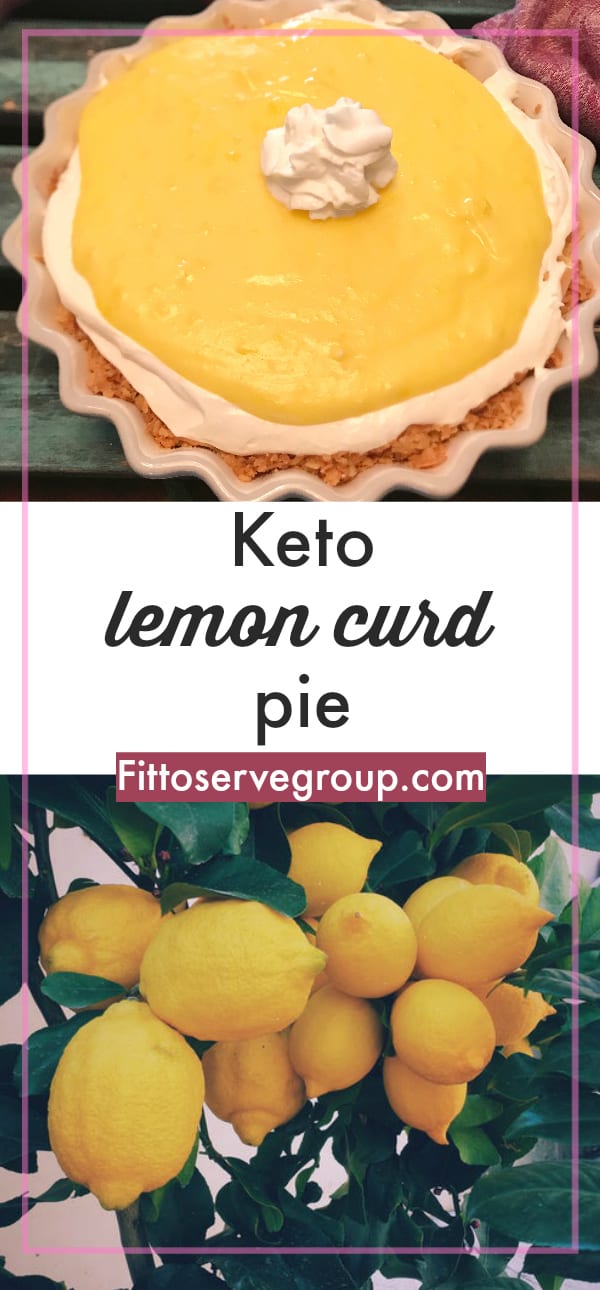 Can you guess who's not complaining about this pie streak? Yup, Randy. He loves letting people know that when it comes to recipe development, his is the most important job.
I don't know about that, but what is a fact is that hubby has no problem being in charge of quality control for your sake.
Three Flavors Packed Into One
This keto pie combines the flavors of lemon curd, cheesecake and coconut for one delicious treat. The combination of all three flavors makes it a game changer in my book. You see you get the tartness of lemon curd with the smoothness of cheesecake.
Oh and let's not forget, the crunch that the flaked coconut crust provides. I guess you can say it's a keto lemon curd cheesecake.
Maybe it's just me, but something about this pie puts me in a great mood. I think it has to do with the bright yellow color that reminds me of pure sunshine. Or perhaps it's because it really is easy and tasty. In any case, I hope you won't just take my word for it but actually give it a try.
How About You?
Has making pie always been easy for you? What pie have you been missing on your low carb keto lifestyle? Why not stop by and let me know what pie would you love see converted into a low carb keto friendly option. It would by my joy to make this happen for you. I am sure Randy won't mind testing it for you too 😉
Easy Keto Tip
Lastly, if you've struggled to get into ketosis consistently on your low carb keto diet, or have hit a plateau that doesn't seem to budge?
Consider using Keto//OS    Using Keto//OS will naturally elevate your ketones allowing you to enter into ketosis in under an hour.
You will reap the benefits of being in ketosis quickly.
Reduce your appetite
Reduce carb cravings
Experience clean energy that will not give you the jitters.
Entering into ketosis by drinking exogenous ketones from Keto//OS makes the low carb keto lifestyle a viable sustainable option.
We are seeing how this all natural supplement is helping so many of our Fittoserve Group Community achieve their goals.
Not familiar with exogenous ketones? I've written an extensive review about why we endorse Keto//OS here. My post may help answer your questions.
Wondering how it works? Watch this short 4 minute explainer video to learn the science behind Keto//OS 
Please feel free to reach out to me with your questions regarding Keto//OS and the keto lifestyle. I can even schedule a phone call and coach you for free when you make a 15, 20, or 30 day purchase. Make sure you email us stating that you want this option once you place your order.
For detail information on which plan can best suit your needs read more here. 
When you choose to place your order of Keto//OS with us you help support the cost of running this blog. We are grateful for each and every affiliate order you place with us and thank you in advance for your support.

Keto Lemon Curd Pie
Keto Lemon Curd Pie

---

Hilda Solares

Yields 8

A low carb keto lemon curd cheesecake.

30 minPrep Time

30 minCook Time

1 hrTotal Time

Ingredients

Crust

1 ½ cups of sugar-free coconut flakes
¼ of almond flour or 2 tablespoons of coconut flour for nut free version
½ cup unsalted butter

Lemon Curd

¾ cup of sugar substitute I used Swerve
¾ cup of lemon juice about 3 large lemons
1/4 cup of unsalted butter
7 egg yolks
1 tablespoons of lemon zest
¼ tsp of sea salt

Cheesecake Filling

1 package of cream cheese
½ cup sugar substitute
½ cup sour cream
1 teaspoon of unflavored gelatin I used Great Lakes unflavored gelatin
3 tablespoon of cold water

Instructions

Keto Lemon Curd

Over a double boiler melt the butter in a medium sized bowl over low heat.
Once the butter is melted, whisk in the sugar-substitute, lemon juice and lemon zest. Keep mixing until well combined.
Next whisk in the eggs yolk one at and cook on low heat until the curd starts to thicken.
Remove the lemon curd off the stove and strain into a small bowl.
Allow to cool at room temperature and then store in the refrigerator and chill for 30 minutes to an hour.

Keto Coconut Crust Instructions

Combine all the ingredients until well mixed.
Press the coconut mixture into a 9-inch pie crust pan.
Bake at 350 degrees for 20 minutes.
Once the pie crust is cooked and while it is still warm, press the crust with the back of a metal spoon. I find that pressing the crust soon after it's been cooked allows for a crispier crust.

Keto Cheesecake Filling

Mix the gelatin with the cold water and set aside.
Combine the cream cheese, sour cream, and sugar substitute.
Fold in the prepared gelatin into the cheesecake batter.

Pie Assembly Instructions

Once the pie crust is fully cooked and cooled add cheesecake filling.
Next spread the lemon curd topping to the cheesecake.
Allow for pie to fully set in the refrigerator for at least 30 minutes before consuming.
Store pie in the refrigerator.

7.8.1.2

24

https://www.fittoservegroup.com/2018/04/05/low-carb-lemon-curd-cheesecake/

Nutrition
Nutrition Facts
Serving Size 1 slice
Servings Per Container 8
---
Amount Per Serving
Calories 360
Calories from Fat 332.1
% Daily Value*
Total Carbohydrate 3.1g
1%
---
*Percent Daily Values are based on a 2,000 calorie diet. Your daily values may be higher or lower depending on your calorie needs.
Ketone Testing
If you are wanting to do a keto diet effectively, don't forget to test your ketone levels. Although ketone strips work well initially, the Gold standard is the blood ketone test.This test is taken just like the glucose test that diabetics use to track their sugar levels.
After 10 seconds the ketone meter will give you an accurate reading. Testing is not necessary in order to do a ketogenic diet, but it can serve as a powerful tool to track your ketone levels and help you see your ketosis progress.
Please feel free to reach out to us to assist you in any way. It's our desire to see you succeed.
Looking for the most affordable way to test your ketone levels? The Best Ketone Test has made this possible.
SaveSave
SaveSave
SaveSave
SaveSave
SaveSave
SaveSave
SaveSave
SaveSave
SaveSave
SaveSave
SaveSave
SaveSave
SaveSave
SaveSave