Keto Chai Latte, Goan Style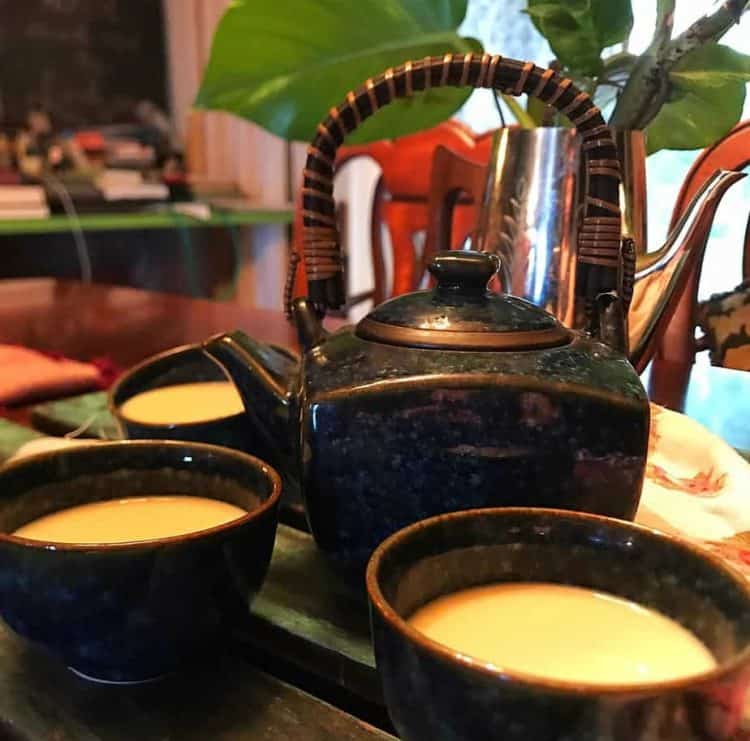 Enjoy traditional chai tea, Masala chai with this simple Keto Chai Latte recipe. It features a delicious blend of fragrant spices, black tea, and keto-friendly sweetener and milk.
Wondering how you can add more micro-nutrients into your diet via spices? What if you can do so by having a delicious cup of keto chai latte? Well, that exactly what my chai tea recipe will provide.
A few years ago I began to study the benefit of including an array of herbs and spices in our diet. One of the things I learned firsthand, was the power they had in curbing inflammation in the body. Which is why finding ways to add my spices via a keto chai tea made lots of sense for me.
My keto chai tea is Goan style and it ensures I am giving my body what it needs. During my worst season of fibromyalgia and sciatica pain, I found myself craving ginger.
When I say craving ginger, I mean the actual ginger root, not the powdered spice. It was not unusual to see me nibbling on a little nub of ginger root. To the point that I always carried a piece in my purse. I was eating it like candy. I know how really bizarre this sounds. Trust me it was puzzling to me too.
I wish then I had a keto Masala chai option instead. You can read more about my keto transformation here.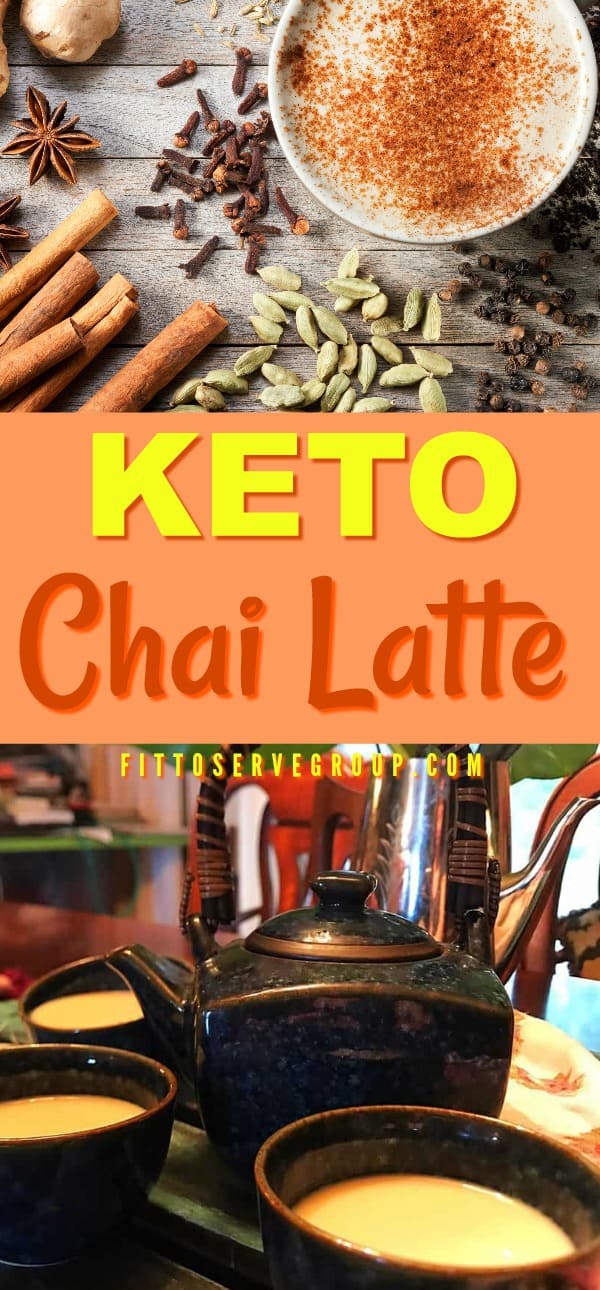 Keto Chai Latte
Is packed with nutrition, for example, black tea is known to be a good source of antioxidants. The fact that it's high in antioxidants means that it helps fight free radicals in your cells. This basically translates into less damage your DNA and cells.
Black tea leaves are also high in both polyphenols and phytochemicals, that are scavengers for free radicals. There are medical studies that even point to the possible aid against metabolic diseases like type 2 diabetes, obesity, and elevated cholesterol.
Who knew that enjoying a keto chai tea could be so good for us. Of course, if we want to see some of these benefits you want to be certain that it's not a chai latte that is loaded with sugar like those found in coffee houses all around. Unfortunately, the damaging effect of sugar will outweigh any black tea benefits.
It's actually quite shocking to see the amount of sugar is added to these drinks. With some being close to 50 grams of carbohydrates. That more carbs than I aim to have in two days. So to say it's not an option for anyone doing keto is an understatement.
Thankfully, you can make a delicious cup of chai latte at home and stay safely in ketosis while you sip on your tea. I am always looking for creative ways to add more spice to my meals having learned first hand the benefits of these micro-nutrients.
Goan Spices
Disclosure: Some of the links below are affiliate links, meaning at no additional cost to you, I will earn a commission if you click through and make a purchase.
My need for spices is how I discovered the spices of Goa to our foods in an effort to boost my family's nutrition.
If you love the rich spices of India, then trust me you would love Goan Spices.
When my package of Goan Xacuti arrived I was blown away by the aroma in this mix, it was truly intoxicating.
So true to my personality, I went out of the box with it. I looked at the ingredients and realized that many of the spices that were in this mix are what makes a good cup of Chai.
That was all the green light I needed to do a little experimenting in the kitchen, something you all know I love to do.I made some strong black tea and added ¼ tsp. of this beautiful mix.
In order to make it a keto chai latte, instead of adding milk I made mine with heavy whipping cream. You can however also make it with almond milk, or full-fat coconut milk. Another delicious option that further enhances the benefits of this tea is to add a scoop of Perfect Keto's Vanilla Collagen.
I like sweetening my chai latte Lakanto's granulated sweetener an erythritol monk fruit option. But you can use your sweetner of choice. After I added an extra dash of cinnamon I found myself sipping on the best chai I've ever had.
I knew then that I had to take a moment to share this easy recipe with you all too.
Spice Properties
In an effort to encourage you to add more spices and herbs to your diet, I have listed the many properties that the spices in this keto chai masala has.
Cinnamon
Can lower blood sugar, triglycerides, LDL. By just adding one-fourth to one-half teaspoon of cinnamon twice a day you can reap the benefits.
Ginger
What I did not understand, was the reason behind my ginger craving. After some research, I realized that it was my body's way of trying to reduce pain, by relieving the inflammation. This was way before I turned to a ketogenic lifestyle and found a more practical way to reduce inflammation than carrying ginger with me everywhere.
I did, however, learn a valuable lesson from that ginger craving season. Today, I understand the value of adding more herbs and spices to my diet. As my body began to heal that deep craving began to recede. It's incredible how our bodies can tell us what it needs if we would just tune in more.
Thankfully, I am always looking for creative ways to add more spice to my meals. Adding unique spices and herbs to my cooking fits my personality perfectly. Not only does this make our meals more enjoyable but it adds more micro-nutrients to our diet.
Helps with motion sickness and nausea; may also relieve pain and help those with arthritis and inflammation. Studies have shown that a range from 500 to 2,000 mg of powdered ginger or a quarter-size piece of the fresh root which contains about 1,000 mg is needed for benefits.
It's important to note that ginger can also hinder blood clotting, so if you're about to have surgery or are taking blood thinners or aspirin, be sure to talk to your doctor first.
Turmeric
Contains curcumin, a cancer-fighting compound. It's known for its ability to reduce inflammation and improve joints. Curcumin is effective both in protecting against cancer and helping those that have it.
Cayenne
Is known to have many health benefits. It has been shown to increase circulation and reduce the risk of heart problems. Red pepper in all its forms enhances the metabolism, increasing satiety and potentially stimulating fat burning, too.
Cumin
Has antimicrobial properties and is great for keeping your gut healthy.
Anise
Is great for calming an upset stomach and when you have a cold help with coughs and runny noses. It has estrogen-like properties and may increase milk flow in breastfeeding mothers.
Cloves
Can help with muscle pains and arthritis. Of all spices, it has the highest amount of antioxidants. It contains eugenol, which has a mild anesthetic benefit.
Useful for toothaches, gum pain, and sore throats anise is just overall great for you. It can even help with respiratory ailments such as asthma and bronchitis. Studies also show that can help eliminate intestinal parasites, fungi, and bacteria.
Nutmeg
Contains many plant-derived chemical compounds that are known to be anti-oxidant, and disease-preventing. It has been used in traditional medicine for its anti-fungal, and anti-depressant properties.
Cardamom
Has been known to be antiseptic, antispasmodic. Has digestive properties and can act as a diuretic. It is a good source of minerals like potassium, calcium, and magnesium.
Keto Chai Tea Goan Style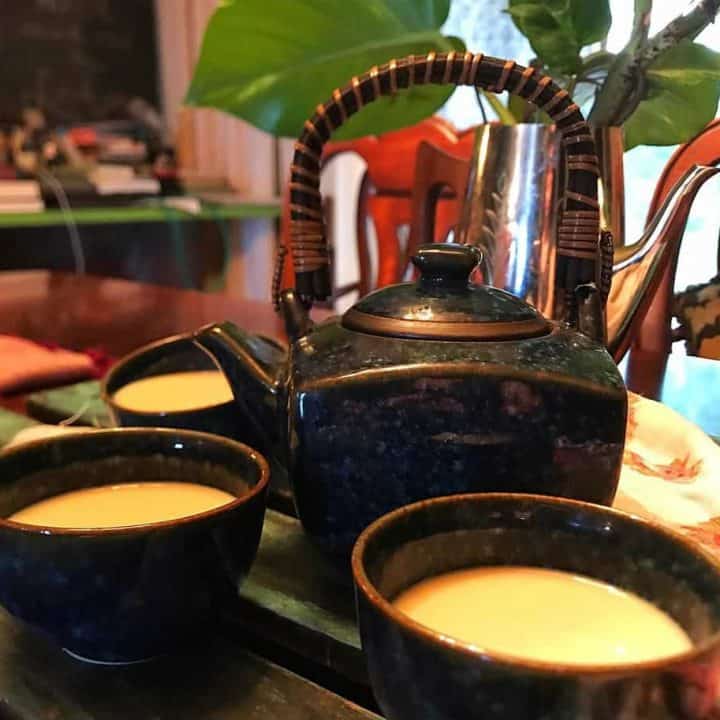 Keto Chai Tea
Enjoy a deliciou cup of Keto Chai Latte hot or cold that is low in carbs, sugar-free and full of fragrant spices. This easy recipe uses authentic Goa spices and makes 4 servings.
Ingredients
Black tea, 2 bags 
3 ½ cups of water
1/4 cup of whipping cream or full-fat coconut or almond milk
¼ teaspoon of vanilla
1/2 teaspoon of ground ginger or 1 inch piece of fresh ginger root thinly sliced
1/4 teaspoon of ground nutmeg
1/4 teaspoon of allspice or 4 allspice berries
1/4 teaspoon of ground star anise or 2 whole star anise 
1/2 teaspoon of ground cinnamon or 1 whole cinnamon stick
1/4 teaspoon of ground cardamon or 4 cardamon pods
1/8 of teaspoon of clove or 2 whole cloves 
Instructions
In a small sauce pan boil the water with the two tea bags and allow to simmer for 4 minutes.
Next add the Goan Xacuti Mix or the spices listed.
Once tea has properly steeped add the sugar substitute and heavy whipping cream.
Serve either hot or cold.
Notes
Store any leftovers in the refrigerator for up to two days.
Nutrition Information:
Yield:

4
Serving Size:

1
Amount Per Serving:
Calories:

70
Total Fat:

5g
Saturated Fat:

3g
Cholesterol:

17mg
Sodium:

27mg
Carbohydrates:

3g
Sugar:

1g
SaveSave
SaveSave
SaveSave