These keto strawberry muffins are packed with juicy berries and have the perfect sweetness. Made with almond flour and fresh strawberries, these muffins are delicious and easy to make.
Enjoy them as a quick on-the-go breakfast or as a simple dessert!
They're so good; even your non-keto friends and family will love them!
As a fan of strawberries, why not check out our entire collection of keto strawberry recipes, where you are sure to find new favorites?
I have an entire collection of keto muffin recipes you may want also to check out.
Keto Strawberry Muffins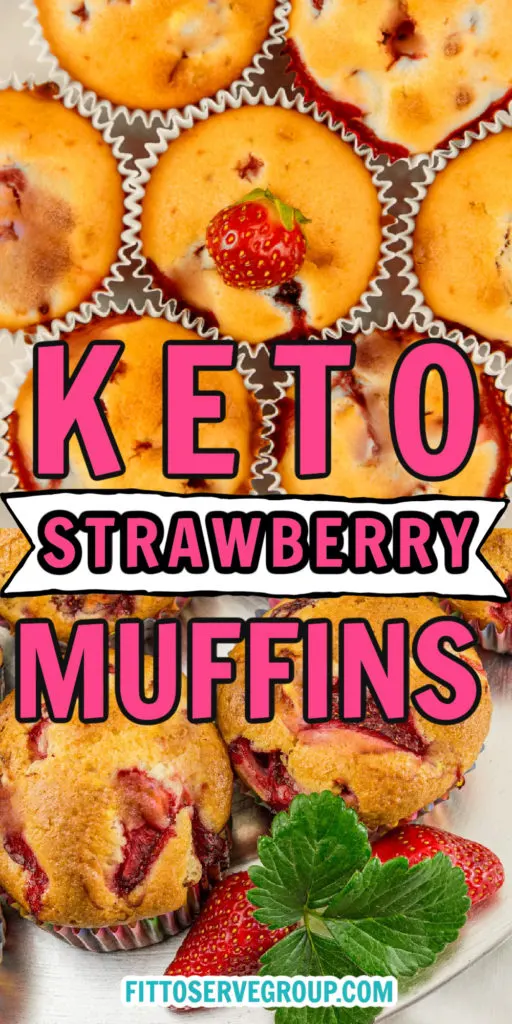 Keto strawberry muffins like these allow you to enjoy a little fruit while on a low-carb diet.
Strawberries are packed with nutrition making these low-carb strawberry muffins a great choice for an after-school snack for your little ones.
When eaten in moderation, strawberries can be part of your keto diet without any issues since they are not only low in carbs but also in calories.
They also pack a flavor punch, requiring less of them when used in baking. It's one of the many reasons why they are a great fruit choice when keto baking.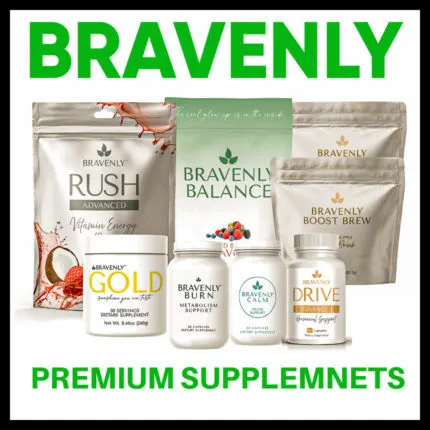 These almond flour strawberry muffins are one of my favorites to make as a quick snack or for a last-minute brunch with the family.
But really, these keto muffins are great at any time of day. This recipe is also a wonderful option for making at the beginning of the week as part of your keto meal prep for the week.
Benefits of Strawberries While Doing A Keto Diet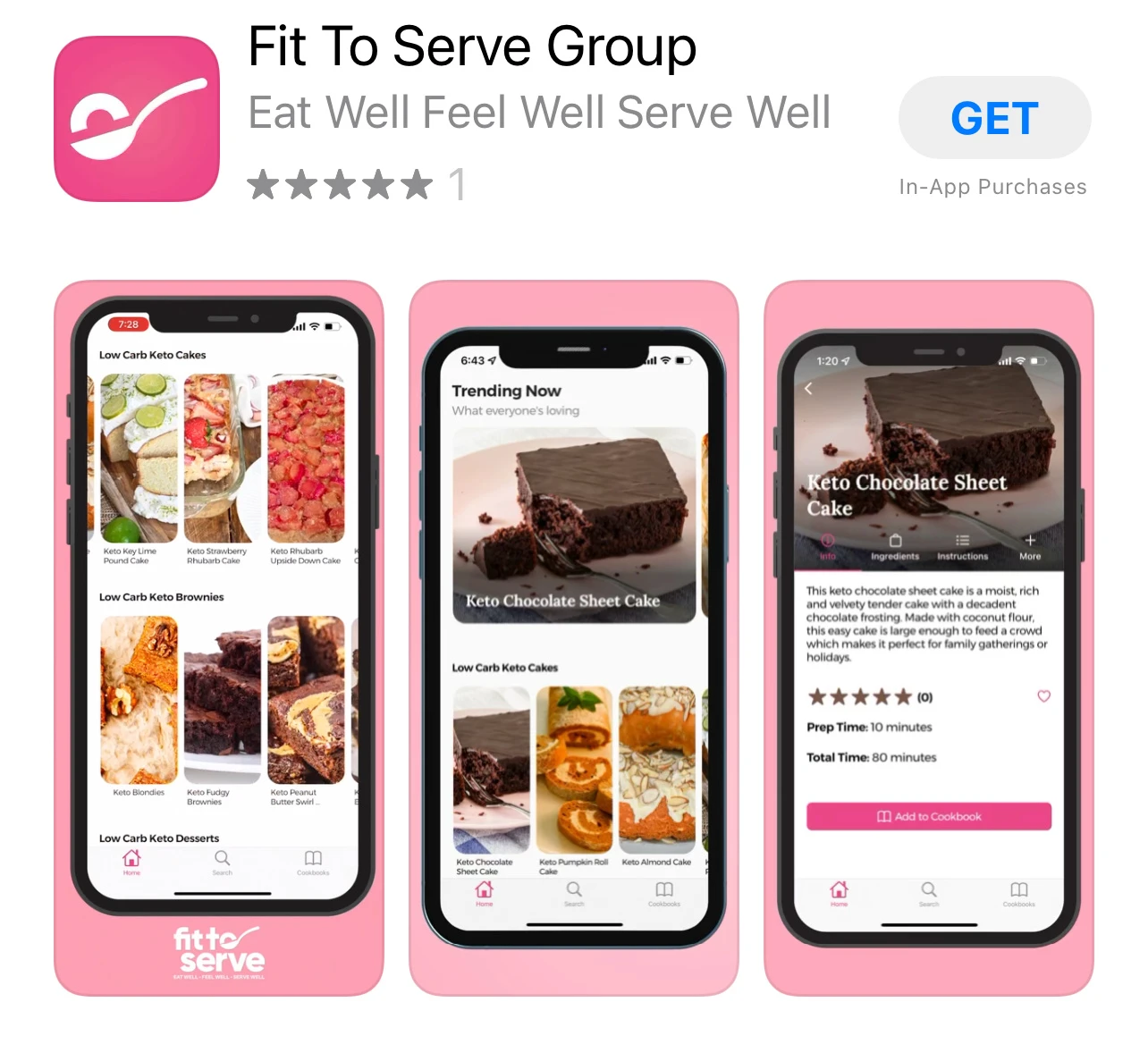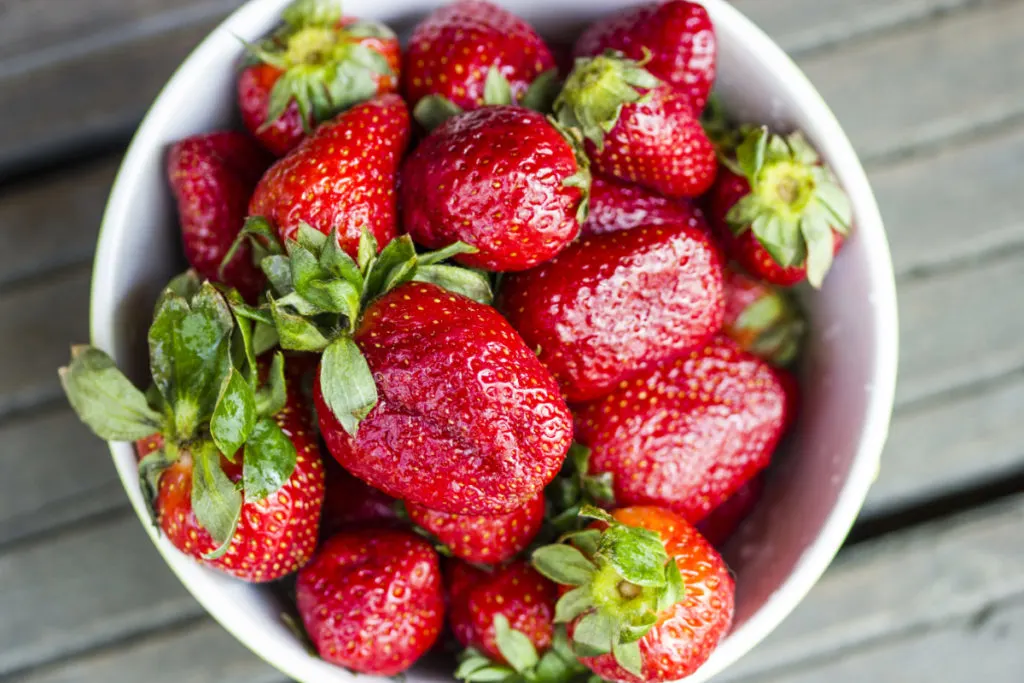 Since strawberries are relatively low in carbs compared to other fruits, they can be enjoyed in moderation as part of a keto diet. Here are some potential benefits of including strawberries in your keto diet:
1. Low in net carbs: One cup of sliced strawberries contains about 11 grams of total carbs and 3 grams of fiber, resulting in a net carb count of 8 grams. This makes strawberries in a muffin recipe ideal since a little goes a long way as far as flavor.
2. High in fiber: Strawberries are a good source of fiber, which can help to promote feelings of fullness and support healthy digestion.
3. Rich in nutrients: They are packed with vitamins and minerals, including vitamin C, folate, and potassium.
4. Antioxidant properties: Strawberries contain antioxidants, which can help to protect against oxidative stress and inflammation in the body.
Overall, strawberries can provide a range of potential health benefits when included as part of a balanced diet.
Tools And Ingredients Needed To Make These Keto-Friendly Strawberry Muffins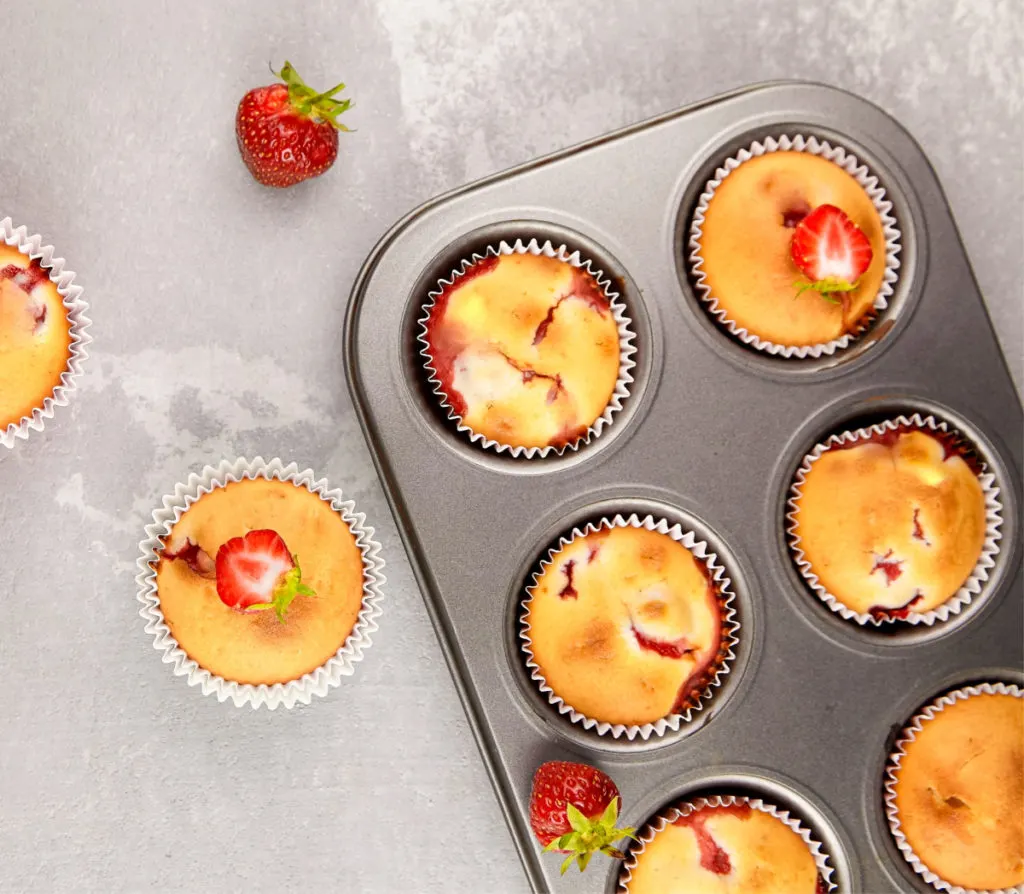 Disclosure: Some of the links below are affiliate links, meaning at no additional cost to you, I will earn a commission if you click through and make a purchase.
Note that the full printable recipe card is at the bottom of the page, as well as the nutritional facts.
Electric

stand mixer

or

hand mixer

Muffin or

cupcake tin

Unsalted butter softened

Fresh

chopped strawberries

Large eggs, room temperature

Vanilla extract
Baking powder
Salt
How To Make Keto Strawberry Muffins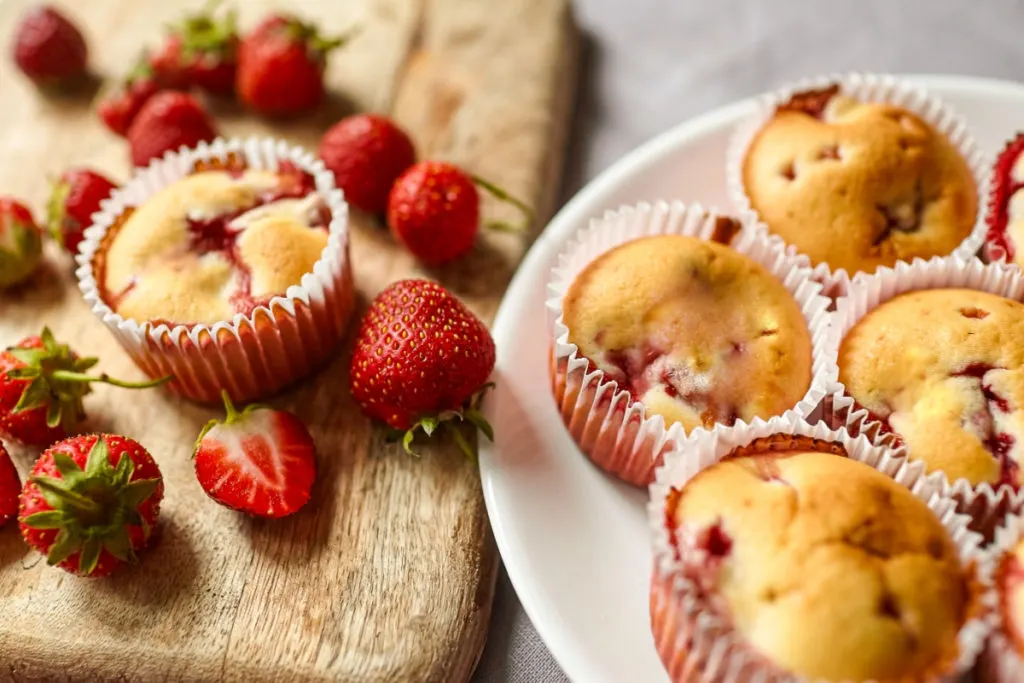 Making keto almond flour strawberry muffins is quick and easy!
I generally recommend, when using almond flour, to measure and then sift your almond flour. This will ensure your muffins have the perfect light and fluffy texture.
I recommend you visit our Keto Baking Tips page for more of my tried and true keto baking advice and favorite tips.
Once you've got your almond flour measured and sifted, preheat your oven and line your muffin tin.
Then you'll whip up the room temperature cream cheese, butter, and sugar substitute of your choice in a large bowl. Add your eggs in one at a time, ensuring you combine them well before adding the next.
I prefer using an electric mixer to whip up the wet ingredients until they're light and fluffy, but you can do this by hand if you prefer. Next, add your dry ingredients and fold in the chopped strawberries.
Wanting to enhance the flavor of the raspberry in this recipe, I used vanilla extract to brighten the flavor further.
Then, fill your lined muffin tin with batter and bake for 20 to 25 minutes until an inserted toothpick comes out clean.
Best Sugar-Substitutes For Sugar-Free Strawberry Muffins
You can use several sugar substitutes when making these keto muffins. If you're looking for a sweetener that reminds you of real sugar, I'd recommend you try Lakanto Monk Fruit.
The texture of this all-natural sweetener is spot on, plus it barely has an aftertaste. I'm also partial to Swerve, which is an erythritol blend.
You could also use the stevia and erythritol-based brand Pyure with good results. However, stevia is doubly sweet, so you will have to use half the amount called for in the recipe.
Lastly, if you can't easily find a more natural sugar substitute, you can also use Splenda with great success.
More Keto Muffin Recipes To Try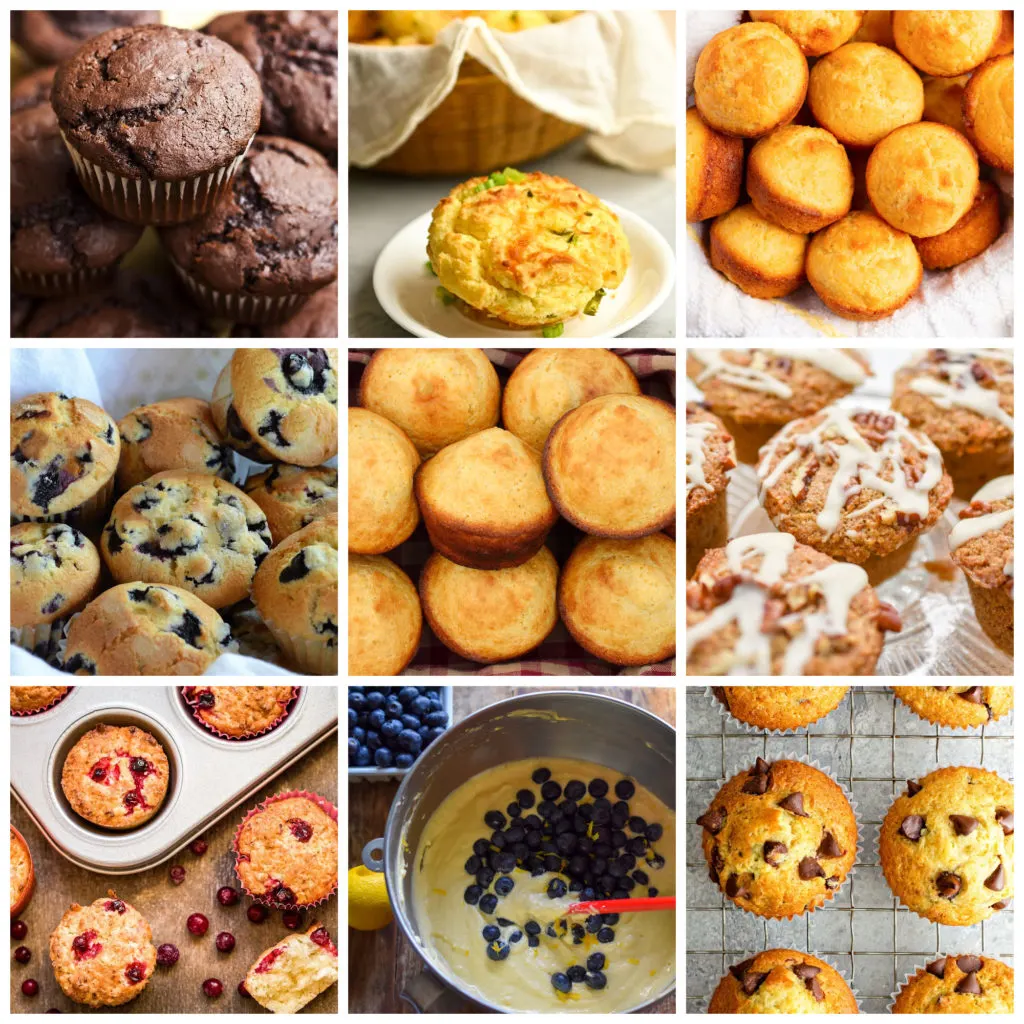 Be sure to also check out some of our other keto muffins recipes for more delicious options.
Tag Us
I sure hope you will give this strawberry keto muffin recipe a try. Once you do, remember to tag us on Instagram and Facebook.
It's what keeps this girl encouraged to keep sharing and perfecting her recipes.
Since this recipe is made with almond flour and it's what you prefer to use, I recommend you visit our keto almond flour recipes for more delicious options.
Grab Our Books!
In case you don't know, we have two books for you, Essential Keto Bread and Essential Keto Desserts, both inspired by your requests over the years.
We pray these keto cookbooks will help make keto a delicious breeze for you.
Join Our Jesus And Keto Movement
Looking for an online support system to help you stay the course on keto? As a family, we came to the keto diet looking at it from a Christian perspective. As believers, we live our lives supported by God's grace.
So when the Holy Spirit led us to combine our Christian faith and the keto diet, we did so in hopes of finding lasting transformation.
When we followed the Holy Spirit's prompting, we got on the path to real transformation.
Having known firsthand the benefits of this decision, we have created a closed Christian group that is using the keto diet to transform their lives.
We invite you to join our Private Facebook Group and see if it's not the key you have been missing.
Be sure to request our FREE Jesus and Keto E-Book (First 7 Days). We hope it blesses you.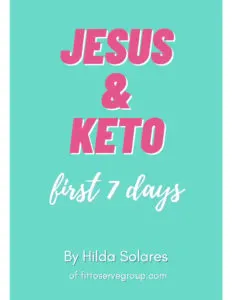 Fittoservegroup Keto App
Looking for a fast way to access our keto recipes? We got you covered. There's an app for that. Yup, there's a Fit To Serve Group App and it's going to make your keto diet a delicious breeze!
Access hundreds of recipes that are all sugar-free, gluten-free, and keto-friendly.
Enjoy early access to recipes before they go live on the website. Plus, bonus recipes that are exclusive to the app. Make your own personal cookbooks that you can use to organize your favorite recipes.
Search recipes by title, ingredients, keywords, and categories, and of course, every recipe shows complete nutritional facts.
Get the Fit to Serve Group App for easy-to-follow keto recipes made with easy-to-source ingredients.
The app is loaded with hundreds of yummy recipes for breakfast, lunch, dinner, snacks, and even desserts!
Learn more by visiting our Fit To Serve Group App Page.
Keto Strawberry Muffins (Almond Flour)
These keto strawberry muffins are packed with juicy berries and have the perfect sweetness. Made with almond flour and fresh strawberries, these muffins are delicious and easy to make. Enjoy them as a quick on-the-go breakfast or as dessert.
Ingredients
2 cups fresh chopped strawberries, reserve 1/2 cup to sprinkle on the top of the muffins prior to baking
2 teaspoons baking powder
1/2 teaspoon of sea salt
8 eggs, room temperature
8 oz full-fat cream cheese, room temperature
1/2 cup unsalted butter, room temperature
1 teaspoon vanilla extract
Instructions
Preheat the oven to 350 degrees and line 2 muffin pans with cupcake liners.
Measure and sift the almond flour and set it aside.
In a large bowl, using an electric mixer combine the cream cheese, butter, and beat on high until light and fluffy.
Add the sugar substitute and continue to mix well.
Add in the eggs one at a time, mixing well between each addition.
Next, stir in the sifted almond flour, salt, and baking powder and mix until well combined.
Next, add the vanilla and mix well.
Lastly, fold in 1 1/2 cups of the chopped strawberries until fully incorporated.
Pour cake batter into two cupcake-lined muffin pans.
Sprinkle the reserved 1/2 cup of chopped strawberries on the surface of each muffin.
Bake for 20-25 minutes or until an inserted toothpick comes out clean.
Muffins can be stored for up to 5 days in the refrigerator or frozen for up to 3 weeks.

Nutrition Information:
Yield:

24
Serving Size:

1
Amount Per Serving:
Calories:

209
Total Fat:

17.8g
Saturated Fat:

8.4g
Cholesterol:

75mg
Sodium:

76mg
Carbohydrates:

4.6g
Net Carbohydrates:

2.6g
Fiber:

2g
Sugar:

1.6g
Protein:

5.5g