Keto High Fiber Breakfast Muffins
It's a delicious recipe for keto high fiber breakfast muffins. Who says that adding fiber on keto diet can't be yummy?
Has it been a bit of a mission to add fiber into your diet? Are you looking for a delicious way to increase fiber on your low carb keto diet? Well, my low carb keto high fiber breakfast muffins are the perfect way to increase fiber and reap the benefits.

I may have been the only girl who loved her bran muffins back in the '80s. Adding fiber to our diet was really encouraged during that decade. Probably because of the emerging science that pointed to the benefits of a high fiber diet.
I embraced this trend and so consumed lots of bran muffins. That being said it was just a matter of time that I would create a recipe for low carb keto-friendly high fiber muffins.
I have a complete list of Keto Cakes  that as a fan of cakes I encourage you to also visit. 
Keto High Fiber Breakfast Muffins

Looking back, I suspect I liked those bran muffins because they were quite sweet. Those bran muffins were probably loaded with sugar in an attempt to cover the cardboard taste of bran.
Yet, I dutifully added bran to my diet not realizing how much sugar I was consuming in the process.  In my mind, if it passed the "sweet" test, and had some healthy claim attached to it, I was all in. Let's just say this girl has learned so much since then. 
Fast forward to today and I still believe in the benefits of fiber. However, these days it needs to be a low carb high fiber option if I am going to allow it into my diet.
That's why these keto high fiber muffins are both gluten-free, high in fiber and delicious.
High In Fiber Low In Carb Muffins
These days you couldn't pay me to eat a bran muffin. I've learned that my body just does not do well with any form of grain. So I avoid them at all cost.
Just because I no longer eat a diet that includes grains, doesn't mean I don't need fiber in my diet. It just needs to come to be both low in carbs and grain-free.
The idea of a muffin that is high in fiber for breakfast still appealed to me. Which is why I wanted a keto high fiber muffin that was both effective and delicious.
Low Carb Does Not Mean Zero Carbs
Personally, I am not a fan of the zero carb diets that advocate no dietary fiber. It's pretty common knowledge that for our gut health we need fiber.
Do you know that 80 percent of your health stems from your gut? Which is why it's often referred to as our second brain.
The past two decades have brought research pointing to the fact that gut health is critical to overall health, and that an unhealthy gut contributes to a wide range of diseases including diabetes, obesity, rheumatoid arthritis, autism spectrum disorder, depression, and chronic fatigue syndrome.
Keeping your gut happy by adding enough fiber just makes sense.
Sound Fiber Advice
Not all the advice on fiber is sound. Frankly, I think some information can even prove to be disastrous for our health. With so many conflicting voices I try to limit where I learn to only a handful of reliable sources.
A great place to learn more about low carb high fiber is on ketogeniccom. They have several great articles that point to the science of eating low carb high fiber.
Keep Your Gut Healthy With Fiber
Today, you have many researchers that believe that supporting intestinal health and restoring the gut barrier will be one of the most important goals of medicine in our 21st century.
I hope this sheds some light as to why you want to ensure your gut is healthy and that you find ways to add more low carb high fiber to your diet.
Where fiber can prove to be tricky in a low carb keto plan, is that many foods high in fiber can also be high in carbs. However, this does not mean we should not include any fiber in our diet.
Which is why an option like my low carb high fiber breakfast muffins works so well.
We can include plenty of healthy low carb high fiber into our diet by consuming leafy green vegetables, nuts, seeds and small amounts of berries.
Benefits of Soluble and Insoluble Fiber
Fiber comes in two forms soluble and insoluble, with our bodies needing adequate amounts of both.
Soluble fiber can keep our hearts healthy because it passes through the digestive tract attracting cholesterol. For people with high cholesterol, this is can prove to be very beneficial.
Soluble fiber may act as a tool to prevent spikes in blood glucose and insulin. It makes sense to include fiber in your diet, especially if you are a diabetic. What's more, because your sugar levels are on an even keel, it may keep your hunger hormones also under control.
Because soluble fiber absorbs water as it passes through the digestive tract, it can help prevent diarrhea and constipation.
Insoluble fiber may aid in weight loss because it may increase satiety.
Insoluble fiber may help with our digestive health because it passes through the digestive tract into the colon where it can feed the gut microbiome.
Fiber is also considered a pre-biotic, which means fiber actually helps to feed the beneficial bacteria in our gut.
Now that I laid a little groundwork as to why fiber is important to our health, let's get into the fun part, my low carb high fiber muffin recipe.
Our Low Carb High Fiber Breakfast Muffins are studded with plenty of nuts and seeds and therefore high in fiber and protein. It's an easy and delicious way to add fiber to your diet. I hope you give it a try to let us know your thoughts.
If you are looking for more low carb keto-friendly high fiber recipes you might also enjoy the following recipes:
Low Carb High Fiber Breakfast Bread
Low Carb High Fiber Cheesy Crackers
Favorite Keto Tip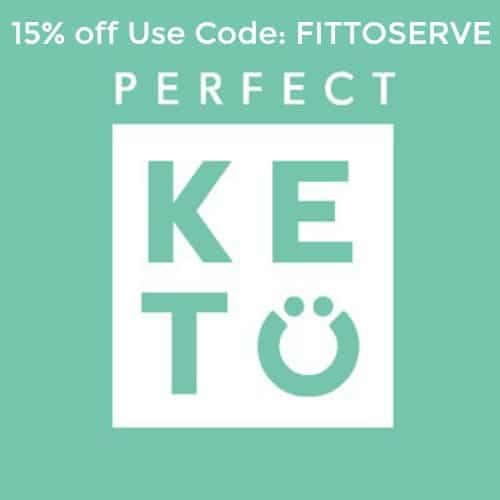 Perhaps, you've struggled to get into ketosis consistently on your low carb keto diet, or you've hit a plateau that doesn't seem to budge, consider using Perfect KETO exogenous ketones.
Use this link and get a 15% off discount when you place your order for any of Perfect Keto's products. Then add the code FITTOSERVE at checkout.
By using exogenous ketones you will naturally elevate your ketones allowing you to enter into ketosis more quickly.
Being in a deeper level of ketosis will help reduce your appetite, carb cravings, and give you lasting energy.  It's been our experience that the use of exogenous ketones helps make the low carb keto lifestyle a viable sustainable option.
Honestly, it's like having willpower in a cup.  Learn more about the science behind both exogenous and endogenous ketones and have your questions answered from a doctor's perspective.
Make sure you also pick up your free and complete guide to understanding ketosis. Then begin the ketosis diet easily with this Start-up Guide to the Ketosis Diet.
Wondering which foods you should avoid when doing Keto? This Keto Food Guide will assist you in doing the Keto Diet correctly.
Keto High Fiber Breakfast Muffins
A recipe for keto high fiber muffins. It's low in carbs yet high in fiber for one delicious healthy way to include more fiber into your diet.
Ingredients
1 cup golden flax meal
5 large eggs
1 cup of water
1/2 cup melted butter cooled or coconut oil
2 teaspoons vanilla extract
2 teaspoons cinnamon
3 teaspoon baking powder
¼ sea salt
½ cup walnuts
½ cup slivered almonds
½ cup of shelled pumpkin seeds
2 tablespoons chia seeds
2 tablespoons of flax seed
Topping:
¾ cup of nut and seed mixture
2 tablespoons of sugar-substitute
1 teaspoon of cinnamon
Combine and add a 1 teaspoon to each muffin before baking.
Instructions
Preheat oven to 325 F
Lightly toast walnuts, almonds, pumpkin seeds, and coconut flakes. Place in a large mixing bowl. *Reserve ¾ cup for the muffin topping.
To the toasted nuts, seeds and coconut flakes add flax meal, almond flour, sugar-substitute, cinnamon powder, baking powder, sea salt, chia seeds and flax seeds. Combine well until full incorporated.
Using an electric mixer beat the eggs, vanilla, water, melted butter or coconut oil.
To the wet ingredients add all the dry ingredients in step 2. Stir for about 5 minutes using an electric mixer until batter is thick and well combined.
Bake at 325 F for 20-25 minutes in a muffin-lined cupcake pans
Recommended Products
As an Amazon Associate and member of other affiliate programs, I earn from qualifying purchases.
Nutrition Information:
Yield:

16
Serving Size:

1
Amount Per Serving:
Calories:

185
Total Fat:

15.8g
Saturated Fat:

5.2g
Cholesterol:

59mg
Sodium:

56mg
Carbohydrates:

4.8g
Fiber:

2.9g
Sugar:

0.4g
Protein:

6.4g
SaveSave
SaveSave
SaveSave
SaveSave
SaveSave
SaveSave
SaveSave
SaveSave
SaveSave
SaveSave