This keto fried rice is full of flavor, low in carbs, and makes a great, tasty meal. It can be enjoyed by anyone doing a gluten-free, dairy-free, whole-30, or Paleo diet.
Plus, this cauliflower keto fried rice recipe can be made in as little as 15 minutes. It's perfect for busy weekdays, or anytime you need to bring dinner to the table quickly.
Stop craving Chinese "takeout" with this simple recipe that replaces regular long-grain rice with cauliflower rice. It's a keto meal the whole family will enjoy!
Although Chinese food is undeniably delicious, it is undoubtedly one of the highest in carbs.
Like most, I'm a major fan of Chinese food, but once I went low-carb or keto, I thought I would never be able to enjoy a plate of fried rice again.
Thankfully, I was wrong! This low-carb fried rice is about to change your keto meal planning!
The good news is that once you remove the high-carb rice from the equation and use cauliflower as a rice substitute, it's quite possible to make healthy, low-carb fried rice at home.
Keto Fried Rice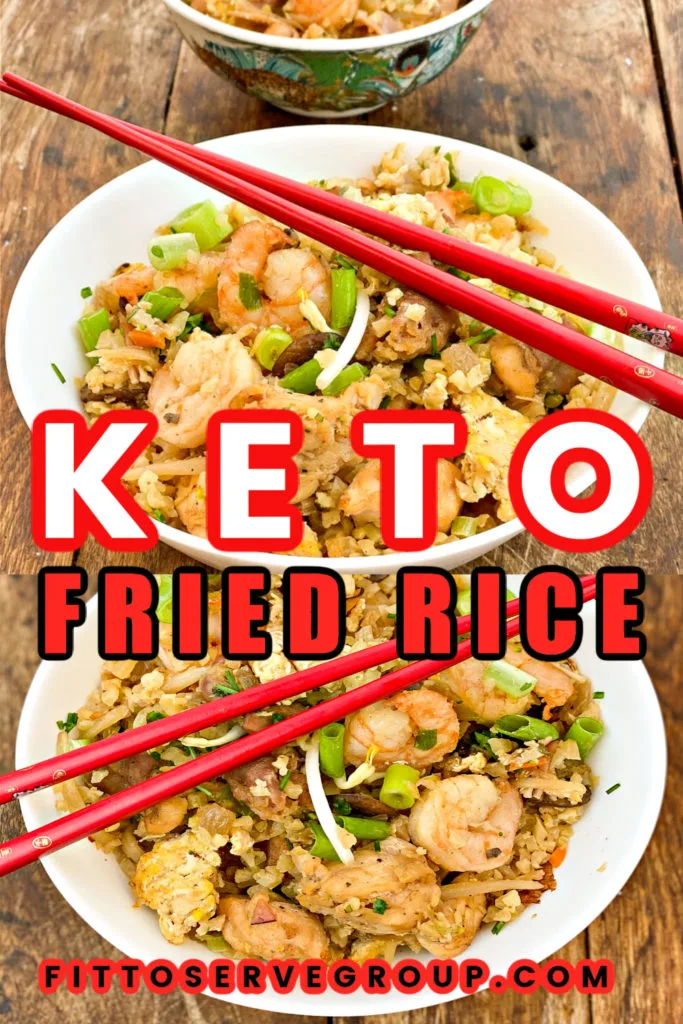 This recipe will allow you to have that "takeout" experience right at home without all the carbs that traditional fried rice has.
Do you know what's also great about keto fried rice? Well, besides the fact that it is way lower in carbs, it's also easier to prepare.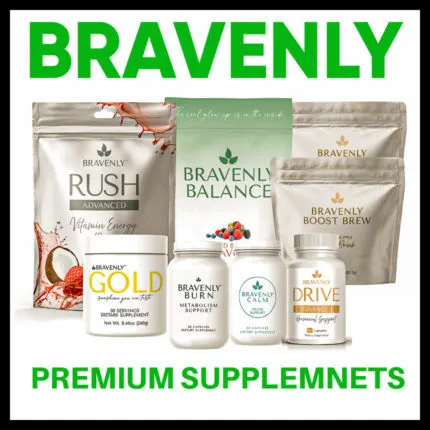 Cauliflower fried rice can be made with either frozen or fresh riced cauliflower, which works well in both cases.
Plus, if you go the frozen route, which I totally recommend because it's so much faster, it does not have to be thawed ahead of time.
If you grew up with rice being a staple, as I did in a Cuban/Dominican home, then using cauliflower instead of rice seems a bit impossible.
Here's the thing: cauliflower that has been grated into rice-like bits indeed has a similar texture to rice. It also soaks up all the flavor of its seasonings, as rice does.
And since cauliflower has a mild taste, it fools the palate effectively. The key is to season your cauliflower rice properly.
Ingredients Needed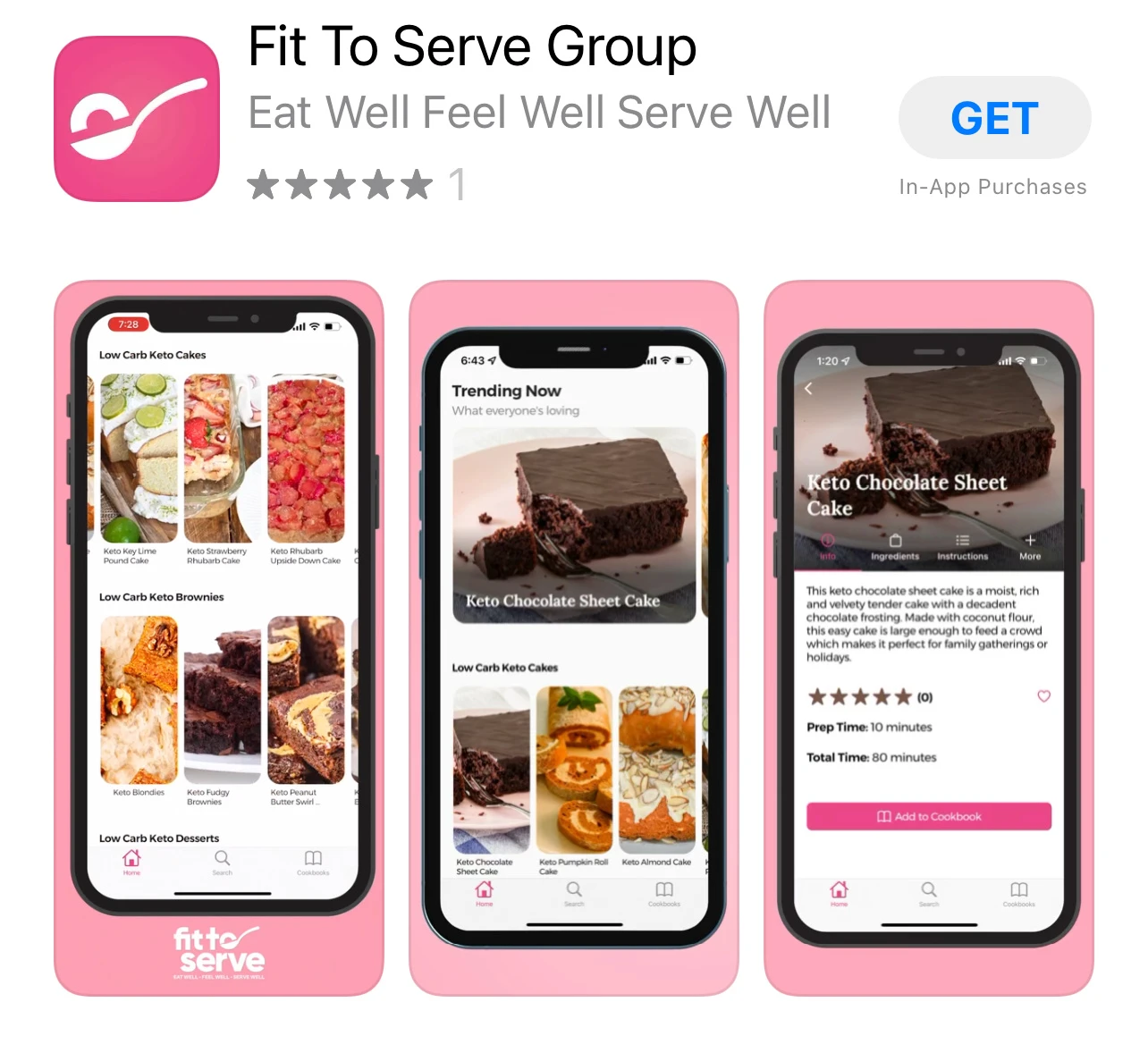 Cauliflower head, riced or frozen cauliflower rice, cooked.
Eggs
Fresh or frozen, uncooked shrimp
Ham cut into 1-inch cubes or sliced ham chopped into bite sizes
Scallions, finely chopped
Chicken breast cut 1-inch cubes
Sliced mushrooms, I used baby Belle
Fresh zucchini, chopped into small pieces
Bean sprouts
Garlic cloves, minced
Black pepper
Asian powder seasoning to taste.
Soy sauce or coconut amino acid to taste. (note that adding salt is unnecessary due to the soy sauce.)
How To Make Cauliflower Fried Rice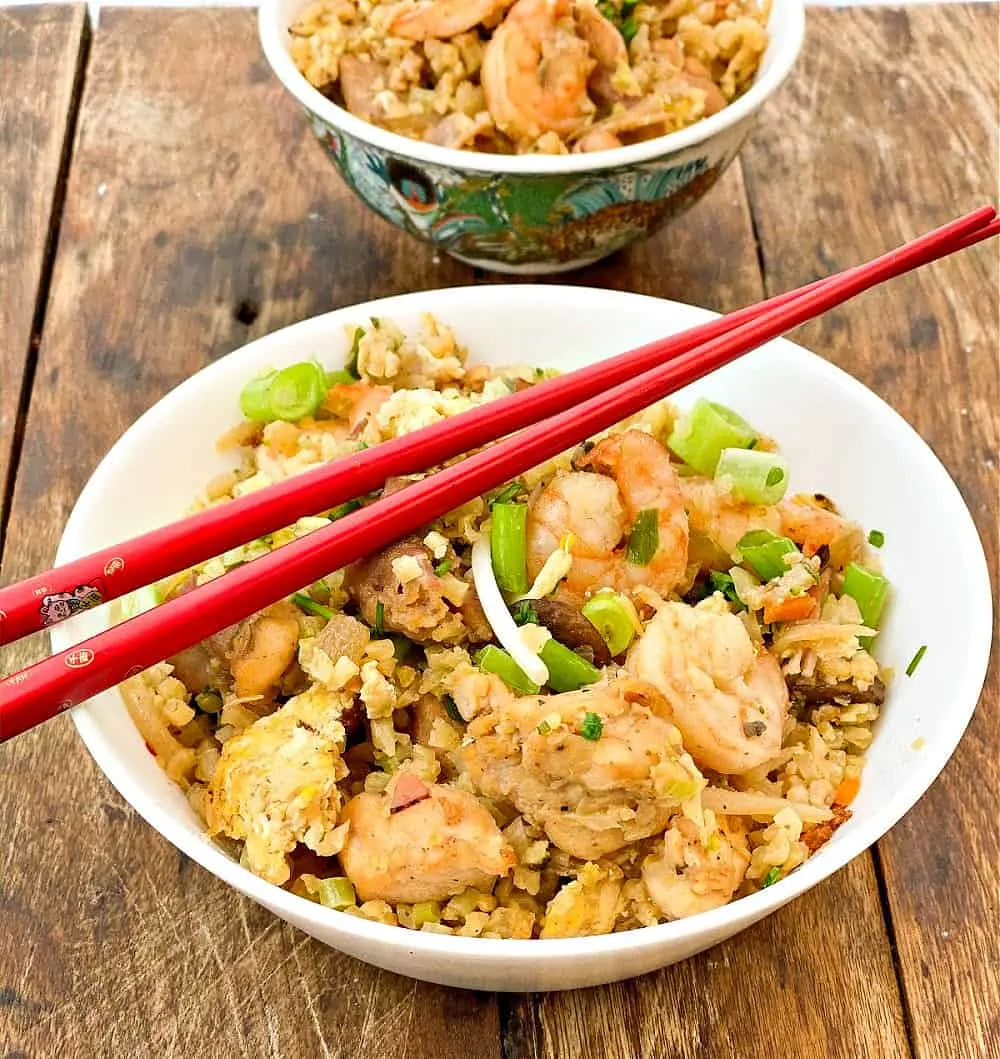 Disclosure: Some of the links below are affiliate links, meaning that, at no additional cost to you, I will earn a commission if you click through and make a purchase.
This recipe is not only a healthier option, but it's also super easy to make. What I also love about making fried rice at home is how simple it is to customize.
You have complete control over what you add to it, and therefore, it's not only low carb, but it's a meal that you can ensure has everything you enjoy and nothing you don't.
To make this recipe, you will need to either start with a fresh head of cauliflower that will need to be riced or use packaged cauliflower rice for added convenience.
These days, it's pretty easy to find frozen cauliflower in most supermarkets, but if you are not as fortunate, here are the instructions for making cauliflower rice.
Once you have the cauliflower riced, it's just a matter of sautéing the shrimp and chopped ham in a large, hot skillet or wok with some sesame oil.
Set them aside, cook the vegetables, scramble the eggs, and then add the riced cauliflower and cook until thoroughly steamed and tender.
Lastly, season with soy sauce and combine.
Do you see how easy it is to make keto-friendly homemade fried rice?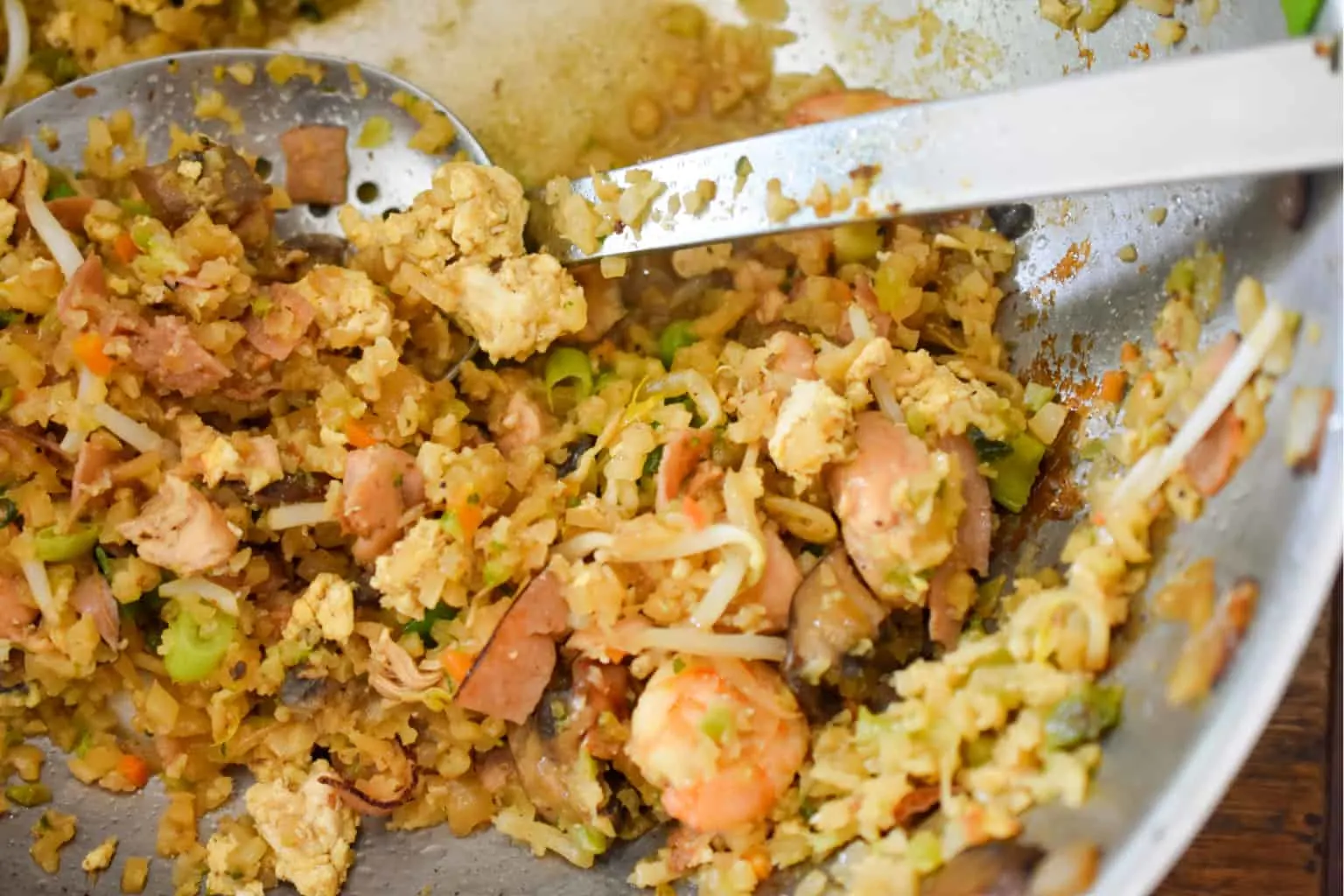 Low-Carb Fried Rice
Who doesn't appreciate easy meals? If you are anything like me, you want to offer your family healthy, keto-friendly meals that are also quick to make.
If you've been missing Chinese fried rice while doing keto, then this simple recipe for keto cauliflower fried rice will bring this favorite back into your meal rotation.
In fact, why not add it to our favorite meal planner and further save time?
Tag Us
This recipe was submitted by my dear friend, Martha Avila. She has been part of our Fittoserve Group since its inception and is one of our greatest supporters.
Martha sees the value of combining her Christian faith with the keto diet for greater transformation, and it's been our honor to support her on this journey.
She has a beautiful ministry helping women who may be facing a crisis pregnancy. As president of Heartbeat of Miami, her arms are always full of service to our community.
I sure hope you will give this keto-friendly fried rice recipe a try and will help us share it. If you give it a try, make sure you remember to tag us on Instagram, Facebook, and Pinterest.
Grab Our Books!
In case you don't know, I have authored two books for you, Essential Keto Bread and Essential Keto Desserts, both inspired by your requests over the years.
It's my prayer these keto cookbooks will help make keto a delicious breeze for you.
Join Our Jesus And Keto Movement
Looking for an online support system to help you stay on keto? As a family, we came to the keto diet, looking at it from a Christian perspective. As believers, we live our lives supported by God's grace.
So when the Holy Spirit led us to combine our Christian faith and the keto diet, we did so in hopes of finding lasting transformation.
When we followed the Holy Spirit's prompting, we got on the path to real transformation.
Knowing firsthand the benefits of this decision, we have created a closed Christian group that is using the keto diet to transform their lives.
We invite you to join our Private Facebook Group and see if it's not the key you've been missing.
Be sure to request our FREE Jesus and Keto E-Book (First 7 Days). We hope it blesses you.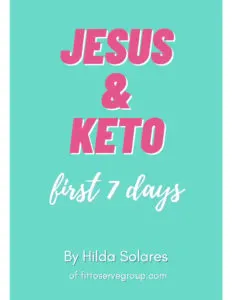 Fittoservegroup Keto App
Looking for a fast way to access our keto recipes? We've got you covered. There's an app for that. Yup, there's a Fit To Serve Group App, and it's going to make your keto diet a delicious breeze!
Access hundreds of recipes that are all sugar-free, gluten-free, and keto-friendly.
Enjoy early access to recipes before they go live on the website, plus bonus recipes that are exclusive to the app. Make your own personal cookbooks that you can use to organize your favorite recipes.
Search recipes by title, ingredients, keywords, and categories, and of course, every recipe shows complete nutritional facts.
Get the Fit to Serve Group App for easy-to-follow keto recipes made with easy-to-source ingredients.
The app is loaded with hundreds of yummy recipes for breakfast, lunch, dinner, snacks, and even desserts!
Learn more by visiting our Fit To Serve Group App Page.
Keto Fried Rice
This delicious keto fried rice is a delicious way to have a Chinese traditional dish without the worry of too many carbs. It uses cauliflower rice in place of regular rice making it a healthier option.
Ingredients
1 cauliflower head riced about 2 pounds or 2 pounds of frozen cauliflower rice cooked
3 eggs
8 ounces (1 cup) of fresh or frozen uncooked shrimp
8 ounces (1 cup) of ham cut into 1 inch cubes or sliced ham chopped into bite sizes
1 cup of scallions finely chopped, about 6 scallions
1/2 pound of raw chicken breast (1-inch cubes)
1 cup sliced up mushrooms ,I used baby belle
1 cup of fresh zucchini chopped into small pieces
8 ounces (1 cup) bean sprouts
2 garlic cloves crushed
1/2 teaspoon of black pepper
Instructions
Start by making the cauliflower rice or pulling the frozen cauliflower out of the freezer.
If making your own cauliflower rice, you can do so by chopping the whole cauliflower into eight even pieces and then using a box grater, rice the cauliflower, or using a food processor fitted with a grating disk.
You can also use frozen cauliflower for added convenience, and there is no need to defrost if doing so.
In a very hot large skillet or wok, place the sesame seed oil or oil of choice.
Cook the chicken breast chunks and set it aside.
Proceed to cook the ham and shrimp, and then set aside.
Next, add the diced vegetables, bean sprouts, scallions, and garlic until well sautéed.
Put all cooked ingredients in a mixing bowl and set aside.
Scramble the three eggs and place them in a mixing bowl with the cooked ham and vegetables.
Then, once all is cooked, put all the ingredients back in the wok and add the raw cauliflower, allowing it to steam lightly.
Sprinkle the Asian seasoning and the soy sauce and combine until fully incorporated.
Store leftovers in the refrigerator for up to 48 hours.
Recommended Products
As an Amazon Associate and member of other affiliate programs, I earn from qualifying purchases.
Nutrition Information:
Yield:

10
Serving Size:

1
Amount Per Serving:
Calories:

420
Total Fat:

10.1g
Saturated Fat:

6.9g
Cholesterol:

90mg
Sodium:

150mg
Carbohydrates:

6.5g
Net Carbohydrates:

3.6g
Fiber:

2.9g
Sugar:

1.5g
Protein:

39.5g