This recipe for keto ratatouille is a great way to enjoy the flavors of the French classic in keto-friendly form. It's a ratatouille that is low-carb, gluten-free, and vegan!
It contains all the delicious flavors of traditional ratatouille without having to spend hours cooking! This dish not only tastes amazing but is also a showstopper and will definitely impress your friends and family at dinner parties.
The good news is that this low carb ratatouille is simple enough to make for dinner, special occasion or not! And the best part? You can freeze your ratatouille so you can have some on hand whenever you need a quick keto meal or side dish.
If you're looking for more veggie-packed side dishes you'll love our keto baked feta zucchini. And be sure to check out our keto salad recipes for even more tasty options!
Keto Ratatouille
There are many versions of ratatouille out there and most are naturally low in carbs but I still wanted to create our own version being a big fan of the 2007 movie, Ratatouille that made the dish even more popular.
I wanted to create a dish that was as close to the elevated dish that Remy cooks up in the Pixar movie which was created by Chef Thomas Keller but that was still easy enough for a weeknight dinner.
After lots of research and going down the "rabbit hole" of ratatouille recipes, I created this version that I believe is simple to make, close to the movie original (often referred to as confit byaldi), and doesn't take all day to make. Winning!
Confit byaldi is a French dish where vegetables are roasted in a small amount of oil, creating a caramelized effect on the vegetables. Traditionally, it's baked very slowly for many hours, but I find that you can still achieve amazing flavor in less time.
This updated keto-friendly ratatouille confit byaldi is made with Japanese eggplant, zucchini, yellow squash, and tomatoes but you can use any summer squash and eggplants you have on hand. Perfect for those who love to grow their own veggies and find themselves with an abundance of zucchini and squash!
It features a pipérade which is a tomato and pepper sauce that is spread on the bottom of the dish, the veggies are then arranged in a fan, or spiral in the dish and baked to perfection. For that magic touch, this low-carb ratatouille is drizzled with a vinaigrette before serving.
How To Make A Keto Ratatouille
Now, even though this is a simpler version of the original it still takes a bit of patience and is more involved than our usual keto recipes. I promise it's worth the extra trouble and if you plan it right, it'll be a breeze.
You'll start by first making your keto ratatouille sauce by slowly cooking down your onions, garlic, peppers, tomatoes, and herbs. While the sauce cooks down and reduces is the perfect time to start slicing your tomato, eggplant, zucchini, and squash.
The most time-consuming element of this keto-friendly ratatouille is definitely cutting all of your vegetables into nice and even 1/4″ slices but you should be able to prep all of your vegetables in the time your sauce is ready.
Then you'll spread the sauce in the bottom of your baking dish and begin fanning out your sliced veggies in the sauce alternating between the tomato, eggplant, zucchini, and squash. Continue until you've filled the entire dish and sprinkle with salt, pepper, and herbs.
Before baking, you'll cover the low-carb ratatouille with parchment paper this helps the vegetables to steam while baking. You'll bake for 30 to 40 minutes until the vegetables are cooked all the way through and tender.
While your keto ratatouille is baking you can quickly prepare the vinaigrette by combining the olive oil, balsamic vinegar, salt, and pepper.
Before serving drizzle the vinaigrette over top of the ratatouille and enjoy the fruits of your labor!
The addition of vinaigrette is what truly brings the whole dish to life! It's the tang that just brightens the ratatouille and enhances the flavors of all the veggies and herbs.
keto ratatouille process pictures collage
The following are the basic ingredients you'll need for the ratatouille. Note the full printable recipe card is at the bottom of the page.
Keto-Friendly Ratatouille Ingredients
Zucchini

Summer Squash

Japanese eggplant (the long and skinny variety)

Roma tomatoes

Crushed tomatoes

Bell peppers

Garlic

Onion

Olive oil

Balsamic vinegar

Sea salt

Black pepper
Tag Us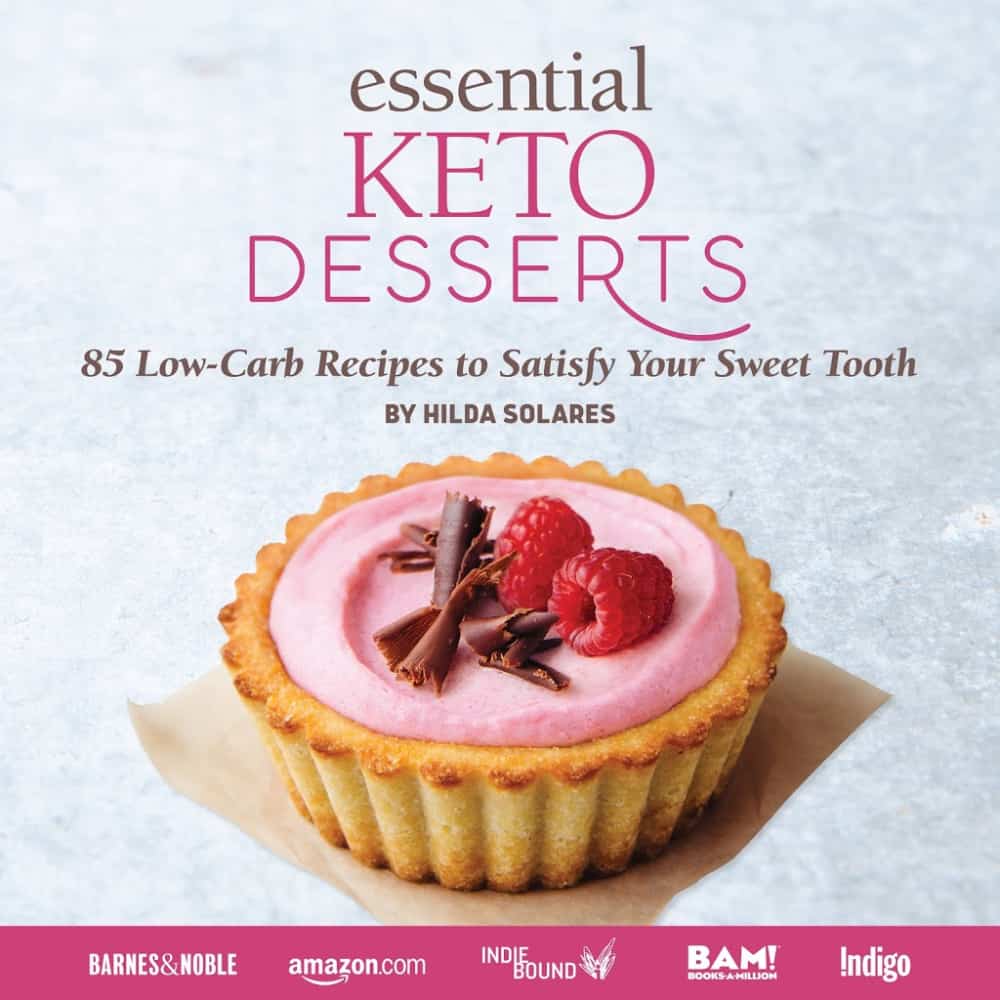 I sure hope you will give this keto ratatouille a try. It's the perfect side dish that can go with just about any meal. Once you do, make sure you remember to tag us on Instagram and Facebook.
Also, check out our Amazon Store for our recommendations. You might be surprised by how many great keto options are at your disposal.
Grab Our Books!
In case you don't know we have two books for you, Essential Keto Bread and Essential Keto Desserts both inspired by your requests over the years. It's our prayer these keto cookbooks will help make keto a delicious breeze for you.
Join Our Jesus And Keto Movement!
Randy and I came to the keto diet looking at it from a Christian perspective, it's the filter we choose to see from. When we decided to combine our Christian faith and the keto diet, we did so in hopes of finding lasting transformation.
To say we needed God's intervention is putting it mildly. When we followed the Holy Spirit's lead to embrace the ketogenic diet and to combine it with our faith, we got on the path to real transformation.

If you are looking for a Christian group that is using the keto diet to transform their lives we invite you to join our Private Facebook Group and see if it's not the key you have been missing.
Favorite Keto Meal Planner
If you've been looking for an easy way to meal plan, consider checking out my review on Real Plans.
By using a keto meal planner you will free up your time by streamlining the process. I hope you agree with me that the last thing anyone needs, is to spend hours attempting to put a meal plan together.
Real Plans will finally put an end to frustrating hours of trying to create healthy meals. After all, we all know how challenging it can be to meet the demands of our full lives.
I love how Real Plans understands that the average busy person has no clue how to meal plan successfully, let alone consistently. Plus you can even use our Keto Recipes to form to create your weekly meal plans.
Keto Ratatouille
This keto-friendly ratatouille recipe is a simplified version of the classic French dish, confit byaldi that's packed with flavor and won't kick you out of ketosis!
Ingredients
2 teaspoons olive oil
5 garlic cloves, minced
1 medium yellow onion, diced
1 red bell pepper, diced
1 orange bell pepper, diced
1 yellow bell pepper, diced
1 1/2 teaspoons sea salt
1 teaspoon black pepper
14 oz crushed tomatoes
2 medium yellow squash, sliced
2 medium zucchinis, sliced
2 Japanese eggplants, sliced
3 roma tomatoes, sliced
1.5 teaspoon fresh rosemary
20 basil leaves fresh basil leaves, chopped
1.5 teaspoons oregano
Keto Balsamic Vinaigrette
1 tablesoon balsamic vinegar
1/2 tablespoon olive oil
1/4 teaspoon sea salt
Instructions
In a small dish combine all the herbs and set aside 1 teaspoon of the mixture.
In a medium skillet on medium-high, heat the olive oil and add in the diced onions, garlic, and peppers. Stir occasionally.
When the onions start to become translucent, add in the crushed tomatoes and herbs.
Lower to medium-low heat and allow to simmer and reduce for about 15 minutes. The sauce is ready when the peppers and onions have fully cooked and the sauce has condensed down about one-third. Preheat the oven to 275 degrees.
In a 10-inch baking dish, spread the sauce evenly on the bottom. Add the sliced eggplant, zucchini, and squash alternating and overlapping to create a "fanning" effect.
Continue overlapping all around the dish until completely filled. Drizzle lightly with olive oil and sprinkle the reserved herbs and 1 teaspoon of salt and pepper.
Cover with parchment paper and bake until all the vegetables are tender, browned, and slightly caramelized.
While the keto ratatouille bakes, prepare your vinaigrette by combing the olive oil, balsamic vinegar, salt, and pepper.
Before serving, drizzle the vinaigrette and enjoy immediately.
Refrigerate leftovers for 3 days or freeze for up to three weeks.
Notes
Refrigerate leftovers for up to 3 days or freeze for up to 3 weeks.
Nutrition Information:
Yield:

10
Serving Size:

3/4 cup
Amount Per Serving:
Calories:

98
Total Fat:

2.4g
Saturated Fat:

0.3g
Cholesterol:

0mg
Sodium:

439mg
Carbohydrates:

17.9g
Net Carbohydrates:

9.4g
Fiber:

8.5g
Sugar:

9g
Protein:

3.9g