This keto chocolate chip pound cake recipe is the perfect combo of buttery dense pound cake and chocolate chips.
The recipe uses both almond flour and coconut flour for the ultimate texture. I find that by doing so you get the closest to a traditional pound cake recipe.
If you're a fan of rich flavorful pound cakes, you'll also love these almond flour cream cheese keto pound cake, coconut flour keto pound cake, chocolate marble keto pound cake recipes. All of which use only one type of flour and are also gluten-free, sugar-free, and keto-friendly.
Plus, any of the above recipes allows you to fold in sugar-free chocolate chips with great success.
In fact, I have an entire collection of growing keto pound cakes because apparently, I can't get enough type of cake!
I also have a recipe for keto chocolate chip muffins made with almond flour, that you should also check out.
Keto Chocolate Chip Pound Cake
Isn't pound cake simply amazing? It's not only delicious, but it's great for just about any occasion. Dress it up or enjoy plain, you really can't deny that it's a classic favorite for good reason.
And when it's a low-carb chocolate chip pound cake recipe, well it's also guilt-free. Winning!
Not only do you get the tender, buttery texture of pound cake in this recipe, but you also get to enjoy chocolate chips since these are sugar-free chocolate chips.
I mean what more can you ask for?
In my family, if you add sugar-free chocolate chips to anything, it's instantly a hit.
How To Make Keto Chocolate Chip Pound Cake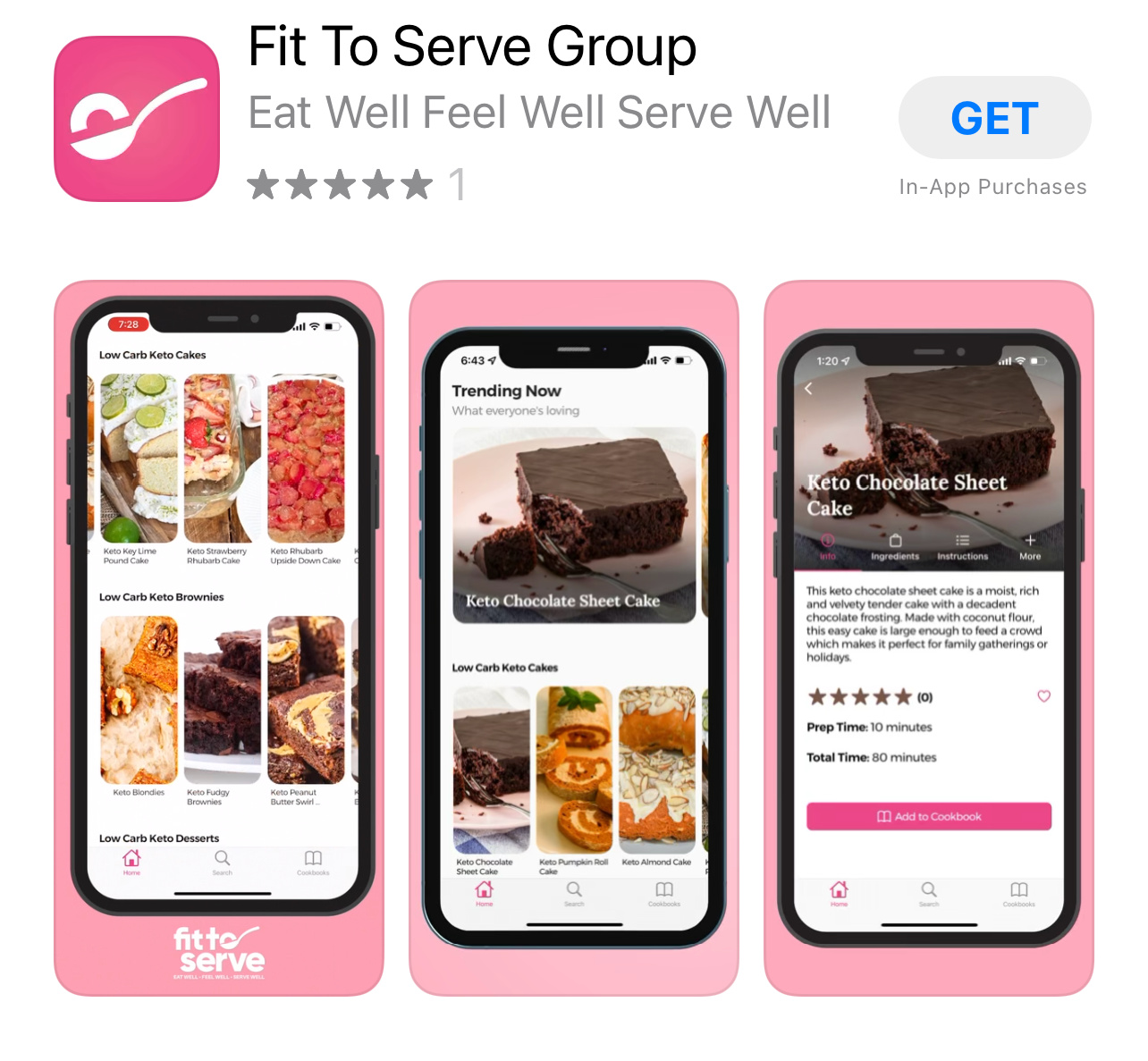 Disclosure: Some of the links below are affiliate links, meaning at no additional cost to you, I will earn a commission if you click through and make a purchase.
This recipe for chocolate chip keto cake is as simple as it is delicious. Meaning you can enjoy a keto cake studded with sugar-free chocolate chips regularly without any regrets.
It's a pretty straightforward recipe. You'll start off by greasing a 10×5 inch loaf pan and lining it with parchment paper with a couple of inches of overhang on the sides.
Using parchment paper will eliminate the stress of unmolding the cake since the overhang allows you to easily lift the pound cake from the pan. I highly recommend you not skip on using parchment paper with a heavy cake like this, it's worth the extra step.
Then it's just a matter of measuring your almond and coconut flour and sifting the almond flour.
If you're not used to sifting your almond flour it's something I recommend anytime I use it because it easily removes and bits of almonds that are not ground fine enough.
It will ensure that the texture of your cake is as close to its high-carb counterpart. For more tips like this, check out my keto baking tips and get consistent results every time.
After you've taken this step add the baking powder, salt to the bowl and set it aside. Next, you'll need to cream the butter with the sugar substitute until it's light and airy before adding the eggs.
Then gradually add the flours to your wet ingredients. Mix until fully combined and then fold in your chocolate chips.
Spread the batter evenly into the loaf pan and bake for 55-60 minutes or until an inserted toothpick comes out clean.
Next for the hard part, allowing it to cool for at least 20 minutes before removing it from the pan and then an additional 20 minutes before slicing. I know, I know, it will be hard to resist but trust me it's a recipe worth waiting for.
How To Add Chocolate Chips To Pound Cake
In case you are wondering how to add sugar-free chocolate chips to this recipe, it's a breeze to do so. Since there are not any extra steps or ingredients needed and you'll only be folding in the chips.
You see, since it's a dense keto cake, there is no reason to worry that the chocolate chips will sink to the bottom of the baking pan.
In a traditional flour-based cake adding chocolate chips would require tossing the chips in some flour to help prevent the chips from sinking.
Although that isn't necessary, what I do like to do is reserve a couple of tablespoons of sugar-free chocolate chips to add to the surface of the loaf as soon as it comes out of the oven. This makes for a lovely presentation and highlights the flavor of the chocolate chips beautifully.
The Ingredients You'll Need: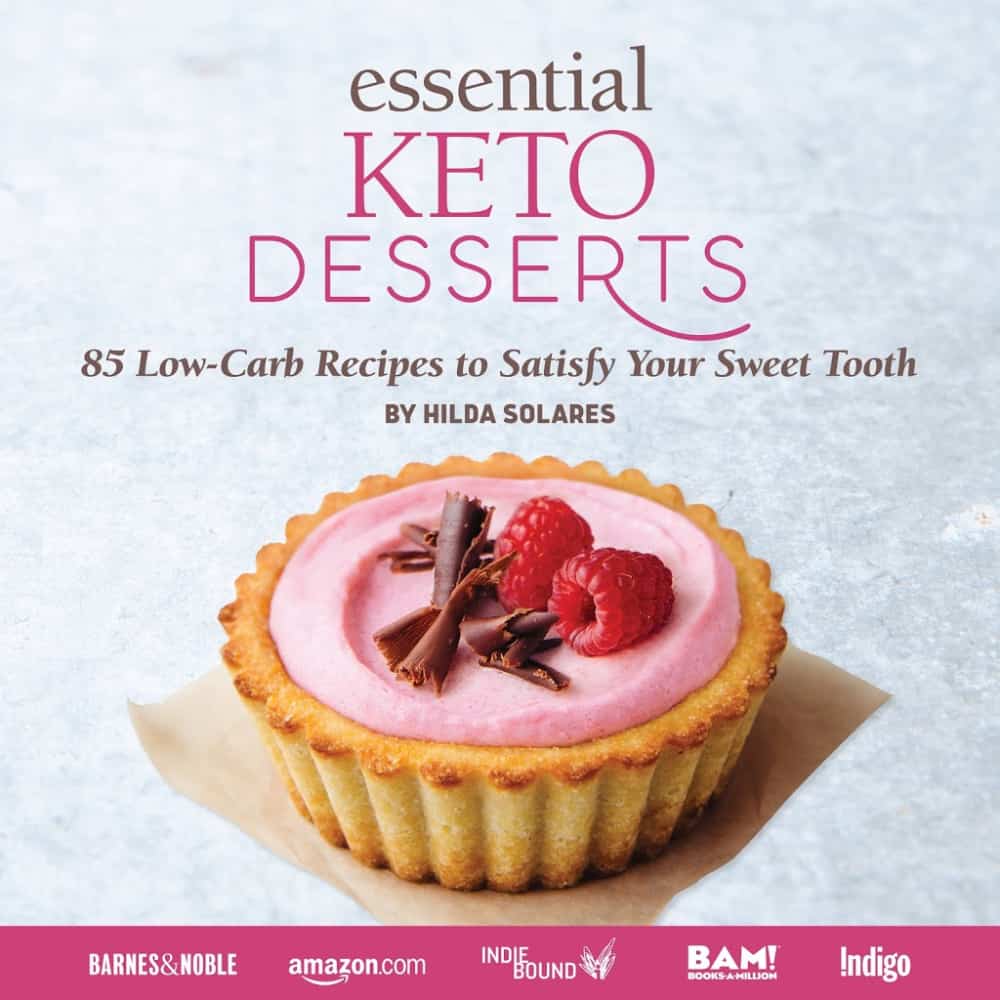 Whole eggs, room temperature
Cream cheese, room temperature
Vanilla extract
Baking powder
Sea salt
Tools Needed
I recommend using a sifter anytime a recipe calls for almond flour. It makes a big difference in the final outcome of the baked good as it ensures that no big pieces of almonds are in the batter.
I baked the pound cake in a well-greased 10×5 inch loaf pan. It's a larger loaf pan and necessary for the amount this recipe makes.
As I mentioned before be sure to grease the pan well and line the bottom with parchment paper with an overhang to make it easier to remove from the pan once baked.
You'll also need a mixing bowl and an electric mixer hand mixer or stand mixer.
I always like to use a silicone spatula when using an electric mixer to scrape the sides of the bowl to ensure everything is being mixed well.
Best Sugar Substitutes
As far as which sugar substitute to use for this keto-friendly chocolate chip pound cake, I have a few recommendations. If you are regular on our site you know I'm a huge fan of Lakanto Monk Fruit.
This is because the texture of Lakanto is spot on and since there is barely any aftertaste. It is a monk fruit and erythritol blend. If you have not given this all-natural sweetener a try, you have no idea what you are missing.
I love that Lakanto Monk Fruit is all-natural and it gets its sweetness from antioxidants called mogrosides, instead of fructose or sucrose. And it has zero calories and zero glycemic impact.
That being said, I'm also partial to Swerve another erythritol blend. It works well in this keto-friendly sour cream pound cake recipe and is a great choice if you are looking for a sugar substitute that has no bitter aftertaste and measures just like sugar.
Swerve is made from ingredients found in select fruits and starchy root vegetables and contains no artificial ingredients, preservatives, or flavors. Like Lankanto, Swerve has a 0 % impact on blood sugar.
I know some of you are stevia fans, If that's you, you can use the stevia and erythritol-based brand Pyure in this recipe. However, it's important to note that if you are using Pyure you will want to use 1/2 the amount called for in this recipe since it's a much sweeter option.
Lastly, if you cannot easily find a more natural sugar substitute you can also use Splenda with great success. You will want to use the Splenda that has a bulking agent. It's the one that comes in larger bags.
I don't recommend Splenda Bake because it's actually half sugar half sucralose product and will be too high in carbs to be considered keto-friendly.
Sugar-Free Chocolate Chip Options
When it comes to choosing which chocolate chips to use in this recipe I personally love Lily's semi-sweet chocolate chips for their lovely chocolate flavor and melting point.
If you prefer a more intense chocolate flavor you could also use Lily's dark chocolate chips, either one works beautifully and gives consistent results.
But if you can't get your hands on Lily's chocolate, you can also use Hershey's sugar-free chocolate chips. However, in this case, the chocolate flavor is not rich.
Another nice sugar-free option is ChocZero's Dark Chocolate Sugar-free Chips. As you can see you have several options that will keep the carbs low enough for you to enjoy.
Tag us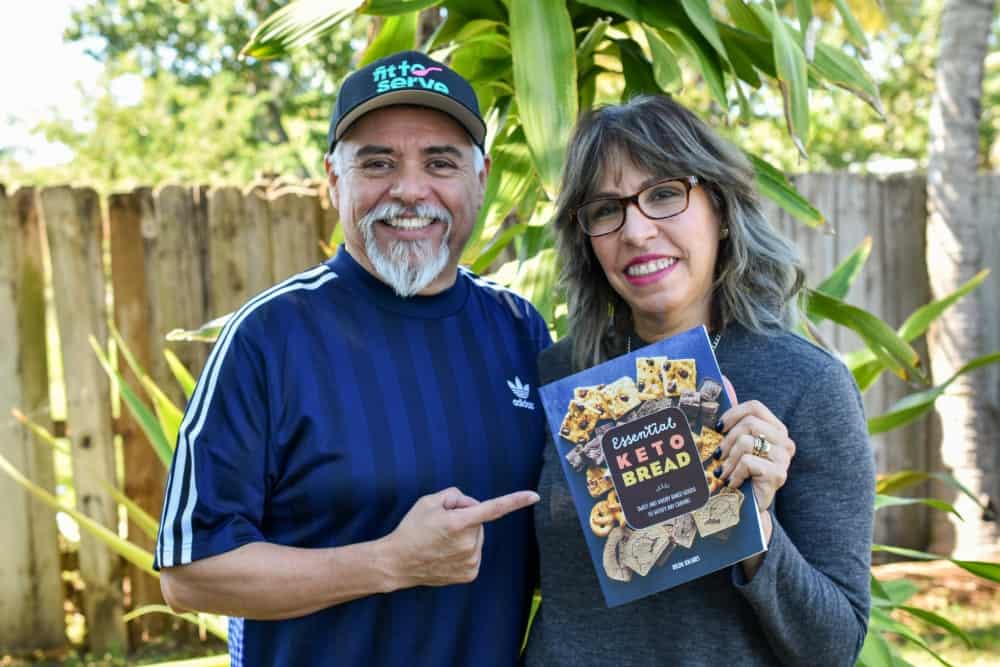 I sure hope you give this recipe a try and that once you do you will take a moment to tag us on Instagram and Facebook. It's what keeps us encouraged to keep sharing and perfecting our recipes.
In case you don't know I have authored two books for you, Essential Keto Bread and Essential Keto Desserts both inspired by your requests over the years. It's my prayer these keto cookbooks will help make keto a delicious breeze for you.
Also, check out our Amazon Store for our recommendations. You might be surprised by how many great keto options are at your disposal.
Looking for a sure way to master your keto baking skills? Be sure to check out my tried and proven keto baking tips that will make you a pro in no time.
Join Our Jesus And Keto Movement
Randy and I came to the keto diet looking at it from a Christian perspective. As believers, we live our lives supported by God's grace.
So when the Holy Spirit led us to combine our Christian faith and the keto diet, we did so in hopes of finding lasting transformation.
To say we needed God's intervention is putting it mildly. When we followed the Holy Spirit's prompting to we got on the path to real transformation.
Knowing firsthand the benefits of this decision we have created a closed Christian group that is using the keto diet to transform their lives. We invite you to join our Private Facebook Group and see if it's not the key you have been missing.
Note that once you click the link you will be prompted to answer a few questions that ensure that you understand what this group stands for.
Favorite Keto Meal Planner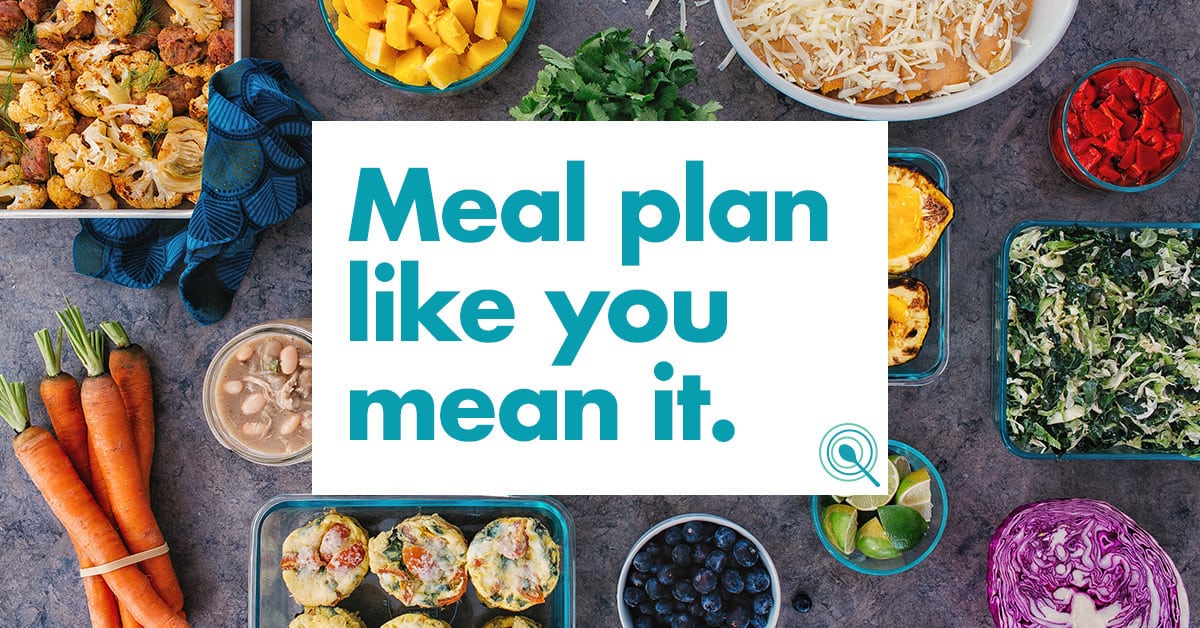 If you've been looking for an easy way to meal plan, consider checking out my review on Real Plans.
By using a keto meal planner you will free up your time by streamlining the process. I hope you agree with me that the last thing anyone needs, is to spend hours attempting to put a meal plan together.
Real Plans will finally put an end to frustrating hours of trying to create healthy meals. After all, we all know how challenging it can be to meet the demands of our full lives.
I love how Real Plans understands that the average busy person has no clue how to meal plan successfully, let alone consistently. Plus you can even use our Keto Recipes to form to create your weekly meal plans.
Keto Chocolate Chip Pound Cake
Additional Baking Time:
5 minutes
Total Time:
1 hour
5 minutes
This keto chocolate chip pound cake recipe is the perfect combo of buttery dense pound cake and sugar-free chocolate chips. The recipe uses both almond flour and coconut flour for the ultimate texture.
Ingredients
5 eggs , room temperature
8 ounces of cream cheese, room temperature
1 teaspoon of vanilla extract
2 teaspoons of baking powder
1/4 teaspoon of sea salt
Instructions
Grease a large 10x5 loaf inch pan and line it with parchment paper with a couple of inches of overhang on the sides. This will make it easier to unmold the cake once it's cooled.
Preheat the oven to 350 degrees.
Measure and sift the almond flour and place in a large bowl.
Next, measure the coconut flour and add it to the large bowl with the sifted almond flour.
To the large bowl add the baking powder and salt.
Using an electric beater mix the softened cream cheese, sugar substitute until light fluffy.
Add the unsalted room temperature butter and beat until well incorporated.
Next, add the vanilla extract.
Add the eggs one at a time be sure to combine well after each addition.
Slowly add all the dry ingredients one tablespoon at a time while continuing to use the mixer.
Fold in the sugar-free chocolate chips but reserve two tablespoons to sprinkle to the top of the loaf as soon as it comes out of the oven.
Add the batter to the loaf pan.
Bake the pound cake in the center rack for 50-55 minutes until an inserted toothpick comes out clean.
Allow the cake to cool in the pan for 10 minutes before lifting out of the baking pan and allowing it to cool completely on a baking rack before slicing about 20 minutes.
Store leftovers in the refrigerator for up to 5 days or freeze for up to 3 weeks.
Nutrition Information:
Yield:

15
Serving Size:

15
Amount Per Serving:
Calories:

325
Total Fat:

26.1g
Cholesterol:

99mg
Sodium:

143mg
Carbohydrates:

9.9g
Net Carbohydrates:

4.7g
Fiber:

5.2g
Sugar:

0.5g
Protein:

8.3g