Keto Banana Nut Bread, it has all the flavor of traditional banana bread minus the high carbs. How is that possible? Well, it's because this is keto-friendly mock banana bread and it does not use bananas in the batter. If you're wondering if you can eat bananas on keto, the correct answer is no.
Why not? Well, because bananas are high in fructose and therefore too high in carbs. But don't let that steer you away. Since this mock banana bread really delivers on both flavor and texture.
One bite of this moist keto banana bread and you'll have a hard time believing there are zero bananas in it. So there is no need to worry if this sugarless banana nut bread fits your macros because it does.
Although this recipe for keto banana bread does not use any bananas, you know what? It still tastes like it has ripe bananas. I'll admit I wasn't sure I could create a mock banana bread that could fool my taste buds.
You see after I went keto I thought I would never again enjoy a slice of banana bread. Which was kinda sad considering it was a staple in our home. But here's the thing, I learned years ago that the secret to moist delicious banana bread is the use of really ripe bananas.
Do you know what happens when a banana ripens to the point that the peel turns black? It becomes sweeter. Ugh, no doubt it's probably why this girl LOVED banana bread. But clearly, a super ripe banana means that it's also super high in carbs and a definite no on keto.
Keto Banana Nut Bread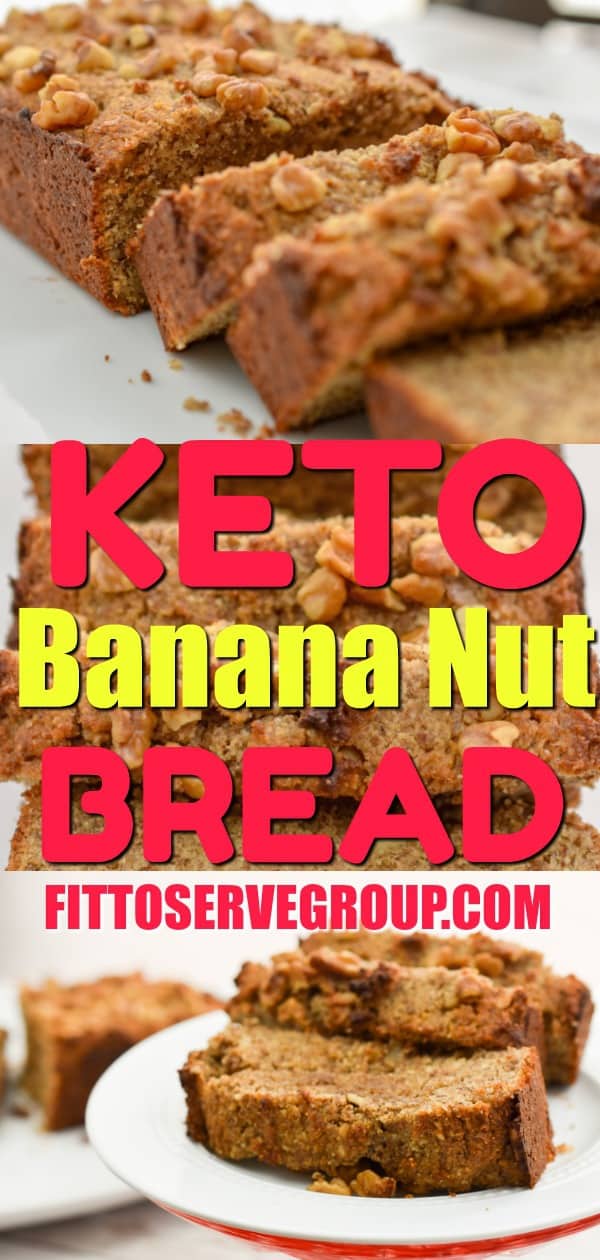 You should know, that for a good while now my daughter Michelle kept asking for a keto version of my banana bread. "Mom, can't you just add one banana to the batter?" "I mean how bad can one banana be?" And each time I would tell her no Michelle just no.
But why was I so sure it wouldn't be a good idea? Well because I had zero confidence that a green banana would any real banana flavor. So why bother adding more carbs if it made no difference?
Look I know there are some recipes out there that add some banana to the batter and still call it keto, but I just couldn't see myself doing this. Some of us really can't afford the extra carbs.
So I had to find a more keto-friendly way to enjoy all the flavor but leave out the high amount of sweetness a ripe banana adds. Adding one green banana to the batter was not an option for this girl. Remember when I used to make banana bread I would let my bananas ripen to the point that they were mush.
Keto-friendly Mock Banana Bread
If I was after that type of flavor a green banana would not cut it. But what if I could get the texture of the bread right and use a high-quality banana extract? Hmmmm now this I at least had to try.
I knew I could get the right mouth-feel for a keto banana bread by using some golden flax meal and psyllium fiber along with coconut and almond flour. All that would be left was finding the perfect substitute for banana flavor.
Is Banana Extract Keto-Friendly?
Disclosure: Some of the links below are affiliate links, meaning at no additional cost to you, I will earn a commission if you click through and make a purchase.
Right about you now you may be wondering Hilda, how on earth can you call this a banana bread recipe and not use any bananas? Well, that's where using a high-quality banana extract is the only way to gain flavor without the carbs.
A high-quality banana extract is indeed keto-friendly and can fit into your macros easily. And since a little goes a long way, it's a great option for anyone doing a keto diet that is missing the flavor of ripe bananas.
Not all banana extracts are the same so choose wisely. You want an extract that gives a ripe banana flavor. This of course is my personal preference.
OliveNation Pure Banana Extract works really well in giving that rich banana taste without it tasting fake. Your tastebuds will think you've cheated but they would be wrong.
Disclosure: Some of the links below are affiliate links, meaning at no additional cost to you, I will earn a commission if you click through and make a purchase.
Another great option is OOOFLAVORS,they really delivered with their banana nut bread extract. I knew it would work because their extract does not taste like the fake banana flavor you find in say candies. No, their extract really tastes like ripe bananas.
These people obviously understood that the banana flavor had to be one to mimic ripe bananas if it had a chance to fool our tastebuds.
It really delivers the flavor of ripe bananas perfectly. It's hard to believe that six little drops would deliver so much flavor but it does. It's actually a flavor concentrate so this explains the bold flavor of ripe bananas. And because it also includes a walnut extract in the mix it works really well in our keto banana nut recipe.
How To Make Keto Banana Bread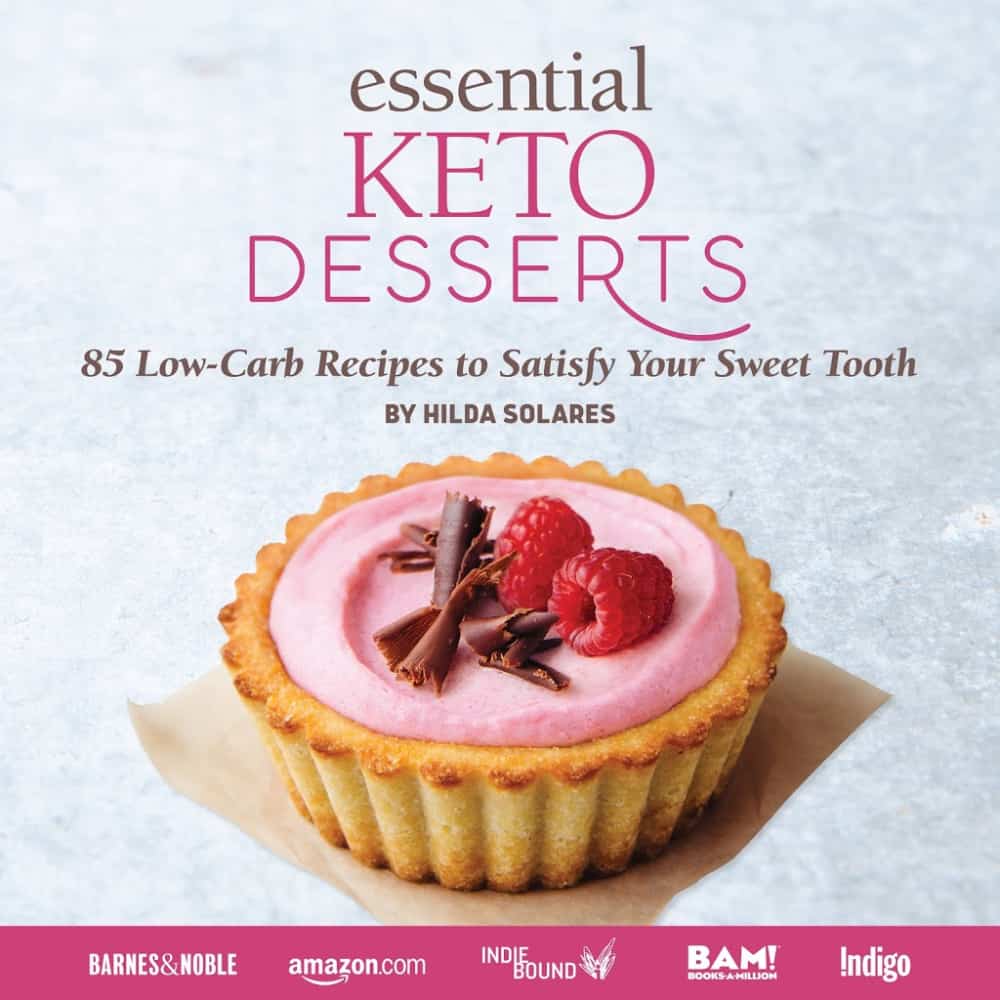 Keto Banana Nut Bread
You should know it's not the first time I make a mock recipe. I have a keto "corn" bread that tastes like it uses cornmeal.
In fact, I even have a keto cornbread that uses coconut flour. What's more, I even have a few mock apple recipes like my keto "apple" pie and my keto "apple" cobbler that uses chayote squash instead of real apples. Just like those recipes, this low carb banana bread recipe is a winner in our book. Plus all the ingredients are easy to come by.
Making this delicious mock banana bread grain-free, gluten-free, sugar-free, dairy-free and keto-friendly. Can I just say that I became a believer in the flavor of ripe bananas when the queen of banana bread in our family, Miriam shared her secret of using only bananas that are completely black?
Miriam's banana bread is a thing of legends in our family it's the one recipe she knows she will always get requests for. But alas for us, this side of the family needed an alternative if we were ever going to enjoy banana bread again.
But it's her recipe that had me on the quest for the right texture and flavor for this keto mock banana nut bread. So although, it's not exactly like her bread, missing her bread is what inspired us to give it a try.
The Flours
To get the perfect texture for this keto banana nut bread I used a combination of flours. This recipe uses almond flour, coconut flour, golden flax meal, and psyllium powder. An added plus about this recipe is that the use of all these flours also makes a keto high fiber bread.
I'm a big fan of sneaking more fiber into my recipes. Frankly, I feel that most people doing keto are not getting enough fiber in their diet. Fiber is something that's essential for our good gut bacteria to flourish. So trust me when I tell you it's a good thing that this is a high fiber keto banana bread option.
If you are a fan of adding more fiber to your keto diet, you should also check out our collection of keto high fiber recipes.
Spices
When it came to getting the right flavor for this keto mock banana bread I knew that in addition to a great banana extract that it also needed both ground cinnamon and nutmeg.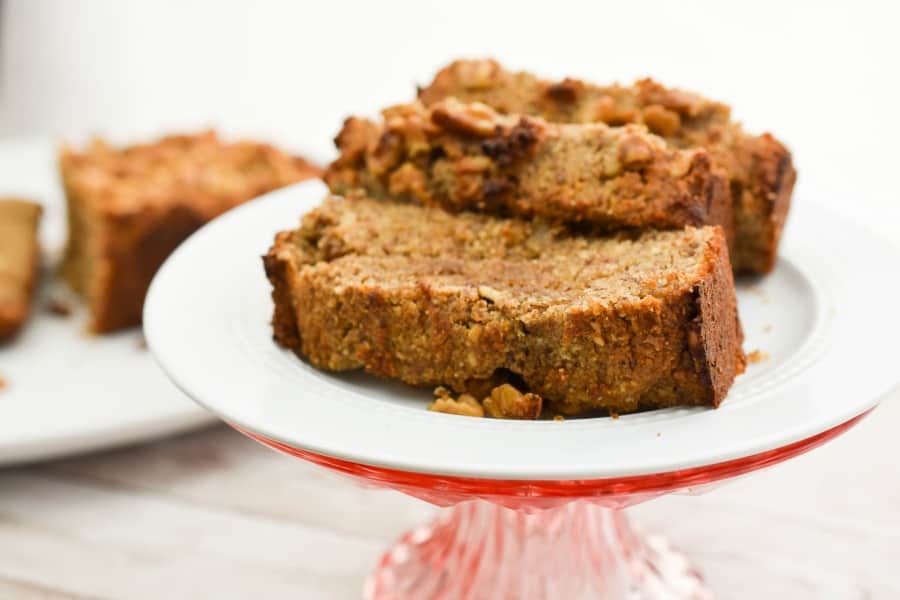 I know that not everyone adds these warm spices to their banana bread but I disagree because it really enhances the flavor. Of course, do make sure that your spices are fresh. This is important since stale spices have zero value and can even affect the overall flavor. I make it a point to replace my spices every season to ensure quality.
The Sugar Substitute
It's important to note that this recipe uses a substitute for brown sugar. Back when I used to make traditional banana bread I always used brown sugar. It's what I learned from Miriam the banana bread expert.
So I knew that using a brown sugar substitute was a must. My two favorite choices are Surkin Gold and Lakanto Gold. Either one works well. I also added a couple of tablespoons of sugar-free maple syrup to further mimic the texture of brown sugar in this recipe.
My favorite is Lakanto Maple Syrup and Choczero Honest Maple Syrup. They both work perfectly in this recipe.

How To Store Keto Banana Bread?
Once your keto banana nut bread has come out of the oven and allowed to fully cool, you can wrap it in cling wrap and store in your refrigerator for up to five days.
Alternatively, you can also freeze your banana bread loaf whole or in slices. Then simply allow for it to thaw overnight in the fridge or place in a 300-degree oven for 20-25 minutes until it's fully warm and defrosted.
Tag Us
I sure hope you will give this recipe a try. Once you do, make sure you remember to tag us on Instagram and Facebook. It's what keeps this girl encouraged to keep sharing and perfecting her recipes. Also, check out our Amazon Store for recommendations. You might be surprised by how many great keto options are at your disposal.
Grab Our Books!
In case you don't know we have authored two books for you, Essential Keto Bread and Essential Keto Desserts both inspired by your requests over the years. It's my prayer these keto cookbooks will help make keto a delicious breeze for you.
Favorite Keto Hack To Stay On Track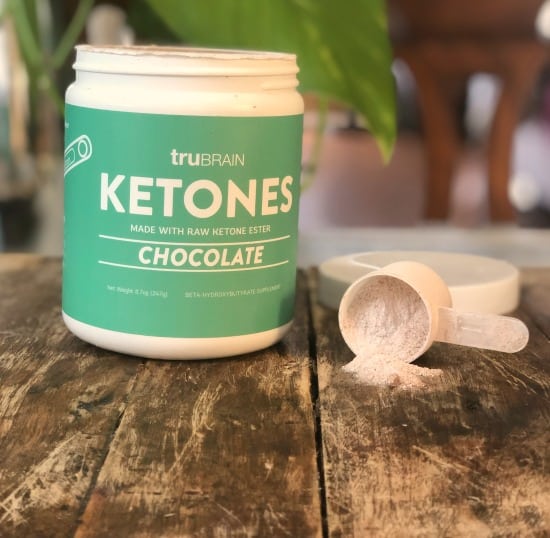 Make Keto Easy With Ketone Esters!
Supplementing with
Trubrain
ketones is a great solution for those who want to do a keto diet but find it hard to stay in ketosis or who simply want to raise their threshold of carb allowance.
For more information about Trubrain, I invite you to read my full review on Trubrain ketone esters.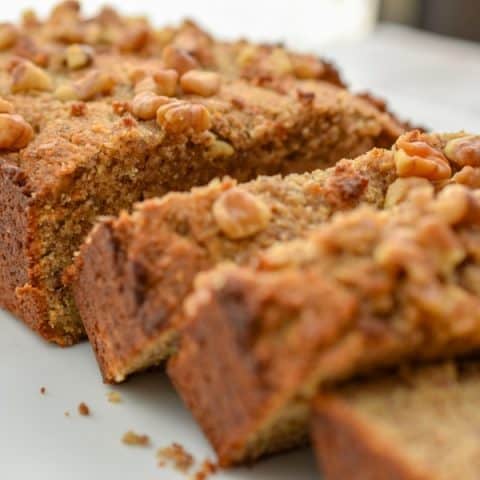 Keto Banana Nut Bread
Keto Banana Nut Bread is a mock banana bread that is low in carbs and keto friendly. The recipe uses banana extract rather than bananas. This low carb banana bread is sugar-free, grain-free, gluten-free, dairy-free. Get all the flavor and texture of banana bread minus the high carbs.
Ingredients
Keto Banana Nut Bread
1 teaspoon of vanilla extract
2 teaspoons of ground cinnamon
1/4 teaspoon of nutmeg
1/4 teaspoon of sea salt
3 teaspoons of baking powder
3/4 cup of chopped walnuts
4 large eggs
1/2 cup of coconut or almond milk
Instructions
Pre-heat oven to 350 degrees
Grease and line with parchment paper a 9x5 loaf pan.
In a medium-sized bowl mix the following dry ingredients: almond flour, coconut flour, salt, baking powder, psyllium powder, flax meal, and spices. Set aside.
Melt the coconut oil and allow it to cool.
Combine the coconut oil with the sugar substitute, maple syrup, banana extract, vanilla.
Next beat in the eggs one at a time. Mix until fully combined.
Then add to the wet batter the mixed dry ingredients and beat at low-medium speed until well incorporated.
Add ½ cup of almond or coconut milk and continue to mix.
Next stir in the walnuts, reserving a couple of tablespoons to add to the top of the banana loaf right before baking.
Place the batter into a well-greased 9X5 loaf pan that is also lined with parchment paper with an overhang of about 2 inches to be able to lift the loaf out of the pan once fully baked.
Bake at 350 degrees for 35-40 minutes or until an inserted toothpick comes out clean.
Allow the bread to fully cool before slicing.
Store in refrigerator for up to 5 days or freeze for up to 3 weeks.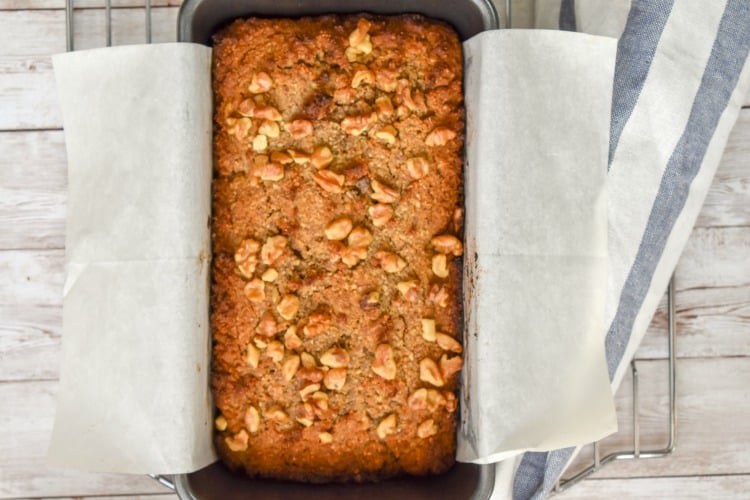 Recommended Products
As an Amazon Associate and member of other affiliate programs, I earn from qualifying purchases.
Nutrition Information:
Yield:

12
Serving Size:

1
Amount Per Serving:
Calories:

258
Total Fat:

24.2g
Saturated Fat:

11.2g
Cholesterol:

62mg
Sodium:

26mg
Carbohydrates:

6.8g
Net Carbohydrates:

2.3g
Fiber:

4.5g
Sugar:

0.9g
Protein:

7.3g