Ultimate Keto Fudge Flourless Cookies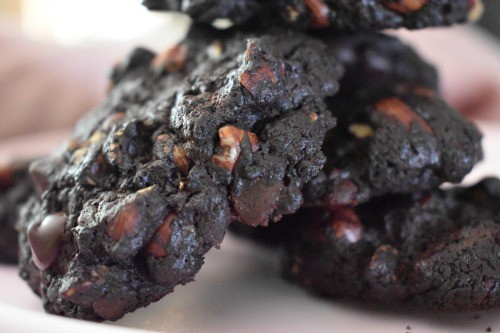 If what you want you are easy TRUE fudge flourless keto cookies, then you've come to the right place! This recipe will give you the most amazing keto fudge flourless cookies, I promise you won't be disappointed.
I am soooo excited to share my recipe for keto fudge flourless cookies with you today. There are moments when I create something that I wish I can reach out and give you a sample to convince you that it's a winner. With only a few basic ingredients this recipe offers the richest most fudgiest keto cookie recipe, dare I say, you will ever have.
So much so that I did the unthinkable and entitled them the ultimate keto fudge flourless cookies. Now  get that that's a pretty bold move, but honestly I encourage you to give them a test so you can understand my enthusiasm.
You may have guessed that this girl L O V E S chocolate. In fact, I've dedicated an entire category to low carb keto chocolate recipes.
It seems like I am always gravitating to something chocolatey to make for dessert. It's not that I don't enjoy other flavor profiles but chocolate always seems to find me.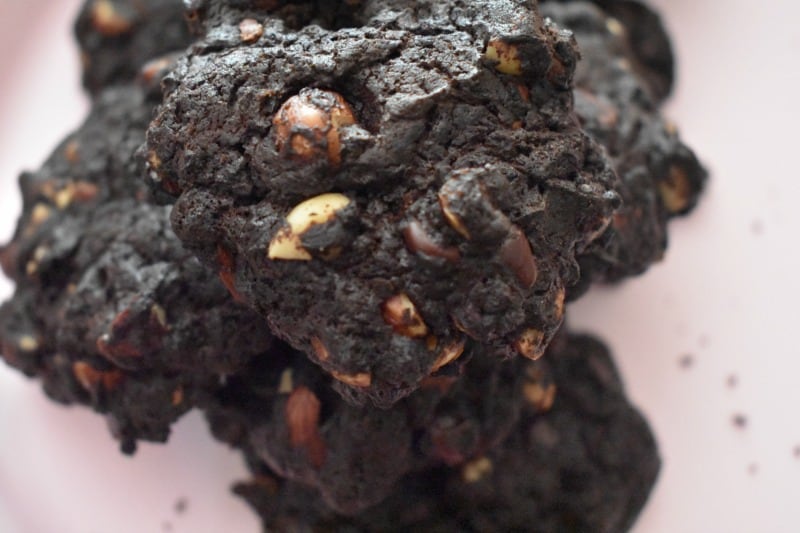 Rest assured though, I also have plenty non-chocolate treats for you to enjoy. Just visit the category section of our blog and have a look for yourself. Besides other keto recipes and I have lots of lifestyle tips.
With that being said, my love affair with chocolate means I am constantly looking to create a keto friendly option that will satisfy my chocolate cravings. Which is why a recipe like my keto fudge flourless cookies was destined to happen.
Keto Flourless Cookies
This challenge was conquered. What challenge do you speak of Hilda? That of creating a true keto fudge flourless cookie.
I want you to know that for a while now I kept attempting to make a flourless cookie that was low in carbs and keto friendly. I wasn't challenging myself to create a keto chocolate cookie that used alternative flours. No, I wanted a zero flour option.
You would think it would have been somewhat easy to make a flourless cookie using only low carb ingredients. But that my friends was sadly not the case.
Here's the thing, in a traditional chocolate flourless cookie recipe, you are simply combining powdered sugar, some egg whites and cocoa powder.
Logically, you could conclude that swapping the powdered sugar for a sugar substitute would mean success. The kind of success that allows you to put your feet up, eat your flourless keto fudge cookies and call it a day.
Unfortunately, life is just not that easy. It was a nice fantasy but not one that would manifest for a L   O   N   G time for this girl.
So I kept searching for the right combination of keto ingredients that would produce the PERFECT keto chocolate fudgy flourless cookies. And just when I was about to give up on this elusive idea, inspiration landed on my lap.
Stay with me for this, you're gonna want to read how my keto fudge flourless cookies were finally birthed.
Baking Successfully With Keto Ingredients Is A Science
Let me start off by saying, that I am not going to give you a false sense of security on this blog, one that leads you to believe that baking keto is always a breeze.  Truth is, if you end up with the wrong recipe, you could just find yourself tossing a lot of pricy ingredients. And that is soooo not cool with this girl.
Not only does it mean that you wasted a ton of product but you're also left feeling defeated by a failed keto recipe.
Well, I for one aim to not let that happen to you. If I can spare you from this pain I will. After all who want's to feel defeated by a recipe? That's just not acceptable in my book.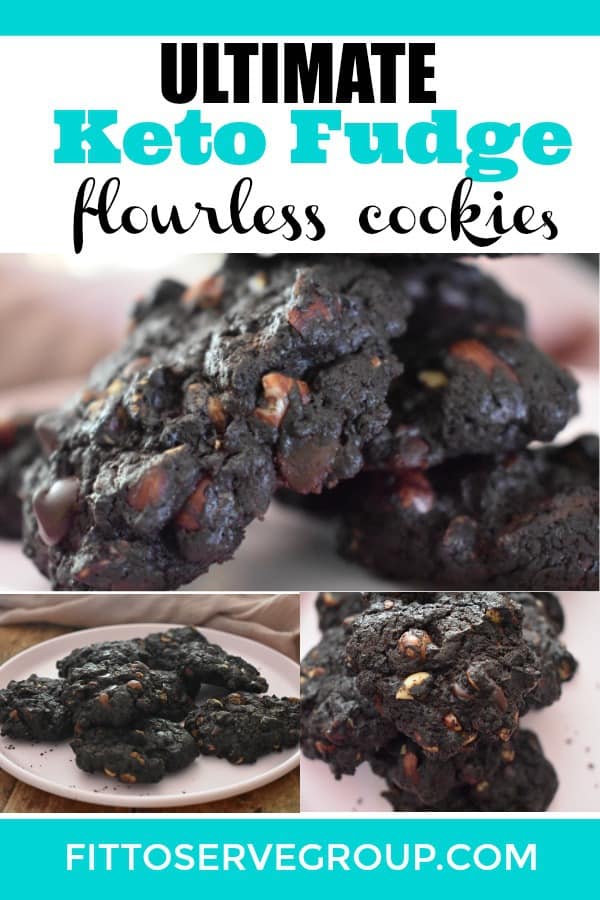 Although, I encourage you to try to convert your favorite recipes into a low carb keto option, I warn you to start with tried and true recipes first. Do yourself and your pocketbook a favor and stick to this advice.
Otherwise you may find yourself giving up completely. For tips on baking with keto ingredients visit my post on this very subject.
Once you understand the basic science behind keto baking, and you've baked a few of our recipes you will be ready to start your own experimenting.
Let me know once you do, so I can celebrate this milestone with you. I remember how thrilled I was when I began to understand the intricacies of keto baking. But do promise you will still visit us once you don that keto baking master hat.
With all that being said, this is why a recipe like my keto flourless hazelnut cookies are a great place to start. For one, you won't be using ANY flour alternatives, making the low carb baking process smoother.
That's because this keto flourless cookie uses ZERO nut or coconut flours in the recipe. None, nada, not even a tiny amount.
Secondly, these keto cookies only require a handful of basic ingredients. Can I hear an A M E N for keeping things simple?
So all this means, is that there is no need to feel intimidated by baking keto when you have recipes like this one. Pull out your apron, and get ready to finally bake a keto treat.
Creating New Keto Recipes
Have I told you how much I love our readers? And that I pray regularly for you? Well, I do. This is because it is our  mission to see you succeed. To assist you on your journey of truly being whole in spirit, mind and body.
Which is why I truly appreciate your input and why it thrills us when you take the time to leave a comment or send us an email. Finding support within this community is truly a powerful thing.
Whether it's for keto diet advice, a prayer request, or to simply suggest a new recipe, we welcome the opportunity to interact with you.
It's always been our desire to serve your needs and make your decision to go keto a sustainable, transformative one.
Connecting With Our Readers
Recently, I had Jaime Markovic, my keto buddy from Instagram, reach out to me about how she tweaked my Keto Fudge Pie recipe. In fact, you can thank her for giving me the inspiration I needed to finally create a keto fudge flourless cookie.
Hilda, I have to tell you what I did…doubled the keto fudge pie filling recipe. The store was out of bakers chocolate so I used some 100% dark chocolate from Trader Joe's instead. I also added a dash of vanilla and baked only the filling in a 8X10 pan, like when one would do for brownies. I then cut them into little squares and dusted them with Swerve's powdered sugar substitute. Then I hid them from kids. They are sooo good!! Again, thanks for the recipe.
That lovely comment opened the doors for me to ask her for details. I wanted to know what her creativity actually produced. I asked her, if using only the filling of the keto fudge pie produced a cookie, a brownie or a cross between the two?
As far as I can tell from our conversation, Jaime came up with her own little keto gem, a type of brownie that had a mousse like texture. She did exactly what I tell people all the time to do, she customized my recipe and made it fit her needs.
Jaime opted to not make the crust of my keto fudge pie, and ended up with an entirely new dessert.
It's brilliant because I understand that not everyone has the time to make a full on dessert that includes a keto crust or has all the ingredients on hand to execute a recipe exactly. Soooo, why not run with your own inspiration?
But Jaime Got Me Thinking…
Jaime's ingenuity got me pondering the possibility of using the base of my keto fudge pie filling as a launching pad for keto fudge flourless cookies.
What if with just a couple more tweaks I could finally conquer a true keto flourless cookie? I didn't know what to expect, but I was way too curious not to try.
After all, most of the recipes that are now a favorite here started as an experiment. A willingness to take a few risks in that keto kitchen of mine.
A Keto Fudge Flourless Cookie Like No Other
Now, I realize that there are quite a few good flourless cookie recipes out there. But what makes this one standout, is that it's also keto friendly. AND….. that it does not use any nut butters, nut flours or even coconut flour.
That my friends, I did not find out in the keto universe. Maybe I am wrong but I checked and checked and checked some more and kept coming up empty-handed.
My keto fudge flourless hazelnut cookies are extra special because it doesn't just not have any regular high carb gluten loaded flours in it, it's flour alternative-less ( having zero flour alternatives). Did I just try to make up a new word?
Without any flour whatsoever  you may be asking yourself how does this cookie hold up? Well, perfectly.
How? What gives it, it's structure?
You see these keto fudge flourless cookies may not have any form of flour or flour alternatives, but what it does have is a heavy dose of chocolate. You're welcome chocolate lovers. Why don't we take a quick moment and say a blessing over Jaimie's life for this amazing inspiration?
Keto Fudge Cookies Are Rich In Flavor, Yet Low In Carbs
Just one bite of these keto flourless cookies, and you'll understand my enthusiasm. Be prepared to experience an explosion of guiltless rich chocolate flavor.
They are glossy and near black in color due to the overwhelming amount of chocolate goodness in them.
In fact, it was a bit of a mission to photograph them perfectly for you. Thankfully our beautiful daughter Michelle, came to her mama's rescue and was able to capture the richness of these flourless gems.
When I told Jaimie my idea, she was a true sweetheart and encouraged me to go for it. With Jaime's brilliant idea safely in my back pocket, I had the courage to tweak that pie filling recipe and make a fabulous cookie for you to also enjoy.
All I did was I add 1/3 cup unsweetened dutch processed cocoa powder to the dough mix. That little extra cocoa powder was the magical key that transformed the keto fudge pie filling and made it into a keto flourless cookie option.
Disclosure: Some of the links below are affiliate links, meaning at no additional cost to you, I will earn a commission if you click-through and make a purchase.
I also chose to add hazelnuts and stevia sweetened chocolate chips to the keto cookie batter, because I just couldn't help myself.
However, this recipe doesn't need any nuts to make it work. So for my friends who cannot consume any nuts, you are free to leave them out. Or you could use any other nut option if you prefer.
These cookies are super rich and extra fudgy and one cookie will satisfy even the most intense chocolate craving.
Ingredients
I sure hope you will give this recipe a try. Once you do, make sure you remember to tag us on Instagram and Facebook. It's what keeps this girl encouraged to keep sharing and perfecting her recipes.
You be sure to also checkout our Amazon Store for recommendations. You might be surprised by how many great keto options are at your disposal.
A Favorite Keto Tip Of Ours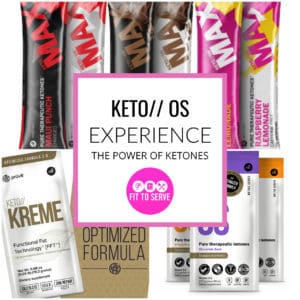 There are times that even the best keto cookie recipe can't stop a carb craving. Although, I try my best to offer you an iron-clad solution for when temptation strikes, sometimes you need something stronger.
This is where the use of Prüvit's exogenous ketones can prove to be an effective tool.
Not familiar with the fact that you can now also drink ketones? That you can take them exogenously? Well, it's a game-changer and you can read more about ketosis and how to enter into it quicker here.
Randy and I love sharing the benefits, because we have seen firsthand how it's helped many in our Fittoserve group community.
If getting into ketosis is the goal and if wanting to raise ketones can be a key to staying committed, then maybe you should consider the use of them too.
For detailed information about all of Prüvit's Keto/OS  products including a four-minute video that explains the science behind the technology, visit here.
As always, feel free to reach out to us with your questions. It would be our joy to assist you. Just fill in the comment section at the end of this post.
Ketone Testing
If you are wanting to do a keto diet effectively, don't forget to test your ketone levels. Although ketone strips work well initially, the Gold standard is the blood ketone test.This test is taken just like the glucose test that diabetics use to track their sugar levels.
After 10 seconds the ketone meter will give you an accurate reading. Testing is not necessary in order to do a ketogenic diet, but it can serve as a powerful tool to track your ketone levels and help you see your ketosis progress.
Keto Fudge Flourless Cookies
Ultimate Keto Fudge Flourless Cookies
---
Hilda Solares
Yields 2 dozen cookies
A recipe for keto fudge flourless hazelnut cookies. The recipe does not use any flour or flour substitute making it a great gluten-free option. If you omit the cup of hazelnuts, it is also a nut-free option.
45 minPrep Time
10 minCook Time
55 minTotal Time
Ingredients
4 ounces of unsweetened baking chocolate
½ cup of (I stick) unsalted butter
3 large eggs
1 cup of sugar substitute (I used Swerve Confectioners)
1/3 cup of Dutch processed cocoa powder
½ cup of sugar-free chocolate chips (I used Lily's brand)
1 cup of chopped hazelnuts (you can substitute any nut or leave the nuts out completely)
¼ teaspoon of sea salt
1 teaspoon of baking powder
Instructions
Pre-heat oven to 350 degrees
Melt the butter and chocolate together either in a double boiler or in a microwave. If using a microwave use the lowest setting and melt in intervals of 35 seconds.
Allow the chocolate and butter mixture to cool completely. (at least 15 minutes)
In a medium sized bowl, beat the eggs and sugar substitute on high until the mixture is thick and pale yellow. Up to 3 minutes.
Then add the melted butter and chocolate mix and beat another 3 minutes allow the batter to thicken.
Next fold in the cocoa powder, baking powder, and salt until fully combined.
Lastly add the sugar-free chocolate chips and chopped hazelnuts.
Refrigerate the cookie dough for at least 20 minutes before baking.
Line your cookie sheet with parchment paper.
Add your cookie dough to the cookie dough by using a tablespoonful
Slightly flatten the cookies and bake for 10-12 minutes. (you do not want to over bake these)
Allow the cookies to fully cool before removing them from the sheet and eating.
7.8.1.2
123
https://www.fittoservegroup.com/2018/05/23/how-to-make-the-ultimate-keto-fudge-flourless-cookie/
Nutrition
.
Nutrition Facts
Serving Size 1 cookie
Servings Per Container 24
---
Amount Per Serving
Calories 95
Calories from Fat 82.8
% Daily Value*
Total Carbohydrate 2.6g
1%
---
*Percent Daily Values are based on a 2,000 calorie diet. Your daily values may be higher or lower depending on your calorie needs.