These easy keto sugar cookies are not only delicious but also very festive.
Almond flour sugar cookies come to the rescue for those who want a recipe for low-carb sugar cookies that are also gluten-free.
It's a soft-baked vanilla keto sugar cookie recipe topped with colorful homemade sugar-free crystals.
They are sure to silence cravings for traditional sugar cookies and are slated to become among your favorite Christmas cookies.
With only 1.4 net carbs per cookie, these soft keto cookies make the perfect any-time-of-the-day snack!
These keto soft sugar cookies are fantastic for those monitoring their keto macros who want a sweet treat.
They're so easy to make and have the best texture for those who love a tender cookie. I'm sure you'll be making them over and over again!
If you're a big fan of cookies and are looking for more keto cookie recipes, then you'll be happy to know I've put together an entire collection of keto cookies!
This almond flour sugar cookie recipe was inspired by our keto sour cream cookies; they're perfect for when you are craving an old-fashioned cookie.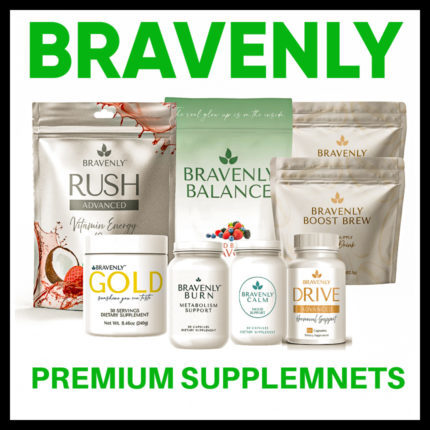 Keto Sugar Cookies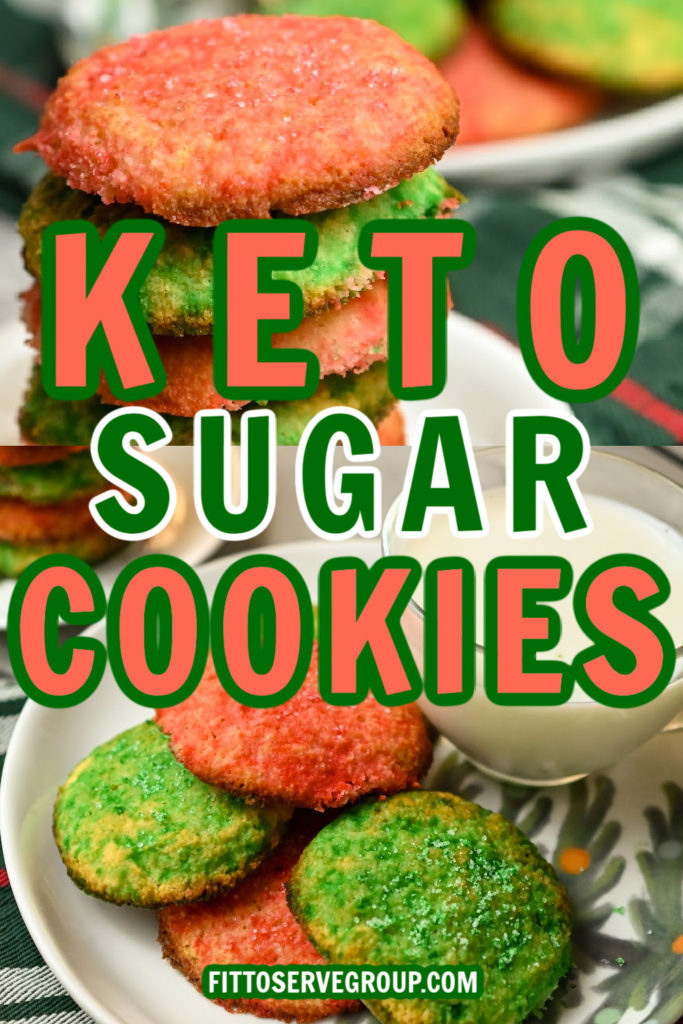 You might find adding sour cream to a cookie recipe strange, but trust me when I tell you, it just works.
When you add a dollop of sour cream to cookie dough, it adds a depth and richness that is simply magical.
The addition of sour cream gives these keto sugar cookies a slight tang and the feel of soft-baked old-fashioned cookies.
It's sure to be an instant favorite for anyone who tries them!
Plus, this recipe for low-carb soft sugar cookies comes together quickly and easily since you just need to form balls with the cookie dough and roll in the granulated sugar-free sweetener.
You can have holiday cookies that look just as festive as cutout low carb sugar cookies but without the use of cookie cutters.
I love how easy these sugar-free sugar cookies can be customized by simply making your own colored "sugar" crystals.
How To Make Keto Soft Sugar Cookies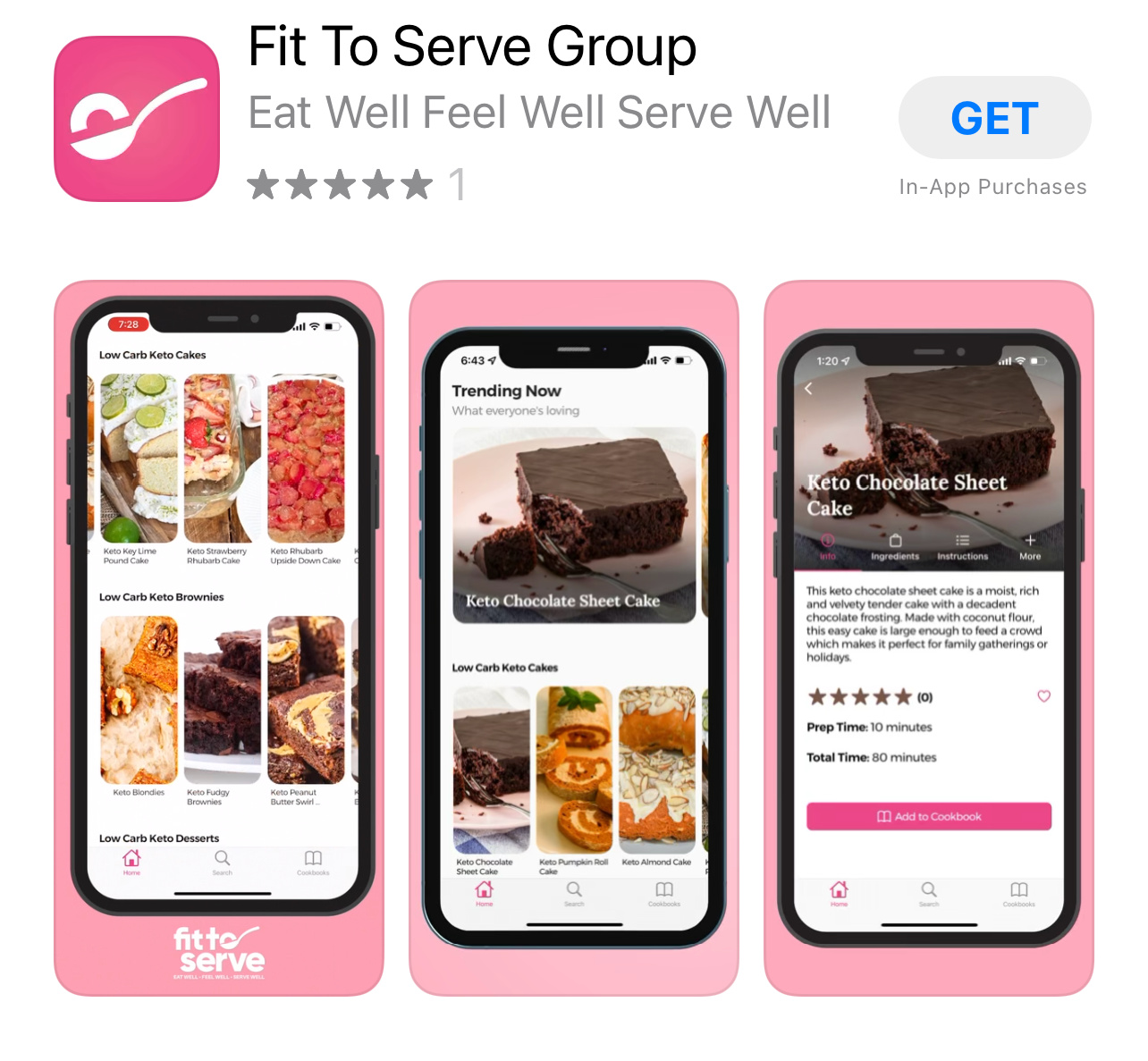 Keto Soft Sugar Cookies Ingredients
Disclosure: Some of the links below are affiliate links, meaning at no additional cost to you, I will earn a commission if you click through and make a purchase.
The following are the ingredients you'll need to make this keto sugar cookies recipe. Note that a printable recipe card can be found at the bottom of the page.
Materials Needed To Make Keto Soft Sugar Cookies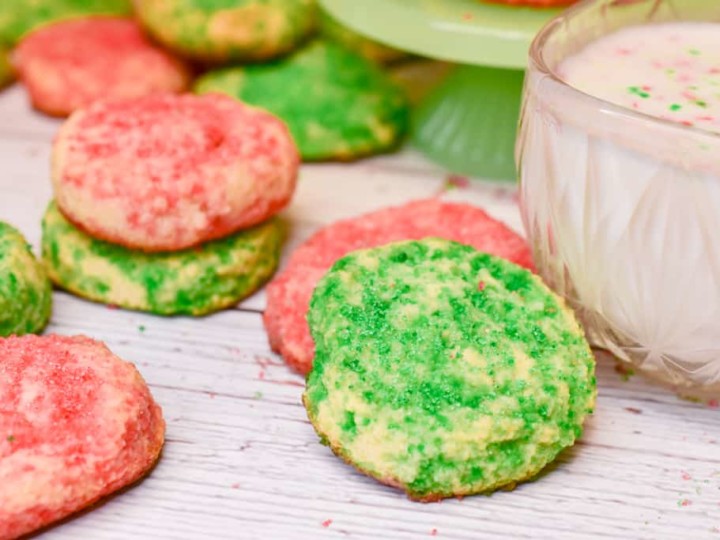 In order to make these keto-friendly soft-baked sugar cookies, you will need a few items. Thankfully, these materials are also pretty standard kitchen tools.
Keto Sugar Cookies Recipe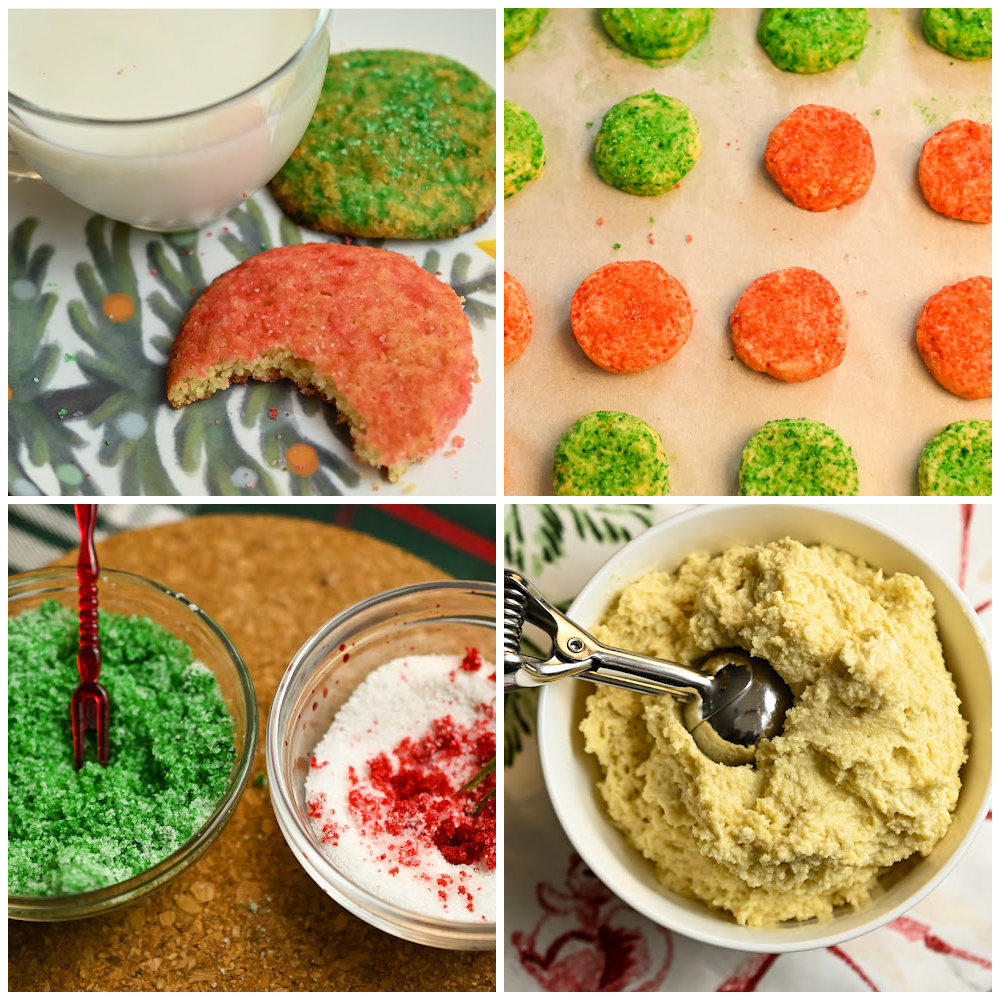 I decided to use some food coloring to make red and green colored "sugar" for decorating them into Christmas keto soft sugar cookies.
But any color would work for these buttery sugar cookies.
But any color would work for these buttery sugar cookies.
Use pastel colors for Easter or just red for Valentine's Day or green for St. Patrick's Day.
The sky is the limit when it comes to this cookie recipe!
This step is optional but makes for a fun and pretty cookie without spending tons of time decorating.
But really, you can leave out the food coloring entirely and still have a lovely option for sugar-free cookies.
A great thing about these low-carb soft sugar cookies is that they don't require any rolling or cutting of your cookie dough.
If you ask me, that's a win for a keto-friendly dessert when it gets busy in the kitchen.
This keto "sugar" cookie dough does require a little chill time in the refrigerator, so you'll have to plan accordingly.
I find that making the dough before dinner and allowing it to chill in the refrigerator while cooking gives just enough time for them to be ready to pop in the oven.
This way, they'll be ready to eat slightly warm and make for chewy sugar cookies courtesy of the "sugar" crystals.
Tinting Sugar-Free Substitutes For Cookies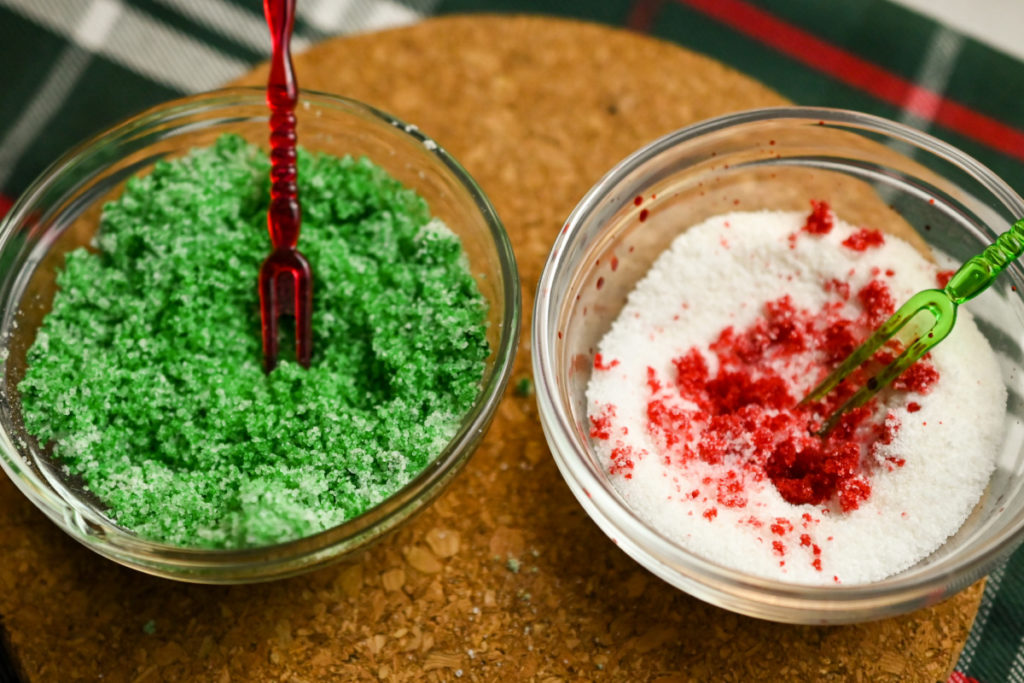 Making the tinted granulated sugar substitute is quick and easy! It also adds such a festive feel to your keto cookies!
I've tried making keto-colored sugar a couple of times, and I'm sure I've found the simplest way to mix it well.
The key is to use a sugar substitute that is actually granulated. My favorite to use for this is Lakanto monk fruit, but you could also use Swerve.
Unfortunately, Splenda's sugar substitute is not granulated and won't work for this.
To make the tinted "sugar" you'll simply add the desired amount of each color to a sandwich bag and add in a couple of drops of food coloring. I've found that four drops for every 1/4 cup work very well.
You can add more as desired but know that the more food coloring you add, the more likely it is to bleed onto the cookie dough.
This still results in a beautiful cookie and is more likely to occur when using sugar substitutes, but I assure you it tastes amazing!
Then you'll close your sandwich bag and massage the food coloring into the sugar substitute until it's thoroughly combined and even.
Alternatively, you can just combine the food coloring and sweetener in small bowls with a long toothpick.
I also prefer to use natural food coloring, and I've linked my favorite, but you are free to use any food coloring you like.
The trick is to use a tiny bit at a time since a little goes a long way here.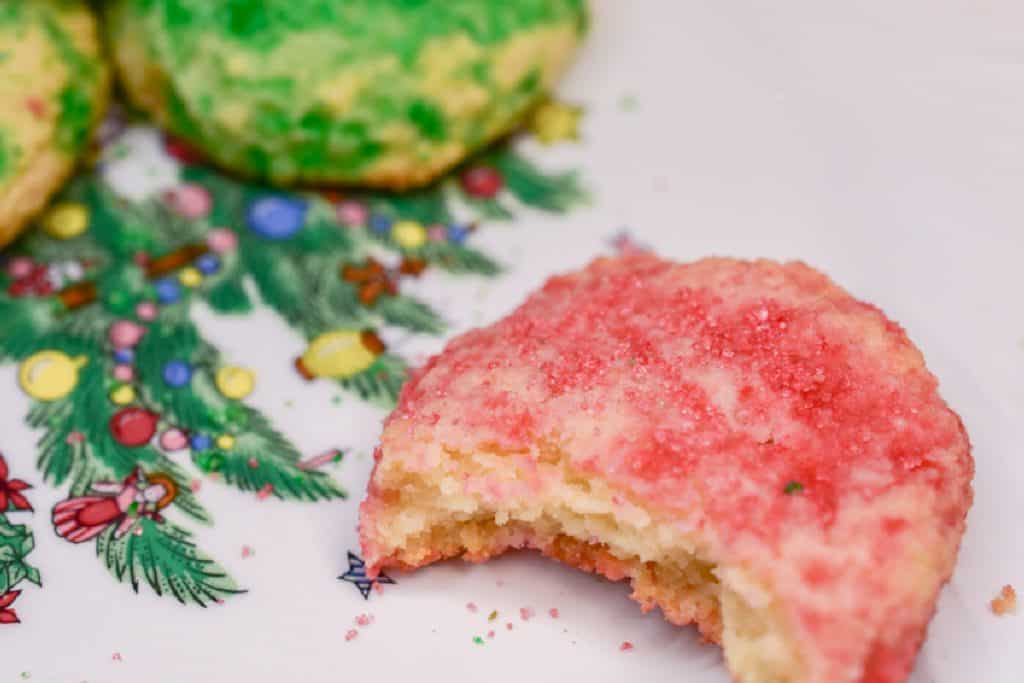 Sugar Substitute Options
When it comes to choosing which sugar substitute to use for the base of these sugar-free soft sugar cookies, I have several options for you to pick from.
My number one choice is Lakanto Monk Fruit n because the texture and flavor are what I have found to be the closest to real sugar.
And because the flavor fools your taste buds like nothing else I've found in the market. It works great to make the colored "sugar" topping for the cookies.
Having said that, I'm also partial to the brand Swerve which is an erythritol blend. Similar to Lakanto, it uses sugar alcohols and has 0% impact on blood sugar. Swerve also works great for the colored "sugar."
Personally, I don't like using stevia because I am sensitive to the aftertaste. But if that's not the case for you, you could certainly use the stevia and erythritol-based brand Pyure for this cookie recipe.
However, if you go this route, I wouldn't recommend adding the colorful "sugar" because it's much sweeter than most sweeteners.
Tag Us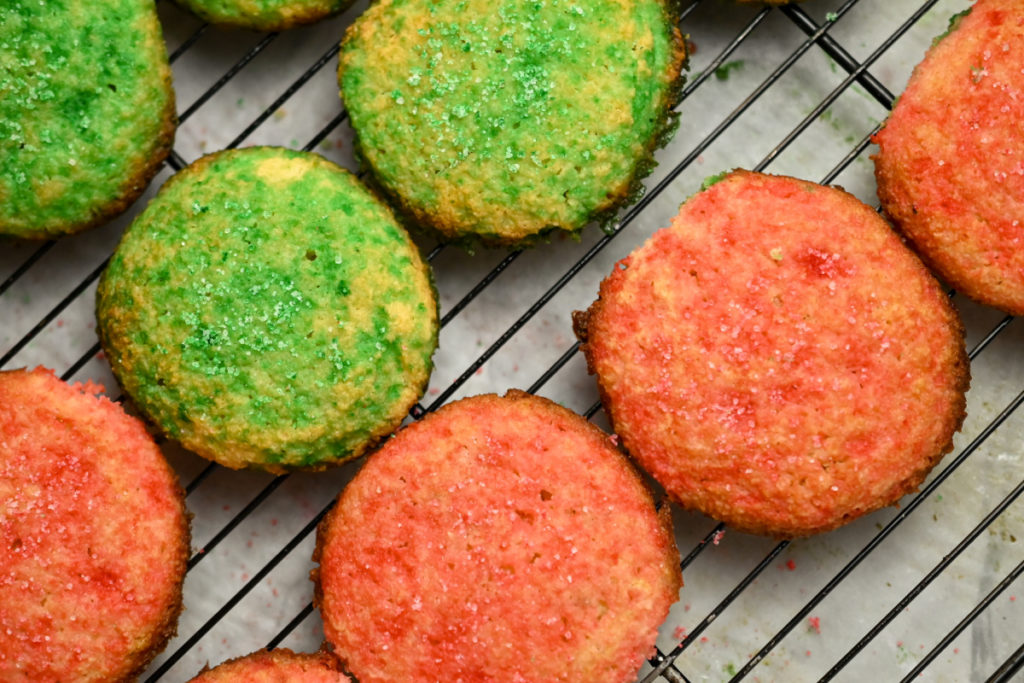 I sure hope you will give this keto holiday sugar cookie recipe a try. Once you do, make sure you remember to tag us on Instagram, Facebook, and Pinterest.
It's what keeps us encouraged to keep sharing and perfecting our recipes.
Also, check out our Amazon Store for our recommendations. You might be surprised by how many great keto options are at your disposal.
Grab Our Books & Keto App
In case you don't know, we have authored two books for you, Essential Keto Bread and Essential Keto Desserts, both inspired by your requests over the years.
It's my prayer these keto cookbooks will help make keto a delicious breeze for you.
Gain access to simple and delicious recipes for breakfast, lunch, dinner, snacks, and even desserts with our FITTOSERVEGROUP APP.
Join Our Jesus And Keto Movement
Looking for an online support system to help you stay the course on keto? As a family, we came to the keto diet looking at it from a Christian perspective. As believers, we live our lives supported by God's grace.
Knowing firsthand the benefits of this decision, we have created a closed Christian group using the keto diet to transform their lives.
We invite you to join our Private Facebook Group and see if it's not the key you have been missing.
Be sure to request our FREE Jesus and Keto E-Book (First 7 Days) We hope it blesses you.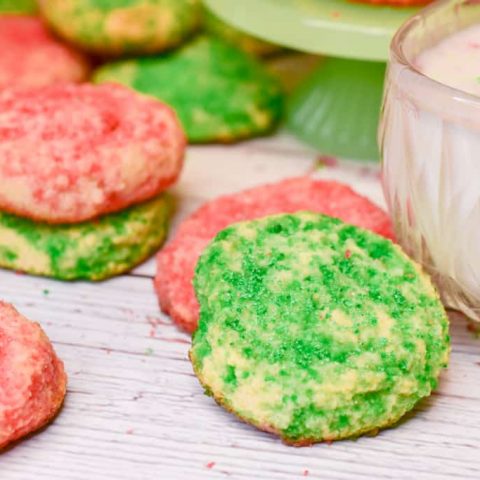 Keto Soft Sugar Cookies
These keto soft sugar cookies will remind you of the old fashion cookies you grew up on. They make the perfect holiday cookie recipe.
Ingredients
1/2 cup of unsalted butter, room temperature
2 large eggs, room temperature
1/2 cup of full-fat sour cream
1 teaspoon of vanilla extract
1 1/2 teaspoons of baking powder
1/4 teaspoon of sea salt
Keto Sugar-free Topping
Instructions
Measure and sift the almond flour and set aside.
In a medium-sized bowl, using an electric mixer combine the softened butter, granulated sugar substitute, and vanilla extract. Mix until light and fluffy.
To this mixture, add the 2 eggs one at a time and the sour cream. Combine until well incorporated.
Next, add the sifted almond flour, baking powder, and salt, and mix until just combined.
Place the cookie dough in the refrigerator and allow it to chill for 30 minutes before baking.
Preheat the oven to 350 degrees.
To make the sugar-free topping. place the granulated sugar substitute and food coloring in a sandwich bag. Massage the bag until the sugar substitute, and food coloring are fully combined.
Transfer your tinted "sugar" into small shallow bowls.
Using a small cookie scoop, place the dough into the bowl of sugar and lightly cover it with the "sugar."
Then place the dough on a lightly greased baking sheet or parchment-lined sheet and press down to flatten the cookie.
Bake the cookies in the preheated oven until lightly brown around the edges, about 10-12 minutes.
Allow the cookies to fully cool on a baking rack and enjoy!
Store leftovers in the refrigerator for up to 5 days or freeze them for up to 3 weeks.
Nutrition Information:
Yield:

24
Serving Size:

1
Amount Per Serving:
Calories:

119
Total Fat:

10.7g
Saturated Fat:

3.6g
Cholesterol:

26mg
Sodium:

39mg
Carbohydrates:

2.7g
Net Carbohydrates:

1.4g
Fiber:

1.3g
Sugar:

0.1g
Protein:

3.2g