This keto poppy seed pound cake is moist, delicious, and sure to be a fast favorite for breakfast or dessert. It's a keto lemon poppyseed pound cake that combines the flavor of lemon and the texture of poppy seeds beautifully.
Every bite of this low-carb poppy seed pound cake delivers a zing of lemon and the perfect crunch courtesy of the poppy seeds.
Using the base of our popular almond flour keto cream cheese pound cake I was able to easily achieve a poppy seed cake that was not only low in carbs but guaranteed to be flat-out delicious!
If you're needing a tree-nut-free option you can use the base of our coconut flour keto cream cheese pound cake and then follow the other steps in this recipe. Bottom line, I've given you no excuse as to why you can't enjoy a poppy seed keto dessert.
Keto Poppyseed Pound Cake
There is no denying that we here at FITTOSERVE love our pound cakes, with a complete keto pound cakes collection as proof.
Honestly, it's because pound cakes are not only easy to whip up but can be enjoyed with a simple cup of coffee are fancied up with some berries and whipped cream. It really is the perfect no-fail keto dessert.
This will be the first time we make a keto-friendly poppy seed pound cake and it's incredibly moist and has the perfect crumb.
I love how the lemon flavor is balanced with the rich taste of butter and how the use of both vanilla and lemon extract gives it a unique depth.
If that's not enough, I have added a tiny amount of culinary lavender, totally optional, that takes it to even greater culinary heights.
How To Make A Keto Poppy Seed Lemon Pound Cake
Disclosure: Some of the links below are affiliate links, meaning at no additional cost to you, I will earn a commission if you click through and make a purchase.
The making of this gluten-free poppy seed pound cake is pretty straightforward. It's simply a matter of measuring almond flour that has been sifted and combining it with the baking powder, salt, and set it aside.
Then you'll move on to creaming the softened cream cheese, butter with the granulated sugar substitute of your choice.
To the creamed ingredients you'll mix in the eggs and then you'll combine both the wet and dry ingredients, add the extracts, poppy seeds and pour into an 8X5 prepared baking pan.
Off to the oven, it goes, and once it's been allowed to cool you add the easy lemon glaze while it's still slightly warm.
Ingredients And Material Needed
The following are all the ingredients needed. Note that the full printable recipe is at the bottom of the post.
Powdered sugar substitute, for the lemon glaze topping
Eggs, room temperature
Cream cheese, full-fat, room temperature
Unsalted butter, room temperature
Poppy seeds, preferably organic
Vanilla extract
Fresh lemon zest
Baking powder
Salt
Mixing bowl
Sifter, to sift the almond flour
Best Sugar-Substitutes For Sugar-Free Poppy Seed Pound Cake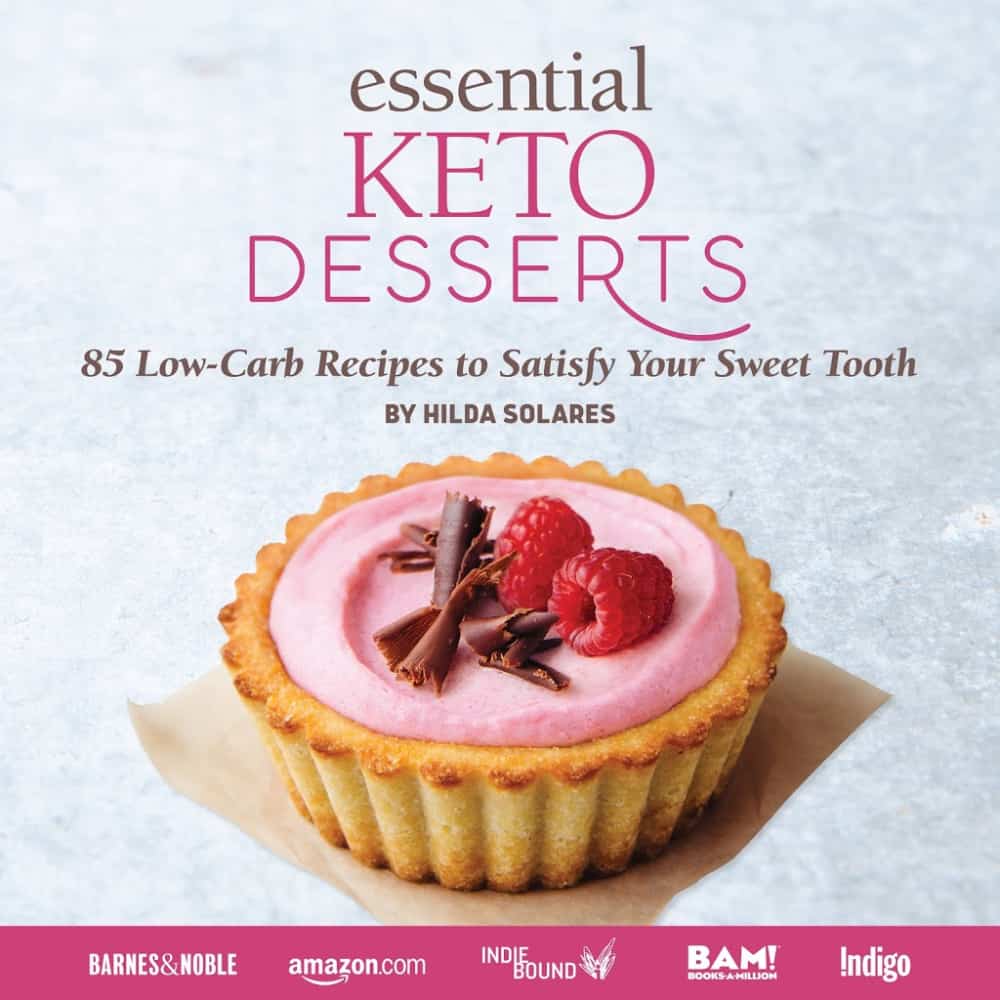 My top choice is a monk fruit/erythritol blend. My personal favorite is Lakanto's brand. But you can also use Swerve an erythritol sugar substitute.
You could also use the stevia and erythritol-based brand Pyure for most of my baked goods. However, if using Pyure you will want to use half the amount called for in this recipe since it's a much sweeter choice.
But if stevia is your preferred choice then feel free to use the Pyure brand.
When it comes to icing you will have to use a confectioner's sugar substitute. Both Lakanto and Swerve have great ones.
Lastly, if you can't easily resource a more natural sugar substitute you can also use Splenda with great success.
If using Splenda, it needs to be the one that has a bulking agent. This is the one that comes in large bags. I don't recommend Splenda Bake because it's actually half sugar half sucralose product.
Tag Us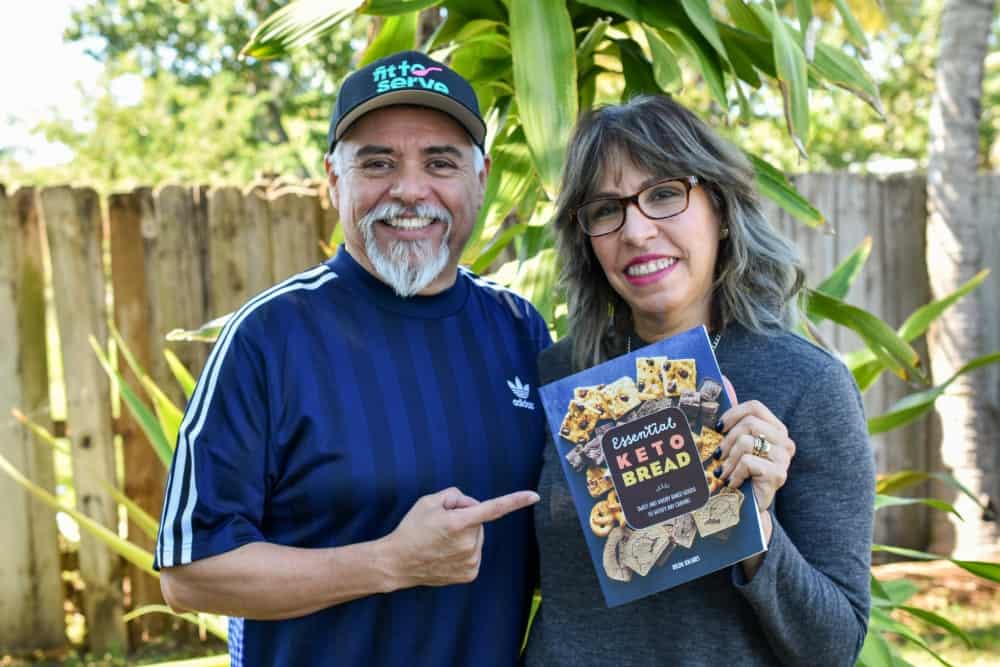 My failed attempts when I first went keto are what caused me to be very intentional with my Keto Baking recipes like these brownies.
I threw away so many ingredients in the beginning and I never want anyone to be so frustrated that they give up on the diet before they can see long-lasting results.
Even though those early days were not fun, the fact that I stayed the course has made this journey very rewarding. Besides, if I had quit at the first sign of struggle, I would not have had the opportunity to engage with you all.
I sure hope you give this keto poppy seed recipe a try and that once you do you will take a moment to tag us on Instagram and Facebook. It's what keeps us encouraged to keep sharing and perfecting our recipes.
In case you don't know we have authored two books for you, Essential Keto Bread and Essential Keto Desserts both inspired by your requests over the years. It's my prayer these keto cookbooks will help make keto a delicious breeze for you.

Also, check out our Amazon Store for our recommendations. You might be surprised by how many great keto options are at your disposal.
Join Our Jesus And Keto Movement
Looking for an online support system to help you stay the course on keto? As a family, we came to the keto diet looking at it from a Christian perspective. As believers, we live our lives supported by God's grace.
So when the Holy Spirit led us to combine our Christian faith and the keto diet, we did so in hopes of finding lasting transformation. When we followed the Holy Spirit's prompting to we got on the path to real transformation.
Knowing firsthand the benefits of this decision we have created a closed Christian group that is using the keto diet to transform their lives. We invite you to join our Private Facebook Group and see if it's not the key you have been missing.
Favorite Keto Meal Planner
If you've been looking for an easy way to meal plan, consider checking out my review on Real Plans.
By using a keto meal planner you will free up your time by streamlining the process. I hope you agree with me that the last thing anyone needs, is to spend hours attempting to put a meal plan together.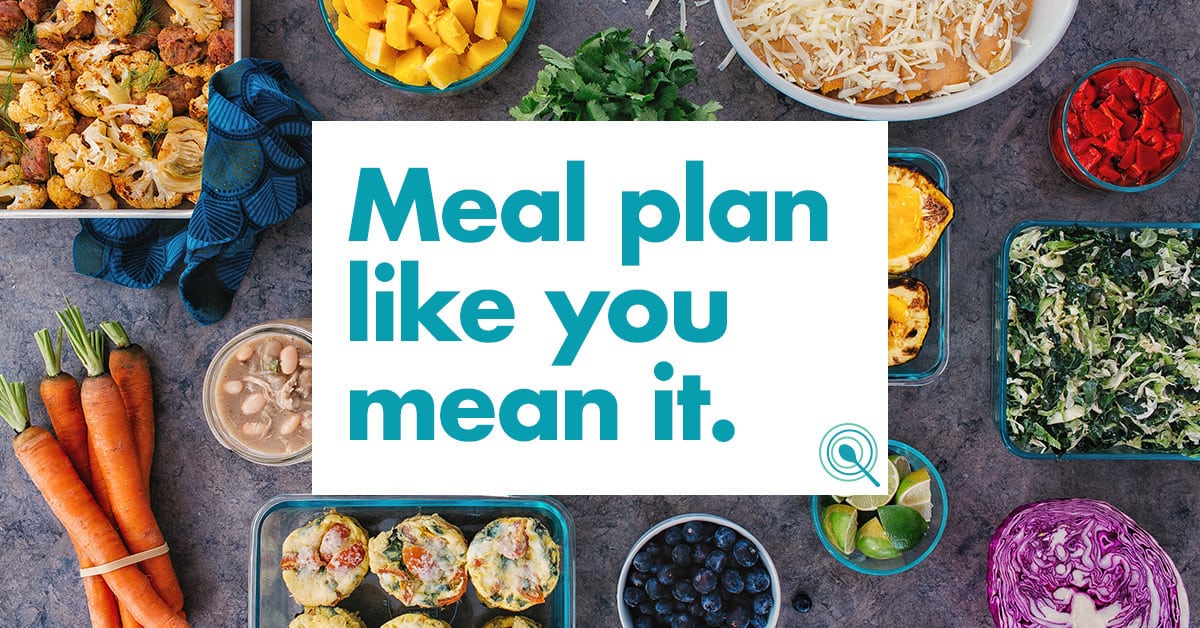 Real Plans will finally put an end to frustrating hours of trying to create healthy meals. After all, we all know how challenging it can be to meet the demands of our full lives.
I love how Real Plans understands that the average busy person has no clue how to meal plan successfully, let alone consistently. Plus you can even use our Keto Recipes to form to create your weekly meal plans.
Keto Poppy Seed Lemon Pound Cake
This keto poppy seed pound cake combines the flavor of lemon and the texture of poppy seeds for one delicious low carb poppy seed pound cake!
Ingredients
4 ounce of cream cheese softened
1/4 cup of butter softened
4 whole eggs , room temperature
1/4 cup of lemon juice
1 1/2 tablespoons of poppy seeds
1/2 teaspoon of lemon extract
¼ teaspoon of freshly grated lemon rind
¼ teaspoon of salt
1 1/2 teaspoons of baking powder
Lemon Glaze Topping:
2 tablespoons of fresh lemon juice
1 teaspoon of poppy seeds, to sprinkle over the top
Instructions
Pre-heat oven to 350 degrees
In a small bowl measure and sift the almond flour and set aside.
In a large bowl using an electric mixer add the softened cream cheese, butter and beat on high until light and fluffy.
To this add the sugar substitute and combine well.
Then add the eggs one at a time, making sure that it is fully incorporated.
Next stir in the sifted almond flour, salt, baking powder, lemon zest and mix well.
Stir in the lemon juice, lemon extract, and beat until the batter is fully mixed.
Fold in the poppy seeds and culinary lavender if choosing to add.
Pour cake batter into an 8 x 5-inch loaf pan or one 8-inch cake pan.
Bake for 35-45 minutes or until an inserted toothpick comes out clean.
Allow the cake to cool on a baking rack for at least 15 minutes before drizzling the lemon glaze to the pound cake.
Sprinkle the teaspoon of poppy seeds over the top of the pound cake.
Allow cake to fully cool before slicing and enjoying.
Store leftovers in the refrigerator for up to 5 days or freeze for up to 3 weeks.
Keto Lemon Glaze
Combine the confectioner's sugar substitute with fresh lemon juice.
Drizzle the glaze over the slightly warm cake.
Notes
If you are wanting a tree nut-free option, you can make this keto coconut flour cream cheese pound cake as the base for this poppy seed cake.
If making the coconut flour version, note that it makes a slightly larger loaf a 10x5 inch option.
Nutrition Information:
Yield:

12
Serving Size:

1
Amount Per Serving:
Calories:

328
Total Fat:

29.8g
Saturated Fat:

10.8g
Cholesterol:

150mg
Sodium:

158mg
Carbohydrates:

4.2g
Net Carbohydrates:

1.7g
Fiber:

2.5g
Sugar:

1.5g
Protein:

5.3g