Keto French meringue cookies are the perfect sweet treat! These keto French meringues are shockingly, just as delicious as their traditional sugar-filled counterparts with none of the sugar spikes and carbs!
Made with just four simple ingredients, sugar-free French meringues are a true keto, dessert.
They are perfect for those with a serious sweet tooth!
If you've missed the sweet and airy French meringues that melt in your mouth, this recipe is for you!
This recipe for low-carb meringue cookies is virtually carb-free. A batch makes a total of 70 cookies and a serving of 7 cookies has only 0.1 net carbs. That my friend is a winning keto cookie recipe.
Especially since a traditional meringue cookie is loaded with sugar and has lots and lots of carbs.
And if you're looking for a twist in flavor, be sure to also check out keto peppermint meringues
And if you're a big cookie fan, then you'll love our collection of keto cookies that is seriously packed with every cookie you can think of—minus the sugar and carbs!
Keto French Meringue Cookies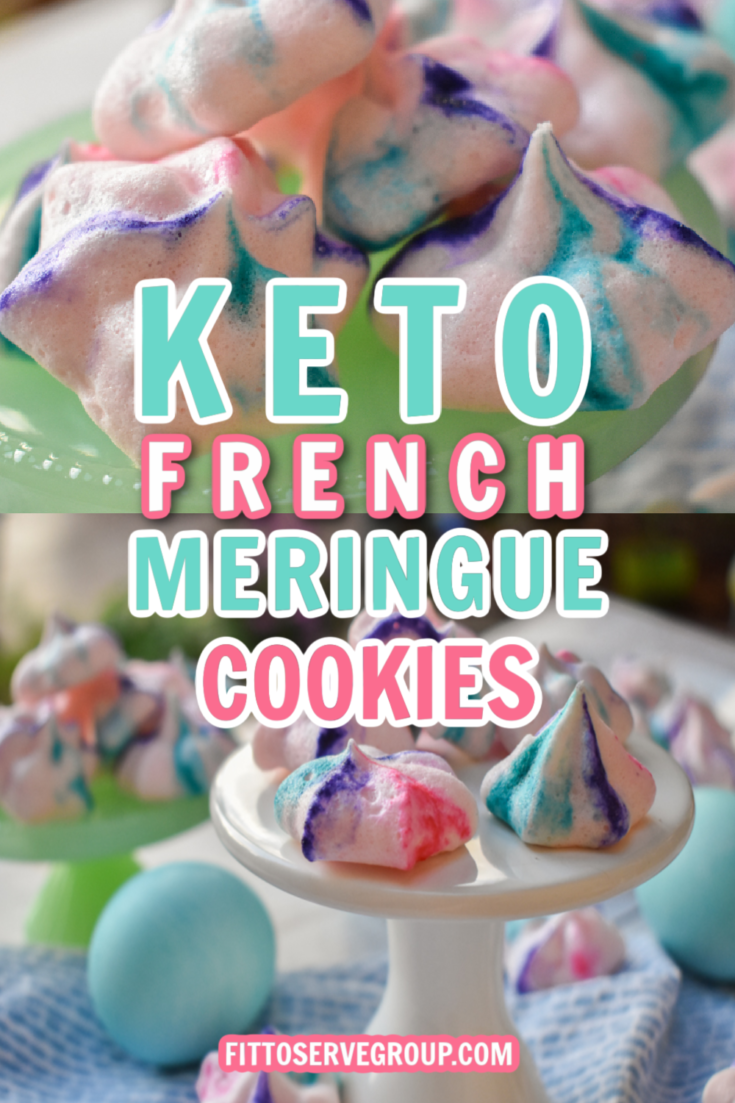 If you've ever had traditional French meringues then you'll know they are perfectly airy, melt in your mouth goodness!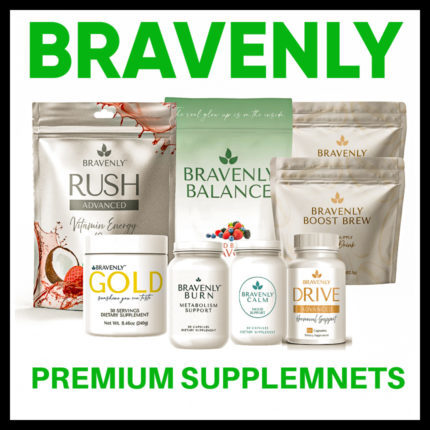 For a long time, we thought making these clouds of sweetness keto-friendly was simply not possible. And oh how I longed for those super sweet little cookies of my childhood!
I have many fond memories of going to the local Hispanic market with my Abuela and grabbing a bag of "meringuitos" at checkout and enjoying them together on the walk back home.
You see, even though they are technically a French dessert, these little meringue cookies are very popular in Miami, especially for us Cubans and you can find them at most checkout lines at the Hispanic markets down here.
And so when we adopted the keto, sugar-free lifestyle, I really missed my little bags of French meringues and would ask my mom why we couldn't make them.
She would tell me the sugar substitutes available just weren't up the job that is until our favorites, Lakanto and Swerve came onto the scene and changed the game with their granulated substitutes!
Now making these beautiful, crisp, keto French meringue cookies is just as simple as the traditional version! So I, of course, had to make my own!
How To Make Keto French Meringue Cookies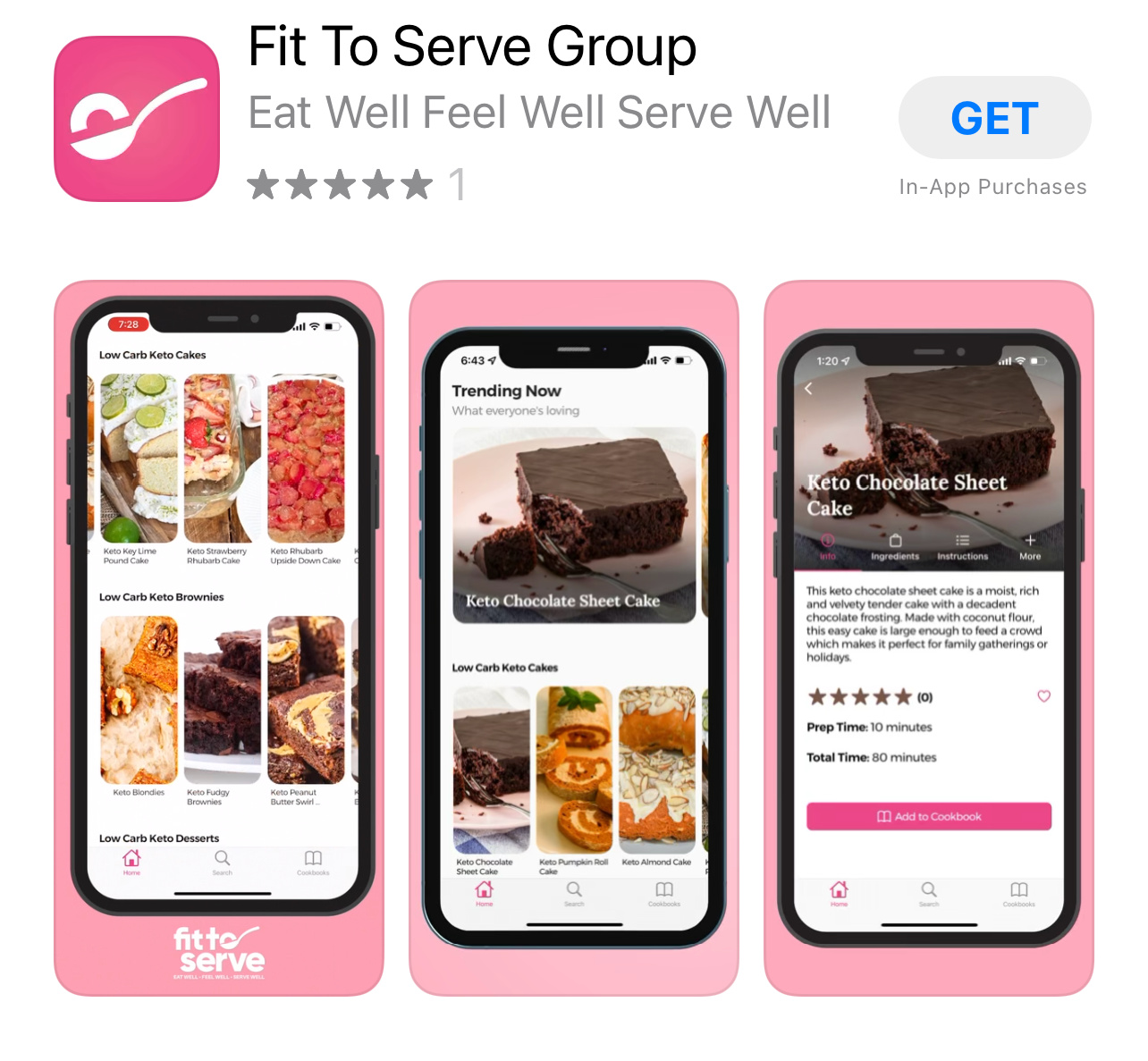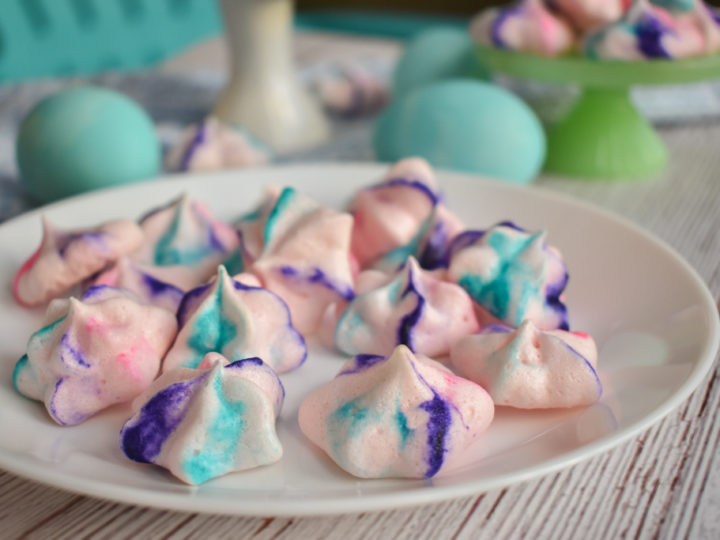 Making keto-friendly French meringue cookies is actually, surprisingly easy! Especially if you've made traditional French meringues before.
Thanks to the fantastic granulated sugar substitute options available to us, making sugar-free meringues is very similar to traditional ones.
While the steps to make keto french meringues are quite simple, there are a few things you'll need to be careful of to ensure you have the best possible sugar-free meringues.
Firstly, your egg whites must be at room temperature before whipping them. This is very crucial as they won't become stiff peaks if cold.
Ensuring your bowl, whisk, and spatula are clean, dry, and free of any grease is extremely important as well. The smallest amount of fat can prevent the egg whites from fluffing up.
It's recommended to use a glass or metal bowl and avoid plastic bowls as they can be porous and hold in fats.
Once you've made sure your equipment is clean and your eggs are no longer cold, it's time to start making your keto French meringues!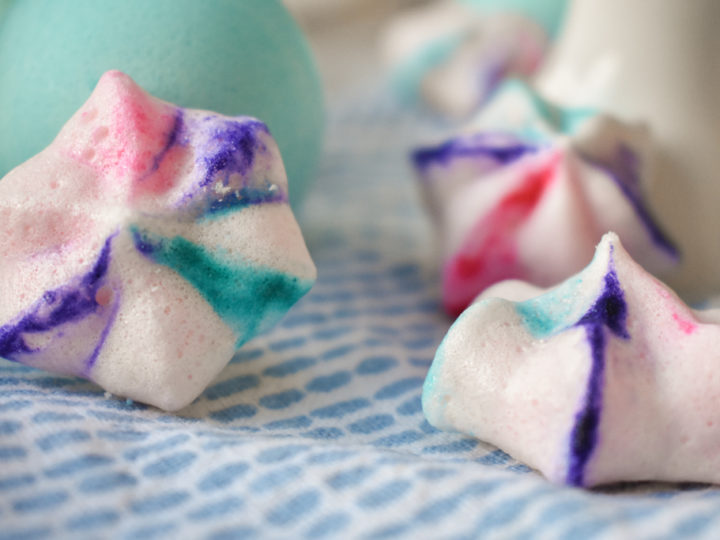 The following are the basic ingredients you'll need:
Disclosure: Some of the links below are affiliate links, meaning at no additional cost to you, I will earn a commission if you click through and make a purchase.
Note the full printable recipe card is at the bottom of the page.
Egg whites, room temperature
Vanilla extract
Salt
Cream of tartar
Food coloring (optional)
The first step is to add your egg whites to your clean bowl along with the salt and cream of tartar. The cream of tartar is optional but will make a morse stable meringue which will, in turn, make your job easier.
You'll whip the egg whites until they are foamy and start to become opaque, this is when you'll add in your vanilla extract and begin adding the granulated sugar substitute.
Adding the sweetener is one of the most crucial steps. You'll add it in slowly, a little bit at a time, being sure it has combined before adding in more.
You'll continue whipping until stiff peaks form, if adding food coloring you'll add the drops before the stiff peaks form but after the sweetener has been added.
It's important to not over mix the meringue or it could start to break up this is why you'll add the food coloring before the stiff peaks have formed.
Once you have stiff peaks and your bowl can be flipped upside down (Dairy Queen Blizzard style!) without the meringue moving you're ready to bake!
Add your meringue to your piping by placing the bag in a tall glass and rolling the sides down, be sure not to overfill your bag!
Pipe 1-inch kisses or whatever shape you'd like evenly spaced on your parchment-lined cookie sheet and place in the oven.
These keto French meringue cookies will bake for 30 to 50 minutes depending on the humidity of the day. The more humid the longer they will take to bake.
You'll know they're ready when the outside is dry and the meringue feels light and airy. When they are done, do not remove them from the oven! This will shock them.
Instead, you'll turn the oven off and prop open the oven door with a wooden spoon ( or whatever you have on hand), and allow the low-carb meringue cookies to cool completely.
This can take anywhere from 30 minutes to 2 hours, again depending on the humidity in the air.
Once finally cooled you can enjoy your sugar-free, keto-friendly French meringues!
How To Make Rainbow Swirled Keto French Meringue Cookies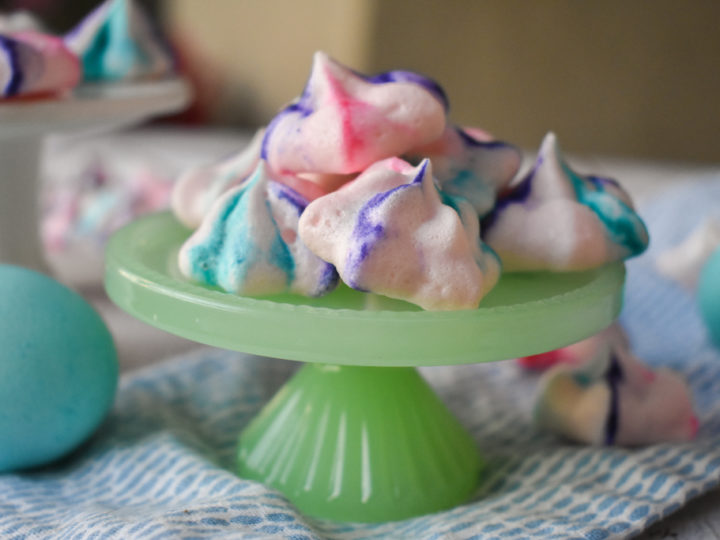 There are many ways you can dye your keto-friendly meringues but my personal favorite and the style I used for these is the rainbow swirl method. It looks beautiful with minimal effort.
I chose to first dye the entire meringue a soft pink, with about 1 to 2 drops of pink food coloring.
Then before adding your meringue to the piping bag you'll use a paintbrush or long skewer to paint the food coloring, in various colors on opposite sides of the bag.
Then you'll add in your meringue and watch the magic happen as you pipe them out as beautifully swirled keto French meringues.
This video here will help you understand this easy but gorgeous technique!
Sweetener Options For Sugar-Free French Meringue Cookies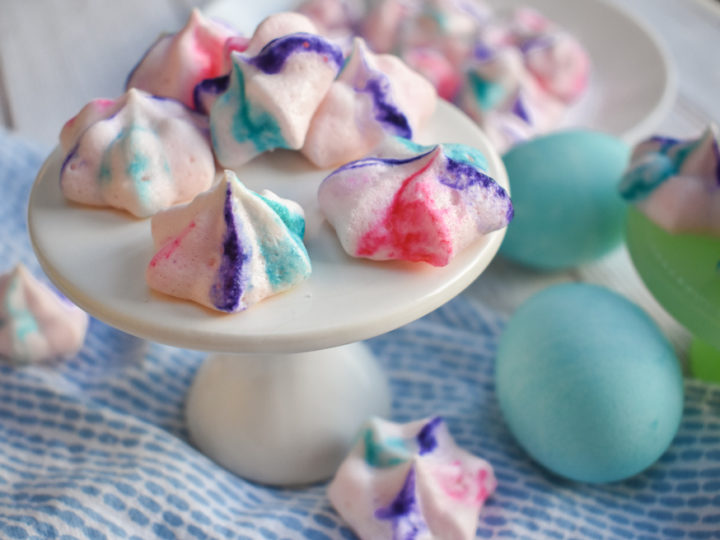 As far as which sugar substitute to use for these sugar-free French meringue cookies, I have a few recommendations.
Lakanto Monk Fruit Classic is their white granulated version, and it's my go-to option whenever a recipe calls for granulated white.
It's my favorite since the texture and flavor are what I have found to be the closest to real sugar.
The brand Swerve which is an erythritol blend also makes a great white granulated sugar substitute. It's a great option that's more accessible to many as it can be found in most grocery stores now.
You could also use the stevia and erythritol-based brand Pyure if you prefer to use a granulated white stevia-based sweetener.
I, however, have not tested this recipe using Pyure and cannot guarantee the same results though they should turn out fine.
Due also note, that if this is your pick make sure you reduce the amount called for in the recipe by half since it's a much sweeter option.
Tag Us
I sure hope you will give these sugar-free French meringue cookies a try. Once you do, make sure you remember to tag us on Instagram and Facebook.
Also, check out our Amazon Store for our recommendations. You might be surprised by how many great keto options are at your disposal.
Grab Our Books!
In case you don't know, we have two books for you, Essential Keto Bread and Essential Keto Desserts both inspired by your requests over the years.
It's our prayer these keto cookbooks will help make keto a delicious breeze for you.
Join Our Jesus And Keto Movement
Looking for an online support system to help you stay the course on keto? As a family, we came to the keto diet looking at it from a Christian perspective.
As believers, we live our lives supported by God's grace. So when the Holy Spirit led us to combine our Christian faith and the keto diet, we did so in hopes of finding lasting transformation.
When we followed the Holy Spirit's prompting, we got on the path to real transformation.
Knowing firsthand the benefits of this decision we have created a closed Christian group that is using the keto diet to transform their lives.
We invite you to join our Private Facebook Group and see if it's not the key you have been missing.
Be sure to request our FREE Jesus and Keto E-Book (First 7 Days) We hope it blesses you.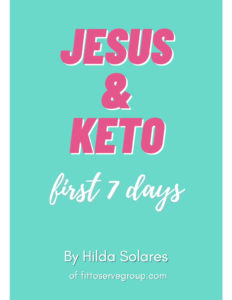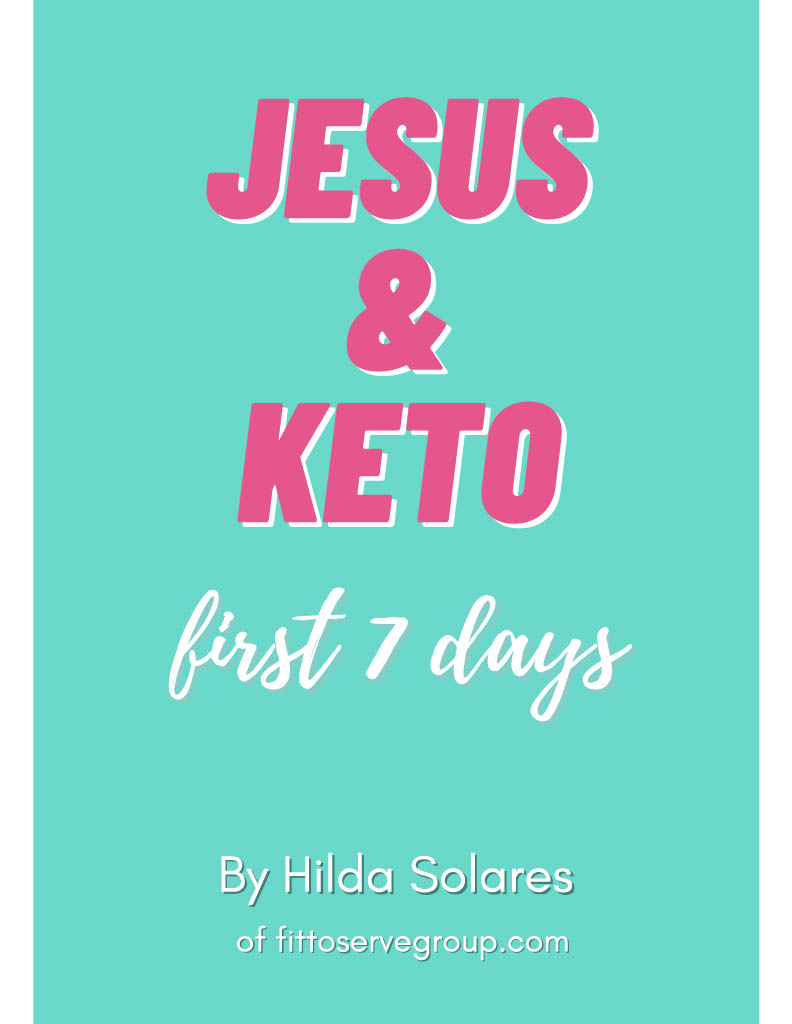 Fittoservegroup Keto App
Looking for a fast way to access our keto recipes? We got you covered. There's an app for that. Yup, there's a Fit To Serve Group App and it's going to make your keto diet a delicious breeze!
Access hundreds of recipes that are all sugar-free, gluten-free, and keto-friendly.
Enjoy early access to recipes before they go live on the website. Plus, bonus recipes that are exclusive to the app. Make your own personal cookbooks that you can use to organize your favorite recipes.
Search recipes by title, ingredients, keywords, and categories, and of course every recipe shows complete nutritional facts.
Get the Fit to Serve Group App for easy-to-follow keto recipes made with easy-to-source ingredients.
The app is loaded with hundreds of yummy recipes for breakfast, lunch, dinner, snacks, and even desserts!
Learn more by visiting our Fit To Serve Group App Page.
Keto French Meringues
Keto French meringue cookies are the perfect sweet treat! These keto French meringues are shockingly, just as delicious as their traditional sugar-filled counterparts with none of the sugar spikes and carbs!
Ingredients
3 egg whites, room temperature
1/4 teaspoon cream of tartar
1/2 teaspoon vanilla extract
1/8 of teaspoon of salt
Instructions
Line a baking sheet with parchment paper and preheat the oven to 200 degrees.
In a large, clean mixing bowl, add the room temperature egg whites, cream of tartar, and salt. Using an electric mixer, beat on medium speed until foamy and just begin to turn opaque white.
While continuing to whip the egg whites, add in the vanilla extract.
Very slowly, about a teaspoon at a time, begin to add in the granulated sugar substitute while continuing to whip the eggs.
After adding in all the granulated sugar substitute, raise to medium-high speed and whip until the meringue is glossy and can create stiff peaks. You should be able to flip the bowl upside down and the meringue stays put.
Add the meringue to a clean piping bag with a French star tip, and pipe 1-inch diameter kisses onto a parchment-lined baking sheet. Alternatively, you can spoon the meringue for an organic shape
Bake for 30 to 50 minutes, until the outside, is dry, light, and crisp being sure not to brown them. Baking time will vary depending on the humidity in the air.
Once fully baked, turn off the oven and crack the oven door open and allow the keto meringues to come to room temperature in the oven. This can take anywhere from 30 minutes to 2 hours.
Store leftovers in an airtight container on the kitchen counter.
Notes
If adding food coloring, you should add it after the sugar substitute but before stiff peaks form.
You can store leftovers in an airtight container for 1 to 3 days depending on how humid your climate is. The drier the climate the better.
To ensure very stiff egg whites, be sure that all of your equipment is extremely clean and free of any grease. You can also use an old baker's trick and rub a lemon on the bowl before adding your egg whites. Be sure to wipe excess moisture off the bowl after rubbing the lemon on.
This recipe yields 70 cookies a serving is 7 cookies for a total of 10 servings per recipe.
Nutrition Information:
Yield:

10
Serving Size:

7 cookies
Amount Per Serving:
Calories:

5
Total Fat:

0g
Saturated Fat:

0g
Cholesterol:

0mg
Sodium:

10mg
Carbohydrates:

0.1g
Net Carbohydrates:

0.1g
Fiber:

0g
Sugar:

0.1g
Protein:

1.1g