This recipe for keto chicken carbonara casserole allows you to enjoy the flavor of the classic pasta dish while doing a ketogenic diet effortlessly.
If you've been missing your pasta carbonara since going keto, you're going to love this keto-friendly carbonara casserole.
Enjoy all the flavors of carbonara minus the high carbs. It's a rich casserole that's made low in carbs by substituting the pasta for spaghetti squash!
Featuring a creamy carbonara sauce, chicken, bacon, mushrooms, parmesan cheese, and spaghetti squash, this keto carbonara chicken casserole is sure to be a family dinner hit!
And one you should add to your keto meal planning rotation.
If you're in search of keto-friendly casseroles, be sure to check out our keto casseroles for more delicious options.
Keto Chicken Carbonara Casserole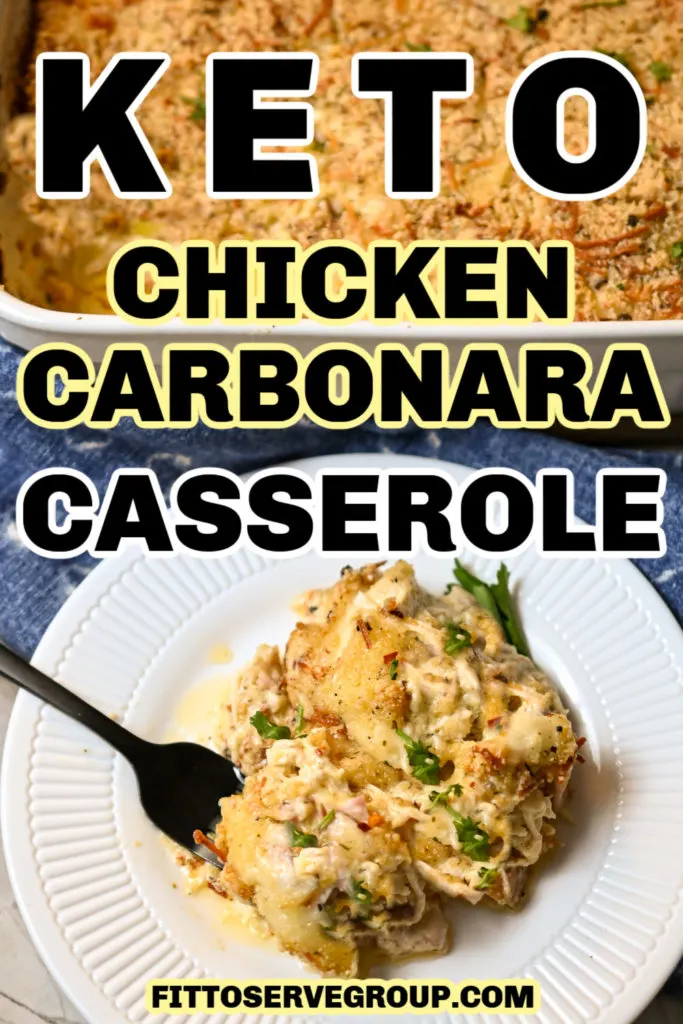 My recipe for keto carbonara chicken casserole features a creamy sauce that is thickened with eggs, cheese, and heavy cream with the added protein of chicken.
Adding some boneless chicken pieces cut into bite sizes ensures that it's filling.
Traditionally when making carbonara, eggs alone are used to thicken the sauce. However, the addition of heavy cream to the sauce takes the fear out of scrambling the eggs.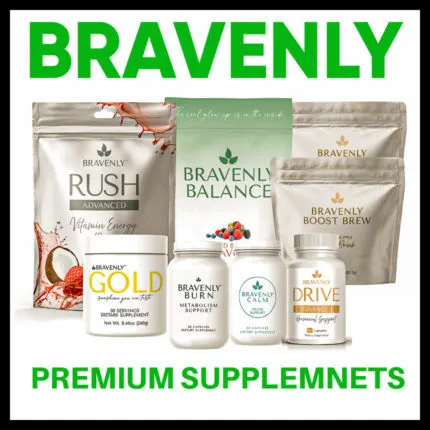 So if that's considered cheating, so be it. Because I want to ensure this recipe works every single time.
Origin Of Pasta Carbonara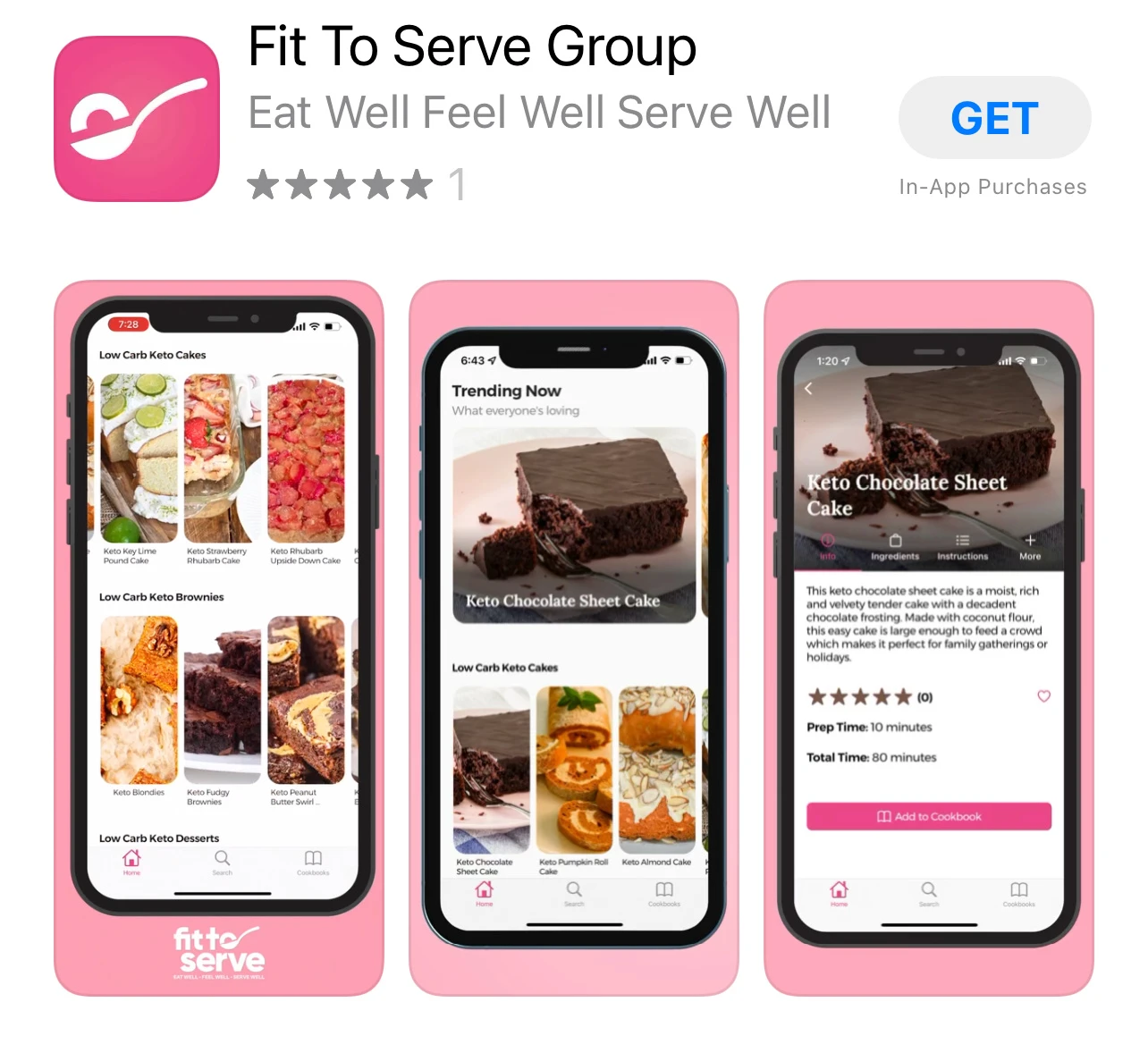 Ever wonder what the origin story of pasta carbonara is? There are several theories about how pasta carbonara came to be but no real evidence.
The one thing we do know is that it was a typical dish during WWII.
I thought I would share two of my favorite theories because I find the history of food to interesting. Don't you?
The first theory states that the name is thought to have originated in the Apennine Mountains among the Abruzzo woodcutters, who would use hardwood for charcoal fuel. Legend says that these mountaineers would cook the dish over a hardwood charcoal fire by tossing pasta with eggs and cheese.
Another theory is that the name "a la carbonara" is simply referring to the coal worker's style. That it was a dish eaten often by coal workers.
However, carbonara came to be. I am grateful for the genius who thought of it! How about you?
Spaghetti Squash A Great Pasta Alternative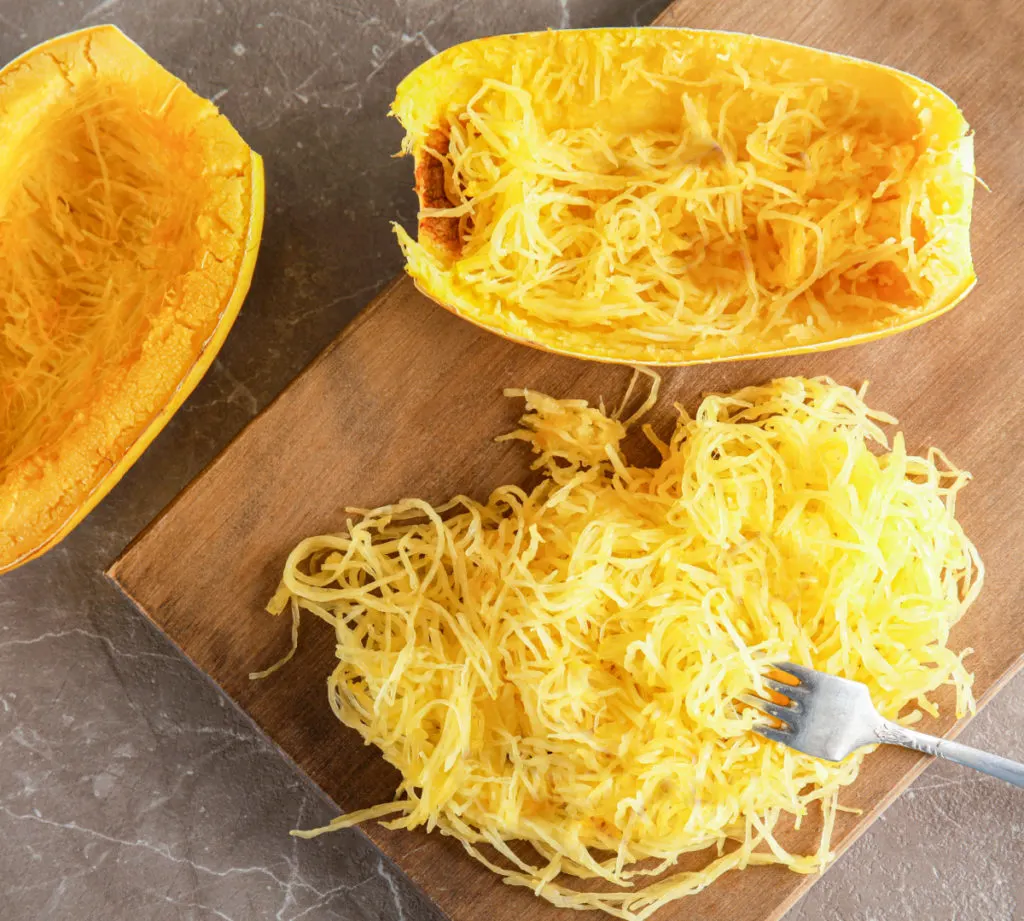 This healthy chicken carbonara casserole uses spaghetti squash in place of pasta.
If you haven't tried spaghetti squash as a pasta substitute, you have no idea what you've been missing. It's not only easy to cook, but it's also gluten-free and much lower in carbs than regular pasta.
Spaghetti squash is a favorite option in the low-carb community because once it's cooked, you can easily scrape the inside of the squash for spaghetti-like strands.
It has a very mild taste, so it takes the flavor of the ingredients beautifully. What's more, the texture of the winter squash is very similar to pasta as long as you do not overcook it.
If you're wondering how many carbs you'll save by using spaghetti squash rather than pasta, how about saving 30 carbs per cup?
A cup of spaghetti has about 40 total grams of carbs, while spaghetti squash has 10. And two of those ten carbs are fiber giving you eight net carbs per cup.
How To Cook Spaghetti Squash For Your Keto Chicken Carbonara Casserole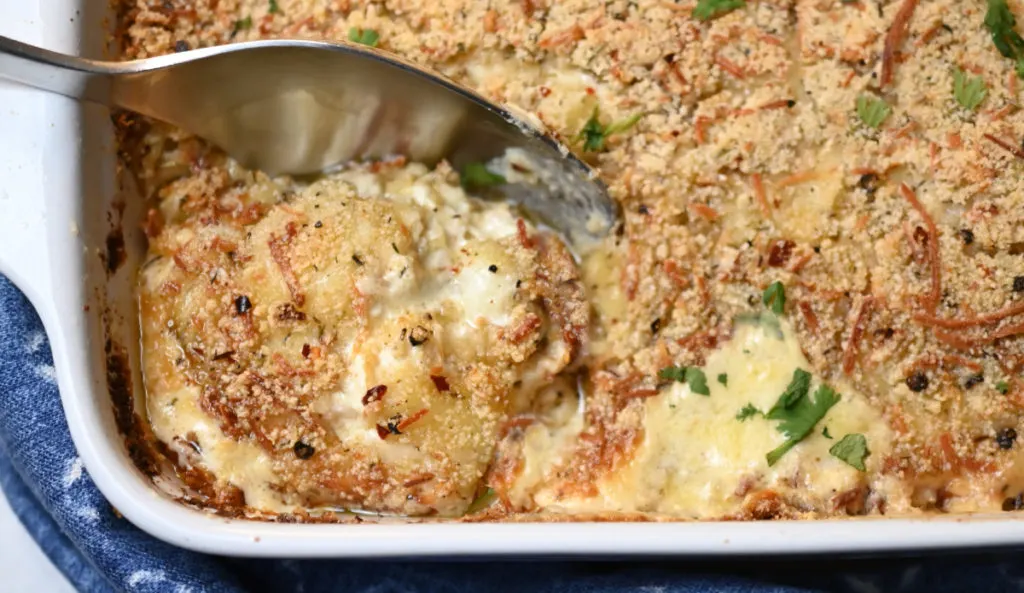 There are a few easy ways to cook spaghetti squash. It can be baked, boiled, and microwaved. My favorite method is in the microwave. Why? For one, it can be cooked whole.
And I, personally, wouldn't want to boil my spaghetti squash for fear of it getting soggy. But I will admit that I haven't ever tried cooking my spaghetti squash this way.
If you've ever sliced a raw spaghetti squash, you would know it takes muscles to do so.
This is why I personally find it a bit intimidating, and so I prefer to microwave my spaghetti squash whole.
Spaghetti Squash Cooked In A Microwave
When cooking whole spaghetti squash in the microwave, you must score the squash to penetrate the skin. Then microwave anywhere from 7-10 minutes on high.
The squash will let out scalding steam, so handle it with care.
Make sure you allow the squash to cool for at least 15 minutes before removing the seeds and scraping the flesh of the squash into spaghetti-like strands.
Cooking Spaghetti Squash In The Oven
If you prefer to bake your spaghetti squash, you can do so for about an hour in a 375-degree oven. Or bake sliced in half with skin side up for 30-35 minutes.
After your spaghetti squash is cooled, scoop out the seeds and pulp and scrape the flesh of the squash with a fork.
You need to scrape the flesh until you reach the hard skin. If you notice that part of the flesh is too hard, you will need to cook it a little longer until it becomes fork-tender.
Your strands will look much like spaghetti and can be used in your low-carb chicken carbonara casserole or other recipes that call for spaghetti pasta.
How Do You Make Keto Creamy Carbonara Sauce?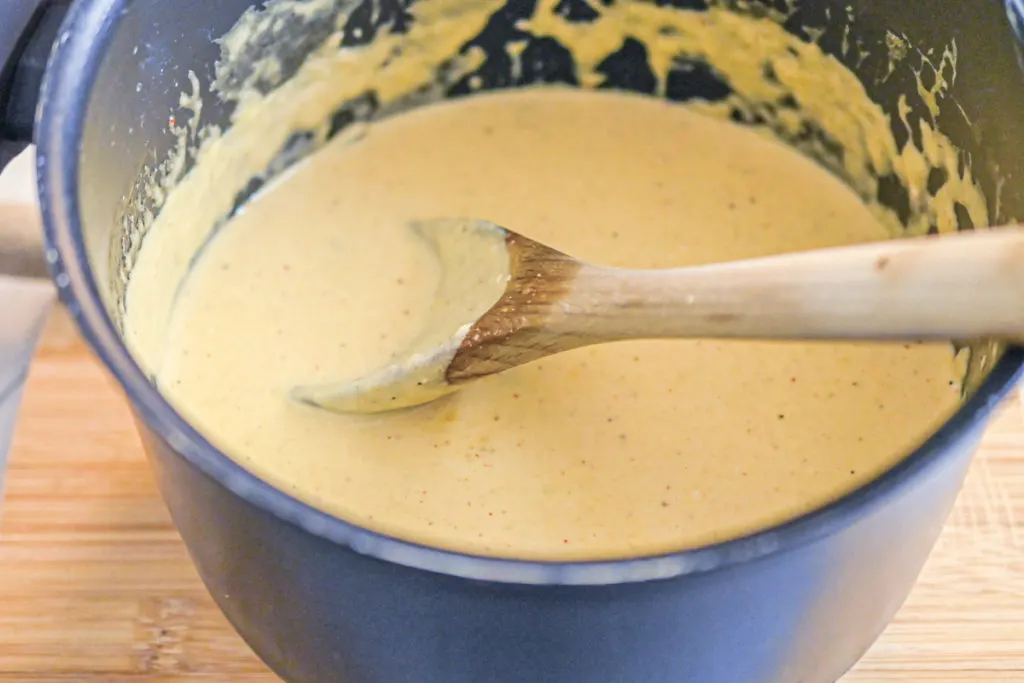 Typically making carbonara pasta intimidates people because the sauce demands raw eggs to be stirred directly into the pasta.
The pasta has to be at the perfect temperature because if it's too hot, the eggs will scramble, and if the pasta is too cold, the eggs don't thoroughly cook.
Rather than add the raw eggs to my cooked spaghetti squash strands, I prepared my sauce separately and added the raw eggs after allowing the sauce to cool slightly.
So, rest assured that if you follow the simple steps in the recipe below, you won't have any issues.
Ingredients For Keto Chicken Carbonara Casserole
Disclosure: Some of the links below are affiliate links, meaning that, at no additional cost, I will earn a commission if you click through and make a purchase.
The following are the basic ingredients you'll need for the casserole. Note the full printable recipe card is at the bottom of the page.
Boneless chicken breasts or chicken thighs
Spaghetti squash
Eggs
Butter
Heavy Cream

Garlic

Onion

Mushrooms

Sea salt

Black pepper
Tag Us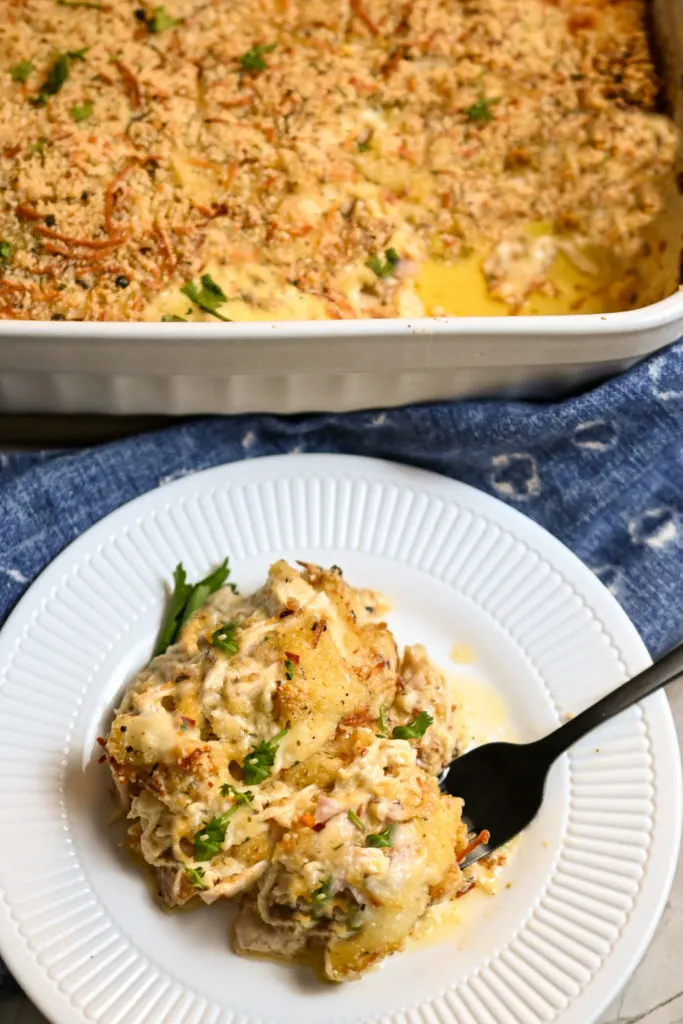 I sure hope you will try out this easy keto chicken carbonara casserole a try. Once you do, make sure you remember to tag us on Instagram, Facebook, and Pinterest.
It's what keeps us encouraged to keep sharing and perfecting our recipes.
Also, check out our Amazon Store for our recommendations. You might be surprised by how many great keto options are at your disposal.
Join Our Jesus And Keto Movement
Our family came to the keto diet looking at it from a Christian perspective; it's the filter we choose to see from.
When we decided to combine our Christian faith and the keto diet, we did so in hopes of finding lasting transformation.
To say we needed God's intervention is putting it mildly. When we followed the Holy Spirit's lead to embrace the ketogenic diet and combine it with our faith, we got on the path to fundamental transformation.
If you are looking for a Christian group that is using the keto diet to transform their lives, we invite you to join our Private Facebook Group and see if it's not the key you have been missing.
Grab Our Books!
In case you don't know, we have authored two books for you, Essential Keto Bread and Essential Keto Desserts, both inspired by your requests over the years.
It's my prayer these keto cookbooks will help make keto a delicious breeze for you.
Be sure to request our FREE Jesus and Keto E-Book (First 7 Days). We hope it blesses you.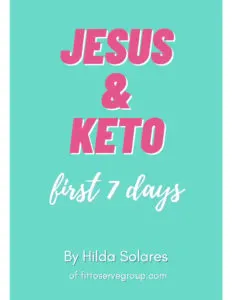 Fittoservegroup Keto App
Looking for a fast way to access our keto recipes? We got you covered. There's an app for that. Yup, there's a Fit To Serve Group App and it's going to make your keto diet a delicious breeze!
Access hundreds of recipes that are all sugar-free, gluten-free, and keto-friendly.
Enjoy early access to recipes before they go live on the website. Plus, bonus recipes that are exclusive to the app. Make your own personal cookbooks that you can use to organize your favorite recipes.
Search recipes by title, ingredients, keywords, and categories, and of course, every recipe shows complete nutritional facts.
Get the Fit to Serve Group App for easy-to-follow keto recipes made with easy-to-source ingredients.
The app is loaded with hundreds of yummy recipes for breakfast, lunch, dinner, snacks, and even desserts!
Learn more by visiting our Fit To Serve Group App Page.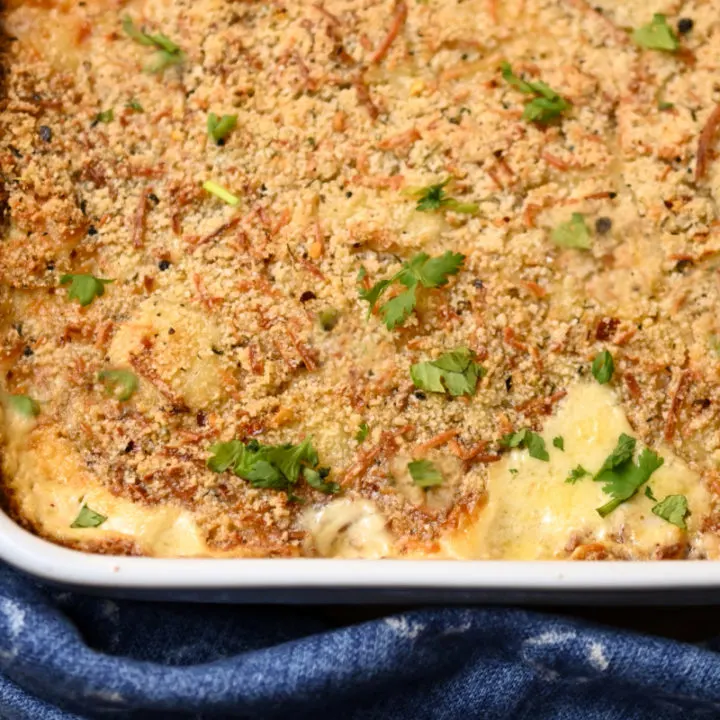 Keto Chicken Carbonara Casserole
Total Time:
1 hour
15 minutes
A recipe for keto chicken carbonara casserole features a creamy carbonara sauce and uses spaghetti squash as a pasta alternative and chicken for added protein.
Ingredients
Topping
1/4 cup of almond flour
2 tablespoons of finely grated parmesan cheese
2 tablespoons of melted unsalted butter
1/4 teaspoon of black pepper
1 teaspoon of Italian spices
Instructions
Spaghetti Squash Cooking Instructions
For baking in the oven:

Preheat the oven to 375 degrees. Slice your spaghetti squash in half lengthwise and place the squash skin cut side down on a lined baking sheet, and bake for 30-40 minutes. Alternatively, you can bake the squash whole for about an hour.
For cooking in the microwave:
Prepare your spaghetti squash by piercing the skin of the squash several times and microwave on high for 7-10 minutes.
Once cooked and allowed to cool, remove the center seeds and pulp.
Using a fork, scrape the inside of the squash to get the spaghetti-like strands.
Place the squash strands in a baking dish and set them aside.
Topping
Mix the almond flour, parmesan cheese, Italian spices, salt, and pepper in a small bowl.
Keto Chicken Carbonara Casserole
Preheat the oven to 350 degrees.
In a large pan over medium-high heat, add the seasoned chicken and the bacon, and once the bacon and chicken are cooked, set them aside. Reserve the fat in the pan.
In the same pan, cook the onion, garlic, and mushrooms until tender.
Remove the sautéed mushrooms, garlic, and onions, and add the butter to the pan.
Reduce the heat to medium-low and add the heavy cream, parmesan cheese, and spices. Cook on low until the sauce starts to thicken.
Turn the stove off and allow it to cool for about 3 to 5 minutes. Whisk in the three whole eggs, making sure that the eggs are fully incorporated. Note: You mustn't add the raw eggs to the sauce if it's scorching to avoid scrambling them.
Add the cooked mushrooms, onion, garlic, bacon, and chicken to the sauce and stir to combine well.
Pour the carbonara sauce over the cooked spaghetti squash in the 9x13-inch casserole dish. Then top the casserole with the topping and drizzle with the melted butter. Bake in a preheated oven for 20-25 minutes.
Once fully baked, garnish with the fresh parsley/
Serve immediately and store leftovers in the refrigerator for three days.
Notes
Make sure the sauce is allowed to cool slightly before the addition of the 3 raw eggs to avoid the sauce becoming scrambled.
Nutrition Information:
Yield:

12
Serving Size:

1
Amount Per Serving:
Calories:

350
Total Fat:

26.7g
Saturated Fat:

13.5g
Cholesterol:

200mg
Sodium:

200mg
Carbohydrates:

5.2g
Net Carbohydrates:

4g
Fiber:

1.2g
Sugar:

0.4g
Protein:

11.4g