Decadent Freeform Keto Pizza
It's a recipe for keto freeform pizza a delicious way to be able to enjoy pizza on a low carb keto diet. 
Pizza it's a comfort food that most people enjoy. But what happens when you go keto and you no longer can have regular pizza? My hope is that my recipe for freeform keto pizza will offer you a fantastic alternative.

When we first began this low carb keto journey we thought eating this way would require some major sacrifice. We truly believed we would have to sacrifice taste and enjoyment for health.
Thankfully, we have not found it to be the case. Truth is not only have we benefited health wise, but in many ways, it has made eating more enjoyable. With recipes like this freeform keto pizza, who can't make a low carb keto diet work?
For more recipes that feature cream cheese checkout our Keto Cream Cheese Recipes page.
Keto Freeform Pizza A Major Win
It's been our experience that having plenty of low carb keto recipes makes it easier to adhere and therefore see the benefits of ketogenic diet more consistently.
Creating my freeform fathead pizza made my family giddy at dinner time. It had been a while since I had made any attempt to create a homemade pizza, and so when I brought this pizza to the table it provoked all sorts of cheers.
Making a recipe that is both delicious and healthy fuels this girl and it was great to see their enthusiasm.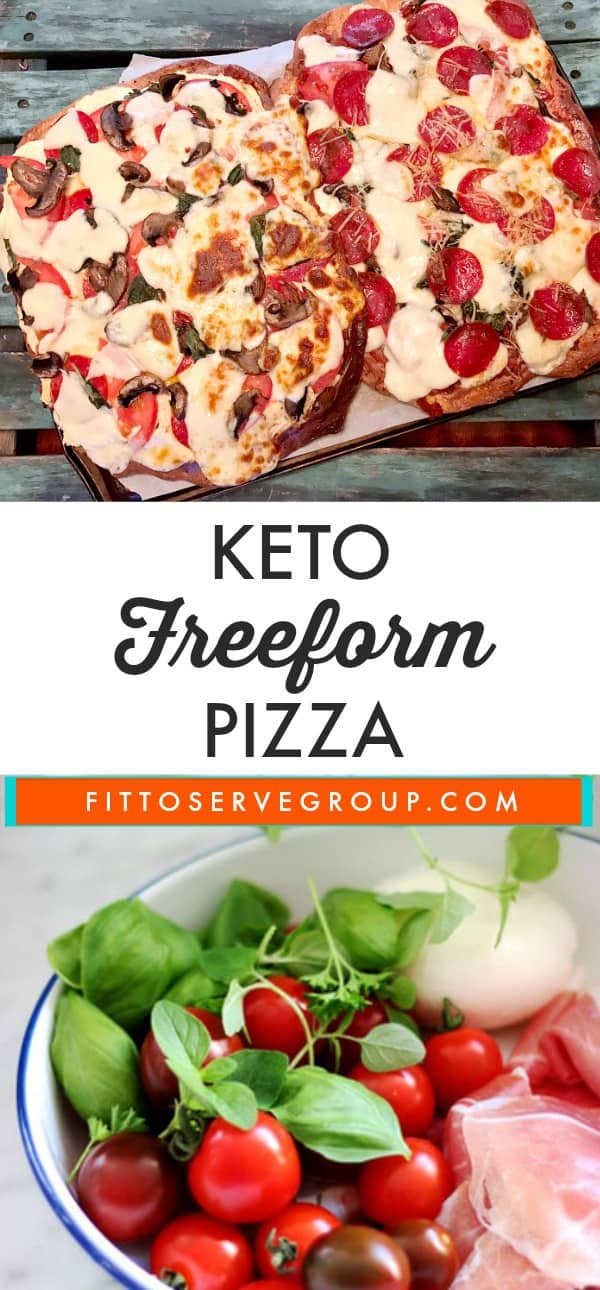 Disclosure: Some of the links below are affiliate links, meaning at no additional cost to you, I will earn a commission if you click through and make a purchase. 
Products from Amazon.com
‹
›
I have always enjoyed cooking, and baking was a true love of mine. Yet, I basically stopped baking when hubby's diabetes could not be controlled.
I had to be extremely careful when making "treats" for the family, because all too often this spelled disaster for Randy. Not knowing what I do today about the benefits of ketosis and the keto diet, I just stopped creating and cooking became more of a chore.
Eventually cooking was no longer fun for me and instead became a major chore. All I wanted was to get something quick to the table and not a lot of love went into my dishes.
For The Love Of Cooking
Today, I love experimenting in the kitchen and converting old favorites into healthier low-carb, keto options. Cooking has once again become enjoyable.
The best part is how easy it is now to stick to healthy portions, because being in ketosis means we are no longer hungry all the time.
Our motivation to stay on course is enormous because of all health benefits we both have experienced with the low carb keto diet.
It's a lifestyle for us and we can't imagine eating any other way now. Which is why creating a delicious freeform-pizza was a must, when craving old favorites.
Keto Pizza
Making homemade pizza was a fun pastime for me and I thought those days were forever gone. Thankfully, this low-carb keto option is not only really delicious but it's actually a lot faster to make than traditional pizza dough ever was.
Did you say freeform keto pizza was faster than making a traditional pizza? Yup, you heard correctly. No need to let the dough rise in with this keto pizza dough.
Some low carb genius came up with what is termed as fathead dough. I would love to thank them here, but I couldn't find the originator of this recipe.
It's a great recipe and one that has allowed the low carb community the ability to eat pizza again and basically use this dough to create a myriad of bread-like options.
I like to think that in some small way my recipes are helping people too. Checkout our most popular recipe Low Carb Keto Pound Cake. This recipe has gone viral for good reason.
Keto Freeform Pizza
A recipe for freeform keto pizza. A great way to enjoy pizza on a low carb keto diet. By creating a crust made mainly with cheese
Ingredients
Pizza Crust:
3 cups mozzarella cheese
4 tablespoons cream cheese
2 eggs
½ cup of almond flour
Pizza Sauce:
½ a can of crushed tomatoes or 14 ounces
1 teaspoons of Italian Seasoning
1 teaspoon of dried basil
1 teaspoon of dried oregano
1 teaspoon of sea salt
¼ tsp of red pepper flakes
2 tablespoons of olive oil
Pizza Toppings:
1 ½ cups of mozzarella cheese
¼ cup of sliced pepperoni
½ cup of fresh parmesan cheese
¼ cup of sliced mushrooms
fresh basil leaves
¼ cup of sliced Roma tomatoes
Instructions
Pre-heat to 400 degrees
DIRECTIONS FOR SAUCE:
Heat the olive oil and add the crushed tomatoes, spices, and sea salt. Stir and cook the sauce has reduced and thickened. Set aside.
Place mozzarella and cream cheese in a medium size microwaveable bowl and microwave in increments of 30 seconds until the mozzarella cheese melts and you can blend easily.
Allow the mixture to cool slightly and then stir in the eggs, almond flour. The "dough" will be sticky so place on parchment paper and spread with wet hands.
Bake for 10 minutes, check for any large bubbles that may form. Poke holes and continue baking for a total 15 -20 minutes, or until slightly brown on top. Pizza dough will be done when you can give it a thump and you hear a hollow sound.
Once the dough is baked and allowed to cool, you can then add your pizza sauce and toppings and bake for another 15 to 20 minutes until all the toppings melt and the cheese is slightly brown around the edges.
Recommended Products
As an Amazon Associate and member of other affiliate programs, I earn from qualifying purchases.
Nutrition Information:
Yield:

15
Serving Size:

1
Amount Per Serving:
Calories:

108.9
Total Fat:

12.1g
Saturated Fat:

3.4g
Cholesterol:

35mg
Sodium:

137mg
Carbohydrates:

3.1g
Fiber:

1.2g
Sugar:

0.5g
Protein:

8.2g
SaveSave
SaveSave
SaveSave
SaveSave
SaveSave
SaveSave