Best Low Carb Keto Options When Dining Out
Can you agree that making the decision to eat healthy is challenging? That's why no one needs the added stress of trying to figure out what to eat when dining out.
Let's face it eating out is not going out of style any time soon. Busy people won't stop dining out just because they are on a low carb ketogenic diet.
The question is, how can low carber avoid potential pitfalls when dining out? This post offers my fast food low carb options when dining out and will give you the confidence to choose wisely.
FITTOSERVE GROUP MEMBER, Nancy Ochotorena shared with me her solution when she orders a breakfast wrap at Subways. "Hilda, I simply swap the bread for egg whites". I thought this was pure genius! Imagine using eggs as a wrap? It amazes me what creative strategies people use to help them stay on course.
Do Your Research
It's vital to go prepared when eating out. If necessary do your homework by looking online for a copy of the restaurant's menu. If you plan ahead you won't be overwhelmed when your server takes your order.
Be willing to ask questions regarding how the food is prepared. It's not difficult to swap high carb options for fast food low carb options, you just need to be willing to ask.
Remember you're a paying customer entitled to request what you need. Being clear and polite goes a long way when ordering off menu.
What To Order On A Keto Plan?
For starters, pass the complimentary bread that most restaurants offer. Let them know as soon as they take your drink order that you will not be wanting the bread.
This way you won't be tempted with a basket full of carbs right in front of you. Saying no to the bread even before it arrives is one of my favorite fast food low carb options.
Look for dishes cooked simply. Stay away from items with complicated sauces. Generally the simpler the dish the most likely you can consume it. Inquire about what's added to their sauces.
This is important since many establishments use flour to thicken theirs. Swap starchy sides for green vegetables or side salad. Don't forget to say no to the croutons in your salad, no need to fish them out when you can avoid them altogether.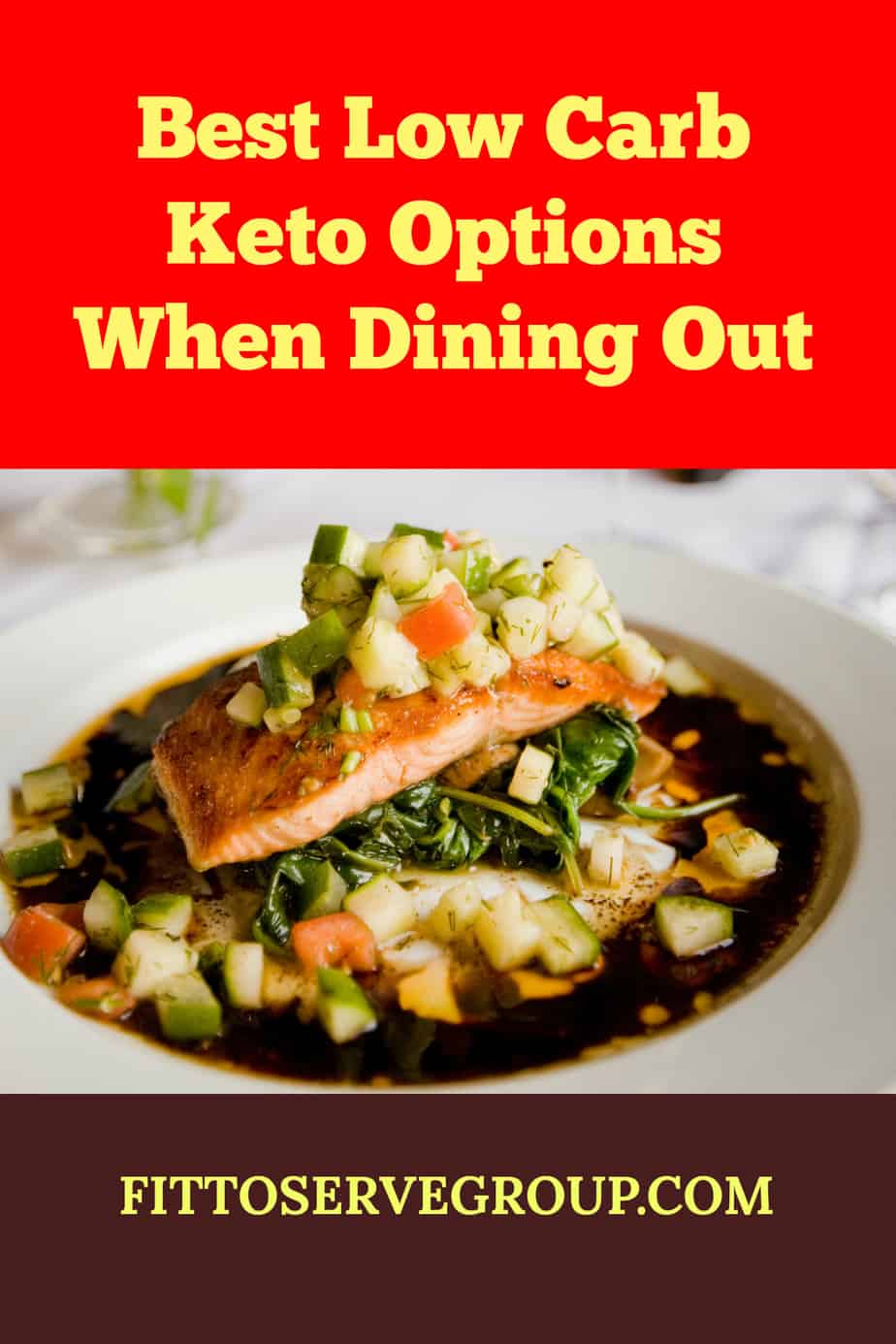 When choosing a burger, order it lettuce wrapped and ditch the bun. Most restaurants offer a burger option. It's a good choice when your choices are limited. If the restaurant won't offer to lettuce wrap your burger, educate the server and then just have your burger less and on top of a side salad.
As you can see there are always solutions. Are you enjoying these fast food low carb options? I sure hope you will remember them the next time your are eating out.
What about ordering breakfast for dinner? Many restaurants serve breakfast all day long. Order an omelet and ask for extra vegetables. Pass on the carb-loaded potato hash browns and order extra bacon or sausage instead.
What about dessert? Why not order a small bowl of whipped cream? Most places won't even charge you for this. This is a great solution especially when others are ordering carb rich desserts.
There are only about 2 carbs per two tablespoons of whipped cream so its something to opt for. Just a small amount may just get you over the dessert temptation.
Low Carb Fast-Food Options
Sometimes stopping at a fast-food restaurant is your only option when dining. This is especially true when traveling. Don't lose hope you can still make a healthy choice. My dream shape created a great infographic that can assist you in choosing your best option to stay in ketosis.
Knowing ahead of time how many carbs are in any given meal, will be very beneficial.
Don't make eating out an excuse to not stay on your low carb plan. There are always good alternatives when dining out. It's encouraging to see that more restaurants are making eating low carb easier.
The consumer always dictates the market. The tide is turning and there are fast food low carb options to choose from. The day will soon come that eating a low carb keto diet will become mainstream.
SaveSave
SaveSave
SaveSave
SaveSaveSaveSave