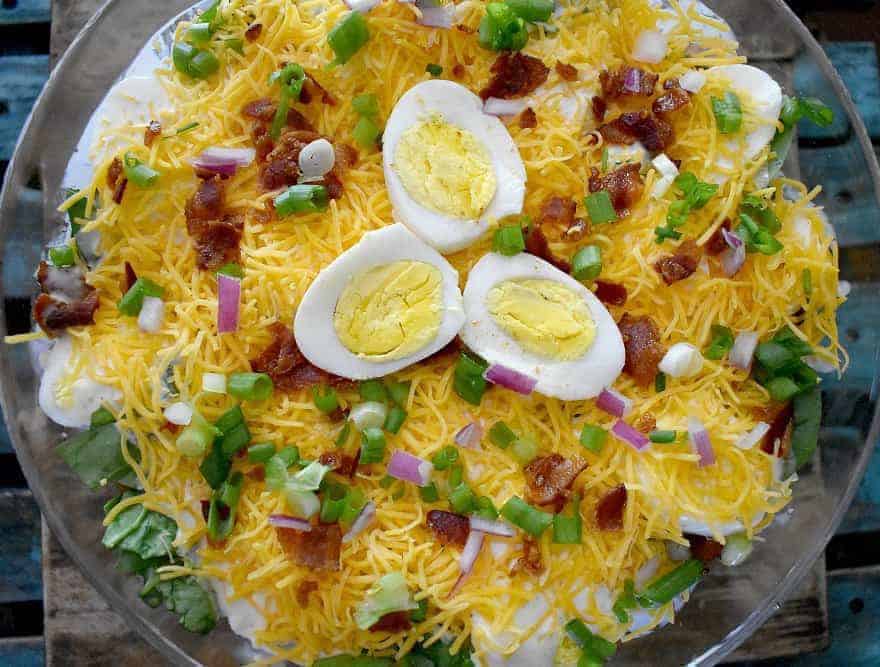 This recipe for keto 7 layer salad is made easily and it's a perfect 24-hour salad allowing you to make it in advance. Make a low carb (seven layer salad) recipe and impress your family and friends.
I hope to bring back a little Americana with this simple classic recipe that's had a little bit of a makeover. It's a recipe for keto layered salad.
Not familiar with layered salads? How about the Seven Layer Salad? No? That's probably because it was kind of a big deal in the 1970s, and once our country went low-fat, well it kinda vanished.
Layered salads used to be all the rage before all the fat-fearing caused our country to ban even healthy forms of fats.
But I am on a mission to try to change this. Because frankly, layered salads deserve a comeback.
That being said, they can use a bit of healthy update. Which is why my recipe is a low carb layered salad.
Keto Seven Layer Salad
When it comes to layered salads, they typically include a colorful combo of at least seven layers and it's served in a transparent glass bowl to showcase these layers.
Although, seven layers is really only a starting point if you ask me.
Because you can really go to town when making this type of salad. And if it's a keto-friendly 7 layer salad, I say why not?
Traditionally, this salad includes layers of iceberg lettuce, tomatoes, onions, cucumbers, hard-boiled eggs, sharp cheddar cheese, bacon pieces, and peas. It's then topped with a mayonnaise/sour cream dressing.
Everything in a typical seven-layer salad works on a keto diet, except the peas. So, my recipe for keto layered salad obviously won't include them.
Disclosure: Some of the links below are affiliate links, meaning at no additional cost to you, I will earn a commission if you click through and make a purchase.
7 Layer Salad Keto
The other thing to keep in mind when making a recipe for keto layered salad is to aim to use a high-quality mayo. Personally, I love using ones that are made with avocado oil.
Using avocado oil has the added benefit of being rich in monounsaturated fats, that have been shown to decrease oxidative stress, improve mitochondrial function, reduce inflammation, and support cardiovascular help.
Another option to use on your keto layered salad is baconnaise, it's mayo that uses bacon fat.
The point is to use a mayonnaise that does not use GMO loaded soybean oil.
What makes this keto layered salad a great crowd pleaser, is that it can be assembled the night before, like even 24 hours before. Who wouldn't love that convenience?
The top layer of dressing serves as a seal and helps keep the vegetables below fresh. Since you don't mix the salad until ready to serve, the vegetables remain crisp.
Assembling a keto layered 24 salad makes it a stress-free option for when you need a crowd-pleasing salad.
Low Carb 7 Layer Salads
You may be too young to remember or maybe it's been forever since you participated in a church pot-luck, but a layered salad always made it to large casual gatherings.
Probably because of the convenience that a layered salad can be made hours ahead of time and it can feed a large crowd.
I can't really put my finger the first time I had a layered salad but, I'm pretty certain it must have been at a church luncheon.
It seems like church and food have always gone together. There's no denying that food has a way of uniting people. AND the opportunity for lots of great fellowships to occur when we share a meal.
I mean even the early church gave us this example.
So, I am a fan of church gatherings that include food.
But here's the thing….
Unfortunately, a lot of what is served after a church service is not healthy. Like not even a little bit healthy.
I must tell you that this really concerns me.
The body of Christ as a whole needs to do a better job of teaching people how to take better care of the temple.
AND the foundation needs to be a willingness to examine the foods we eat.
Thankfully, I see hope arising. AND our church is one that is aiming to get this right.
I love how our pastors have embraced the message of Jesus and Ketones. They have seen first-hand the need for a church community group like Fittoserve.
We must be vigilant when it comes to choosing the foods we allow into our diet. since they have a direct correlation to our health.
How To Make A Keto 7 Layer Salad
Creating a low carb layered salad is very easy as long as you keep the following in mind.
The base of the keto layered salad should be either iceberg or romaine lettuce.
Make sure to cut all your ingredients into bite-sized pieces.
Use only ingredients that are low in carbs and keto-friendly.
Add the layer of dressing to the top of the salad.
Don't toss the salad until ready to serve.
The next time you're invited to a picnic, church potluck, or need to bring a dish to a party consider this easy crowd pleaser!
Oh, and do try making a week's worth in individual mason jars. They keep well and make a great low carb keto lunch option.
I sure hope you will give this recipe a try. Once you do, make sure you remember to tag us on Instagram and Facebook. It's what keeps this girl encouraged to keep sharing and perfecting her recipes.
Do check out our Amazon store for my must-have items. You might just be surprised by all the great options.
For more support and recipes make sure to join our Private Facebook Group. It's a growing community of like-minded, highly supportive people who eagerly want to share what's worked for them.
Perfect Keto Hack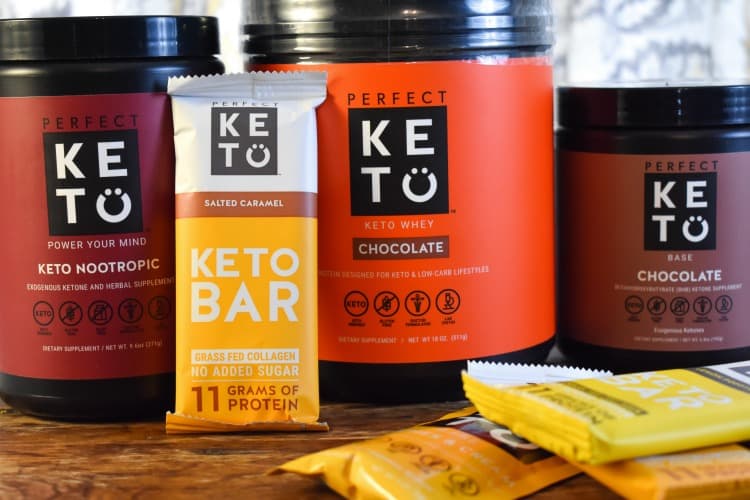 Perhaps, you've struggled to get into ketosis consistently on your low carb keto diet, or you've hit a plateau that doesn't seem to budge, consider using Perfect KETO exogenous ketones.
By using exogenous ketones you will naturally elevate your ketones allowing you to enter into ketosis more quickly.
In a deeper level of ketosis, you will help reduce your appetite, carb cravings, and give you lasting energy. It's been our experience that the use of exogenous ketones helps make the low carb keto lifestyle a viable sustainable option.
Honestly, it's like having willpower in a cup. Learn more about the science behind both exogenous and endogenous ketones and have your questions answered from a doctor's perspective.
Make sure you also pick up your free and complete guide to understanding ketosis. Then begin the ketosis diet easily with this Start Up Guide to the Ketosis Diet.
Wondering which foods you should avoid when doing Keto? This Keto Food Guide will assist you in doing the Keto Diet correctly.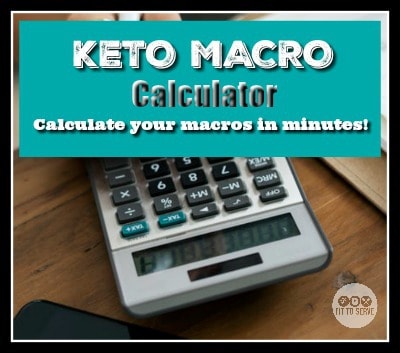 Don't start the Keto Diet until you calculate your Keto Macros easily Using this calculator will customize the diet according to your goals and help you do the Keto Diet properly.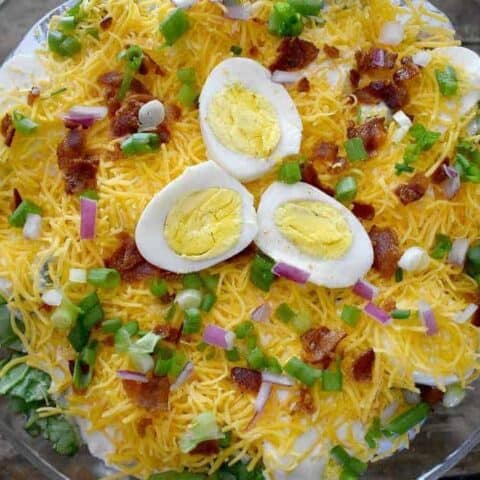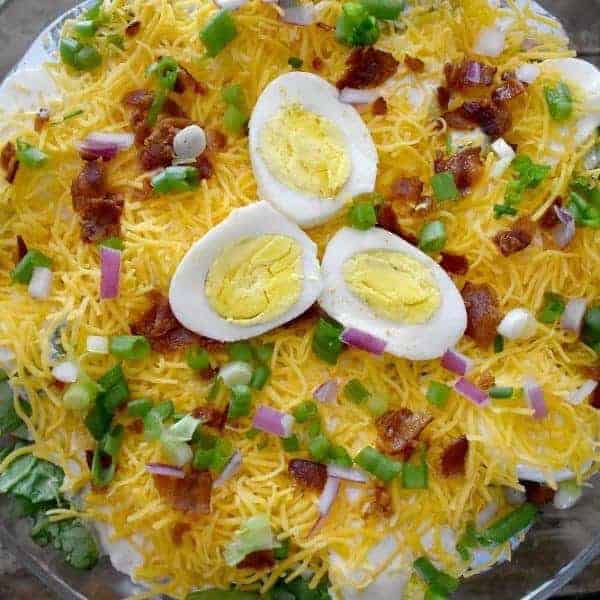 Keto Layered Salad
A keto 7 layer salad recipe. Includes seven layers of fresh low in carbs salad vegetables and hard boiled eggs, bacon, and sharp cheddar cheese.
Ingredients
1 ½ heads of iceberg lettuce
4 eggs, boiled
2 packages of bacon cooked and cut into bite size pieces
4 stalks of green onions, chopped
2 pints of cherry tomatoes
1 cup of chopped carrots
1 red onion finely chopped
3 cups shredded cheddar cheese
2 large cucumbers chopped
1 cup mayonnaise
1 cup full fat sour cream
3 tablespoon apple cider vinegar
2 tablespoon sugar substitute (optional)
Instructions
Get a large bowl, or large trifle dish. You can also make individual ones in mason jars, these keep well in the fridge up to a week as long as you don't mix the salad till it's time to eat.
Chop the iceberg lettuce and put in the bowl as the first layer on the bottom of your dish.
(lightly salt, optional) Chop the hard boiled eggs and season with salt and pepper
Add the cucumber layer.
Add the layer of chopped green onions.
Add the red onion layer.
Add the bacon pieces layer.
Add the cherry tomatoes.
Add the shredded Cheddar to cover the top.
In a separately bowl, stir together the mayonnaise, sour cream, sugar substitute, and apple cider vinegar.
Pour the mayonnaise/sour cream mixture as the final layer.
Refrigerate the salad until ready to serve. Up to 36 hours.
Once ready to serve simply toss the salad so that layers get covered in the dressing.
Recommended Products
As an Amazon Associate and member of other affiliate programs, I earn from qualifying purchases.
Nutrition Information:
Yield:

20
Serving Size:

1
Amount Per Serving:
Calories:

418
Total Fat:

31.9g
Saturated Fat:

12.2g
Cholesterol:

109mg
Sodium:

150mg
Carbohydrates:

8.8g
Fiber:

1g
Sugar:

3.4g
Protein:

23.4g
SaveSave
SaveSave
SaveSave
SaveSave
SaveSave