This recipe for Keto Jalapeño Bacon Cheese Bread has a rich cheesy, slightly spicy, and smoky bacon flavor. It's perfect as a side, for a quick breakfast, or toasted for sandwiches.
Simple, delicious low-carb grain and flour-free bread. That also happens to be high in fiber and nut-free.
Full of bacon flavor goodness, cheese, and pickled jalapeños, what's not to love about this keto-friendly quick-bread?
If I were to describe the flavor I was going for in this keto quick bread, it would be that of a bacon jalapeño popper. Who doesn't love the combination of cheese, jalapeños, and bacon? Exactly!
Although I could have opted to use fresh jalapeños in this keto bread recipe, I used pickled jalapeños instead because of the tangy, spicy flavor it provides. Plus, it's just flat-out delicious.
Keto Jalapeño Bacon Cheese Bread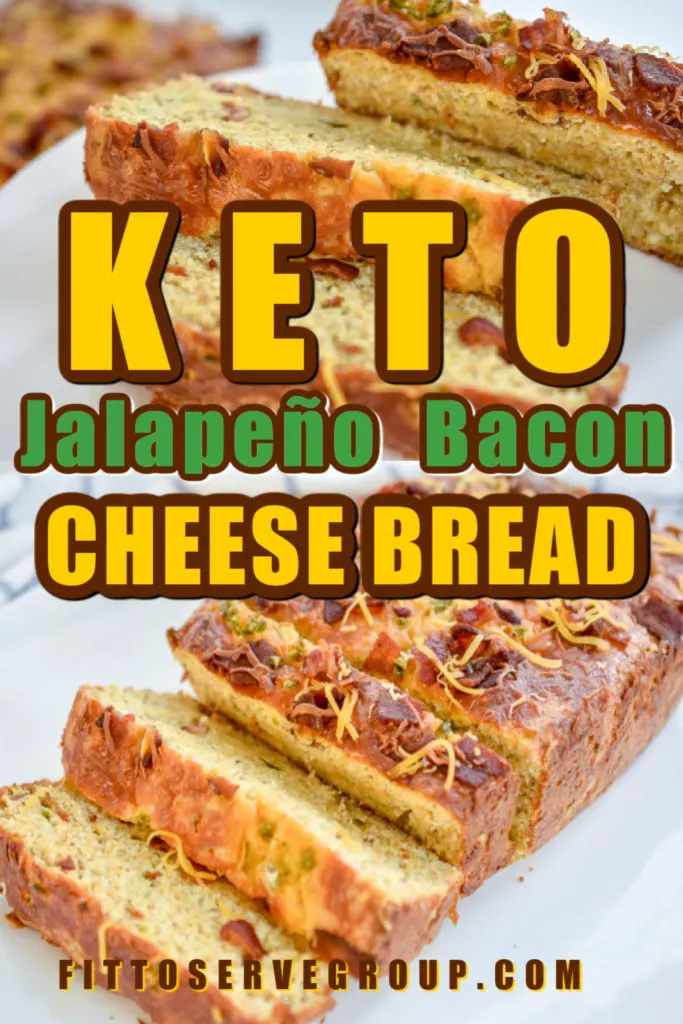 One of the first recipes I created once I went keto was this recipe for keto jalapeño bacon cheese bread.
I knew that if I were going to encourage my family to stay keto, I would have to come up with low-carb cheesy bread real quick.
I was that girl who used to bake homemade bread all the time. If you were invited to dinner, I would pull out all the stops, including fresh-from-the-oven bread.
In fact, I would time your arrival to coincide with my bringing the fresh bread to the table minutes after you were seated.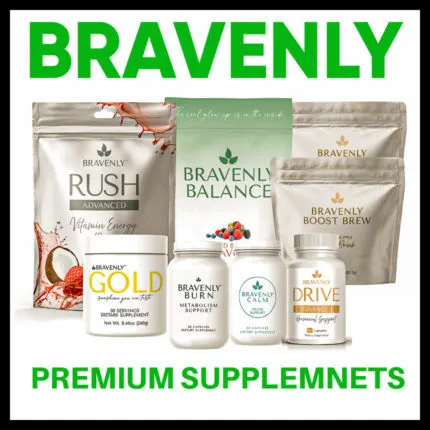 So, after we made low carb a lifestyle choice, I knew I would be in trouble if I didn't have decent cheesy bread to offer my family and friends.
I'm not going to lie to you, I still sometimes long for yeasty bread, but the consequences of cheating are not worth it to us.
Baking With Flax Meal And Coconut Flour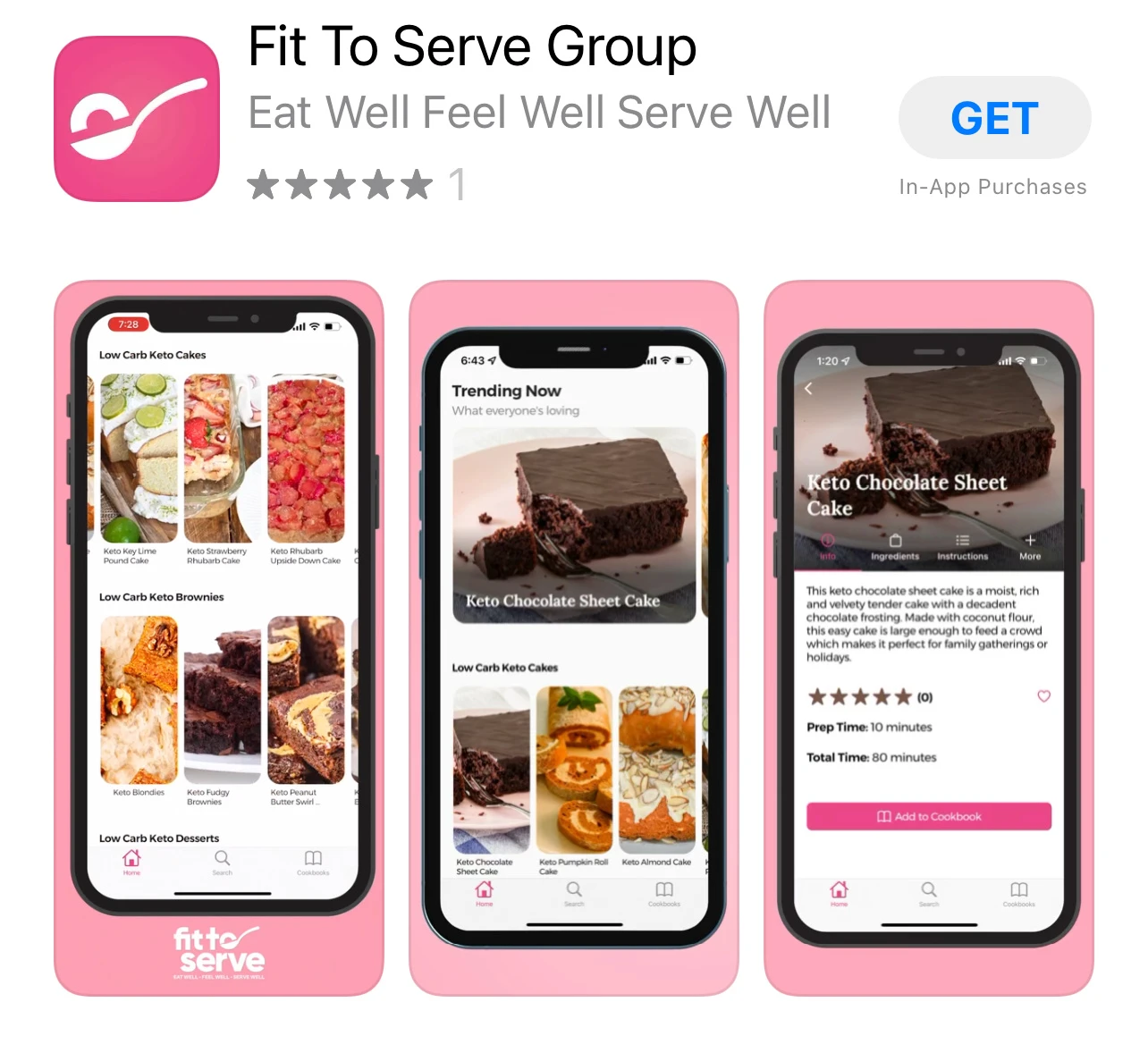 One of the first flours I worked with was a golden flax meal. To be honest, this probably was because it was the most economical choice.
And I wasn't about to continue to toss tons of money in the trash as I learned how to properly do Keto Baking.
In fact, if you are still trying to learn how to use alternative ingredients for keto, you might want to check out my detailed post on all things keto baking. It is sure to save you some major headaches and money.
Because I was still learning in the early days, I went for a combination of flax meal and coconut flour.
What I quickly discovered was that flax meal was high in fiber, and that was something I wanted to make sure my family had as we transitioned to a keto lifestyle.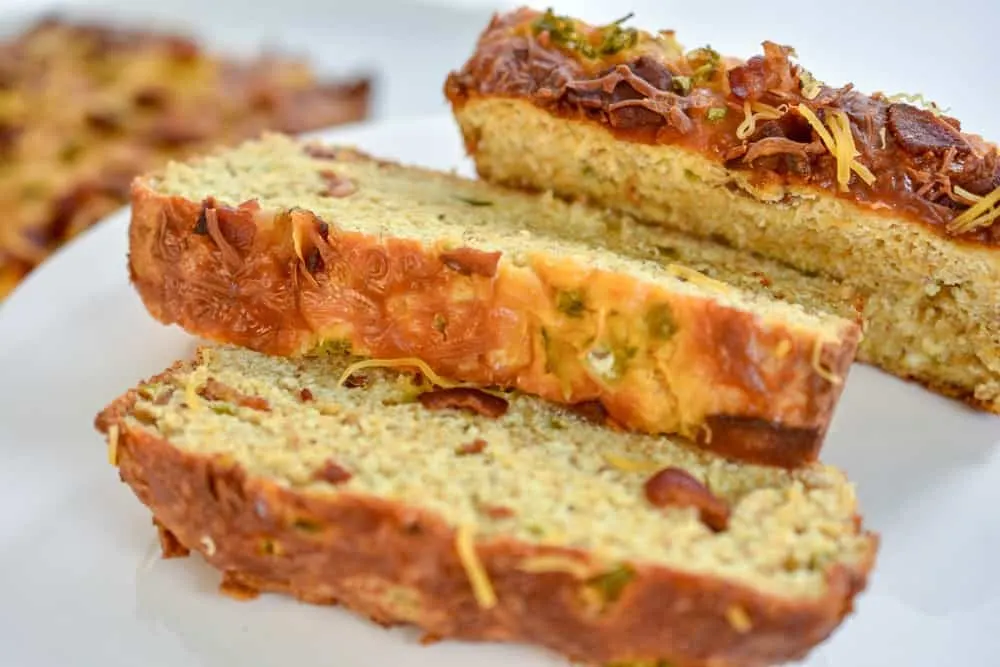 Today, I am such of fan of adding fiber to the keto diet that I have several recipes that have been a blessing to the keto community.
Recipes like my Keto High Fiber Bread that tastes like whole wheat bread, Keto High Fiber Breakfast Muffins, Keto High Fiber Crackers, Keto "Banana" Nut Bread, and my Keto Granola Bars.
If you're wondering why I go to great lengths to explain the origins of my recipe and my tips and cooking information, it's because I want to ensure you get the same consistent results I do.
To Make Keto Jalapeño Bacon Cheese Bread You'll Need:
When it comes to making this keto jalapeño cheese bread, I want you to feel free to adjust the number of jalapeños to your liking. If you're not a big fan of heat, then just add a few jalapeños to the batter.
However, if you like the heat they provide, then simply add more.
With that being said, this low-carb jalapeño cheese bread is not too spicy.
The idea was to provide just enough heat to enhance the flavor of bacon and cheese in the recipe without overwhelming it. I added 1/3 cup of finely diced pickled jalapeños.
Something to keep in mind is that when baking with a flax meal, I find that it takes a little longer to cook. So carve out some extra time because it can take as long as 60 minutes to bake this keto cheese bread.
Check at the 50-minute mark and add some foil to the top and add more time if necessary.
The other thing to keep in mind is that I bake this bread in a 375-degree preheated oven. So it's a little higher than some of the other keto bread I make. This helps in the rising of this bread a little better since it is a heavier bread than others I share.
I baked this bread in a 9X5.5 loaf pan, but it can also be baked in a 9-inch cast-iron skillet or 9-inch cake pan.
Ingredients You'll Need For Keto Jalapeño Cheese Bread: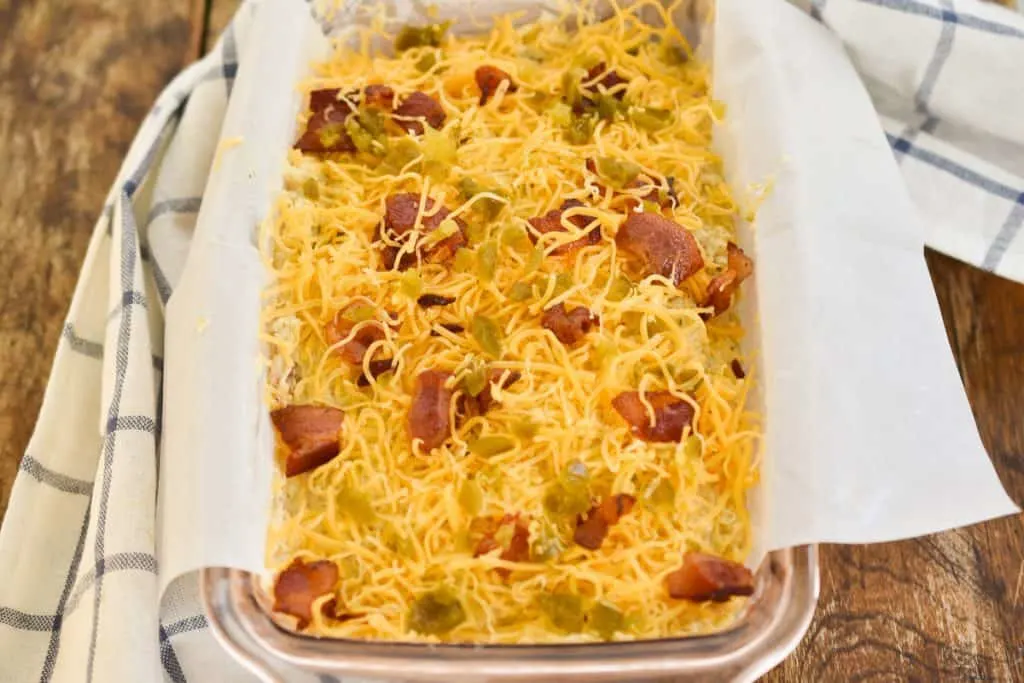 Disclosure: Some of the links below are affiliate links, meaning at no additional cost to you, I will earn a commission if you click through and make a purchase.
NOTE: The full recipe and instructions are at the end of the post.
Golden Flaxseed Meal – be sure to only use golden flax because anything else will produce a gummy texture.
Pickled Jalapeños
Cream Cheese- be sure to only use full-fat and not whipped cream cheese
Eggs
Sharp Cheddar Cheese
Bacon
Bacon fat or melted butter, or a combination of both
Parmesan Cheese
Almond milk or coconut milk, or heavy whipping cream and water combo
Salt, Ground Pepper, Sugar-substitute
Baking Powder
Tag Us
I sure hope you will give this recipe a try. Once you do, make sure you remember to tag us on Instagram and Facebook. It's what keeps this girl encouraged to keep sharing and perfecting her recipes.
Also, check out our Amazon Store for our recommendations. You might be surprised by how many great keto options are at your disposal.
Grab Our Books!
In case you don't know, we have authored two books for you, Essential Keto Bread and Essential Keto Desserts, both inspired by your requests over the years.
I pray these keto cookbooks will help make keto a delicious breeze for you.
Join Our Jesus And Keto Movement
Looking for an online support system to help you stay the course on keto? As a family, we came to the keto diet looking at it from a Christian perspective. As believers, we live our lives supported by God's grace.
So when the Holy Spirit led us to combine our Christian faith and the keto diet, we did so in hopes of finding lasting transformation.
Following the Holy Spirit's prompting, we got on the path to real transformation.
Knowing firsthand the benefits of this decision, we have created a closed Christian group that is using the keto diet to transform their lives. We invite you to join our Private Facebook Group and see if it's not the key you have been missing.
Be sure to request our FREE Jesus and Keto E-Book (First 7 Days). We hope it blesses you.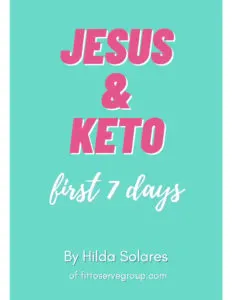 Fittoservegroup Keto App
Looking for a fast way to access our keto recipes? We got you covered. There's an app for that. Yup, there's a Fit To Serve Group App and it's going to make your keto diet a delicious breeze!
Access hundreds of recipes that are all sugar-free, gluten-free, and keto-friendly.
Enjoy early access to recipes before they go live on the website. Plus, bonus recipes that are exclusive to the app. Make your own personal cookbooks that you can use to organize your favorite recipes.
Search recipes by title, ingredients, keywords, and categories, and of course, every recipe shows complete nutritional facts. Get the Fit to Serve Group App for easy-to-follow keto recipes made with easy-to-source ingredients.
The app is loaded with hundreds of yummy recipes for breakfast, lunch, dinner, snacks, and even desserts!
Learn more by visiting our Fit To Serve Group App Page.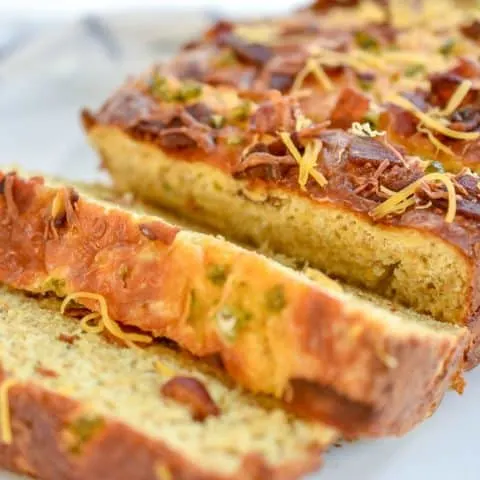 Keto Jalapeño Bacon Cheese Bread
Additional Time:
10 minutes
Total Time:
1 hour
15 minutes
Keto Jalapeno Bacon Cheese Bread has a rich cheesy, slightly spicy and smoky bacon flavor. It's perfect as side, for a quick breakfast. Or toasted for sandwiches.
Ingredients
2 teaspoons baking powder
1 teaspoon salt
1/4 teaspoon of black pepper
1/3 cup diced pickled jalapeno
8 ounces full-fat cream cheese, softened
4 whole eggs
3 cups sharp shredded cheddar cheese (reserve 1/2 cup to add to the top of the bread before baking)
3 tablespoon of grated parmesan cheese
1 ¼ cup of almond milk, coconut milk, or a ​mix of 3/4 cup of heavy whipping cream 1/2 cup of water.
1/4 cup of rendered bacon grease reserved from frying the bacon or melted butter or a combination of both.
5 slices of bacon fully cooked and crumbled (reserve one slice to add to the top of the bread before baking)
Instructions
Preheat oven 375 degrees.
Grease a 9x5.5 loaf pan and add parchment paper that's been greased to the bottom of the loaf. Allow the parchment to overhang the sides of the pan so that it's easy to unmold. This also prevents the cheese from sticking to the bottom of the pan.
You can also bake in a 9-inch cast-iron skillet or a 9-inch baking pan if baking in anything other than the loaf reduce the baking time by 10 minutes and check at the 35-minute mark.
In a medium-sized bowl, combine the golden flax meal, coconut flour, grated parmesan cheese, baking powder, salt, and sugar substitute. Set aside.
In a large bowl, combine cream cheese and eggs using an electric mixer. Mix until thoroughly combined.
To the wet ingredients, add the diced pickled jalapeño, four slices of crumbled bacon, and 2 ½ cups of shredded cheese. Stir to combine until well incorporated. Note: You will be reserving 1/2 cup of 3 cups of shredded cheese and one slice of the five bacon crumbles to add to the top of the bread before baking.
Next, fold in the 1/4 cup of rendered bacon fat, melted butter, or a combo of both to the wet ingredients.
At this point, add the dry ingredients you set aside earlier.
Add 1 1/4 cups of coconut milk, or almond milk, or a mixture of heavy whipping cream 3/4 cup and 1/2 cup of water. NOTE: you will be choosing your choice of milk option. Then mix until just combined.
Pour the bread batter into the prepared greased and parchment-lined loaf pan. Note: The batter will be thick.
Top the bread with the remaining 1/2 cup of shredded cheddar and one slice of reserved bacon crumbles.
Bake in a 375-degree oven for 50 to 60 minutes, or until the top is lightly browned and a toothpick inserted in the middle comes out clean. Check the bread at the 45-minute mark and add foil to the top of the bread and continue to bake until thoroughly done and an inserted toothpick comes out clean.
Remove from oven and place on a wire rack; cool for at least 20 minutes before unmolding and slicing. To unmold, use the parchment paper overhang to lift it out of the pan easily.
Notes
Store your keto jalapeno bacon cheese bread in the refrigerator for up to 5 days or freeze for up to 3 weeks. Reheat your bread sliced in a toaster or toaster oven. To heat the entire loaf, do so in a 325-degree oven for 20 minutes.
Nutrition Information:
Yield:

12
Serving Size:

1
Amount Per Serving:
Calories:

235
Total Fat:

16.8g
Saturated Fat:

8.8g
Trans Fat:

0g
Cholesterol:

83mg
Sodium:

275mg
Carbohydrates:

5.3g
Net Carbohydrates:

3.2g
Fiber:

2.1g
Sugar:

0.4g
Protein:

10.5g