If you're looking for a delicious keto substitute for whole wheat bread, then you've come to the right place. This keto high-fiber bread mimics the flavor of regular bread perfectly.
It's a high fiber gluten-free bread recipe that will make keto a yummy breeze!
Plus, it will give you the added fiber you need while on a keto diet.
It's a high fiber bread recipe that is low in carbs and keto-friendly. For a keto "white" bread option, grab our keto almond flour bread recipe or our keto cream cheese bread.
For more bread recipes that are low in carbs and gluten-free, be sure to check our entire collection of keto bread recipes.
I love to have this bread for breakfast, but it's a great option any time of day.
Bread is one of the foods most people miss when on a keto diet. I totally understand because this girl loved her bread too.
I especially enjoyed the flavor and texture of whole wheat bread, but of course, that had to change once I went keto.
The solution would come when I decided to make my own recipe for low-carb high-fiber bread, but without any wheat flour or wheat by-products.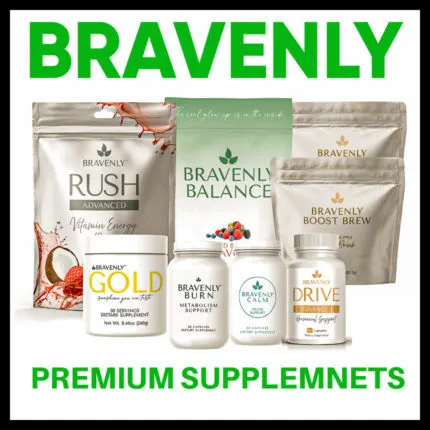 Personally, I am not a fan of some of the different brands out there on the market that add ingredients like vital wheat gluten and oat fiber as a way to increase the fiber content of the product and reduce the number of net carbs.
As someone who has a sensitivity to all things gluten, I wanted the flavor and texture of whole grains that even individuals allergic to wheat could consume while on a ketogenic diet.
The good news is that this keto high fiber bread recipe is not only a good substitution for real bread but a delicious high-fiber, low-carb option for breakfast.
We often get asked if choosing to go low-carb keto means that they will not be getting enough fiber in their diet.
The short answer is that if you are eating plenty of green vegetables, then fiber will not be an issue on a keto diet.
Remember that the majority of the carbs you will consume on a low-carb keto plan come from plenty of fresh green vegetables.
High Fiber Low Carb Bread Recipe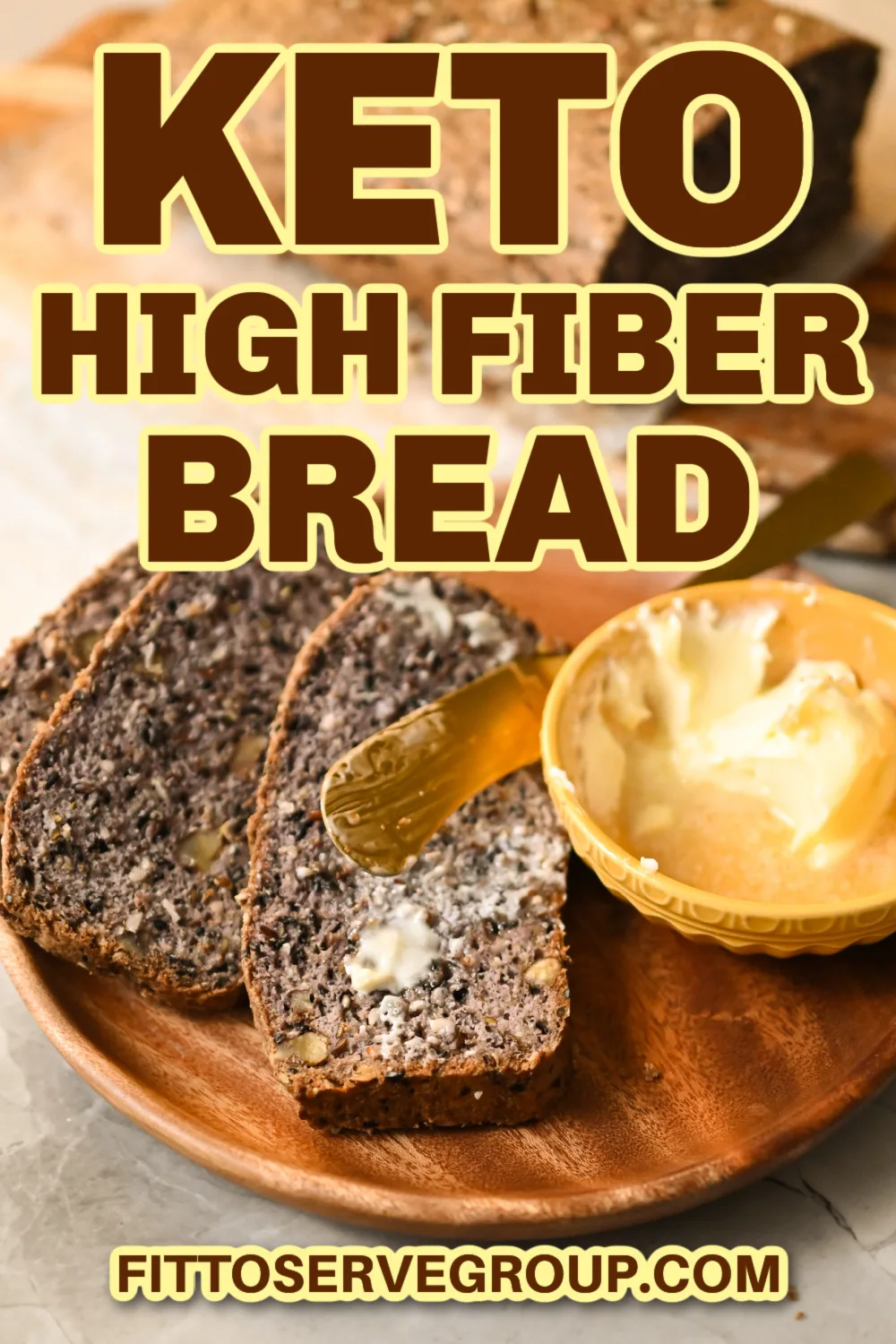 The challenge lies in that most people are just not eating enough vegetables, and by the time they come to a low-carb diet, they have spent a lifetime avoiding them.
Which means it will take a little time to embrace them.
The other problem is that the few vegetables that they did consume prior to making the switch to a ketogenic diet were usually vegetables that were high in starches and carbohydrates.
This is where a recipe, like my low-carb high-fiber breakfast bread, can address the need. It's a hearty bread recipe that keeps you feeling full for hours.
A serving of this bread has 5.8 grams of fiber and only 3 net carbs.
I created this low-carb high-fiber breakfast bread as an excellent way to effortlessly add more fiber to your diet.
If we need to find ways to add more fiber to our diet, why not make it delicious?
This recipe is full of nuts, seeds, and psyllium—all the ingredients that ensure you are getting enough insoluble and soluble fiber.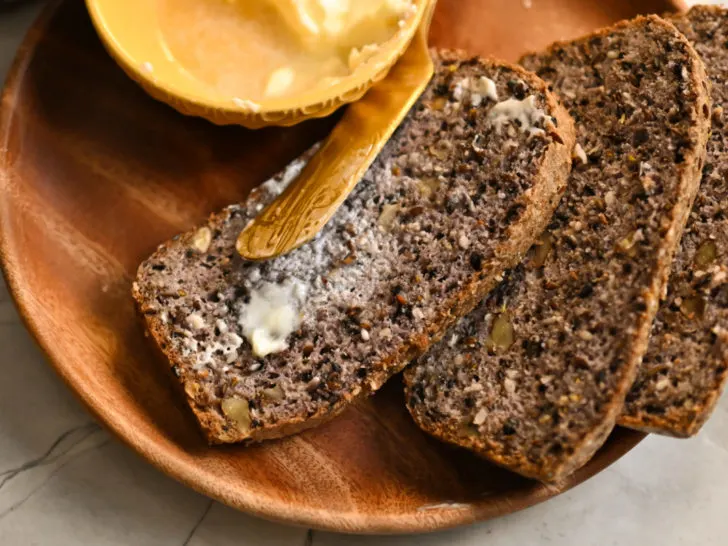 Keto High Fiber Bread Recipe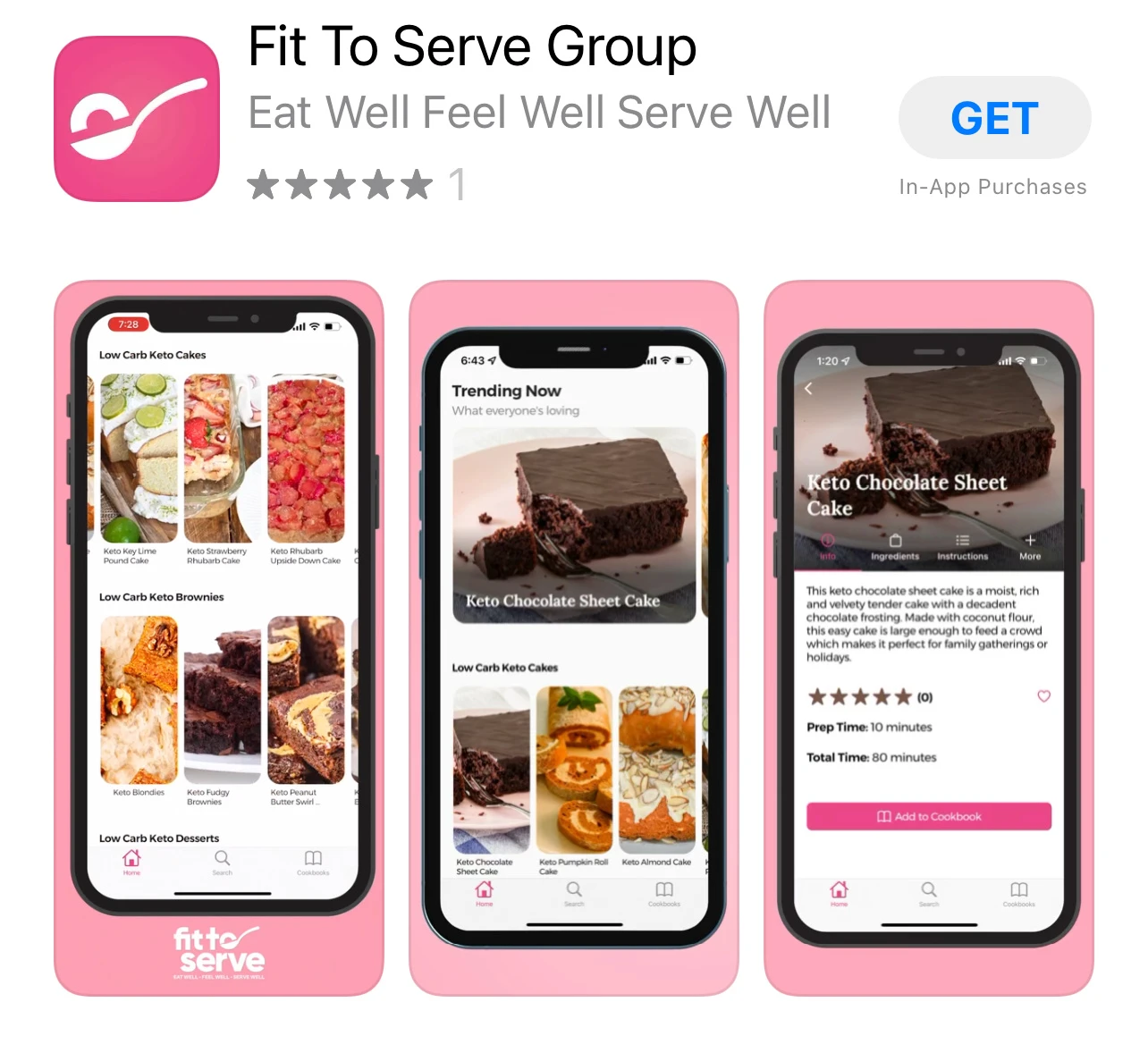 Disclosure: Some of the links below are affiliate links, meaning that at no additional cost to you, I will earn a commission if you click through and make a purchase.
What's more, our low-carb, high-fiber breakfast bread gives you the benefits of important prebiotics.
Most people have heard of probiotics but are not familiar with prebiotics.
However, prebiotics also play an important role in our diet. When it comes to a prebiotic, it can either be soluble or insoluble fiber.
This fiber passes through the upper region of the gastrointestinal tract and stimulates and grows the beneficial bacteria in the colon.
This is why keto high-fiber breakfast bread makes for the perfect breakfast meal.
Not only is it delicious, but it will keep your gut bugs very happy. This low in carbs, keto-friendly fiber bread slices and toasts beautifully.
What's more, it can easily be customized. Just add your favorite low-carb seeds and nuts. And, of course, it's less than 3 net carbs!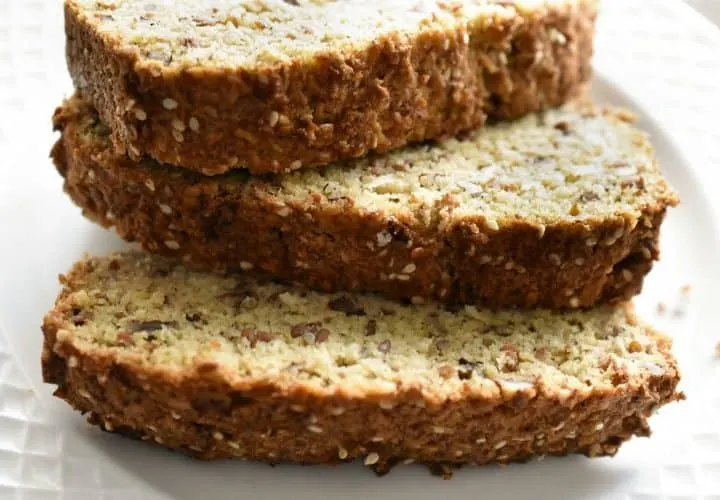 So, what can we do if we want to stay regular on a low-carb diet?
Besides making sure you are drinking enough water and eating the right amount of green leafy vegetables, I would recommend a fiber supplement in the form of psyllium while your body adjusts.
What you want is psyllium powder that is plain and not loaded with sugars or other unnecessary fillers.
Once your body gets fully keto-adapted you will find that staying regular is no longer an issue.
Looking for delicious, high fiber low carb foods is a great way to ensure you are including enough fiber in your diet.
Soluble Fiber
When it comes to psyllium powder it contains mostly soluble fiber. When soluble fiber is digested it creates a gel-like consistency in our digestive tract. Why is this gel consistency a good thing?
Because it helps keep hunger at bay. It keeps you feeling fuller for longer.
A breakfast option like our low carb high fiber breakfast bread gives you the necessary fiber while on a low carb diet.
It also gives you the added satiety you want when trying to lose or maintain your weight.
Soluble fiber has also been proven to lower the bad cholesterol in our bodies and, therefore, reduce the risk of heart disease.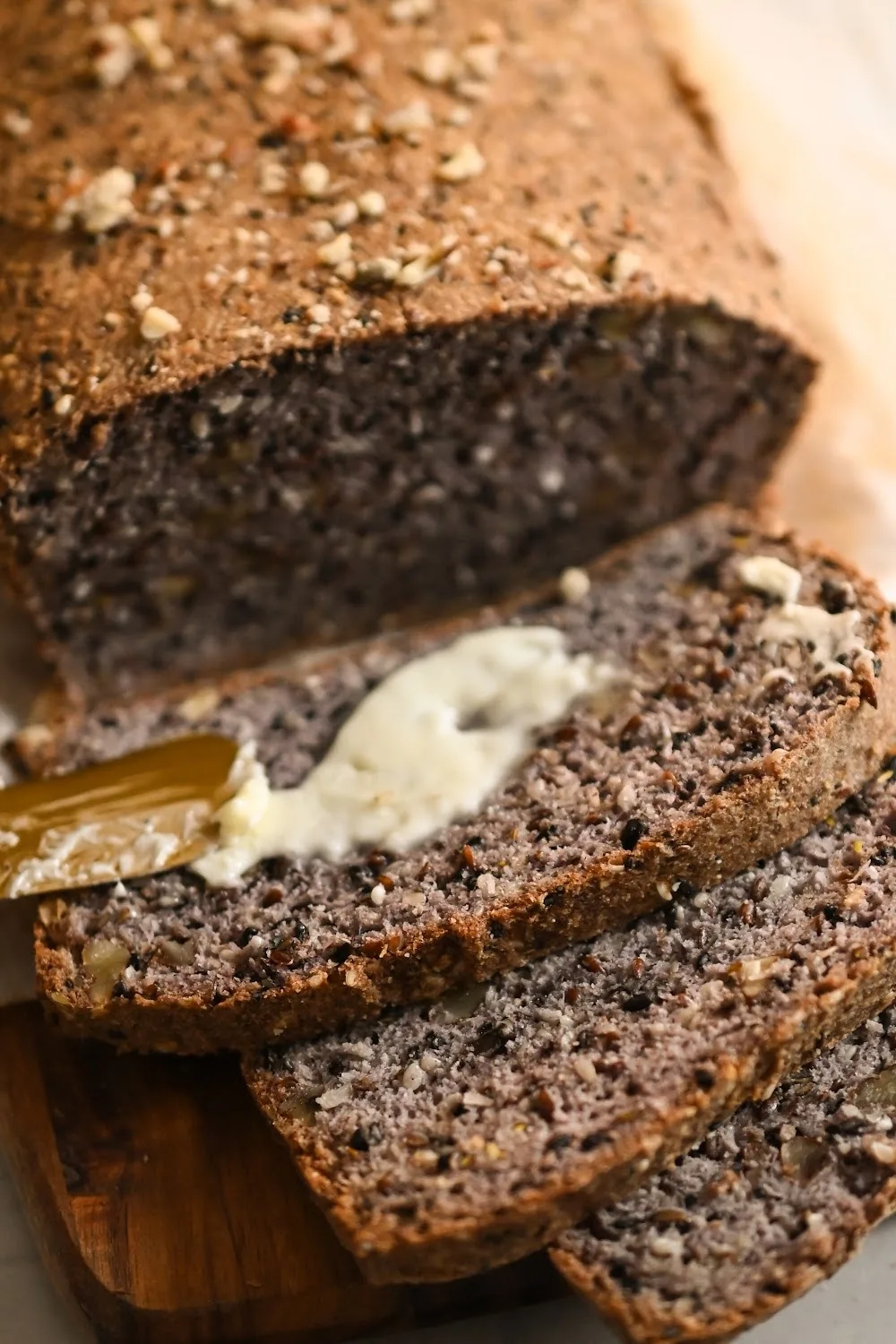 How To Make Keto High Fiber Bread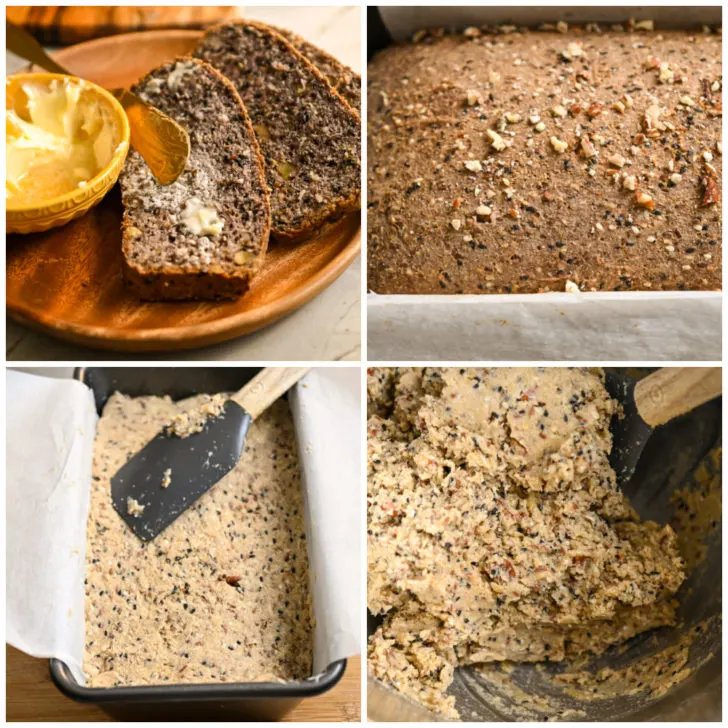 Knowing the importance of creating a low-carb bread that is both delicious and high in fiber, I am going to share the steps in detail with you.
Note that the bread batter is quite thick; this is normal due to the combination of flours and ingredients.
Keep in mind that the recipe calls for 1/2 cup of plain psyllium powder, which is key in getting that whole-wheat bread-like texture.
Adding psyllium husk powder is the best option when wanting to increase fiber intake in your diet without needing to take fiber supplements.
When baking with psyllium powder, you sometimes get a slightly purple hue rather than a golden wheat color.
The color change does not happen to the wet ingredients, but after the bread is baked.
Don't worry; the slight color change does not in any way affect the flavor or the bread.
This keto bread recipe calls for six eggs, but I assure you it does not have an eggy taste.
As an added bonus, the bread has a higher protein content due to the eggs, which contributes to keeping you full longer.
I added coconut flakes to my recipe for extra texture and nutrition, but you could easily leave them out or even use hulled sunflower seeds instead.
If you want a dairy-free version of this keto high-fiber bread, then simply swap out the butter for the same amount of coconut oil.
You'll be baking the bread in a 9×5 baking pan that has been well-greased and lined with parchment paper, with a couple of inches of parchment paper overhang that makes it easier to unmold.
I've used both a glass and a metal pan without issue. Bake your bread in a preheated 350-degree oven. Your keto, high-fiber bread will take anywhere from 45 to 60 minutes to bake, depending on your oven.
Check for doneness at the 45-minute mark. If an inserted toothpick comes out clean, it's ready.
Once your keto bread is baked, allow it to cool for 15 minutes, then run a butter knife around the edges to loosen it from the pan, and then wait another 20 minutes or so before unmolding.
Make sure you allow your bread to be fully cooled before slicing and storing it in your refrigerator.
I believe my advice is helpful, but if you would rather get straight to the recipe, then simply scroll to the bottom of the page, where you can find the printable recipe card that includes the complete nutritional value.
Keto High Fiber Bread Main Ingredients
The following are the ingredients you'll need to make what we consider the best low-carb bread recipe for anyone craving whole-grain bread.
Unsalted butter, melted, Use coconut oil or ghee for a dairy-free option
Sea Salt
Baking Powder
Sesame Seeds: You can also use black sesame seeds or a combination of both.
Pecans
Eggs, room temperature
Does Fiber Count As A Carb?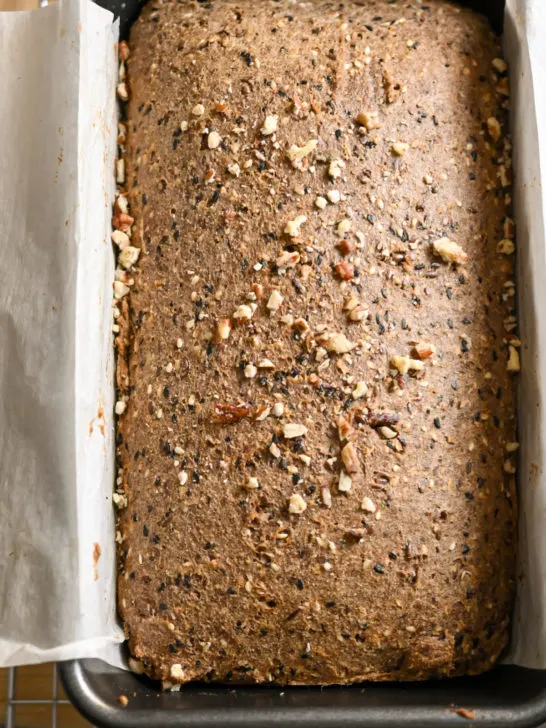 Most people who do a low-carb keto diet do not count fiber in their carb intake. BUT…why is this? It's because, although most fiber is indeed a carbohydrate, fiber doesn't cause a rise in blood sugar levels.
So, the majority of people who adhere to this lifestyle opt not to count it. However, I will caution you that this is not a green light to consume lots of processed, low-carb products.
The reason is that the majority of those are loaded with artificial ingredients. Instead, stick to all-natural products as much as possible.
Tag Us
If you are new to low-carb baking, I recommend you visit our post on keto baking tips so that you can understand how these ingredients work.
I love creating keto recipes for you all to enjoy, which taste like the real thing without worrying about having too many grams of carbs.
I sure hope you will give this recipe for keto high-fiber bread a try. In fact, we have a whole collection of keto high-fiber recipes that you should check out!
Once you do, make sure you remember to tag us on Instagram and Facebook. It's what keeps this girl encouraged to keep sharing and perfecting her recipes.
Grab Our Books & APP
In case you don't know, we have authored two books for you, Essential Keto Bread and Essential Keto Desserts, both inspired by your requests over the years.
It's my prayer that these keto cookbooks will help make keto a delicious breeze for you.
Gain access to simple and delicious recipes for breakfast, lunch, dinner, snacks, and even desserts with our FITTOSERVEGROUP APP.
Join Our Jesus And Keto Movement
Looking for an online support system to help you stay the course on keto? As a family, we came to the keto diet, looking at it from a Christian perspective. As believers, we live our lives supported by God's grace.
Knowing firsthand the benefits of this decision, we have created a closed Christian group that is using the keto diet to transform their lives.
We invite you to join our Private Facebook Group and see if it's not the key you've been missing.
Be sure to request our FREE Jesus and Keto E-Book (First 7 Days). We hope it blesses you.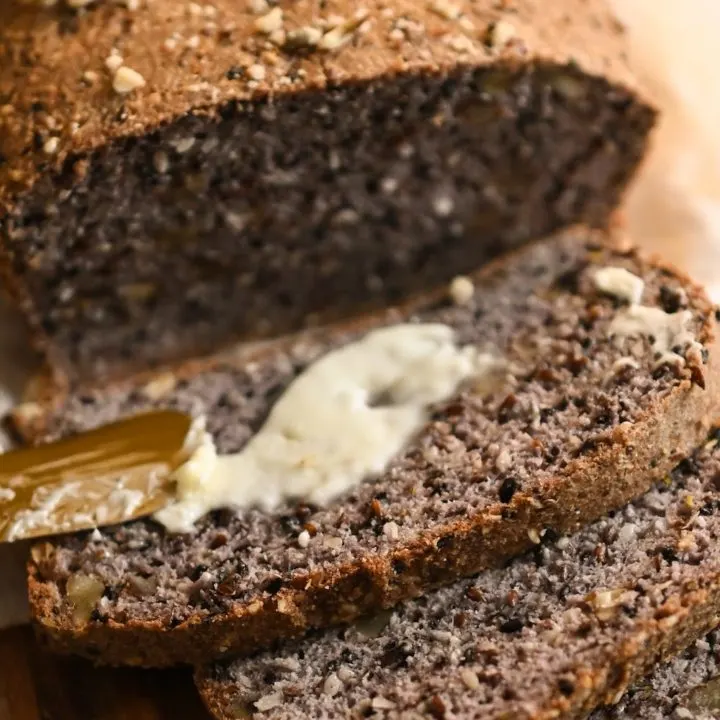 Keto High Fiber Bread
Additional Time:
15 minutes
Total Time:
1 hour
15 minutes
A delicious low-carb high-fiber bread. It's full of high fiber ingredients that are low-carb friendly. It's a copycat recipe for wheat bread but this is a keto high fiber zero gluten bread recipe!
Ingredients
1/2 cup of melted unsalted butter or ghee or melted coconut oil
½ teaspoon of sea salt
1 ½ teaspoons of baking powder
½ cup sesame seeds, white or black or a combination of both.
½ cup of chopped pecans
6 eggs, room temperature
1 1/2 cups of coconut or almond milk
Instructions
Preheat the oven to 350 degrees.
Grease a 9x5 loaf pan and line it with parchment paper. Leave an overhang of about 2 inches to be able to lift the loaf out of the pan once fully baked.
Melt the butter or coconut oil and allow to cool. Note if using coconut oil, use refined that has a neutral taste.
In a large bowl or stand-up mixer add all the dry ingredients including all the nuts, and seeds, and combine well.
Next, add the eggs one at a time, and beat with the electric mixer on the low setting being sure to mix well between each addition.
Then, add the coconut or almond milk and the cooled melted butter or coconut oil.
Mix the batter well until fully incorporated but do not overmix. Note that this batter will be quite thick.
Place the batter into the prepared loaf pan.
Bake at 350 degrees for 45-60 minutes or until an inserted toothpick comes out clean.
Allow the bread to fully cool before slicing.
Store in refrigerator for up to 5 days or freeze for up to 3 weeks.
Notes
Feel free to reduce the sweetener by half or leave it out completely if you do not want a slightly sweet bread option.
Feel free to swap any of the nuts for your favorite keto-friendly option.
Feel free to leave out the coconut flakes or swap them out for hulled sunflower seeds.
Nutrition Information:
Yield:

18
Serving Size:

1
Amount Per Serving:
Calories:

177
Total Fat:

15.5g
Saturated Fat:

7.7g
Cholesterol:

75mg
Sodium:

65mg
Carbohydrates:

8g
Net Carbohydrates:

3g
Fiber:

5.8g
Sugar:

0.7g
Protein:

4.6g