These rich Keto pumpkin cheesecake brownies are perfect for when you have a hankering for both chocolate and pumpkin and can't decide between the two. The fact that they are low in carbs, sugar-free, gluten, and grain-free makes them a great treat for anyone doing a ketogenic diet.
Enjoy these keto-friendly pumpkin brownies during the holidays, pumpkin season, or all year round!
If you are familiar with our keto cheesecake swirl brownies then you already know how decadent these brownies are. Well, this is the pumpkin cheesecake version and they are about to rock your world!
You may have guessed by the sheer number of keto pumpkin recipes on my site that I am a huge fan of all things pumpkin.
Truth is, I am a huge fan of fall baking. And it's why even when the season hasn't officially started, I am already in my kitchen baking up a storm with the hope to be able to create new autumnal treats.
Can you guess who willingly tests all my new recipes? Yup, my eager family.
In fact, Randy my dear hubby says that he takes his taste testing job very seriously and has no problem being the number one guinea pig. LOL, sure thing love, you have a hard task indeed, #spoiled.
Personally, I find the smell of pumpkin and chocolate being baked intoxicating, and it certainly makes my home smell better than any candle that tries to imitate the scent of fall can ever do. So I make no qualms about experimenting for you and keeping my family in the keto lane.
If you're also a fan of these two flavors, be sure you also check out my recipe for keto pumpkin chocolate pound cake for another seasonal treat.
Make sure you check out our Keto Cheesecakes for more delicious flavor and style options.
Keto Pumpkin Cheesecake Brownies
Perhaps you have some apprehension about combining the flavors of chocolate and pumpkin. Well, don't bother to worry, because this combo is flat-out delicious. Years ago I was a bit skeptical but it was love at first taste when I finally decided to give it a try.
But why do these flavors work so well? My theory is because the flavor of pumpkin with its warm spices balances the bittersweet notes of chocolate.
This recipe represents the best of two worlds since it's part chocolate brownies and part pumpkin cheesecake, giving you both flavors in each luscious bite. Yum!
I love how these low-carb pumpkin cheesecake brownies have a dense brownie texture and a nice thick layer of cheesecake swirled. Can I also add that they also have a stunning fall look? The bright orange and brown colors will draw even the kiddos to want to try.
Honestly, you don't have to be doing a keto diet to enjoy these rich seasonal brownies. They are sure to be loved by all.
How To Make Keto Pumpkin Cheesecake Brownies
Disclosure: Some of the links below are affiliate links, meaning at no additional cost to you, I will earn a commission if you click through and make a purchase.
The most important tip I can give you when making these keto-friendly pumpkin cheesecake brownies is to make sure you do not overbake them. Overbaking any brownie is a sure way to ruin a good treat. But since these have a cheesecake layer it's crucial that you pull them out of the oven when they are a tiny bit undercooked.
Then allow them to set completely in the fridge. This is key to ensure you get get a velvety smooth cheesecake texture and not a crumbly dry layer.
Keto Pumpkin Brownie Ingredients
When deciding what chocolate to use I went with baking chocolate exclusively to keep the brownies rich in flavor, but still not overpower the pumpkin flavor. Had I gone with cocoa powder the chocolate flavor would have been more pronounced and the pumpkin flavor would have been milder.
I used cocoa powder with my keto pumpkin chocolate pound cake because in that recipe I wanted the chocolate flavor to really stand out. However, with this recipe I wanted the pumpkin to be the star instead. And the star it was.
This recipe uses only almond flour and I went this route because it produces a moister brownie than say a coconut-only recipe would.
Make sure you only use full-fat cream cheese when making the pumpkin cheesecake swirl. Low fat or air whipped cream cheese will not produce the same results. So stick with ONLY high-fat.
As far as pumpkin is concerned I used canned pumpkin puree because I love the consistent results I get when it comes with a can please ease of use.
But if you prefer to use homemade pumpkin puree, feel free to do so. Just remember you will have to roast your pumpkin for almost an hour and also allow the puree to fully cool before adding it to your brownie mix.
I will also add that if you choose to make your own puree, be sure to use small baking pumpkins, such as sugar pumpkin or pie pumpkin. These are the best tasting. The larger variety is best reserved for decorating.
Sugar-Substitute Options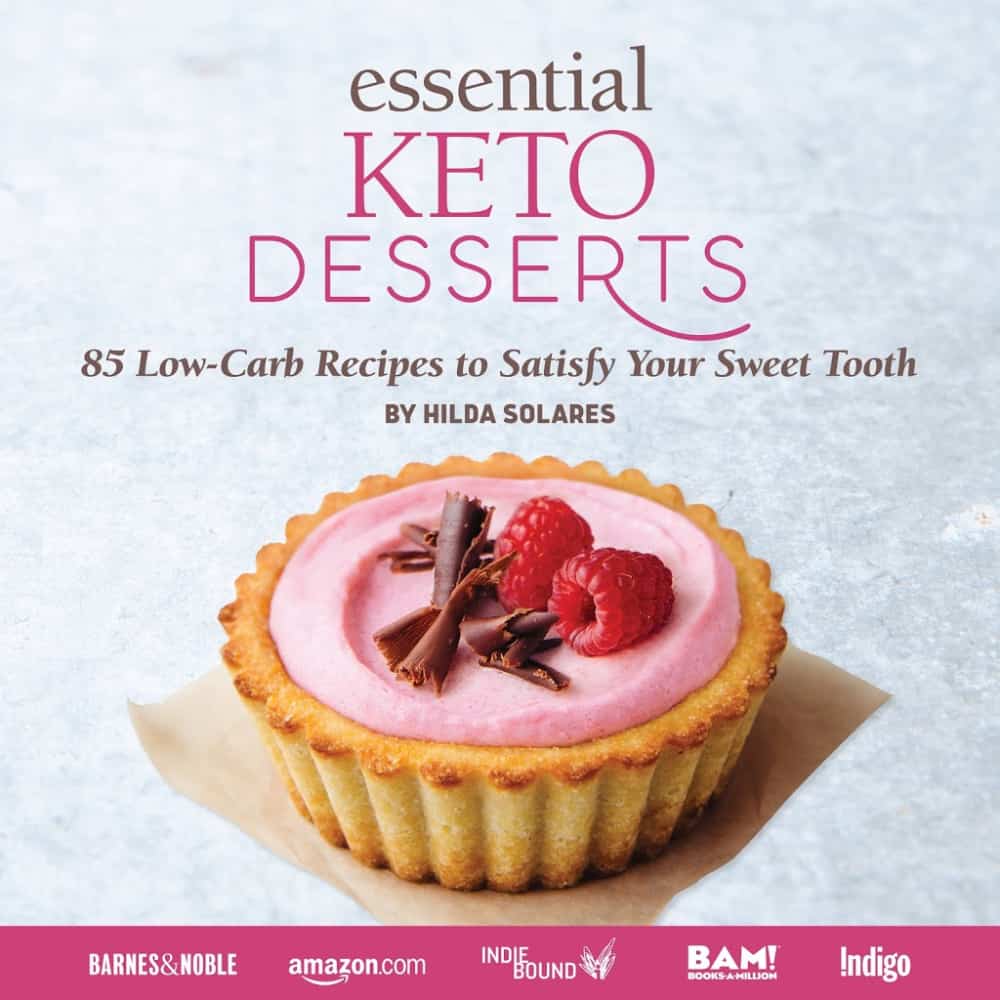 As far as sweeteners are concerned you have a few choices you can use. My favorite without a doubt is Lakanto Monk Fruit. It has the best texture as far as I am concerned and has barely any aftertaste.
Lakanto Monk Fruit gets its sweetness from antioxidants called mogrosides, instead of fructose or sucrose. And it's why it's a great all-natural sugar substitute that has zero calories and zero glycemic index.
I am also partial to Swerve an erythritol blend. Unlike other natural sweeteners like stevia, it has no bitter aftertaste and measures just like sugar. Swerve is the name brand of Erythritol it's unlike other sugar alcohols it has a 0 % impact on blood sugar.
Normally you could also use the stevia and erythritol-based brand Pyure for most of my baked goods, by using just 1/2 the amount the recipe calls for. But I am not a fan of combining stevia with chocolate. This is because it somehow always intensifies the stevia aftertaste.
The only exception to this is Lily's Chocolate. Frankly, I don't know how they cracked the secret code but it's the only time I see chocolate and stevia work.
Lastly, if you cannot easily find a more natural sugar substitute you can also use Splenda with great success.
You will want to use the Splenda that has a bulking agent. It's the one that comes in larger bags. I don't recommend Splenda Bake because it's actually half sugar half sucralose product and will be too high in carbs to be considered keto-friendly.
I sure hope you will give this recipe a try and will help us share it. If you give it a try, make sure you remember to tag us on Instagram, Facebook, and Pinterest. It's what keeps this girl encouraged to keep sharing and perfecting her recipes.
Also, check out our Amazon Store for our recommendations. You might be surprised by how many great keto options are at your disposal.
Since this recipe is made with almond flour and it's what you prefer to use, I recommend you visit our keto almond flour recipes for more delicious options.
Grab Our Books!
I have authored two books for you, Essential Keto Bread and Essential Keto Desserts both inspired by your requests over the years. It's my prayer these keto cookbooks will help make keto a delicious breeze for you.
Join Our Jesus And Keto Movement
In case you don't know, Randy and I came to the keto diet looking at it from a Christian perspective. As believers, we live our entire lives supported by God's grace.
So when the Holy Spirit led us to combine our Christian faith and the keto diet, we did so in hopes of finding lasting transformation.
To say we needed God's intervention is putting it mildly. When we followed the Holy Spirit's prompting to we got on the path to real transformation.
Knowing firsthand the benefits of this decision we have created a closed Christian group that is using the keto diet to transform their lives. I love how supportive and encouraging this group of believers are. It's exciting to see how people are transforming their lives by combining this lifestyle with the Christian faith.
We invite you to join our Private Facebook Group and see if it's not the key you have been missing.
Note that once you click the link you will be prompted to answer a few questions that ensure that you understand what this group stands for.

Get Our Perfect Keto Hack Tip!
Arming yourself with keto recipes is certainly key in doing this diet long enough to see the many benefits. But even with the best low-carb ketogenic recipes sometimes additional help is needed.
This is when we also encourage you to have the right supplements to help you get and stay in ketosis. Because when you have the right tools the keto diet becomes easier.
Perhaps you've struggled to get into ketosis consistently on your low-carb keto diet, or you've hit a plateau that doesn't seem to budge, consider using Perfect KETO's bundle to assist you. It's a great way to see the benefits sooner rather than later.
You'll learn how to elevate your ketones naturally enter into ketosis more quickly. Being at a deeper level of ketosis will help reduce your appetite, carb cravings, and give you lasting energy. These are the things you want to see happen as they make this diet sustainable and it's why we recommend them.
Perfect Keto has offered our readers a 15% discount on their products. Simply use this link for all qualifying products and the code FITTOSERVE at checkout.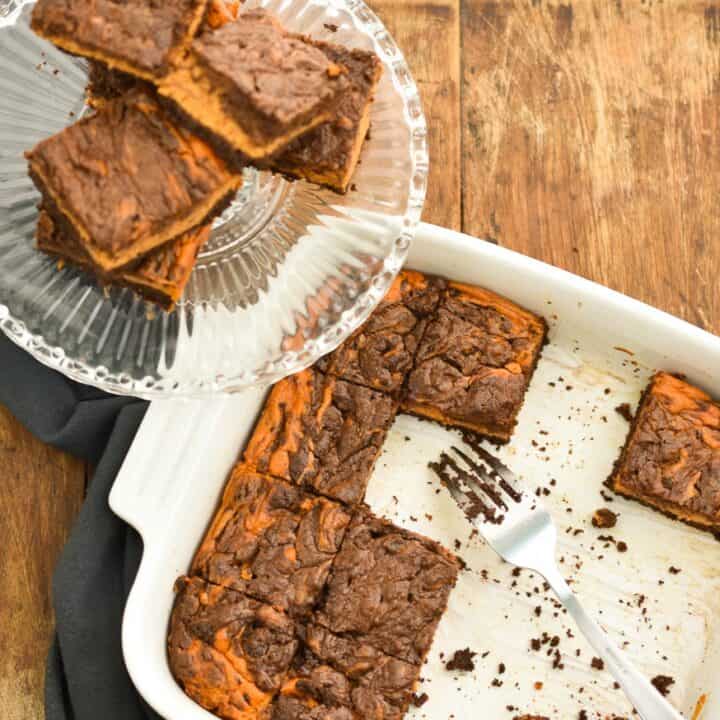 Keto Pumpkin Cheesecake Brownies
These rich Keto pumpkin cheesecake brownies are perfect for when you have a hankering for both chocolate and pumpkin and can't decide between the two. The fact that they are low in carbs, sugar-free, gluten and grain-free makes them a great treat for anyone doing a ketogenic diet.
Ingredients
Keto Pumpkin Cheesecake Brownies
3/4 cup of unsalted butter (12 tablespoons)
3 eggs, room temperature
1 teaspoon of baking powder
¼ teaspoon of sea salt
1 teaspoon of vanilla extract
Keto Cheesecake Swirl
1 egg, room temperature
1 teaspoon of vanilla extract
1 teaspoon cinnamon powder
1/2 teaspoon ginger powder
1/4 teaspoon nutmeg
¼ ground allspice
Instructions
Keto Brownie Layer
Pre-heat oven to 350 degrees
Line the bottom an 8x8-inch square pan with parchment and fully grease the pan with butter on all sides. This will make it easier to lift out of the pan once baked.
Melt the baking chocolate and butter either in a double boiler.Or in a microwave in increments of 30 seconds until fully melted. Stir well and allow to cool for 5 minutes.
In a medium-sized bowl add the granulated sugar substitute, and pour the butter chocolate/mixture and whisk until fully combined.
Mix in the eggs one at a time using an electric mixer and combine well.
Next, add the vanilla extract to the batter.
Make sure that the batter is smooth and that the sweetener has fully dissolved into the mixture.
Whisk in the sifted almond flour, baking powder, and salt until fully blended but being careful not to overmix to ensure they are fudgy and not cakey.
Spread 2/3 of the batter into the bottom of the 8x8 baking pan and proceed to make the pumpkin cheesecake layer.
Keto Cheesecake Layer
To make the cheesecake layer, simply mix the room temperature cream cheese, sugar substitute, pumpkin puree, egg, spices and vanilla extract until fully combined using an electric mixer.
Pour the cheesecake swirl to the top of the brownie batter.
Then add the remainder of the brownie mix by spoonfuls to the remaining the top of the cheesecake layer.
Next, with a knife gently swirl the two batters together.
Bake in a pre-heated oven for about 20-25 minutes or until the center is just set but still is able to jiggle. Check for this consistency at the 22-minute mark and add more time if needed.
Allow to fully cool on a baking rack for about 15 minutes.
Then place your cooled brownies into the refrigerator and allow them to further set for about 30-35 minutes before slicing.
Store leftovers in the refrigerator for up to 5 days or freeze for up to 3 weeks.




Nutrition Information:
Yield:

16
Serving Size:

1
Amount Per Serving:
Calories:

235
Total Fat:

20.1g
Saturated Fat:

10.7g
Cholesterol:

81mg
Sodium:

127mg
Carbohydrates:

6.9g
Net Carbohydrates:

5.7g
Fiber:

1.2g
Sugar:

4g
Protein:

4.7g