This keto cauliflower rice and chicken is the perfect one-pan dinner any night of the week! Quick and easy and jam-packed with flavor, this keto Mexican dinner is sure to be a new favorite!
If you're missing rice on your low-carb keto diet then I'm sure you've tried cauliflower rice. If you haven't then you're in for a treat with my keto Mexican cauliflower rice and chicken recipe!
Cauliflower rice makes an excellent substitute for rice when enjoying a keto diet. That being said, there are a few tricks to ensure you don't taste the cauliflower, and it truly feels like having rice.
My quick and easy low-carb Mexican cauliflower rice and chicken is not only perfect for hiding the flavor of the cauliflower but it is truly delicious!
In fact, I'm sure that once you try this dish you won't be missing rice for much longer.
If you're a big fan of Mexican or Tex-Mex food, I have a complete list of my Keto Tex Mex Recipes that I'm sure you'll love!
Keto Mexican Cauliflower Rice And Chicken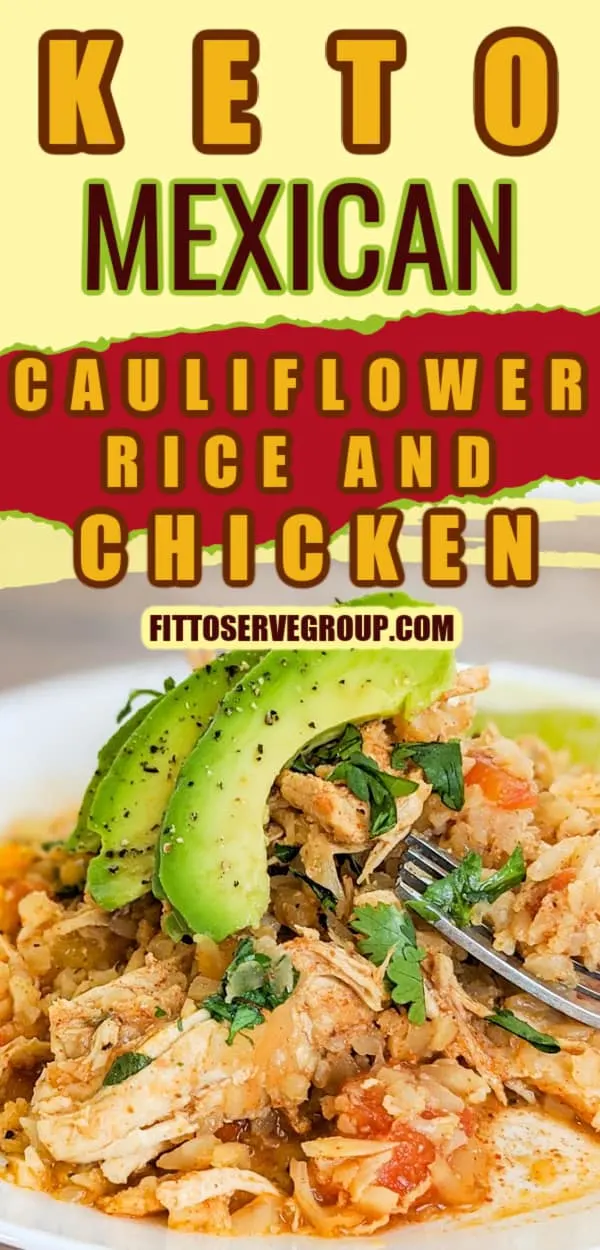 Avoiding the high carbohydrates that are in rice can be a challenge will doing a keto diet. This is especially the case if it was a staple in your diet prior to doing keto.
Using cauliflower rice in place of rice is a great substitute for rice. And combining cauliflower rice with chicken allows you to create an easy weeknight meal.
As a fan of Tex-Mex flavors, I wanted a recipe that featured the Southwest spices in a one-pan keto meal.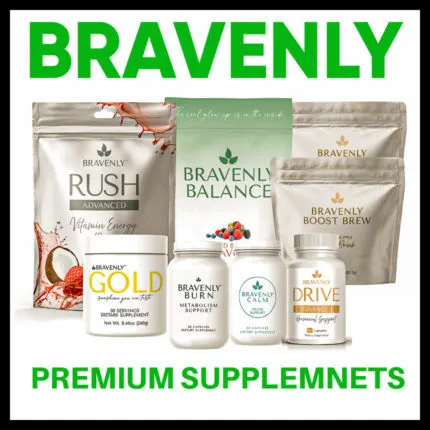 This is why I thought of combining cauliflower rice with Mexican chicken for an easy meal. Fast and easy is usually my go-to for weeknight dinners and this has become a staple in my house.
Why I Had To Stop Eating Rice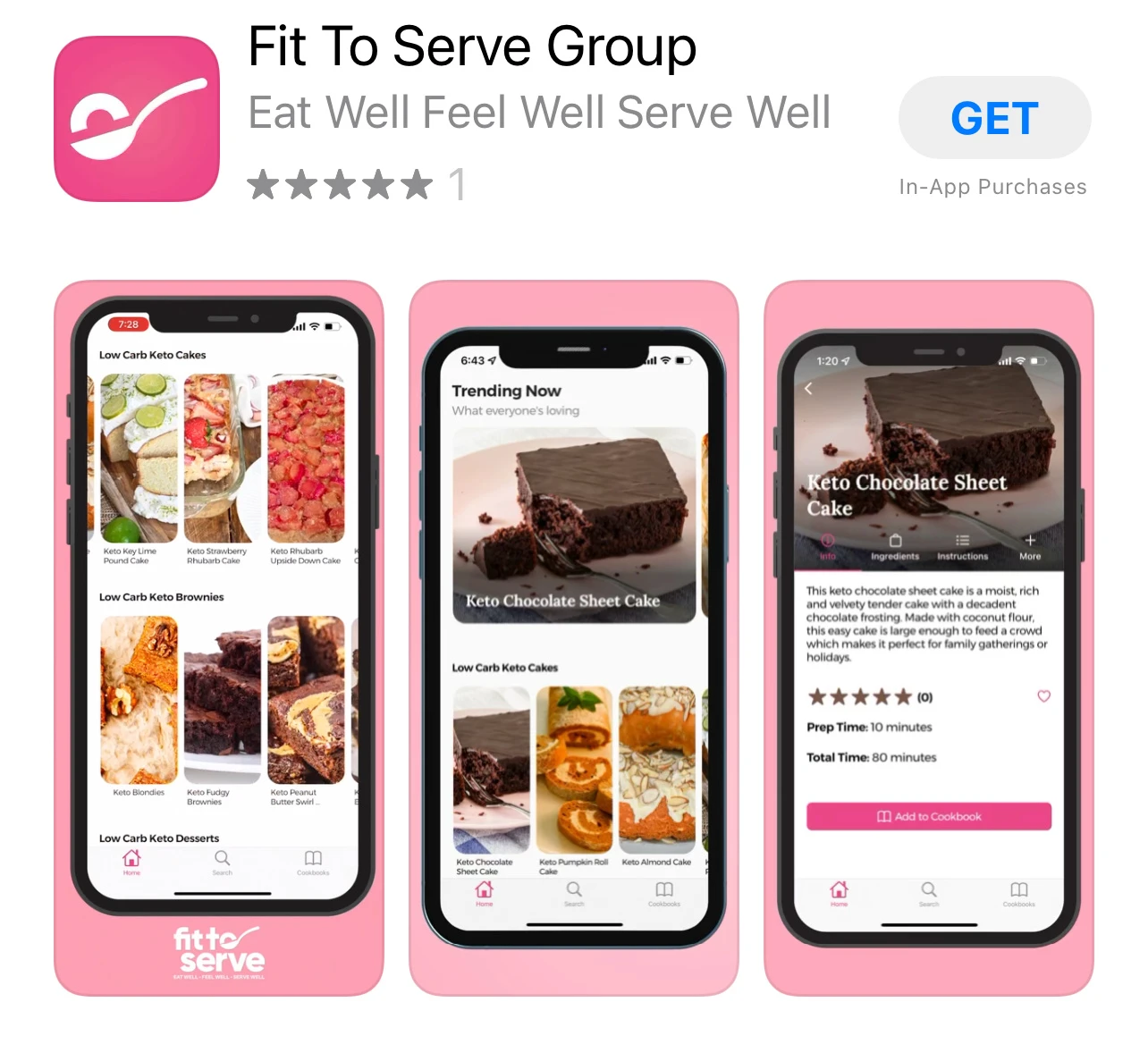 It's hard to believe it's been so many years since I stopped eating rice. If you're wondering why I'm feeling pretty proud of this, let me remind you that I am a Latina and we love and rely on our rice heavily.
You can't be invited to a gathering and not find rice in some form being served. It's a true staple of our food and really in many cultures around the world as well.
Whether rice is center stage as the main dish, to arroz con leche (rice pudding) for dessert. So saying no to rice for so many years has been a kinda big deal for me.
This is why I am always coming up with great rice alternatives meals like this Mexican chicken and cauliflower rice is a must.
Why Is Cauliflower Rice A Good Substitute?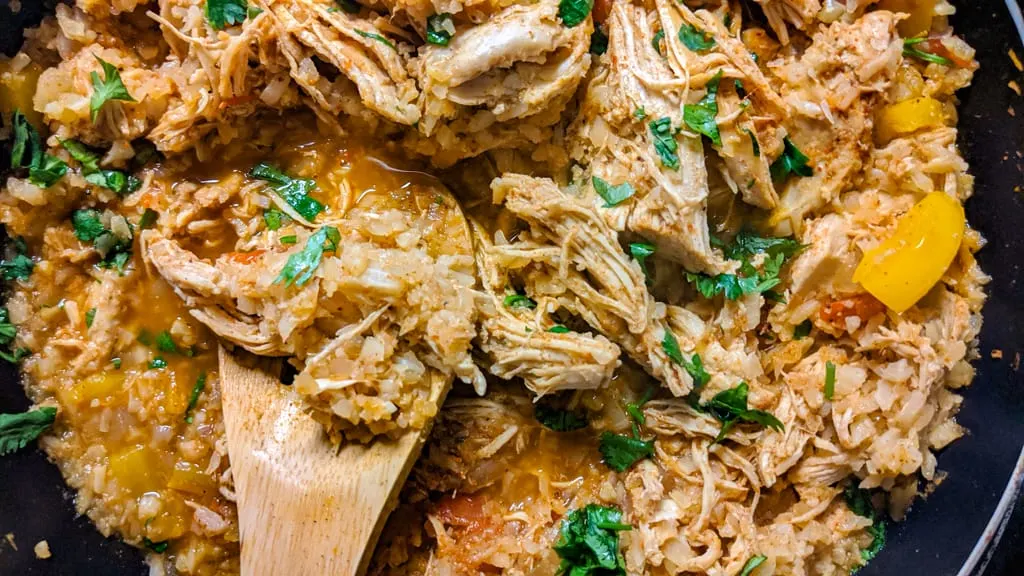 So, what is cauliflower rice? And why is it so great? Well, it's just raw cauliflower that has been chopped finely to mimic the texture of rice.
Because cauliflower has a bland taste and a firm texture, it makes for a great rice substitute.
You would not cook the cauliflower the same way you traditionally cook rice, since it only requires a little sautéing. But the texture and mouthfeel are right on target.
I've managed to sway quite a few people into giving up traditional rice by simply using cauliflower rice instead.
I remember when we first started to eat keto, we had to make our own cauliflower! We had to chop finely or add it to a food processor!
Nowadays, it's much easier to cook with cauliflower rice, as you can find it in the frozen aisle already perfectly riced and steamable! Many supermarkets also have fresh riced cauliflower in the produce section as well.
I have even been to some restaurants that offer it as a substitute for traditional rice!
Now some people still prefer to make their own cauliflower rice and I've included instructions for making it as well. But for this girl and time's sake, I keep a freezer fully stocked with cauliflower rice!
How To Make Instant Pot Keto Mexican Cauliflower Rice and Chicken
Making this one-pan keto Mexican cauliflower rice and chicken is so simple you'll be shocked how fast it comes together! Especially if you opt to use a pressure cooker like an Instant Pot!
To make it in a pressure cooker, simply add your chicken, peppers, tomatoes, onions, garlic, and chicken broth to the Instant Pot. Cook on manual, high pressure for 15 minutes, finishing with a quick release.
While your chicken cooks, steam your frozen cauliflower rice. When the chicken is done you'll add in your cauliflower rice and cilantro.
If you're making it on the stove, it's still super easy and one-pan! You'll simply sautee your onions, garlic, peppers, and tomatoes in a hot skillet with olive oil. Remove them from the pan and set them aside.
Then, add your diced chicken, seasonings, and chicken broth and allow to cook. Once the chicken is cooked you'll add back your sauteed onions and peppers as well as the cauliflower rice and cilantro.
And that's really it! Serve with a lime wedge and top with some avocado!
Other Keto-Friendly Mexican Recipes
Who doesn't love some good Mexican food, right? Especially if it's keto!
It's no secret that we're huge fans of Mexican and Tex-Mex flavors here and therefore have created tons of different recipes for you to try.
The following are just a few:
Tag Us
I sure hope you will give this recipe a try and will help us share it. If you give it a try, make sure you remember to tag us on Instagram, Facebook, and Pinterest.
It's what keeps this girl encouraged to keep sharing and perfecting her recipes.
Be sure you also visit our Keto Hispanic Food for more Latin recipes!
Also, check out our Amazon Store for our recommendations. You might be surprised by how many great keto options are at your disposal.
Grab Our Books & Keto App
In case you don't know, we have authored two books for you, Essential Keto Bread and Essential Keto Desserts, both inspired by your requests over the years.
It's my prayer these keto cookbooks will help make keto a delicious breeze for you.
Gain access to simple and delicious recipes for breakfast, lunch, dinner, snacks, and even desserts with our FITTOSERVEGROUP APP.
Join Our Jesus And Keto Movement
Looking for an online support system to help you stay the course on keto? As a family, we came to the keto diet looking at it from a Christian perspective. As believers, we live our lives supported by God's grace.
Knowing firsthand the benefits of this decision, we have created a closed Christian group using the keto diet to transform their lives.
We invite you to join our Private Facebook Group and see if it's not the key you have been missing.
Be sure to request our FREE Jesus and Keto E-Book (First 7 Days). We hope it blesses you.
Keto Mexican Cauliflower Rice And Chicken
This Keto Cauliflower Rice and Chicken is the perfect one-pan dinner any night of the week! Quick and easy and jam-packed with flavor, this keto Mexican dinner is sure to be a new favorite!
Ingredients
1.5 cups of riced cauliflower (I use the frozen kind)
2 pounds boneless chicken thighs or chicken breast, diced into 1/2-inch pieces
1 ¼ teaspoon sea salt
½ teaspoon black pepper
2.5 teaspoons cumin powder
2 teaspoons chili powder
1 teaspoon of garlic powder
1 teaspoon of onion powder
3 tablespoons olive oil
1 onion chopped, finely
2 tablespoons garlic finely minced
½ a medium yellow pepper, chopped
1 cup of chopped tomatoes
3 tablespoons chopped fresh cilantro
1 tablespoon fresh lime juice
Instructions
In a large sauté pan over medium-high heat, add the olive oil, onion, green pepper, tomatoes, and garlic.
Sauté for 5-7 minutes and set aside.
Add the riced cauliflower to the green pepper, tomatoes, and garlic. (remove from pan and set aside)
Next, add chicken and chicken broth to the hot pan. Stir in the salt, pepper, onion powder, garlic powder, paprika, cumin powder, chipotle powder, jalapeno powder, and chili powder.
Sauté chicken until lightly browned, about 7 minutes.
Lastly, add back in the cooked riced cauliflower, cilantro, and lime juice. Combine well and serve with a lime wedge and avocado slices.
Notes
If you choose to make the cauliflower rice yourself, first chop the raw cauliflower finely using a grater or a food processor. Be sure to pulse the cauliflower until it resembles rice. Be careful to not over pulse the cauliflower or it will become mush.
Instant Pot instructions:
Add the whole chicken breast (or thighs) into the bottom of the pot, add in chicken broth, onions, peppers, tomatoes, and seasonings. Set to Manual, High Pressure for 15 minutes. Quick-release the steam and shred into larger chunks with a fork.
Add in the cooked cauliflower rice and cilantro. Serve with a lime wedge and avocado slices.
Nutrition Information:
Yield:

6
Serving Size:

6
Amount Per Serving:
Calories:

211
Total Fat:

11.6g
Unsaturated Fat:

1.6g
Cholesterol:

69mg
Sodium:

110mg
Carbohydrates:

11.2g
Net Carbohydrates:

6.4g
Fiber:

4.8g
Sugar:

4.9g
Protein:

18.1g
SaveSave
SaveSave
SaveSave
SaveSave
SaveSave
SaveSave
SaveSave
SaveSave
SaveSave
SaveSave
SaveSave
SaveSave
SaveSave
SaveSave
SaveSave
SaveSave
SaveSave
SaveSave
SaveSave
SaveSave
SaveSave
SaveSave
SaveSave
SaveSave
SaveSave
SaveSave
SaveSave