Keto Mexican Cauliflower Rice And Chicken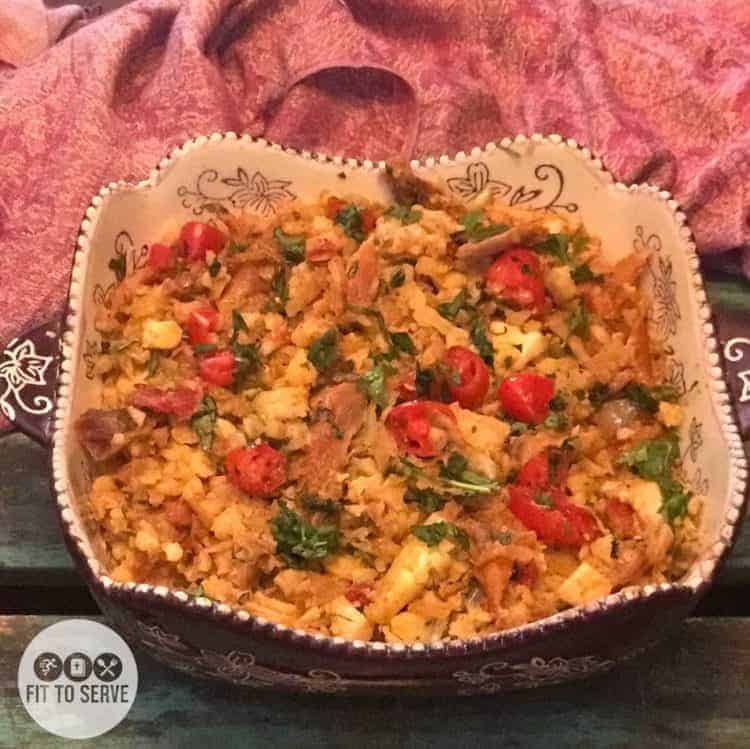 Keto Mexican Cauliflower Rice And Chicken, it's a one pan meal that combines cauliflower rice and chicken for a delicious keto-friendly meal.
I know you may be missing rice on your low carb keto diet. But what if I could give you rice minus all the carbs? Well, get ready to have your world rocked by my keto Mexican cauliflower rice and chicken dish.
I am here to tell you that you won't be missing rice for much longer with this recipe.
Avoiding the high carbohydrates that are in rice can be a challenge will doing a keto diet. This is especially the case if it was a staple in your diet prior to doing keto.
Using cauliflower rice in place of rice is a great substitute for rice. And combining cauliflower rice with chicken allows you to create an easy week night meal.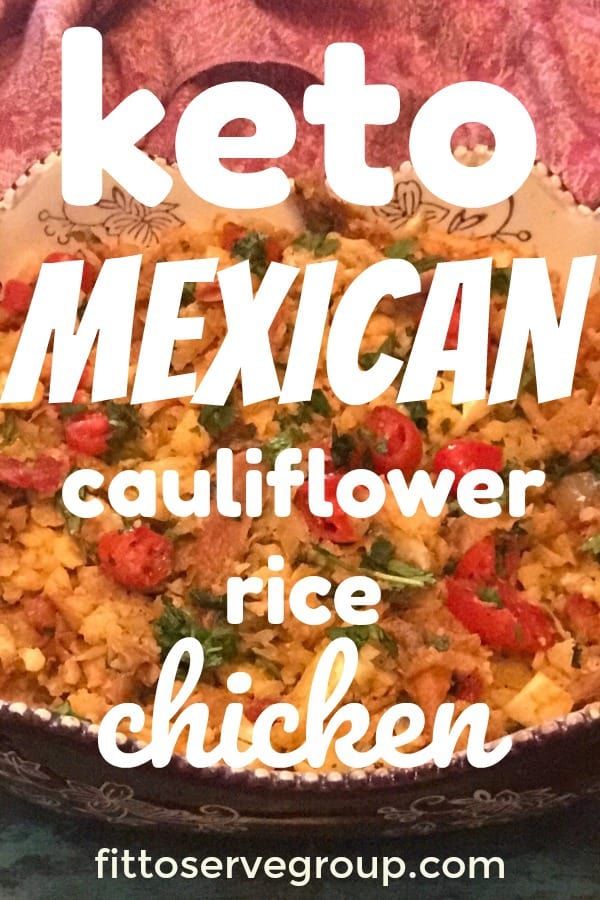 Keto Mexican Cauliflower Rice And Chicken
As a fan of Tex Mex flavors, I wanted a recipe that featured the Southwest spices in a one pan keto meal.
Which is why I thought of combining cauliflower rice with a Mexican chicken for an easy meal. It's a keto arroz con pollo recipe.
In case you don't know I have a complete list of Keto Chicken Recipes and of Keto Tex Mex Recipes that I encourage you to also visit.
Why I Had To Stop Eating Rice
It's hard to believe it's been over three years since rice crossed my lips. If you're wondering why I'm feeling pretty proud of this, let me remind you that I am Hispanic. You see in the Hispanic culture rice is considered a staple.
You can't be invited to a gathering and not find rice in some form being served. It is what it is.
Whether rice is center stage as the main dish, to arroz con leche (rice pudding) for dessert. So saying no to rice for so many years is kinda a big deal for me.
Which is why coming up with great rice alternatives like my Keto Mexican Cauliflower Rice and Chicken was a must.
Rice Became My Comfort Food
Growing up, rice made it to the dinner table almost every night. Which meant that if I didn't like what was for dinner, I could always count on at least having rice. Let's just say, I've eaten my fair share of rice in my day.
Here's the thing, it's because rice is such a vital part of our Hispanic culture, that some people in my community have said no to the low carb keto diet. "I can't Hilda, I just can't, so please don't ask me to give up my rice!"
I can understand why people would object to eliminating rice from the diet. After all, there was a time I felt I could never give it up to.
It's for this reason that I aim to create recipes like this keto Mexican cauliflower rice and chicken. The idea behind my recipes it to make a low carb keto diet a sustainable lifestyle.
So that you don't feel deprived. Feeling deprived will only lead to quitting on your diet. And if you are doing keto for health reasons, you can't afford to fail.
But What Exactly Is Rice Any Way?
Before you tune me out for trying to pry your rice away, please consider what I have to say first. You see Just because rice is technically a seed of the grass species, and it's a grain that doesn't contain gluten, it doesn't mean it gets an automatic pass on a low carb keto plan.
For people who avoid gluten, rice can play a role in their diet. The problem for us low carbers is that rice is extremely high in carbs. I am talking 45g for 1 cup of rice high.
Which is why it can't make the cut on a low carb keto plan. Using riced cauliflower in recipes like in my Keto Mexican cauliflower rice and chicken can be the perfect solution.
Difference Between Gluten Free And Low Carb
In case you are wondering there is a marked difference between being gluten-free and doing a low carb keto plan. It's vital you know what each entails.
A diet high in carbohydrates can aggravate many diseases. Which is why lowering your carb intake can be a wise choice for many. Individuals wanting to reduce inflammation or their glucose levels, should consider eliminating rice from their diet. It's why we said yes to this lifestyle.
Why Is Cauliflower Rice A Good Substitute?
"But what if I really miss rice Hilda?" Well, this is where cauliflower rice is a fantastic alternative. What's cauliflower rice? Well, it's just raw cauliflower that has been chopped finely to mimic the texture of rice.
Because cauliflower has a bland taste and a firm texture, it makes for a great rice substitute.
You would not cook the cauliflower the same way you traditionally cook rice, since it only requires a little sautéing. But the texture and mouthfeel are right on target.
You might want to know that I've actually managed to sway quite a few people into giving up rice by simply using cauliflower rice instead.
Consider trying my keto Mexican cauliflower rice and chicken. See if it assists you on your keto plan. I also have two other delicious cauliflower rice recipes submitted by members of our Fittoserve Group Community Fried "Rice" and a Cilantro and Lime Cauliflower Rice
I sure hope you will give this recipe a try. Once you do, make sure you remember to tag us on Instagram and Facebook. It's what keeps this girl encouraged to keep sharing and perfecting her recipes.
Also check out our Amazon Store for recommendations. You might be surprised by how many great keto options are at your disposal.
Looking for the most affordable way to test your ketone levels? The Best Ketone Test has finally made this possible.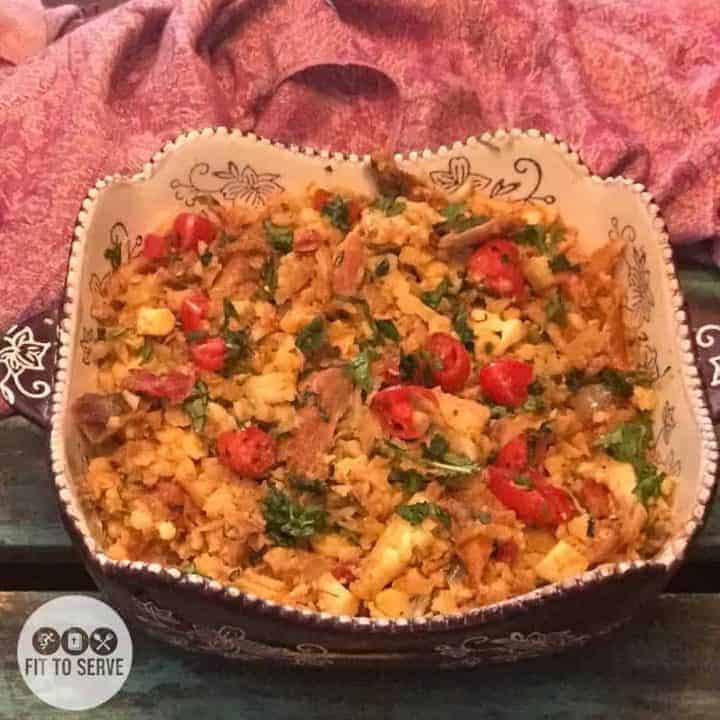 Keto Mexican Cauliflower Rice And Chicken
Yield: 6

Prep Time: 5 minutes

Cook Time: 15 minutes

Total Time: 20 minutes

It's a Keto cauliflower rice and chicken one pan meal. That has the flavors of Tex Mex.
Ingredients
1 large head of cauliflower ("riced" chopped finely)
1 pound boneless chicken thighs or chicken breast, diced into 1/2-inch pieces
1 ¼ teaspoon sea salt
½ teaspoon black pepper
2 tsps. cumin powder
2 tsps. chili powder
1 tsp. garlic powder
1 tsp. onion powder
¼ tsp. cayenne pepper powder
½ tsp. smoky paprika
¼ cup olive oil
1 cup onion chopped
2 Tbs. garlic finely minced
½ a medium green pepper, chopped
1 cup of chopped cherry tomatoes
¼ cup chopped fresh cilantro 
1 tablespoon lime juice
Instructions
Chop the raw cauliflower finely using a grater or a food processor.
Pulse the cauliflower until it resembles rice. Be careful to not over pulse the cauliflower or it will become mush. Set the now riced cauliflower aside.
In a large sauté pan over medium-high heat, add the olive oil, onion, green pepper, tomatoes and garlic.
Sauté for 5-7 minutes and set aside.
Add the riced cauliflower to the green pepper, tomatoes and garlic. (remove from pan and set aside)
Next add chicken to the hot pan with a tablespoon more of olive oil.
Stir in the salt, pepper, onion powder, garlic powder, paprika, cumin powder and chili powder.
Sauté chicken until lightly browned, about 7 minutes.
Lastly, add to the cooked riced cauliflower the 1/4 cup of cilantro, and lemon juice, and the now sautéed chicken.
Recommended Products
As an Amazon Associate and member of other affiliate programs, I earn from qualifying purchases.
Nutrition Information:
Yield: 1 Serving Size: 6
Amount Per Serving:Calories: 211Total Fat: 11.6gUnsaturated Fat: 1.6gCholesterol: 69mgSodium: 110mgCarbohydrates: 11.2gFiber: 4.8gSugar: 4.9gProtein: 18.1g

SaveSave
SaveSave
SaveSave
SaveSave
SaveSave
SaveSave
SaveSave
SaveSave
SaveSave
SaveSave
SaveSave
SaveSave
SaveSave
SaveSave
SaveSave
SaveSave
SaveSave
SaveSave
SaveSave
SaveSave
SaveSave
SaveSave
SaveSave
SaveSave
SaveSave
SaveSave
SaveSave
SaveSave
SaveSave