Rich Keto Shortbread Brownie Cookies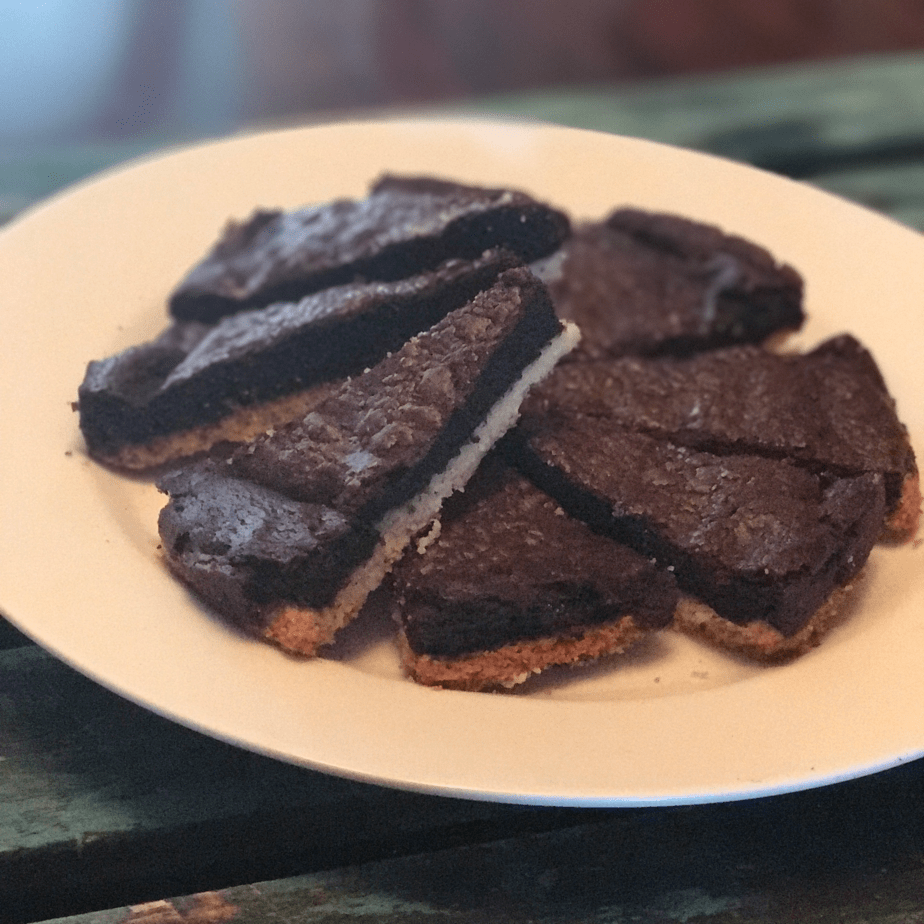 Have you ever been in a mood for a brownie and a shortbread cookie? Well, my keto shortbread brownie cookies were birthed out of that exact craving. So if you are looking for a recipe that includes two favorites, you are in for a major treat.
Sometimes, when I am creating a recipe I immediately know if it's going to be a winner. By the same token when I know something is not going to work I can tell almost instantly.
Thankfully, I knew that these keto shortbread brownies cookies were going to be a hit. It's moments like these that truly gets me excited about keto baking. In case you don't know I have a complete list of Keto Cookies that any cookie lover doing keto would enjoy exploring.
Keto Shortbread Brownie Cookies
I wanted a keto shortbread cookie because if I had to pick just one type of cookie, shortbread would definitely be my choice.
My goal was to create a low carb option that resembled a cookie that I used to make all the time for my friends and family before I went keto.
Those cookies were a combination of both a brownie and a shortbread cookie and they were a rich decadent treat.
So the challenge of creating a keto, low carb brownie shortbread cookie was on. Because I needed this type of cookie back in my life and I was determined to make it happen.

Who wouldn't want the best of a classic brownie with a rich layer shortbread? Exactly!
Well, I am happy to share that this challenge was conquered and keto brownie shortbread cookies were birthed.
Honestly, they are simply amazing! And just like that, I created a new favorite low carb, keto cookie recipe for you all to enjoy.
Easy Keto Brownie Shortbread Cookies
Low carb brownie shortbread cookies have a bottom layer of rich buttery shortbread cookies, and the richest brownie you will ever have.
The added brownie top layer is a game-changer in my book. Why? Because you know what's better than a keto carb shortbread cookie? One that has a keto brownie layer.
It's perfect for those times when you can't decide what you're in the mood for.
Frankly, I don't know why it took me so long to sit down and create these low carb brownie shortbread cookies. All I can say is you'll be glad I finally did.
I was so inspired to make this cookie after I created low carb shortbread cookies
If you decide to make any of our recipes, please take a quick picture and make sure to tag us on Instagram, or Facebook. You have no idea who much it encourages me to keep creating for you when I see your pictures.
Perfect Keto Hack To Stay On Track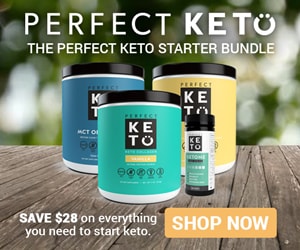 Perhaps, you've struggled to get into ketosis consistently on your low carb keto diet, or you've hit a plateau that doesn't seem to budge, consider using Perfect KETO's exogenous ketones.
Use this link and get a 15% off discount when you place your order for any of Perfect Keto's products. The discount will be added automatically at checkout.
By using exogenous ketones you will naturally elevate your ketones allowing you to enter into ketosis more quickly.
Being in a deeper level of ketosis will help reduce your appetite, carb cravings, and give you lasting energy. It's been our experience that the use of exogenous ketones helps make the low carb keto lifestyle a viable sustainable option.
Honestly, it's like having willpower in a cup. Learn more about the science behind both exogenous and endogenous ketones and have your questions answered from a doctor's perspective.
Make sure you also pick up your free and complete guide to understanding ketosis. Then begin the ketosis diet easily with this Start-Up Guide to the Ketosis Diet.
Wondering which foods you should avoid when doing Keto? This Keto Food Guide will assist you in doing the Keto Diet correctly.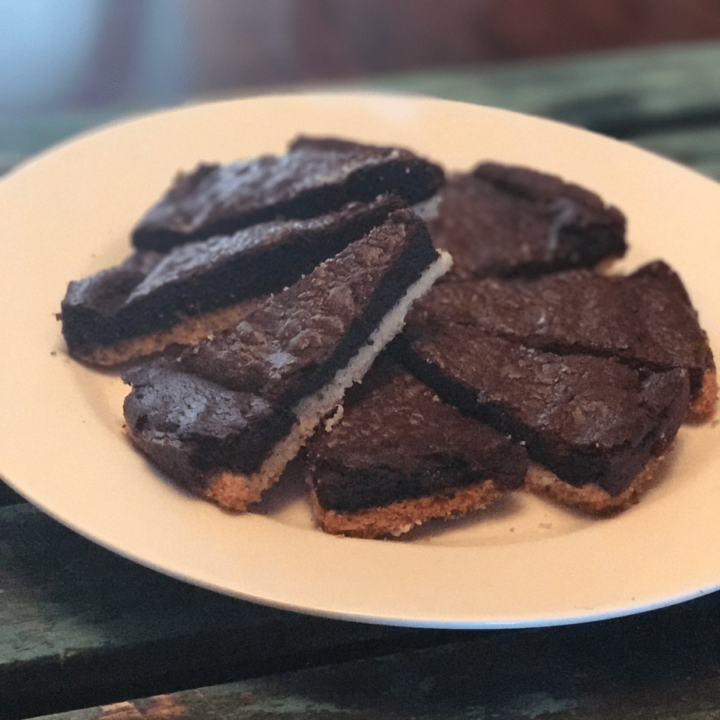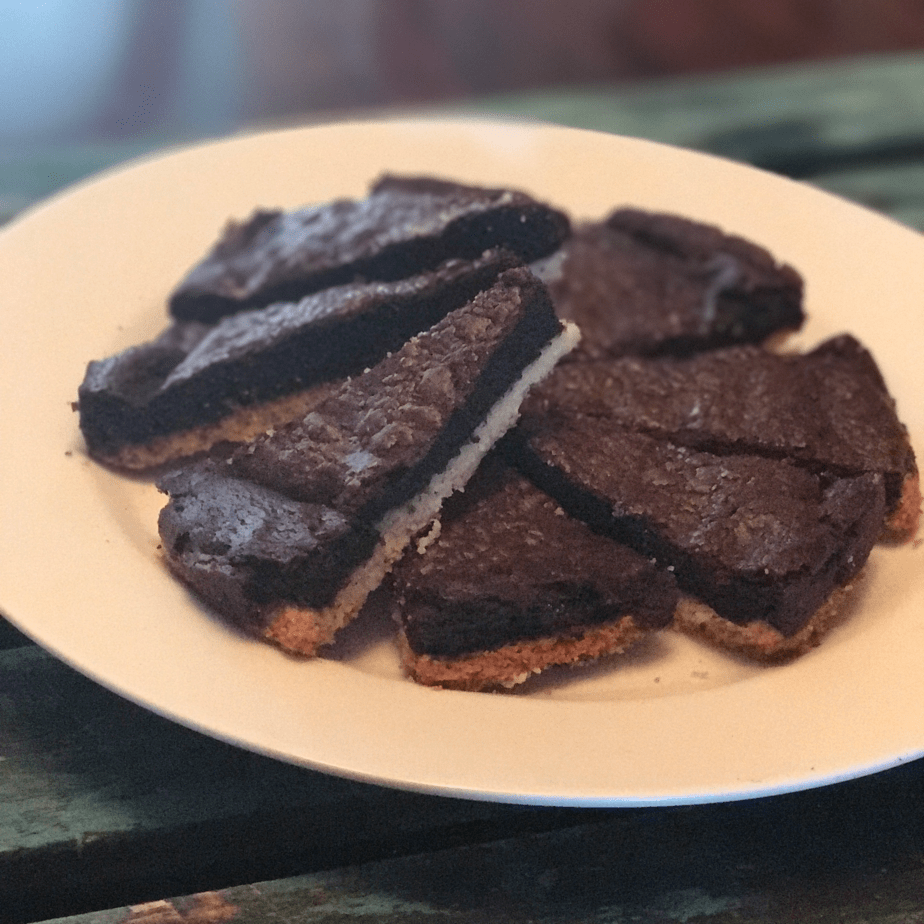 Keto Brownie Shortbread Cookies
Total Time:
1 hour
5 minutes
A delicious keto brownie with a shortbread base. It gives you the best of a brownie and a shortbread cookie.
Ingredients
Shortbread Base
½ cup of unsalted butter allowed to soften at room temperature.
¼ teaspoon of sea salt
Brownie Topping
½ cup of unsalted butter
2 large whole eggs , room temperature
½ teaspoon of baking powder
½ teaspoon of sea salt
Instructions
Pre-heat oven to 350 degrees.
Lightly grease an 10x10 pan or a 10-inch round spring form pan.
Create the base of this cookie by mixing the almond flour and sugar substitute in a stand-up mixer.
Once combined add the softened butter until dough forms.
Place the layer of this dough into the bottom of your pan. I use wet hands to pat the dough so it doesn't stick.
Bake until light and golden brown for 20 minutes and then allow to fully cool before proceeding. (Place the base in the refrigerator for 15 minutes to fully cool)
Leave your oven on and prepare the low carb brownie topping:
Melt the chocolate and butter in a double-broiler or use the microwave in 1 minute intervals. Make sure to mix well and then set aside to cool.
To the melted and cooled butter and chocolate mix, add the 2 eggs,sugar substitute, baking powder and sea salt. Whisk well until fully combined.
Spread this low carb brownie mixture to the low carb shortbread base evenly.
Bake for about 20 minutes until the top rises slightly. The center will drop once it cools. You don't want to over bake them so that they maintain a rich fudgy texture on top. Allow them to cool completely before slicing and enjoying.
Nutrition Information:
Yield:

12
Serving Size:

1
Amount Per Serving:
Calories:

195
Total Fat:

21g
Saturated Fat:

12.3g
Cholesterol:

68mg
Sodium:

122mg
Carbohydrates:

3.4g
Net Carbohydrates:

2.2g
Fiber:

1.2g
Sugar:

.5g
Protein:

2.9g
SaveSave
SaveSave
SaveSave
SaveSave
SaveSave
SaveSave
SaveSave
SaveSave
SaveSave