This recipe for keto pumpkin streusel cupcakes is sure to be your cupcake of choice all pumpkin season long. It's moist, tender, and packed with fall flavors.
As far as I am concerned, you just can't have too many low-carb pumpkin treats during pumpkin season.
If you're both a fan of pumpkin and coffee cake, then these low-carb pumpkin streusel cupcakes are for you.
Be sure to also check out our keto pumpkin recipes and our collection of keto coffee cakes for more delicious options!
These keto-friendly pumpkim streusel muffins feature the best of pumpkin flavor and a delectable topping in one tasty treat.
Not only is each cupcake packed with pumpkin spice goodness, but they're a breeze to make. Winning!
Having a keto cupcake is an automatic way to ensure portion control. This makes these a smart choice while counting your keto macros.
Moreover, these pumpkin cupcakes are low-carb, gluten-free, grain-free, sugar-free, and keto-friendly. I mean, what's not to love?
Keto Pumpkin Streusel Cupcakes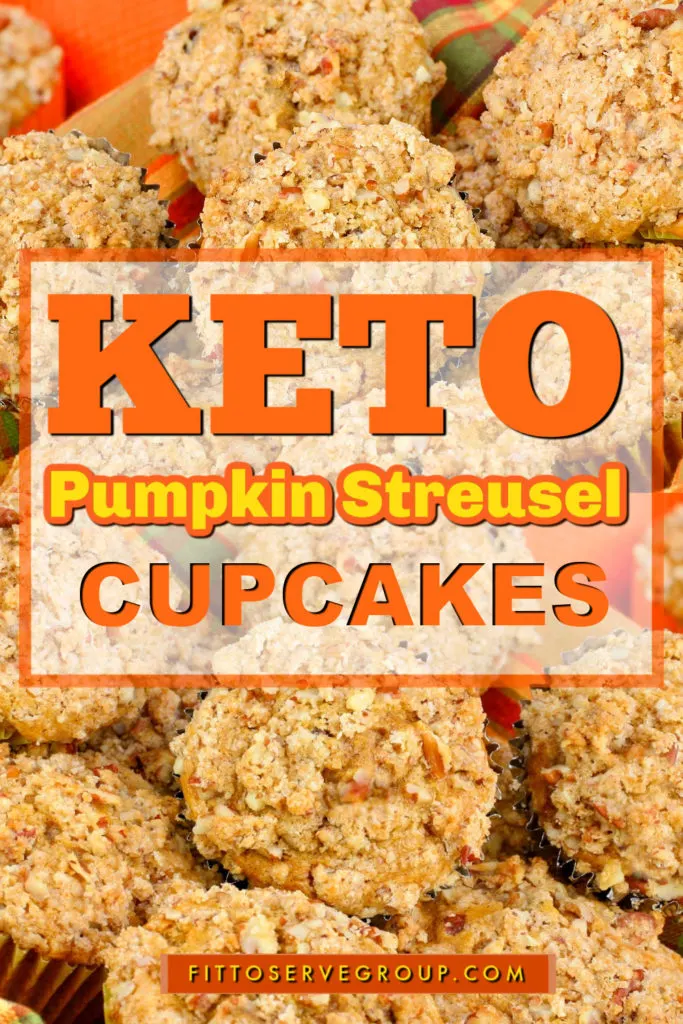 One bite of these cupcakes, and you will have to agree that eating this way can be a delicious breeze.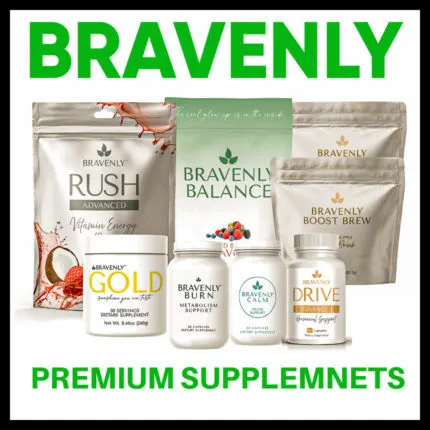 I am a firm believer that with the right keto-friendly recipes, you can master a ketogenic diet and reap the benefits of reducing your carbs and entering into a state of ketosis.
What's neat about these pumpkin streusel muffins is that they can be enjoyed any time of day. Have them as a meal for a quick breakfast, dessert, or when you need a little snack to tie you over before your next meal.
Ingredients Needed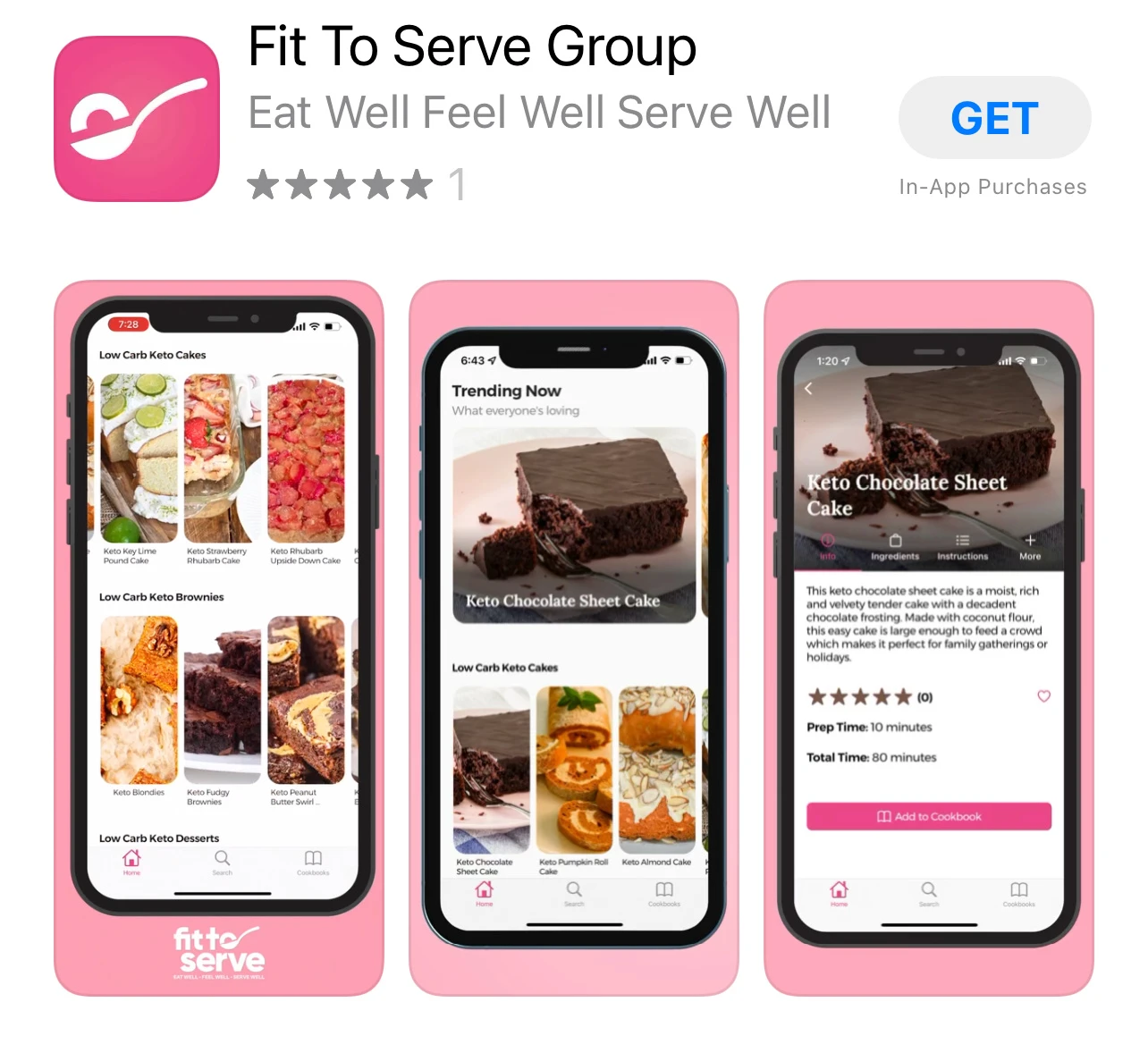 Keto Pumpkin Streusel Cupcake Batter
Baking powder
Cinnamon powder
Salt
Ground ginger
Unsalted butter softened
Large eggs, room temperature
Vanilla extract
Keto Streusel Topping
Cold butter sliced thinly
Cinnamon powder
Salt
Finely chopped pecans (optional)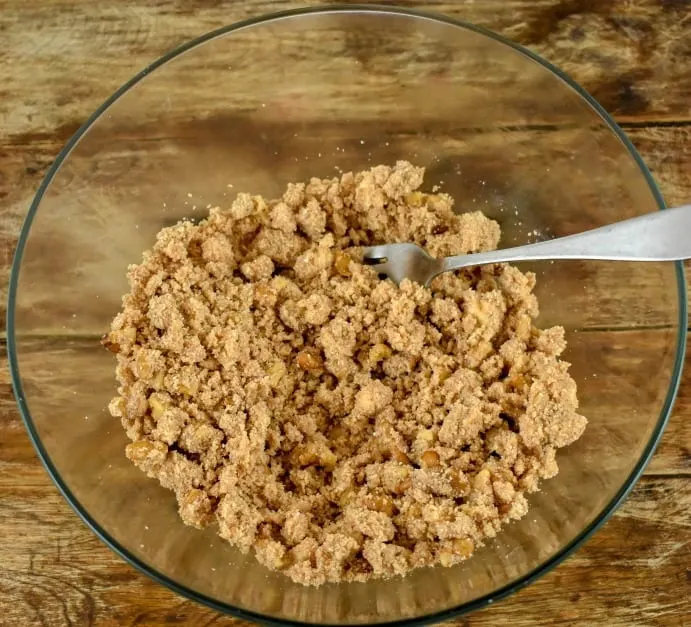 Why not make two batches and freeze one? While one is in the oven you can make the other. This way you are armed and ready to face pumpkin season.
Freezing these cupcakes is a great way to plan your snacks or meal. I usually let mine defrost overnight in the refrigerator but I've also let it sit on the counter and in less than an hour they are ready to eat.
My recipe for keto pumpkin cupcakes features streusel topping because this girl thinks that the best part about a coffee cake is yummy streusel crumb. Who's with me on this?
How To Make Keto Pumpkin Streusel Cupcakes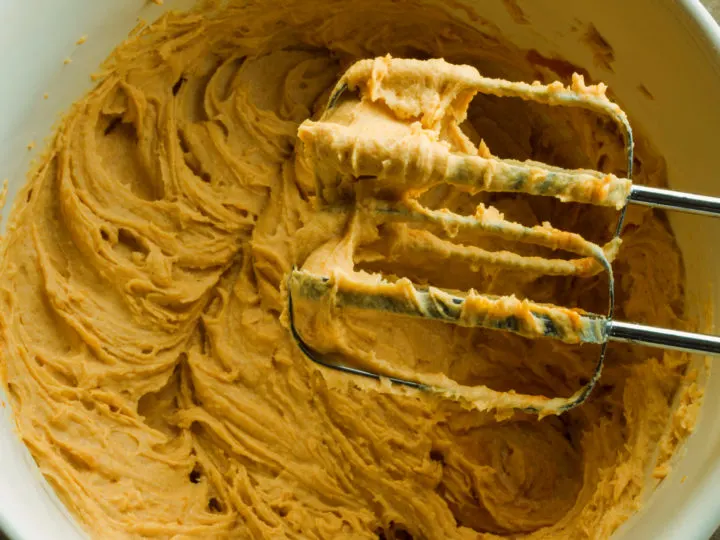 Disclosure: Some of the links below are affiliate links, meaning, at no additional cost to you, I will earn a commission if you click through and make a purchase.
These pumpkin cupcakes are made with a combination of both super-fine almond flour and coconut flour.
The almond flour needs a blanched variety because you won't get the same results with an almond meal. Substituting for almond meal will result in a very dense cupcake.
In addition to the almond flour, it uses some coconut flour to help absorb some of the moisture from the pumpkin puree so that it's not soggy.
I've also added a tablespoon of psyllium husk powder, which is simply fiber. That little bit of extra fiber gives them the perfect crumb texture, and it helps in maintaining the structure of these cupcakes.
Plus, the psyllium husk powder makes this a delicious way to add more fiber to your keto diet. Winning!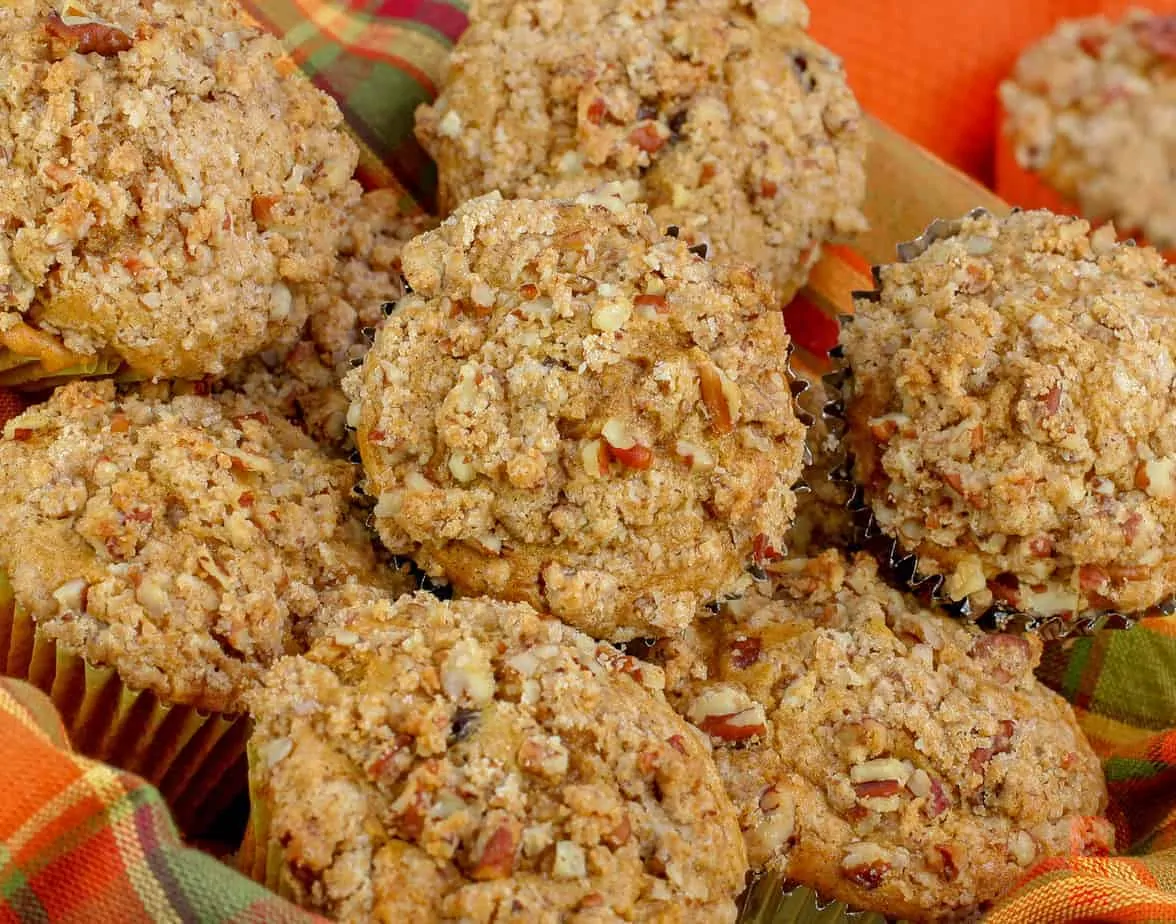 Sugar-Substitute Options
When it comes to choosing which sugar substitute to use for these low-carb pumpkin muffins, I have a few for you to choose from.
Hands down, my favorite sweetener of choice is Lakanto Monk Fruit. I truly love both the flavor and texture it has and the fact that it measures 1:1 for sugar, which makes it a breeze when converting recipes into keto-friendly options.
This brand combines monk fruit and erythritol for a great blend.
In case you don't know, Lakanto gets its sweetness from antioxidants called mogrosides, instead of fructose or sucrose.
That's why it's a great all-natural sugar substitute and has zero calories and a zero glycemic index.
I'm also partial to the brand Swerve, which is also an erythritol blend. Unlike other natural sweeteners like stevia, it has no bitter aftertaste and measures just like sugar.
Swerve is made from ingredients found in select fruits and starchy root vegetables and contains no artificial ingredients, preservatives, or flavors. What's more, it also has a 0% impact on blood sugar.
You could also use the stevia and erythritol-based brand Pyure for this cranberry coffee cake. But if using Pyure, you will want to use 1/2 the amount called for in this recipe since it's a much sweeter option.
Lastly, if you can't easily find a more natural sugar substitute, you can also use Splenda with great success. Keep in mind that the Splenda to use is one that has a bulking agent.
It's the one that comes in larger bags. I don't recommend Splenda Bake because it's actually a half-sugar and half-sucralose product and will be too high in carbs to be considered keto-friendly.
Keto Pumpkin Streusel Cupcake Tips
The following are some questions I've been asked about this recipe, and so I thought I would address them below.
Is pumpkin keto-friendly? Yes, in fact, many people doing keto enjoy pumpkin recipes. Keep in mind that the amount of pumpkin puree used is spread out throughout the entire recipe, and therefore makes it doable.
And don't make the mistake of using pumpkin pie filling since it's pre-sweetened and therefore loaded with sugar.
Can you make these low-carb pumpkin cupcakes without the streusel topping? Sure, you can. Although I don't know why you would deprive yourself of the keto streusel topping. Since it's totally low in carbs and keto-friendly, LOL, just saying.
Is it possible to use less streusel topping on these cupcakes? Of course, you can. Just use half of the ingredients in the streusel recipe. I won't judge you for this. I promise.
Can you make these pumpkin cupcakes with coconut flour alone? Well, not this recipe but you can use my recipe for Keto Streusel Coconut Flour Coffee Cake, and this way you can enjoy a pumpkin cupcake that is also nut-free.
Tag Us
I am also sharing my favorite Keto Baking tips as well as my go-to baking ingredients and some kitchen utensils that I turn to often when baking keto. So if you are new to ketogenic baking, you will be armed with the advice you need to succeed.
I sure hope you will give this recipe a try. Once you do, make sure you remember to tag us on Instagram and Facebook. It's what keeps this girl encouraged to keep sharing and perfecting her recipes.
Also, check out our Amazon Store for our recommendations. You might be surprised by how many great keto options are at your disposal.
Grab Our Books!
In case you don't know, we have authored two books for you, Essential Keto Bread and Essential Keto Desserts, both inspired by your requests over the years. It's my prayer these keto cookbooks will help make keto a delicious breeze for you.
Join Our Jesus And Keto Movement
Looking for an online support system to help you stay the course on keto? As a family, we came to the keto diet, looking at it from a Christian perspective. As believers, we live our lives supported by God's grace.
So when the Holy Spirit led us to combine our Christian faith and the keto diet, we did so in hopes of finding lasting transformation. When we followed the Holy Spirit's prompting, we got on the path to real transformation.
Knowing firsthand the benefits of this decision, we have created a closed Christian group that is using the keto diet to transform their lives. We invite you to join our Private Facebook Group and see if it's not the key you have been missing.
Be sure to request our FREE Jesus and Keto E-Book (First 7 Days). We hope it blesses you.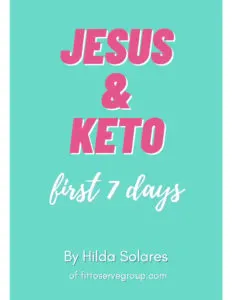 Fittoservegroup Keto App
Looking for a fast way to access our keto recipes? We got you covered. There's an app for that. Yup, there's a Fit To Serve Group App, and it's going to make your keto diet a delicious breeze!
Access hundreds of recipes that are all sugar-free, gluten-free, and keto-friendly.
Enjoy early access to recipes before they go live on the website. Plus, bonus recipes that are exclusive to the app. Make your own personal cookbooks that you can use to organize your favorite recipes.
Search recipes by title, ingredients, keywords, and categories, and of course, every recipe shows complete nutritional facts. Get the Fit to Serve Group App for easy-to-follow keto recipes made with easy-to-source ingredients.
The app is loaded with hundreds of yummy recipes for breakfast, lunch, dinner, snacks, and even desserts!
Learn more by visiting our Fit To Serve Group App Page.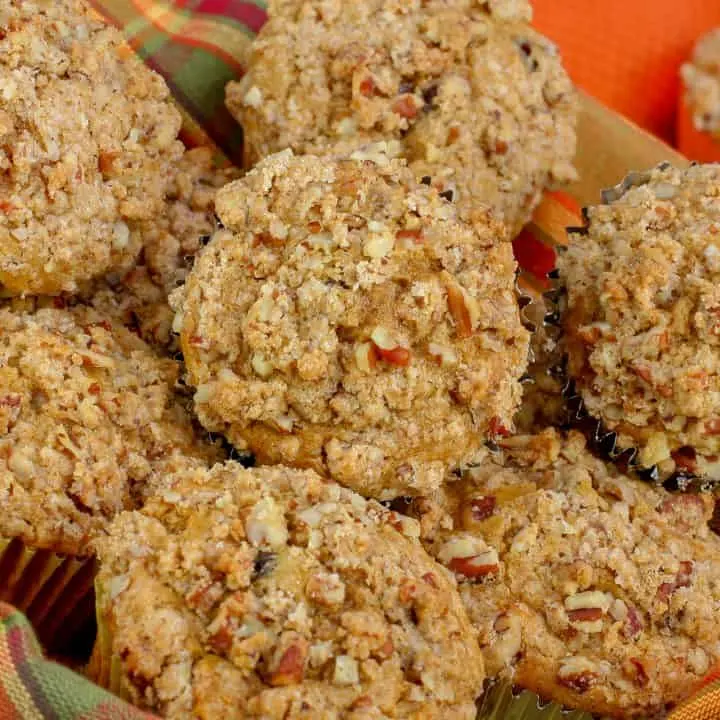 Keto Pumpkin Streusel Cupcakes
This recipe for keto pumpkin streusel cupcakes is sure to be your cupcake of choice all pumpkin season long. It's moist, tender and packed with fall flavors, plus easy to make.
Ingredients
Keto Pumpkin Streusel Cupcake Batter
1 tablespoons baking powder
3 tablespoons cinnamon powder
1/4 teaspoon salt
1 teaspoon of ground ginger
1 cup unsalted butter softened
3 large eggs, room temperature
1 teaspoon vanilla extract
Keto Streusel Topping
½ cup cold butter sliced thinly
1 teaspoons of ground cinnamon
¼ teaspoon of sea salt
1/4 cup of finely chopped pecans (optional)
Instructions
Preheat oven to 350 degrees.
Line your muffin pans with 20 cupcake liners.
Make your streusel topping: In a small bowl, combine the sugar substitute, almond flour, coconut flour, salt, cinnamon, and pumpkin spice. To the dry ingredients add the thinly sliced cold butter and cut in the butter until the mixture resembles coarse crumbs. If you choose to add the pecans stir them in at this time. Set aside.
Make the cupcake batter: In a large mixing bowl, softened butter, sugar substitute until light and fluffy. To this mixture add the eggs one at a time being sure to mix well.
Next, add the pumpkin puree. Mix until fully incorporated.
Lastly add the almond flour, coconut flour, baking powder, psyllium husk powder, salt, and spices.
Add the batter to the cupcake-lined muffin pans. Then, add one tablespoon of streusel topping per cupcake.
Bake cupcakes for 20-25 minutes or until the crumbs are lightly browned and an inserted toothpick comes out clean.
Store leftovers in the refrigerator in an airtight container for up to five days or freeze for up to three weeks.
Nutrition Information:
Yield:

20
Serving Size:

1
Amount Per Serving:
Calories:

210
Total Fat:

20.7g
Saturated Fat:

11.5g
Cholesterol:

45mg
Sodium:

6229mg
Carbohydrates:

3.5g
Net Carbohydrates:

2.4g
Fiber:

1.1g
Sugar:

0.7g
Protein:

2.5g