This keto chicken soup is a hearty and simple twist on a classic Guatemalan chicken soup. It's a low-carb chicken soup (or caldo de pollo as we call it) and is a family recipe passed down for generations.
It's very simple and easy to make, and it encompasses all of the flavors I loved as a kid, but without all of the carbs! It features the classic Guatemalan soup vegetables such as chayote squash, Caribbean pumpkin, and cabbage.
I, of course, left out the traditional corn on the cob and potatoes to make this ultimate comfort food fit into our keto lifestyle.
To keep as much of the traditional flavor that I grew up loving, this recipe also includes a classic "chilito" which is a mix of roasted jalapenos, chopped onions, and lots of lime juice.
It's a side used as a sauce or topping for the soup. But don't worry, if you're not a fan of spicy foods the chilito is optional but highly recommended!
If you're looking for more keto-friendly soups then you need to check out our Keto Soups collection. It's filled with lots of great low-carb soups such as our very popular Keto Broccoli and Cheese Soup
And one of my favorites, Keto Zuppa Toscana!
Keto Chicken Soup (Caldo)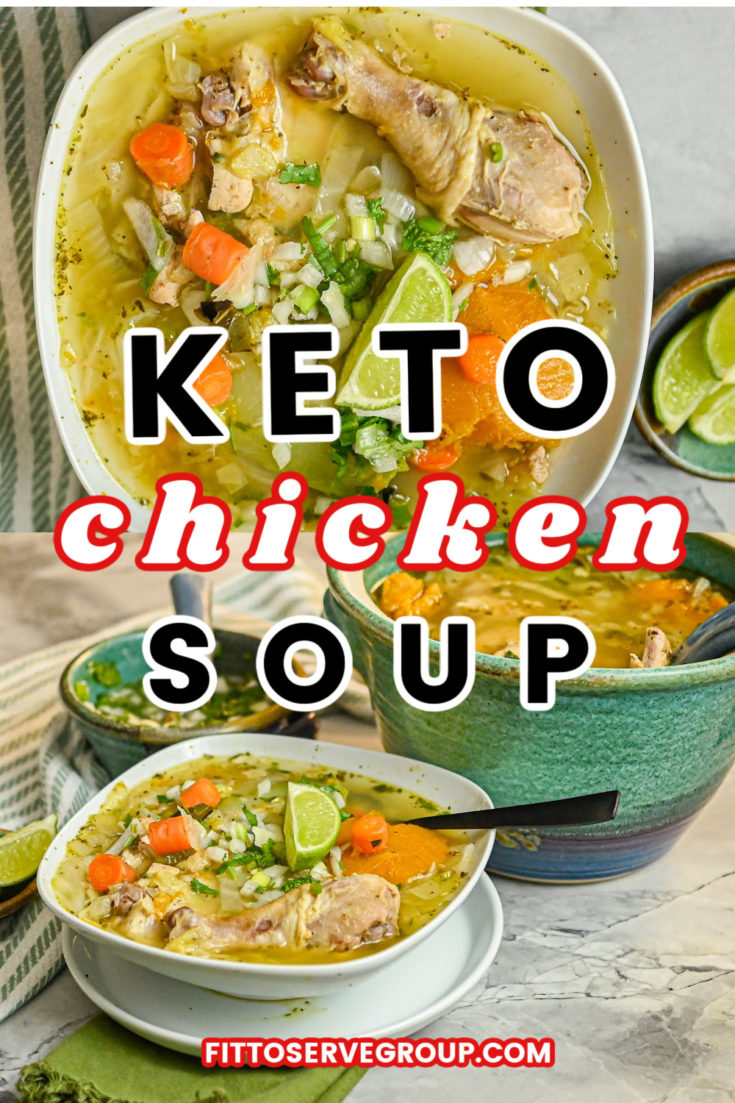 At this point in the year, when the days are shorter and colder, and everything just feels grey and dull, comfort food is what we feel drawn to the most.
Unless you live in South Florida as we do where the seasons rarely change!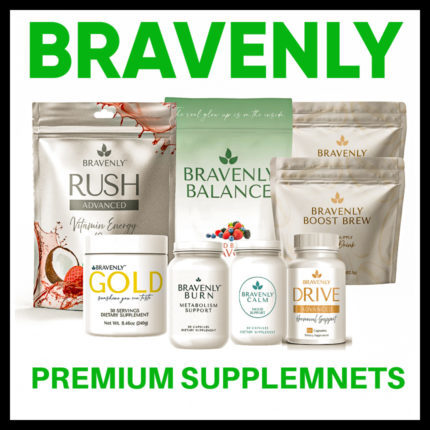 Though truth be told, I'll find any excuse year-round to cook up this keto chicken soup! Even in the middle of summer, I LOVE soup!
This isn't your typical chicken soup though. This keto-friendly chicken soup is our twist on the Guatemalan caldo (soup) that my grandmother (Mama) used to make!
We've modified it over the years so that it fits into our ketogenic lifestyles, but without losing any of the amazing flavors!
With a few omissions and swapping out high-carb vegetables for keto-friendly veggies, this soup still tastes as close as we can get to my grandmother's without her special touch!
And we ALWAYS make a batch of traditional "chilito", a slightly spicy lime juice based sauce/topping, to go along with the soup just like she did. Because keeping with tradition is what honors her memory.
We've shared some of our favorite Guatemalan dishes turned keto before, like our Keto Chirmol (salsa) which is a staple for our Guatemalan family.
But this soup is maybe the most cherished family favorite recipe that we've decided to share with you all!
I have many fond memories of Saturdays at my grandparent's house with all the aunts, uncles, and cousins, huddled in the small kitchen, forming a line to get our bowl of her precious soup!
A bowl that would start with a generous scoop of rice ( I know!) and half a corn on the cob. My favorite was always and still is, the broth! I'd come back for bowl after bowl of mostly broth and still do!
How To Make Keto Chicken Soup (Caldo)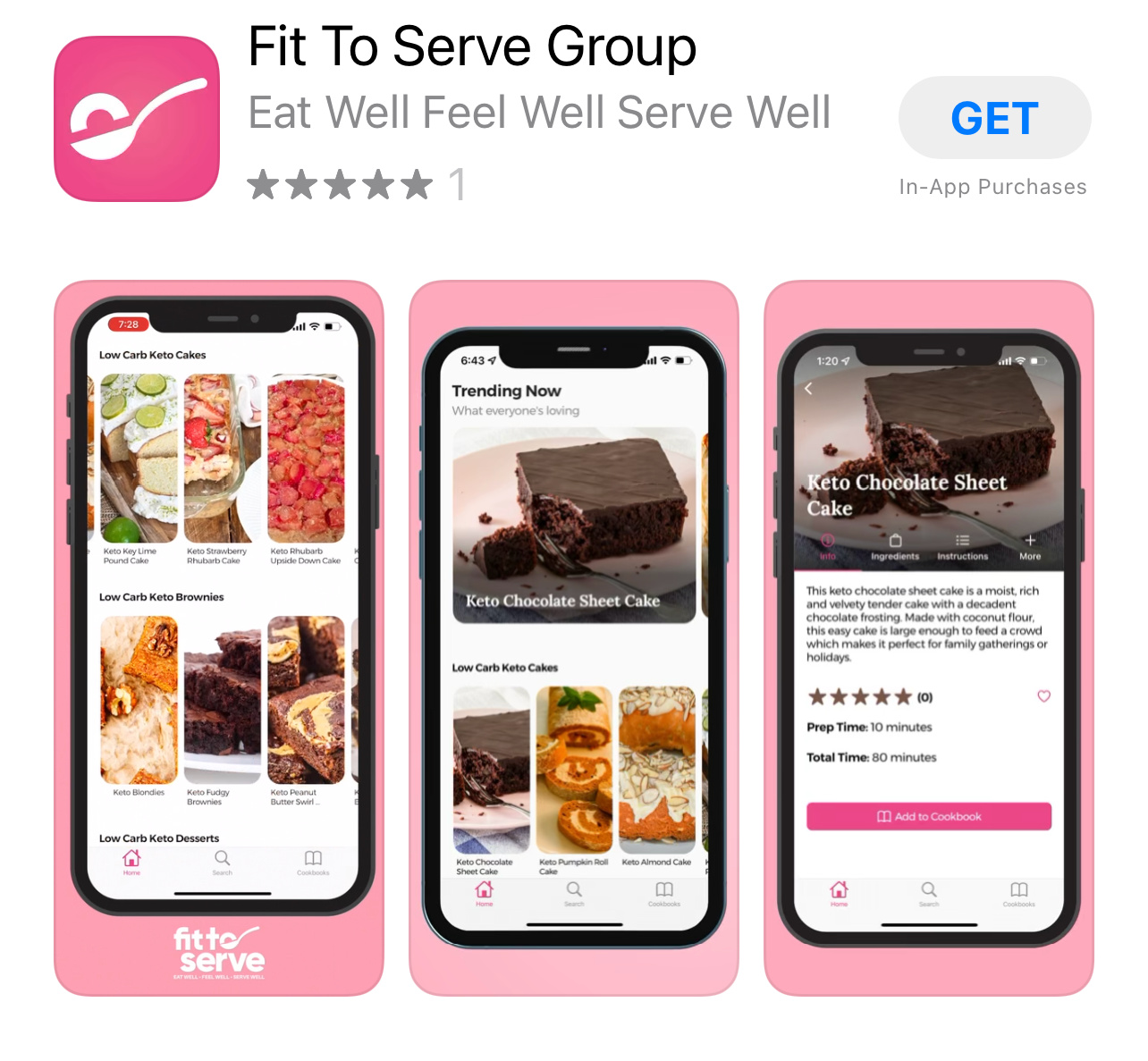 Now as I mentioned, making this soup is pretty simple to make but it does take a good amount of chopping of veggies. As any good, hearty soup does.
To make this soup you'll need a large stockpot as this makes a whopping 10 servings of chicken soup!
Don't worry if you think that's too much for your family to eat in one day because this soup is even better the next day! I'm not a leftovers girl but something magical happens when this soup sits in the fridge all night!
Of course, you could also make half the recipe too!
To start making the soup you'll add your water to the stockpot and add in all of your spices, powdered chicken bouillon, and raw chicken.
Set your burner to medium-high heat and bring it to a soft boil. Allow this to cook for 30 to 40 minutes until the chicken is almost fully cooked.
While the chicken cooks you can prep and chop all of your vegetables as well as the chilito topping.
I like to chop the Caribbean pumpkin and chayote squash into roughly 3-inch chunks; this helps them not break down entirely in the soup.
As for the cabbage, I like to cut it into strips and then cut the strips in half.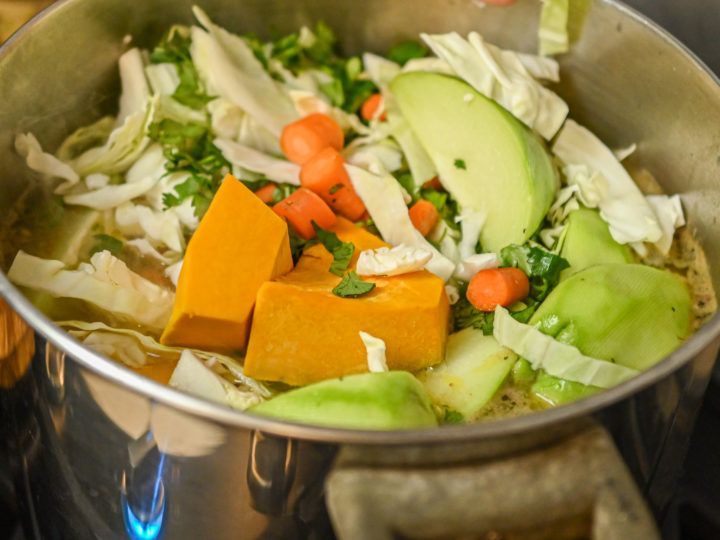 When your chicken soup reaches the 30 to 40-minute mark you can then add in all of your chopped veggies and lower the heat to a simmer. Cook for an additional 30 to 40 minutes until the Caribbean pumpkin and chayote squash is tender.
Serve your Central American-style keto-friendly chicken soup topped with chilito (and a lime wedge if you can't get enough like me!) and enjoy.
Keto Chilito (Guatemalan Lime and Jalapeno Topping)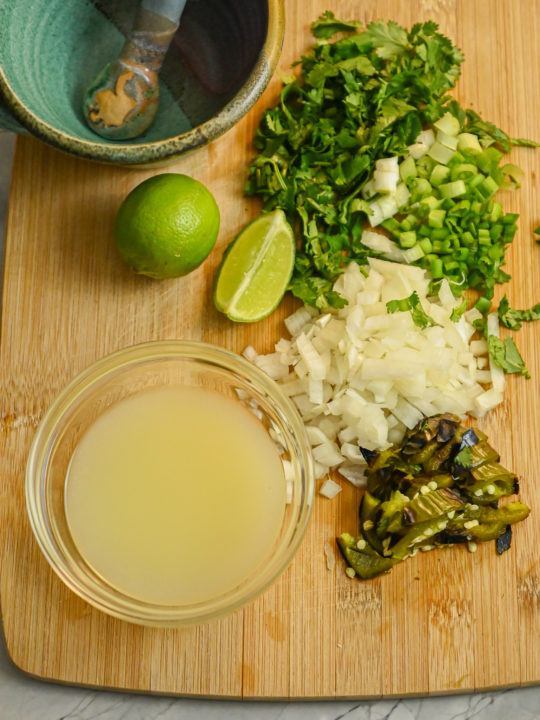 Making the chilito topping is very simple but adds so much flavor to the soup. I start by roasting a jalapeno which brings out a rich, smoky flavor and dulls the heat just a little bit.
Again, this is optional but it really adds to the flavor of the whole dish.
Then you'll simply combine all of your ingredients, lime juice, water, cilantro, chopped onions, roasted jalapeno, green onion, and salt in a small bowl and set aside until the soup is ready to be served.
You can even make this the day before so that the flavors have time to really blend together and the onions become slightly cooked in the acidity of the lime juice.
Ingredients Needed To Make Keto Chicken Soup
Disclosure: Some of the links below are affiliate links, meaning at no additional cost to you, I will earn a commission if you click through and make a purchase.
The following are the ingredients you'll need to make this keto-friendly chicken soup that is keto-friendly. Note that the full printable recipe is at the bottom of the page.
Water

Salt

Black pepper

Garlic powder

Onion powder

Italian seasoning

Cumin powder

2 bay leaves

Whole chicken, broken down with bone
Onions, chopped
Garlic, chopped finely
Carrots, sliced
Chayote squash, peeled and quartered (be sure to use gloves when handling.

)

Caribbean pumpkin (calabaza) peeled and chopped into 3-inch pieces

Green cabbage

Cilantro

Roasted jalapeno

Lime juice
You will also need a large stockpot such as this one to accommodate this large soup.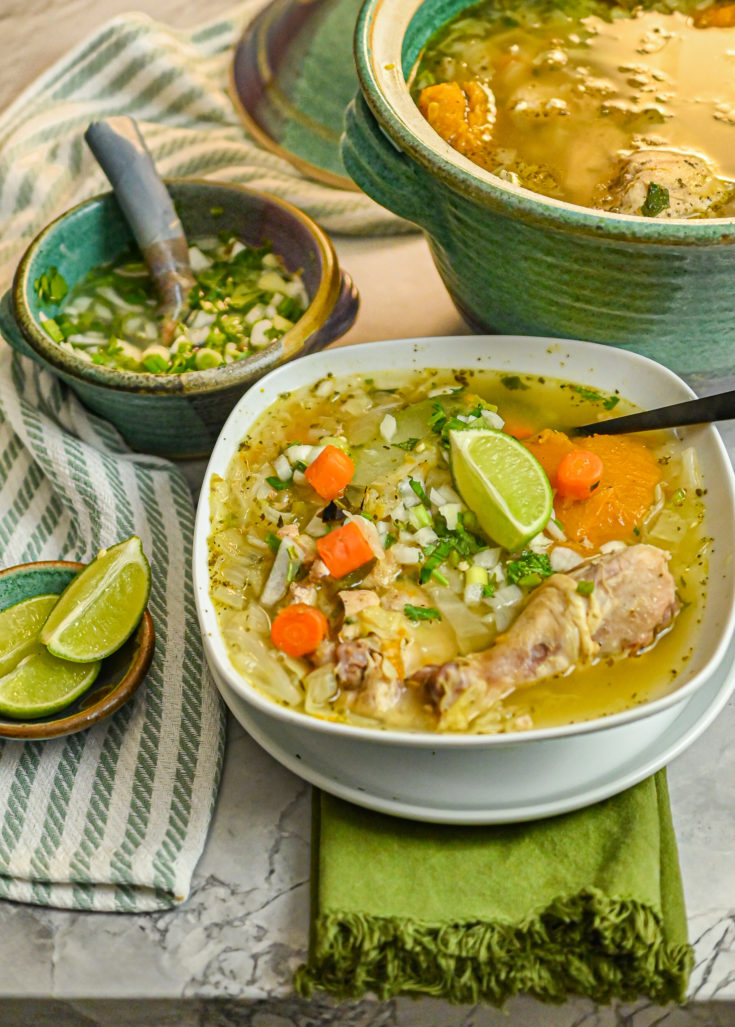 Tag Us
I sure hope you will make this keto chicken soup. Please remember to tag us on Instagram and Facebook with your pictures if you decide to make it.
I can't tell you how encouraging it is to see how well you are all duplicating our little recipes.
Grab Our Books!
In case you don't know I have authored two books for you, Essential Keto Bread and Essential Keto Desserts both inspired by your requests over the years.
It's my prayer these keto cookbooks will help make keto a delicious breeze for you
Join Our Jesus And Keto Movement
Looking for an online support system to help you stay the course on keto? As a family, we came to the keto diet looking at it from a Christian perspective. As believers, we live our lives supported by God's grace.
So when the Holy Spirit led us to combine our Christian faith and the keto diet, we did so in hopes of finding lasting transformation. When we followed the Holy Spirit's prompting we got on the path to real transformation.
Knowing firsthand the benefits of this decision we have created a closed Christian group that is using the keto diet to transform their lives.
We invite you to join our Private Facebook Group and see if it's not the key you have been missing.
Be sure to request our FREE Jesus and Keto E-Book (First 7 Days) We hope it blesses you.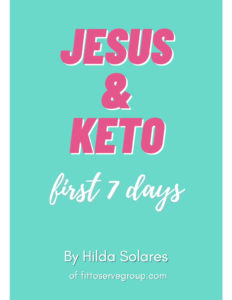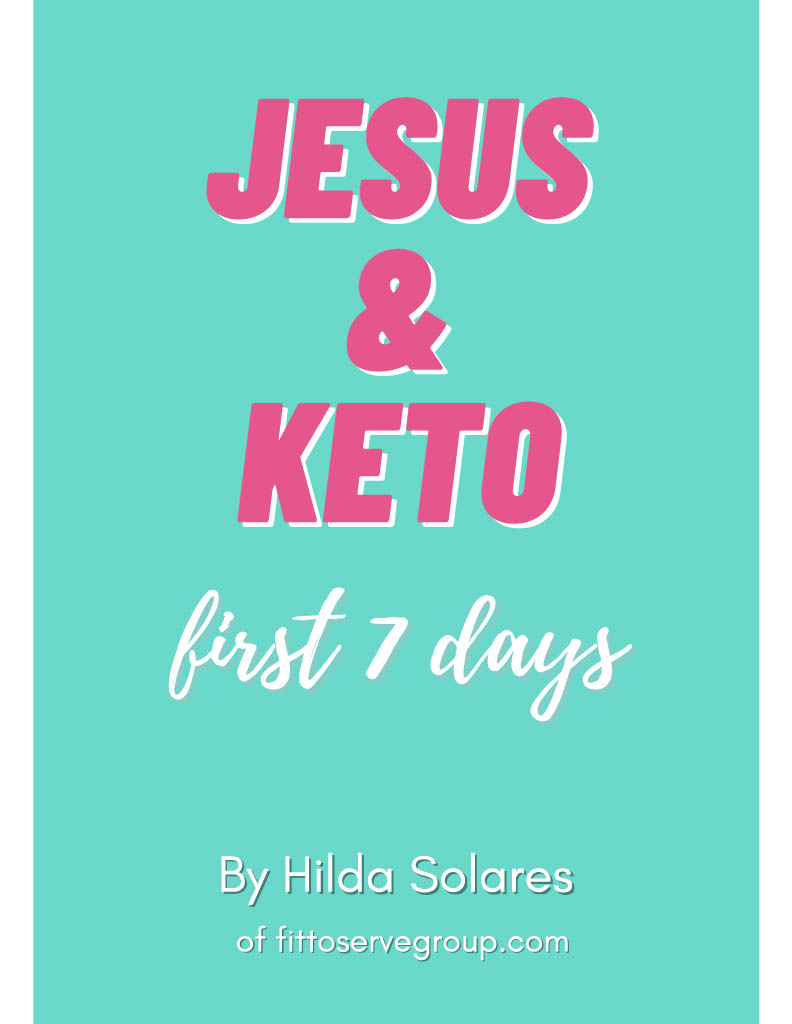 Fittoservegroup Keto App
Looking for a fast way to access our keto recipes? We got you covered. There's an app for that. Yup, there's a Fit To Serve Group App and it's going to make your keto diet a delicious breeze!
Access hundreds of recipes that are all sugar-free, gluten-free, and keto-friendly.
Enjoy early access to recipes before they go live on the website. Plus, bonus recipes that are exclusive to the app. Make your own personal cookbooks that you can use to organize your favorite recipes.
Search recipes by title, ingredients, keywords, and categories, and of course every recipe shows complete nutritional facts.
Get the Fit to Serve Group App for easy-to-follow keto recipes made with easy-to-source ingredients.
The app is loaded with hundreds of yummy recipes for breakfast, lunch, dinner, snacks, and even desserts!
Learn more by visiting our Fit To Serve Group App Page.
Keto Chicken Soup (Caldo)
Cook Time:
1 hour
20 minutes
Total Time:
1 hour
35 minutes
This keto chicken soup is a hearty and simple twist on a classic Guatemalan chicken soup recipe that has been passed down for generations.
Ingredients
13 cups of water
1/2 teaspoon of salt
1/2 teaspoon of black pepper
1 teaspoon of garlic powder
1 teaspoon of onion powder
1/8 teaspoon of cumin powder
2 teaspoons of Italian seasoning
2 bay leaves, removed before serving
1 whole chicken, brokend down with bone or 3 pounds of your choice cuts
1 cup of carrots sliced
2 chayote squash peeled and quartered
1 pound of Caribbean pumpkin (calabaza) peeled and chopped into 3 inch pieces
1/2 of a medium-sized green cabbage, cut into eighths
1 cup of chopped onions
3 cloves of garlic, peeled
1/2 cup of chopped cilantro
Chilito ( Jalapeño) Sauce/ Topping
1 jalapeño roasted , remove the seeds for less heat
1 /2 small onion, chopped
1/3 cup of lime juice
1/3 cup of water
1/2 teaspoon of salt
1/3 cup chopped cilantro
2 tablespoons chopped green onions
Instructions
In a large stockpot, add the 13 cups of water, spices, powdered chicken bouillon, and raw chicken. Bring to a boil over medium-high heat until the chicken is mostly cooked and tender. About 30-40minutes.
When the chicken is mostly cooked, skim off any foam that forms on the top of the broth and add all the vegetables, onions, garlic, and cilantro. Reduce the heat to a simmer and cook until the carrots, pumpkin, and chayote squash are tender for about 30-40 minutes. Before serving, remove the bay leaves.
Serve while still hot and topped with the chilito and a lime wedge.
Store leftovers in an airtight container in the refrigerator for up to 3 days or freeze for up to 3 weeks.

Jalapeño Chilito Sauce/Topping
To make the chilito topping, begin by roasting your jalapeno on a dry skillet. Turning every few minutes until it is slightly charred all the way around.
Allow your jalapeno to cool and then chop finely. You can remove the seeds first if you prefer less heat.
Lastly, in a small bowl combine all of the ingredients, chopped jalapenos, onions, green onions, cilantro, lime juice, salt, and water.
Notes
This recipe can be halved for a total of 5 servings.
If you prefer not to use a whole chicken, you can instead use 3 pounds of your choice of chicken pieces. I highly recommend choosing cuts that include the bone as it adds a lot of flavor to the broth.
If you like having rice in your soup, you can add a scoop of cauliflower rice to the bottom of your bowl instead.
Note that the nutritional facts do not include the chilito sauce since it is optional.
Nutrition Information:
Yield:

10
Serving Size:

1
Amount Per Serving:
Calories:

255
Total Fat:

4.7g
Saturated Fat:

1l.3g
Cholesterol:

105mg
Sodium:

535mg
Carbohydrates:

8.6g
Net Carbohydrates:

6g
Fiber:

2.6g
Sugar:

3.6g
Protein:

40.9g