Everyone needs a great salsa recipe which is why I am sharing my keto-friendly salsa recipe. Loaded with fresh veggies and herbs, this low-carb salsa recipe is sure to be hit at your next family gathering or BBQ invite.
My recipe for keto salsa is our family's recipe for Guatemalan chirmol. It's one I am confident you will make often because it's not only delicious but it's also easy to customize. Once you try homemade salsa, I promise you'll never want the bottled stuff again.
Keto Salsa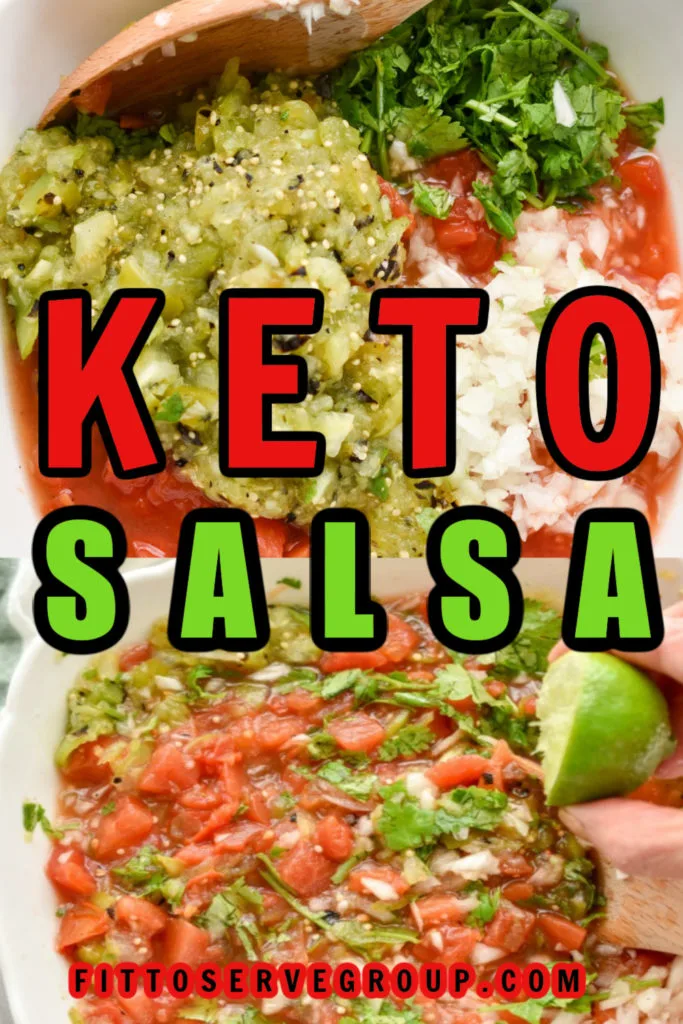 My mother-in-love used to make the best authentic Guatemalan salsa on the planet.
Ok, maybe not the planet but in my book, no one could hold a candle to her recipe.
The first time I tried her salsa, I had just started dating Randy. Just one spoonful of her salsa pretty much convinced me I had chosen wisely.
LOL, I figured that if this was the food her son grew up on, it was a good indication that her boy would make a great catch.
Well, that and the fact that he grew up in a very loving, supportive, Christian family. Randy did quickly swoon me off my feet with his big ole' heart.
But in the wee days of our relationship, his mom's cooking drew me into the family.
Looking back Elizabeth, (nena-face) as I affectionately called her, wisely knew how to keep her family together with her cooking. And her homemade low-carb salsa played a role in doing just that.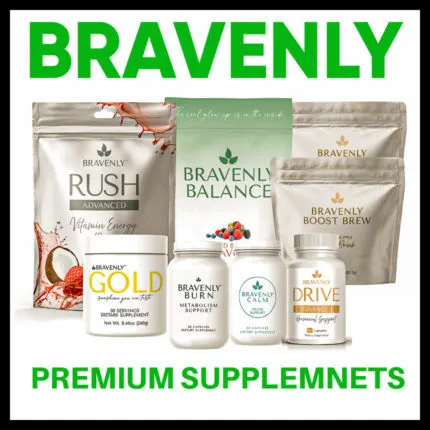 Randy was born in Guatemala and moved to the United States when he was only 5 years old but his family did a great job of keeping his roots alive.
Elizabeth called her salsa chirmol so I called it the same.
Chirmol is Mayan for "running nose". Yup, this salsa can be spicy, but that really depends on who's making it.
Her chirmol ranged from quite mild to very spicy depending on how many jalapeños made it to the salsa bowl.
In Guatemala, chirmol is commonly served with carne asada, a steak that's cooked on a grill. But that doesn't mean you can't have this keto-friendly salsa on just about anything because it accompanies chicken, fish, and eggs beautifully too.
Low Carb Salsa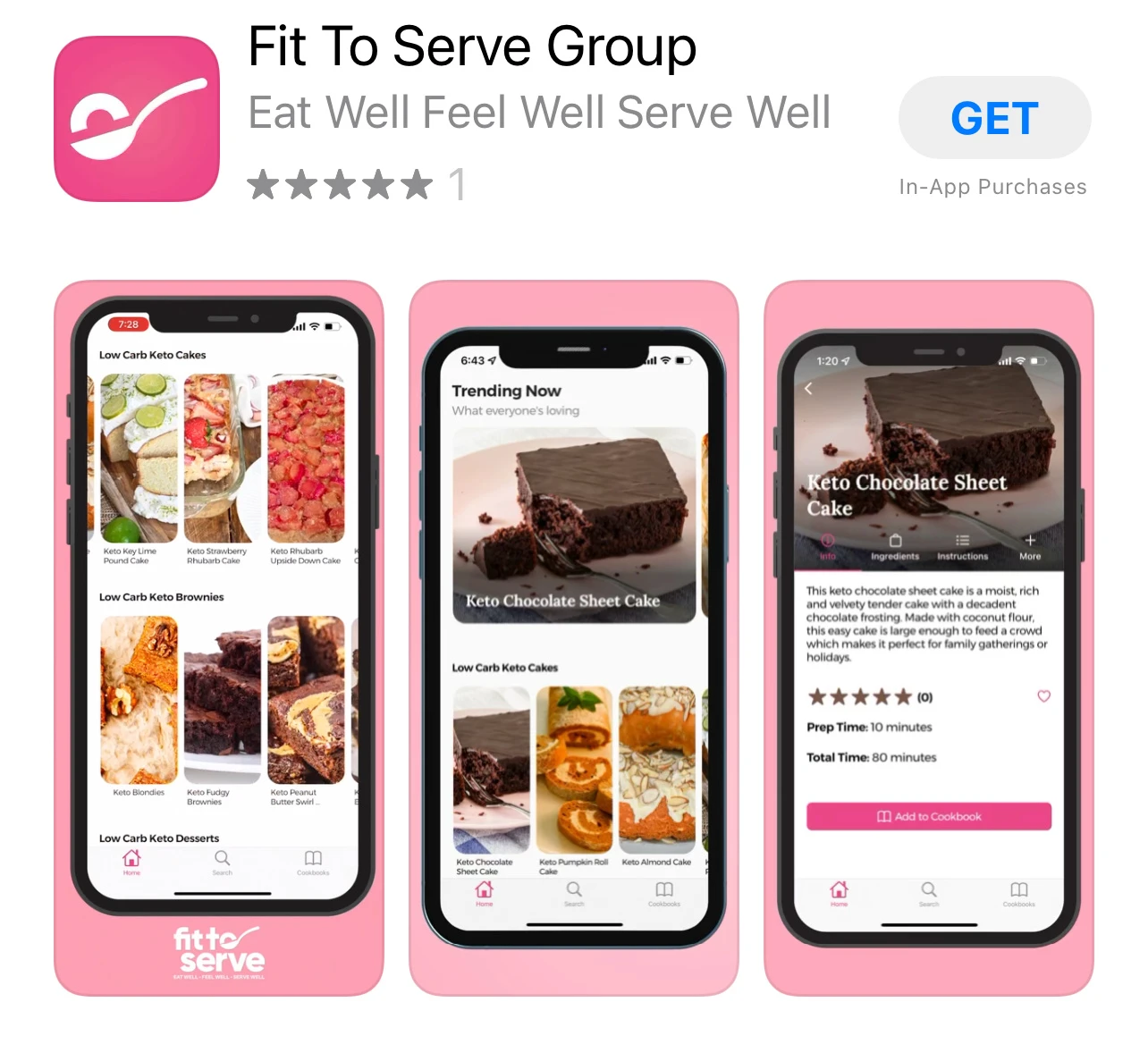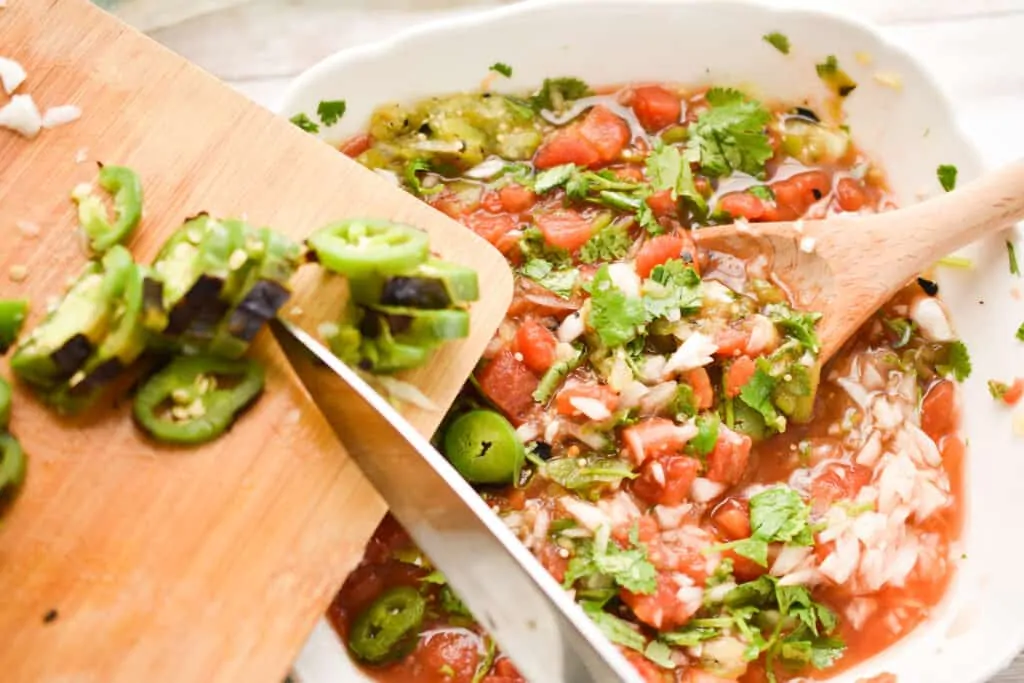 I spent hours watching her make her low-carb salsa before I finally got enough courage to make it myself. But once I did, this girl made her recipe often.
Elizabeth graduated to heaven several years ago, but not a day goes by that I don't remember her fondly.
Whether it's recalling a funny memory, her wise words, or the way she always brought the family together around her cooking.
Today, Iris, who's Randy's sister-in-law, and Bessie, her daughter, continue to make her salsa recipe. I mean, even our children have learned to make her salsa!
We all make her chirmol salsa a little differently from one another. Which, frankly, is a sign that it's a well-loved recipe.
Some put all the ingredients in a blender for a smoother sauce, while others like their salsa more on the chunky side.
Still, others add another ingredient or two to make it their own. But all of us would agree that what we really would prefer is to sit at her kitchen table and taste the version she made lovingly for us countless times.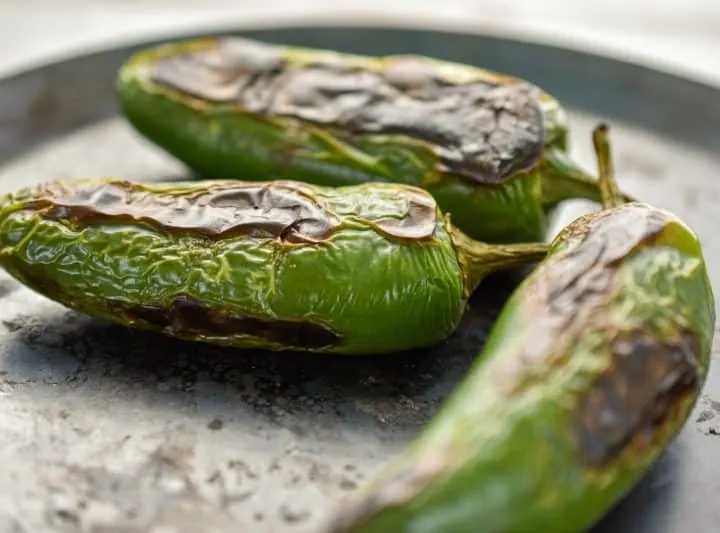 How To Make Keto-Friendly Salsa (Chirmol)
I may shock you with this, but I make my salsa with canned tomatoes. To be honest, it's what I saw my mother-in-love do, and if it was good enough for her, it's certainly good enough for me.
Let's face it. You can make a keto-friendly salsa with fresh plum tomatoes. However, that would require quite a bit more prep work. You would have to blanch, peel, core, and deseed the tomatoes before you can finely slice them.
If you have that kind of time and energy to do so, go ahead. You have my blessing. But if you're like me and time is a luxury, use the canned tomatoes. Trust me; no one will be the wiser.
I will say that the quality of your canned tomatoes can make a difference in the final outcome of your salsa, so pick wisely.
Here again, is why a homemade salsa is a way to go if you want to keep it keto-friendly since the majority of what is found on the market is chock full of corn syrup.
Customize Your Homemade Salsa Easily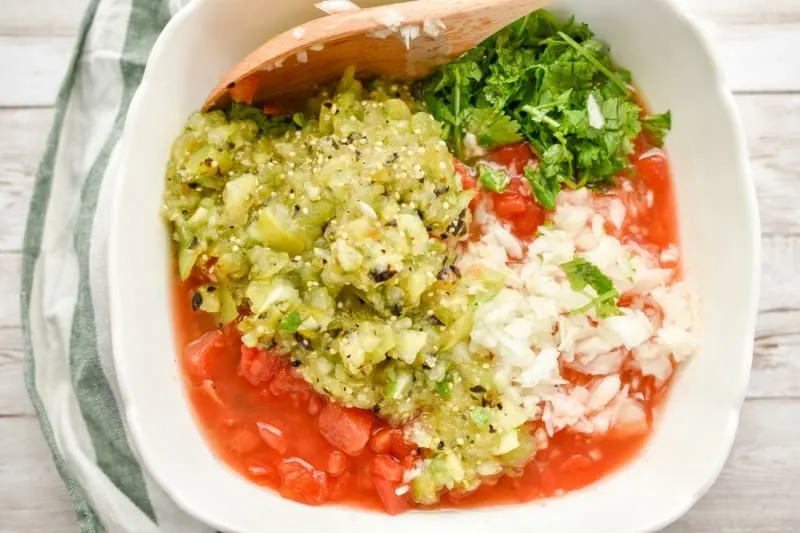 You can easily customize the level of spice of your homemade low-carb salsa depending on your personal preference for heat.
For a mild keto salsa, add just one jalapeño pepper and be sure to deseed it. If you want a medium level of spice, add two to three jalapeños, and also make sure you remove the seeds.
But if you like your salsa hot as our family does, add as many as four jalapeños, and if you're really bold, leave the seeds in. It's what we do!
Mama made her chirmol with just five basic ingredients; canned tomatoes, fresh cilantro, white onions, jalapenos, lime juice, and some salt.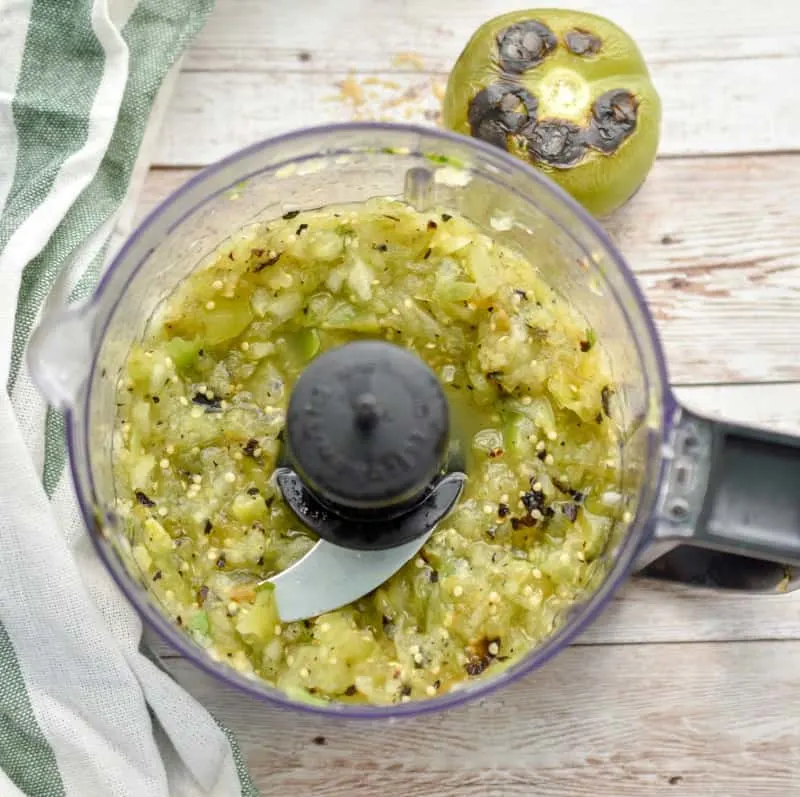 Plus, she didn't always roast her jalapeños for her salsa. However, after seeing her roast her peppers once, I was hooked. Because, frankly, it made her great salsa even tastier.
Over the years, I adapted her amazing recipe by adding roasted tomatillos to the mix. It's an addition I know she would have approved of.
Tomatillos are small, green, tomato-like fruits that are common to Mexican and Tex-Mex cuisines. It's the primary ingredient in green salsa.
If you are adding tomatillos to your keto salsa, make sure you pick ones that are fresh and that you peel the husk before you roast them since the husk is inedible.
Regardless of what ingredients I have available at the time, making her homemade salsa will always remind me of her.
How To Roast Your Vegetables For Keto Salsa
Although you can make this keto-friendly salsa without roasting your vegetables, it's so worth the extra step. You'll just have to trust me on this.
Probably the easiest way to roast your tomatillos and jalapeños is on a BBQ grill outside. So if you're planning to use your keto salsa for your grilled meats, take advantage of the outdoor grill.
This makes the process less messy, and you avoid the smoke in your kitchen.
But if I am not outdoors grilling, I will roast my vegetables in a comal or dry cast-iron skillet on my stovetop. I happen to have a gas stove, but it can be done on an electric stovetop as well.
Just be sure to turn on the exhaust fan on high because the charred pepper fumes can be quite intense indoors. You can also roast your vegetables on a broiler. The top broiler of your oven set to high works equally well and makes clean-up easier. You'll be dry roasting your vegetables, so there is no need to add any oil while roasting them.
The key is to keep moving them around as you roast them so that the skin is evenly browned on every side.
You'll notice that when I make my keto salsa, I don't peel off the charred skin. Frankly, leaving the skin on gives the salsa a smokey taste that takes this recipe to another level.
What To Serve With Low-Carb Salsa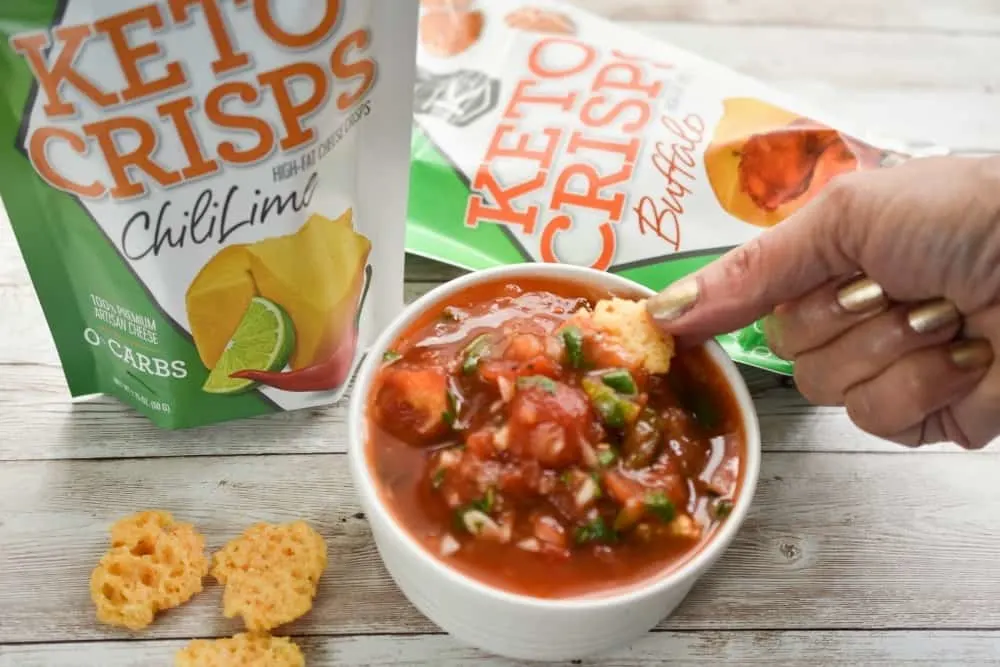 Disclosure: Some of the links below are affiliate links, meaning at no additional cost to you, I will earn a commission if you click through and make a purchase.
I serve our homemade keto salsa as a condiment, so it goes well with a number of things. The following are just a few of our favorites:
With Poultry, Fish, or Meat.
Over Scrambled Or Fried Eggs.
As A Dressing For A Tex-Mex Salad
With Pork Rinds
Tag Us
I do my best to honor Elizabeth's memory by living in such a way that would make her proud and, of course, by making recipes like this salsa a staple in our family.
Grab Our Books & Keto App
In case you don't know, we have authored two books for you, Essential Keto Bread and Essential Keto Desserts, both inspired by your requests over the years.
It's my prayer these keto cookbooks will help make keto a delicious breeze for you.
Gain access to simple and delicious recipes for breakfast, lunch, dinner, snacks, and even desserts with our FITTOSERVEGROUP APP.
Join Our Jesus And Keto Movement
Looking for an online support system to help you stay the course on keto? As a family, we came to the keto diet looking at it from a Christian perspective. As believers, we live our lives supported by God's grace.
Knowing firsthand the benefits of this decision, we have created a closed Christian group using the keto diet to transform their lives.
We invite you to join our Private Facebook Group and see if it's not the key you have been missing.
Be sure to request our FREE Jesus and Keto E-Book (First 7 Days). We hope it blesses you.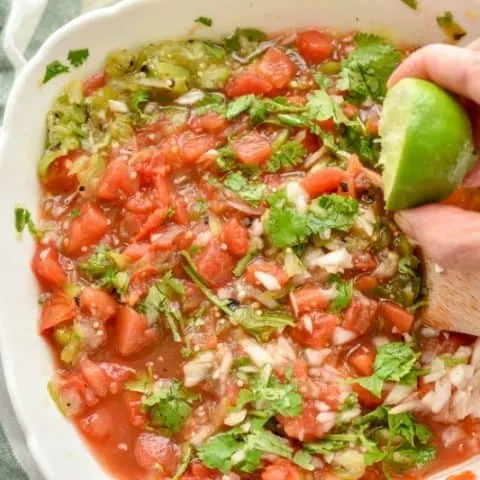 Keto-friendly Salsa(Chirmol)
It's a recipe for keto-friendly salsa. This keto salsa is low in carbs because it has no added sugar. Made with just a handful of ingredients this Chirmol salsa can be made easily.
Ingredients
Keto Salsa
1 large white onion chopped (1/2 cup)
1-4 roasted jalapeños (to taste)
2 medium roasted tomatillos (1 cup)
1/2 bunch of cilantro (1/2 cup)
fresh lime juice (1 ounce about 2 limes)
1 teaspoon of sea salt
Instructions
Wash and dry your jalapeños and tomatillos. Before you roast your tomatillos make sure you remove the husk which is inedible. Note that tomatillos tend to be a little sticky once you remove the husk. Do not peel the tomatillos leave them whole before roasting.
Roast on high heat the jalapeños and tomatillos. You can roast them on a open grill outdoors, on the stove using a dry comal, cast-iron skillet or in the oven using the broiler at the highest setting. Do not add any oil to your vegetables when roasting. You will be roasting them dry.
Once the jalapeños are roasted slice lengthwise to deseed and devein. For spicer salsa skip this step.
Slice your jalapeños coarsely and set aside.
Chop your roasted tomatillos and set aside.
Chop your white onion and cilantro and set aside.
Squeeze the juice of two limes (for a total of one ounce of juice) Set aside.
In a large bowl mix together the canned diced tomatoes, onion, jalapeños, tomatillos, cilantro, lime juice and salt.
Serveyour keto salsa immediately or refrigerate for up to 7 days.
Notes
Recipe makes enough for ten 1/2 cup servings of keto-friendly salsa. This recipe doubles easily and keeps in the refrigerator well for up to 7 days.
Nutrition Information:
Yield:

10
Serving Size:

1/2 cup
Amount Per Serving:
Calories:

20
Total Fat:

0.3g
Saturated Fat:

0g
Cholesterol:

0mg
Sodium:

5mg
Carbohydrates:

4.4g
Net Carbohydrates:

2.1g
Fiber:

1.3g
Sugar:

2.5g
Protein:

0.9g