If you're a fan of pumpkin cupcakes but need a healthier version then this recipe for keto pumpkin cream cheese cupcakes has your name on it.
The good thing is that these sugar-free pumpkin cream cheese muffins are low in carbs, grain-free, gluten-free, sugar-free, and keto-friendly. Really can it get any better?
These cupcakes are super moist, flavor-packed, and topped with the perfect amount of cream cheese frosting.
I've always looked forward to pumpkin season but when I went low carb keto, things had to drastically change. Long gone were the days when I would make a pumpkin recipe oozing with sweetness.
Yay for being keto-adapted. It's pretty remarkable how your body begins to desire less sugar once you remove it from your diet.
Besides this recipe for low-carb pumpkin cream cheese cupcakes, I have a complete list of Keto Cakes that I encourage you to also visit.
And if you are a fan of pumpkin recipes, don't forget to also check out our keto pumpkin recipes.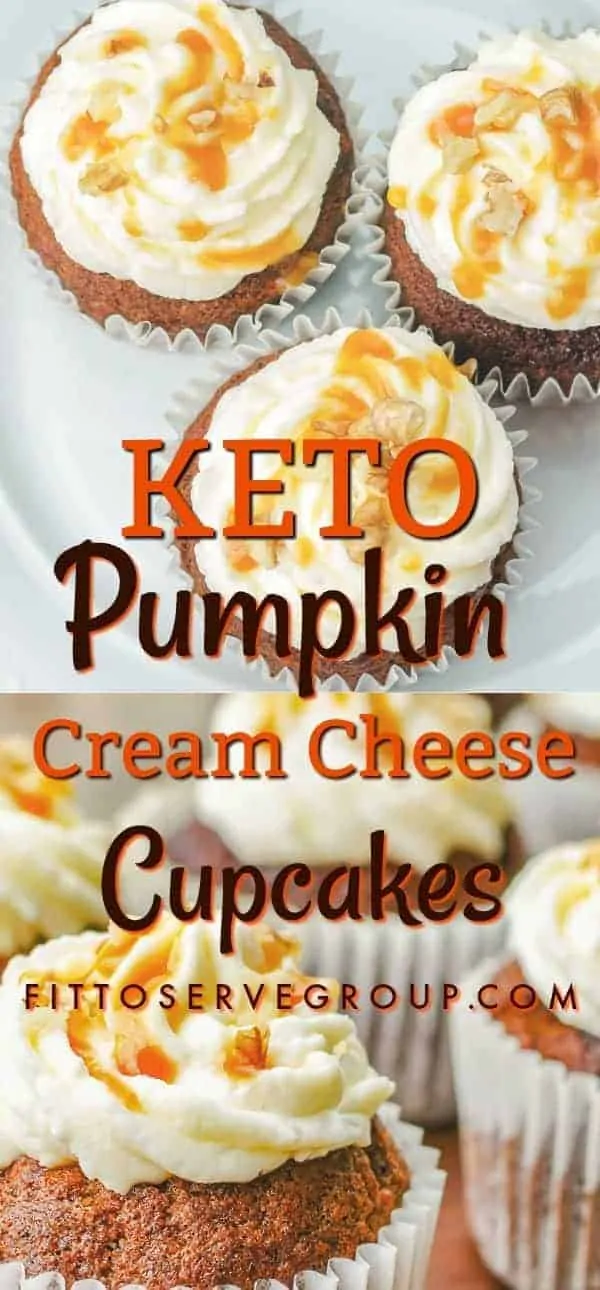 Keto Pumpkin Cream Cheese Cupcakes
The fact remains that once pumpkin season rolls around this girl gets a major hankering for pumpkin treats. And it seems like I can't stock up enough on pumpkin puree cans.
I just get all caught up with the flavors of the season and somehow find myself making something pumpkin all the time. Thankfully, my family is not complaining and actually encourages me to keep testing recipes on them.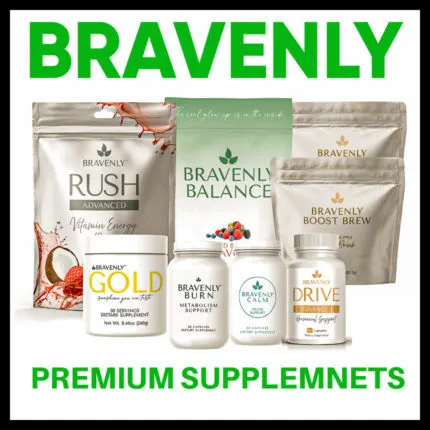 These low-carb pumpkin cupcakes came out of a need to create something festive that would be easy to transport. Seems like it's that time of year when treats and invites abound.
So I wanted to be able to have a keto-friendly treat that would also make a great host gift. That's not to say that these delightful muffins shouldn't be enjoyed at home too, because these lovelies, also make the best snack, dessert, and even quick breakfast.
How To Make Keto Cream Cheese Cupcakes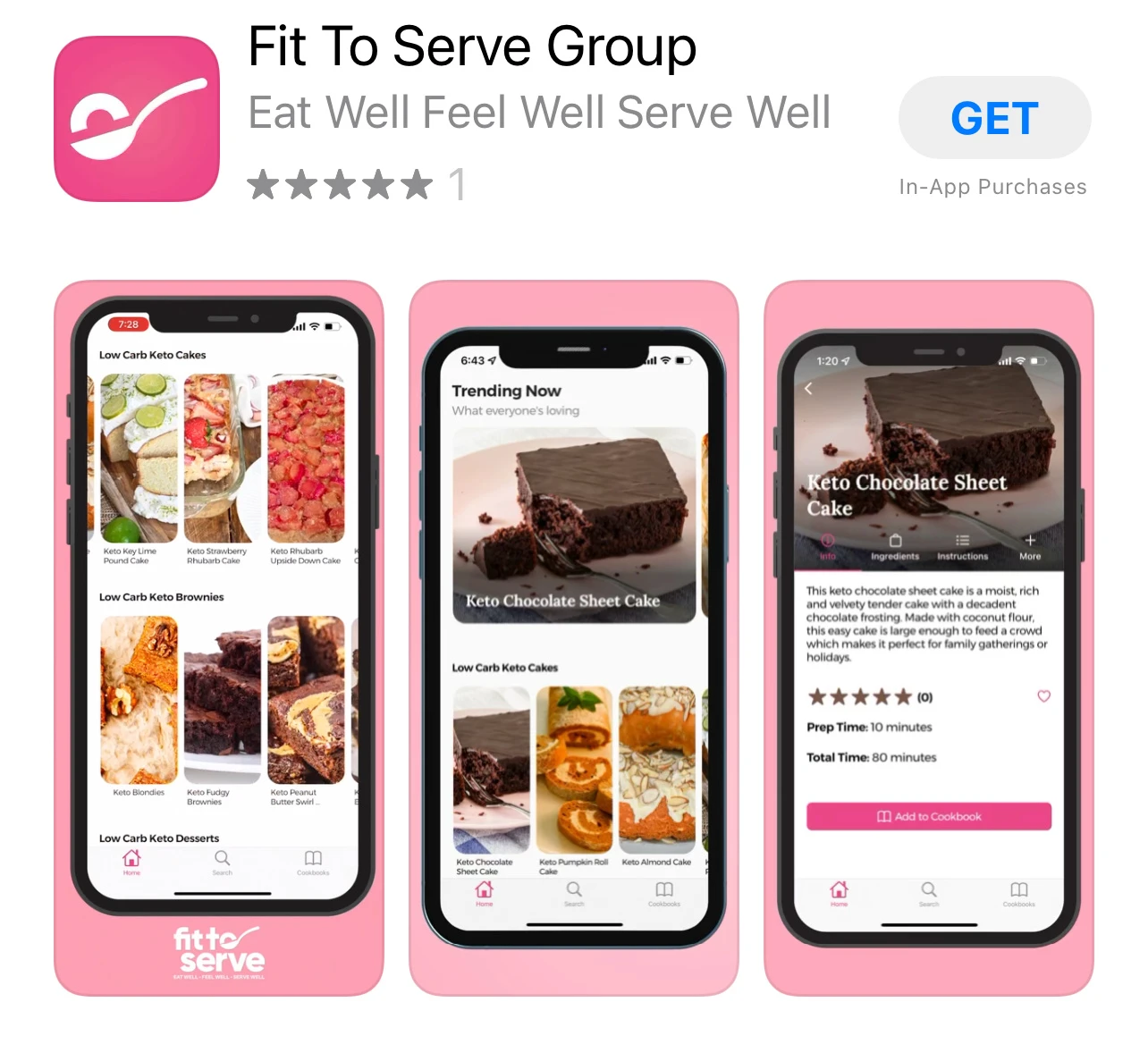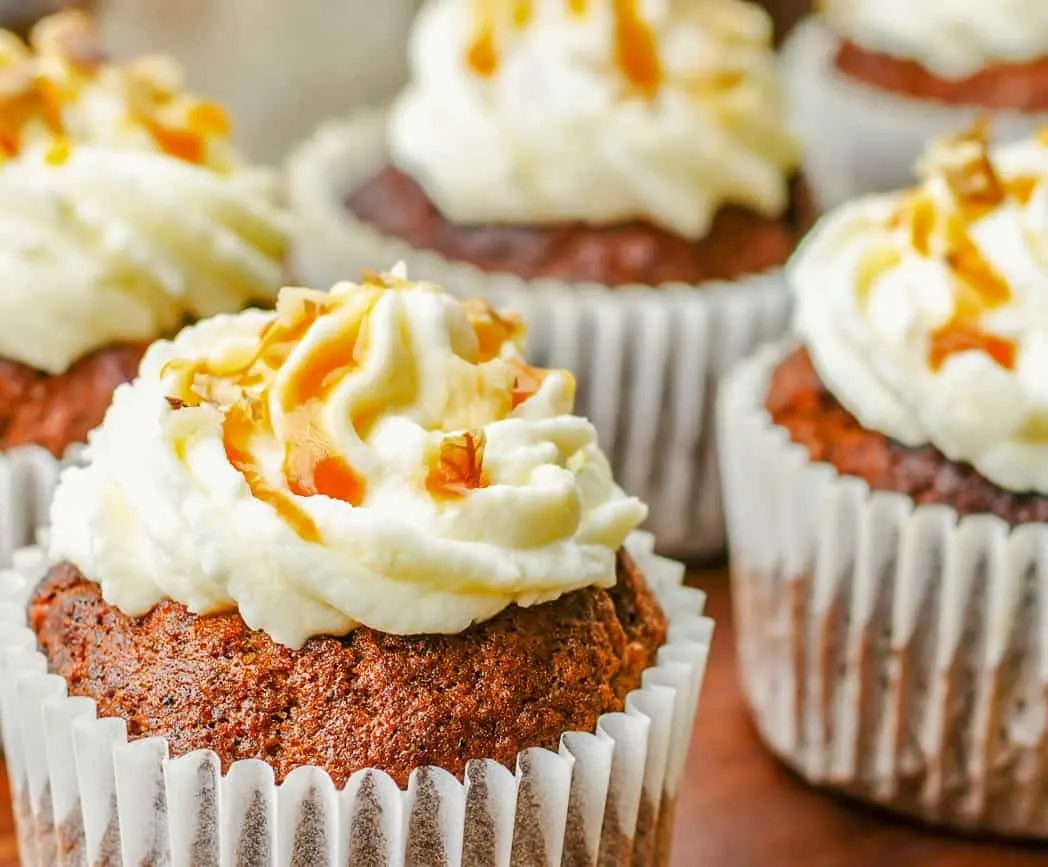 Disclosure: Some of the links below are affiliate links, meaning at no additional cost to you, I will earn a commission if you click through and make a purchase.
Filled with the warm spices of fall and packed with pumpkin flavor you will be able to enjoy these cupcakes all pumpkin season long and not feel deprived.
With just a few basic keto baking staples you will be to create cupcakes you'll be proud to serve. My flour of choice for these muffins is finely milled almond flour and I recommend you measure then sift for best results.
It really is worth that little extra step to get the perfect texture when keto baking. As far as sweeteners are concerned, I used Lakanto's monk fruit classic granulated and, Gold which is their brown sugar substitute. And for the cream cheese frosting,
I used Lakanto's confectioner's sugar sub (powdered). You could, of course, use your favorite sweeteners but I thought I would share my favorite since I get the most consistent results when I use them.
Keto Pumpkin Muffins With Cream Cheese Frosting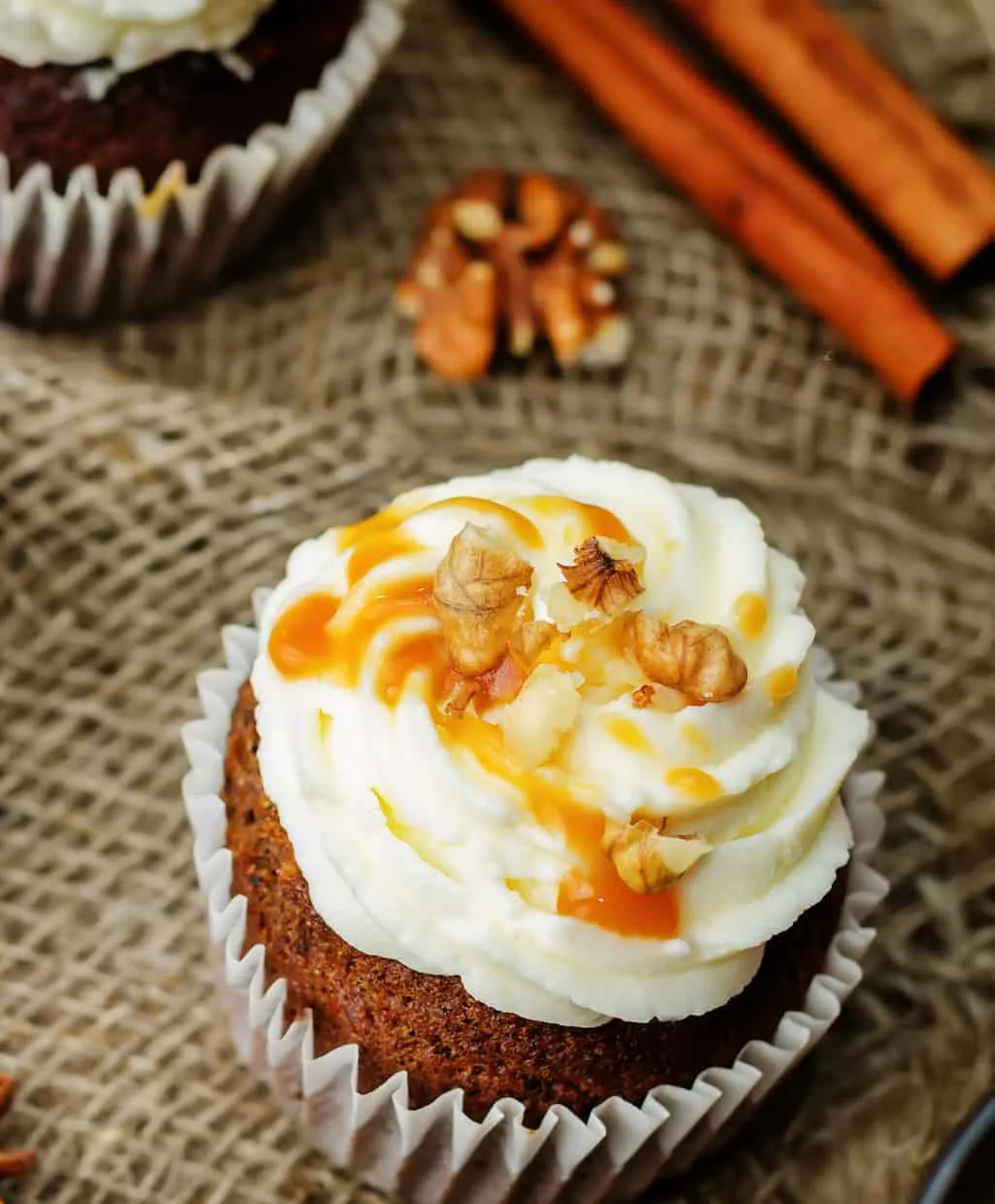 When I started out to create this recipe I knew one thing was certain, and that's that, I wanted the pumpkin and spices flavor to be pronounced.
It's why you'll see that I was generous when it came time to add spices. I've topped these low carb pumpkin cupcakes with both a cream cheese frosting and a little drizzle of sugar-free caramel sauce that's totally optional since these muffins can stand alone be just as delicious.
Tag Us
Once you do, make sure you remember to tag us on Instagram and Facebook. It's what keeps this girl encouraged to keep sharing and perfecting her recipes.
Grab Our Books!
In case you don't know we have authored two books for you, Essential Keto Bread and Essential Keto Desserts both inspired by your requests over the years. It's my prayer these keto cookbooks will help make keto a delicious breeze for you.
Join Our Jesus And Keto Movement
Looking for an online support system to help you stay the course on keto? As a family, we came to the keto diet looking at it from a Christian perspective. As believers, we live our lives supported by God's grace.
So when the Holy Spirit led us to combine our Christian faith and the keto diet, we did so in hopes of finding lasting transformation. When we followed the Holy Spirit's prompting we got on the path to real transformation.
Knowing firsthand the benefits of this decision we have created a closed Christian group that is using the keto diet to transform their lives. We invite you to join our Private Facebook Group and see if it's not the key you have been missing.
Be sure to request our FREE Jesus and Keto E-Book (First 7 Days) We hope it blesses you.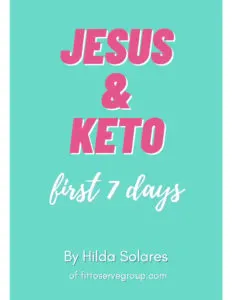 Fittoservegroup Keto App
Looking for a fast way to access our keto recipes? We got you covered. There's an app for that. Yup, there's a Fit To Serve Group App and it's going to make your keto diet a delicious breeze!
Access hundreds of recipes that are all sugar-free, gluten-free, and keto-friendly.
Enjoy early access to recipes before they go live on the website. Plus, bonus recipes that are exclusive to the app. Make your own personal cookbooks that you can use to organize your favorite recipes.
Search recipes by title, ingredients, keywords, and categories, and of course every recipe shows complete nutritional facts. Get the Fit to Serve Group App for easy-to-follow keto recipes made with easy-to-source ingredients.
The app is loaded with hundreds of yummy recipes for breakfast, lunch, dinner, snacks, and even desserts!
Learn more by visiting our Fit To Serve Group App Page.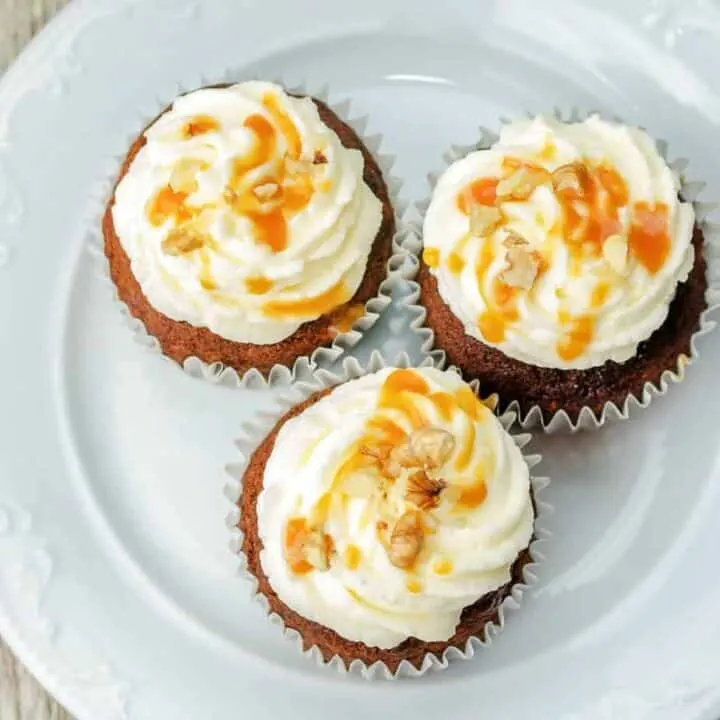 Keto Pumpkin Cream Cheese Cupcakes
Enjoy a rich-tasting keto pumpkin cream cheese cupcakes recipe that is low in carbs, sugar-free, gluten-free, grain-free and keto-friendly option.
Ingredients
Keto Pumpkin Cream Cheese Cupcake Batter
1 1/2 tablespoons of ground cinnamon
1 1/2 teaspoons ground ginger
1/8 teaspoon ground clove
1 1/2 teaspoon baking powder
1/4 teaspoon sea salt
1/2 cup of unsalted butter, room temperature
4 ounces of full-fat cream cheese, room temperature
1 teaspoon of vanilla extract
3 large eggs, room temperature
1/2 cup pumpkin puree, unsweetened pumpkin puree
Keto Cream Cheese Frosting
1/2 teaspoon of vanilla extract
1/4 cup of unsalted butter, room temperature
3-4 tablespoons of heavy whipping cream
4 ounces of full-fat cream cheese, softened
Instructions
Keto Pumpkin Cream Cheese Cupcakes
Pre-heat oven to 365 degrees.
Line two 12 capacity muffin tin pan with cupcake liners.
In a medium-sized bowl measure, sift together the almond flour, spices, baking powder and set aside.
Next in another medium-sized bowl using an electric mixer beat the softened butter, cream cheese both sugar substitutes, vanilla extract. Beat until light and creamy about 2 minutes.
To this mix add the pumpkin puree and mix just until well incorporated.
Next add the eggs one at a time, alternating with the dry ingredients mixing thoroughly after each addition.
Pour the cupcake batter evenly into the muffin pan.
Bake for about 18-25 or until an inserted toothpick comes out clean.
Wait until the cupcakes are fully cool, at least 1/2 hour before adding the cream cheese frosting.
Keto Cream Cheese Frosting
Beat the cream cheese and butter until light and fluffy using an electric mixer.
To this add gently add the confectioners sugar-substitute.
Next, add the heavy whipping cream a couple of tablespoons at a time and beat until fully combined.
Set aside until cupcakes are fully cooled before frosting.
Notes
Store leftovers in the refrigerator for up 5 days. You can freeze the cupcakes for up to 3 weeks but they must not be frosted to do so.
Optional: Decorate the frosted cupcakes with a drizzle of Lakanto caramel sauce and a few pieces of chopped walnuts.
Recommended Products
As an Amazon Associate and member of other affiliate programs, I earn from qualifying purchases.
Nutrition Information:
Yield:

24
Serving Size:

1
Amount Per Serving:
Calories:

225
Total Fat:

21.5g
Saturated Fat:

8.9g
Trans Fat:

0g
Cholesterol:

110mg
Sodium:

129mg
Carbohydrates:

4.6g
Net Carbohydrates:

2.3g
Fiber:

2.3g
Sugar:

1g
Protein:

6.9g