Keto Pumpkin Cream Cheese Cupcakes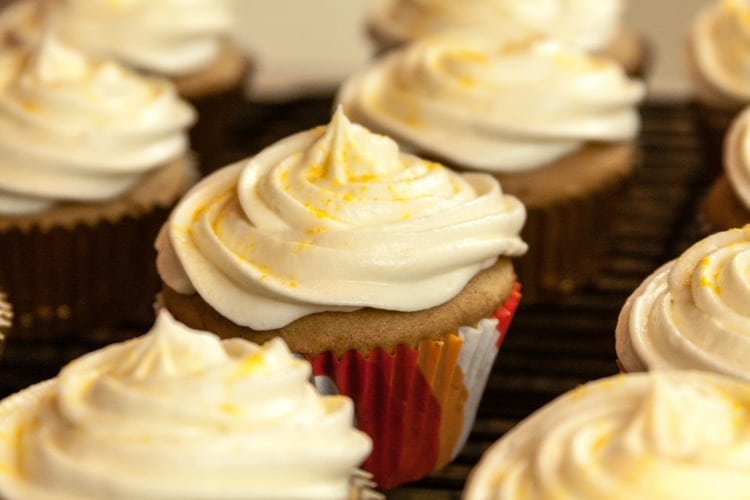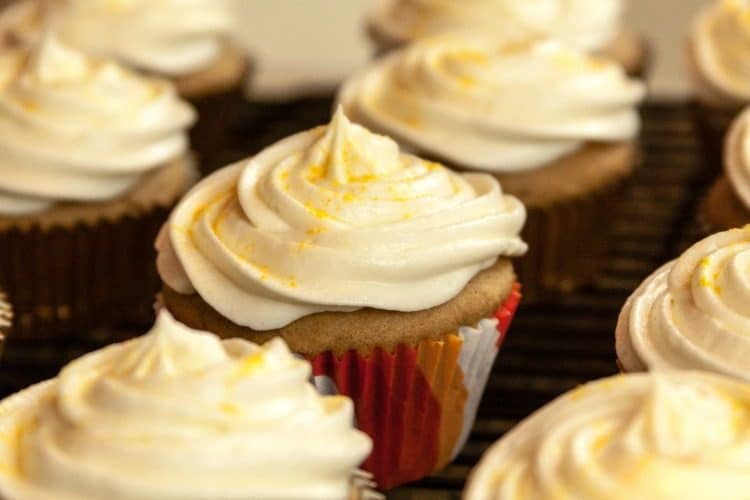 If you're a fan of pumpkin cupcakes but need a healthier version then this recipe for keto pumpkin cream cheese cupcakes has your name on it.
The good thing is that these Keto Pumpkin Cream Cheese Cupcakes, are low in carbs, grain-free, gluten-free, sugar-free and keto-friendly. Really can it get any better?

I've always looked forward to pumpkin season but when I went low carb keto, things had to drastically change. Long gone were the days when I would make a pumpkin recipe oozing with sweetness.
Now that I have learned how dreadful it is to have too much sugar is in our diet, my taste buds no longer crave über sweet foods. Yay for being keto-adapted. It's pretty remarkable how your body begins to desire less sugar once you remove it from your diet.
I have a complete list of Keto Cakes  that as a fan of cakes I encourage you to also visit. Make sure you remember to also check out our Keto Cream Cheese Recipes.
But this is not to say that I wasn't craving a pumpkin cupcake. The fact remains that once pumpkin season rolls around this girl gets a major hankering for pumpkin treats. And it's why a recipe like these low carb pumpkin cupcakes had to be birthed. 
It's certainly not the only keto pumpkin recipe you will on the site but these are hearty enough to have for breakfast. In fact, they could have easily been called keto pumpkin muffins because they are a cross between my low carb pumpkin bread and my keto cream cheese pumpkin cake.
You should know that I have a complete list of Keto Cakes that as a fan of cakes I encourage you to also visit.
Keto Pumpkin Cream Cheese Cupcakes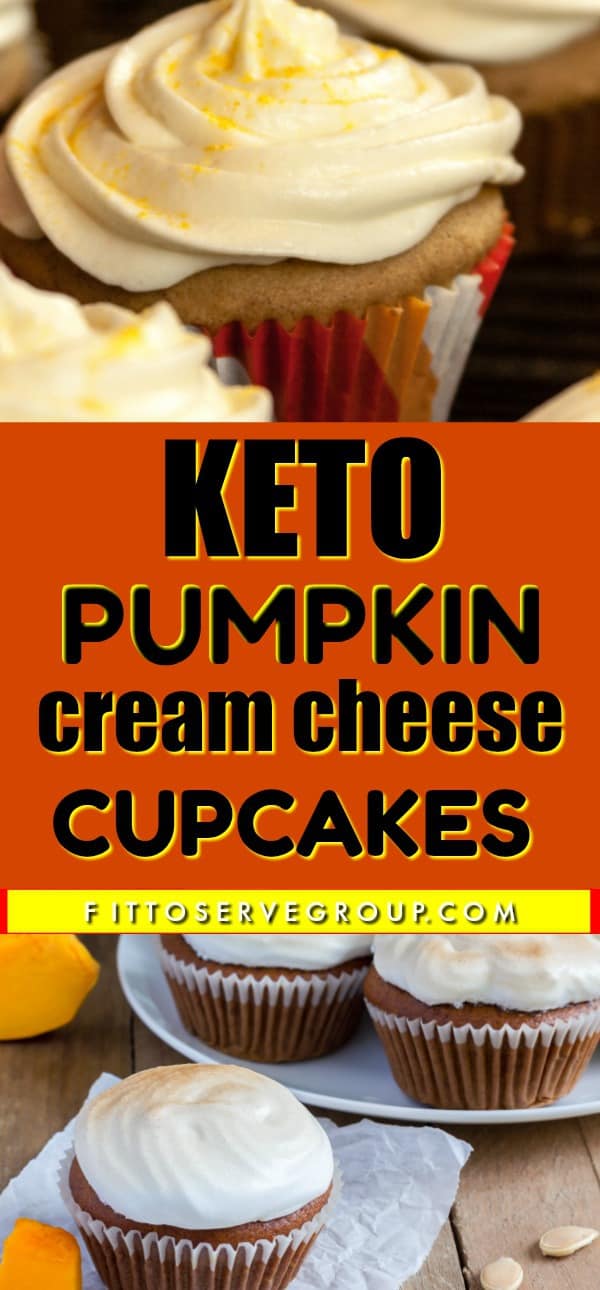 When I started out to create this recipe I knew one thing was certain, and that's that, I wanted the pumpkin and spices flavor to be pronounced. It's why you'll see that I was generous when it came time to add spices. You can, of course, feel free to reduce the spices by half if that suits you better. 
I've topped these low carb pumpkin cupcakes with both a cream cheese frosting or simply a little whipped heavy cream, you know like the one that comes in a can.
However, like I already mentioned these cupcakes are packed with good for you ingredients which is why I skip the frosting and have them for breakfast from time to time.
Why? Well because these keto-friendly pumpkin cupcakes are made golden flax meal. Adding flax meal to these pumpkin muffins gives you a little extra fiber in your diet, something I think we can all have more of, especially while doing a keto diet.
You should know that you can also substitute the flax meal for almond flour in equal amounts if you're not a fan of flax meal. So you have a few options here. 
The batter of these keto cupcakes is thick and not what you would necessarily expect in cupcakes but I assure you they are worth trying. One cupcake is all you need to quench your pumpkin craving.
Low Carb Keto Pumpkin Recipes
Since I am such a fan of pumpkin recipes I've also made a number of low carb keto-friendly recipes that feature this seasonal treat. So do check the following recipes too. I'm sure you are sure to find something you'll love.
I sure hope you will give this recipe a try. Once you do, make sure you remember to tag us on Instagram and Facebook. It's what keeps this girl encouraged to keep sharing and perfecting her recipes.
Also, check out our Amazon Store for recommendations. You might be surprised by how many great keto options are at your disposal.
Favorite Keto Hack To Stay On Track
Eating low carb means I have to get a little creative when it comes to making this season's favorite treats. I don't want to eat something that will kick me out of ketosis.
But even when I am at my best I could use a little willpower to stay focused, after all, I've come too far to let a food temptation win.
Perhaps, you've struggled to get into ketosis consistently on your low carb keto diet, or you've hit a plateau that doesn't seem to budge, consider using Perfect KETO exogenous ketones.
I'm a big fan of exogenous ketones frankly because I have seen how much it helps people stay compliant. By using exogenous ketones you will naturally elevate your ketones allowing you to enter into ketosis more quickly.
Being at a deeper level of ketosis will help reduce your appetite, carb cravings, and give you lasting energy.  It's been our experience that the use of exogenous ketones helps make the low carb keto lifestyle a viable sustainable option.
Honestly, it's like having willpower in a cup.  Learn more about the science behind both exogenous and endogenous ketones and have your questions answered from a doctor's perspective.
Make sure you also pick up your free and complete guide to understanding ketosis. Then begin the ketosis diet easily with this Start-up Guide to the Ketosis Diet.
Wondering which foods you should avoid when doing Keto? This Keto Food Guide will assist you in doing the Keto Diet correctly.
Use this link and get a 15% off discount when you place your order for any of Perfect Keto's products. Then add the code FITTOSERVE at checkout.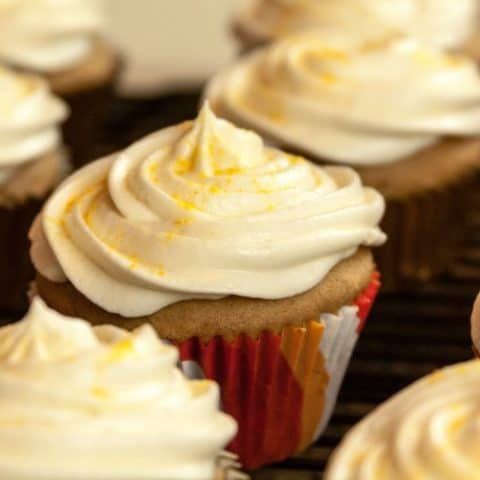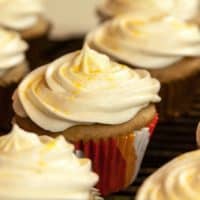 Keto Pumpkin Cream Cheese Cupcakes
Yield: 24

Prep Time: 10 minutes

Cook Time: 30 minutes

Total Time: 40 minutes

It's a recipe for keto pumpkin cream cheese cupcakes. These pumpkin cupcakes are low in carbs, sugar-free, gluten-free, grain-free keto-friendly option.
Ingredients
Pumpkin cupcake batter
12 oz cream cheese, softened
8 eggs
3 teaspoons pumpkin pie spice
2 tablespoon cinnamon powder
¼ tsp of salt
2 teaspoon of baking powder
2 teaspoons of ground ginger
1/2 teaspoon of nutmeg
Cream Cheese Frosting (optional)
8 ounces of softened cream cheese
¼ tsp vanilla extract
1/4 cup of unsalted butter softened
1 cup of heavy whipping cream
Instructions
Keto Cream Cheese Frosting
Beat the cream cheese and butter until light and fluffy using an electric mixer.
To this add gently add the confectioners sugar-substitute.
Next add the heavy whipping cream a couple of tablespoons at a time and beat until fully combined. 
Set aside until cupcakes are fully cooled before frosting.
Keto Pumpkin Cream Cheese Cupcakes
Pre-heat oven to 350 degrees.
Line two 12 muffin tin pans with muffin liners.
In a small bowl measure and set aside the golden flax meal, baking powder, salt, and spices.
Then a large bowl using an electric mixer beat the softened cream cheese until light and fluffy about 2 minutes.
To this mix add the sugar substitute and continue to beat until well incorporated.
Add the 8 eggs one at a time, combining well after each addition.
Next add the pumpkin puree making sure that it's well combined.
At this point add the dry ingredients into the batter and combine until the batter is well incorporated.
Notes
You can substitute the 1 1/2 cups of golden flax meal for 1 1/2 cups of almond flour.

The batter for these pumpkin cream cheese cupcakes will be thick.

The nutrition facts are not including the cream cheese frosting. If you add the frosting add another 1.6 net carbs per cupcakes.
Recommended Products
As an Amazon Associate and member of other affiliate programs, I earn from qualifying purchases.
Nutrition Information:
Yield: 24 Serving Size: 1
Amount Per Serving:Calories: 185 Total Fat: 15.5g Saturated Fat: 7.7g Cholesterol: 91mg Sodium: 91mg Carbohydrates: 5g Fiber: 2.4g Sugar: 0.8g Protein: 5.5g

SaveSave
SaveSave
SaveSave
SaveSave