This keto red cabbage slaw recipe is the perfect spring & summer side dish. It features purple cabbage, carrots, and a tangy apple cider vinaigrette that makes it light, crunchy, delicious salad.
keto purple coleslaw comes together easily and only uses a handful of ingredients. Plus, it's a salad that keeps very well in the refrigerator and tastes just as good a couple of days later.
This makes it a great make-ahead keto salad option. Perfect for get-togethers, and potlucks since the prep work can be done in advance.
The first time I shared this keto-friendly slaw was at a family BBQ and it was well-received by all. The bright purple and orange colors in this salad accompanied our grilled kabobs amazingly.
It's a beautiful combination of colors, textures, and flavors. A refreshing salad that packs a lot of nutrition. Don't get me wrong, I love traditional mayo-based salads too and have recipes like my Keto Broccoli Cauliflower Salad, and my make-ahead Keto 7 Layer Salad to prove it.
But sometimes I'm in the mood for something a little lighter, it's why I also share recipes like my Keto Carrot Moroccan Salad.
Keto Red Cabbage And Carrot Slaw
I was craving a less traditional coleslaw when I created this Keto Purple Cabbage and Carrot Slaw.
What's different about this keto coleslaw is that the fresh cilantro along with the kick of the added jalapeño makes it taste like something you would have while vacationing in Mexico.
It's certainly not your run-of-the-mill coleslaw. Not a fan of heat? Don't let that one jalapeño intimidate you. Because, for one, the jalapeño was seeded and deveined so the amount of spice is minimal. And two, you can swap the jalapeño for a 1/4 cup of chopped green bell pepper and leave the heat out completely.
Finding creative ways to add more nutrition to my family's diet is a mission for this mama. And this colorful salad nailed that goal. Look I can't tell you why it's called red cabbage since it's actually a deep purple so, not sure who named it red?
What I do know is that the deep color means it's actually higher in vitamin A and iron. And that the use of apple cider means your gut will thank you for including this salad in your meal rotation.
It's a delicious slaw that also happens to fight inflammation and boost your immunity. I mean what's not to love? The simplicity of this salad makes it hard to believe that it packs so much flavor and health, but it's nice to know it does.
Is Coleslaw Keto?
The answer is yes, absolutely. As long as you watch what goes into the dressing. You can most certainly have coleslaw on a keto diet, however, you will not be able to enjoy a traditional recipe since those are loaded with sugar.
A typical coleslaw almost always uses a sweet dressing and can have as many as 14 net carbs per 1/2 cup serving. It really depends on how much sugar they have added to their dressing. Since this is the case a store brought coleslaw is most assuredly not keto-friendly.
We however know that cabbage is a cruciferous vegetable and that not only makes it low in carbs, but it's also packed with nutrition. This means that when you toss cabbage with a dressing that is low in carbs and it makes the perfect side dish.
When you make your coleslaw at home, you have full control over the ingredients and makes it a great healthy option.
How To Make A Keto Red Cabbage And Carrot Slaw
Disclosure: Some of the links below are affiliate links, meaning at no additional cost to you, I will earn a commission if you click through and make a purchase.
This recipe is pretty straightforward, what will take the longest is the shredding of the cabbage and carrots if you are doing it by hand. If you have access to a food processor with attachments then it will make the shredding and grating a breeze.
You can of course also cut the cabbage with a sharp chef's knife and grate the carrots with a box grater. But it's so worth the little bit of effort for the explosion of flavors and colors this slaw rewards you with.

In our family, we like our vinaigrettes on the extra tangy side. This is why apple cider vinegar is the star of this dressing.
Please note that the full printable recipe card is at the bottom of this page.
The Ingredients Needed For Keto Coleslaw: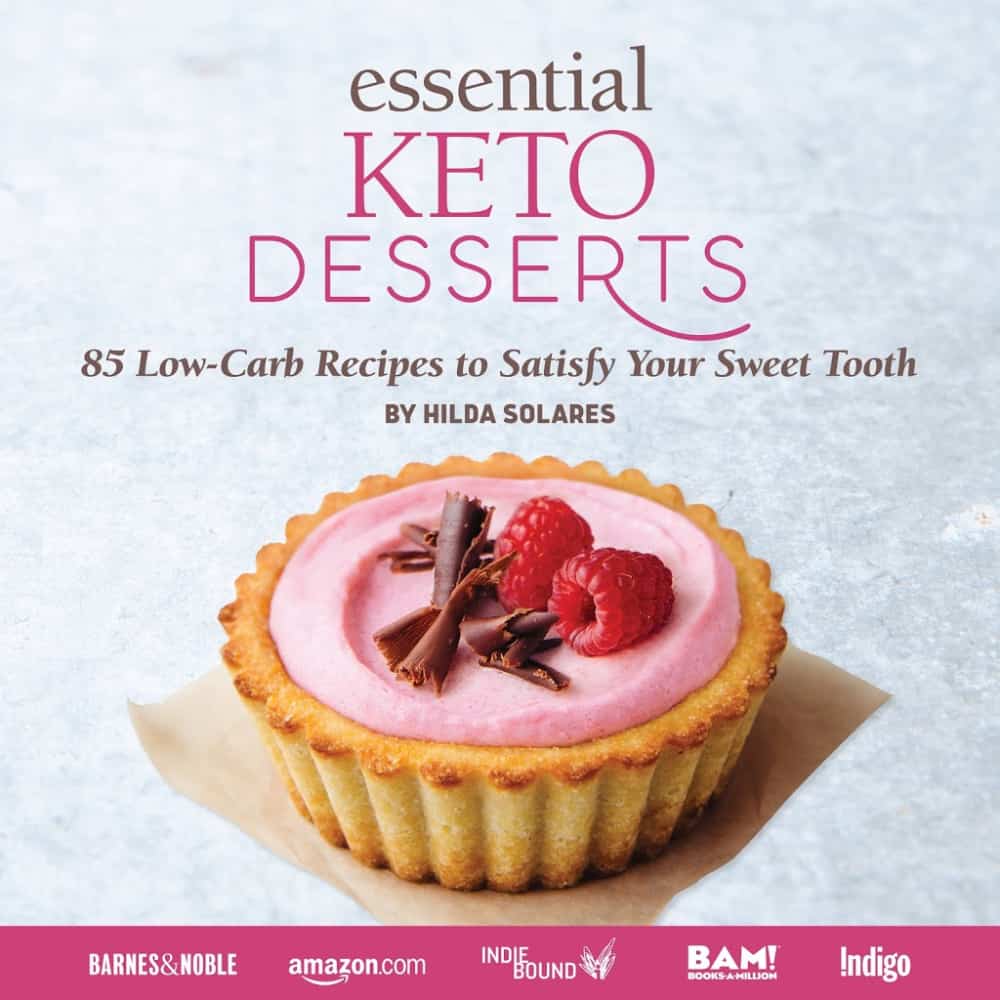 Red cabbage, medium
Red onion, small
Carrots
Jalapeño, seeded, deveined
Garlic cloves
Cilantro
Apple cider vinegar
Salt
Pepper
Tag Us
I really hope you will give this keto-friendly red cabbage slaw recipe a try. If you do it a make sure you remember to tag us on Instagram, Facebook, and Pinterest. It's what keeps us encouraged to keep sharing and perfecting our recipes.
Also, check out our Amazon Store for our recommendations. You might be surprised by how many great keto options are at your disposal. Don't forget to subscribe to our email list so that we can stay connected.
Grab Our Books!
In case you don't know I have authored two books for you, Essential Keto Bread and Essential Keto Desserts both inspired by your requests over the years. It's my prayer these keto cookbooks will help make keto a delicious breeze for you.
Join Our Jesus And Keto Movement
Looking for an online support system to help you stay the course on keto?
As a family, we came to the keto diet looking at it from a Christian perspective. As believers, we live our lives supported by God's grace.
So when the Holy Spirit led us to combine our
Christian faith and the keto diet
, we did so in hopes of finding lasting transformation.
When we followed the Holy Spirit's prompting to we got on the path to real transformation.
Knowing firsthand the benefits of this decision we have created a closed Christian group that is
using the keto diet to transform their lives.
We invite you to join our
Private Facebook Group
and see if it's not the key you have been missing.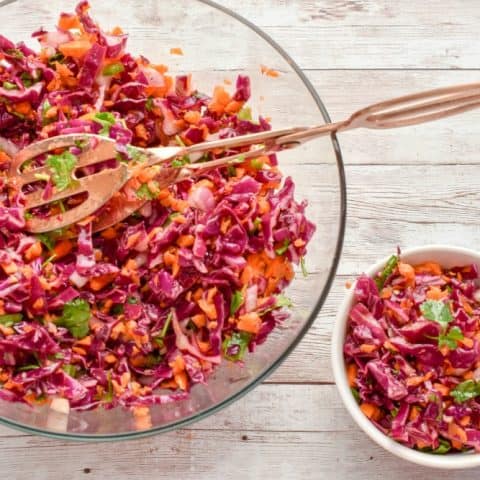 Keto Red Cabbage Slaw
This Keto Red Cabbage Slaw recipe is the perfect spring & summer side dish. It features a tangy apple cider vinaigrette that keeps this slaw light, crunchy, and slightly spicy. It's a beautiful combination of colors, textures, and flavors.
Ingredients
Keto Red Cabbage & Carrot Slaw
1 medium head of red cabbage, shredded
3 small-medium sized carrots, shredded
1/2 cup of fresh cilantro, chopped
1 small red onion, finely chopped
1 jalapeño, seeded and finely diced
Vinaigrette
1/2 teaspoon of sea salt
1/4 teaspoon of black pepper
3 garlic cloves, finely minced
Instructions
Keto Slaw
Shred your cabbage, with a chef knife or food processor with attachments.
Grate your carrots using a box grater or food processor.
Chop your cilantro.
Finely chop the red onion.
Seed and devein the jalapeño, and finely dice if adding it to your salad.
Combine all the slaw ingredients in a large mixing bowl.
Make the vinaigrette
Pour the vinaigrette over the slaw and toss well to combine.
Taste and adjust seasonings if necessary.
Cover and refrigerate for at least 45 minutes to allow the flavors to marinate the slaw.
Store any leftovers in the refrigerator for up to 3 days.
Vinaigrette
Combine the apple cider vinegar, olive oil, salt, and pepper.
Add the minced garlic cloves.
Stir in the sugar-substitute and allow to dissolve.
Nutrition Information:
Yield:

10
Serving Size:

1
Amount Per Serving:
Calories:

79
Total Fat:

6.8g
Saturated Fat:

19.5g
Trans Fat:

0g
Cholesterol:

0mg
Sodium:

18mg
Carbohydrates:

4.2g
Net Carbohydrates:

3g
Fiber:

1.2g
Sugar:

2g
Protein:

0.6g