These keto lime cheesecake bars are both delicious and easy. It's a recipe for low cab lime cheesecake bars that features a creamy lime-infused filling and, buttery almond shortbread crust.
Rich, velvety smooth this cheesecake delivers all the flavor and texture of a traditional cheesecake minus all the carbs. It's sugar-free, grain-free, gluten-free, and incredibly tasty.
There is no doubt that this girl loves her keto cheesecakes, after all, it was the first recipe I attempted to convert when I went keto back in 2014.
And it's why I have shared all types of cheesecakes on the site, from the complex bain-Maire kind to the no-bake variety. You're welcome.
We have a couple of other recipes that feature the flavor of key limes like our keto key lime pound cake, our keto no-bake key lime cheesecake, and our keto key lime cheesecake fat bombs that you should also totally try.
Keto Lime Cheesecake Bars
Any time I have an excuse to add citrus to a recipe I am all in. And since limes are always in abundance in our home, it was easy to come up with a keto-friendly lime cheesecake with the ease of bars.
The best part is that since these are low in carbs, gluten-free, and sugar-free, they make the perfect keto dessert.
It's a recipe for lime cheesecake bars that can fit perfectly into your keto macros. So be sure to include them in your keto meal planning.
How To Make Keto Lime Cheesecake Bars
Making these keto-friendly cheesecake lime bars is pretty straightforward. You'll start by making the almond crust that holds the filling perfectly making it possible to slice and serve as bars.
Note that you will first bake the crust for about 15 minutes or until just set. There is no need to brown as the crust will bake again once the filling is added.
Next comes the keto cheesecake filling and here is where you want to be certain that you start with cream cheese that has been allowed to soften at room temperature.
I like to set the cream cheese on the counter for at least an hour before creaming this avoids all lumps.
Then you'll beat the cream cheese along with the lime juice, zest, sweetener, and lime extract until the batter is nice and smooth and void of all lumps. Once you've achieved the proper consistency it's time to add the two eggs and the one egg yolk.
It's important to note that once the eggs go in, you do not want to overmix the batter, doing so is sure to cause the cheesecake to rise too quickly and then collapse during baking and cause unwanted cracks.
So just mix until the eggs are just combined and resist the urge to overbeat. This step is important so trust me on this.
Keto Cheesecake Chilling Time
Enough chilling time is a crucial step because, in my opinion, you do not want to rush this part.
I recommend that the cheesecake bars chill for a minimum of three hours and even better if enjoyed the next day as they really benefit from the time they spend in the refrigerator.
Since it's vital that the keto lime cheesecake bars spend adequate time in the fridge, it's the perfect recipe to make ahead. Perfect for when you want to impress your guests with a keto dessert that will fool their tastebuds without spending too much time in the kitchen.
Properly chilling the low-carb lime cheesecake bars ensures that they are able to slice easily into bars, but also allows the flavor of the cheesecake to really meld together.
Allowing a cheesecake to age in the fridge overnight ensures the perfect cheesecake texture and flavor. Trust me it's so worth the wait.
Once the cheesecake has had sufficient time to age I added a quick sour cream topping. This may seem unnecessary but trust me it's so worth making.
The sour cream adds a little extra tang and balances beautifully with the cheesecake filling.
Ingredients Needed For Keto-Friendly Lime Cheesecake Bars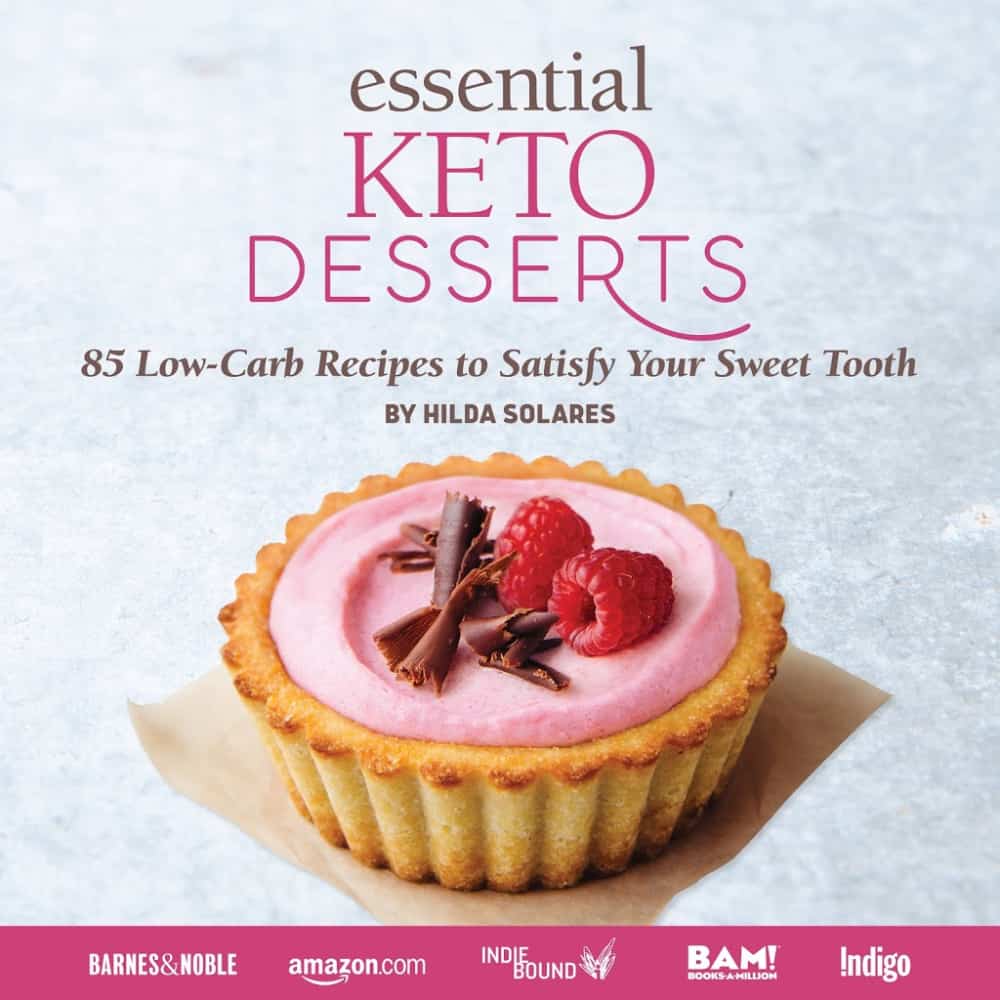 Disclosure: Some of the links below are affiliate links, meaning at no additional cost to you, I will earn a commission if you click through and make a purchase.
The following are the ingredients needed to make these keto lime cheesecake bars. Note that the full printable recipe card is at the bottom of the page.
Full-fat cream cheese softened
Whole eggs and egg yolk
Lime zest, about the zest of two limes
Lime juice
Almond Flour Crust
Granulated sugar substitute
Melted unsalted butter
Salt
Sour Cream Topping
Full fat sour cream
Vanilla extract
Best Sugar Substitute For Keto Lime Cheesecake Bars
When it comes to choosing which sugar substitute to use for this sugar-free lime cheesecake bara, I have several brands for you to choose from.
My go-to choice is Lakanto Monk Fruit because the texture is spot on and since there is barely any aftertaste. It is a monk fruit and erythritol blend.
Lakanto Monk Fruit gets its sweetness from antioxidants called mogrosides, instead of fructose or sucrose. It's why it's a great all-natural sugar substitute and has zero calories and zero glycemic index.
I'm also partial to Swerve an erythritol blend. Unlike other natural sweeteners like stevia, it has no bitter aftertaste and measures just like sugar.
Swerve is the name brand of Erythritol it's unlike other sugar alcohols that have a 0 % impact on blood sugar.
You could also use the stevia and erythritol-based brand Pyure for most of my baked goods. But if using Pyure you will want to use 1/2 the amount called for in this recipe since it's much sweeter.
Lastly, if you can easily find a more natural sugar substitute you can also use Splenda with great success.
You will want to use the Splenda that has a bulking agent. It's the one that comes in larger bags.
I opted to use a combination of confectioner's sugar substitute and granulated for the lime cheesecake bars. I used Lakanto's confectioner's sugar sub for the filling to keep things extra smooth. Note that Swerve also has a confectioner's sugar substitute that is delicious.
I then used a granulated sugar substitute for the almond crust.
That being said, you could opt to use granulated instead of the confectioner's sugar substitute for the filling but you will need to double the amount the recipe calls for.
Tag Us
If you're a fan of all things cheesecake, then I encourage you to visit our keto cheesecake recipes, where it is featured as the star.
I sure hope you will give this recipe for sugar-free lime cheesecake bars a try. Once you do, make sure you remember to tag us on Instagram and Facebook. It's what keeps this girl encouraged to keep sharing and perfecting her recipes.
Also, check out our Amazon Store for our recommendations. You might be surprised by how many great keto options are at your disposal.
Grab Our Books!
In case you don't know we have authored two books for you, Essential Keto Bread and Essential Keto Desserts both inspired by your requests over the years. It's my prayer these keto cookbooks will help make keto a delicious breeze for you.
Join Our Jesus And Keto Movement
Do you know that it wasn't until Randy and I began to combine the promises of God's word about healing and changed our diet to a ketogenic one, that we finally began to see our health improve?

By cutting out the junk and focussing on real foods we gave our bodies the nutrition it needed. Then our bodies did what God designed them to do, to heal themselves. This is what we believe it means to live in divine health.
This act of obedience is what birthed Fittoserve Group. Today, we are seeing thousands of lives impacted and the ripple effect of our decision to combine our Christian faith with the keto diet is making a difference in ways we may never know this side of eternity.
Consider joining our Private Facebook Group where others are combining their Christian Faith with that of a ketogenic lifestyle.
I love how supportive and encouraging this group of believers is. It's exciting to see how people are transforming their lives by combining this lifestyle with the Christian faith.
We invite you to join our Private Facebook Group and see if it's not the key you have been missing.
Keto Lime Cheesecake Bars
Additional Chill Time:
3 hours
Total Time:
3 hours
55 minutes
These keto lime cheesecake bars are both delicious and easy. The low carb lime cheesecake bars feature a creamy lime-infused filling and almond, buttery shortbread crust.
Ingredients
16 ounces of cream cheese, softened
2 whole eggs
1 egg yolk
1 teaspoon of lime extract
2 teaspoons of lime zest, about 2 limes
1/4 cup of lime juice
Almond Flour Crust
1/4 cup of melted unsalted butter
1/4 teaspoon of salt
Sour Cream Topping
5 tablespoons of sour cream
1/4 teaspoon of vanilla extract
Pinch of salt
Instructions
Grease an 8x8 baking pan and preheat the oven to 350 degrees.
Crust: In a medium-sized bowl combine the almond flour, granulated sugar substitute, and salt. Stir in the melted butter and combine well.
Press the almond crust into the bottom of the pan. Cook the crust for 15 minutes and set aside. Note that the crust will not be fully cooked.
Reduce the oven to 325 degrees and proceed to make the filling.
Cheesecake Filling: Using an electric mixer in a large bowl, beat together the softened cream cheese, sweetener, lime zest, lime juice, and lime extract. Cream the mixture on medium-high until no lumps remain. Be sure to stop the mixer several times to scrape the bowl in order to mix properly.
Beat in the eggs and egg yolk but only until the mixture is just combined. do not overmix the filling. Overmixing will cause the crust to crack.
Spread the batter evenly over the cooled crust. Bake the cheesecake for 30-40 minutes or until the cheesecake is set but the center still jiggles when lightly shaken. The cheesecake will continue to cook as it cools so it's important not to overcook.
Allow the cheesecake to cool on a baking rack for 30 minutes and then chill in the refrigerator for a minimum of 3 hours or overnight.
Sour Cream Topping: In a small bowl combine well the sour cream, sweetener, vanilla extract, and pinch of salt. Spread over the cooled cheesecake and garnish with lime slices and additional lime zest.
Store leftovers in the refrigerator for up to 5 days. Flash freezing is best if you want to freeze the bars for up to 3 weeks. To do so simply place the entire unwrapped cheesecake or unwrapped bars on a cookie sheet allow to freeze for a couple of hours before wrapping. This will ensure the cheesecake or bar tops are not crushed.


Notes
I opted to use a combination of confectioner's sugar substitute and granulated for the lime cheesecake bars. I used a confectioner's sugar substitutestitue for the filling to make it extra smooth.
I then used a granulated sugar substitute for the almond crust.
That being said, you could opt to use granulated instead of the confectioner's sugar substitute for the filling but you will need to double the amount the recipe calls for.
Nutrition Information:
Yield:

12
Serving Size:

1
Amount Per Serving:
Calories:

275
Total Fat:

20.2g
Saturated Fat:

9.9g
Cholesterol:

85mg
Sodium:

89mg
Carbohydrates:

4.5g
Net Carbohydrates:

3.2g
Fiber:

1.3g
Sugar:

0.1g
Protein:

5.3g