Enjoy an easy, gluten-free keto chicken lasagna that tastes like its high-carb counterpart.
This recipe for Crepini chicken keto lasagna makes it possible for you to have lasagna while doing a low-carb keto diet easily.
It's a recipe that replaces high-carb, gluten-loaded lasagna noodles with cauliflower egg thins for a chicken low-carb lasagna that will fool your tastebuds.
I love how using Crepini egg wraps makes it possible to enjoy a popular recipe like lasagna that is not only keto-friendly but a breeze to prepare.
Each serving of this low-carb chicken lasagna has only 5.7 grams of net carbs!
Check out our keto chicken recipes for more delicious low carb recipes the entire family will enjoy, even if they are not on a low-carb diet.
Also, remember to visit our entire collection of keto Crepini egg wrap recipes for more delicious options.
Keto Chicken Lasagna With Crepini Egg Thins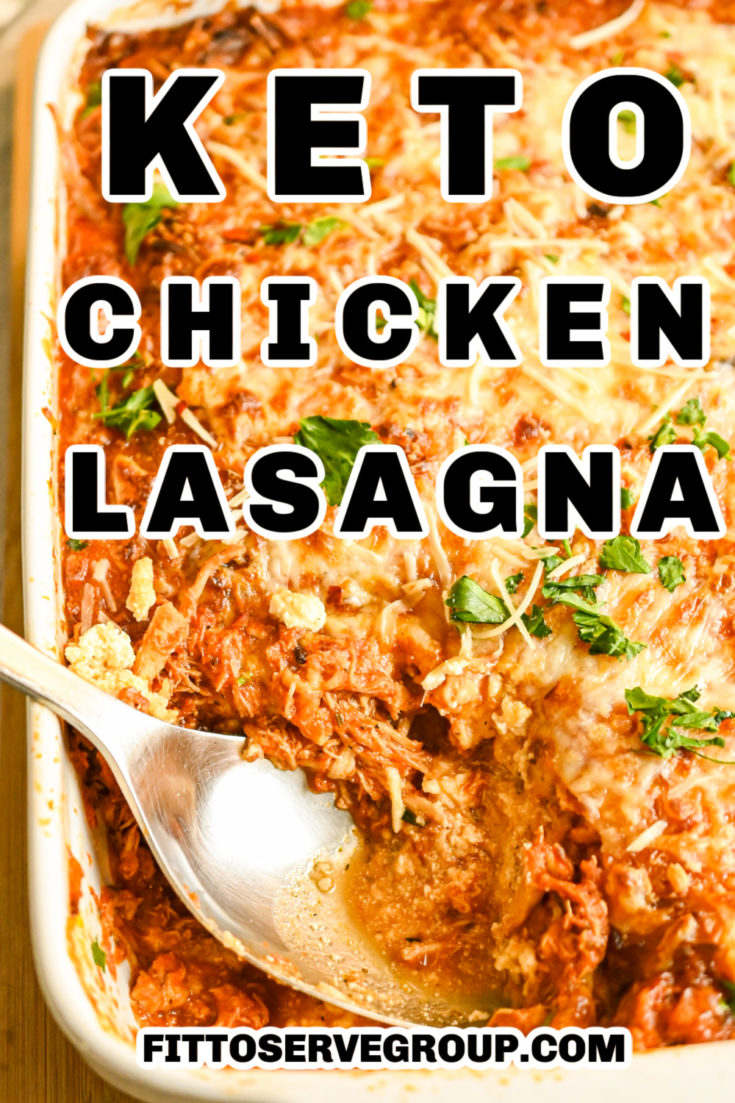 Disclosure: Some of the links below are affiliate links, meaning at no additional cost to you, I will earn a commission if you click through and make a purchase.
The first time I tried Crepini Egg Thins I knew I had a super easy hack to bring pasta-tasting lasagna back into our family with a recipe that even non-keto folks would embrace.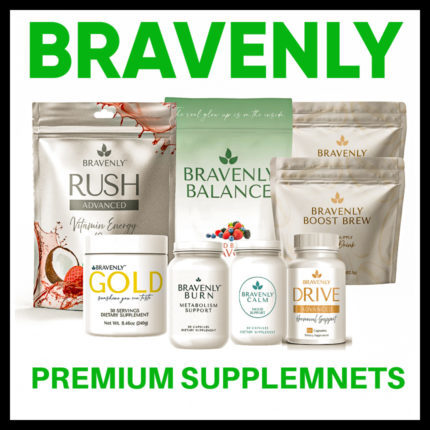 All it took was slightly tweaking my family lasagna recipe to make it a delicious, easy keto-friendly lasagna that can be put together and enjoyed quickly.
Look, I get it. There is no denying that if you're a fan of pasta and doing keto, missing pasta can make it quite challenging to stay committed. But that no longer has to be the case.
Not only will using cauliflower egg thins in place of lasagna noodles keep you on track but it's a ridiculously easy option since there is no need to boil the noodles.
What Are Crepini Egg Thins?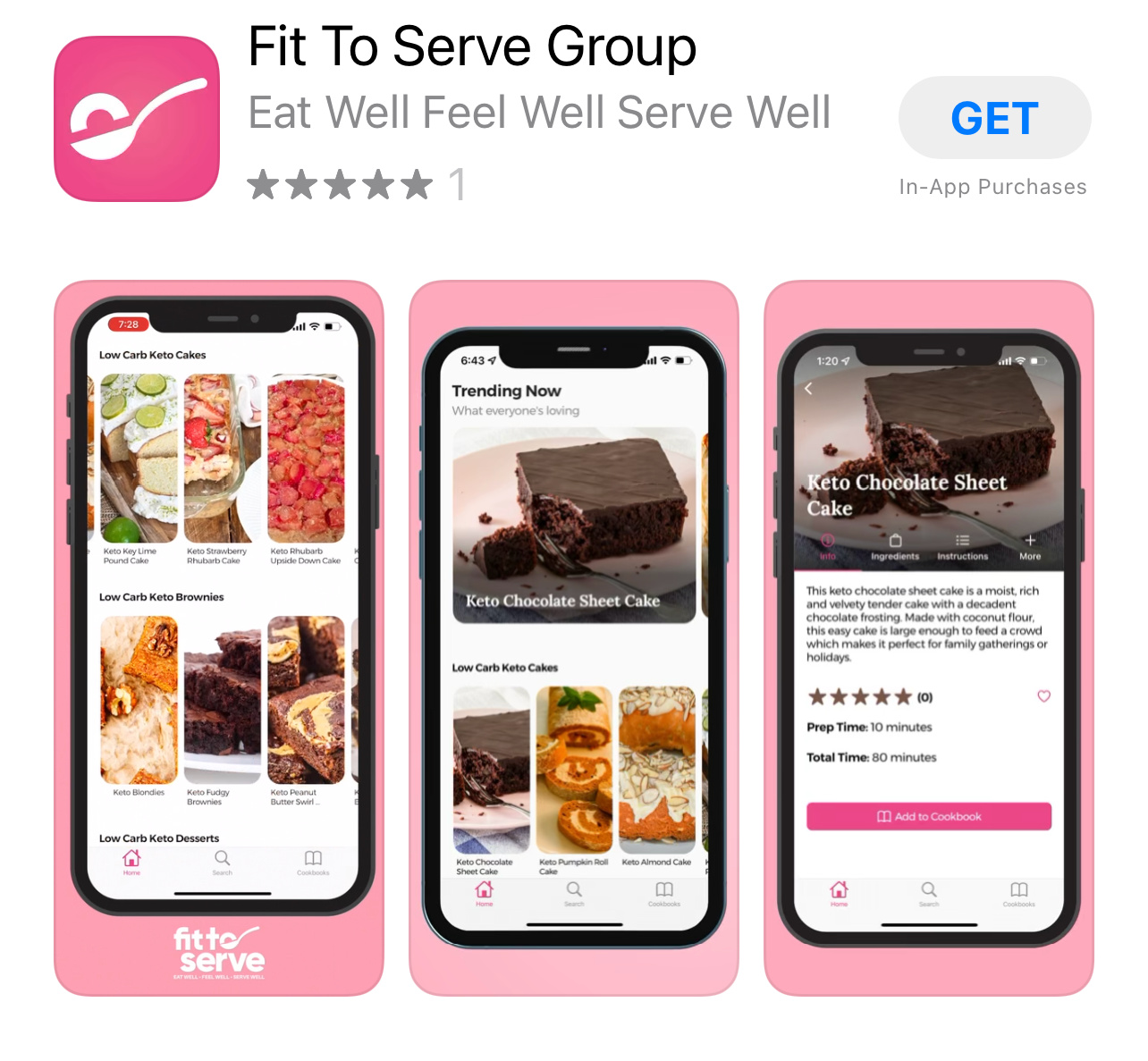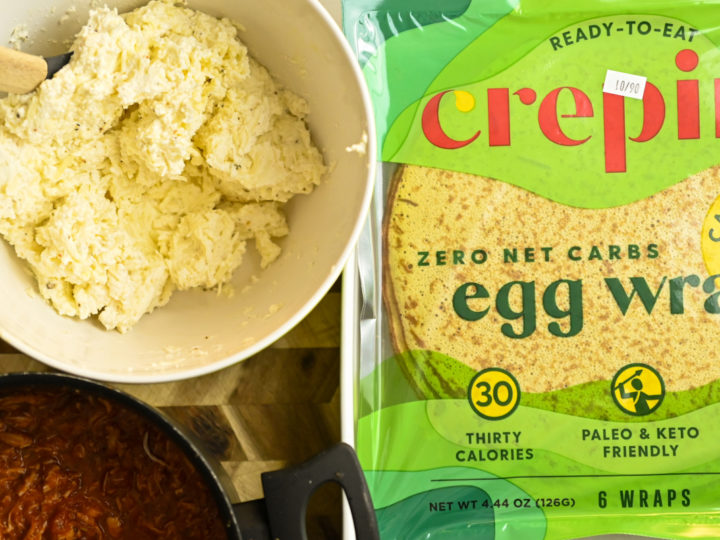 Disclosure: Some of the links below are affiliate links, meaning at no additional cost to you, I will earn a commission if you click through and make a purchase.
Not familiar with Crepini egg wraps? They have premade, packaged crepes made with eggs and cauliflower powder.
By using eggs and cauliflower powder in their crepes they have found a way to have a zero net carb, pliable, great tasting wrap.
It's basically, a crepe that gains its structure from the added cauliflower powder.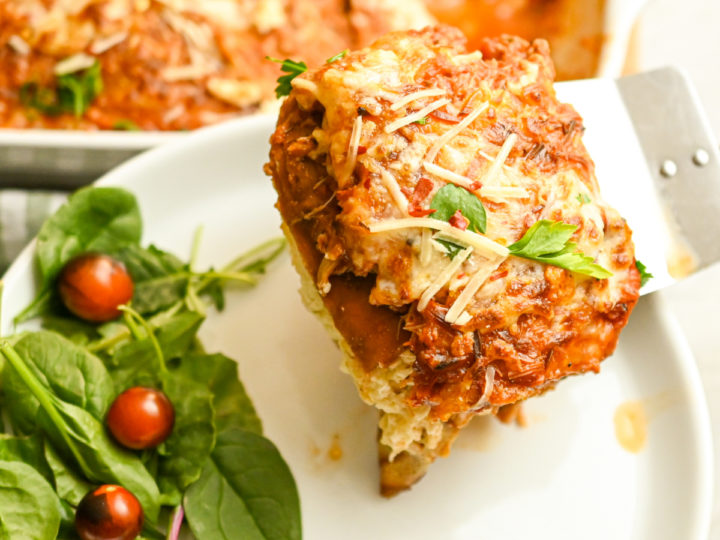 Where Can You Buy Crepini Egg Wraps?
You can find Crepini wraps in many retailers, such as Publix , Costco, Walmart. They are even available for purchase on Amazon.
I recommend you visit their site to find a location near you. I know they are always expanding where you can purchase their wraps.
Ingredients Needed To Make Gluten-Free Chicken Lasagna
The following are the ingredients you'll need to make a keto chicken lasagna.
Note that the full printable recipe card is at the bottom of the page.
Keto-Friendly Chicken Tomato Sauce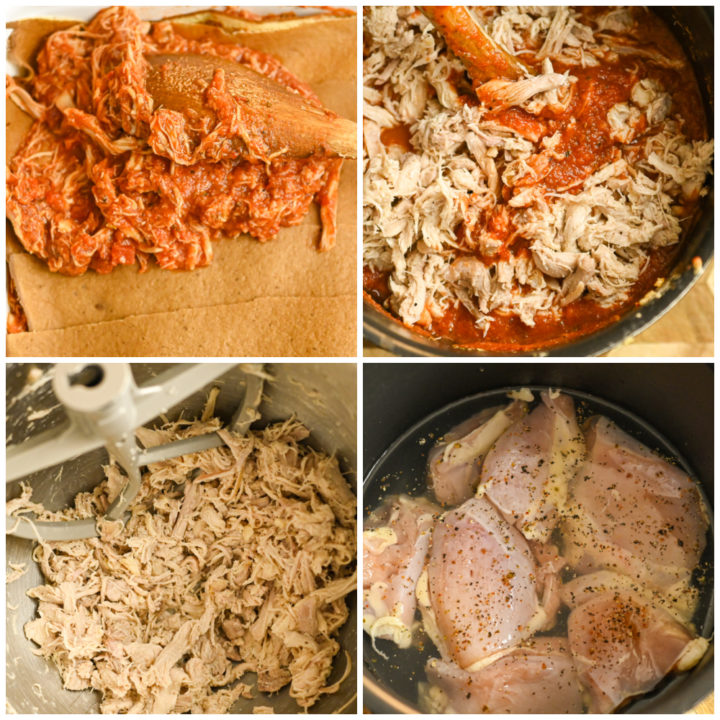 Extra-virgin olive oil
Small onion, finely chopped
Boneless chicken thighs, cooked and shredded or half a rotisserie chicken shredded
Crushed canned tomatoes
Tomato paste
Water
Dried oregano
Dried basil
Red pepper flakes
Black pepper
Dried onion powder
Dried garlic powder
Fresh garlic crushed
Sea salt
Ricotta Cheese Mixture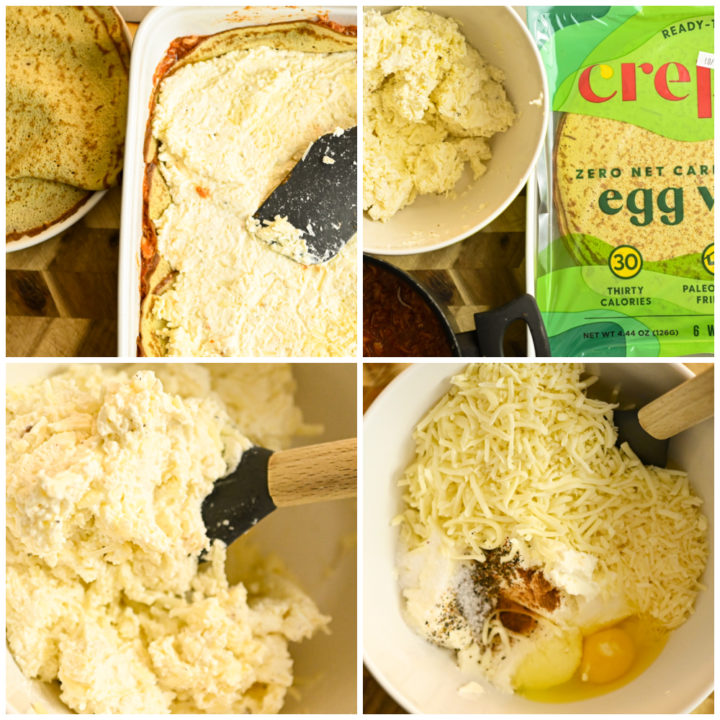 Whole milk ricotta cheese
Shredded mozzarella cheese
Black pepper
Sea salt
Egg
Grated parmesan cheese
Ground nutmeg
Egg thins
1 pack of 12 Crepini egg thins sliced in half for a total of 24 slices, or one 6-pack of large wraps cut into 12 slices.
Mozzarella Cheese Topping
Shredded mozzarella cheese
Grated parmesan cheese
How To Make Keto Chicken Lasagna Easily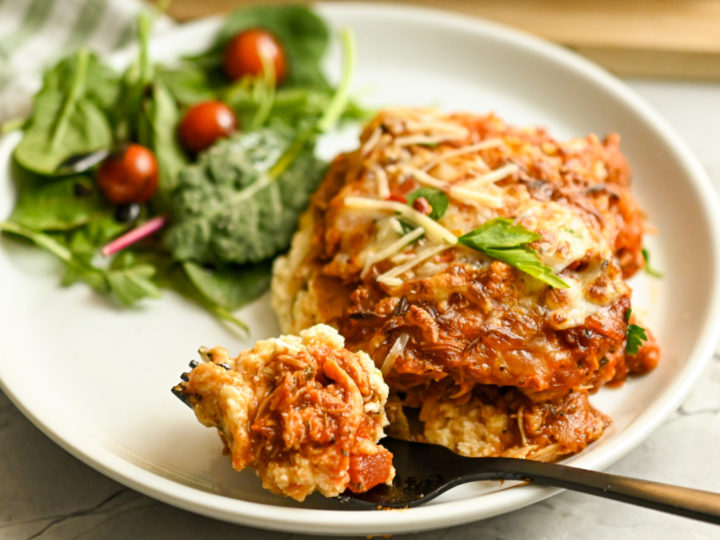 I am sharing my homemade chicken tomato sauce that has zero added sugar to ensure it stays low in carbs.
But if you want to save time, you could also try using a sauce like Rao's marinara sauce or Yo Mama's Foods both of which are keto-friendly options, or your favorite pasta sauce.
In fact, you can even use a rotisserie chicken that has been shredded and mix it with a premade sauce to shave off even more time.
Then it's a matter of making the ricotta filling by combing whole ricotta cheese, mozzarella cheese, parmesan cheese, egg, and spices.
This recipe makes a 13×9 inch size chicken lasagna. You'll be will be cutting each wrap in half, making it easier to layer.
Then you'll alternate layers of chicken sauce, crepe, and ricotta cheese filling.
Once that's done, you'll top it with shredded mozzarella cheese and freshly grated parmesan cheese before it's baked in a preheated 350-degree oven.
Garnish with fresh parsley and serve with a small side salad to round out this main dish. I'm confident it's a low-carb chicken that will be added to your keto meal planning schedule.
Tag Us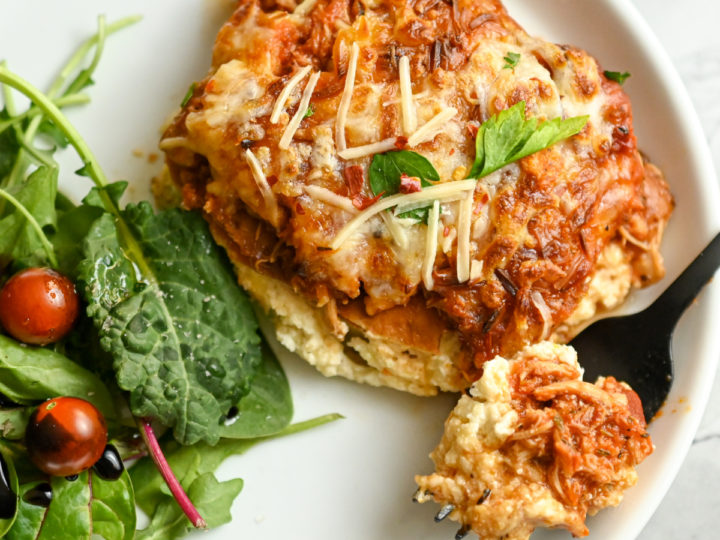 When I first went keto I thought I would never enjoy lasagna again, thankfully I was wrong. Not only can you embrace lasagna while doing keto, but it's also a much healthier, quicker option.
I sure hope you give this Crepini chicken keto lasagna a try. Once you do, make sure you remember to tag us on Instagram, Facebook, and Pinterest.
It's what keeps us encouraged to keep sharing and perfecting our recipes.
Note that I have another keto lasagna recipe that also uses Crepini cauliflower wraps. It's meat lasagna instead of chicken.
Do take a moment to check out our Amazon Store for our recommendations. You might be surprised by how many great keto options are at your disposal.
Grab Our Books & APP
In case you don't know, we have authored two books for you, Essential Keto Bread and Essential Keto Desserts both inspired by your requests over the years.
It's my prayer these keto cookbooks will help make keto a delicious breeze for you.
Gain access to simple and delicious recipes for breakfast, lunch, dinner, snacks, and even desserts with our FITTOSERVEGROUP APP.
Join Our Jesus And Keto Movement
Looking for an online support system to help you stay the course on keto? As a family, we came to the keto diet looking at it from a Christian perspective. As believers, we live our lives supported by God's grace.
Knowing firsthand the benefits of this decision, we have created a closed Christian group that is using the keto diet to transform their lives.
We invite you to join our Private Facebook Group and see if it's not the key you have been missing.
Be sure to request our FREE Jesus and Keto E-Book (First 7 Days) We hope it blesses you.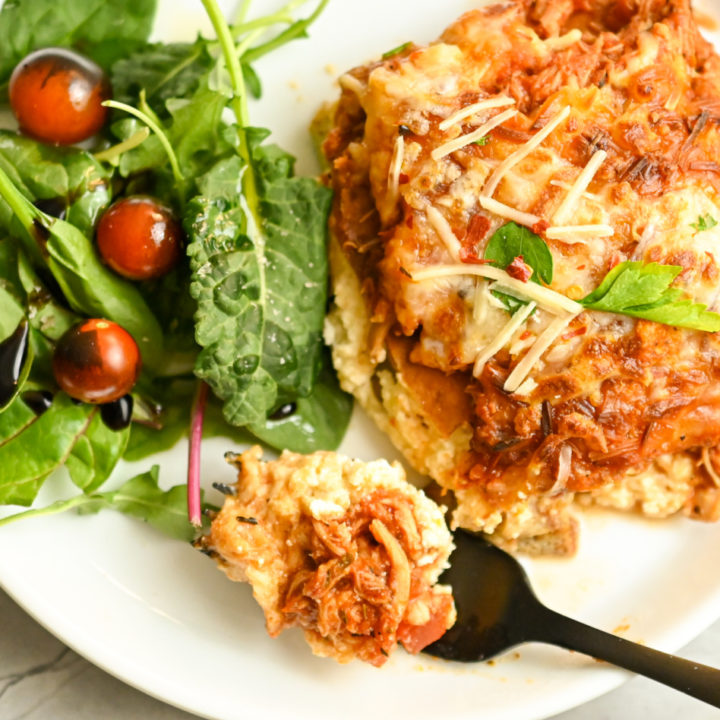 Keto Chicken Lasagna (Crepini)
Total Time:
1 hour
20 minutes
This delicious recipe for keto chicken lasagna is made with Crepini a cauliflower crepe as an alternative to pasta and uses shredded chicken thighs. This keeps the dish low in carbs and keto-friendly. It's a simple way to enjoy lasagna while doing keto.
Ingredients
Chicken Tomato Sauce
3 tablespoons extra-virgin olive oil
1 small onion, finely chopped
2 1/2 pounds of boneless chicken thighs, cooked and shredded
28-ounces of crushed tomatoes
4 ounces of tomato paste
1 ½ cups of water
2 tablespoons dried oregano
2 tablespoons of dried basil
1/2 teaspoon red pepper flakes
¼ teaspoon of black pepper
1 teaspoon of dried onion powder
1 teaspoon of dried garlic powder
3 cloves of fresh garlic crushed
2 teaspoons sea salt
Ricotta Cheese Layer
15 ounces whole milk ricotta cheese
2 cups mozzarella cheese
1/4 teaspoon freshly ground black pepper
1/4 teaspoon of salt
1 egg
1 cup of grated parmesan cheese
1/8 teaspoon of ground nutmeg
Egg thins
Mozzarella Cheese Topping
2 cups shredded mozzarella cheese
1/4 cup of grated parmesan cheese
Instructions
Cook your chicken thighs in a pot on your stovetop. To do so place the chicken thighs on the bottom of a large pot and season them with salt and pepper. Cover the thighs with about 1 1/2 inches of water. Note that you can overlap the thighs but if they are too crowded you should use a larger pot, or two pots instead. Then bring the water to a low simmer and cook from 10-15 minutes until the chicken turns opaque and is fully cooked or reaches an internal temperature of 160 degrees F. Then drain the thighs and shred them. I shred my chicken in a stand-up mixer it's the quickest way.
In a large pot set over medium heat, heat 3 tablespoons of olive oil.
Add the garlic, and red pepper flakes and cook, until the garlic, is translucent.
Add the crushed tomatoes, tomato paste, and water.
Next add the oregano, basil, and salt.
Add the shredded chicken thighs and allow the sauce to cook for about 10 minutes. Set the sauce aside.
Preheat the oven to 350°F.
To make your cheese filling in a large bowl combine the ricotta cheese, mozzarella cheese, and parmesan cheese. Next, add the egg, and the nutmeg and combine well.
Slice each Crepin wrap in half to make it easier to layer. Set them aside.
To a 13x9 well-baking dish, add two tablespoons of the chicken tomato sauce and one tablespoon of olive oil, spread in the baking dish. Next, add half the amount of Crepini halves slightly overlapping the pieces.
Add the ricotta cheese filling and spread evenly across the top.
Add the remaining Crepini halves over the surface of the ricotta cheese filling.
Top with the remaining chicken sauce across the ricotta cheese layer and spread evenly. Sprinkle the mozzarella cheese over the top.
Sprinkle the Parmesan cheese over the surface.
Bake the chicken keto lasagna for 40 to 45 minutes, or until the lasagna is bubbling and the top is lightly brown. Let stand for 20 minutes before slicing and serving.
Notes
Faster Tip
You can save time by using two jars Rao's marinara sauce or Yo Mama's Foods both of which are keto-friendly options instead of making the sauce. You can also use half a rotisserie chicken that has been shredded instead of cooking the chicken thighs for a faster meal.
Make-Ahead Tip

Feel free to assemble the lasagna and store it in the refrigerator for up to 24 hours and then bake for a make-ahead option.
Nutrition Information:
Yield:

12
Serving Size:

1
Amount Per Serving:
Calories:

277
Total Fat:

15.9g
Saturated Fat:

5.8g
Cholesterol:

80mg
Sodium:

307mg
Carbohydrates:

7.2g
Net Carbohydrates:

5.7g
Fiber:

1.5g
Sugar:

3.3g
Protein:

24.4g