If you're on a keto diet and craving something sweet, these keto amaretti cookies are the perfect guilt-free treat.
Made with simple ingredients like almond flour, butter, eggs, and cream cheese, these cookies are low-carb, gluten-free, and sugar-free.
Plus, the recipe also includes sugar-free amaretto icing to add extra flavor to the cookies.
These low-carb Amaretti cookies are deliciously simple to make and have a tender soft-baked cookie texture that melts in your mouth.
If you're a fan of soft cookies, this is the keto cookie recipe you should make the next time you need to silence your sweet tooth.
In case you don't know, I have a complete list of Keto Cookies that any cookie lover doing a keto diet would enjoy exploring.
Make sure you remember also to check out our Keto Cream Cheese Recipes for other delicious recipes that feature cream cheese, including our keto cream cheese pound cake that started my love affair with cream cheese.
Keto Amaretti Cookies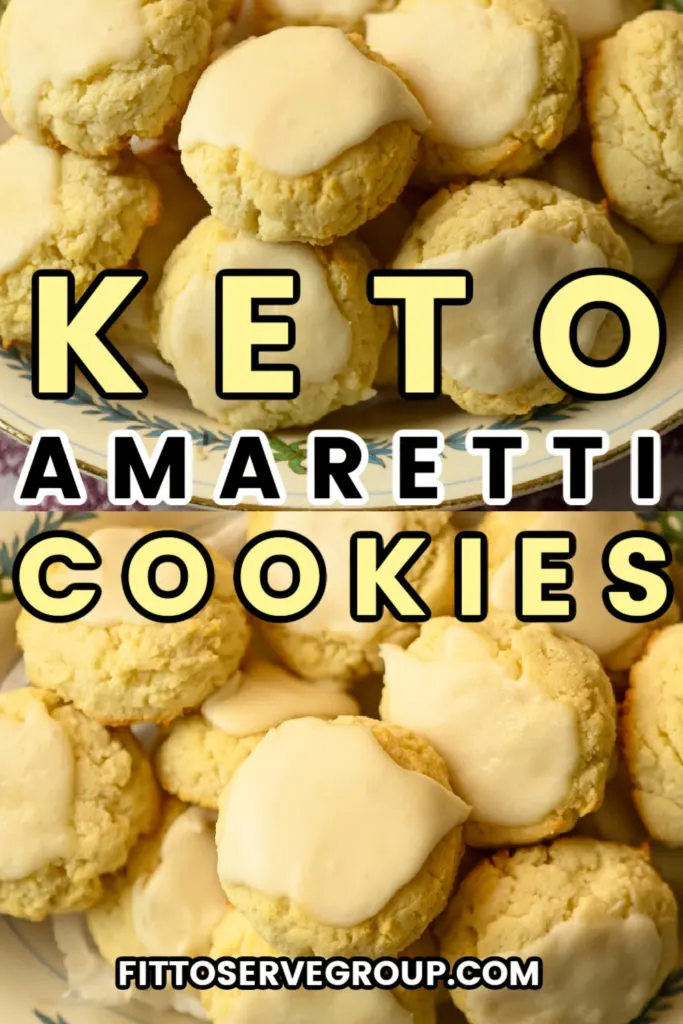 My almond flour cream cheese cookie recipe turned out exactly as I had hoped.
Each cookie has only 2.1 net carbs per cookie, which makes it a cookie recipe that fits your daily macros seamlessly.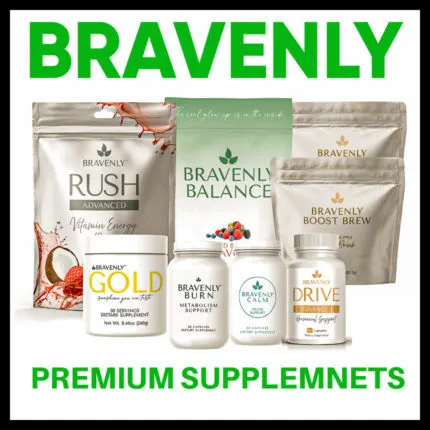 With this easy-to-follow recipe, you can enjoy a delicious and satisfying cookie without breaking your keto diet.
These cookies are perfect for any occasion, whether it's a special event or just a sweet treat for yourself.
Ingredients And Tools Needed To Make Keto-Friendly Amaretti Cream Cheese Cookies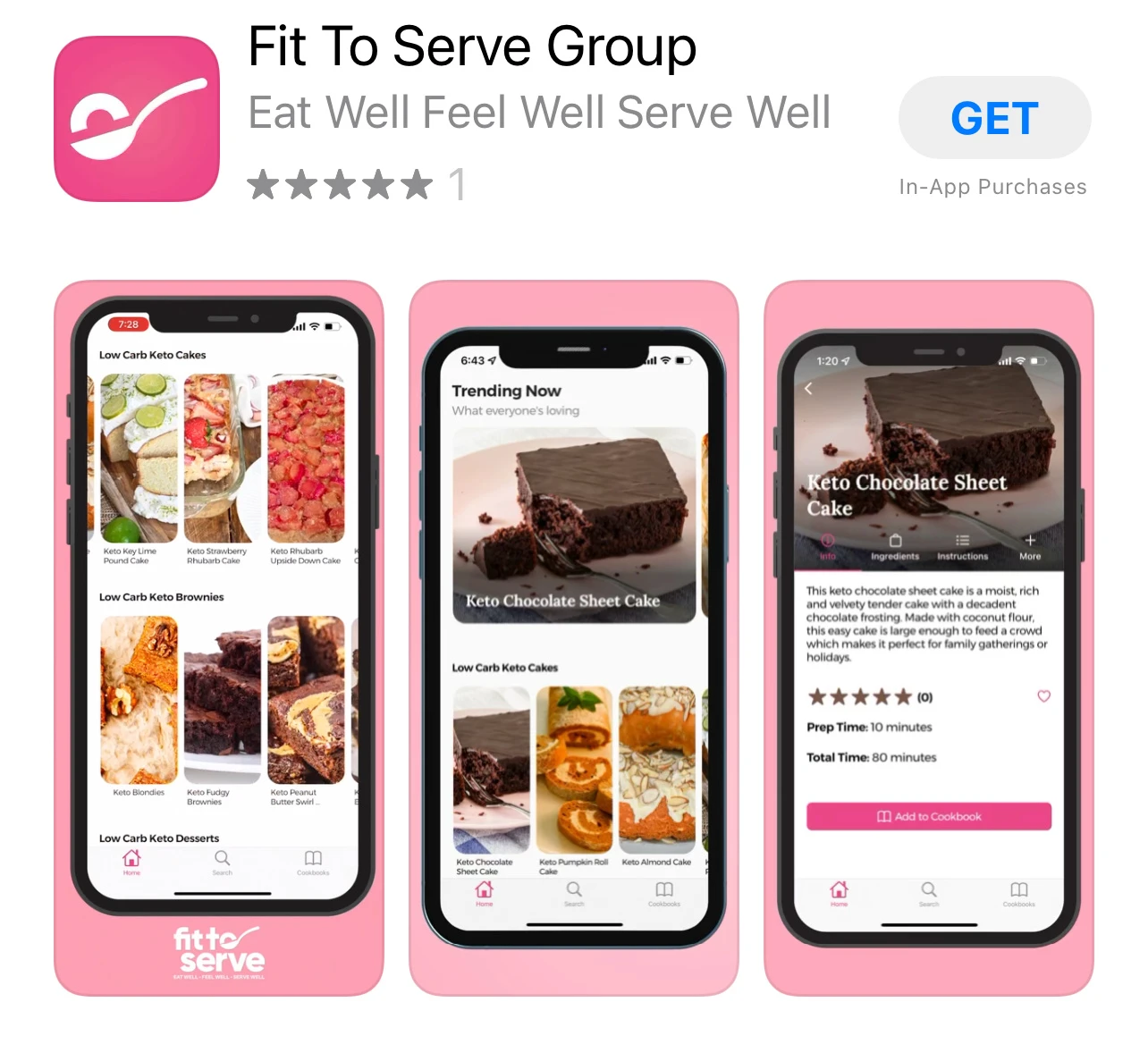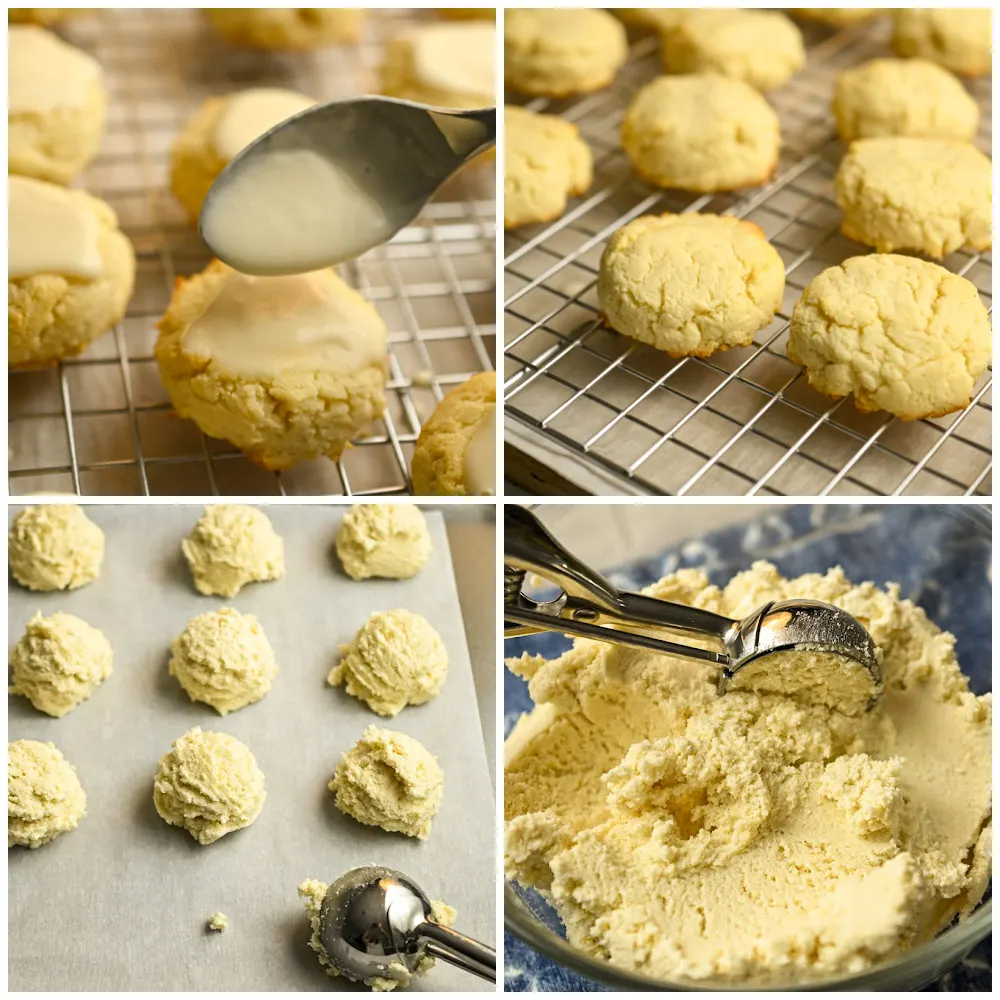 Disclosure: Some of the links below are affiliate links, meaning at no additional cost to you, I will earn a commission if you click through and make a purchase.
The following ingredients are what you will need to make this recipe. Note that the full printable recipe card is at the bottom of the page.
Almond flour, measured and then sifted
Unsalted butter softened
Full-fat cream cheese, room temperature
Eggs, room temperature
Baking powder
Salt
Medium-sized mixing bowl
Cookie sheet
Parchment paper
Best Sugar-Substitutes For Sugar-Free Amaretti Cookies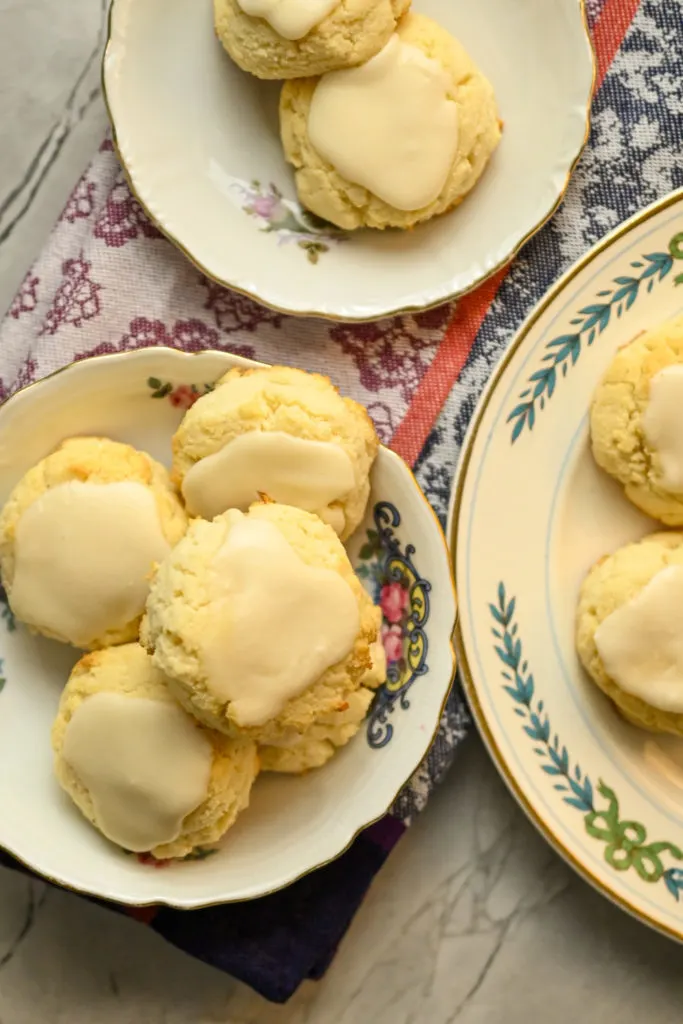 My top choice for these keto-friendly Amaretti Italian cookies is a monk fruit and erythritol blend.
I love Lakanto's brand, it's great for anyone doing a ketogenic diet.
But you can also use Swerve, another granular sweetener that has erythritol.
You could also use the stevia and erythritol-based brand Pyure for most of my baked goods.
However, if using Pyure, you will want to use half the amount called for in this recipe since it's a much sweeter choice.
But if stevia is your preferred choice, then feel free to use the Pyure brand.
If you can't easily source a more natural sugar substitute, you can also use Splenda with great success.
If using Splenda, it needs to be the one that has a bulking agent. This is the one that comes in large bags. I don't recommend Splenda Bake because it's actually half sugar, half sucralose product.
When it comes to almond glaze, you will have to use a confectioner's sugar substitute. Both Lakanto and Swerve have great ones.
How To Make Keto Amaretti Cookies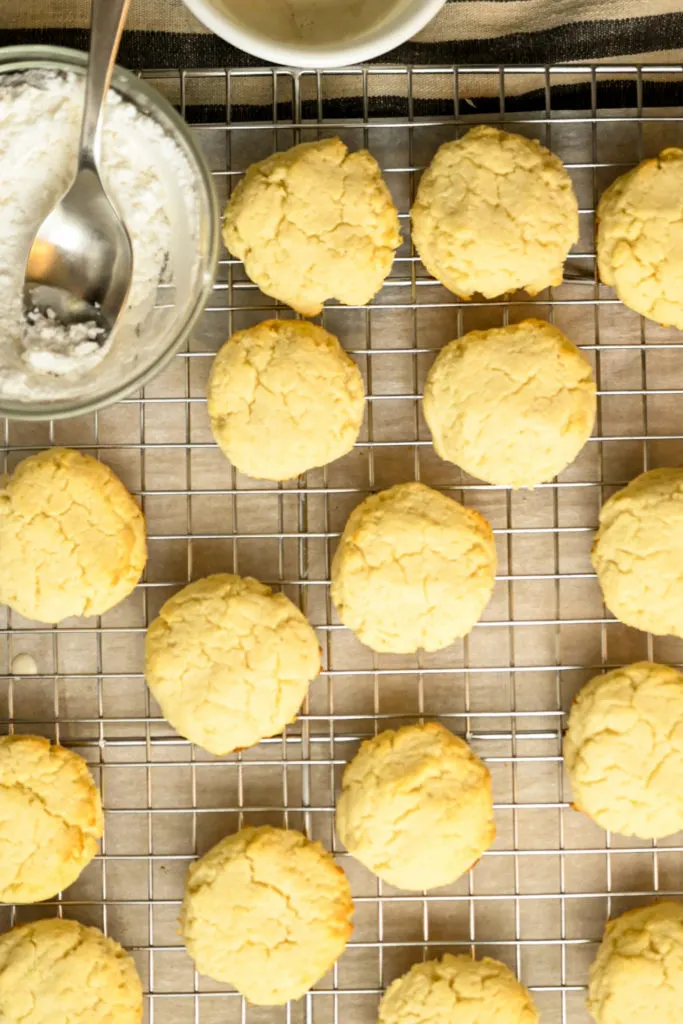 To make these keto Amaretti cookies, you'll begin by measuring and sifting the almond flour and setting it aside. I recommend sifting the almond flour, even if it's fine because it removes any lumps or clumps that may have formed during storage or transportation.
Here's how to sift almond flour using a sifter or a fine mesh colander:
First, gather your equipment.
Place your sifter or colander over a large bowl.
Add your almond flour to the sifter or colander.
I like using a hand crank sifter because it makes the process quicker. But you can also use a colander to help the flour pass through the holes. You can also use a spoon to help push the almond flour through if it's not passing effortlessly.
Sift until it has passed through the sifter or colander and into the bowl.
Check the bowl for any large pieces or clumps of almond flour that may have been caught in the sifter or colander. If you find any, simply discard them.
Your sifted almond flour is now ready to use in your recipe!
Next, in a large bowl or stand-up mixer, using an electric mixer, beat the butter, cream cheese, almond extract, and granulated sugar substitute on the high setting for 3–4 minutes until light and fluffy.
Be sure to scrape the bowl with a spatula a couple of times to ensure the mixture is fully incorporated.
Once the wet ingredients are combined, reduce the speed to medium and begin to add the almond flour a few tablespoons at a time.
Combine the mixture well, and scrape the bowl until it is thoroughly combined.
Next, you will need to refrigerate the cookie dough before baking to ensure the cookies do not spread.
Preheat the oven to 350 degrees and line a large cookie sheet with parchment paper or lightly butter the cookie sheet.
Then, using a small cookie scoop or tablespoon, add the cookie dough balls onto the parchment-lined baking sheet about an inch apart, and gently press down on each cookie with your fingers to flatten slightly.
Bake the cookies for about 12–15 minutes, until lightly browned around the edges. Transfer to a wire rack and allow the cookies to cool before adding the icing.
I recommend making the sugar-free icing while the cookies cool. Do not make the icing before to ensure it doesn't begin to set, and make it difficult to ice the cookies.
To make the keto-friendly Amaretti icing, simply combine the powdered sugar-free sweetener and salt with the two-three tablespoons of heavy cream and the almond extract.
If the icing is too thick, you can thin it down with a little more heavy cream, up to 3 tablespoons. Then add a small dollop of icing to each cookie and allow the icing to set before eating or storing.
Store the cookies in the refrigerator in an airtight container for up to five days or three weeks in the freezer.
Recipe Substitutions
This recipe is made with almond flour but if you need a coconut flour option, I recommend you use our keto cream cheese cookie recipe.
To do so simply swap out the vanilla extract in the recipe and add two tablespoons of almond extract to the cookie dough and 1 teaspoon to the icing.
Where Did Amaretti Cookies Originate?
Amaretti cookies are a traditional Italian cookie that has been enjoyed for centuries. The origin of the cookie can be traced back to the 18th century, where it was first created in the northern Italian region of Lombardy.
The name "amaretti" comes from the Italian word "amaro," which means bitter. The cookie is made from a combination of almond flour, sugar, and egg whites, which are whipped together to create a light and fluffy batter.
The cookies are then baked until they are crispy on the outside and chewy on the inside. Amaretti cookies have become a popular dessert all over the world and are often enjoyed with a cup of coffee or tea.
You can now enjoy this traditional Italian cookie without the worry of too many carbs or gluten with this simple keto cookie recipe.
Tag Us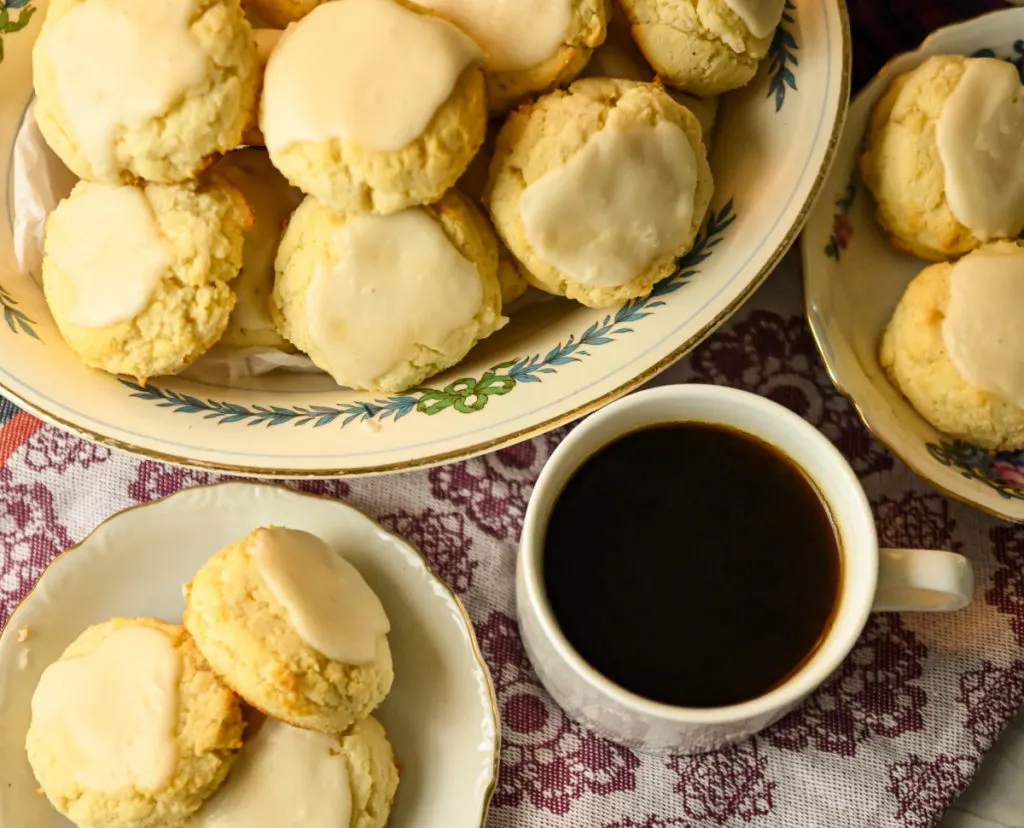 I sure hope you will give these keto Amaretti cookies a try. Once you do, make sure you remember to tag us on Instagram and Facebook.
It's what keeps this girl encouraged to keep sharing and perfecting her recipes.
Also, check out our Amazon Store for our recommendations. You might be surprised by how many great keto options are at your disposal.
Grab Our Books & Recipe Keto App
In case you don't know, we have authored two books for you, Essential Keto Bread and Essential Keto Desserts, both inspired by your requests over the years.
It's my prayer these keto cookbooks will help make keto a delicious breeze for you. Gain access to simple and delicious recipes for breakfast, lunch, dinner, snacks, and even desserts with our FITTOSERVEGROUP APP.
Join Our Jesus And Keto Movement
Looking for an online support system to help you stay the course on keto? As a family, we came to the keto diet looking at it from a Christian perspective.
As believers, we live our lives supported by God's grace. Knowing firsthand the benefits of this decision, we have created a closed Christian group that is using the keto diet to transform their lives.
We invite you to join our Private Facebook Group and see if it's not the key you have been missing. Be sure to request our FREE Jesus and Keto E-Book (First 7 Days). We hope it blesses you.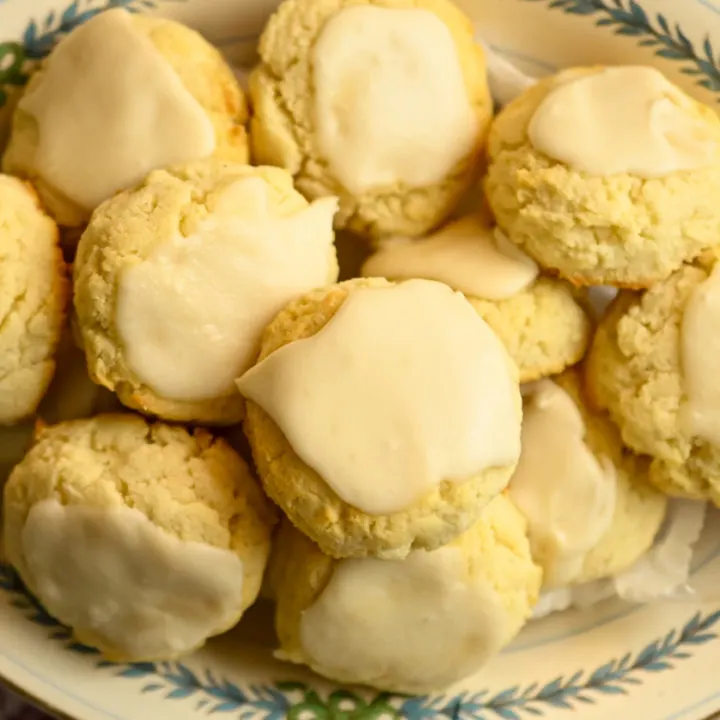 Keto Amaretti Cookies
These easy keto Amaretti cookies are deliciously simple to make and have a tender, soft-baked cookie texture that melts in your mouth. It's a gluten-free, sugar-free, and keto-friendly recipe for low-carb almond amaretti cookies!
Ingredients
1/2 cup of unsalted butter, room temperature
2 large eggs, room temperature
4 ounces of softened full fat cream cheese
1 1/2 teaspoons of baking powder
1/4 teaspoon of salt
Amaretti Sugar-Free Icing
2-3 tablespoons of heavy cream
1/8 of a teaspoon of salt
Instructions
Measure and sift the almond flour and set aside.
In a medium-sized bowl, using an electric mixer, combine the softened butter, granulated sugar substitute, and almond extract. Mix until light and fluffy.
To this mixture, add the two eggs one at a time and cream cheese. Combine until well incorporated.
Next, add the sifted almond flour, baking powder, and salt, and mix until just combined.
Place the cookie dough in the refrigerator and allow it to chill for 30 minutes before baking; this will ensure your cookies do not spread when baked.
Preheat the oven to 350 degrees and line a large cookie sheet with parchment paper or lightly butter the baking sheet.
Using a small cookie scoop, place the dough on a lightly greased baking sheet or parchment-lined sheet.
Bake the cookies in the oven until lightly brown around the edges, about 12-15 minutes.
Allow the cookies to fully cool on a baking rack before making and adding the icing—about 15 minutes.
Store leftovers in the refrigerator for up to 5 days or freeze for up to 3 weeks.
Amaretti Sugar-Free Icing
In a small bowl, combine the powdered sugar-free sweetener and salt with the two tablespoons of heavy cream and almond extract. Note if the icing is too thick, you can thin it out with a tablespoon at a time with the heavy cream.
Nutrition Information:
Yield:

24
Serving Size:

1
Amount Per Serving:
Calories:

175
Total Fat:

11.9g
Saturated Fat:

4.2g
Cholesterol:

28mg
Sodium:

42mg
Carbohydrates:

3.2g
Net Carbohydrates:

2.1g
Fiber:

1.1g
Sugar:

0.5g
Protein:

3.9g